Chocolate Belgian Waffles are light and fluffy and chocolaty and DELICIOUS! They are the perfect breakfast with a hint of cocoa! Chocolate lovers get ready!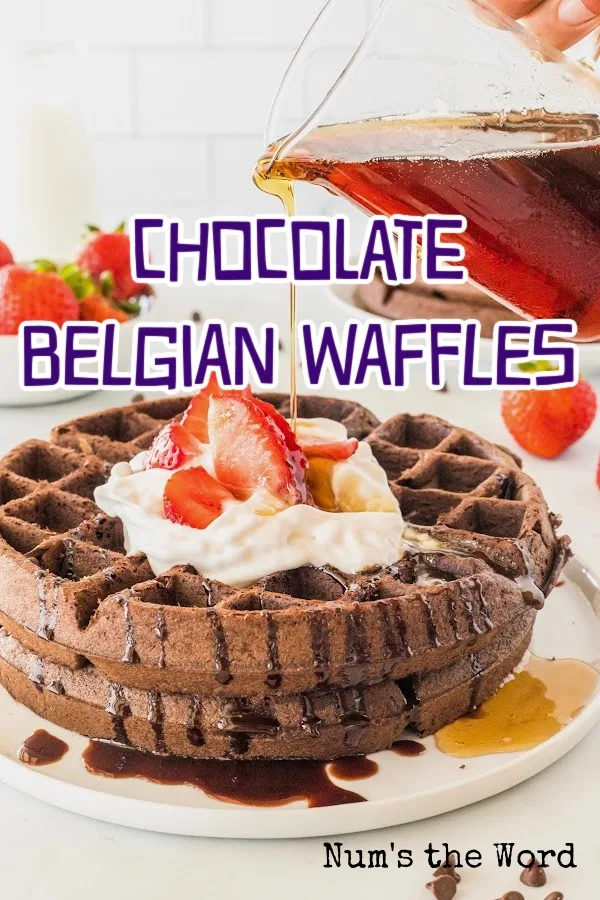 If you've got a love of chocolate then you're in the right place. These waffles are crispy and fluffy but with the added flavor of chocolate. Oh. My. Goodness.
The fluffy waffles kissed with rich chocolate flavor are a chocolate lover's dream come true.
For a Belgian chocolate waffle you need simple ingredients. But the results? Spectacular!
Perfect for lazy Sunday mornings or special occasions like Mother's Day.
And serve them with anything! Fresh fruit, a drizzle of chocolate syrup, or a scoop of ice cream for the next level treat.
An easy Belgian waffle recipe to keep up your sleeve for anytime chocolate cravings strike.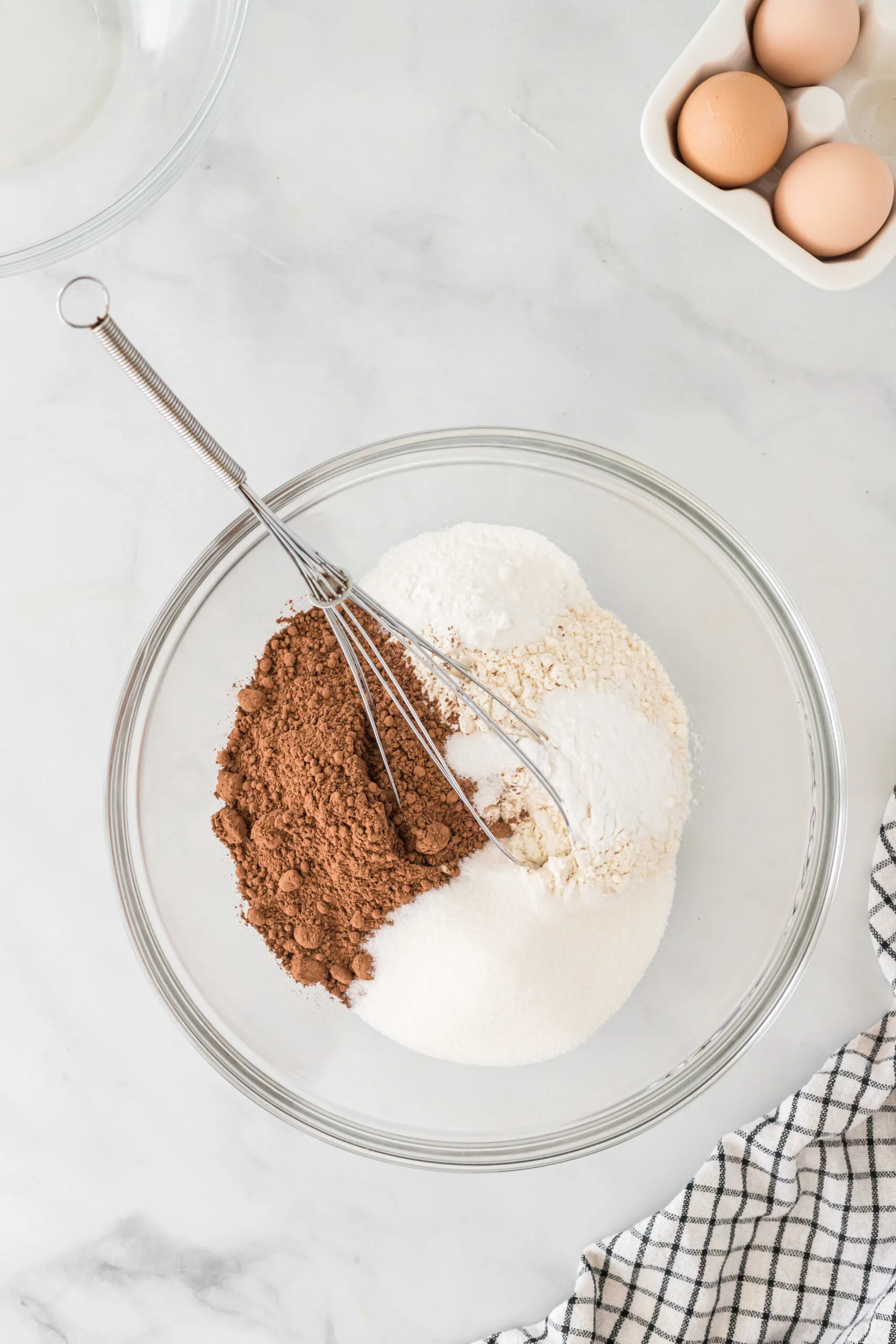 What Ingredients are in Chocolate Belgian Waffles?
These decadent chocolate waffles are where it's at! So delicious. So easy. And so calling your name!
All Purpose Flour: The foundation for our crispy chocolate waffles.
Cocoa Powder: For that decadent chocolate twist.
Cane Sugar: Just a hint of sweetness.
Baking Agents (baking powder & baking soda): The secret behind fluffy waffles.
Eggs: For structure and richness.
Water & Greek Yogurt: Keeps the waffle moist and light.
Vegetable Oil: For that perfect soft interior.
Salt: Just a little bit goes a long way.
Pro Tip:
For an extra rich flavor, consider swapping vegetable oil with melted butter or coconut oil!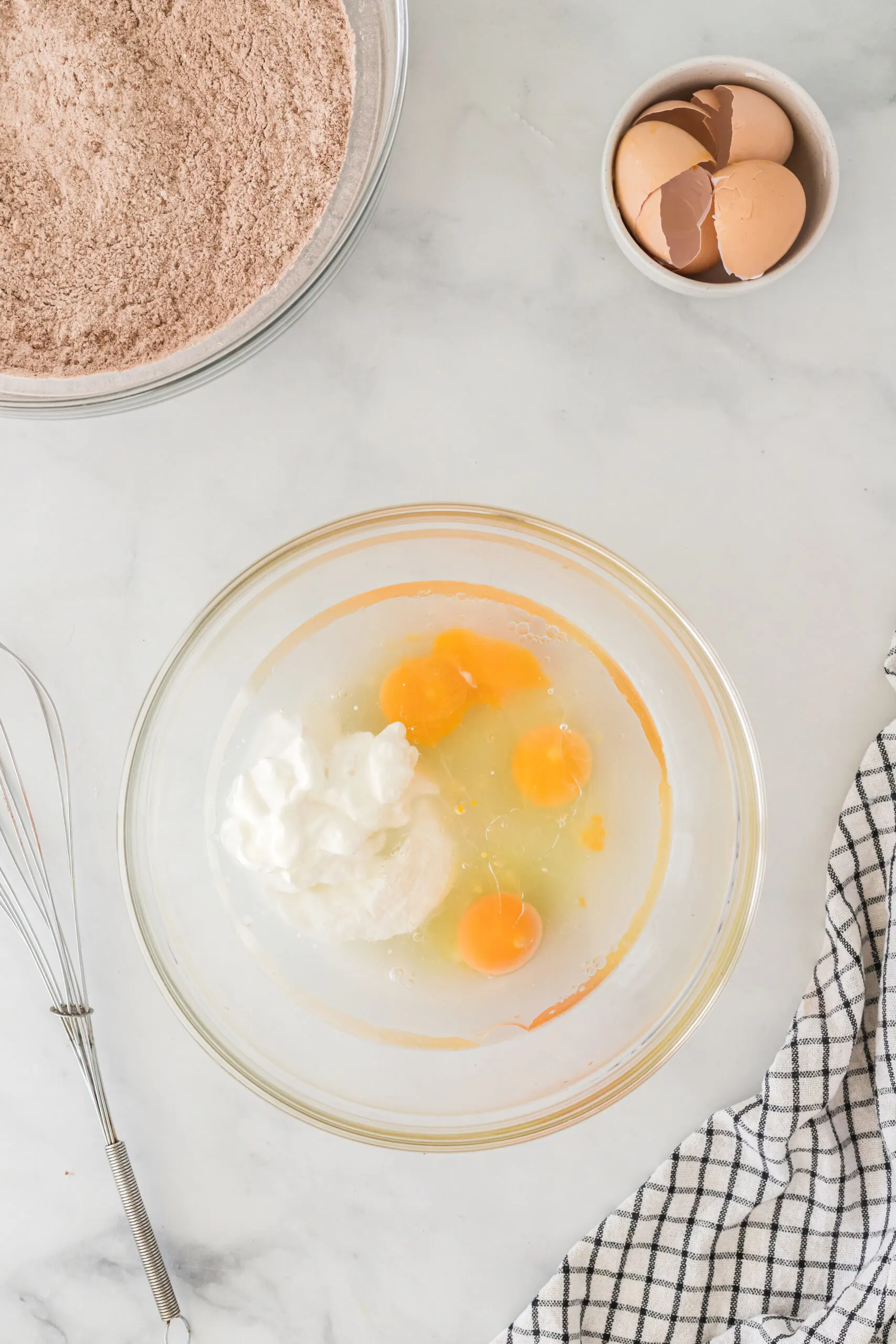 How to Make Chocolate Belgian Waffles?
Regular waffles, meet chocolate Belgian waffles and run away! You've got nothing on these!
Get your Belgian waffle maker preheated and ready.
Combine the dry ingredients in one large bowl and the wet ingredients in another.
Time to unite – mix wet and dry till smooth.
Pour batter into the waffle maker and cook as per manufacturer's instructions.
Top off with your favorite toppings, and indulge!
Pro Tip:
Don't overmix the batter. A few little lumps are fine and ensure your waffles stay fluffy.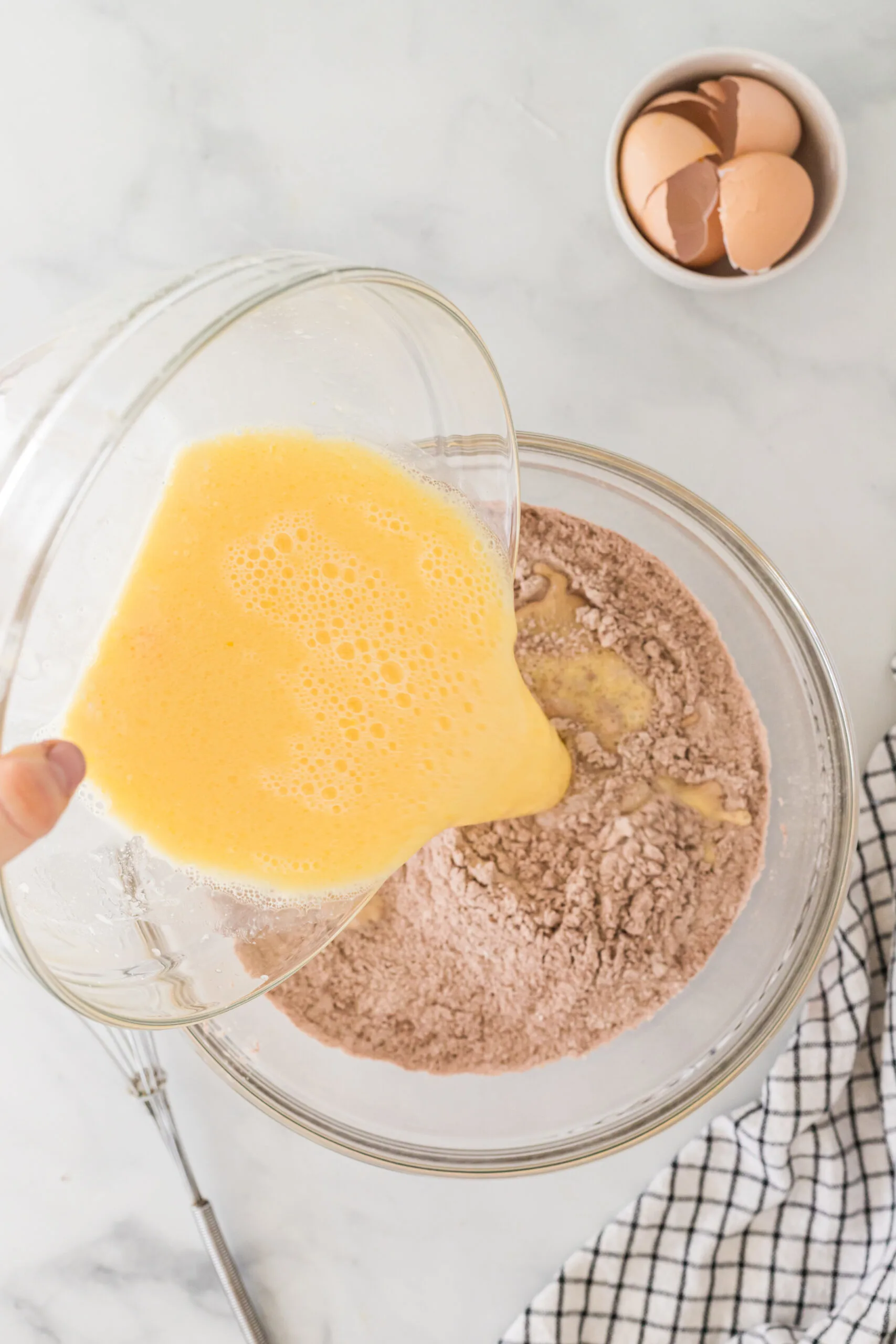 Are Chocolate Belgian Waffles a Breakfast or a Dessert?
These homemade waffles are both a dessert and a breakfast!
Start your weekend breakfast with them or enjoy them as a dessert!
If you're serving them for breakfast, top them with syrup and berries. So good!
And if you're serving them as a dessert, top them with a scoop of ice cream and chocolate sauce.
While you're at it… why not just make a double batch. Some for breakfast in the morning and dessert in the evening. Love it!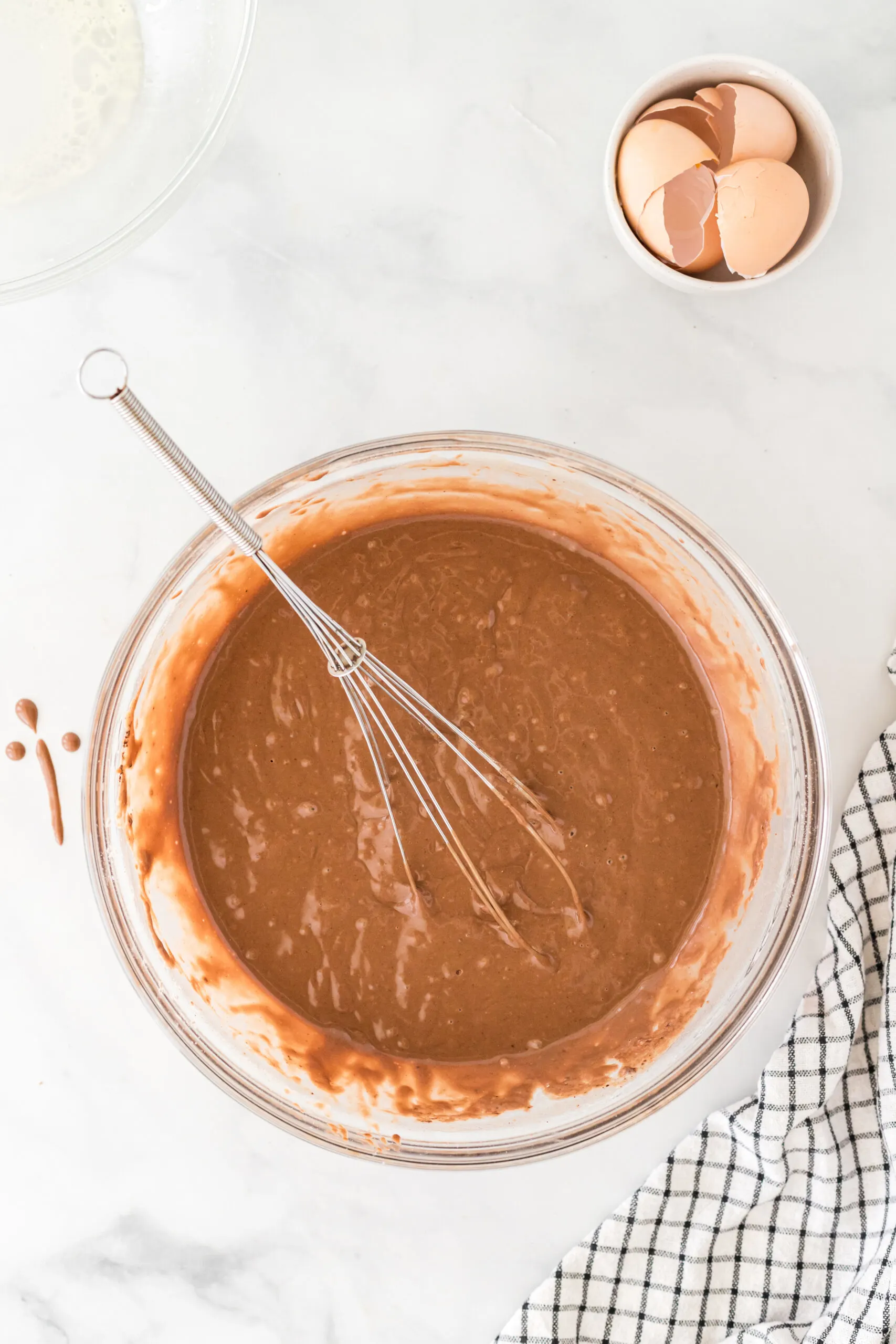 Are Chocolate Belgian Waffles Healthy?
Actually, these Belgian waffles are pretty healthy for having cocoa in them!
With whole ingredients like Greek yogurt and eggs, they are pretty nutritious.
For a healthier twist, swap cane sugar with a natural sweetener or use whole wheat flour.
Though those things will change the texture, flavor, and bake time. So be careful with swaps like that.
And if you do end up changing the recipe a bit, let me know how it goes! I always love to hear how it works for people!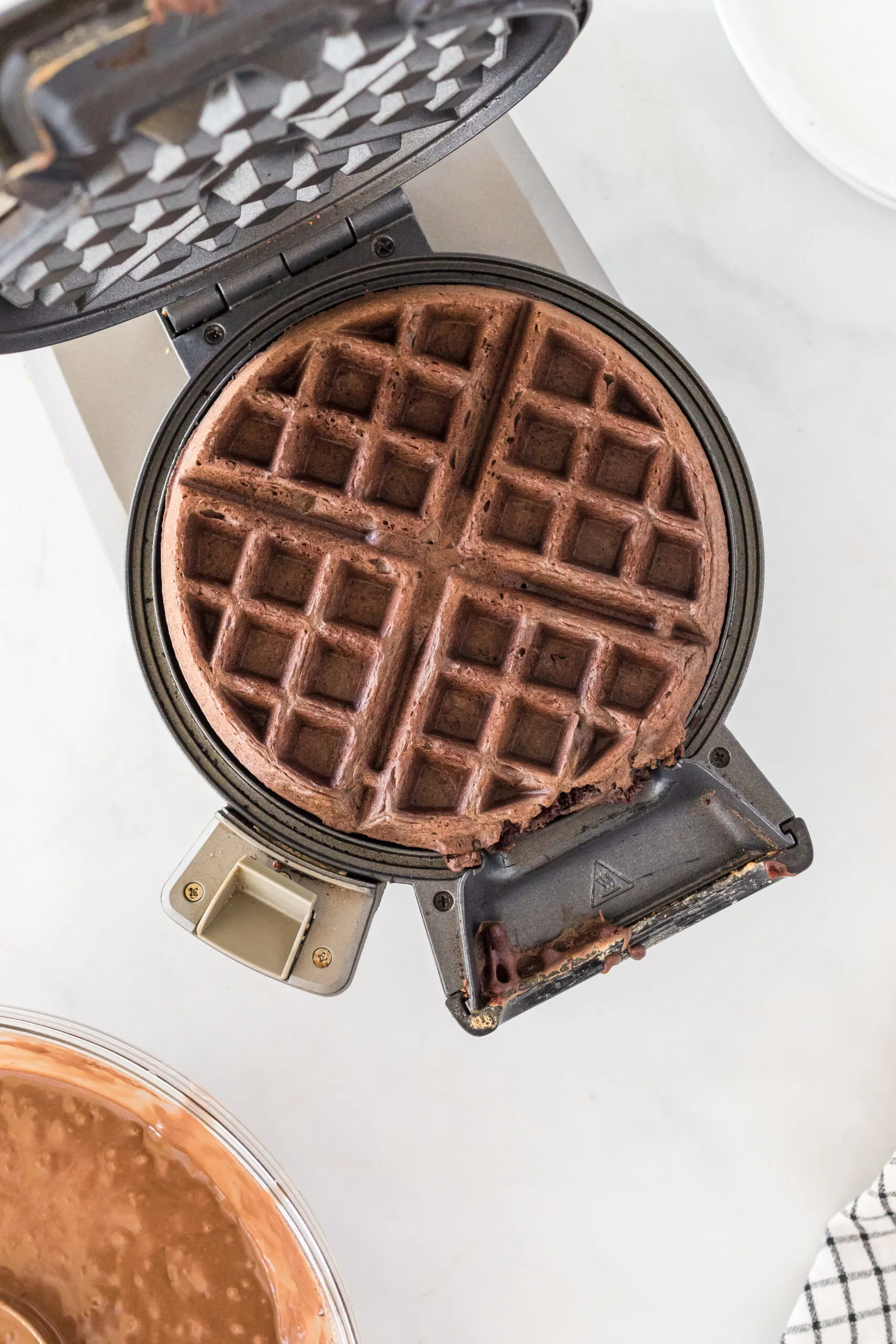 How to Serve Chocolate Belgian Waffles?
Belgian chocolate waffles can be served traditional with maple syrup. Or try any of these fun additions!
Strawberries
Mini Chocolate Chips
Whipped Cream
Blueberry waffles – mix them right in the batter!
A pat of butter
Maple Syrup – pure! Trust me on that one!
Scoop of vanilla ice cream
Extra chocolate syrup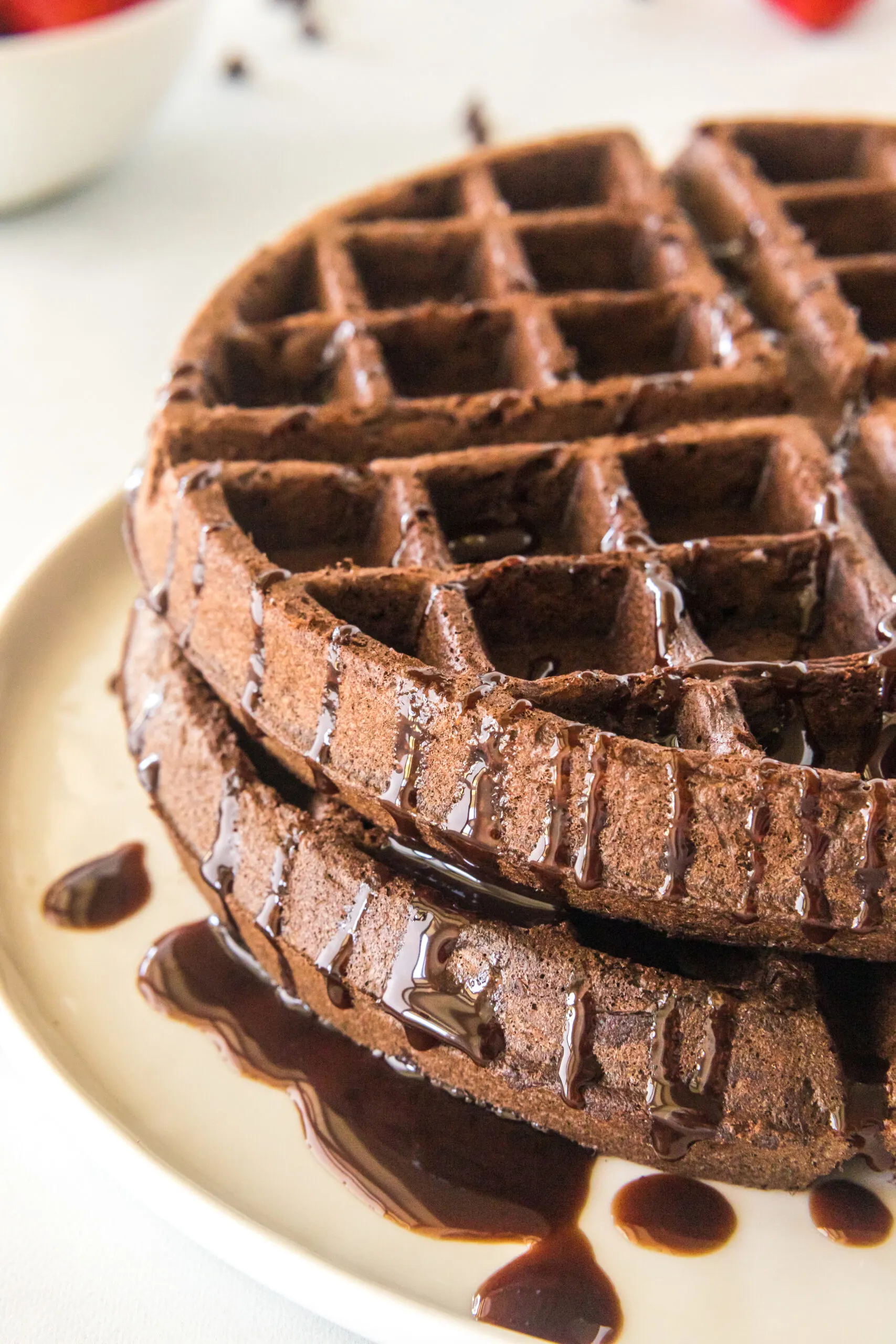 What to Serve with Chocolate Belgian Waffles?
Fresh berries, a side of bacon, or just a cup of hot cocoa (extra chocolate? Yes please!)
These waffles go well with almost anything.
Here are some of my favorite Breakfast Recipes: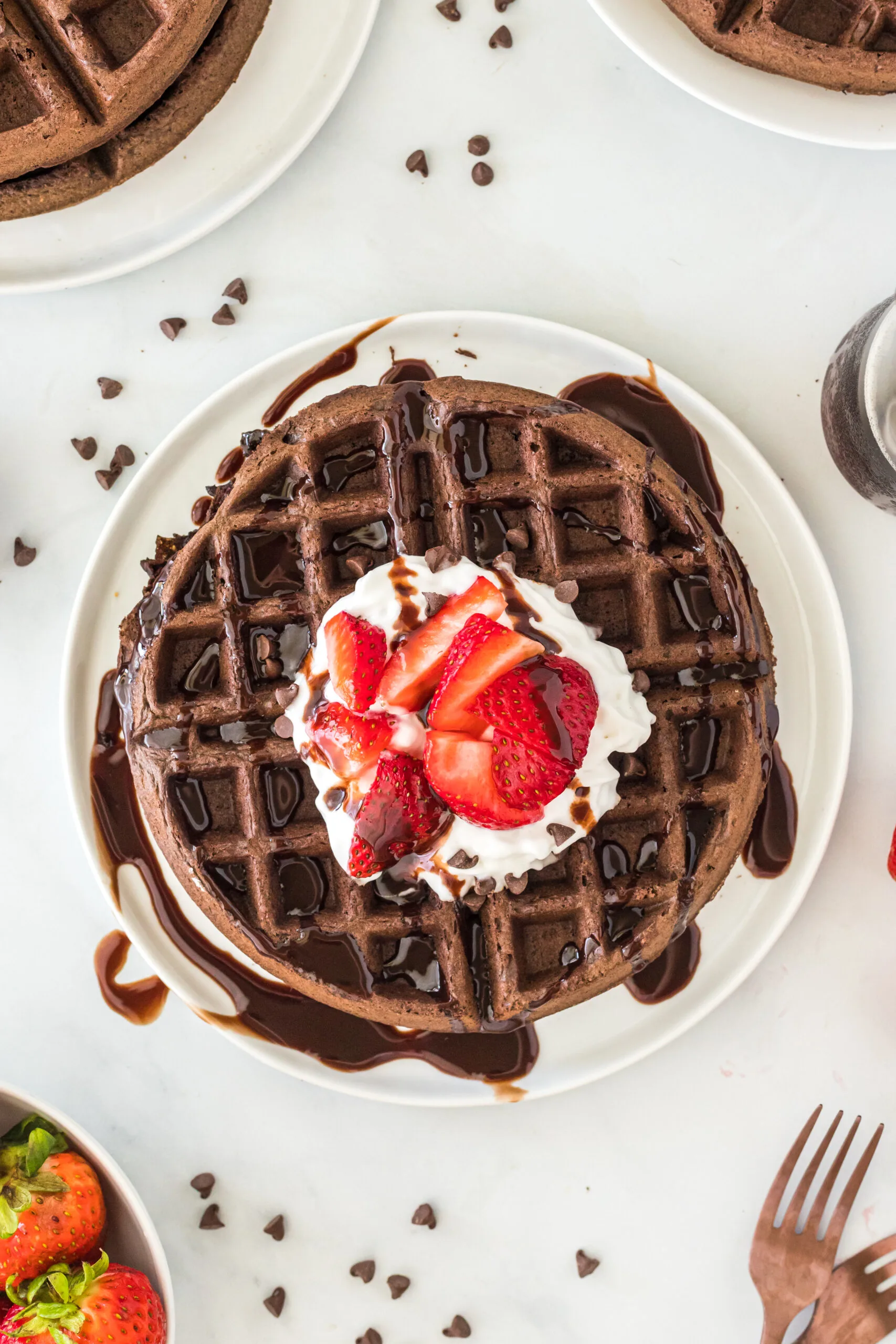 Can You Put Chocolate Chips in a Waffle Maker?
Absolutely you can put chocolate chips in the waffle maker! More chocolate is never a bad thing!
For that extra chocolatey punch, sprinkle some chips onto the batter just before closing the waffle maker.
As long as you've sprayed the hot waffle iron before adding your waffle batter then it shouldn't stick to the waffle maker.
You can also use butter to grease the waffle iron. That or cooking spray.
And actually, some newer waffle irons are pretty nonstick. But I still add grease. Just in case.
I like adding mini chocolate chips to make chocolate chip Belgian waffles. I think they're just the right size.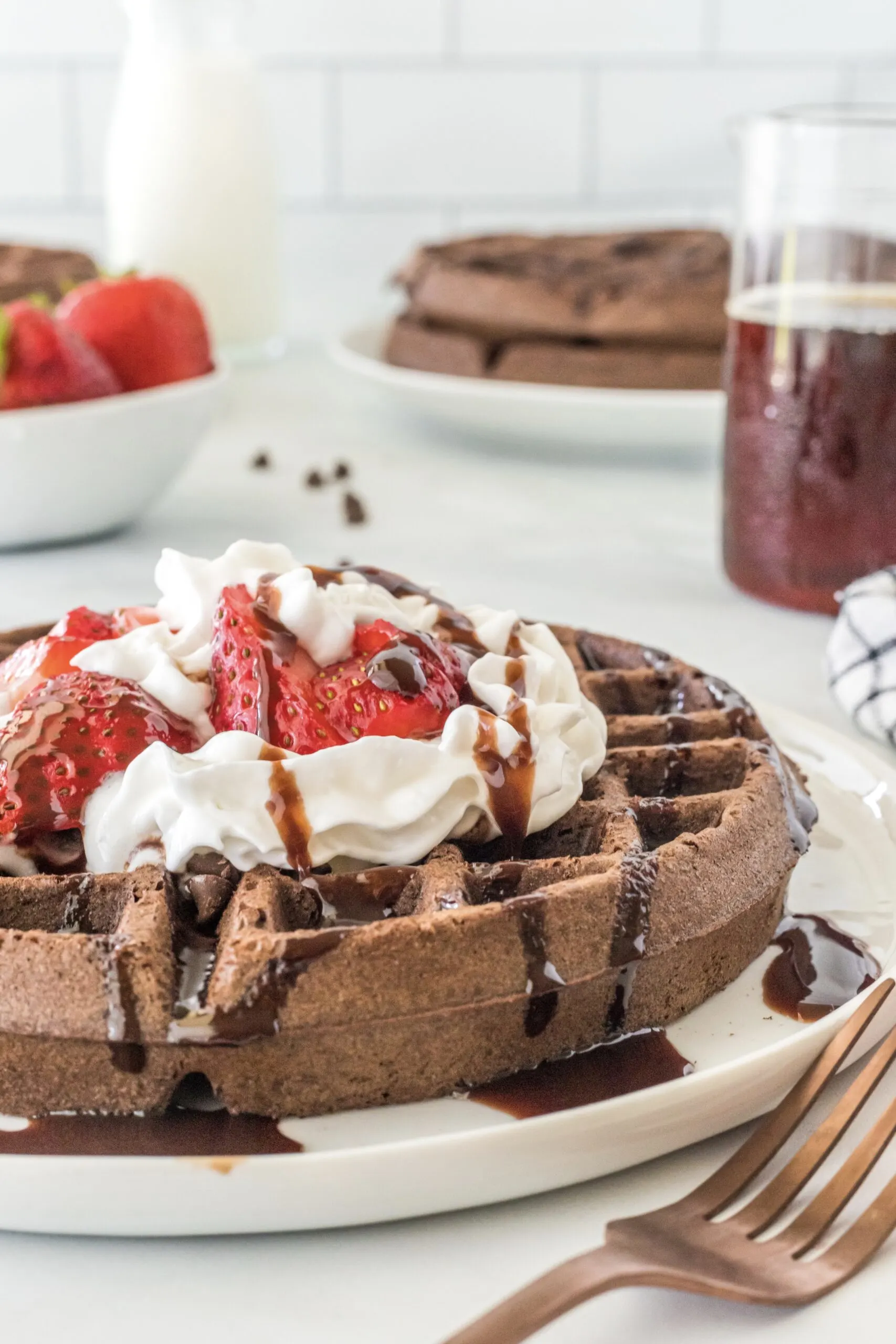 Can Dogs Eat Chocolate Belgian Waffles?
Dogs should definitely not eat this chocolate waffle recipe. Actually that's a very, very firm no!
Chocolate is harmful to our furry pals. It can be toxic at all levels and should always be avoided.
If your dog eats some chocolate, watch them carefully and call the vet if necessary.
That also means you should be careful with any leftover waffles!
A lot of people already know that dogs shouldn't eat chocolate. But dogs don't know that!
They'll jump right up on the counter if they can and swipe whatever you've got laying around.
So be careful where you keep anything with chocolate in it if you've got a furry friend around the house.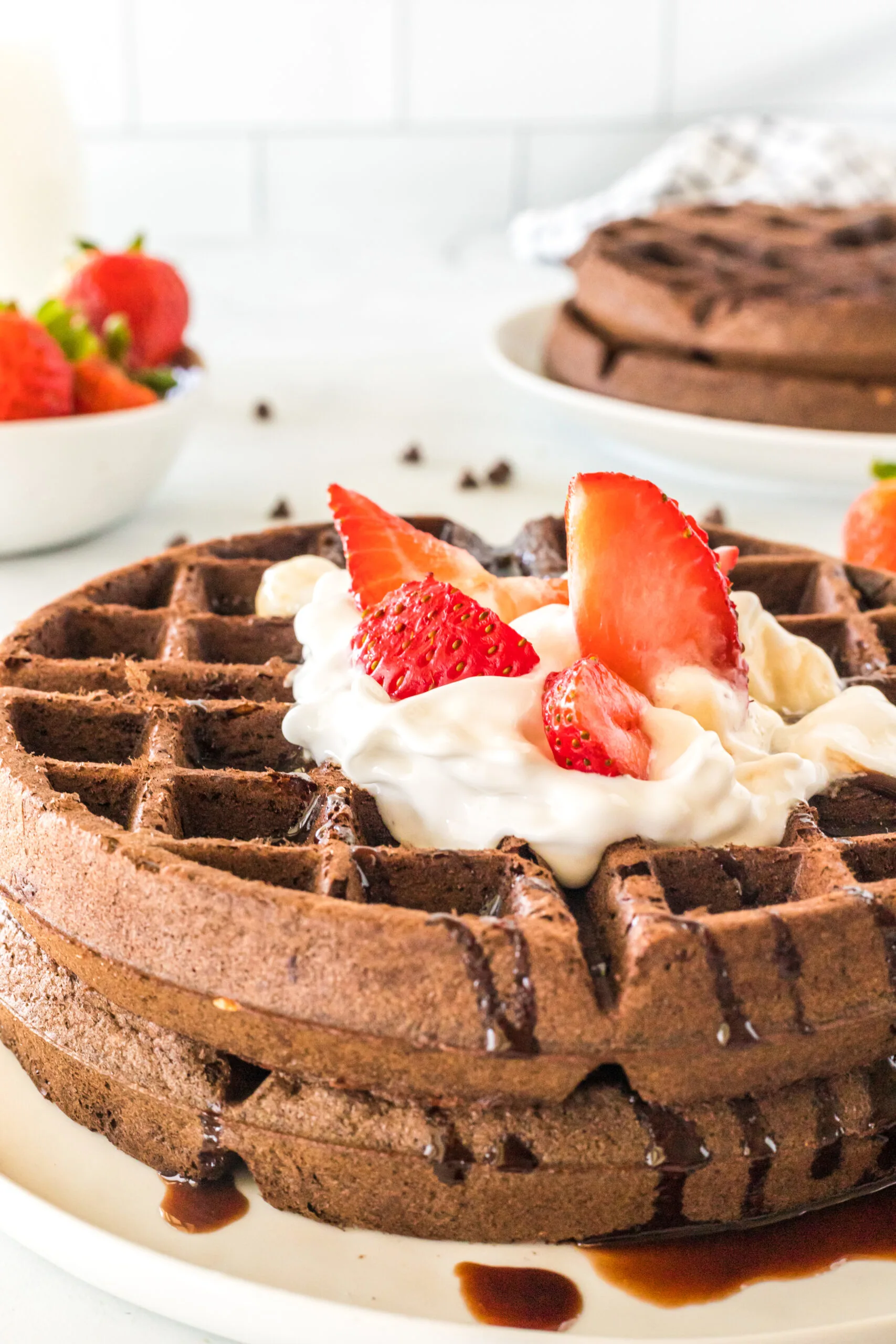 Chocolate Belgian Waffles are the best of all worlds! A delicious dessert. A chocolate filled breakfast. There's nothing better! Enjoy!
Yield: 4 Belgian Waffles
Chocolate Belgian Waffles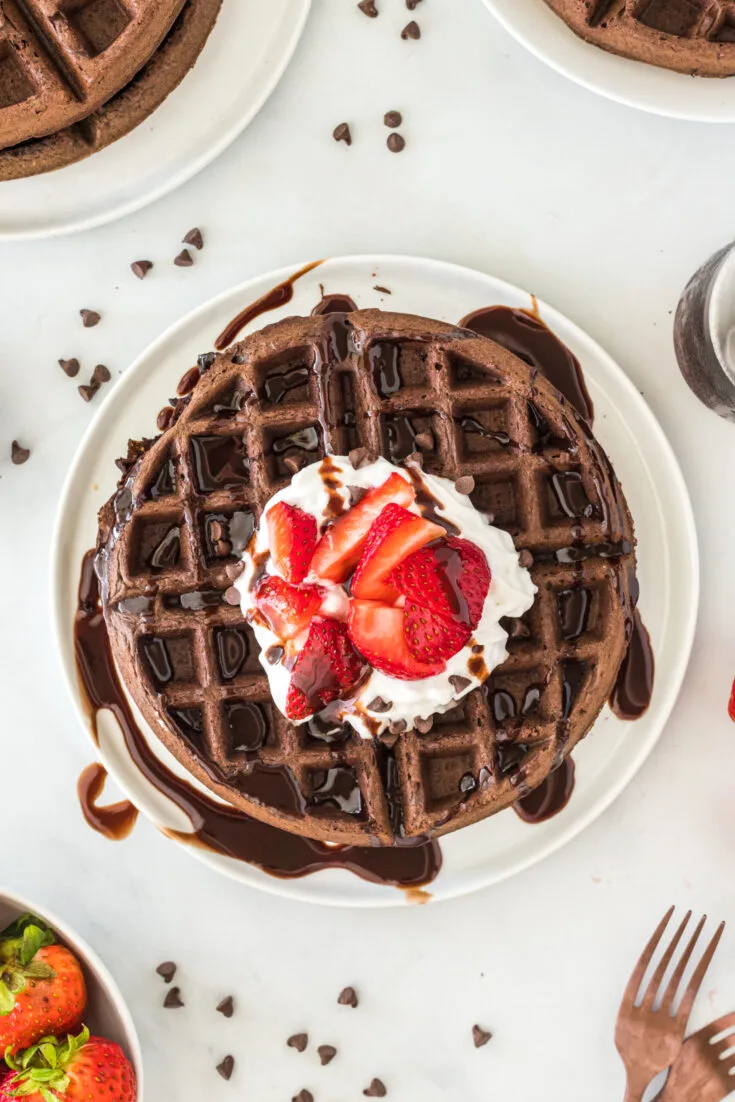 Dive into the world of Chocolate Belgian Waffles, where breakfast meets dessert! An easy recipe for crispy, fluffy, and utterly delicious chocolate waffles.
Instructions
Preheat Waffle maker
In a large bowl whisk together flour, cocoa powder, sugar, baking powder, baking soda and salt.
In a separate bowl whisk together the eggs, water, greek yogurt, and vegetable oil, just until combined.
Add the wet and dry ingredients together. Mix until no clumps remain.
Cook in a Belgian waffle maker according to the manufacturer's directions.
Finish each waffle by adding your desired toppings.
Enjoy!!
Nutrition Information:
Yield:
4
Serving Size:
1
Amount Per Serving:
Calories:

901
Total Fat:

45g
Saturated Fat:

11g
Trans Fat:

1g
Unsaturated Fat:

31g
Cholesterol:

142mg
Sodium:

1219mg
Carbohydrates:

115g
Fiber:

5g
Sugar:

59g
Protein:

17g