If you are looking for a cool, refreshing and healthy side dish, then try this Summer Fruit Salad. It takes all the best flavors of summer and combines them into a simple fruit salad with a refreshing mint and lime glaze.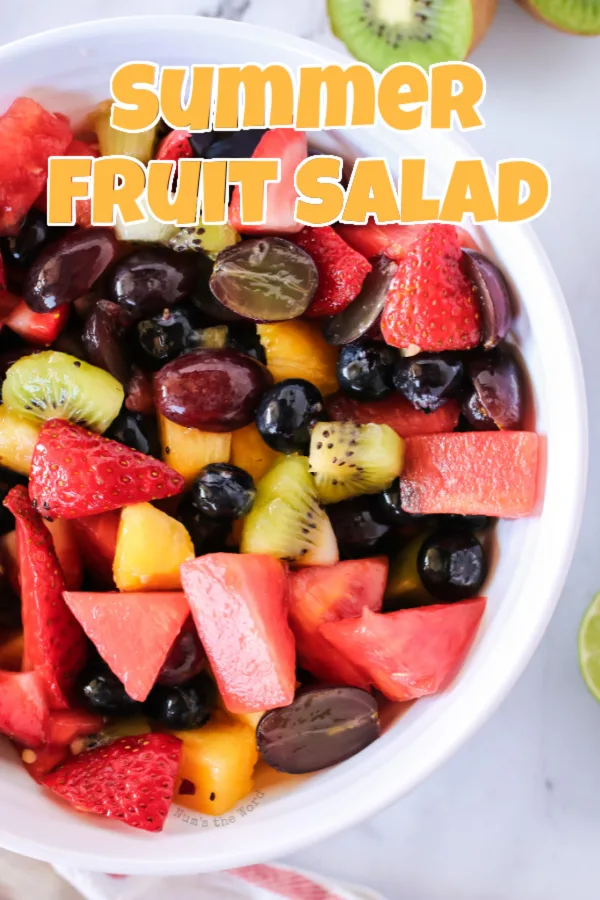 Who knew a simple summer fruit salad could be elevated to such heights? This rainbow salad of flavor is sure to become your go-to for entertaining, potlucks, picnics, and BBQs. It's light, refreshing, and just unique enough to impress!
It's also a healthy snack to have on hand for yourself or your kiddos! Packed full of nutritious fruits, this is the perfect watermelon fruit salad for munching on a hot day.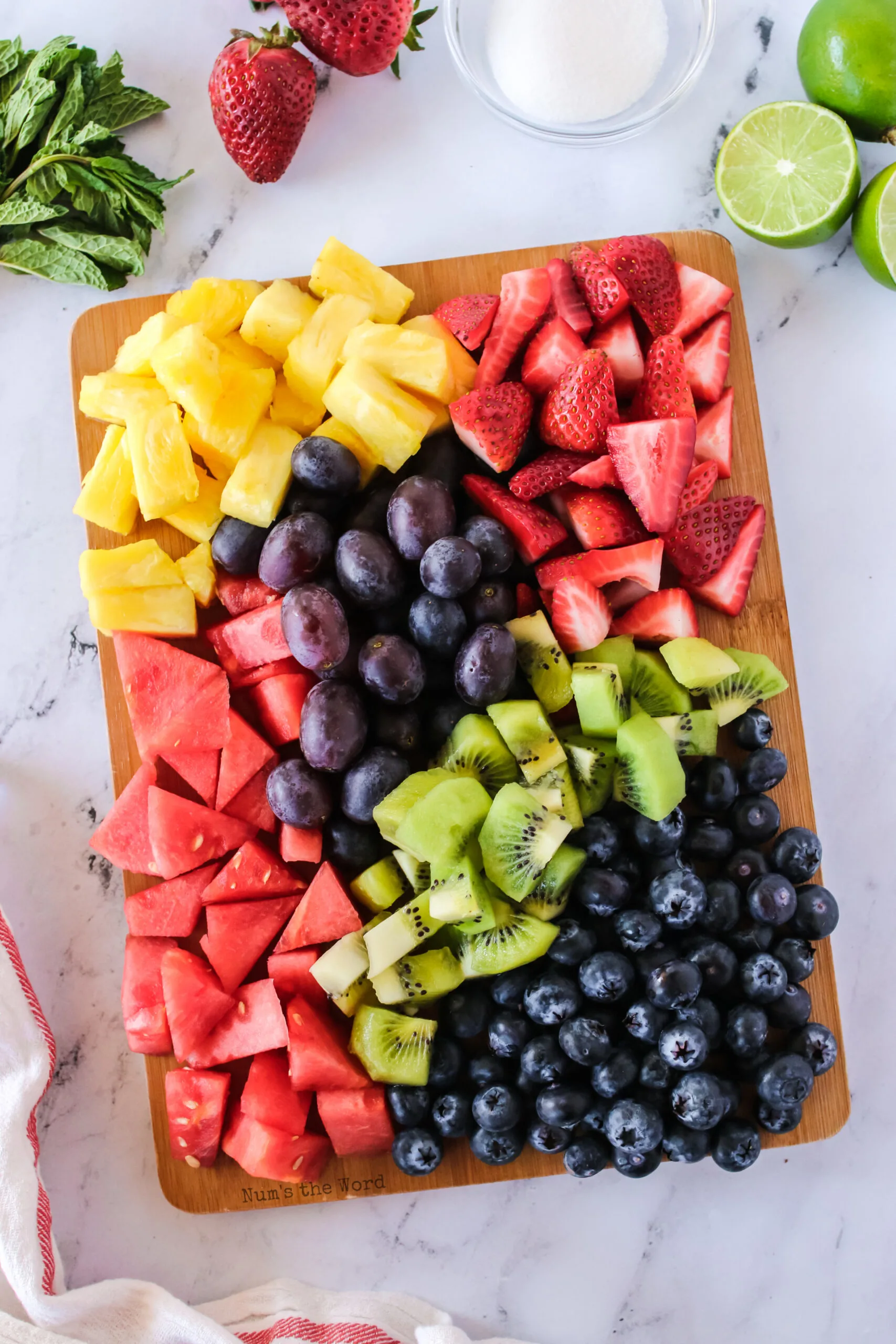 What to put in summer fruit salad?
I love the rainbow of colors and flavors that this fruit salad incorporates! I also love the way the mint and lime work together beautifully to enhance the other fruity flavors.
To make this summer fresh fruit salad recipe, you'll need the following ingredients:
Watermelon

– nothing says "summer" quite like fresh watermelon fruit salad! This juicy melon is a delightful addition.

Seedless grapes

– I prefer to cut the grapes in half lengthwise. You can use any color, or a combination of all three!

Fresh pineapple

– part of what makes this summer fruit salad recipe so FRESH is that we use all fresh fruit ingredients! There's a significant difference in flavor and texture between fresh and canned/frozen fruits. Go fresh for this salad!

Fresh strawberries

– when I think of summer, I think of strawberries and watermelon. Maybe because they're my personal favorites?

Blueberries

– juicy, sweet, and full of antioxidants, this little berry is the perfect addition to your summer watermelon fruit salad.

Kiwi

– bright color and flavor makes this sweet and sour little fruit another great addition to your fruit salad.

Fresh mint

– a bit of fresh mint combined with a touch of sugar and lime juice is going to provide the perfect "dressing" to enhance all the other fruity flavors in your salad.

White sugar

– while there's plenty of natural sugars in the fruits themselves, a little extra sugar

macerates

the fruits and enhances their natural flavors.

Fresh lime juice

– the acid from the lime juice not only helps amplify the flavors of the other fruits, but it also works as a preservative, keeping the fruits fresher and more vibrant.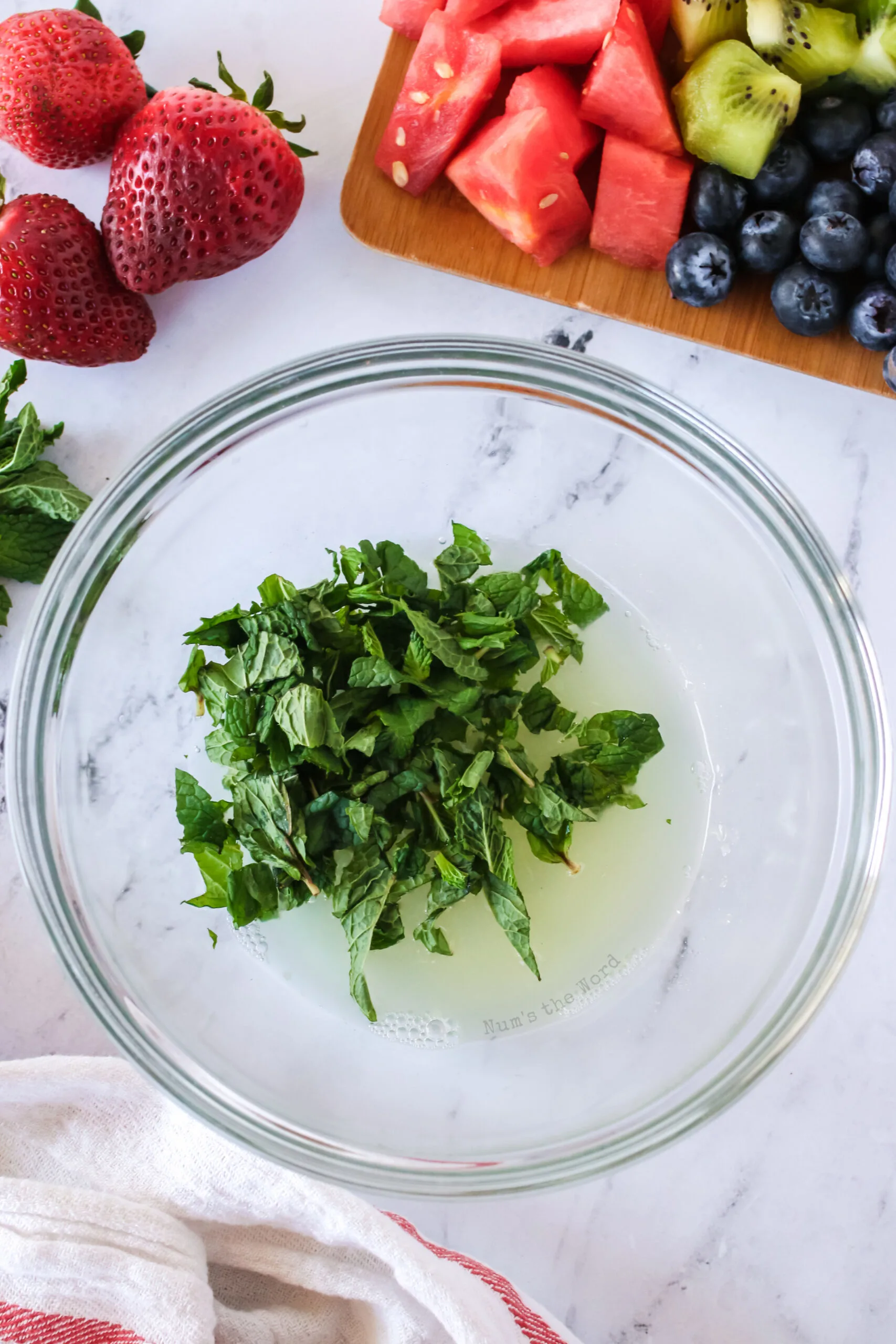 How to make summer fruit salad?
Gathering the ingredients is probably the hardest part of making this fruit salad. Once you have all the fruits and other ingredients you need, the rest is simple!
Combine

lime juice, sugar, and mint and allow to sit for at least an hour.

Cut

and combine the various fruits in a large mixing bowl.

Strain

the dressing onto the fruit mixture.

Gently

toss the dressing and fruit.

Serve

and enjoy!
That's it! I recommend straining the dressing to remove the mint leaves. While the mint provides great flavor, the leaves themselves can be a bit bitter when eaten.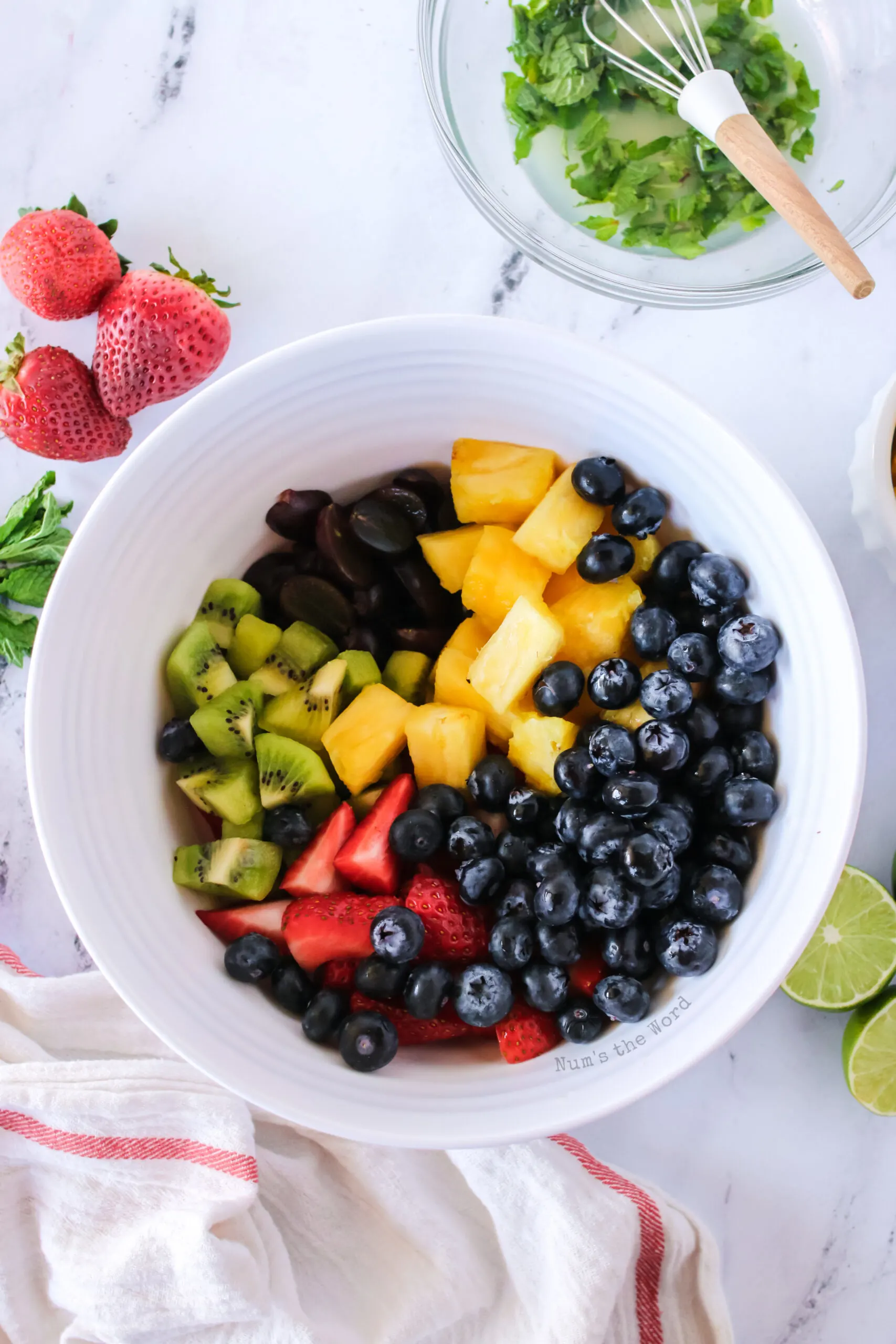 Can you freeze fruit salad?
Unfortunately, freezing fruit salad will leave you with mushy, weird-textured fruit upon thawing. I do not recommend freezing this fruit salad. You will lose all the beautiful texture of the fresh fruits if you do!
That being said, if you want a tasty fruit smoothie, you can freeze your leftover fruit salad and blend it with your favorite fruit juice and yogurt later!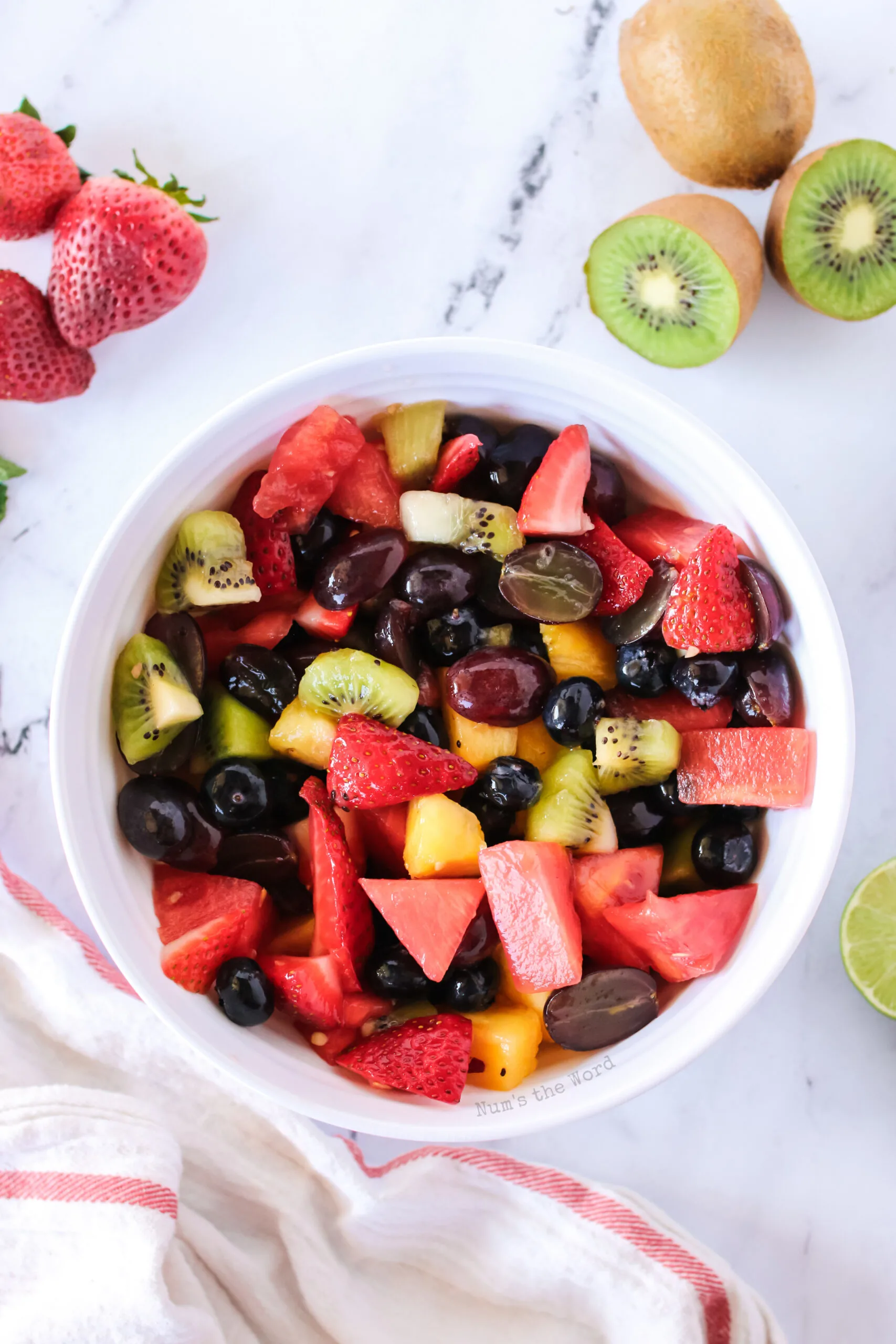 Can you make fruit salad ahead of time?
I definitely recommend making the lime and mint dressing for this fruit salad ahead of time. You want at least an hour for the flavors to marry and blend together.
As for the assembled fruit salad, it's best served the same day; otherwise the fruits begin to break down and make more juice than salad. This fruit salad is great served chilled!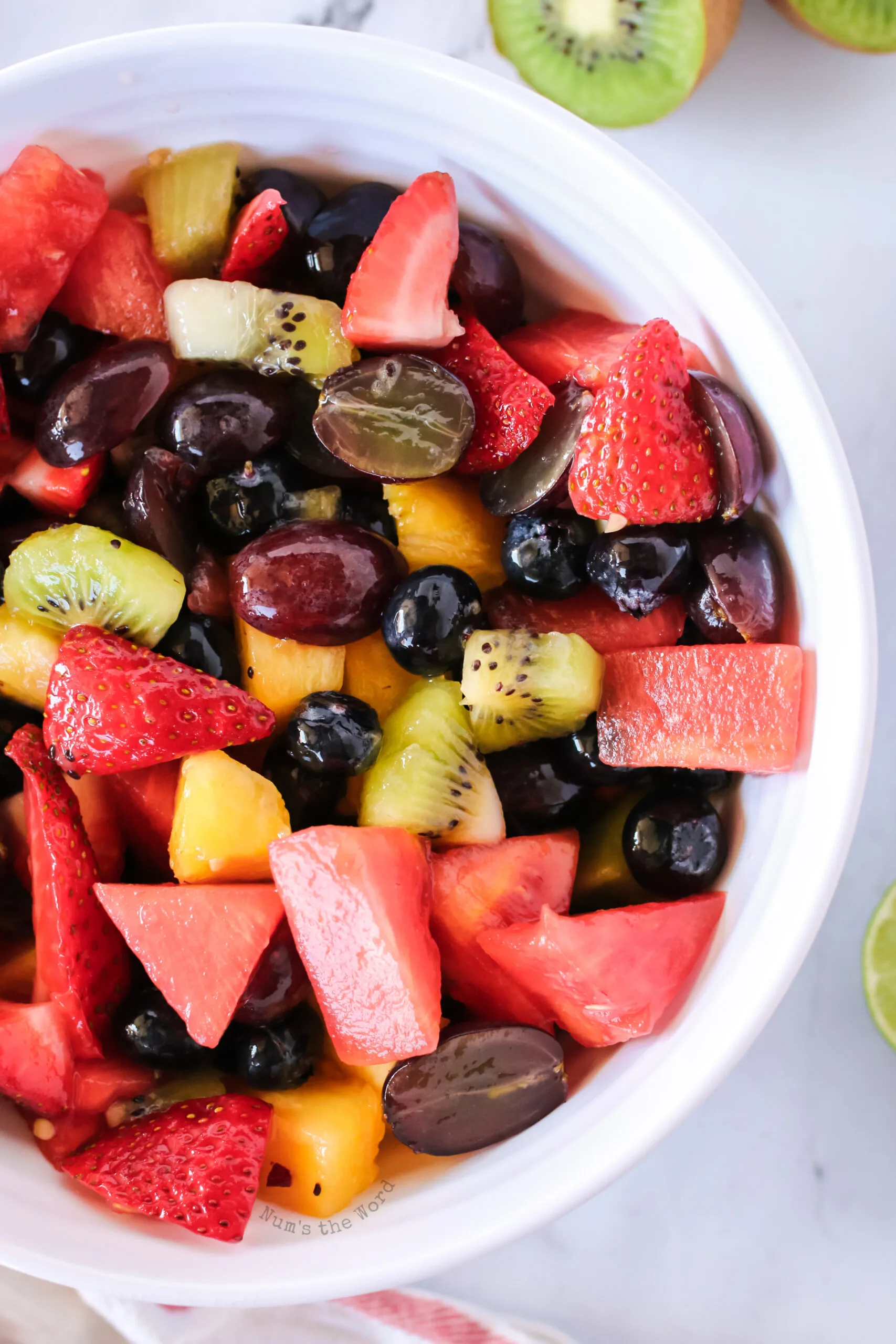 What to serve with fruit salad?
This summer fruit salad makes the perfect addition to any meal! It's great for parties, potlucks, BBQs, or any meal. It goes great with a platter of pancakes or crepes and eggs, and just as nicely with lunch or dinner!
Easy Main Dishes that go well with Summer Fruit Salad: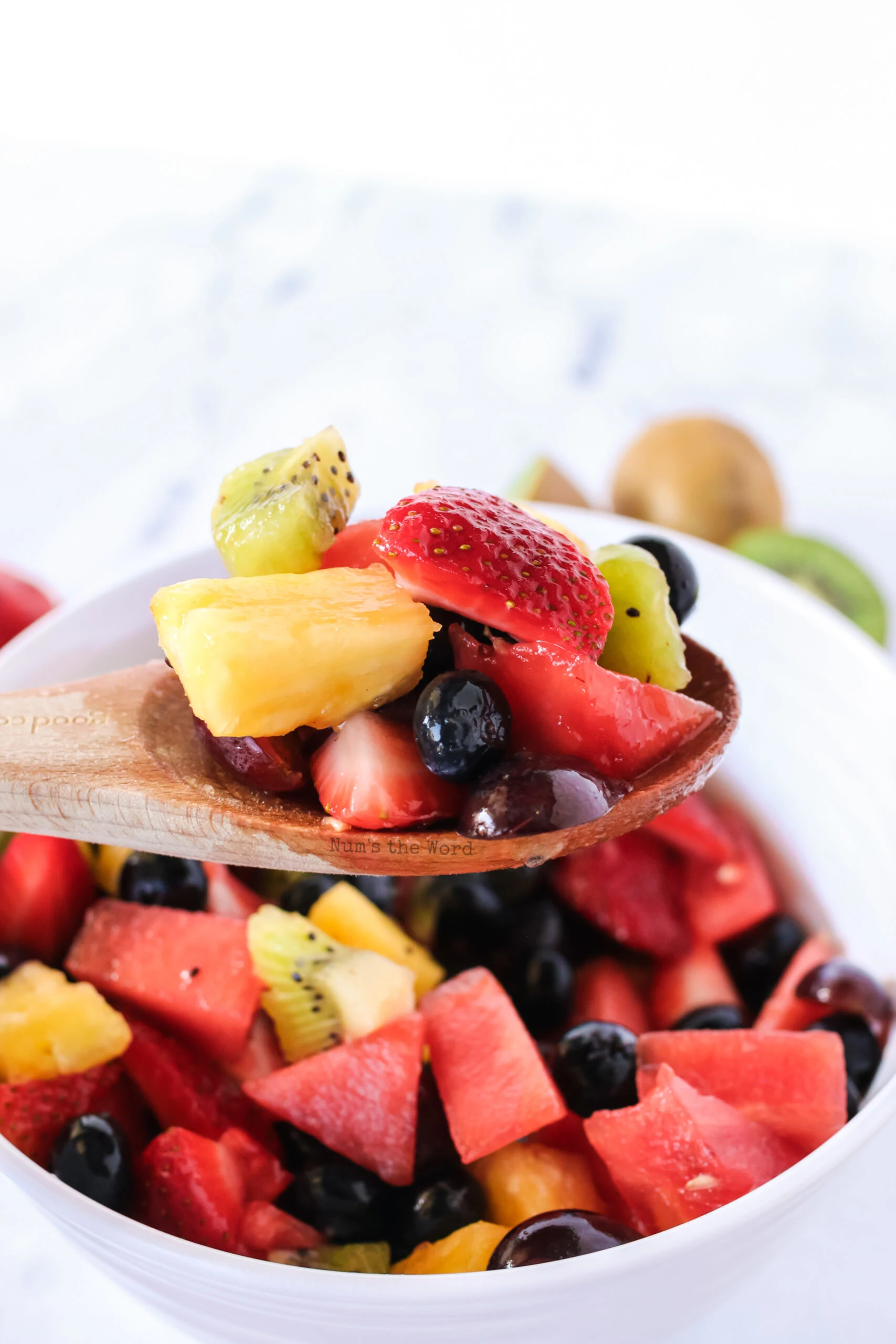 If you love fruit, try one of these fruit recipes:
There are so many different ways and dishes to make the most of those summer days of fruit and sunshine! Whether you add jello or cream or make a sweet and savory fruit salsa, summer is the time for fruit to shine.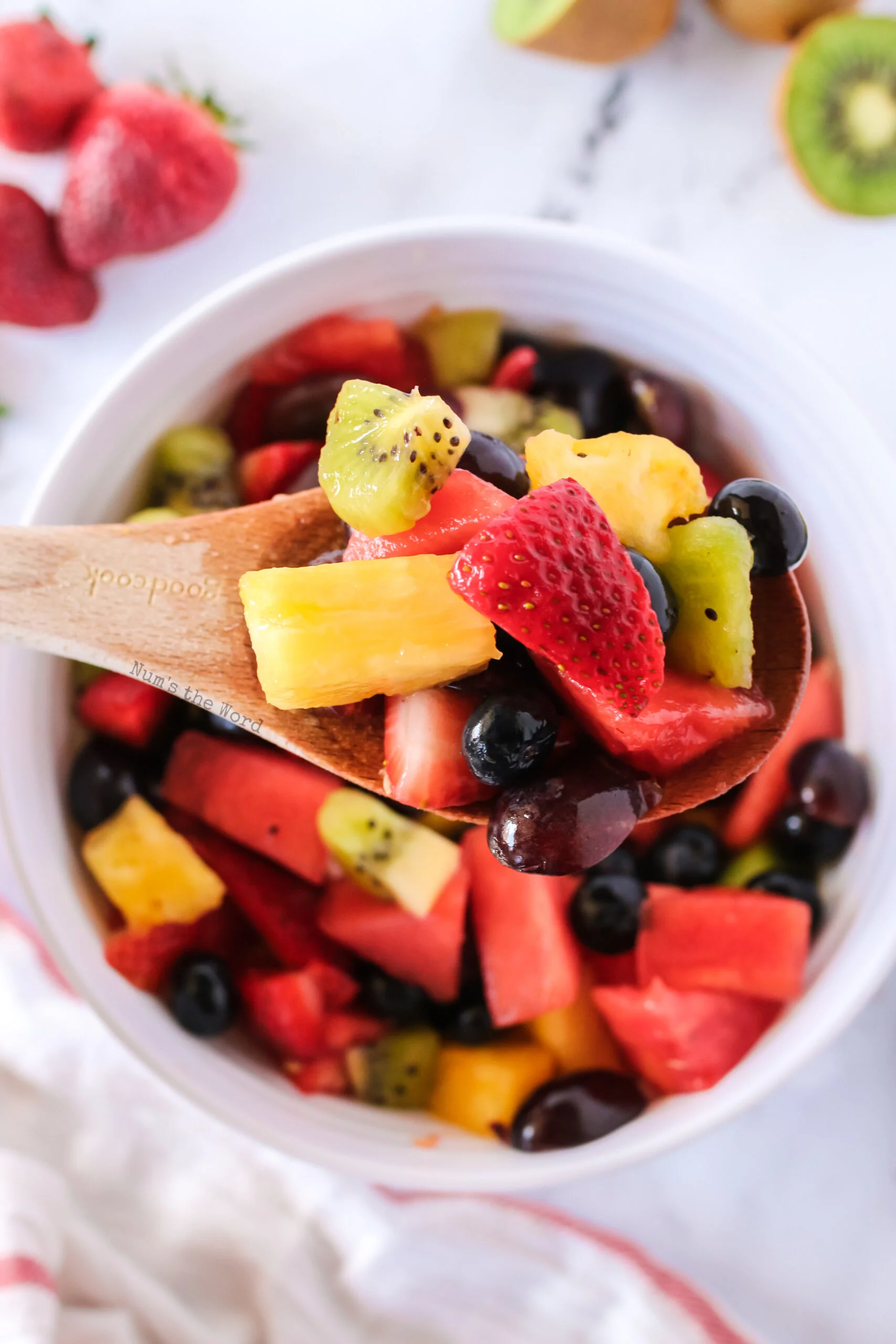 How to store fruit salad?
While freezing isn't a great option for making this summer fruit salad ahead of time, you can still save your leftovers for the next day or two! Store leftover fruit salad in an airtight container in the refrigerator for up to 2-3 days.
Keep in mind that the fruits will begin to break down and start to liquefy the longer they are in the fridge. It's best to enjoy leftovers within a day or two of making the salad.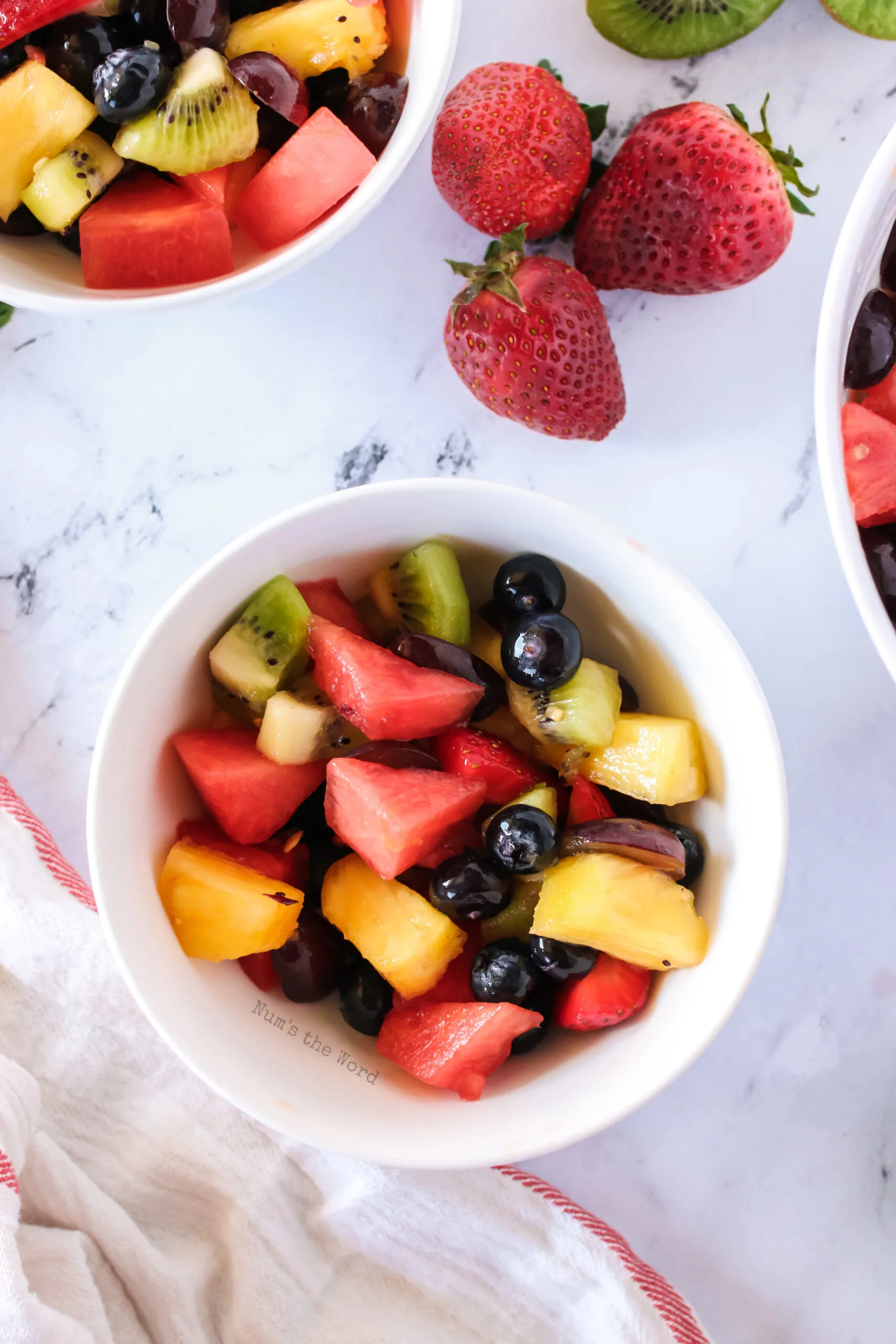 This simple and delicious take on summer fruit salad is sure to become a favorite recipe! With the perfect ratio of fruit and the cooling zip of the lime mint dressing, this fruit salad is just unique enough to stand out while maintaining all the simplicity of a fresh fruit salad. Enjoy!
Yield: 8 Servings
Summer Fruit Salad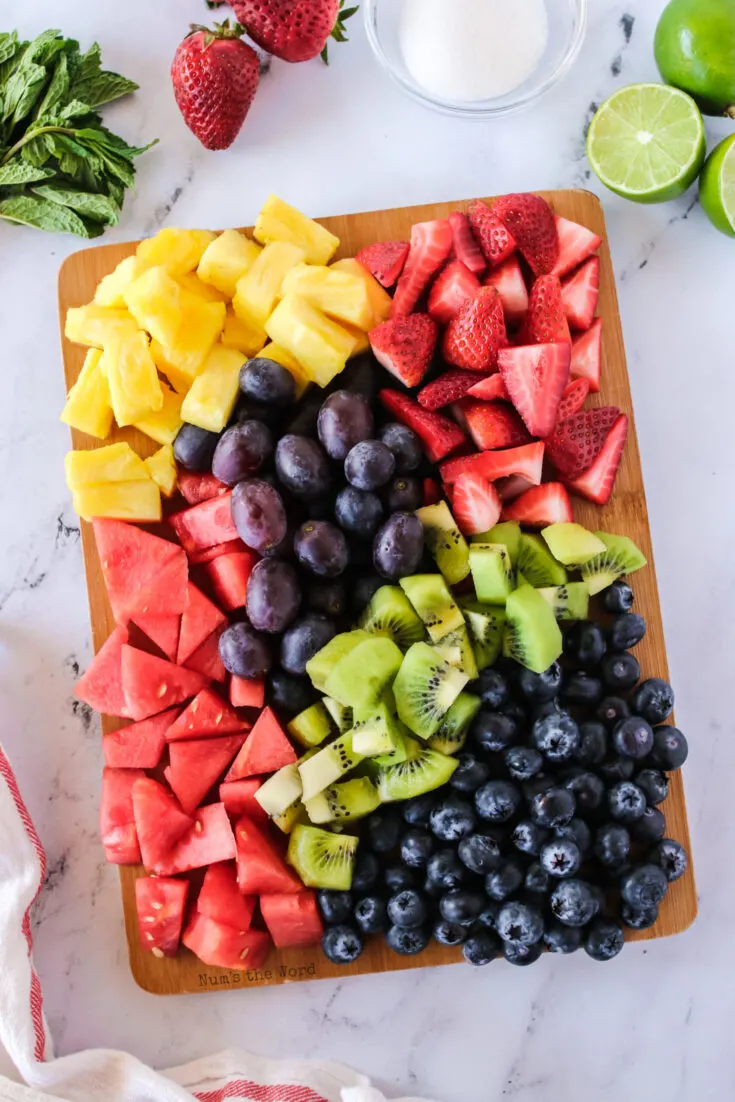 If you are looking for a cool, refreshing and healthy side dish, then try this Summer Fruit Salad. All the flavors of summer in one dish!
Total Time
1 hour
20 minutes
Ingredients
1 cup watermelon, cut into bite sized pieces
1 cup seedless grapes, cut in half lengthwise
1 cup fresh pineapple, cut into bite sized pieces
1 cup blueberries
1 cup kiwi, cut into bite sized pieces
6 sprigs of fresh mint
4 teaspoons white sugar
6 Tablespoons fresh lime juice
Instructions
In a small bowl, add sugar and lime juice. Mix well.
Crush and gently chop fresh mint. Add to lime juice and mix well. Set aside for at least 1 hour to let flavors blend.
Once dressing is ready, In a large serving bowl, add the watermelon, grapes, pineapple, strawberries, blueberries and kiwi.
Using a fine mesh strainer, pour dressing through the strainer onto the fruit. This will remove the mint leaves which can taste bitter.
Gently toss fruit and dressing and serve immediately or chill for 1 hour before serving.
Nutrition Information:
Yield:
8
Serving Size:
1
Amount Per Serving:
Calories:

68
Total Fat:

0g
Saturated Fat:

0g
Trans Fat:

0g
Unsaturated Fat:

0g
Cholesterol:

0mg
Sodium:

4mg
Carbohydrates:

17g
Fiber:

2g
Sugar:

12g
Protein:

1g