If you love fruit salads, then you've got to try this Pistachio Fluff. 1 bowl, 1 spatula and a few ingredients. Whip it up in 10 minutes, chill for 1 hour and you'll have a tasty Pistachio Fruit Salad.
This post contains affiliate links. If you click on an affiliate link and make a purchase, I will make a small percentage on your purchase. This helps keep this website running! Thank you!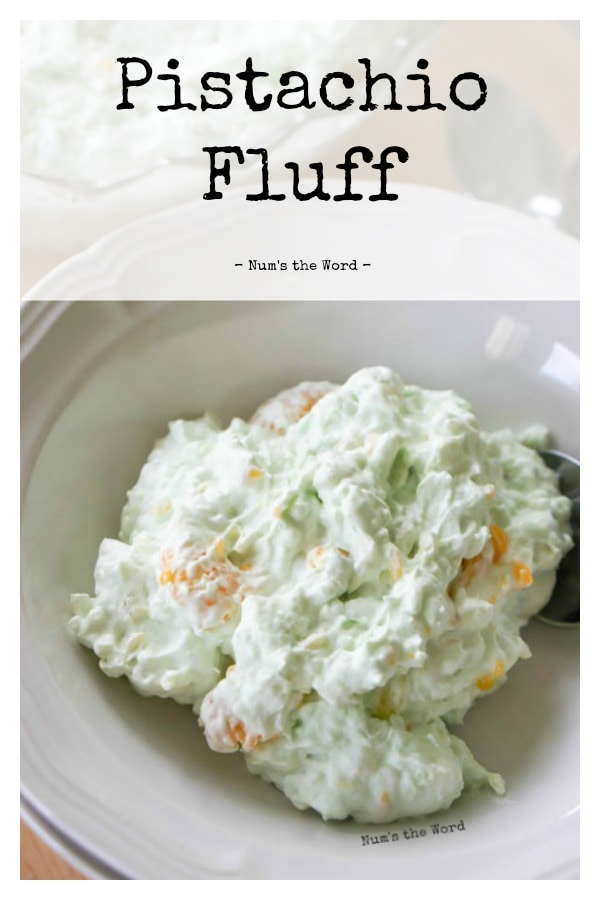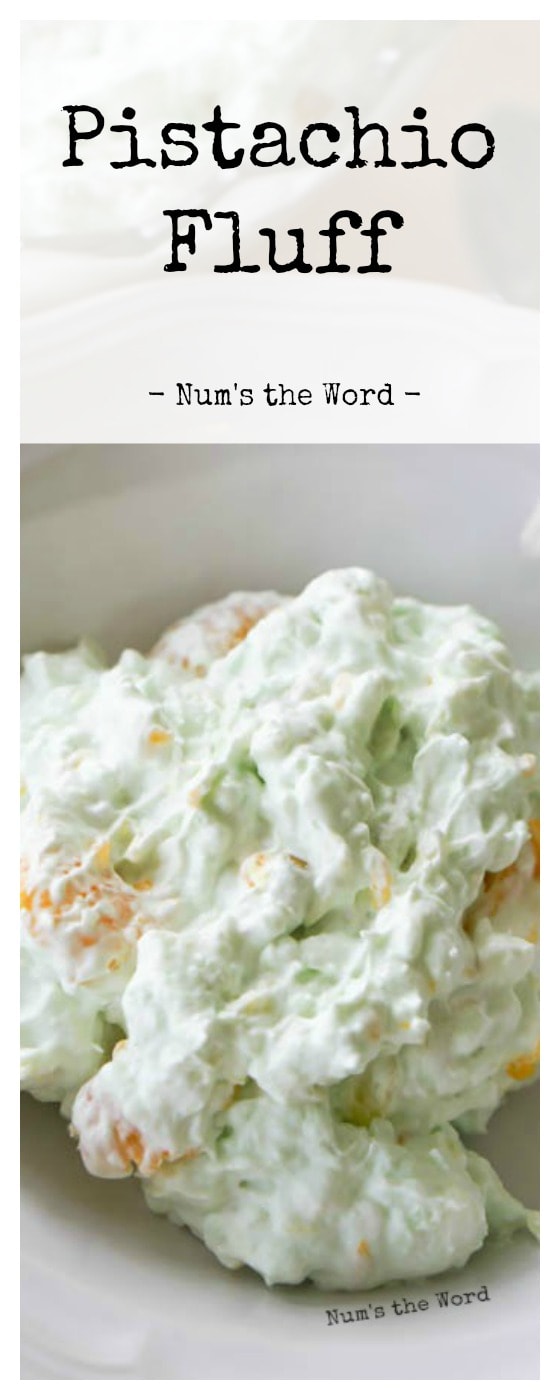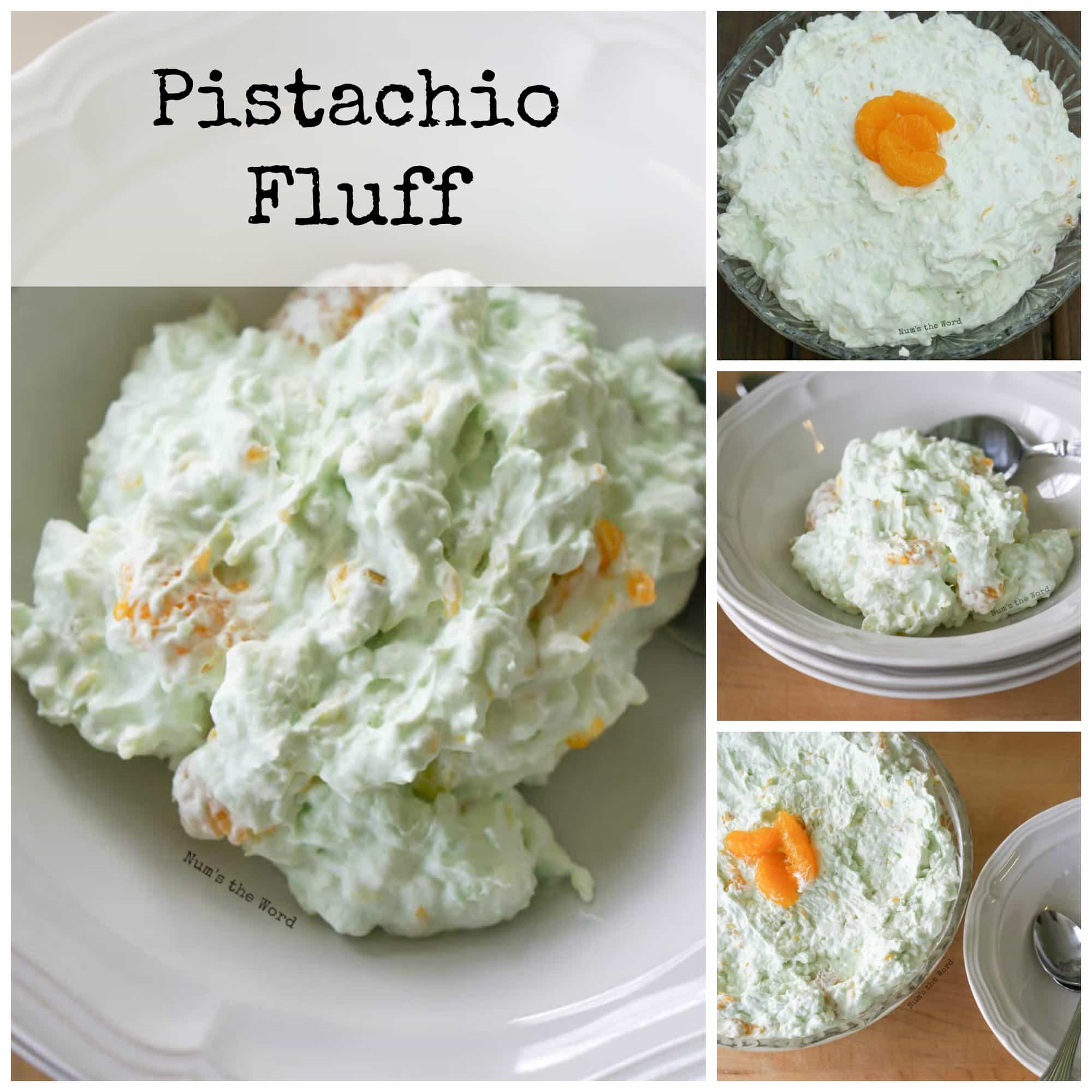 When it comes to side dishes, I am the worst.
Generally speaking, my kids only get a selection of side dishes on Sunday when we eat with my in-laws.
However when I'm cooking, they are lucky if they get two.
We usually have our main dish and a vegetable.
Simple, to the point and filling.
Things like fruit salads and fluffs are for some reason reserved for the weekends.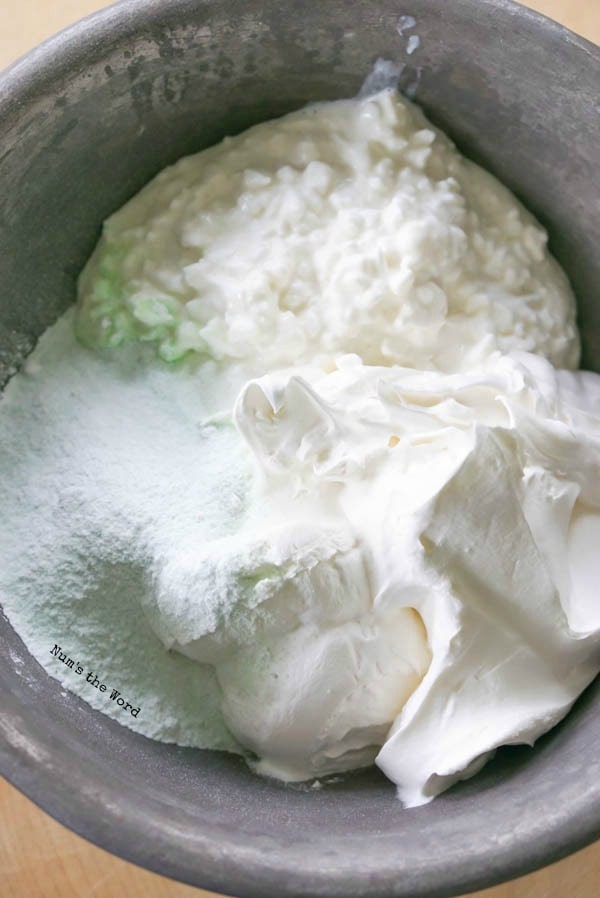 Perhaps it's because I'm lazy or maybe it's because this is a boarder line dessert.
It seem's like any side dish that has marshmallows and whipped cream is much closer to a dessert than a side dish.
And yet here in the United States, we've come to accept this as a side dish.
I'm not complaining.
Heck, I'm the person putting this on my website in an effort to convince all of you to make it.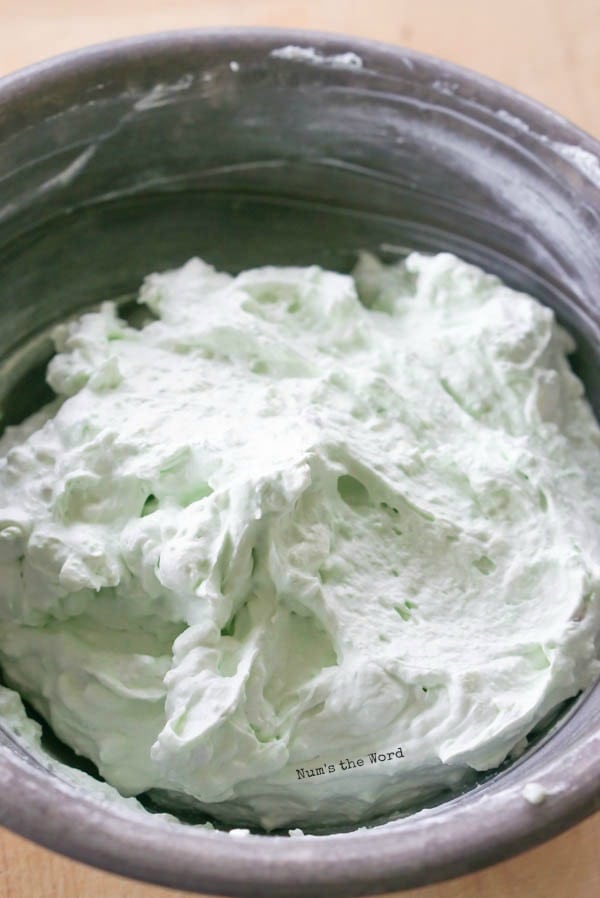 However, I also find it a but interesting that this is considered a side dish and not a dessert.
You can certainly serve it as a dessert instead of a side dish.
I don't think your guests will complain.
Either way you serve it, it's delicious.
Fruit salads are a staple of summer and winter side dishes because they are so easy to make.
This Pistachio Fluff isn't one to pass up.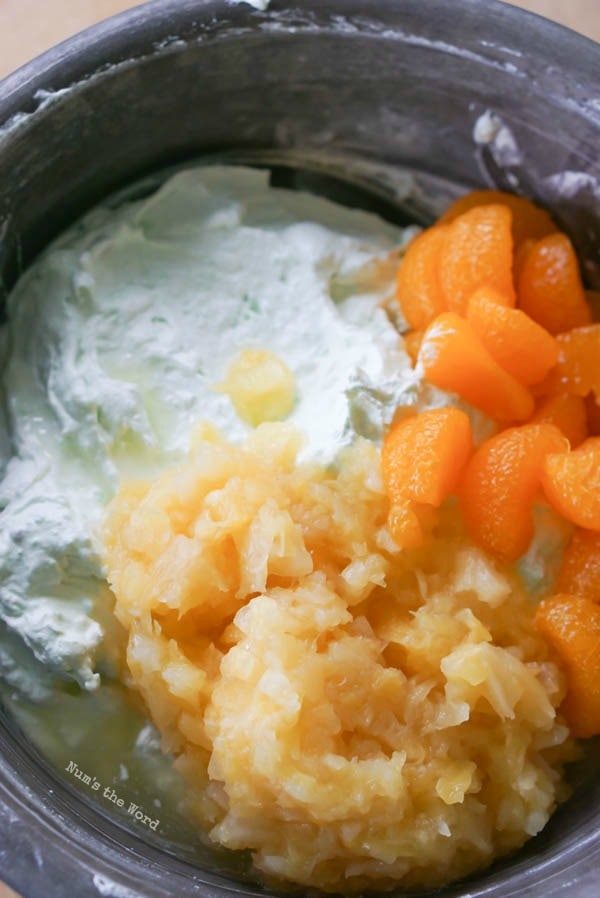 In fact it's one we make regularly because it's just so easy to whip up!
My Mother-in-Law Liz, whom I talk about a decent amount on here, and who is a great cook, makes the BEST side dishes.
Seriously.
Every time we get together she has a new fruit salad and they are all delicious!
If you've not tried the Cranberry Pineapple Salad, that she made, I suggest you do.
It's one of our favorites and a regular on our Thanksgiving table!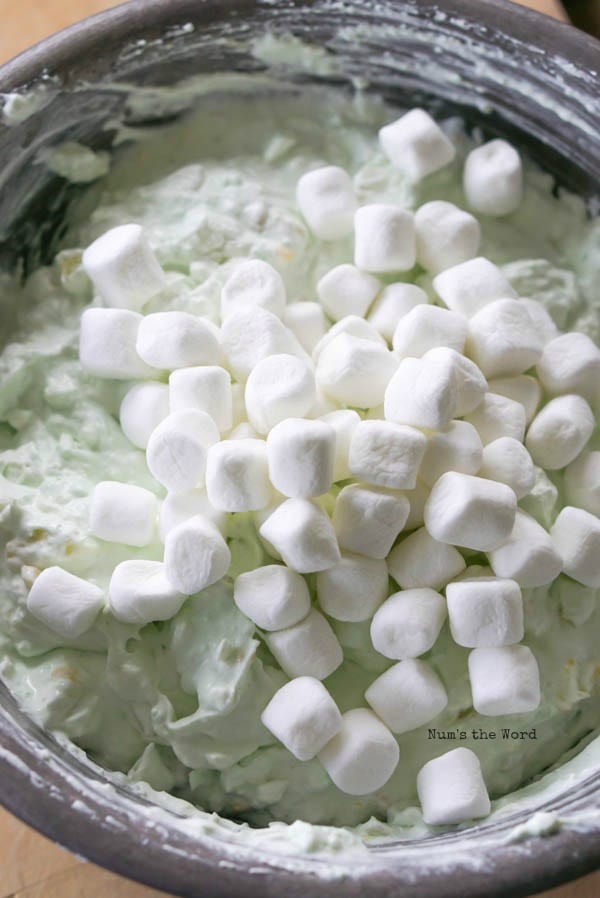 Fruit salads seem like a staple on her dinner table.
Because of this, they have quickly become something we look forward to.
Whether it's fresh fruit salad or this tasty Pistachio Fluff, which is more of a fluff than a fruit salad, it's a winner.
Because this Pistachio fruit salad is to make, it would make a great side dish to your holiday meal.
You could also enjoy this at a boy's baby shower with it's green tint or even St. Patrick's day!
This is a salad we've made several times and it is easy and tasty!
With only a few simple ingredients and 10 minutes of your time, you can whip this up! We find it tastes best after resting in the fridge for an hour.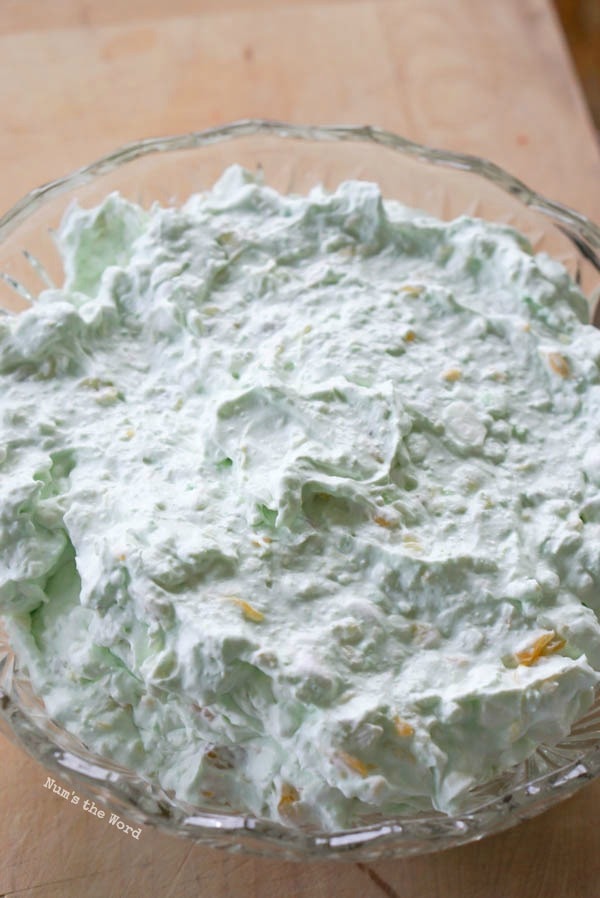 If you eat it right away, you might find it a little grainy due to the pudding not fully dissolving and mixing in.
This Pistachio Fluff is one of those toss it all into a bowl ahead of time and refrigerate it salads.
As a result, there is no fuss, no extra work, and a perfect picnic or potluck dish!
So what is the history of the fluff salad?
Honestly I don't know.
I can't find any history on who officially came up with the fluff salad or why it's called a fluff salad.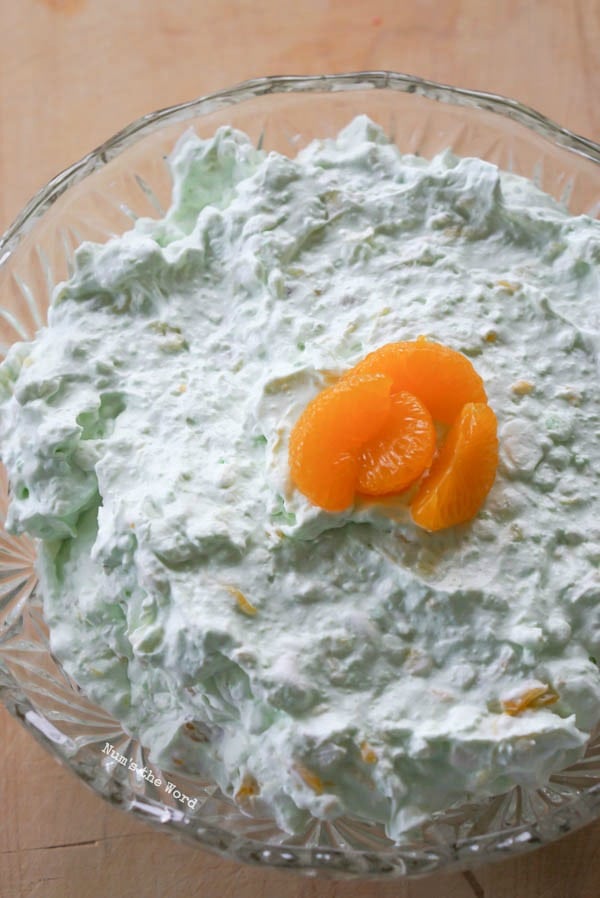 The first time I had ever heard of fluff salad, I was sure it was fruit mixed with marshmallow fluff.
Since marshmallow fluff was the only time I'd ever heard the word fluff used in relation to a food ingredient.
Interestingly, fluff salads do not contain marshmallow fluff.
The two consistent ingredients they all seem to have are fruit and cool whip.
Some add in marshmallows, while others do not.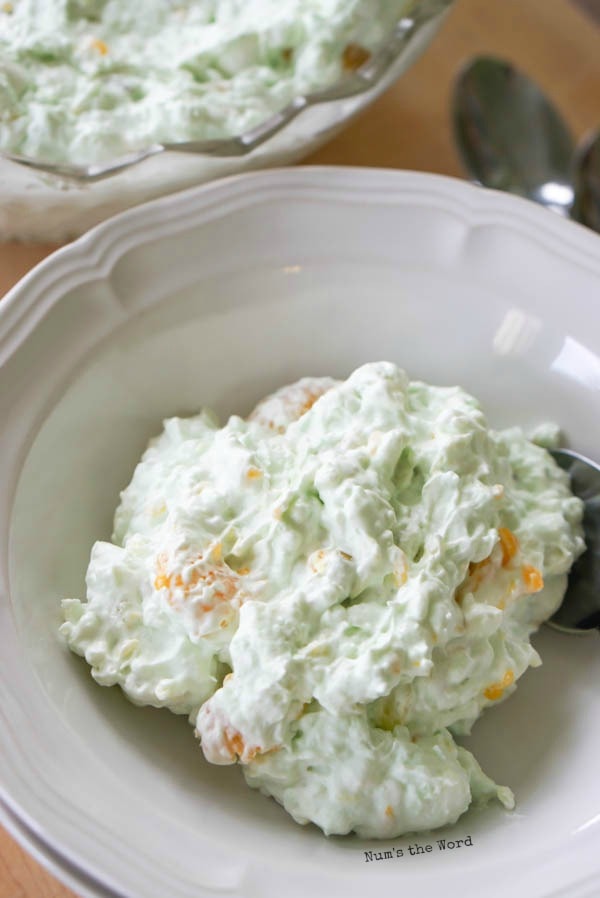 Some add in an instant pudding, and yet again, others do not.
A fluff is and ever changing salad that essentially is taking fresh or canned fruit that you have on hand and combining it with cool whip.
Something anyone can do and it's always a quick and easy side dish.
We have become fans of fluff salads and think you will too!
If you love fruit salad and you love easy side dishes, then I insist you try this one!
Thanks Liz for another great recipe!
Yield: 8 servings
Pistachio Fluff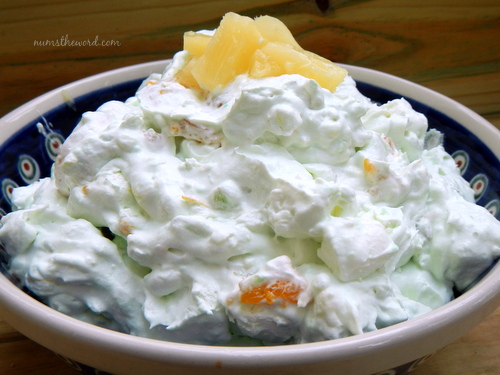 If you love fruit salads, then you've got to try this Pistachio Fluff. 1 bowl, 1 spatula and a few ingredients. Whip it up in 10 minutes and chill for 1 hour! EASY!
Total Time
1 hour
10 minutes
Instructions
In a medium bowl add cool whip, cottage cheese & pistachio pudding mix (dry). Mix until well incorporated.
Fold in the crushed pineapple, mandarin oranges and marshmallows. Fold until well incorporated.
Cover and chill for 1 or more hours.
Serve cold.
Notes
Nutritional Information is estimated, not exact
Recommended Products
As an Amazon Associate and member of other affiliate programs, I earn from qualifying purchases.
Nutrition Information:
Yield:
8
Amount Per Serving:
Calories:

206
Total Fat:

8.5g
Saturated Fat:

6.9g
Cholesterol:

5mg
Sodium:

253mg
Carbohydrates:

25.4g
Fiber:

0.6g
Sugar:

21.1g
Protein:

7g
Originally Posted: January 22, 2015
Photos & Text Updated: November 9, 2018
Other Fruit Salads You'll Love...