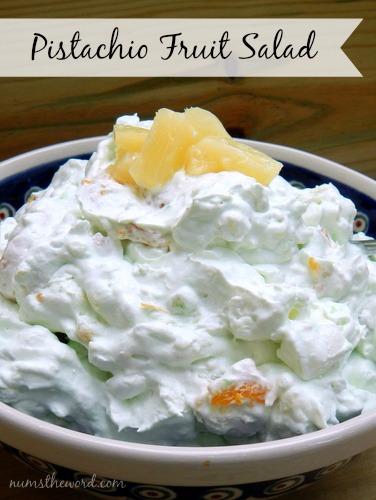 Fruit salads are a staple of summer and winter side dishes. This Pistachio Fruit Salad isn't one to pass up.
In fact it's one we make regularly because it's just so easy to whip up!
My Mother-in-Law Liz, whom I talk about a decent amount on here, and who is a great cook, makes the BEST side dishes. Seriously.
Every time we get together she has a new fruit salad and they are all delicious! If you've not tried the Cranberry Pineapple Salad, that she made, I suggest you do. It's delicious!
Fruit salads are a staple on her dinner table and have quickly become a staple on ours too. Whether it's fresh fruit salad or this tasty Pistachio Fruit Salad, which is more of a fluff type salad, it's a winner.
This Pistachio fruit salad would work great as a side dish to your holiday meal, a boy's baby shower with it's green tint or even St. Patrick's day.
No planning one of those events? Then forget a theme and just whip it up because you love pistachio pudding and you love fruit.
This is a salad we've made several times and it is easy and tasty!
This Pistachio Fruit Salad is one of those toss it all into a bowl ahead of time and refrigerate it salads. No fuss, no extra work, and a perfect picnic or potluck dish!
If you love fruit salad and you love easy side dishes, then I insist you try this one! Thanks Liz for another great recipe!
This post contains Amazon affiliate links as a free service to you!
Ingredients
1 (12 oz) carton of cool whip, thawed
1 (12 oz) cottage cheese, I use 2%, however any will work
1 (3.4 oz) pkg. pistachio instant pudding mix
1 (8 oz) can crushed pineapple (juice & all)
1 small can mandarin oranges(drained)
1 cup miniature marshmallows
Instructions
In a medium bowl add cool whip, cottage cheese & pistachio pudding mix (dry). Mix until well incorporated.
Fold in the crushed pineapple, mandarin oranges and marshmallows. Fold until well incorporated.
Cover and chill for 1 or more hours.
Serve cold.
https://numstheword.com/pistachio-fruit-salad/
Items recommended for this recipe include…
Another Awesome Recipe You'll Love…