Cranberry Fluff is the perfect side dish for Thanksgiving, Christmas or any great meal. A simple, easy and kid friendly recipe that has been around for generations!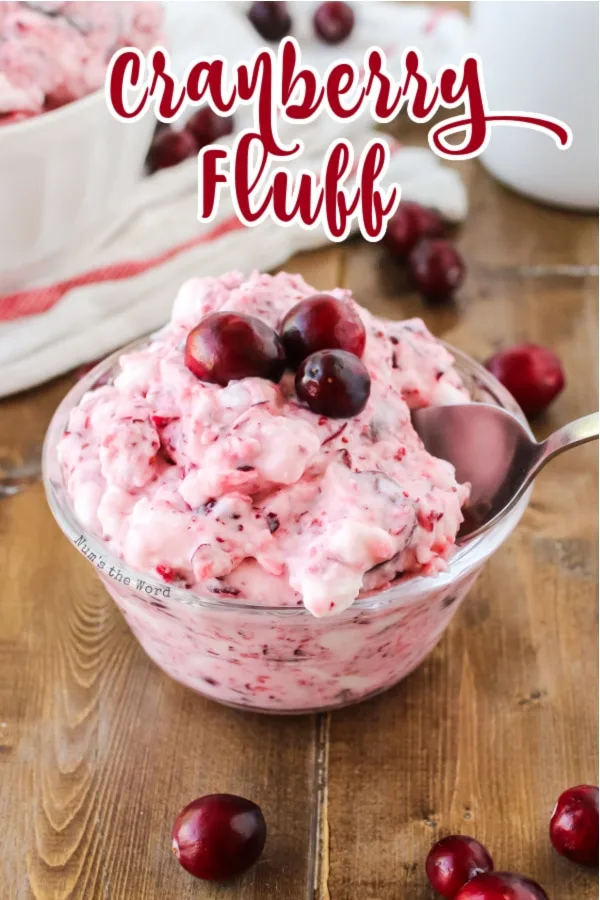 Cranberries always remind me of the holiday season, getting together with family and friends to share time and stories with each other.
Thanksgiving and Christmas are two of my favorite holidays, not only because I love spending time playing games and laughing, but also because of all the amazing tasting food that is involved! And this Cranberry Fluff recipe is a favorite of everyone to have at dinner.
Cranberries are extremely healthy for you. They are full of fiber, vitamins and antioxidants which makes them the perfect fruit to add into your diet. Cranberry Fluff is a favorite of mine for these reasons, and while this recipe has marshmallows in it, the cranberries are a big plus.
There are many ways to make Cranberry Fluff, traditionally you leave the Fluff salad overnight to let the cranberries sweeten overnight, but of course sometimes we lose track of time and forget to start on the fluff the night before.
If that were ever to happen to you, because it has to me, I'll teach you some tricks on how to cheat time.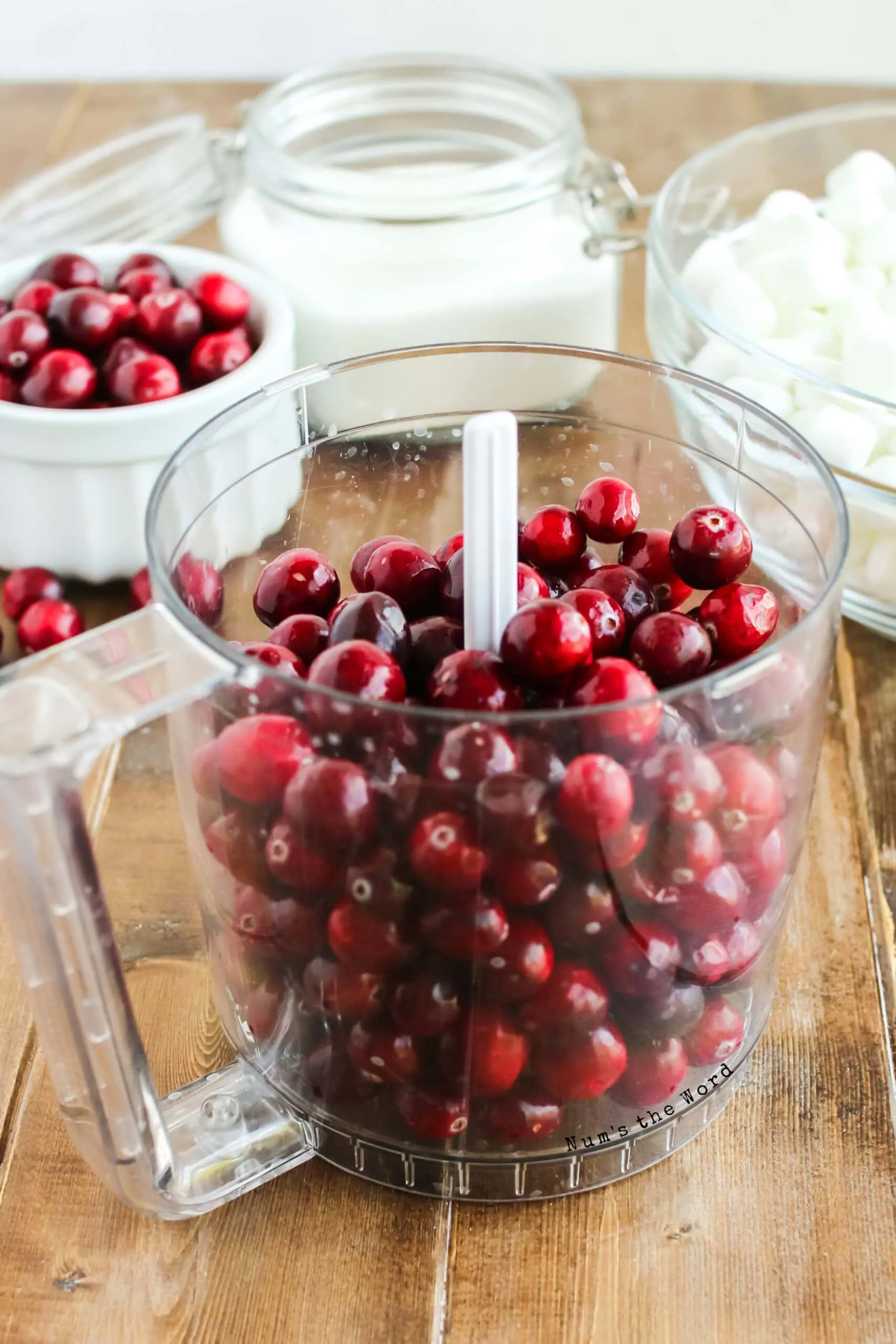 What is in the Cranberry Fluff?
Like I mentioned earlier you are definitely going to need some cranberries and marshmallows for this recipe, but there are three other things you are going to need as well to have that delicious Holiday cranberry fluff. Here is all you are going to need:
Fresh Cranberries

– The fresher your cranberries are the better, especially if you are going to let them sit overnight.

Mini Marshmallows

– The mini ones are the best but you can always try making it with bigger sizes

Red grapes (halved)

– They tend to be sweeter than green grapes

White Sugar

– It's the sweetest ingredient

Heavy Whipping Cream

– This will help thicken the salad and help with the fluffy texture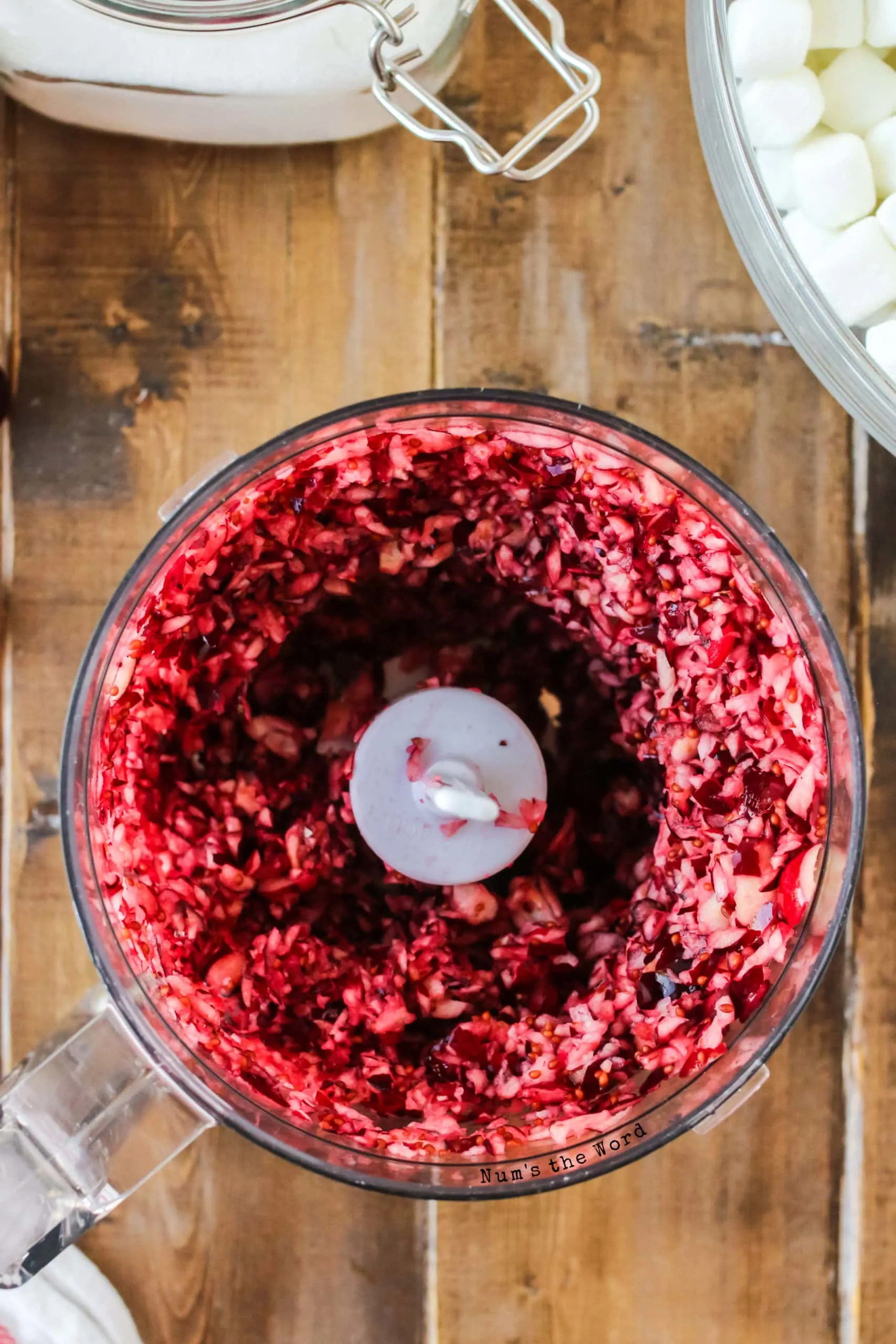 How do you Make Cranberry Fluff:
There are two ways to make your Cranberry Fluff salad recipe, one where you leave over night and one you can make the same day. Here is how you make both:
Over Night:
Add cranberries and marshmallows to a bowl and let "marinate" overnight. The marshmallows will help sweeten the cranberries as well as soften them up a bit.

Add everything else and serve immediately or refrigerate until ready!
Same Day:
The same day version of this cranberry fluff is equally delicious but you'll find it's a tiny bit more tart than the overnight version.
Simply toss all the ingredients together and chill until ready!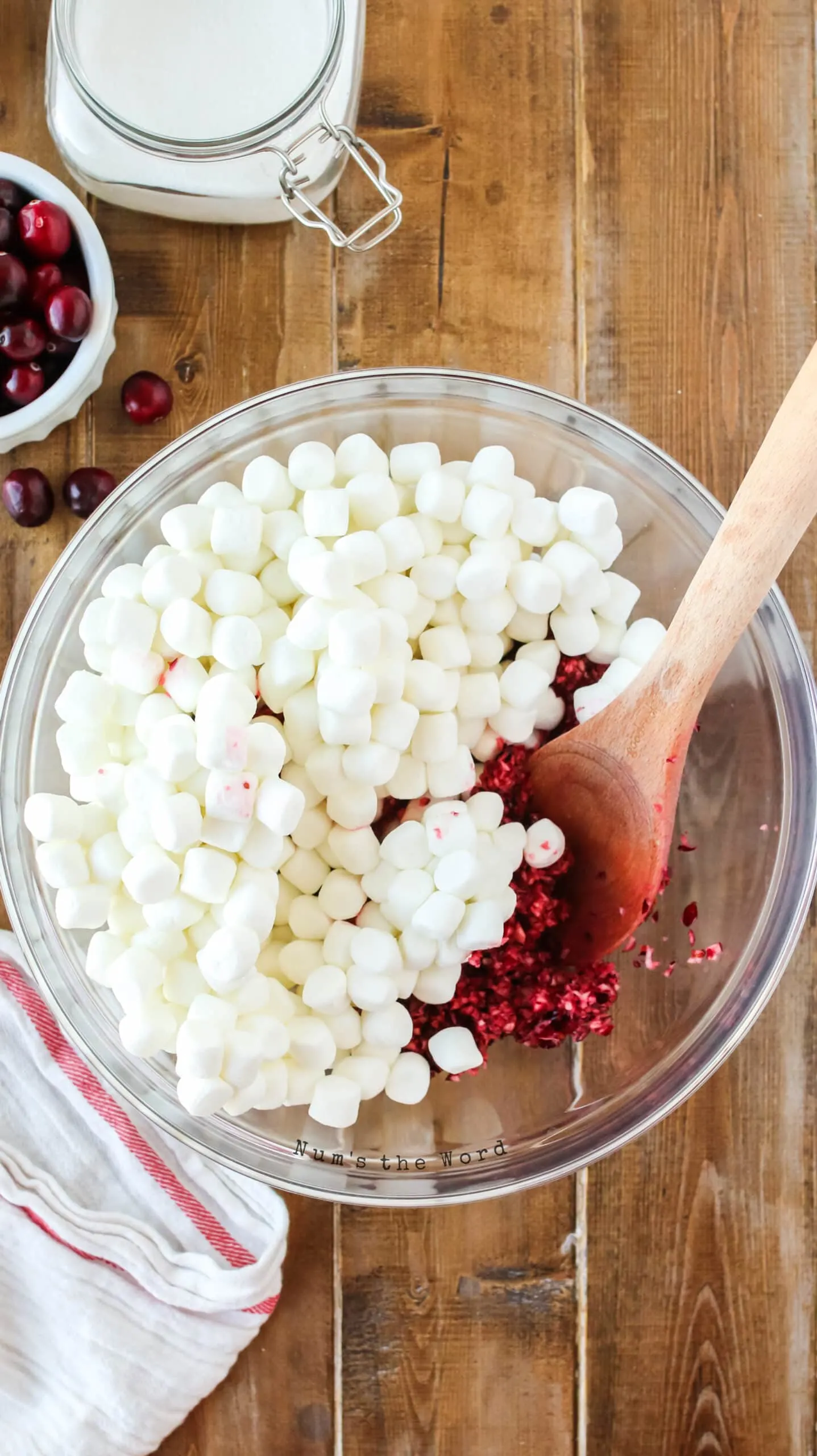 Tip for Same Day Preparation:
If you are making your Cranberry Fluff to enjoy in a few hours add a little sugar to your cranberries before you mix them with the other ingredients and let them sit in the fridge for an hour or two to create that sweeter taste without having to wait overnight.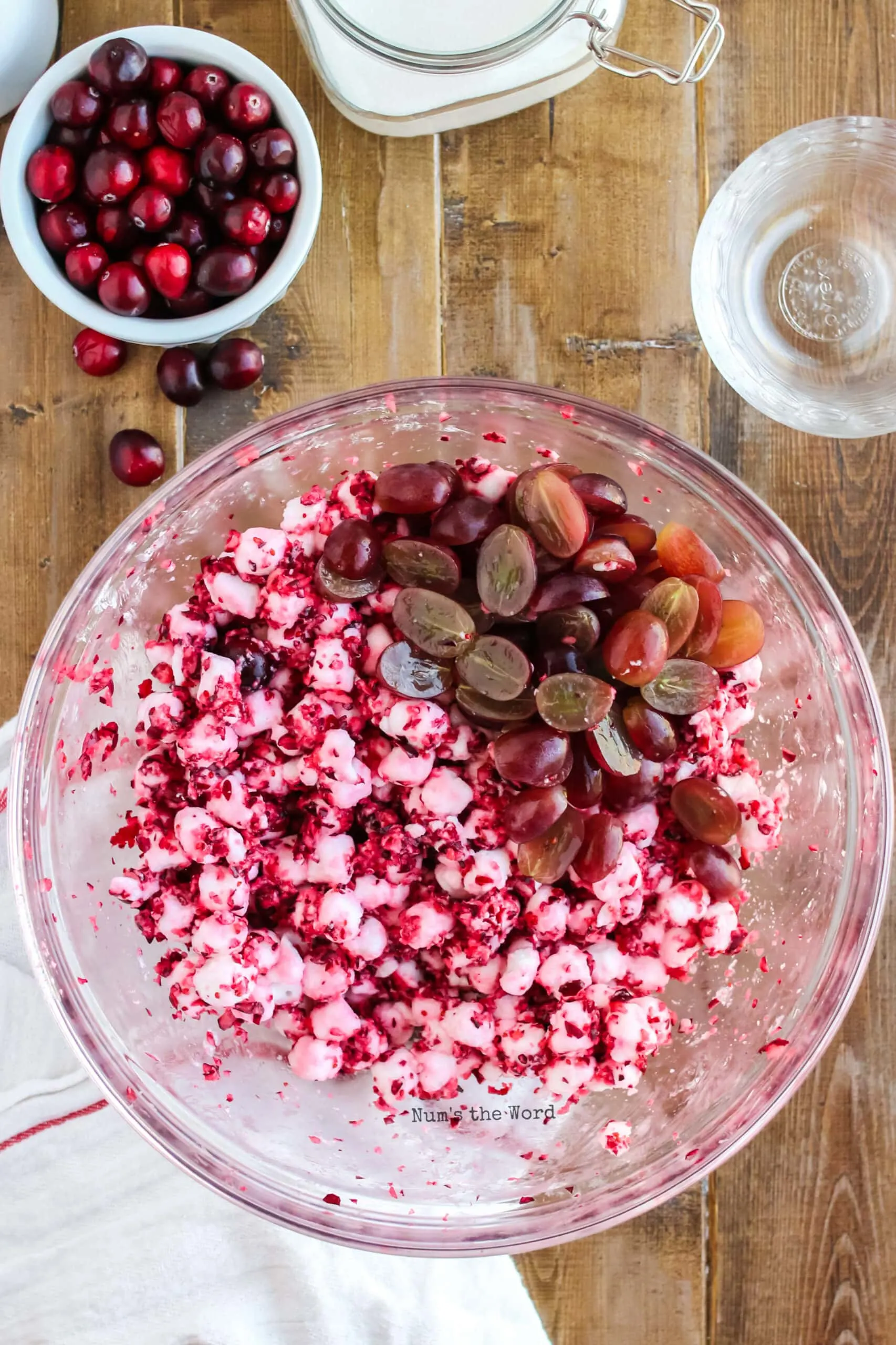 What is cranberry fluff?
Cranberry Fluff is a well known side dish or dessert for the holidays. It is mostly served at Thanksgiving and Christmas. It is a sweet tradition for many and after finding this recipe it is always one of the first things on my plate.
There are many ways to make the well known fluff and a great way to change the recipe up is to add different fruits to it.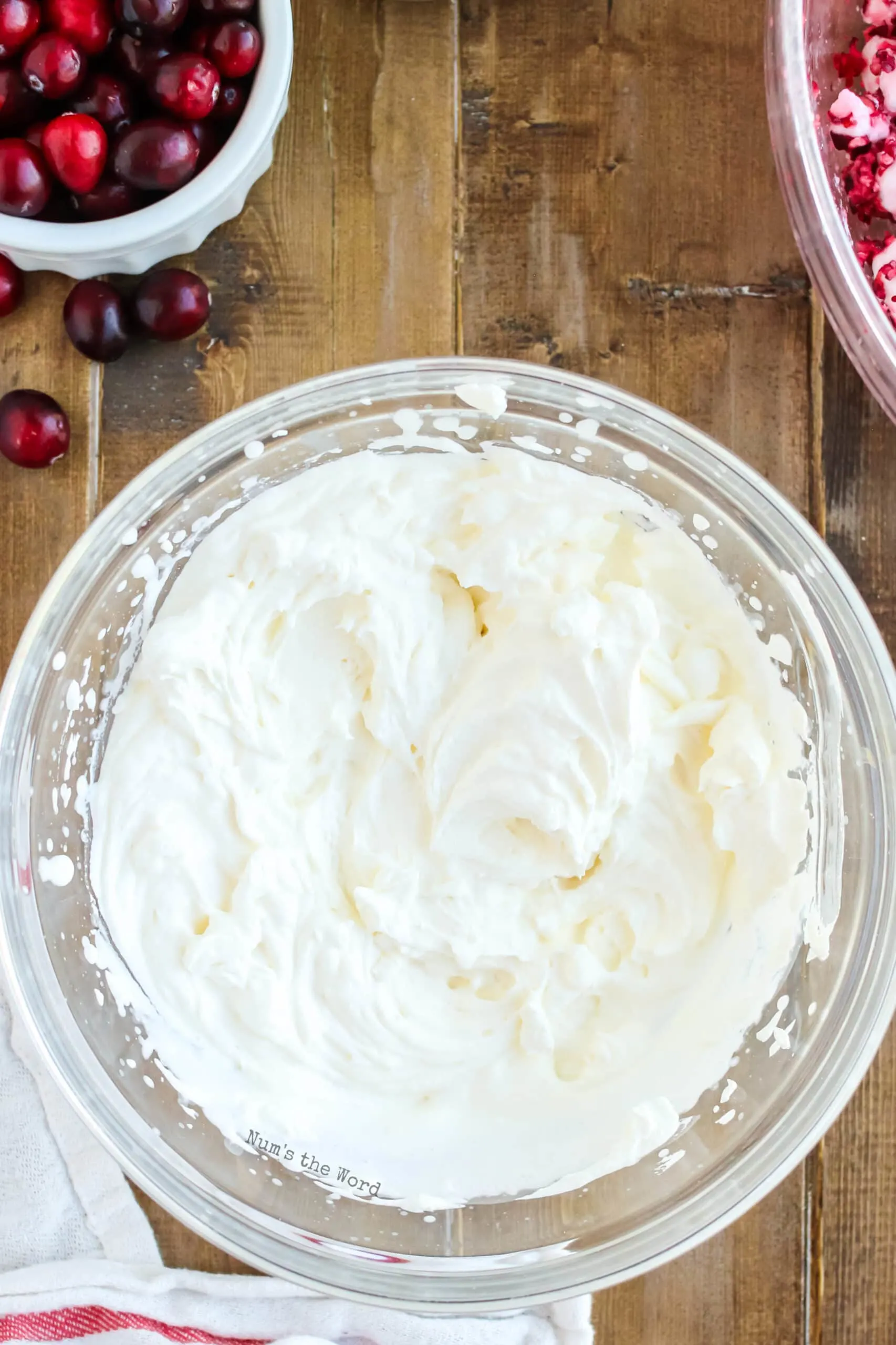 Do you cook the cranberries in cranberry fluff recipes?
No, you don't want to cook your cranberries for this recipe. When making your fluff salad you want it to be as sweet as possible and cooking your cranberries can cause them to become bitter and get mushy.
The best way to get your cranberries sweet is to dice them, then leave them overnight in the fridge.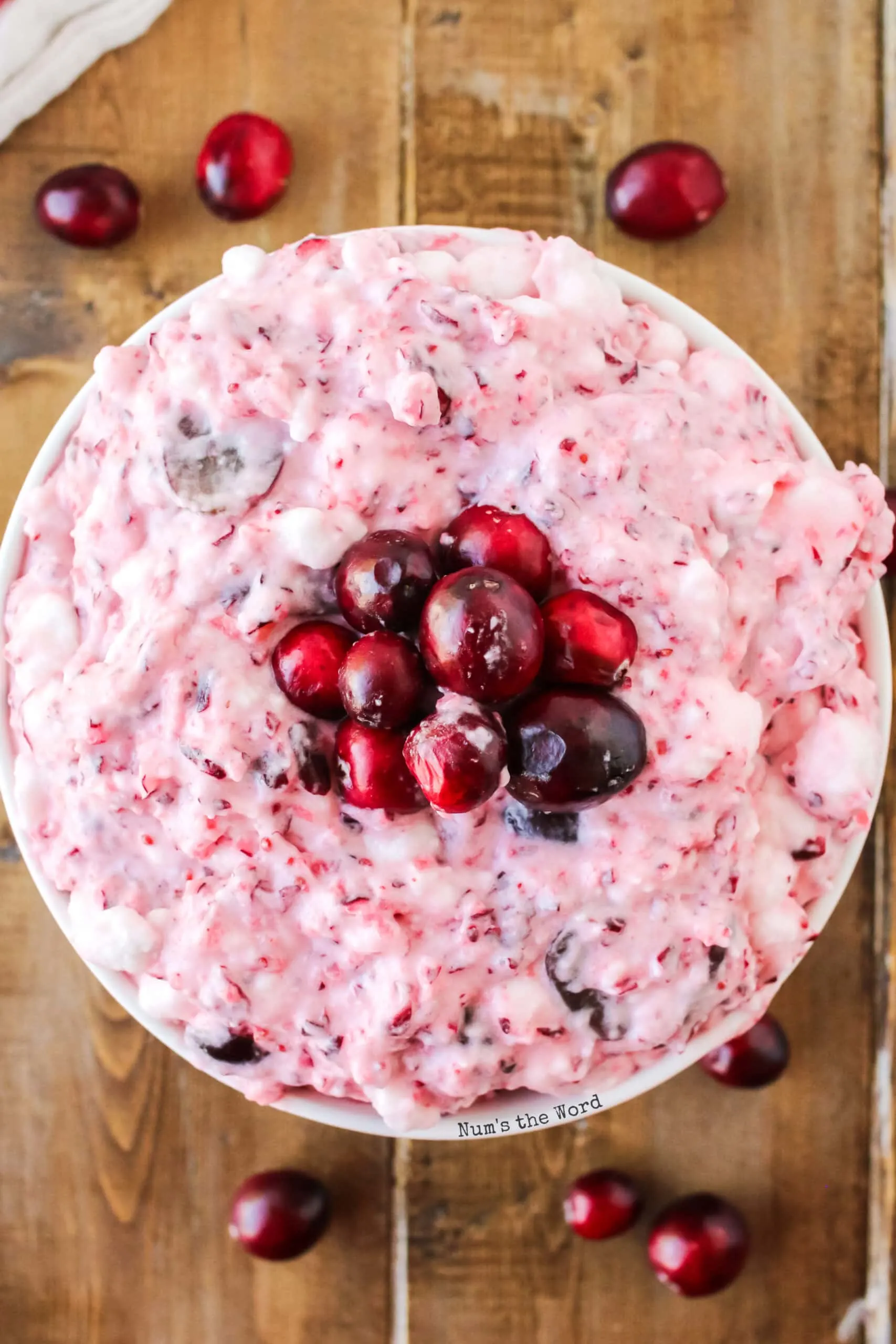 Can you freeze cranberry fluff salad?
Yes, you should be able to freeze your fluff salad. If you need to freeze your salad, I suggest making it in two phases.
Phase 1: Combine the cranberries and marshmallows. Freeze.
Phase 2: When ready to enjoy, thaw in the fridge overnight then add remaining ingredients. Otherwise the grapes can get a bit soggy and the whipped cream won't hold it's shape.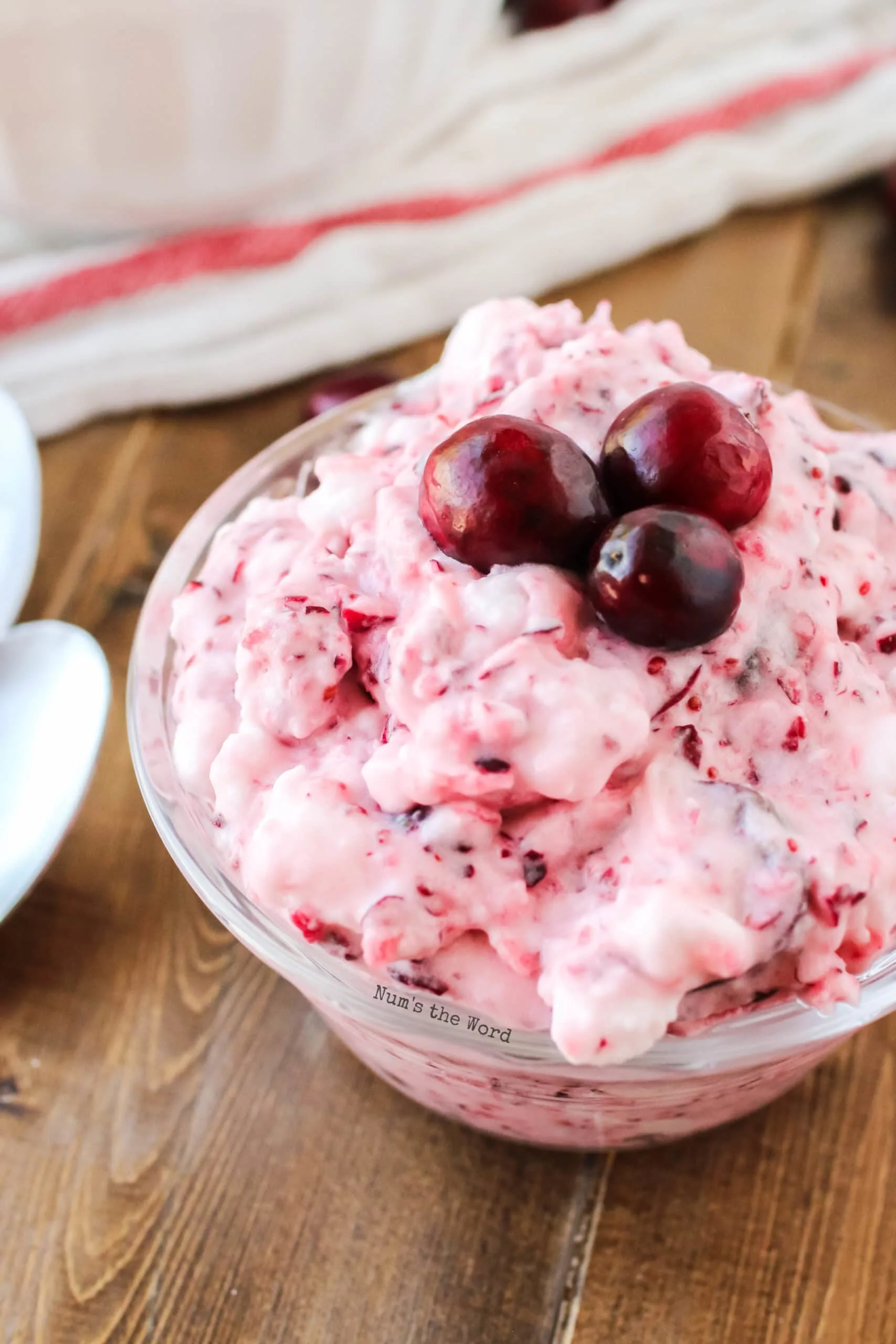 Here are some other great Cranberry Recipes you are sure to love: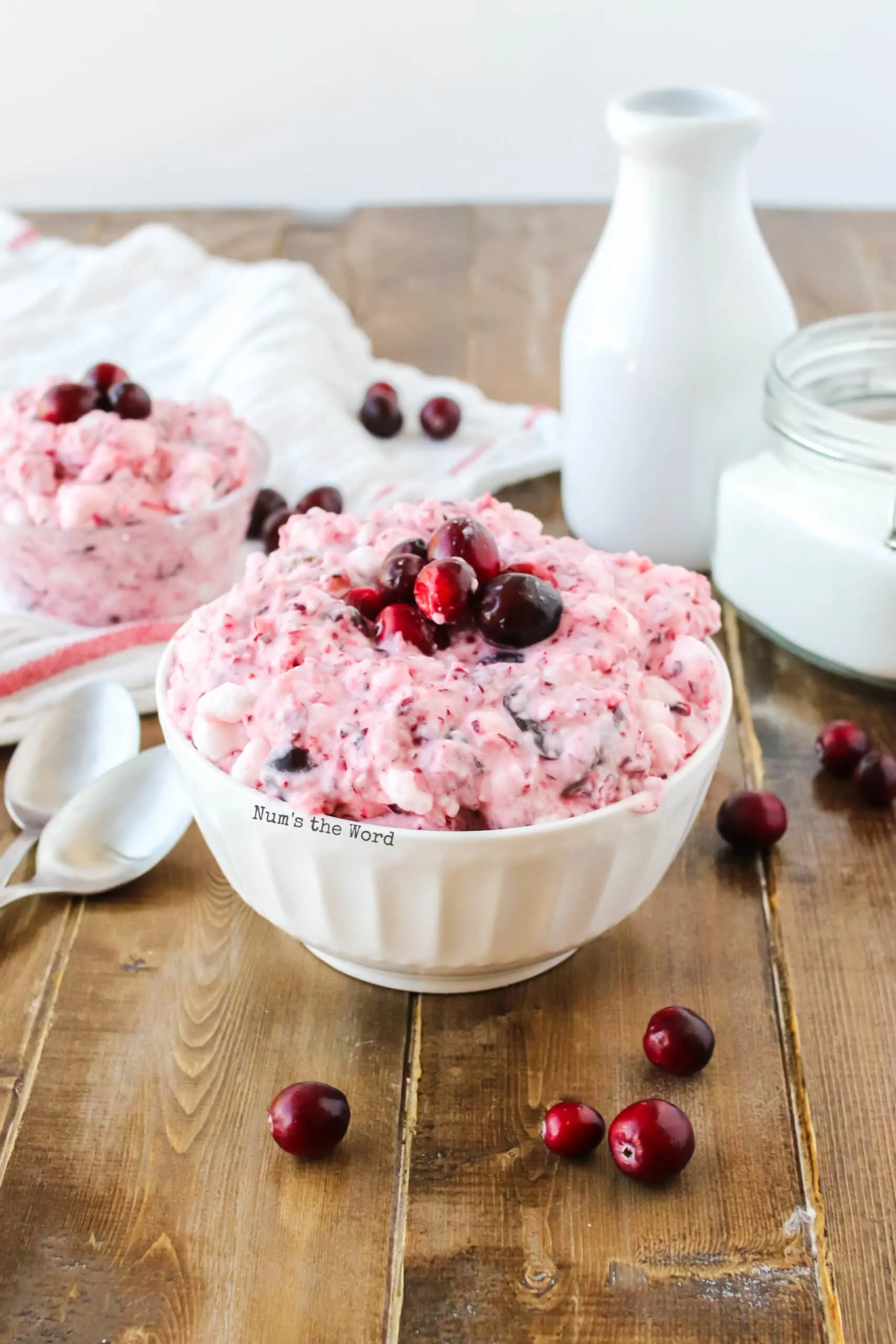 Cranberry Fluff is a family favorite for the holidays. I love how easy it is to make and how sweet it tastes. It is one dish that no matter how much I make of it there will never be any leftovers to take home.
If you bring this Cranberry fluff with you to your next family Thanksgiving dinner, it is sure to be one of the highlights.
Yield: 10 Servings
Cranberry Fluff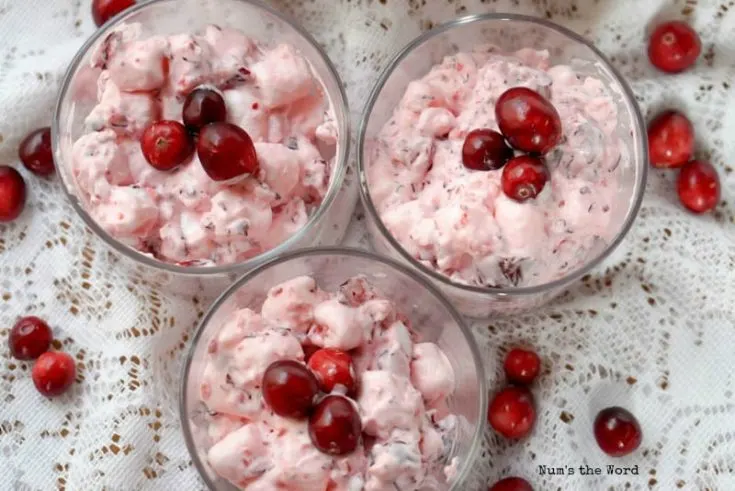 Cranberry Fluff is the perfect side dish for Thanksgiving, Christmas or any great meal. A simple, easy and kid friendly recipe that has been around for generations!
Total Time
8 hours
10 minutes
Ingredients
1 (10 ounce) bag fresh cranberries
1 (10 ounce) bag mini marshmallows
1 cup red grapes, halved
1/2 cup white sugar
1 cup heavy whipping cream
Instructions
In a food processor, dice cranberries.
In a large bowl, combine cranberries, marshmallows.
------------------
Now there are two ways to do this Salad. The old fashioned overnight way, and the new same day way.
------------------
Old Fashioned Way:
Cover and place above mixture in the fridge overnight.
The next day, Add grapes to the cranberry mixture.
Blend up whipping cream with no sugar until stiff peaks form. Mix into cranberry mixture.
Serve immediately or store in fridge, covered, until ready to serve.
If refrigerating, stir again before serving.
------------------
Same Day Version:
Add grapes to the cranberry mixture and mix.
Blend whipping cream and sugar until stiff peaks form and fold into cranberry mixture, until everything is well coated.
Chill for several hours until ready to serve. Mix before serving.
Notes
Nutritional Information is estimated, not exact.
Nutrition Information:
Yield:
10
Amount Per Serving:
Calories:

181
Total Fat:

4.4g
Saturated Fat:

2.8g
Cholesterol:

16mg
Sodium:

33mg
Carbohydrates:

35.6g
Fiber:

0.2g
Sugar:

26.4g
Protein:

0.8g
Originally Posted: October 26, 2016
Updated: November 9, 2020