Don't let cranberry sauce go to waste! Create easy Leftover Cranberry Sauce Bruschetta with it! Also known as a crostini, these bite sized appetizers are packed with flavor and perfect for any get together!
This post contains affiliate links. If you click on an affiliate link and make a purchase, I will make a small percentage on your purchase. This helps keep this website running! Thank you!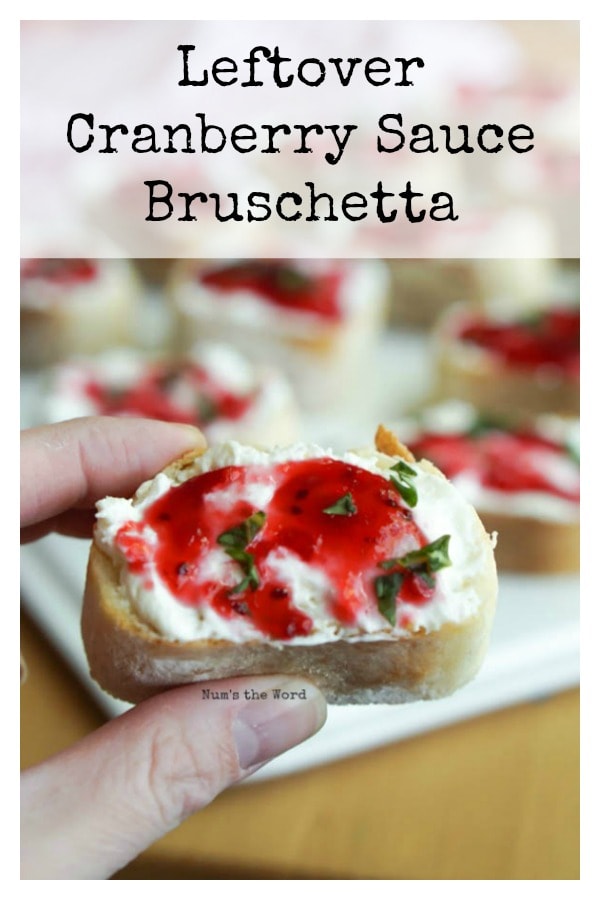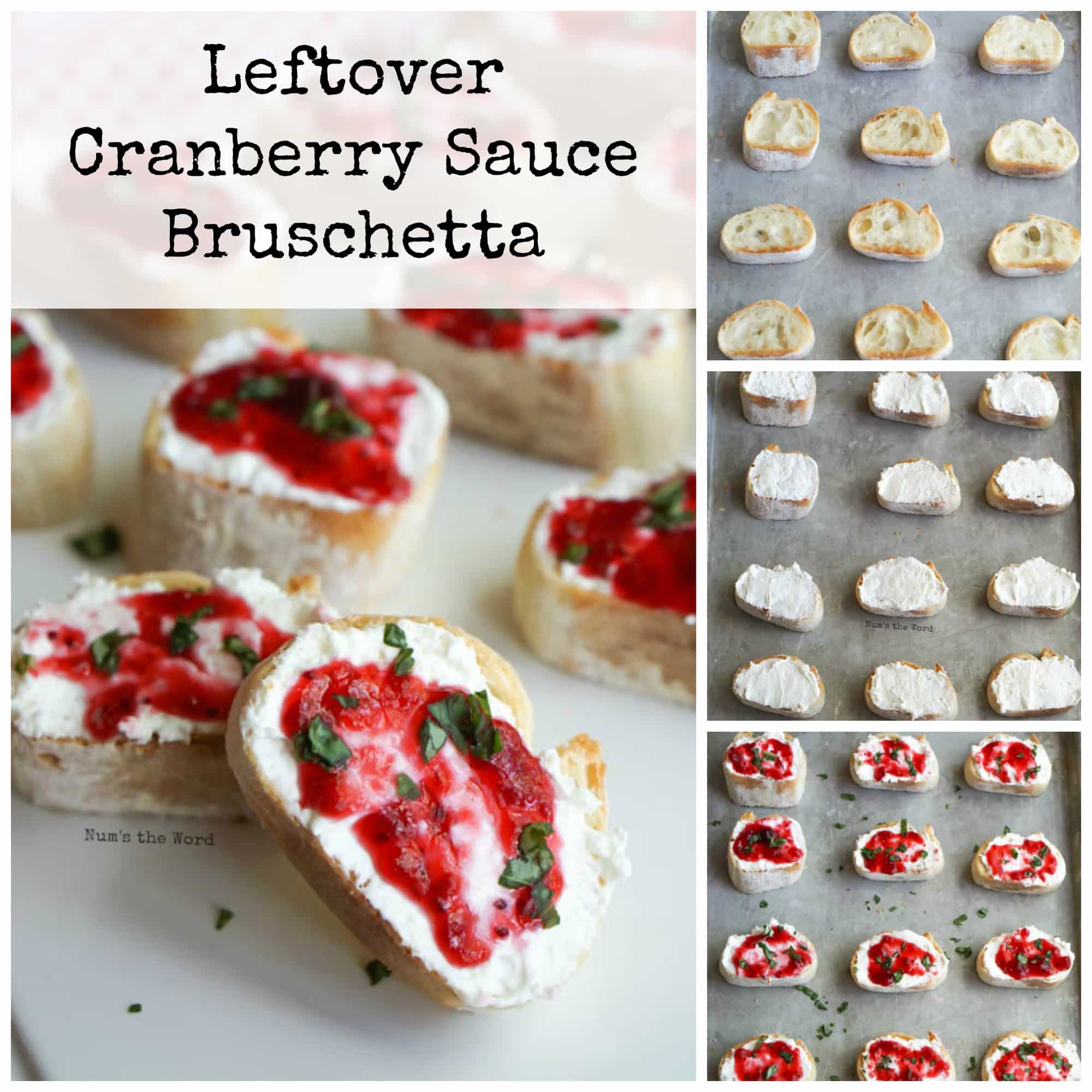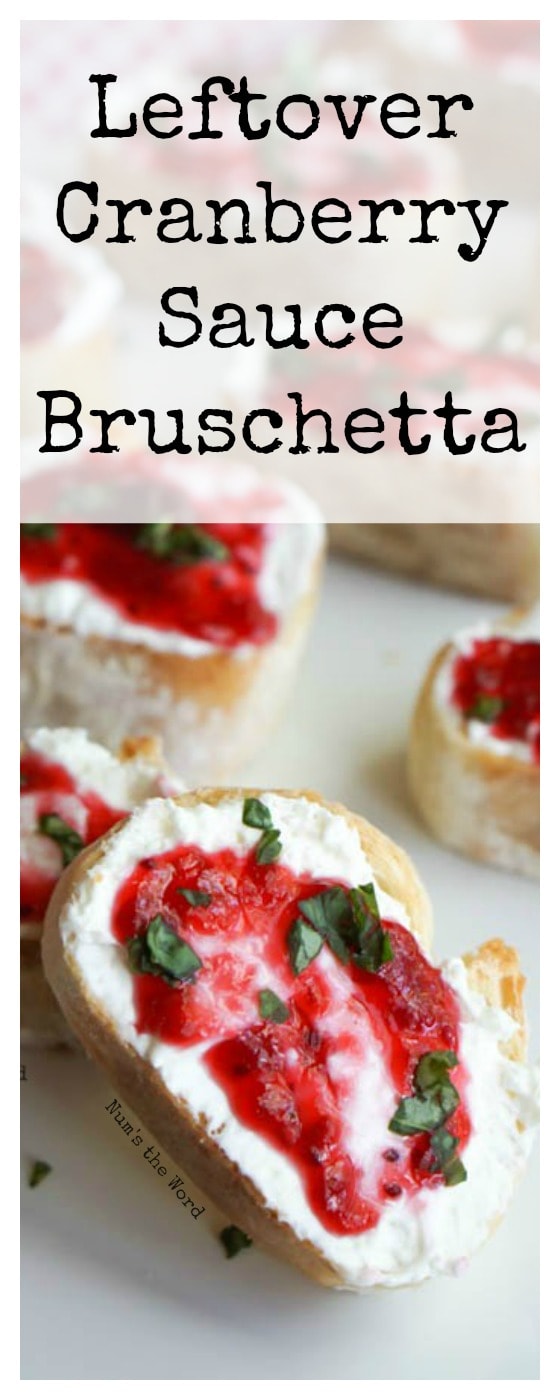 Are you sick of recipes you can use Leftover Cranberry Sauce in?
Can there really ever be too many?
For some reason I became fixated on trying to come up with easy ways to use up leftover cranberry sauce.
Perhaps it's because most people I know claim they do not like it.
Perhaps it's because I have a theory that it's the most tossed out item from the Thanksgiving table.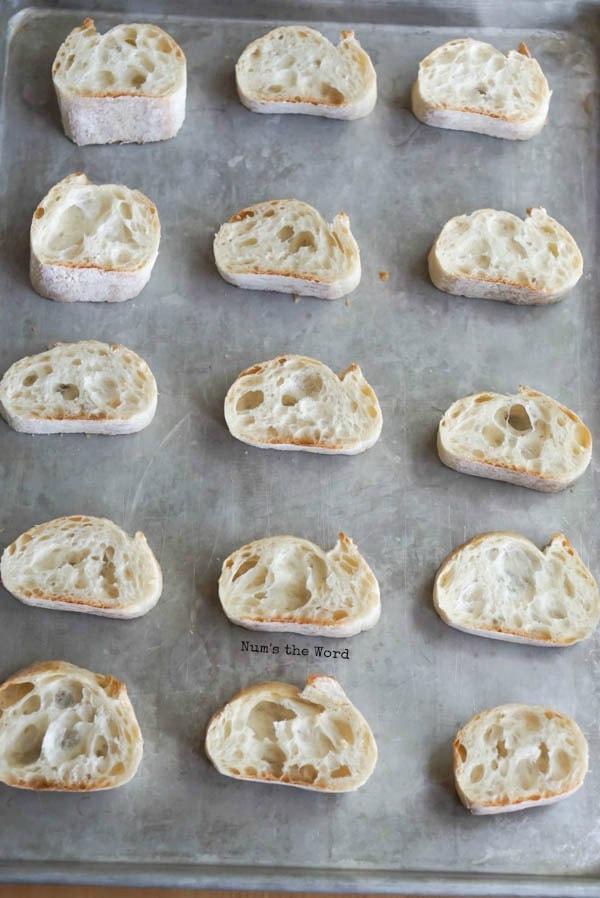 Or lastly, perhaps it's none of those, but the exact opposite.
What if everyone loved cranberry sauce?
I would be providing a service on how to use up leftover cranberry sauce!
Really, it's just one way I'm giving back to society!
Whether you like cranberry sauce or not, there are so many other ways you can enjoy it outside the can!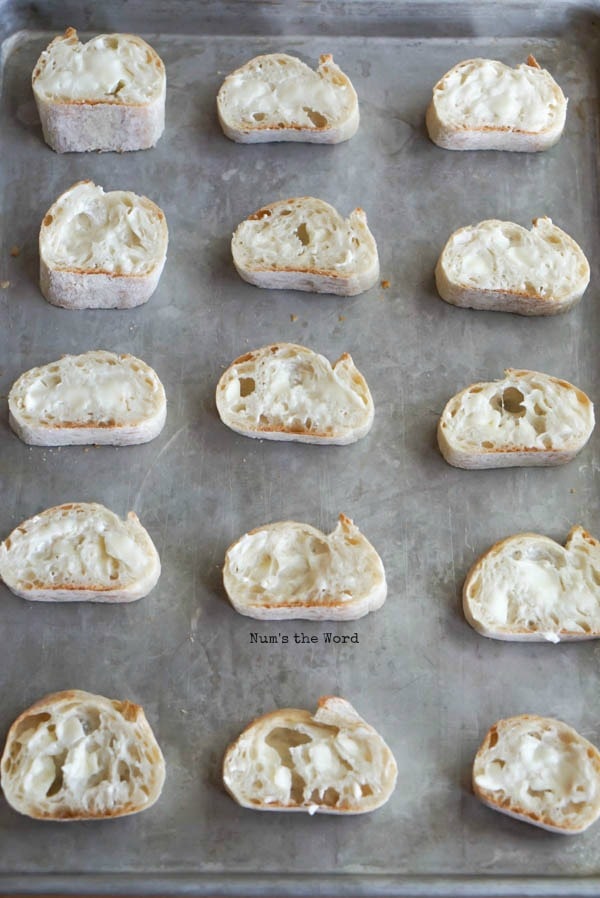 And this recipe for Leftover Cranberry Sauce Bruschetta is one I think will tick all the boxes.
Imagine a yummy sliced up french loaf, topped with cream cheese, cranberry sauce and basil.
Imagine the flavors working together to produce a beautiful new experience of a cranberry appetizer!
Ultimately the flavor of your cranberry sauce will determine what flavor your cranberry brochetta will be.
A Raspberry Cranberry Sauce will give a different flavor than say a Cinnamon Orange Cranberry Sauce.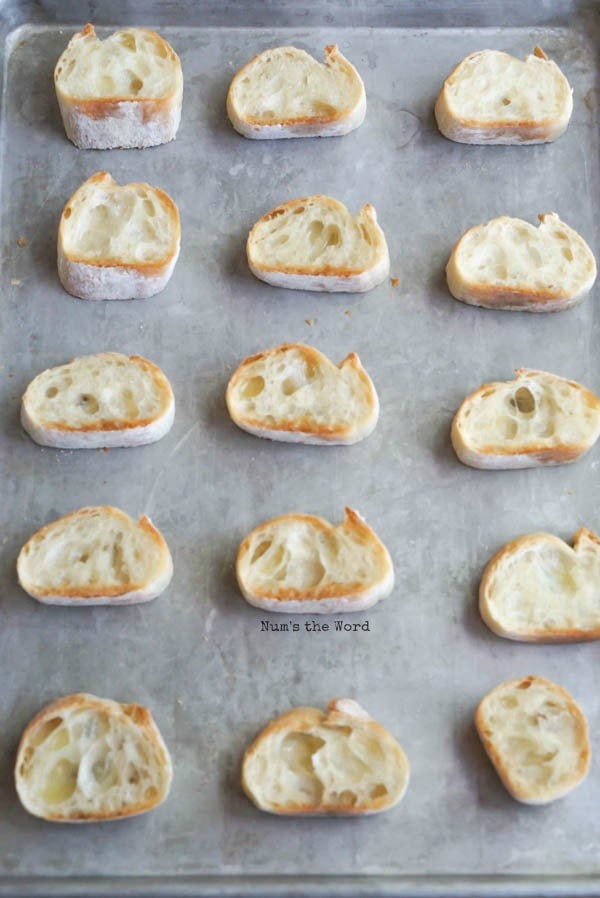 Cranberry sauce from the can will produce a different flavor than an old fashioned bold Orange Cranberry Relish.
All of these are delicious options.
However each will produce a completely different flavor.
The biggest tip I can offer when it comes to these Leftover Cranberry Sauce Bruchetta is that your cranberry sauce should be thicker than water.
If you have a very liquid or runny cranberry sauce, then you'll want to thicken it up with a little cornstarch and water.
Otherwise it will literally just run right off your fruit bruschetta leaving you looking a bit like a 2 year old eating dinner.
Another tip I can offer is to go light on the basil.
I love fresh basil, however it is a strong flavor.
Our goal isn't to over power the cranberry sauce, but instead to compliment it.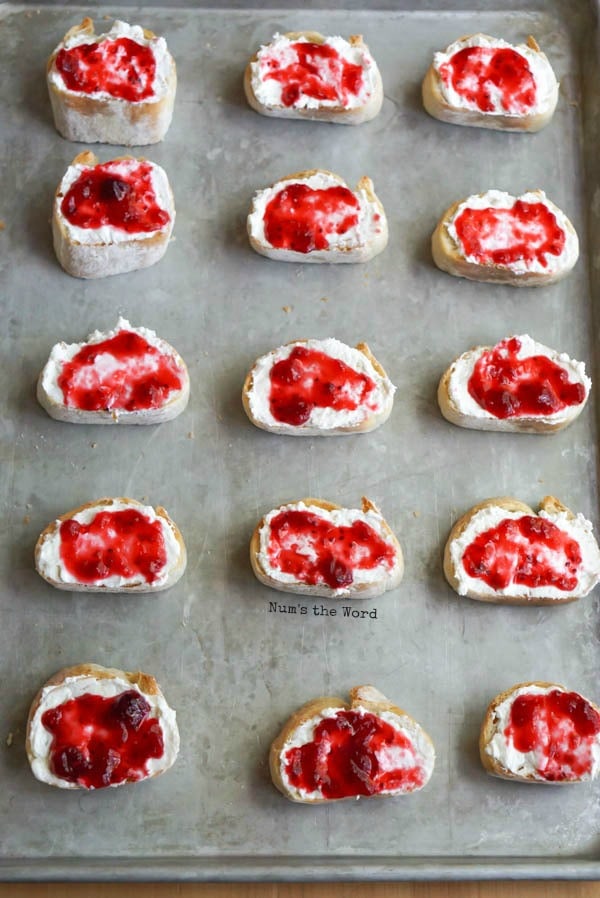 A light sprinkling will go far when it comes to this beautiful dish.
I am a huge fan of non-traditional bruschetta.
I especially love fruit bruschetta and it is not uncommon to find me enjoying a plate of them for lunch!
However I can't say I really understood the name.
However it was later in my adult years that I learned that many people call anything without tomatoes a crostini.
This is a wrong assumption.
According to many, the lines between Bruschetta and Crostini are blurred.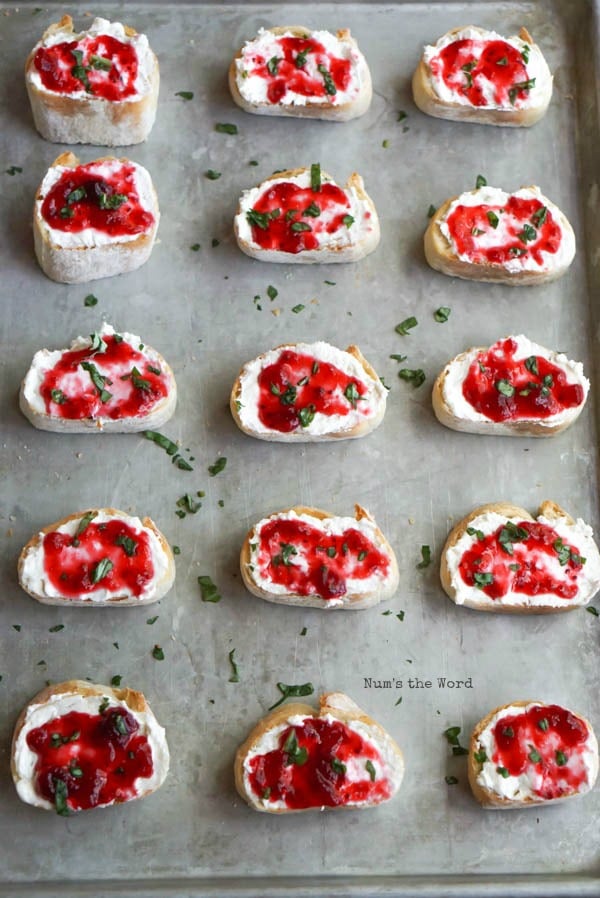 What is the difference between crostini and bruschettas?
Well, they say that the main difference between crostini and bruschetta isn't if there are tomatoes.
Instead, it's the bread!
In todays standards, you can put anything on a bruschetta or crostini. Fruit, meat, vegetables and spreads.
In modern day a crostini and a bruschetta look so much alike that you may not even realize what the difference is.
Crostini are from rounder smaller breads like a baguette. The bread is toasted in the oven and served piled high with toppings.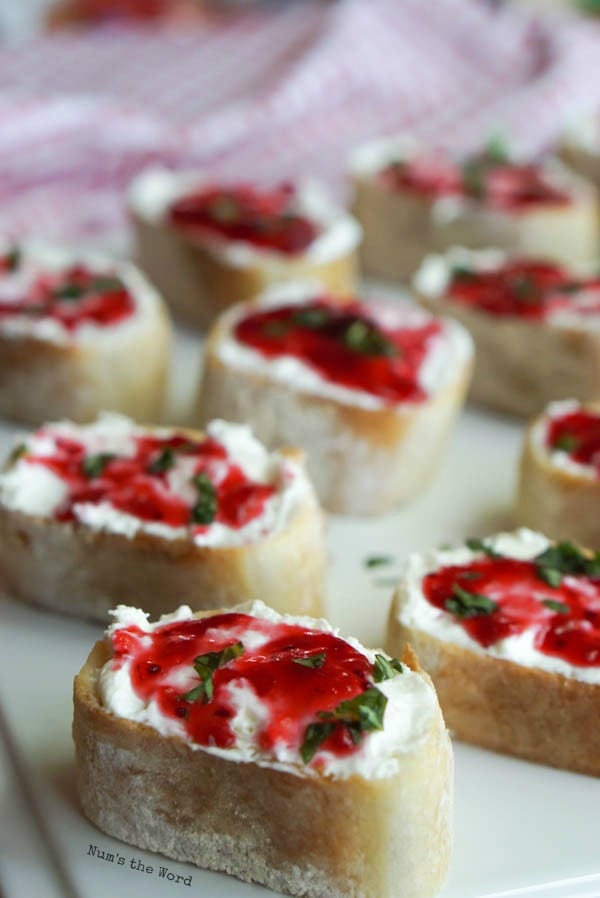 Bruschetta is from a wider loaf like an italian or sourdough bread. Once sliced, the bread is roasted over a fire to give a lovely charred flavor. The name Bruschetta comes from the word bruscare meaning "to roast over coals". Traditionally bruschettas were eaten with a rub of garlic and olive oil, giving it the most authentic garlic bread flavor. Now days, bruschettas are known for piled high toppings. Traditionally they were not and this is one of the main differences..
Clearly I'm wrong.
These Leftover Cranberry Sauce Bruschettas really are more of a crostini than a bruschetta.
However, because I've already called them all bruschettas, I must stick to my guns and keep going!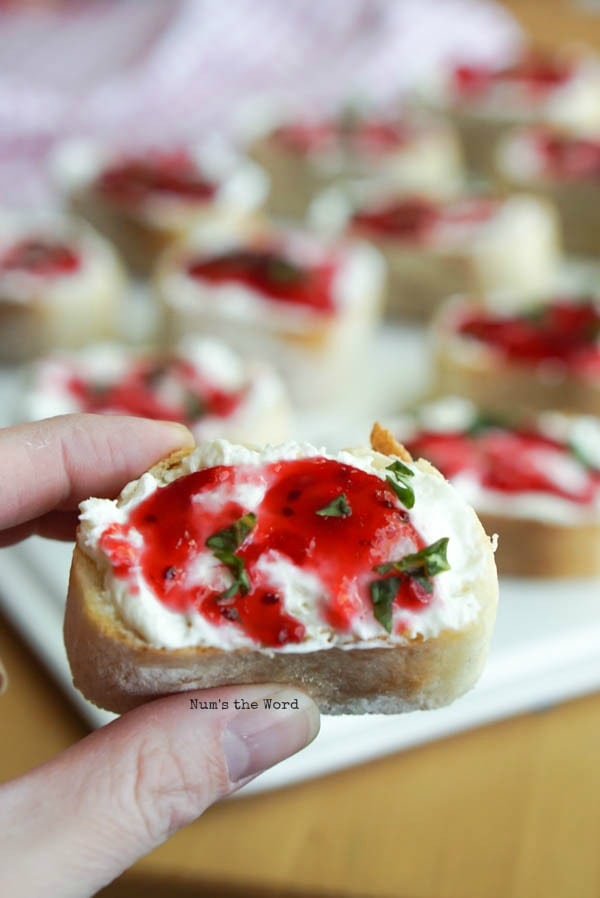 As you can see, the difference isn't very dramatic between the two.
So the mistake is quite easy to make!
Don't bang your head on the wall trying to figure out if you have a crostini or a bruschetta.
Just call it whatever you want and enjoy!
As for this recipe, you can call these Leftover Cranberry Sauce Crostini or Leftover Cranberry Sauce Bruschetta.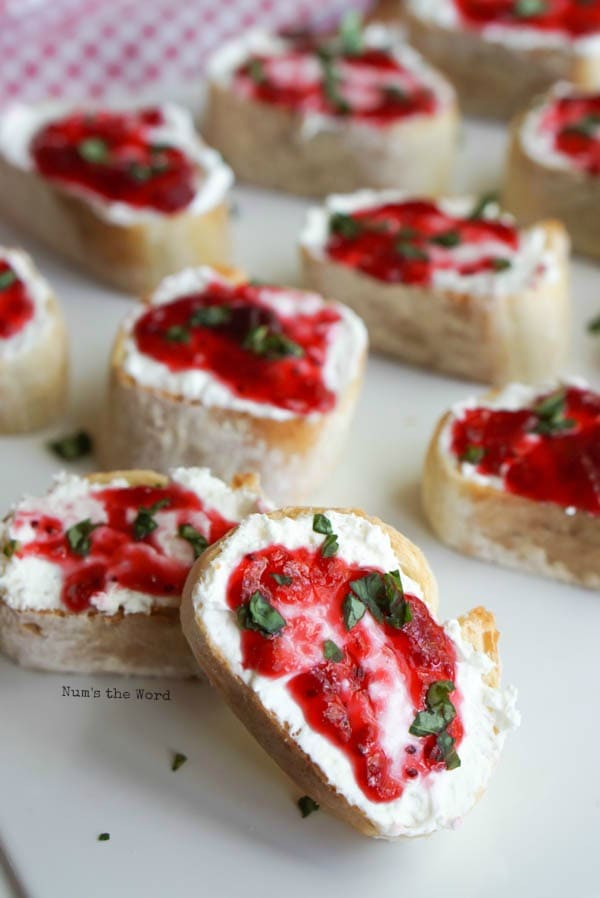 This is my 5th creation when it comes to the beloved finger foods and so far we have loved each and every one.
Sweet or savory, tangy or sharp, the flavors are all complimented by the crispy toasts on which they lay.
Holiday leftovers can be a pain and can easily take up too much fridge space.
I say it's time to evict those leftovers and re-purpose them into delicious new dishes!
Whether you have a holiday party coming up or just want a yummy lunch, these Leftover Cranberry Sauce Bruschettas are delicious!
Yield: 15 Bruschettas
Leftover Cranberry Sauce Bruschetta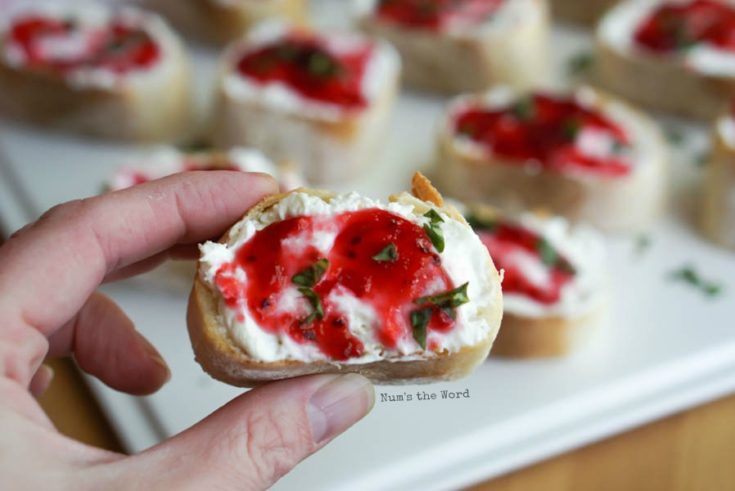 Ingredients
1 French Bread Baguette
2 Tablespoons butter, room temperatures
4 ounces whipped cream cheese
1/4 cup cranberry sauce
3 large basil leaves, diced
Instructions
Slice french bread into 1 inch slices.
Place slices onto a cookie sheet.
Spread a light layer of butter onto one side of each slice of french bread.
Place cookie sheet into cold oven.
Turn on broiler.
Broil for 3 - 4 minutes or until butter is melted and center of each slice is GENTLY toasted. You do not want to over cook these or they will shred your gums.
Remove from oven and cool.
Once cooled, spread each slice with cream cheese.
Gently spread a teaspoon of cranberry sauce on top of cream cheese.
Sprinkle a light amount of diced basil on top of each.
Serve immediately and enjoy!
Notes
You can prep the French Baguette ahead of time through step 7. These will keep for 48 hours. Then when ready to use, proceed with step 8 - 11.
Nutritional Information is estimated, not exact.
Recommended Products
As an Amazon Associate and member of other affiliate programs, I earn from qualifying purchases.
Nutrition Information:
Yield:
15
Amount Per Serving:
Calories:

31
Total Fat:

1.6g
Saturated Fat:

1g
Cholesterol:

5mg
Sodium:

74mg
Carbohydrates:

2.3g
Fiber:

0.2g
Sugar:

0.2g
Protein:

1.5g
Other Recipes Using Leftover Cranberry Sauce...