These Chewy Oatmeal Lace Cookies are addicting. Quick and easy to make and raved about by everyone who tries them. Kid friendly and packed with flavor!
This post contains affiliate links. If you click on an affiliate link and make a purchase, I will make a small percentage on your purchase. This helps keep this website running! Thank you!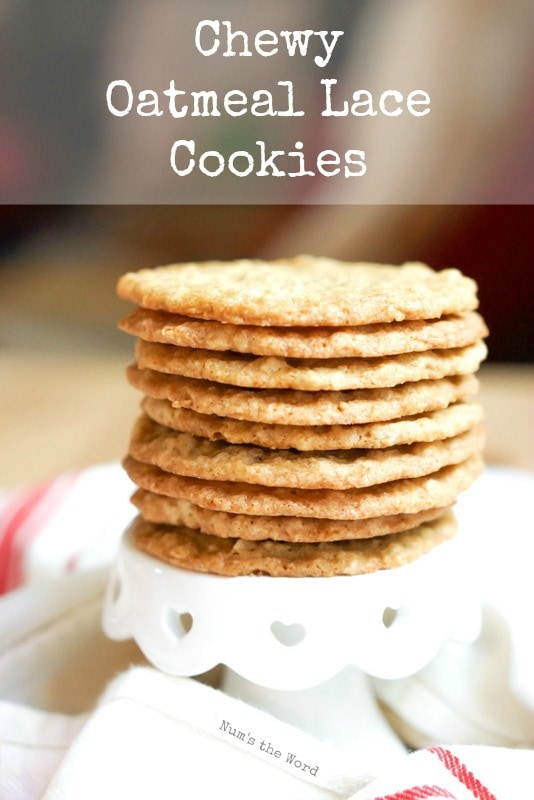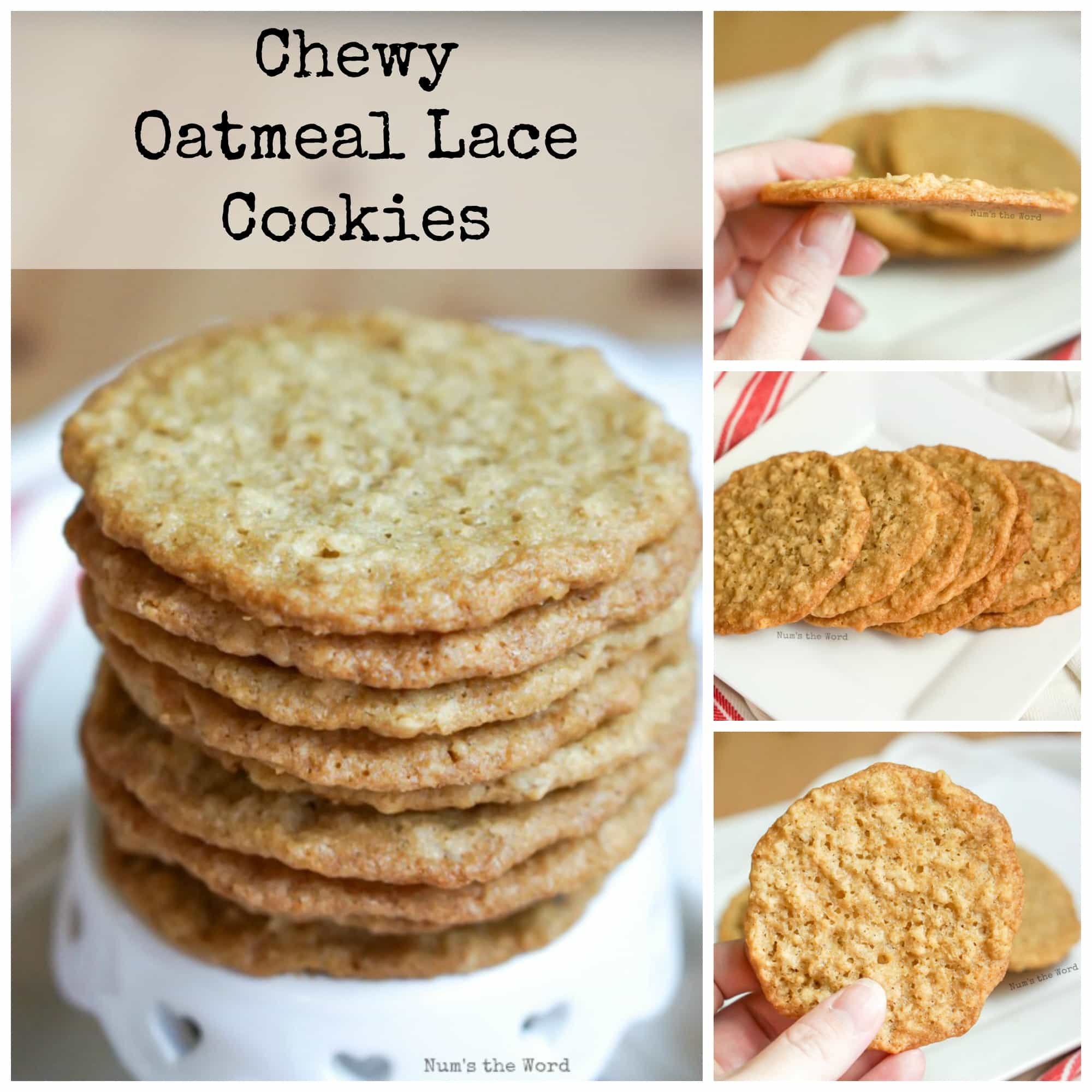 These Chewy Oatmeal Lace Cookies almost didn't make it to the website.
Interestingly enough, another cookie on Num's the Word was in the same predicament last year and now it's my most popular cookie.
Now is the moment you ask why on earth these cookies almost didn't make it here, and after telling you this, why you should make them.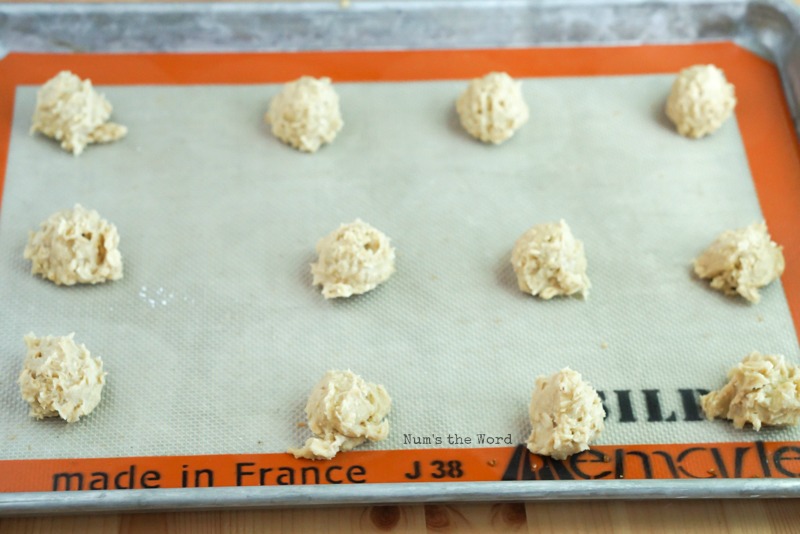 The simple answer is that my expectations were completely different than reality.
As I was fiddling around in the kitchen, my expectations for these cookies were that they'd be fluffier.
More of a traditional looking cookie.
What I got was a flat, chewy cookie.
The flavor of these Chewy Oatmeal Lace Cookies are 100% exactly what I wanted, however they were flat.
As in flat as a pancake. As in "ruined."
My expectations vs. reality hopes were dashed and my non puffy cookies were deemed imperfect and a reject cookie recipe that still needed to be tweaked.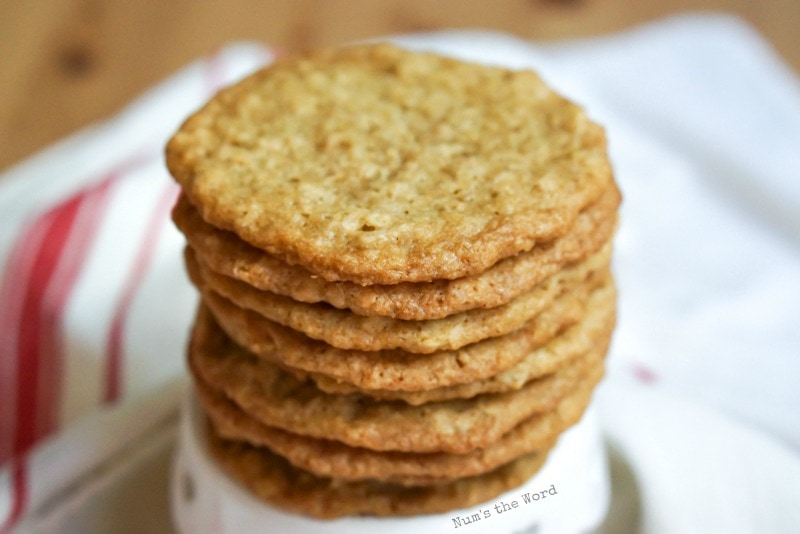 That is until I took my "reject" cookies to my daughters school, passed them out to the teachers and some staff started to rave about how "lace cookies" were their favorite.
They kept telling me how tasty they were and how addicting they were etc.
In my head, I kept thinking, yea yea…sure sure…you're just glad to have a homemade cookie…anything would taste good after a tough day of Elementary School aged kids.
And so I put the recipe on the back burner.
Not really planning on doing anything with it at the moment but maybe later coming back to it and finding a way to make them puffy.
Fast Forward a few months.
My non dessert, non sweets eating husband mentions to me that he was craving "those flat chewy oatmeal cookies" I made a few months back.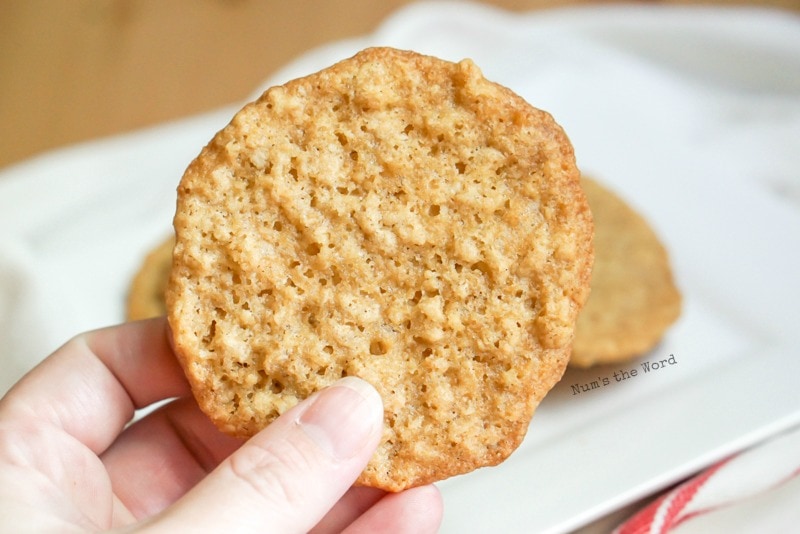 GASP. Here's a man who does not eat sweets ASKING me to make him cookies.
After digging through my notes, finding the recipe, and making them again the same way as before, I realized that these were dang good cookies.
My husband was happy, I was happy, and a new group of taste testers were all happy with the recipe.
The flavor of these is sweet and rich and lovely.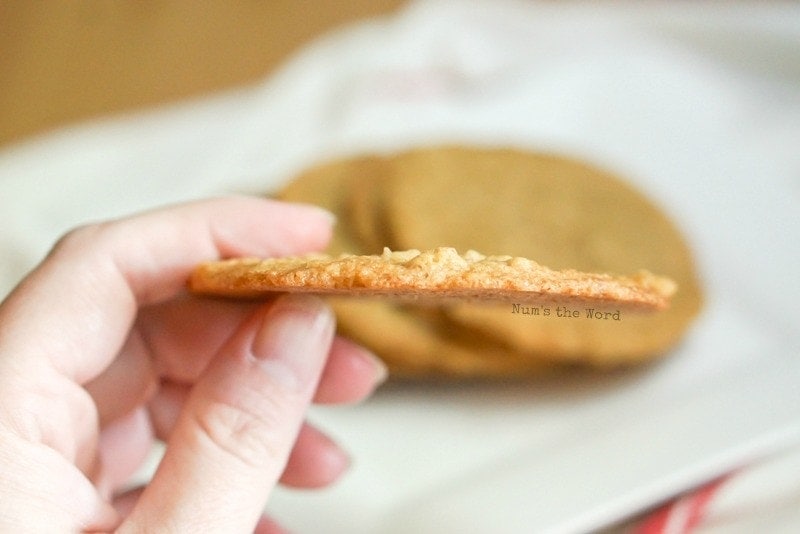 They are chewy as opposed to dried out discs and have a little give when you bite down.
Looking back, I now think I was crazy not to fall in love with these cookies the first time.
However, as I said earlier, my expectations were different than the reality that baked before my eyes.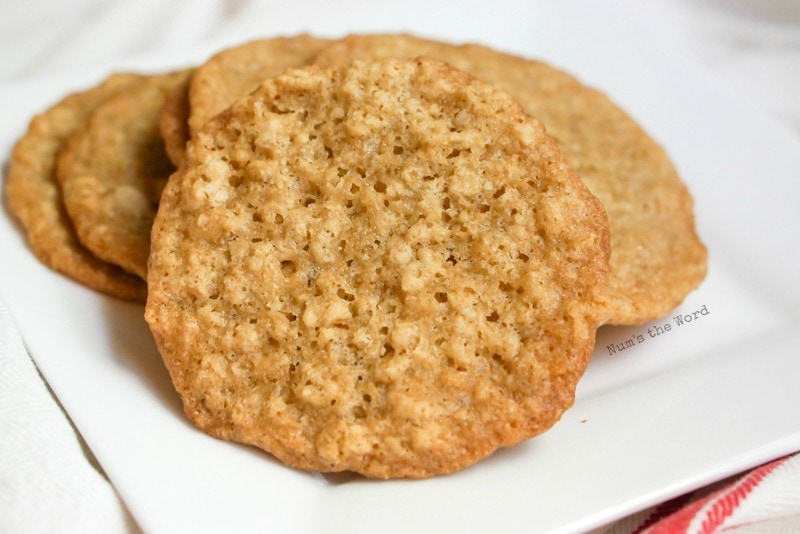 These Chewy Oatmeal Lace Cookies are not only pretty but tasty too.
They are now a regularly requested cookie and with how easy they are to make, I happy abide!
If you love oatmeal cookies, then you should try these Chewy Oatmeal Lace Cookies.
They'll quickly become your new favorite cookie!
Yield: 2 Dozen Cookies
Chewy Oatmeal Lace Cookies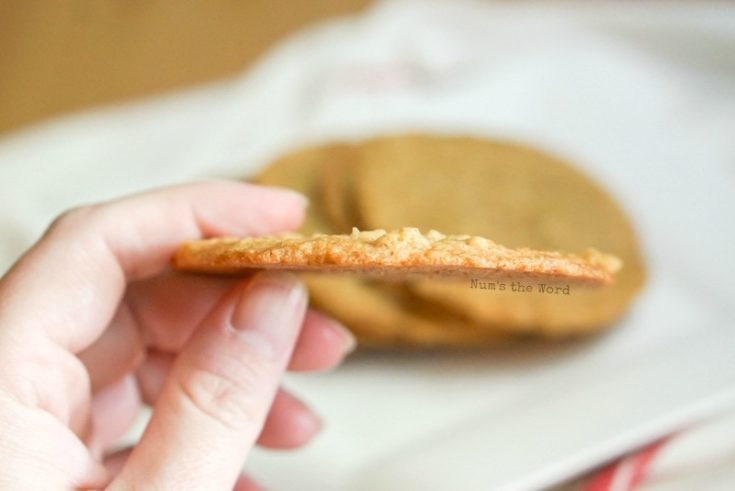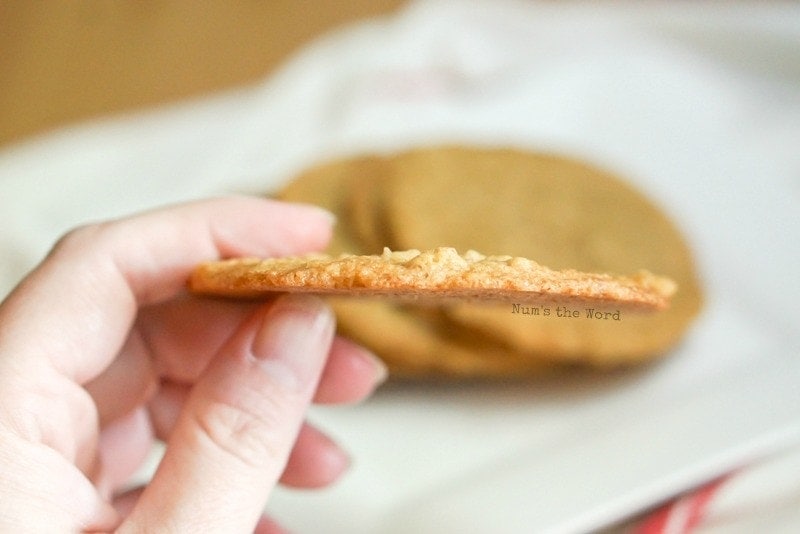 Ingredients
1/2 cup brown sugar
1/2 cup white sugar
1/2 cup butter
1 egg
1 teaspoon vanilla
1 teaspoon lemon juice
1 Tablespoon milk
1/2 teaspoon baking soda
1/2 teaspoon baking powder
1/2 teaspoon salt
1 cup flour
1 cup uncooked rolled oats
Instructions
Preheat oven to 350*F
In a mixing bowl blend together brown sugar, white sugar, and butter until mixture is airy and fluffy.
Add in egg, vanilla, lemon juice and milk. Blend well, scraping sides of bowl as needed.
Add baking soda, baking powder and salt. Mix again.
Add flour and blend.
Add oatmeal and blend, scraping sides as needed.
Scoop cookies onto a greased cookie sheet, no more than 3 in a row as these will spread a lot.
Bake for 12 minutes.
Allow to cool on sheet for 5 minutes before transferring to a cooling rack.
Originally Posted: November 29, 2017
Reposted: December 3, 2018
Other Cookies You'll Love...