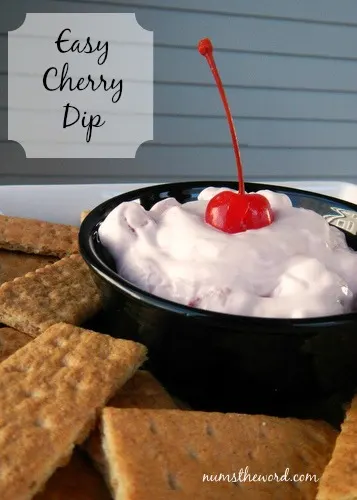 If you are a cherry lover, then you are going to love this Easy Cherry Dip!
In our family, we love fruit. We love fruit as it naturally is and we love it in just about everything you can think of.
My 1 year old LOVES cherries. Cherries by themselves, Pie filling cherries and Maraschino cherries. He loves them all.
Earlier today, I was making myself a nice cherry limeade to go with my lunch and left the cherry juice out (in case I wanted a second). Well sure enough if I don't forget about it and leave the open jar on the counter.
Now let me be clear that my 16 month old, though tall, cannot reach the top of the counter so I wasn't too worried. Until an hour or two later and I heard something drop from the counter and hit the floor.
Sure enough if he didn't push a chair to the counter, climb onto the chair, and proceed to paint with the cherry juice all over the counter, the chair and himself, while attempting to get as much of the juice into his mouth before it hit the ground and splattered over everything.
My first thought was shock. Then kicking myself for leaving it out and lastly I was pretty darn impressed with his logic and skills. He went above and beyond to get what he wanted and that was impressive.
The cherry juice is cleaned up, the clothes are soaking in hot water and his cherry stained cheeks are beyond deliciously adorable.
As I said, in our house we love cherries and you'll find quite a few cherry treats on our website that will certainly make your mouth water.
My family and I all loved this Easy Cherry Dip. It is simple, basic and quick.
This is delicious and a great dip to serve at your next party or gathering. Use this Easy Cherry Dip for a baby shower or bridal shower. How about a game night, movie night or girls night. It literally takes minutes to toss together and can be made the day before so you aren't stressed when your guests arrive!
Yield: 8 - 10 servings
Easy Cherry Dip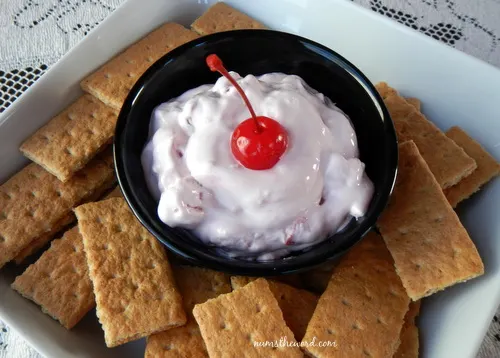 Total Time
2 hours
5 minutes
Ingredients
1 (21 ounce) can cherry pie filling
1 (15 ounce) can crushed pineapple (juice and all)
1 (14 ounce) can sweetened condensed milk
1 tub cool whip, any kind (I like original)
1 box of graham cracker sticks or graham crackers
Instructions
In a medium bowl, add cherry pie filling, crush pineapple (juice & all) and sweetened condensed milk.
Mix thoroughly.
Fold in cool whip until well incorporated.
Chill for 2 hours - overnight.
Serve with teddy grahams or graham crackers.
Nutrition Information:
Yield:
8
Serving Size:
1
Amount Per Serving:
Calories:

64
Total Fat:

1g
Saturated Fat:

1g
Trans Fat:

0g
Unsaturated Fat:

0g
Cholesterol:

2mg
Sodium:

26mg
Carbohydrates:

13g
Fiber:

0g
Sugar:

8g
Protein:

1g