This 20 minute Strawberry, Blueberry & Poppy Seed Bruschetta appetizer will be a hit at any party or event. Packed with fresh flavors and created in minutes it's hearty but not filling and very tasty!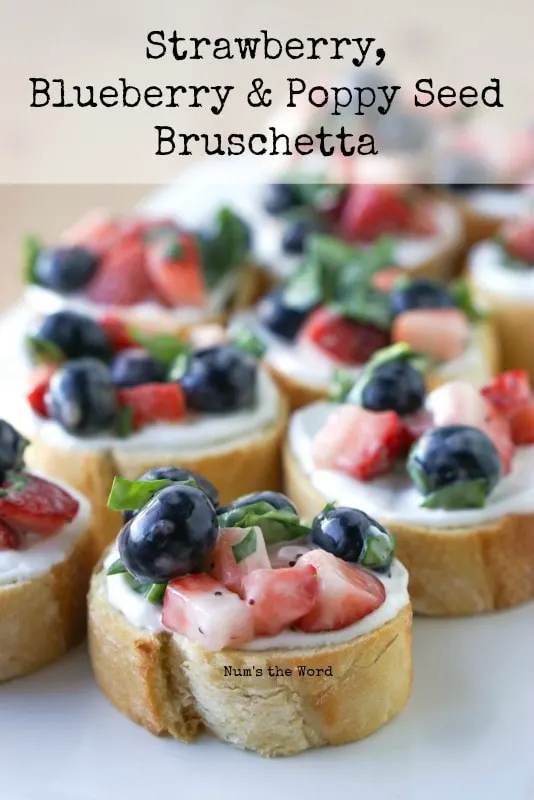 These Strawberry, Blueberry & Poppy Seed Bruschetta bites are one of our all time favorite appetizers.
Eh, forget the word appetizers, and go with snack.
Well, maybe that's not the right word either. It's not uncommon to find us eating these for lunch or even dinner.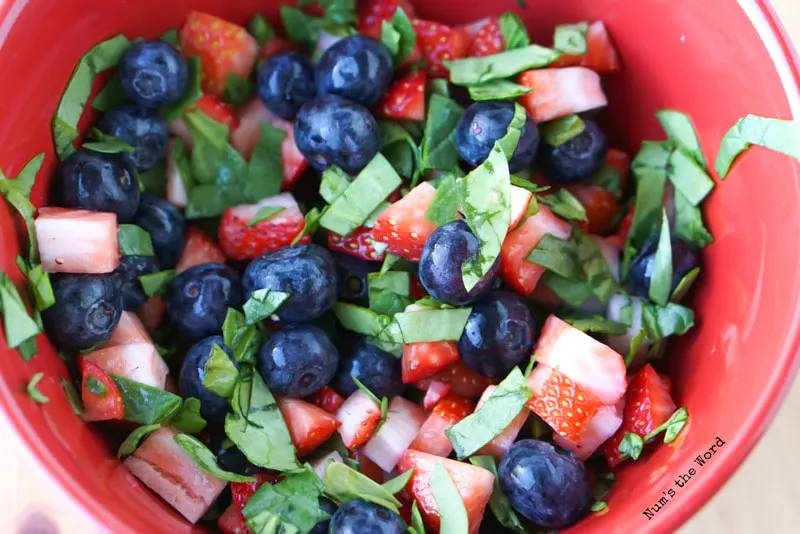 They are really quite addicting, and unbelievably easy to toss together that up to now, every single person who has tried them, has fallen in love with them.
I should point out that everyone who has tried them also like strawberries and blueberries. It should be obvious that anyone who didn't like those two items, would not enjoy these.
With only a few simple ingredients, these Strawberry, Blueberry & Poppy Seed Bruschetta bites come together quickly and make a perfect appetizer for any wedding, baby shower or party.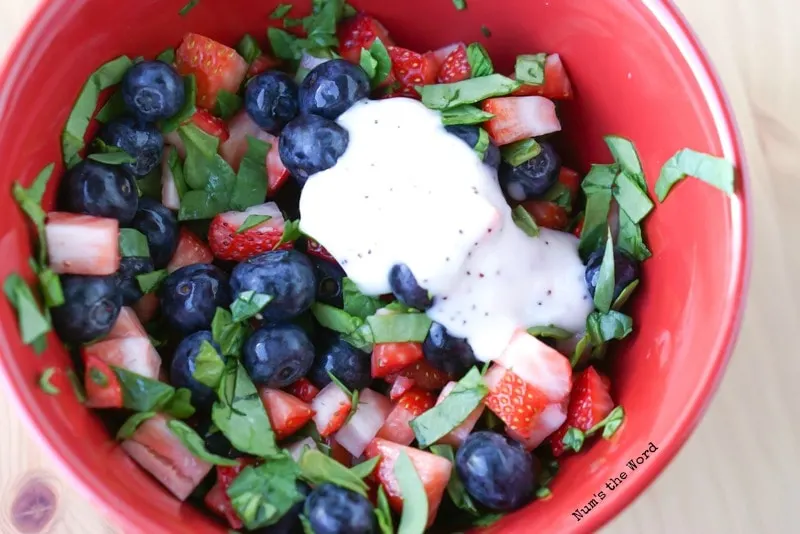 In fact, these have been requested at an upcoming wedding reception of a friend. And I couldn't agree with her choice more.
I've been over indulging myself on these leading up the wedding, so I'm not the person huddled by the food table scarfing them all down. That would be a bit embarrassing.
With fresh ingredients, these make a perfect party food that men and women both love!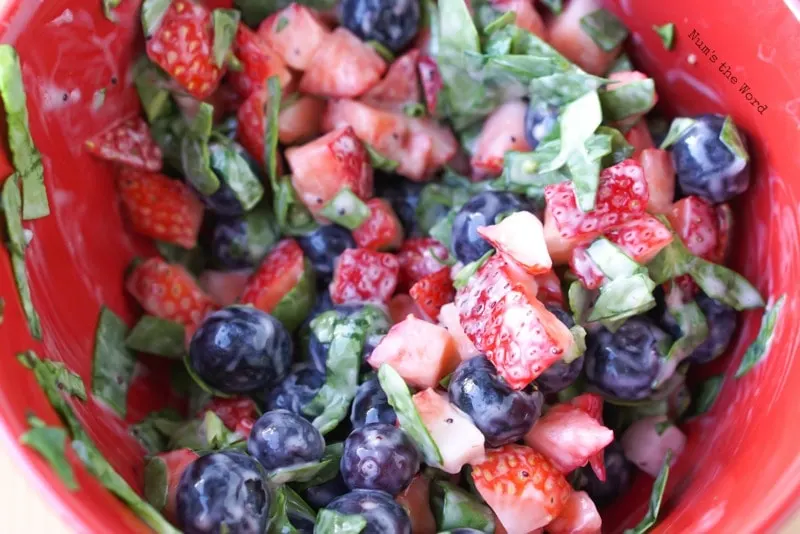 This recipe was created out of a necessity to use up multiple ingredients we had on hand.
My husband had asked me to pick up some baguettes the next time I went shopping. So I nabbed some…and there they sat on the counter for DAYS!
Anyone who has ever purchased baguettes knows that they do not LAST days. They get hard and crispy and tough if you don't use them right away.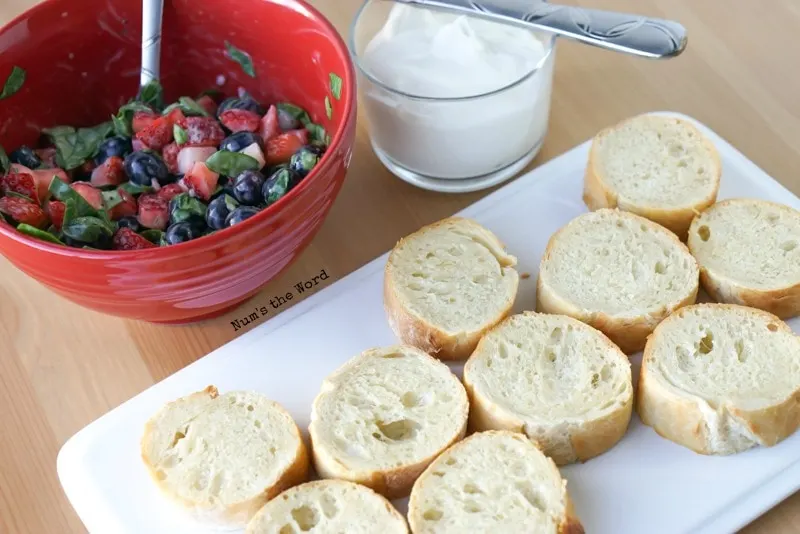 So as day 5 was approaching and he still hadn't touched them, I decided to whip them up as an appetizer for when we had some friends over for dinner.
I also just happened to have some blueberries, strawberries and spinach in the fridge.
Instead of going with a balsamic reduction as I had in previous recipes, I decided that I would create a basic version of one of my favorite salads on the baguette.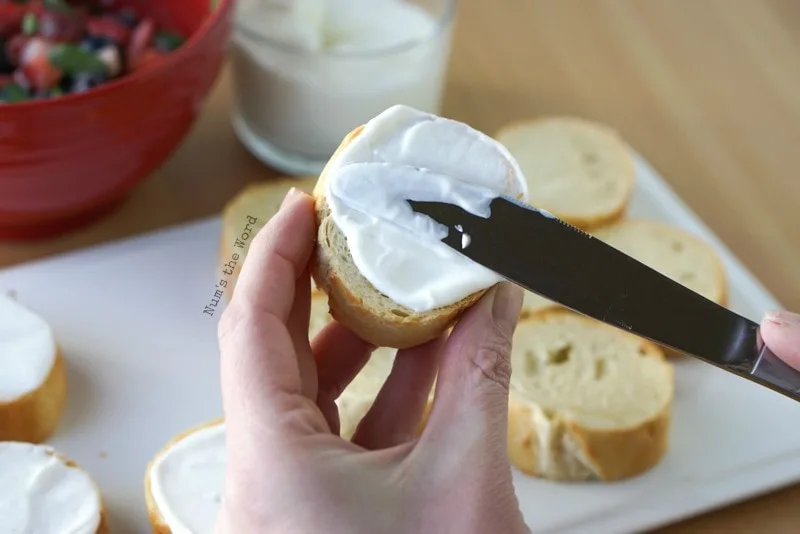 Strawberries, blueberries & spinach all mixed with a creamy poppy seed dressing, placed on a Greek yogurt spread on top of a baguette equals a delicious fruity bruschetta. NUM NUM!
My favorite part of this dish is that it literally takes only a few minutes to whip up.
It's hearty but not filling. It's quick, and allows you as the host to actually mingle with your guests rather than slave away in the kitchen.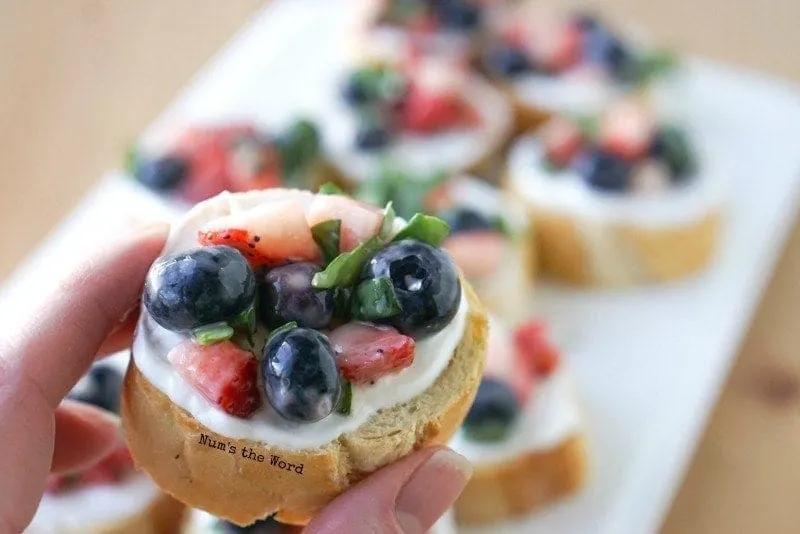 If you are hosting a party, baby shower, book club, bridal shower or any get together, whip up a batch of this fruity bruschetta. You'll instantly become hooked as well as your guests!
Yield: 12 slices
Strawberry Blueberry Poppy Seed Bruschetta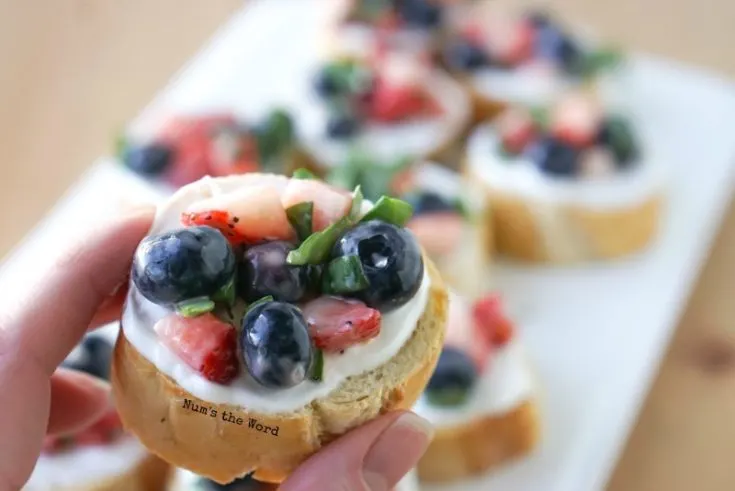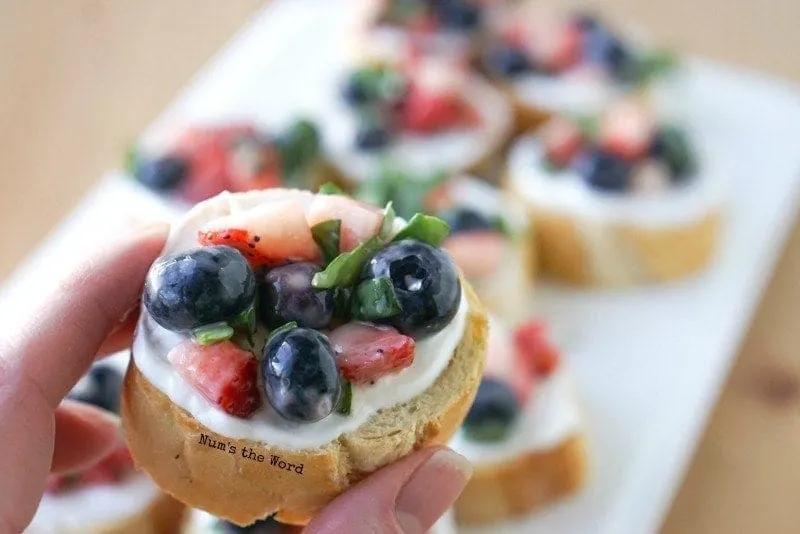 Ingredients
1 baguette
4 Tablespoons of butter
4 ounces of plain Greek yogurt
1 cup of strawberries, diced
1 cup of blueberries
1/2 cup of fresh spinach, chopped
1/4 cup of poppy seed dressing (your favorite brand)
Instructions
Preheat oven to 250*F
Slice baguette into 1 inch pieces. Lay flat on a cookie sheet and lightly butter the top of each baguette.
Bake baguette for 5 minutes or until butter is melted and bread is beginning to get crusty. Remove and set aside.
After baguettes cool to room temperature, smear Greek yogurt over one side of baguette pieces.
In a medium bowl, mix together strawberries, blueberries, spinach & poppy seed dressing.
Spoon 1 - 2 Tablespoons of mixture on to each baguette.
Serve immediately.