These quick and easy Strawberry Spinach Bruschetta appetizers are packed with flavor and easy to make! Perfect for weddings, baby showers, Holiday parties or barbecues!
This post contains affiliate links.  If you click on an affiliate link and make a purchase, I will make a small percentage on your purchase. This helps keep this website running! Thank you!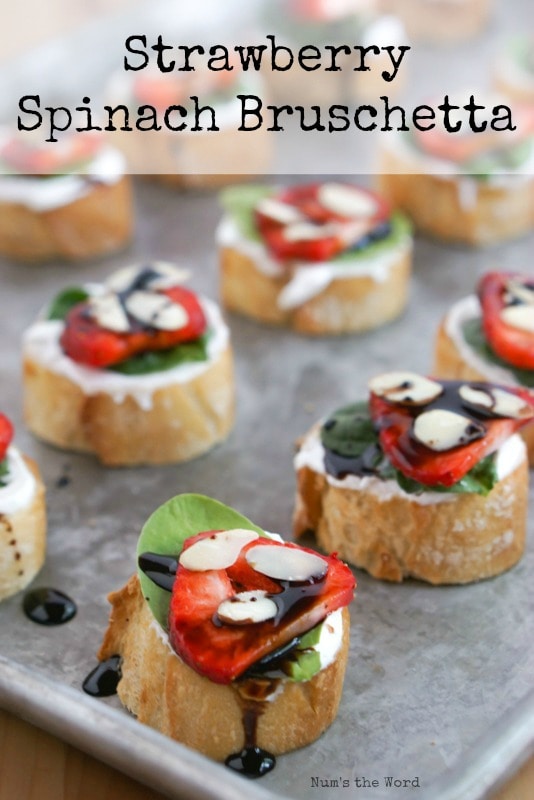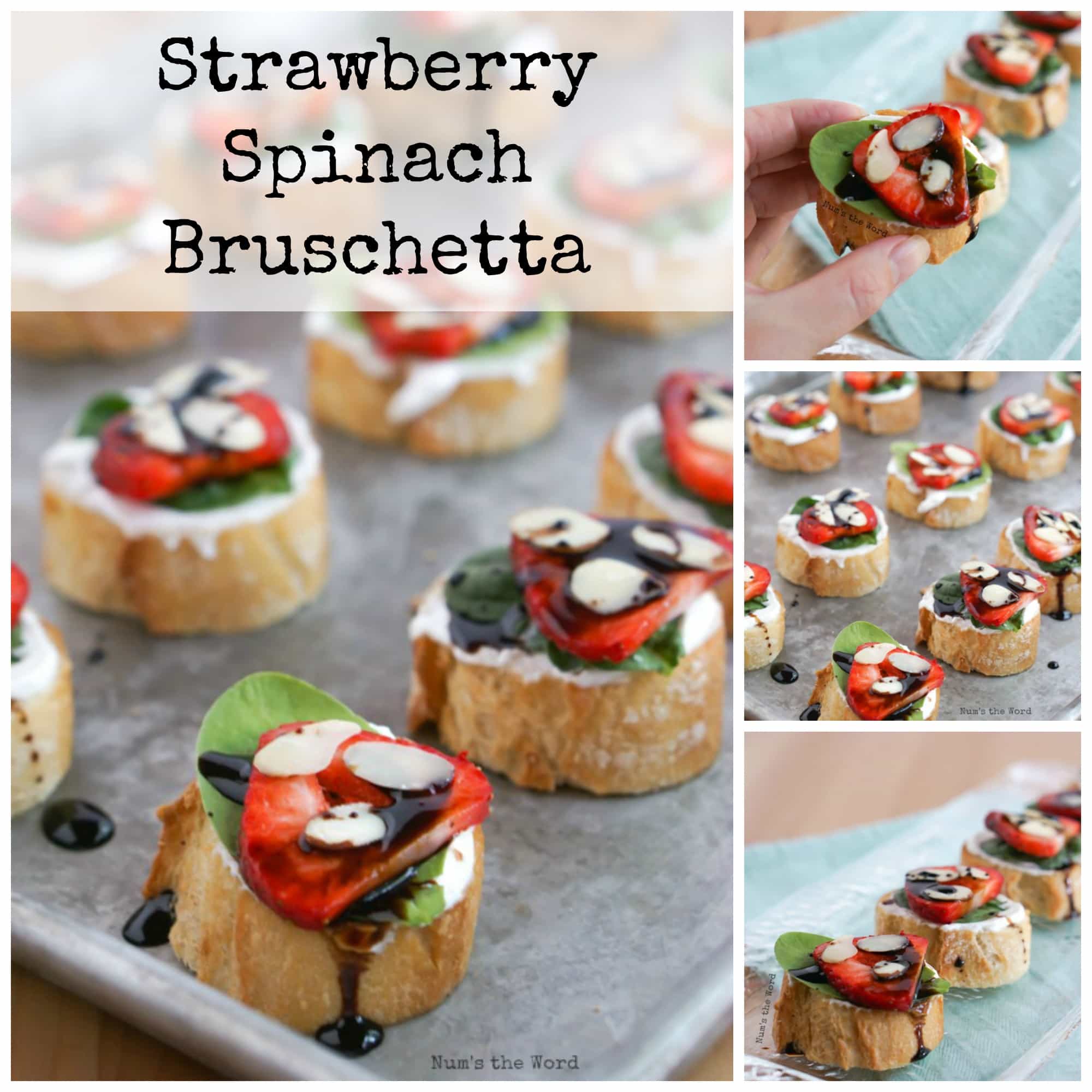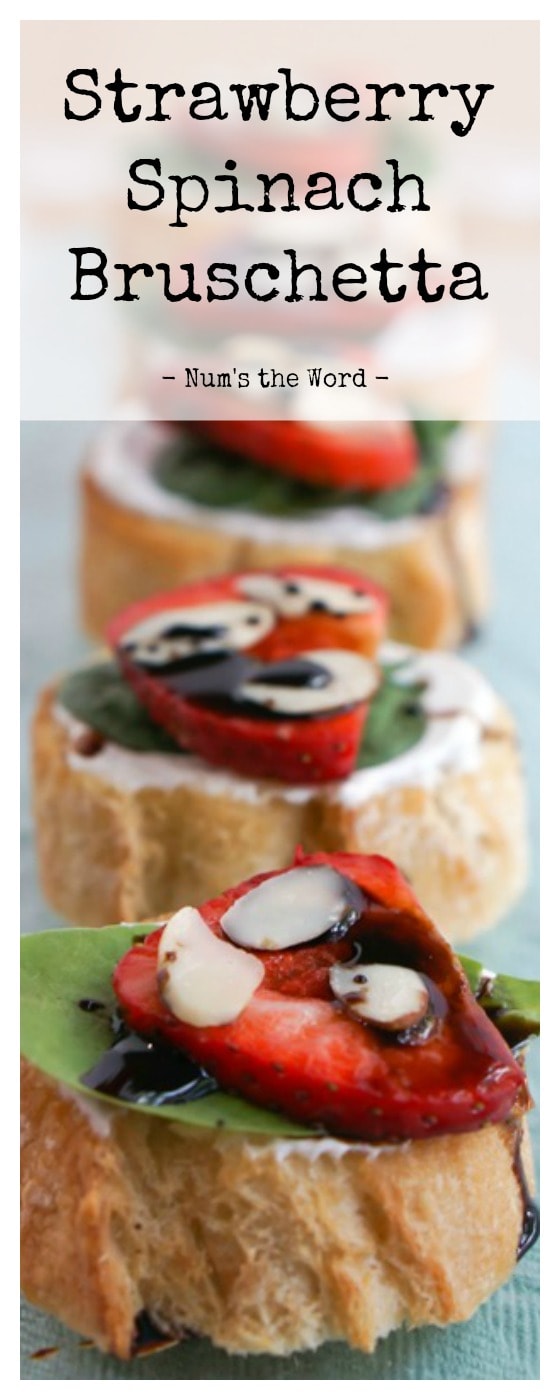 If you are looking for a simple, but dressed up appetizer, then this is the one for you!
A few years ago I got on a bruschetta kick.
Not the traditional tomato bruschetta, but fruit bruschettas.
Truth be told, I'm not a huge fan of tomatoes.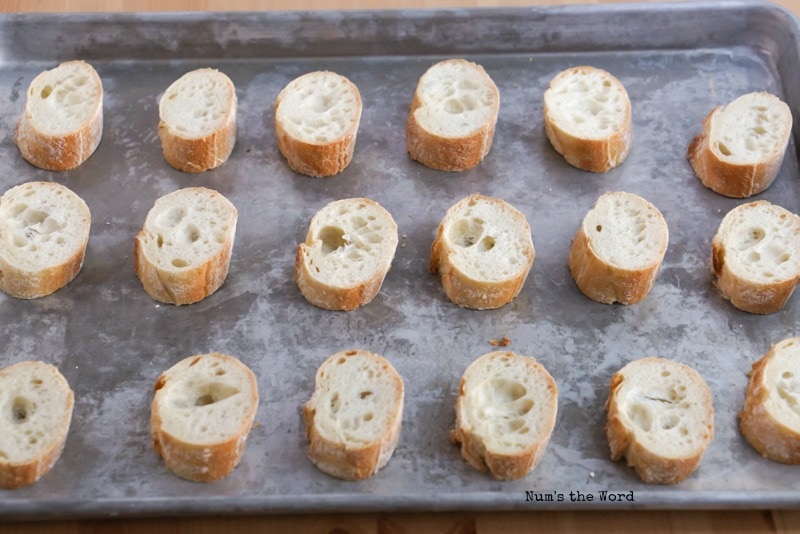 I can eat them if I have to, and enjoy tomato based foods like sauces, but I'm not a huge fan of raw tomato chunks.
On a whim I decided to see what would happen if I switched out tomatoes with fruit and instantly fell in love.
I'm a huge sucker for fruit.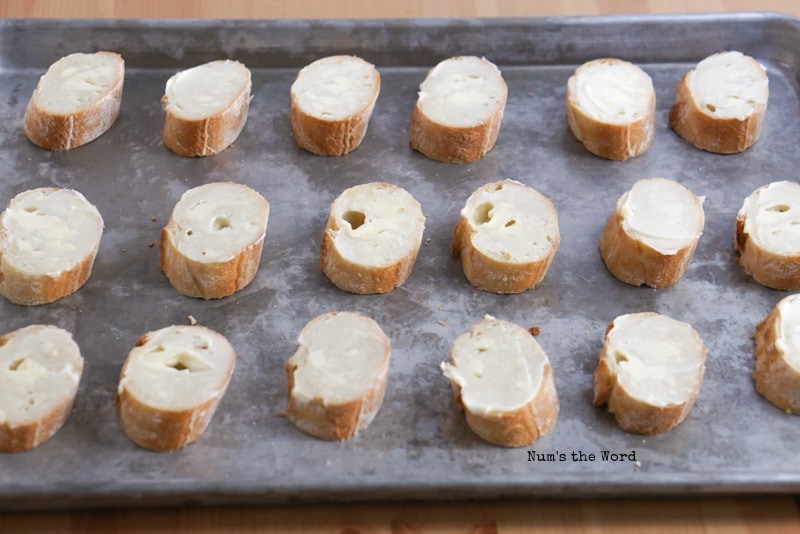 Summer is my favorite eating season because of fruit.
Because of this, whipping up this Strawberry Spinach Bruschetta seemed like a great idea.
The idea is simple.
French baguette slices topped with butter and greek yogurt.
Then layered with spinach,strawberries (sliced or diced), and almonds.
Lastly, the entire thing is topped with a drizzle of reduced balsamic vinegar.
The combination of the sweet from the strawberries, sour from the greek yogurt and tangy from the balsamic vinegar, creates a flavor mixture that is scrumptious.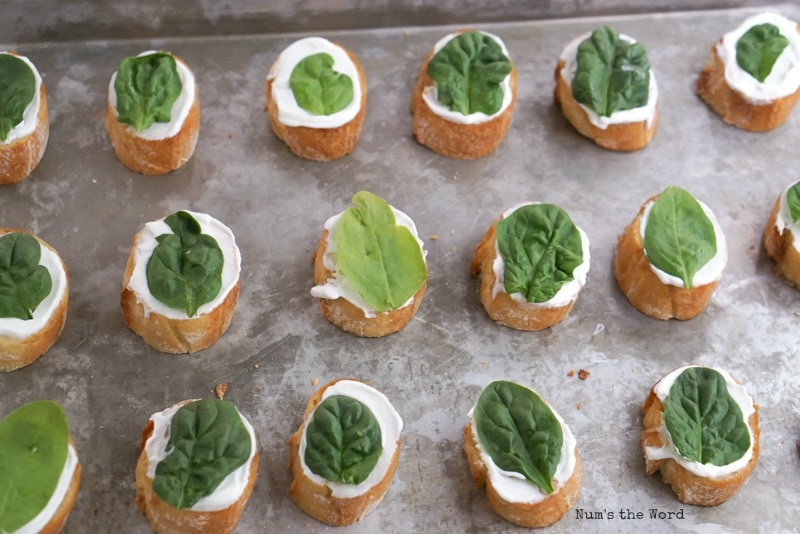 I should also mention, or maybe not, that out of the entire pan I made of these, my husband only got to eat 5.
The rest became my lunch.
When I say I love this appetizer, I'm really not kidding.
I go nuts.  I literally sat down and ate almost this entire pan for lunch one day.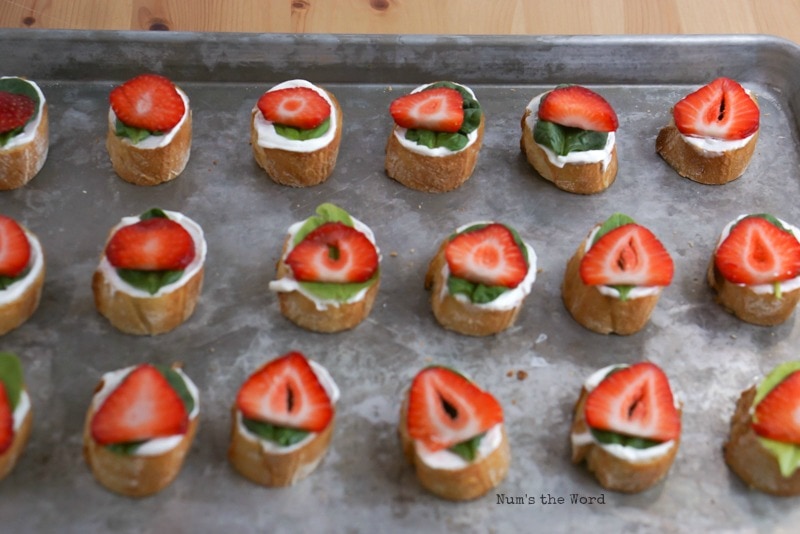 There was ZERO guilt involved in doing it and the next day I made more because I couldn't stop thinking about them.
This is one of those appetizers I like to serve at Holiday parties, baby showers and weddings.
I've also found it to be a great appetizer to serve at a barbecue.
Guests eat them up and love the simplicity of these Strawberry Spinach Bruschetta's.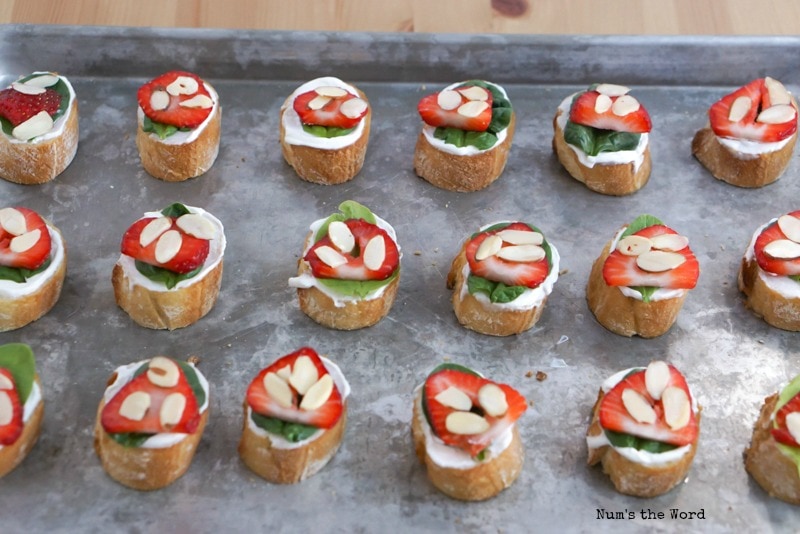 Some appetizers require all kinds of prep work and sometimes keep the host in the kitchen instead at the party.
This is not one of those appetizers.
This Strawberry Spinach Bruschetta can be prepped ahead of time, requiring very little work when it comes time for the party.
I once was asked to be in charge of the food (heavy appetizers) for a church ceremony.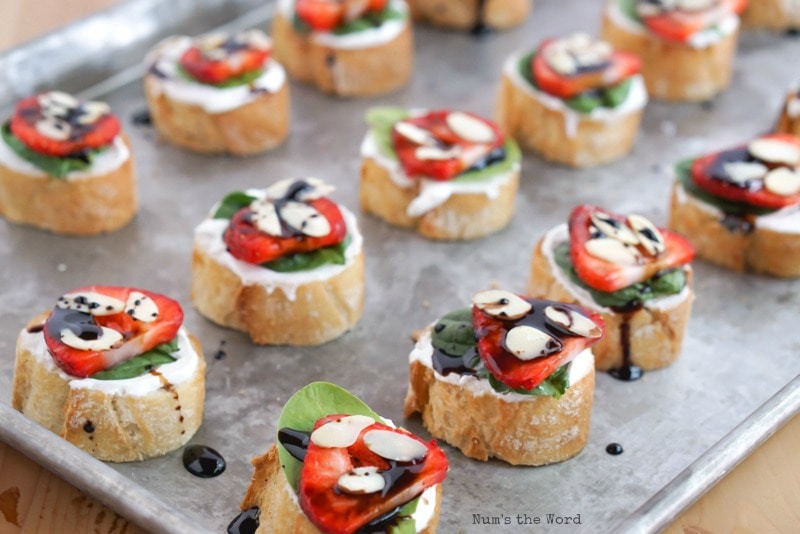 The seniors nominated their favorite teacher to receive an excellence in teaching award and invited them to come to an awards ceremony.
Between the teachers and their spouses, the youth and their parents and the youth leaders, we over 50 people to serve food to.
This was one of the many dishes that were served.
Others pressured me to go easy and serve dessert based appetizers.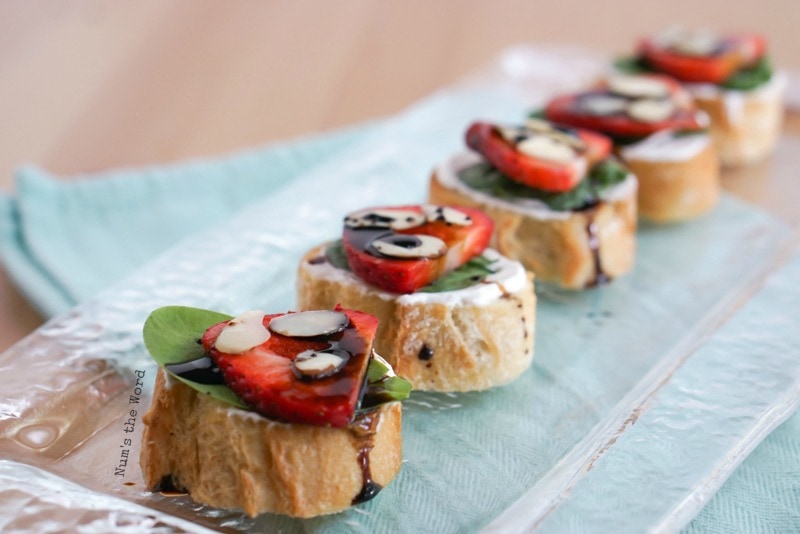 I on the other hand, decided to do 70% non dessert appetizers and 30% dessert appetizers.
My thought was that many of the teachers and parents would be coming from work to the event.
Since we weren't serving dinner, we could offer them a nice variety of fill you up appetizers.
These simple Strawberry Spinach Bruschettas were a huge hit.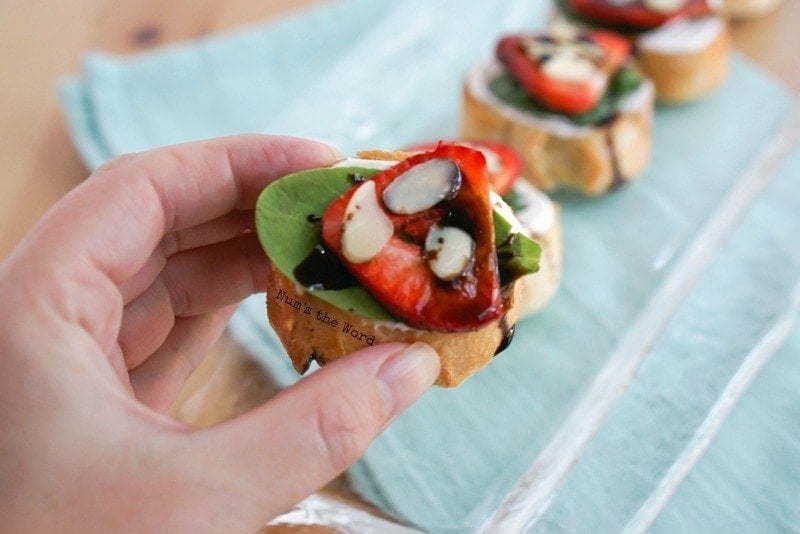 So much so that we ran out.  This is always a good sign at any event.
It's a sign that people like what you are serving!
If you are planning a barbecue, baby shower, wedding or Holiday party and want a simple refreshing appetizer, then whip this one up.
It's a favorite of mine and will be yours too!
Yield: Approximately 20 Servings
Strawberry Spinach Bruschetta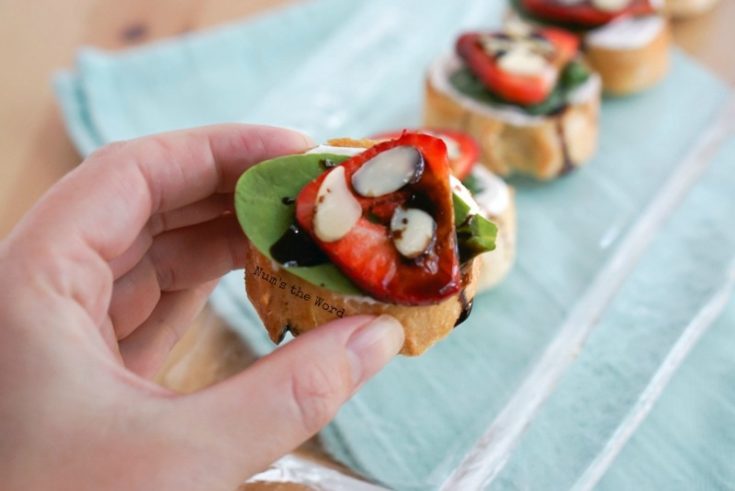 Ingredients
1 cup baby spinach leaves (or basil) - torn into pieces
2 cups strawberries - sliced thinly
1 French loaf
1 cup Greek yogurt or sour cream
A handful of almond slivers
2 tablespoons balsamic vinegar
1/2 tbsp honey
2 teaspoons olive oil
Pinch of salt
A squeeze of fresh lemon juice
Instructions
Preheat oven to 350*F
Slice French Bread into 1/2 inch pieces. Lay flat on a cookie sheet and toast for 5 minutes or until top is stiff and crunchy.
In a small bowl, whisk together the balsamic vinegar, honey, olive oil, pinch of salt and squeeze of lemon juice.
In a large bowl, combine the spinach and strawberry slices. Add in the dressing and toss gently to coat.
Spread Greek yogurt over each slice of bread.
Spoon strawberry spinach mixture onto each toasted bread slice.
Finally, sprinkle with almond slivers.
Originally Posted: June 18, 2014
Photos and post updated: November 20, 2017
Other Easy Appetizers You'll Love...