This fresh tasting Strawberry Crisp is quick to toss together and uses fresh or frozen strawberries. A simple, easy to prepare summer dessert that can be enjoyed all year round!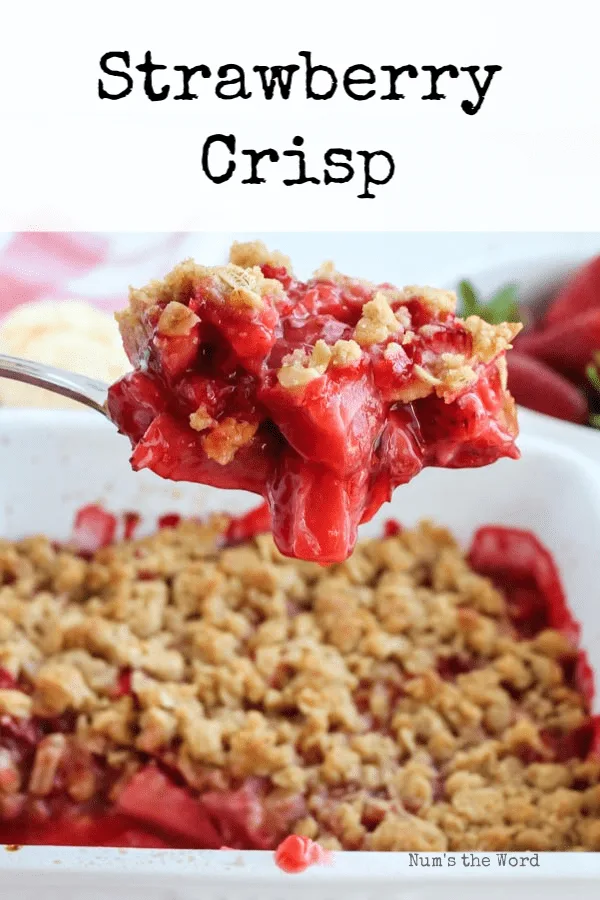 It's Summer time! And we all know what that means! It's berry season. Let's be honest, who doesn't love to eat handfuls of fresh berries in the summer heat. I am a huge fan of all berries, but one of my favorites was fresh from the garden strawberries.
Strawberries are amazing! They are sweet, juicy and in my opinion, the best flavor of any candy. Not to mention they are super healthy and great for your heart! Strawberries just scream summer time, which is why this classic Strawberry crisp recipe, similar to Strawberry Rhubarb Crisp, is one of my favorites to make in the summer.
Finding easy, simple, kid friendly treats are always something on my mind during the summer. If you haven't thought of making a fresh strawberry crisp, I am begging you to try it out! It is certainly a summer must. It will make your love of strawberries even more so!
Not to mention it is the perfect dish to serve to dinner guests! It's guaranteed to be a treat they've most likely never had before.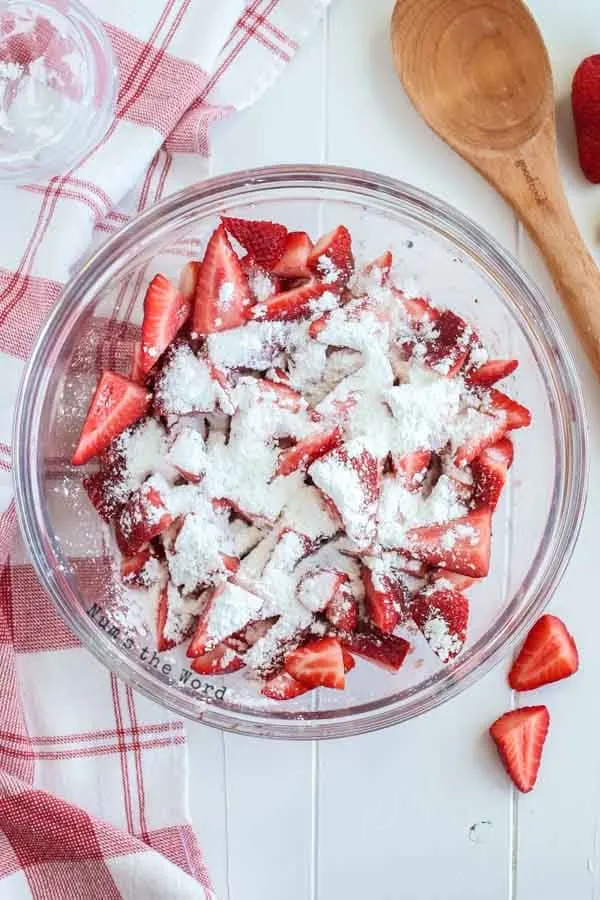 Fresh vs. Frozen Strawberries
If you have the choice between fresh and frozen, Personally I love a good fresh strawberry crisp. Ripe berries that you've either picked yourself or purchased gives off the best results. However strawberry season is such a short season that using frozen strawberries when the berries aren't quite in season is perfectly fine too!
Keeping fresh fruit around the house is sometimes and impossible task. Especially if you're trying to manage a family's meal plan. Either someone snacks on it or it sits around too long, getting gross and moldy.
There's no shame in using frozen strawberries. Plus, if you keep a handful around, you can whip up this strawberry crisp dessert in a snap if you need an impromptu dessert!
But is there a technical reason to choose fresh over frozen, or vice versa? Besides preference?
Yep.
Berries hold a LOT of juice in them. This makes them great to cook with, but it also makes them hard to freeze and thaw properly. You know how ice takes up more space than water? So, when the juice in the berries expands, it sort of "pops" them during the baking process.
For a compromise, I recommend adding extra cornstarch to help absorb the additional water and juice that frozen berries produce.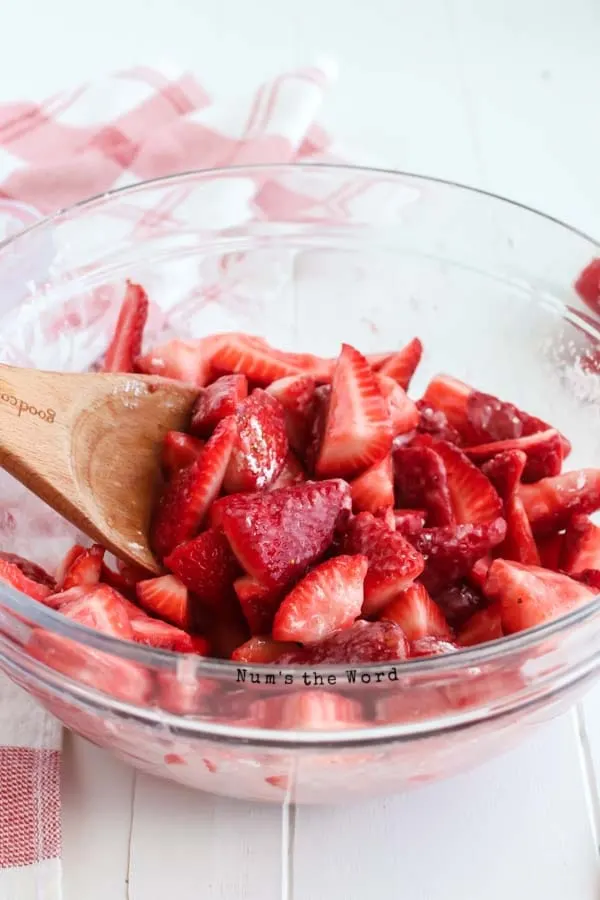 What's the Difference Between a Crisp and a Crumble?
This is a tricky one, and I'm sure I'll get it wrong, too! There have always been hot debates about what separates a crumble from a crisp. Even the best answers still aren't able to give definitive answers!
The way I see it, a fresh strawberry crisp is meant to be light and crunchy. This is why fruit crisps often include oats and nuts. A fresh strawberry crumble is a bit more like pie with a crumble topping, There are no oats in a crumble making it less crispy.
This strawberry oatmeal dessert is DEFINITELY a crisp. It is light, crispy, and would be hard to mix up with even the best strawberry crumble or crisp.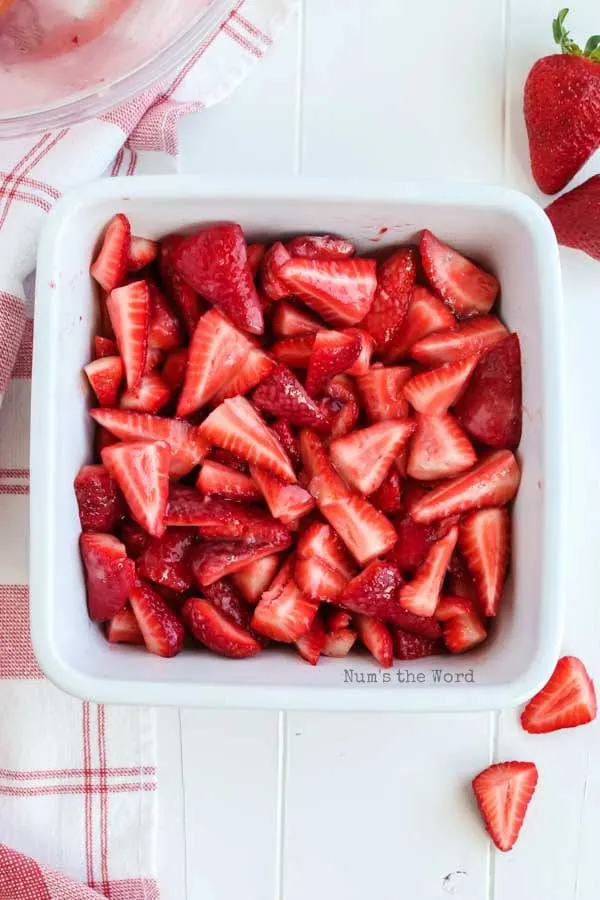 Can You Make a Crisp Ahead of Time?
Yes? No? Kind of?
Crisps shouldn't sit around for too long. If you want to assemble it in the morning, so you can bake it fresh in the evening for a warm strawberry dessert, sure! Make it ahead of time.
If you want to make and freeze it to save for a week later, I'd suggest against that. Have you ever tried to microwave pizza? Like the kind that's been out on the table for an hour, got cold, and you want to speed heat it? The edges that were previously nice and crispy with a good crunch… Yeah, say goodbye to that!
It's all going to depend on time and moisture. If you leave something to sit out too long with wet and dry ingredients interacting, even if the dry is sitting on top of the wet, it's going to soak up moisture. As such, it'll come out soggy when you bake it.
If you freeze it, the topping won't stay "crisp" and the fruit at the bottom can grow syrupy as it thaws.
So I suggest making it as you need it, or if using fresh berries, making it the morning of and baking it that afternoon. However if you use frozen berries, you'll have to make it when you need it or the berries will be quite soggy tasting.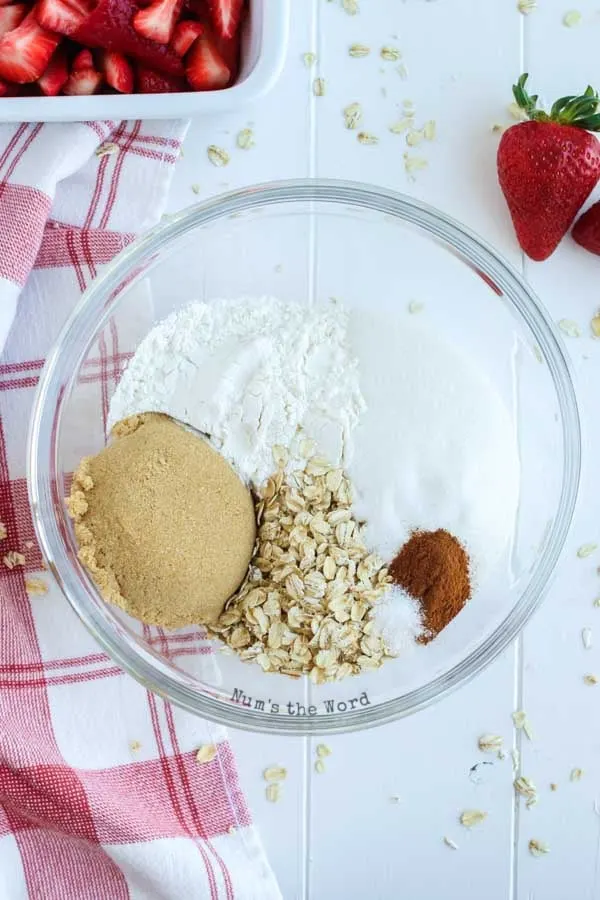 How to You Keep a Crisp from Getting Soggy?
Less moisture! However, that's hard to tell how much is 'too much' when you're in the creation process. Baking can depend heavily on your environment. Sometimes the air is too humid, or your strawberries are so ripe they are extra juicy.
Knowing if your crisp needs more or less moisture often comes from experience. However with this easy strawberry crisp recipe, you'll be able to easily know if you should add extra cornstarch (a thickening agent) to your crisp or not. If your berries are frozen or VERY ripe, then add a Tablespoon or two of extra cornstarch. If your berries are out of season ripe, then leave the recipe alone.
If you are really worried about it (which you shouldn't be and are probably overthinking all this) I will give you one good tip: Let the strawberries sit in a bowl or on a paper towel for 5 minutes after rinsing them Any water you used to wash them – or berry juice sitting on top – will fall to the bottom. At this point, you can either:
Pour off the excess liquid after 5 minutes.

Just cook like normal. Since the liquid is at the bottom, when you add your crumble topping, it won't automatically soak up the whole lot. As such, the moisture in the topping comes from the butter rather than the juice.
Overall, don't worry about the moisture. Bake your frozen strawberries frozen and your fresh strawberries fresh and all will be ok. Your topping shouldn't get soggy and if it does, I'd be shocked. I've made this so many times that a soggy crisp isn't something I've ever had to deal with.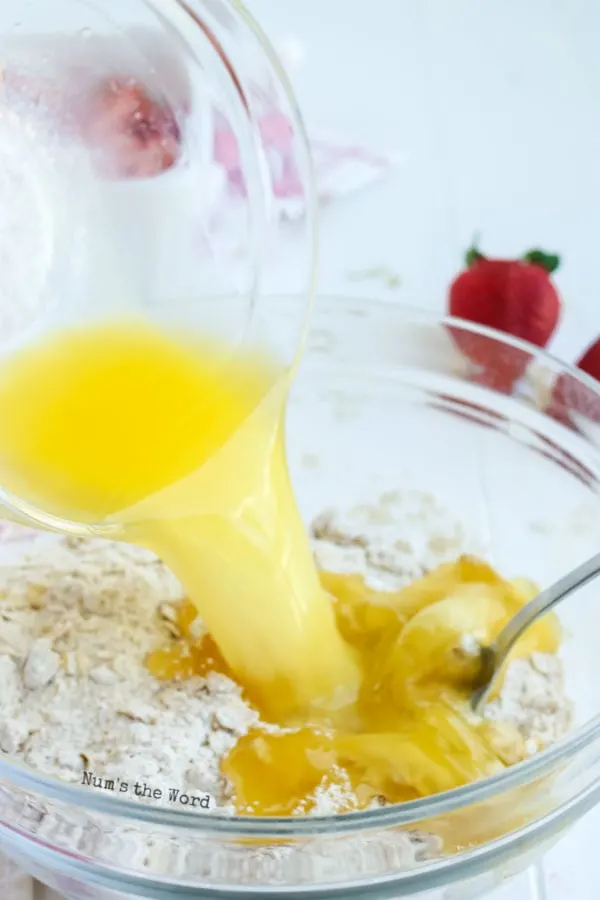 Why Are My Strawberries Turning Mushy?
When it comes to this fresh strawberry crisp recipe, you don't have to worry about mushy strawberries. You want soft cooked berries with a crunchy crisp topping. This is 100% expected and normal.
However if your fresh berries are mushy before you even cook with them, it's a sign that they are starting to decompose. Hurry and freeze them, eat them or bake with them!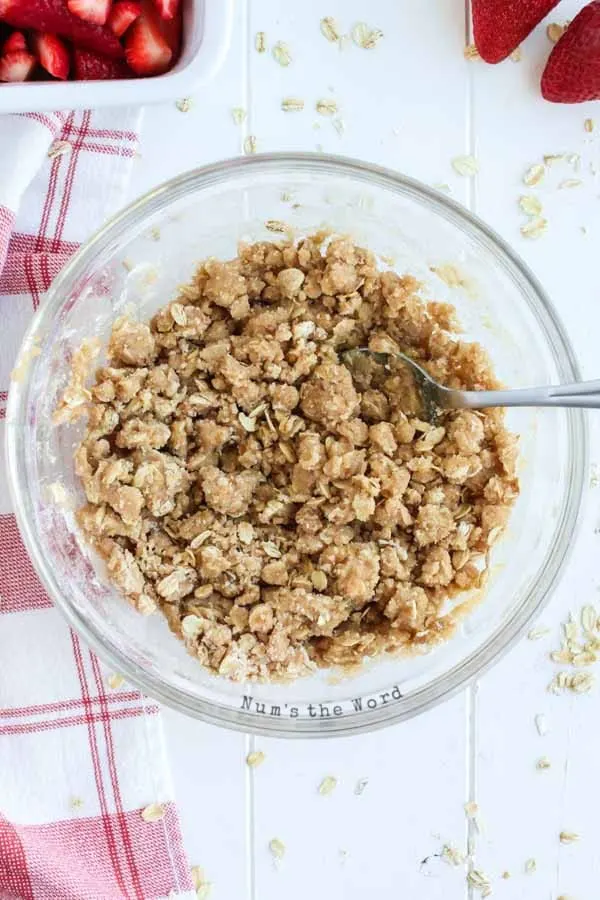 Can you use frozen strawberries in crisp?
Yes, you can definitely use frozen strawberries for this recipe. If you only have access to frozen strawberries, no worries they will work just as great. Just add in a little extra corn starch to absorb the extra water that comes with frozen strawberries.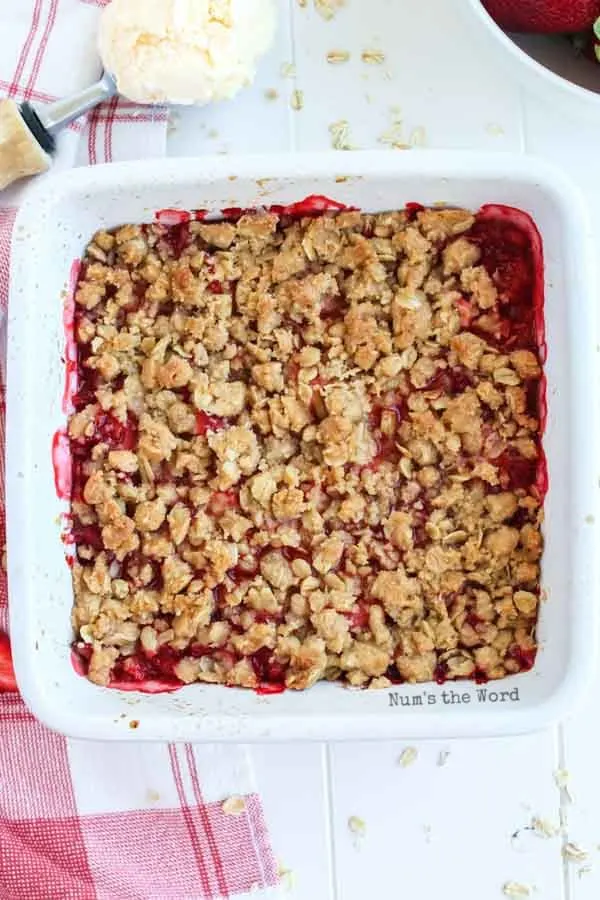 Does strawberry crisp need to be refrigerated?
You only need to refrigerate your strawberry crisp if you weren't able to eat it all in one serving! You can also prepare your crisp the night before and keep it in the fridge to keep it fresh for the next day. If you are storing your leftovers in the fridge, it will last about 5 days.
If you are making your strawberry crisp the day before you are going to eat it, make sure you let your crisp completely cool after being in the oven before you stick it in the fridge. You can also make the crisp ahead of time and cook it later for a fresher option.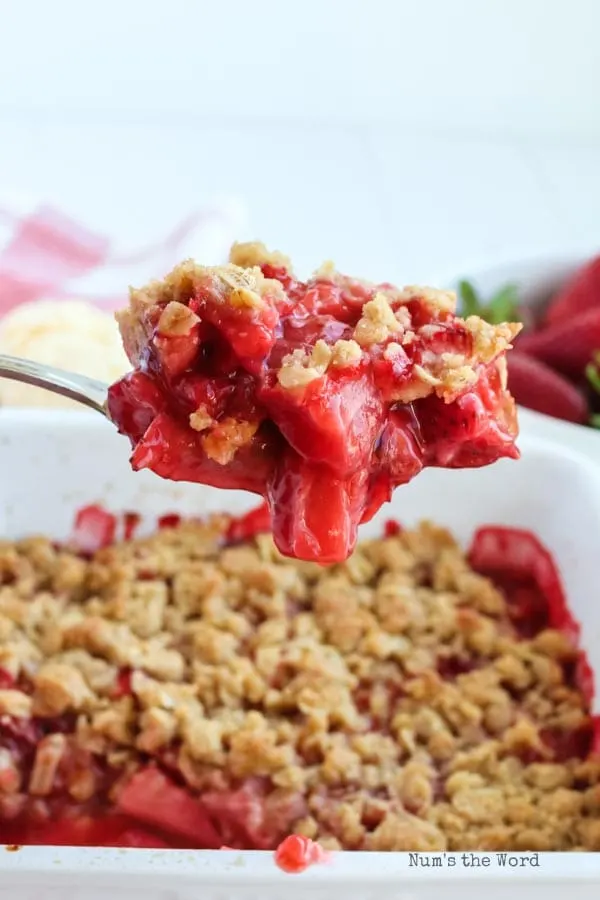 Can I freeze strawberry crisp?
Freezing berries and thawing them again never really goes as well as you hope. Because berries have a lot of juice in them, when they freeze they expand like ice, which makes freezing dessert with fruit pretty tricky.
If you freeze your strawberry crisp, it will take the crispy part out of the equation. It is like reheating pizza in the microwave… just not the same. So I would advise against freezing your strawberry crisp.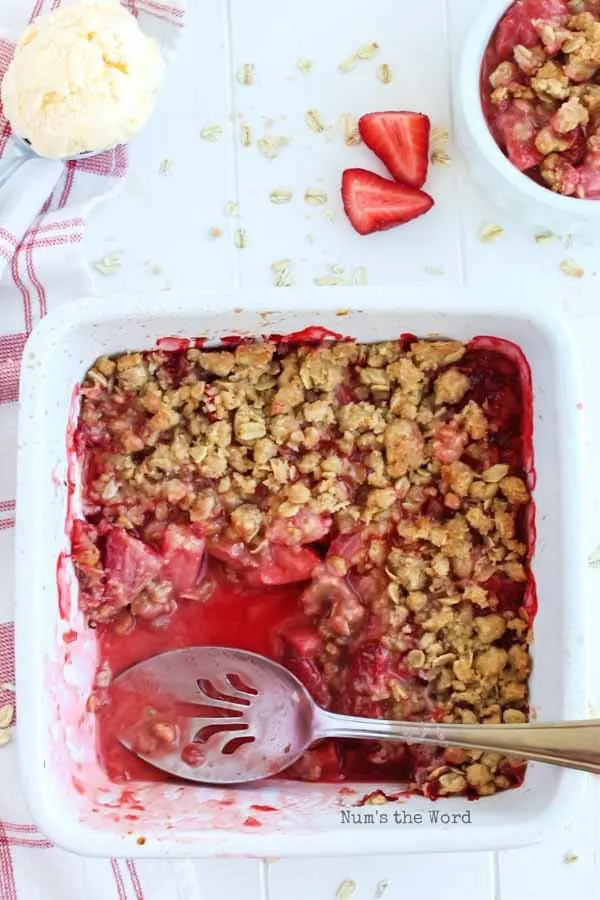 What ingredients are in a strawberry crisp:
Making strawberry crisp isn't as hard as it may seem. Making this recipe will leave you feeling like a pro dessert baker. As long as you have all the ingredients, your strawberry crisp will turn out beautifully! Speaking of ingredients here is what you are going to need:
Strawberries:

The more the merrier! Fresh ones are preferred but frozen or wilted are good as well.

White Sugar:

It definitely will make it sweeter!

Cornstarch:

This is what is considered the binder. It is what helps thicken the juice and helps give it the desired texture.

All purpose Flour:

This is the base of the crumbly topping.

Old Fashioned Rolled Oats:

The old fashioned oats will give your end result an extra crisp!

Brown Sugar:

The Molasses in brown sugar will give your strawberry crisp more moisture and will create a chewier texture. And of course make it more sweet!

Cinnamon:

The more flavor the better!

Salt:

Salt in an enhancer. It will make everything taste that much better!

Butter:

It adds more moisture and more flavor into your recipe.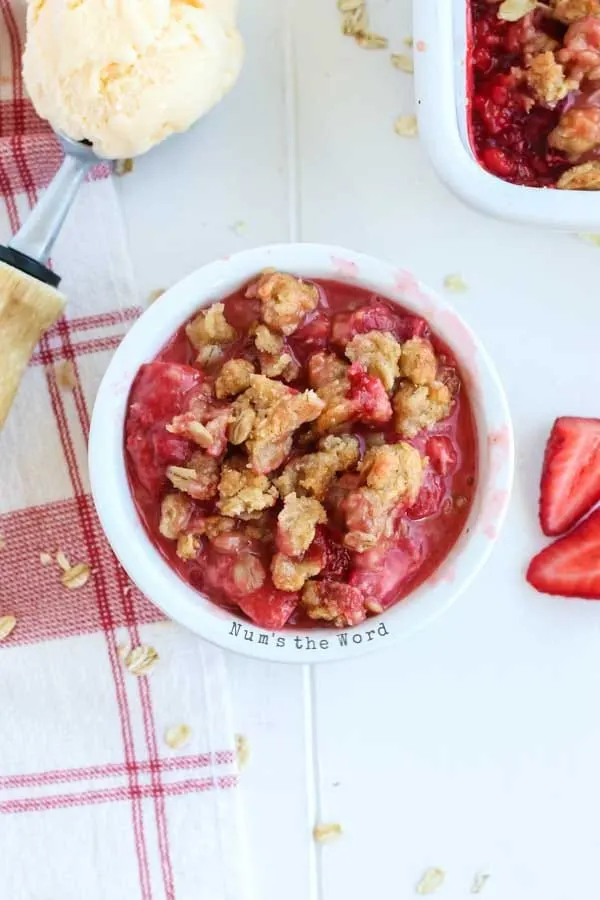 If you love Strawberries, try these recipes too:
Fruit Desserts you'll also love:
Though strawberries scream summer, I can't seem to ever get enough of them. Which makes enjoying this simple dessert perfect all year! Strawberry crisp has always been one of my favorite summer treats to make for any occasion. The crispiness is to die for and the way the strawberries melt in your mouth is heavenly.
If you haven't tried making a strawberry crisp before, now is a perfect time to do it! This recipe is simple and will be sure to leave you and your kids wanting more. Especially when you add that ice cream for a finishing touch.
Yield: 6 Servings
Fresh Homemade Strawberry Crisp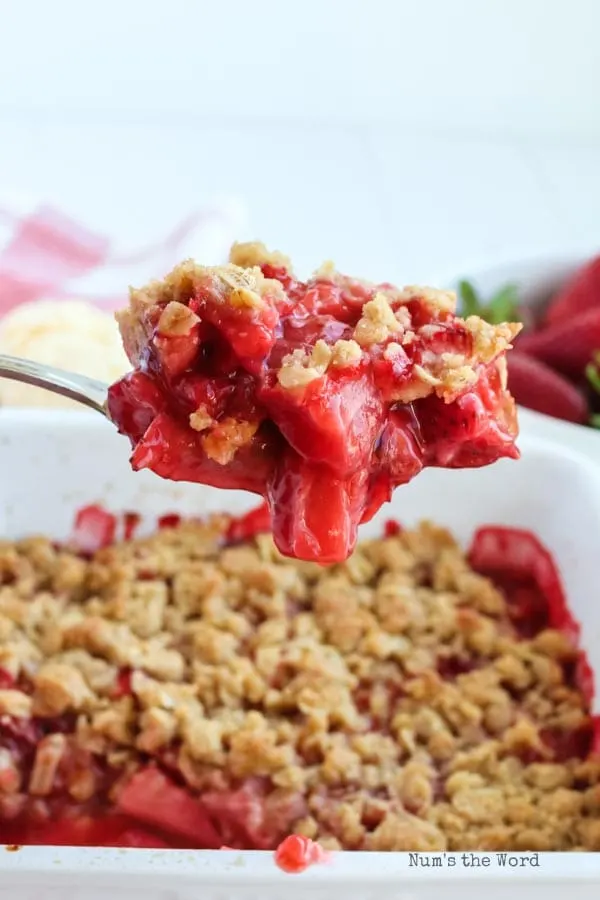 This fresh tasting Strawberry Crisp is quick to toss together and uses fresh or frozen strawberries. A simple, easy to prepare summer dessert that can be enjoyed all year round!
Ingredients
32 ounces of strawberries, hulled and quartered (approximately 4 cups)
1/4 cup white sugar
2 Tablespoons cornstarch (3 Tablespoons if using Frozen Strawberries)
1 cup all-purpose flour
1/2 cup old fashioned roll oats
1/3 cup white sugar
1/3 cup brown sugar
1/2 teaspoon cinnamon
1/4 teaspoon salt
1/2 cup butter, melted (1 stick)
Instructions
Preheat oven to 350*F
Spray an 9 x 9 inch square pan with non-stick cooking spray.
In a bowl toss strawberries, 1/4 cup sugar and cornstarch.
Place berries into prepared pan.
In a separate bowl, mix flour, oats, 1/3 cup white sugar, brown sugar, cinnamon and salt.
Add melted butter and mix well.
Pour oatmeal mixture on top of berries.
Bake for 35 minutes or until topping is golden and berries are bubbly.
Serve immediately with a scoop of vanilla ice cream!
Notes
When baking with frozen strawberries, do not thaw first. Bake frozen.
Nutrition Information:
Yield:
6
Serving Size:
1
Amount Per Serving:
Calories:

466
Total Fat:

17g
Saturated Fat:

10g
Trans Fat:

1g
Unsaturated Fat:

5g
Cholesterol:

41mg
Sodium:

240mg
Carbohydrates:

68g
Fiber:

5g
Sugar:

38g
Protein:

5g
Originally Posted: April 28, 2016
Text & Photos Updated: July 6, 2020
Check out all the other lovely strawberry recipes below from bloggers who took part in our 30 Day Strawberry Challenge.