These Strawberry Crumb Bars are light, airy and oh so tasty! This no bake dessert has been passed down from my grandmother continues to be a family favorite!
This post contains affiliate links.  If you click on an affiliate link and make a purchase, I will make a small percentage on your purchase. This helps keep this website running! Thank you!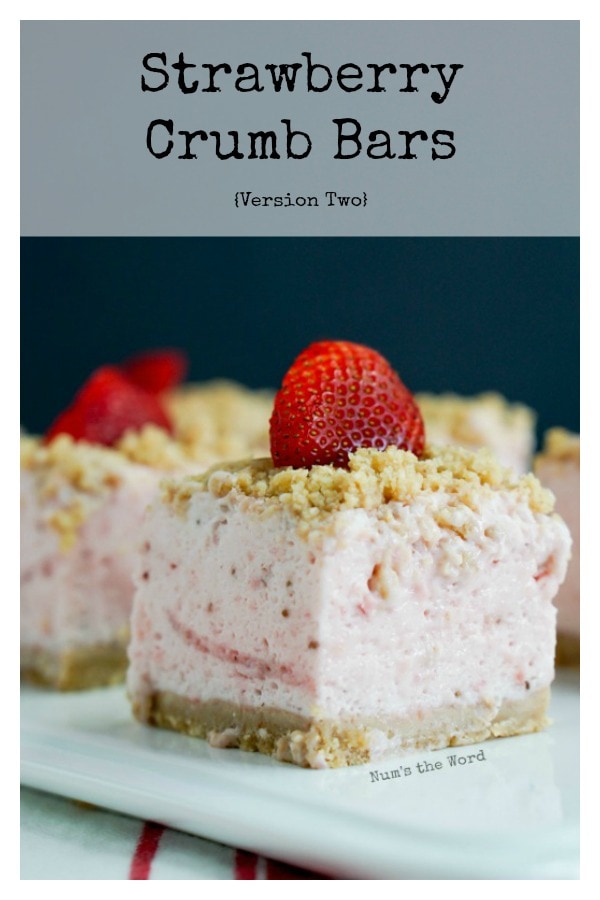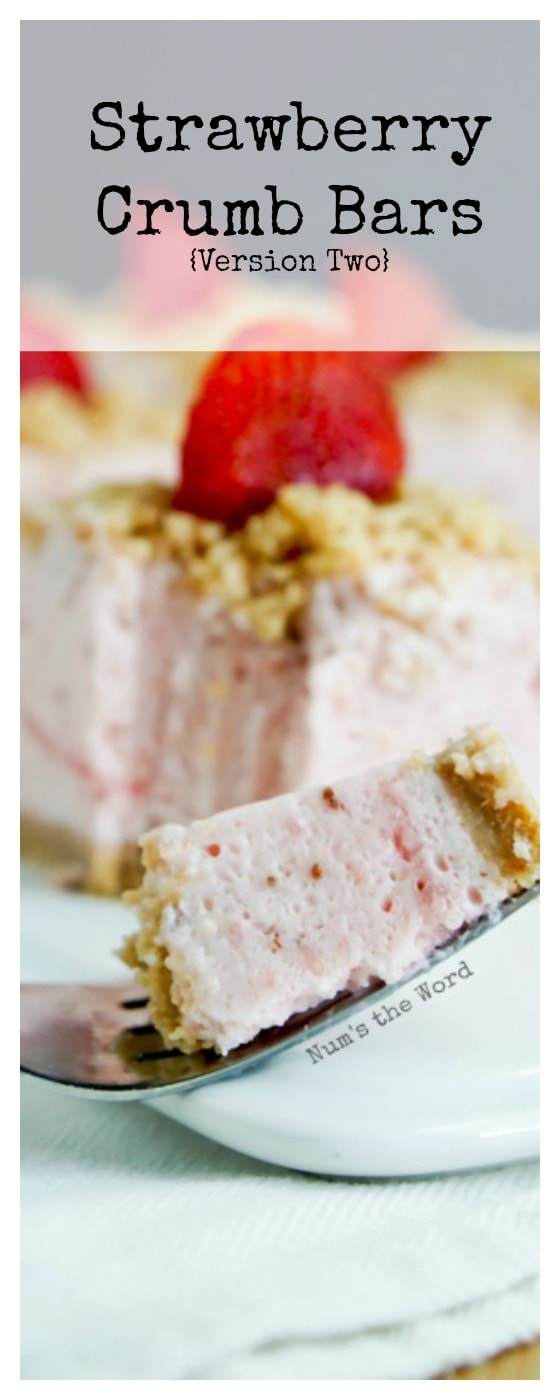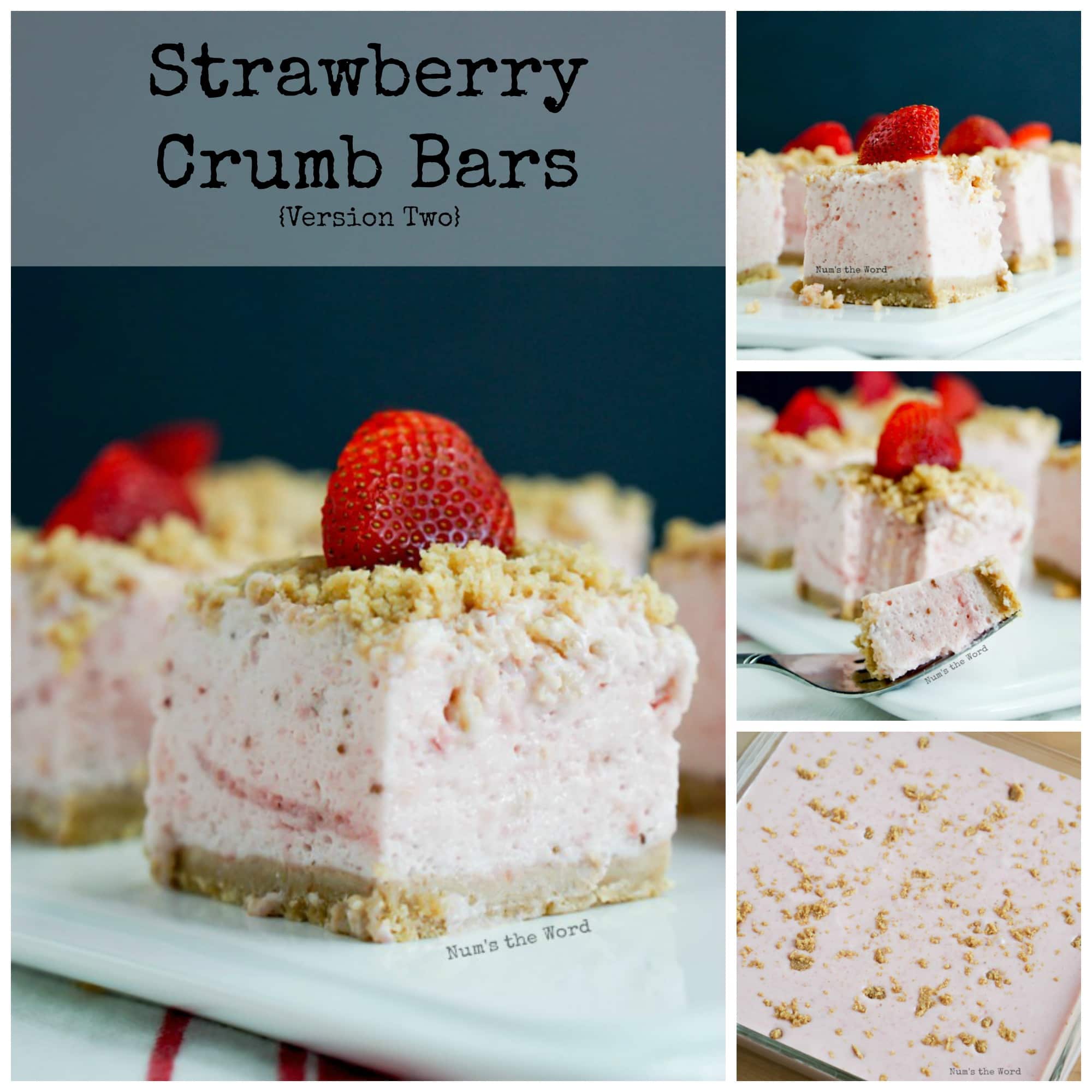 These Strawberry Crumb Bars are one of those vivid memories I have of visiting my Grandmother.
I remember she made these once and my younger brother fell head over heels in love with them.
After that day, she made sure to have them available every time we visited.
Over time, my little brother claimed that he no longer liked them and she then stopped making them.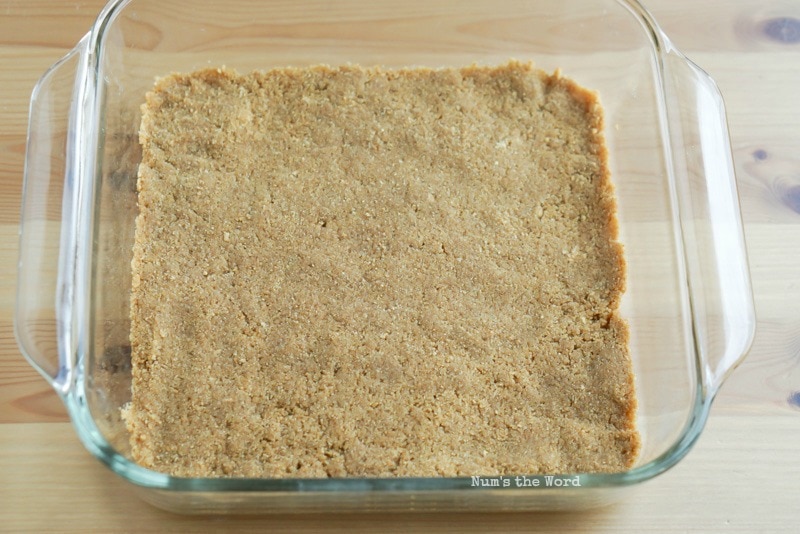 Fast forward 25+ years later and I stumbled upon this recipe in an old family cookbook with my grandmothers name attached.
It was then a flood of memories came back and I decided to make these so I could remember how they tasted.
The issue was that my grandmother was not the best at writing down recipes.
And so, as with most of her recipes I'm learning, there were a few details missing.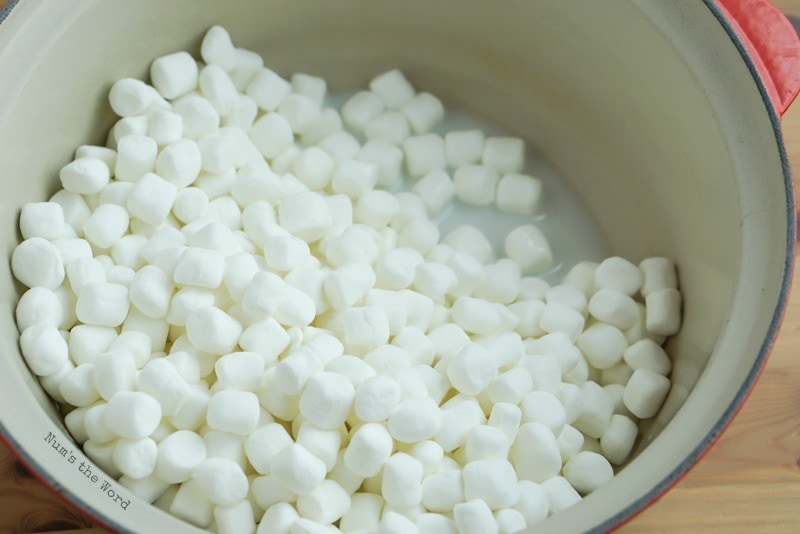 Do I slice the strawberries or puree them?
Do I layer the bars or mix them all together?
And lastly, what does "large" mean?
My grandmother though liked to use the words pinch, small, large and scant.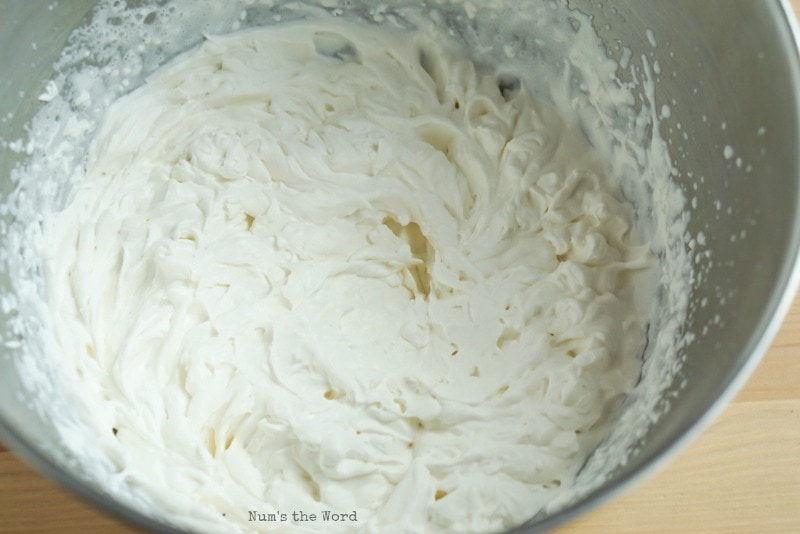 Small and large I'm sure were completely different sizes than they are today and so there is a lot of guessing that goes into one of her recipes.
Sadly she is no longer with us so I cannot just call her up to ask what she means.
Nor would I get a straight answer if she were alive.
Because large is large and small is small.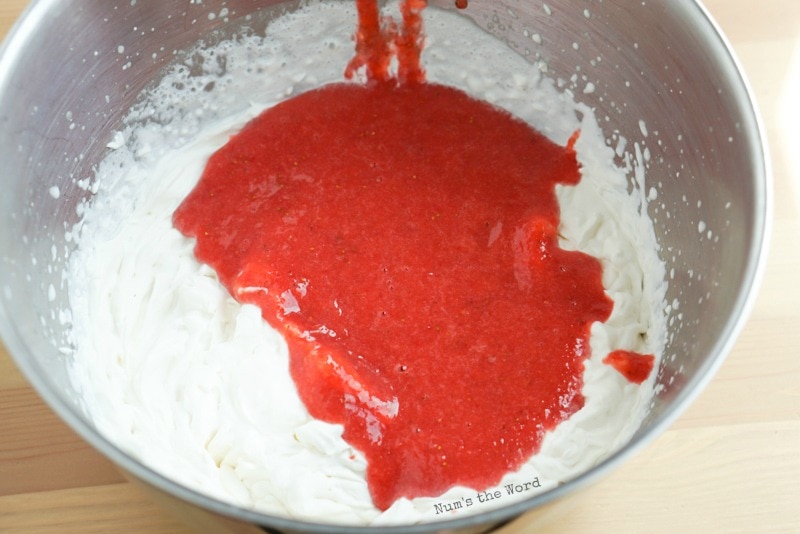 This is why I have two versions of these Strawberry Crumb Bars.
Both are plausible with the sparse directions given for the recipe.
These were both logical guesses as to how they could be made.
And since it's been so long since I've eaten these, I couldn't remember what they looked like other than the crumbs on top.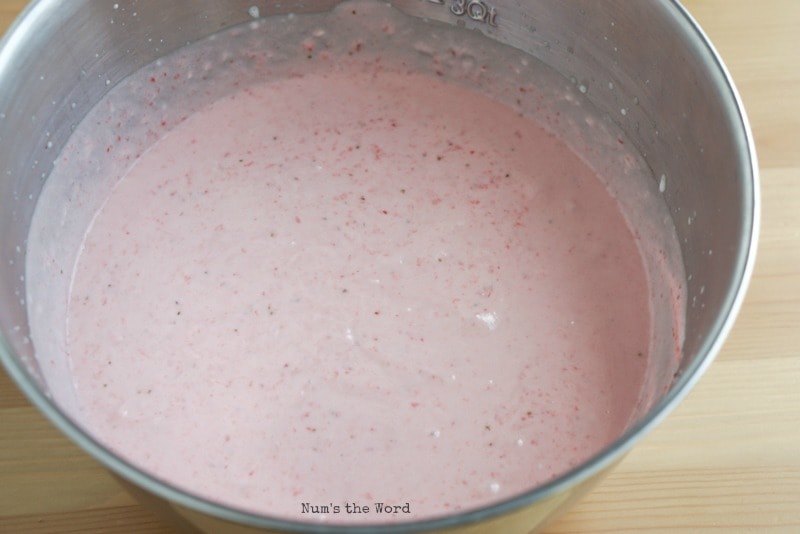 I believe though that this version is most likely the right version.
However my husband and friends LOVED version one as much as version two that I had to put both on the website.
So far everyone who has tried these has fallen in love with them.
The main comment I get is that these are VERY dangerous to have around.
Not only do they have a strong strawberry flavor, but they are incredibly light and airy.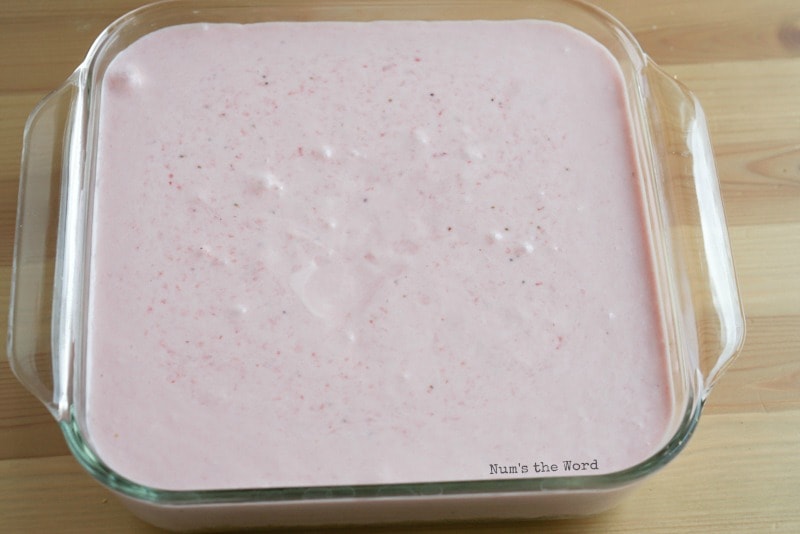 So light that you can easily eat two or three without thinking twice.
Since rediscovering this recipe, it is now a required summer treat whenever we got strawberry picking.
We love to use fresh picked strawberries, although store bought work well too.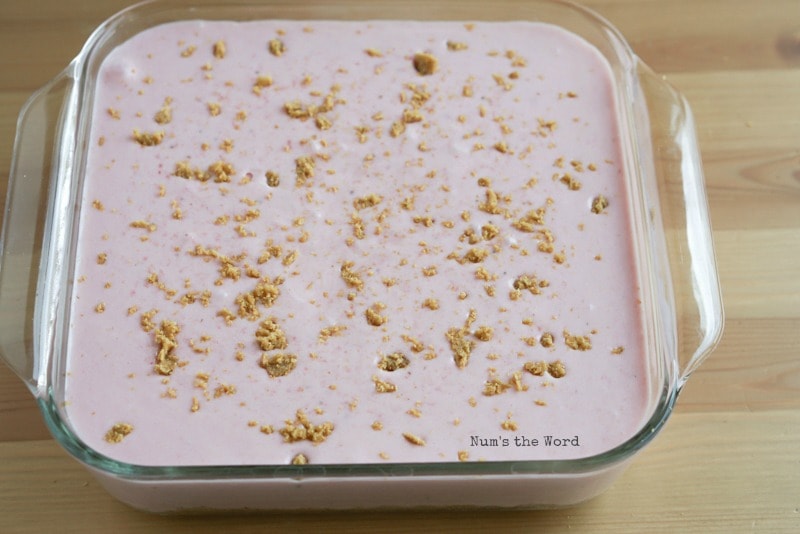 I love how easy these bars are and the memories they bring back from my childhood.
These Strawberry Crumb Bars are now a favorite treat in my home and one that we love to share with others!
If you love strawberries I hope you'll give these yummy Strawberry Crumb Bars a try!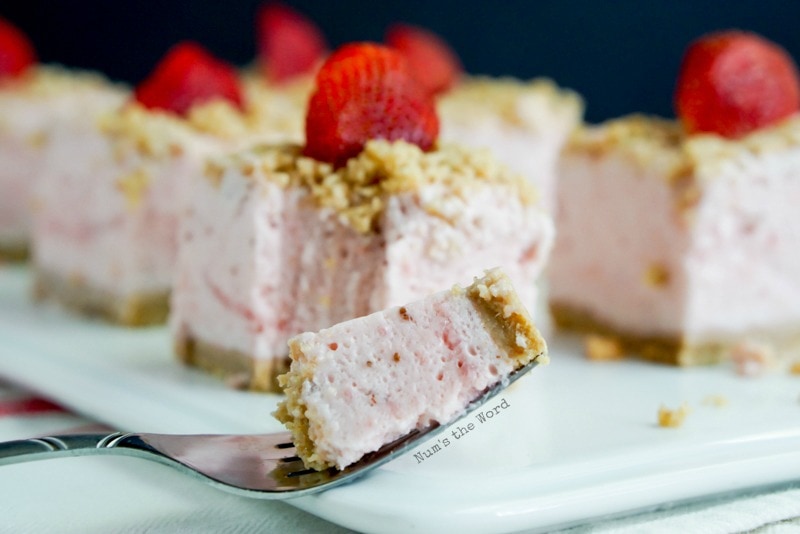 Yield: 9 servings or 16 small servings
Strawberry Marshmallow Crumb Bars – Version 2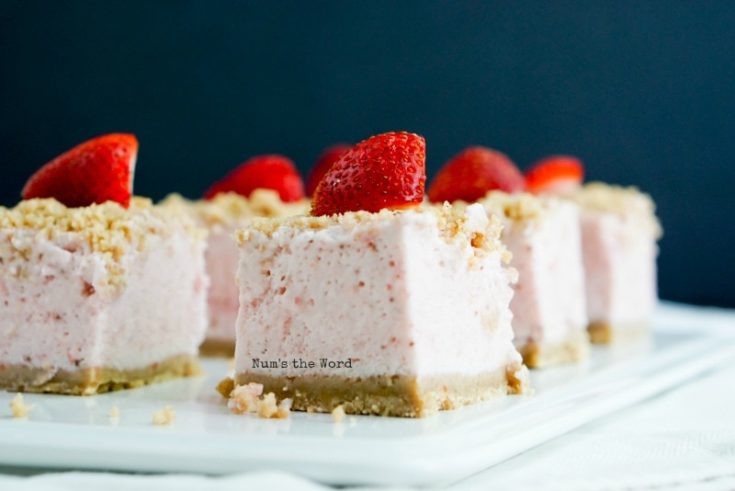 Total Time
2 hours
40 minutes
Ingredients
1 1/2 cups of graham crackers, crushed
6 Tablespoons butter
1 cup of heavy whipping cream
1 teaspoon vanilla
1 (12 ounce) bag of large marshmallows
1/4 cup of milk - any (we used 2%)
1 (16 ounce) package of strawberries, pureed.
Instructions
Line a 9x9 casserole dish with non stick foil or parchment paper. Trust me, it makes removing from pan and slicing easier.
In a small bowl, combine graham crackers and butter. Mixture does not need to be super buttery, crumbly is fine.
Press mixture into bottom of casserole dish. Reserve 1/2 cup to sprinkle on top. Set aside.
Whip up whipping cream with vanilla until stiff peaks, set aside. DO NOT ADD EXTRA SUGAR.
In a large non-stick sauce pan, add marshmallows and milk and melt down until smooth stirring regularly.
Once marshmallows are melted and smooth, remove from heat let cool for 5 - 10 minutes, stirring regularly.
Once cooled fold in pureed strawberries. Mix well.
Add whipped cream to strawberry marshmallow mixture.
Pour marshmallow mixture into graham cracker crust.
Top with reserved graham cracker mixture.
Refrigerate for 2 hours or until set.
Slice and serve.
Originally Posted: May 15, 2014
Photos & Text Updated: August 4, 2018
Other Strawberry Recipes You'll Love...