Cinnamon Sugar Tortilla Chips with Diced Strawberries – If you are looking for the perfect appetizer or a tasty snack, look no further than your own pantry. This easy to create snack is a hit at parties and home.
This post contains affiliate links.  If you click on an affiliate link and make a purchase, I will make a small percentage on your purchase. This helps keep this website running! Thank you!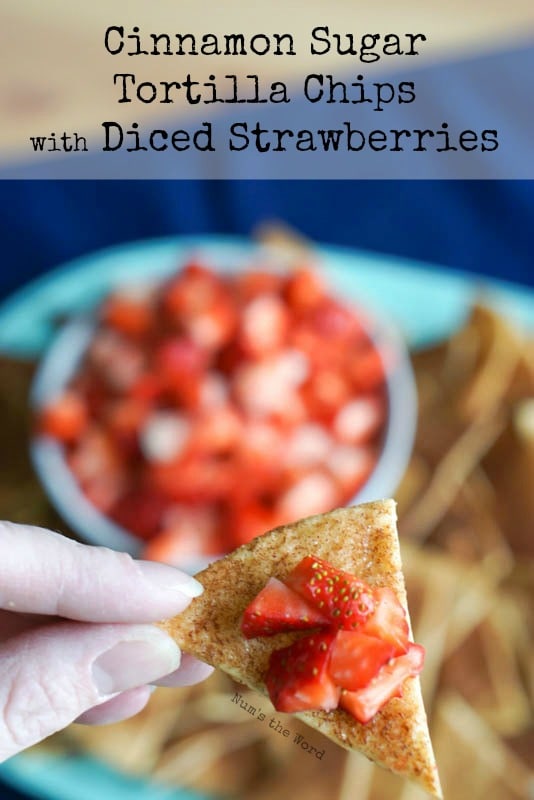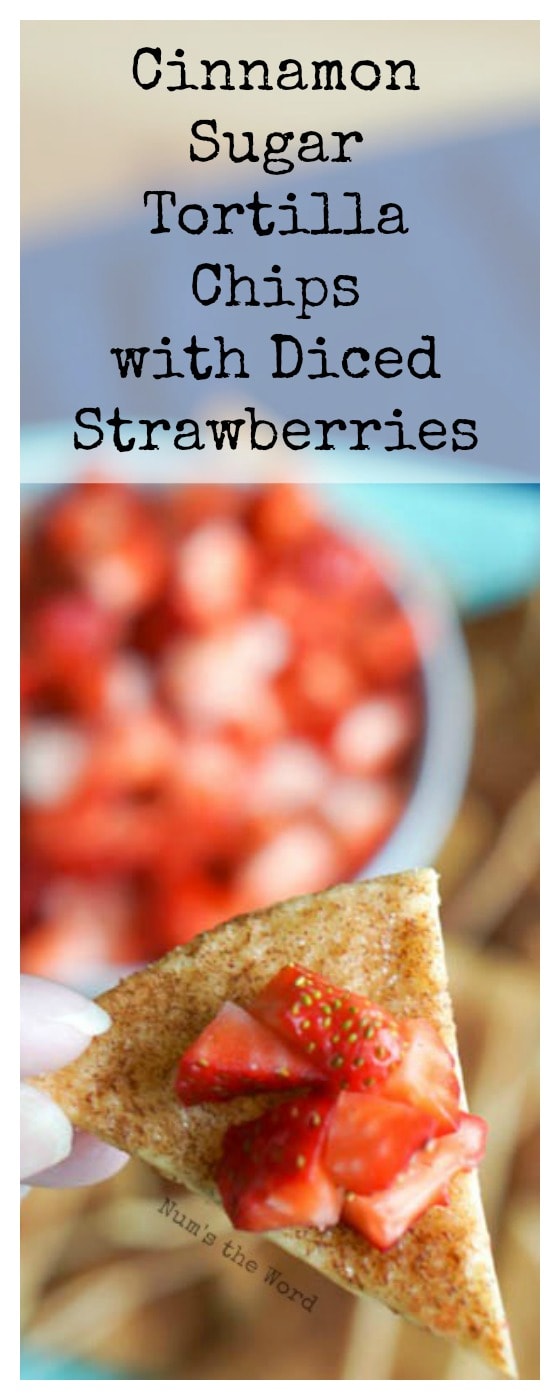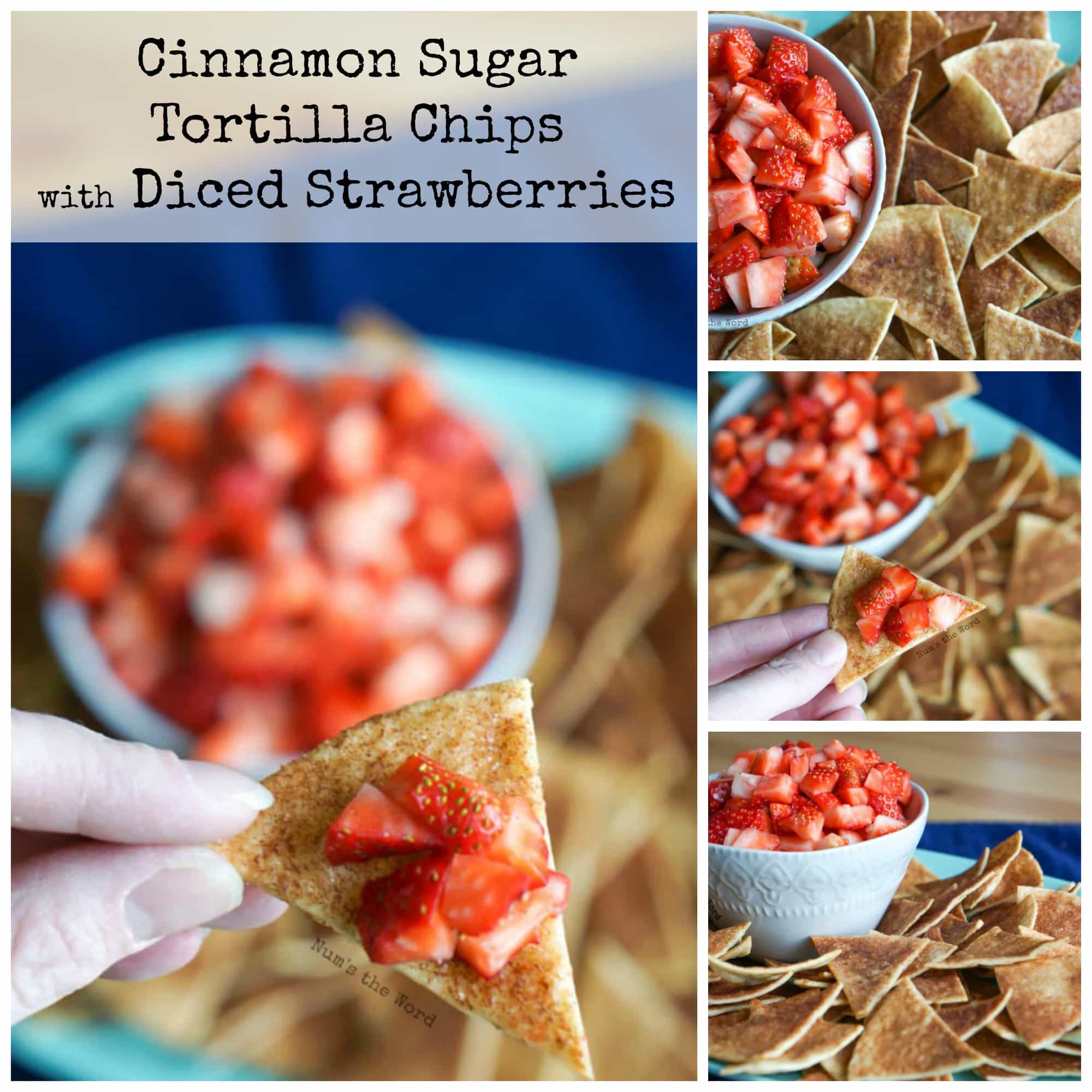 You might think I'm crazy because of how easy this recipe is to even call it a recipe.
It's simple, to the point, and can be made in minutes.
Just because it's an easy recipe, doesn't mean it's not amazing and mouthwatering good.
Many times, food bloggers or people in general want to create recipes that are fancy and involve several steps.
And yet we sometimes skip over the obviously easy and tasty recipes to show off a more complicated recipe.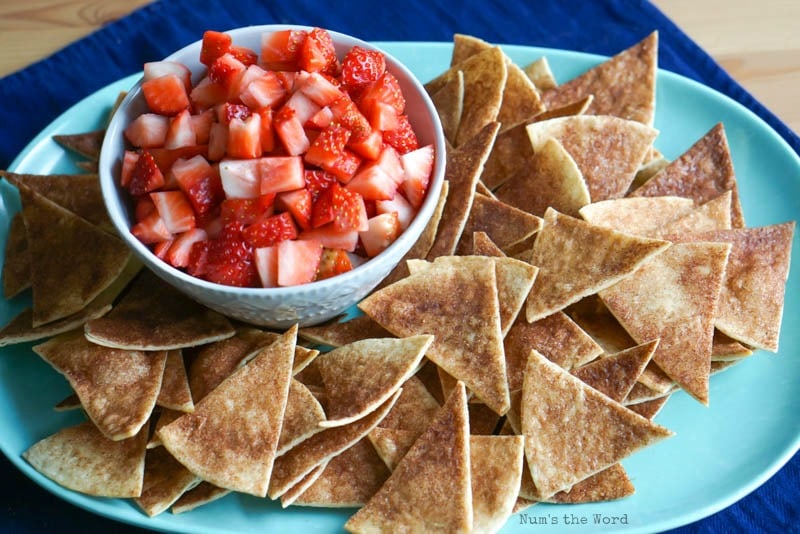 Well I'm not that girl.
I'm the girl who wants quick and easy and isn't going to require me in the kitchen for hours dicing up fruit.
I'm also the kind of girl who wants to join the party and stay out of the kitchen.
If you've paid attention to Pinterest or any food websites there are a ton of recipes for fruit salsas out there.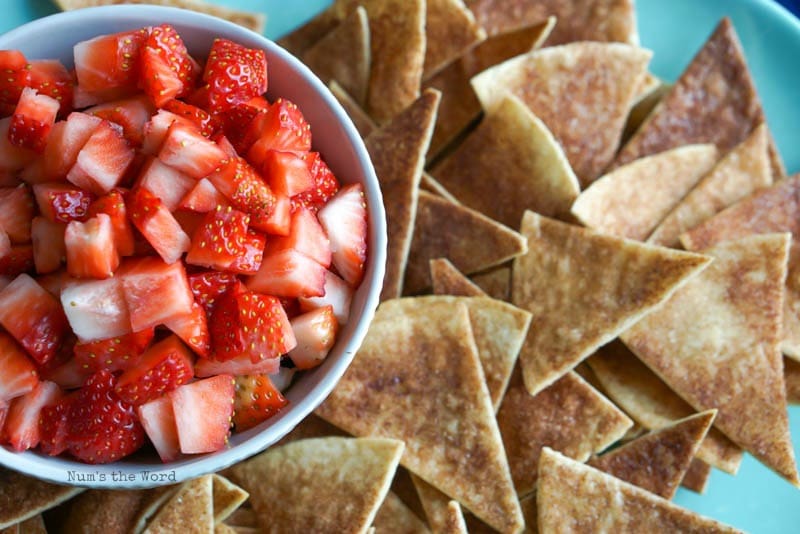 Don't get me wrong, fruit salsa is really good.
However, what's wrong with just strawberries?
Strawberries are sweet, have a hint of tang, and perfect on their own.
They really don't need any extra improvement as they are delicious by themselves.
Really, why mess with a good thing, right?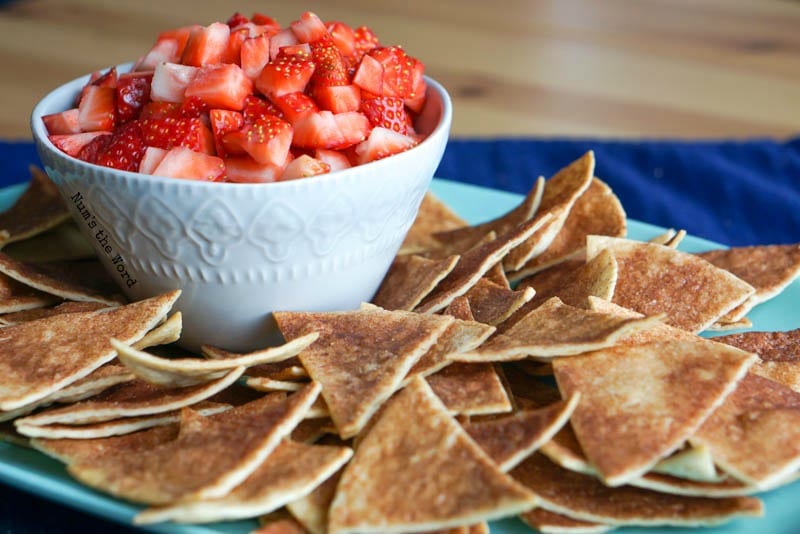 So I diced up a carton of strawberries, made some cinnamon and sugar tortilla chips and called it good.
And oh, was it good.
However, what good is a bowl of diced strawberries without some kind of chip to transport them from the bowl to my mouth?
That's where Cinnamon Sugar Tortilla Chips come in handy.
If you've never made Cinnamon Sugar Tortilla Chips, then you really should.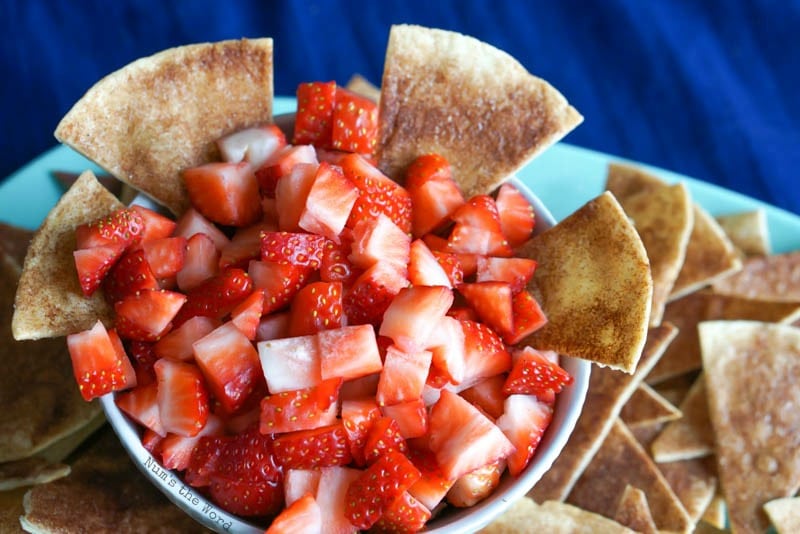 These are one of our favorite snacks and are pretty quick to make.
I've made this Cinnamon Sugar Tortilla Chips with Diced Strawberries quite a few times.
Every time I make it the group of people that consume it are always amazed by how good these Cinnamon Sugar Tortilla Chips are.
They are also impressed by how easy this dish is!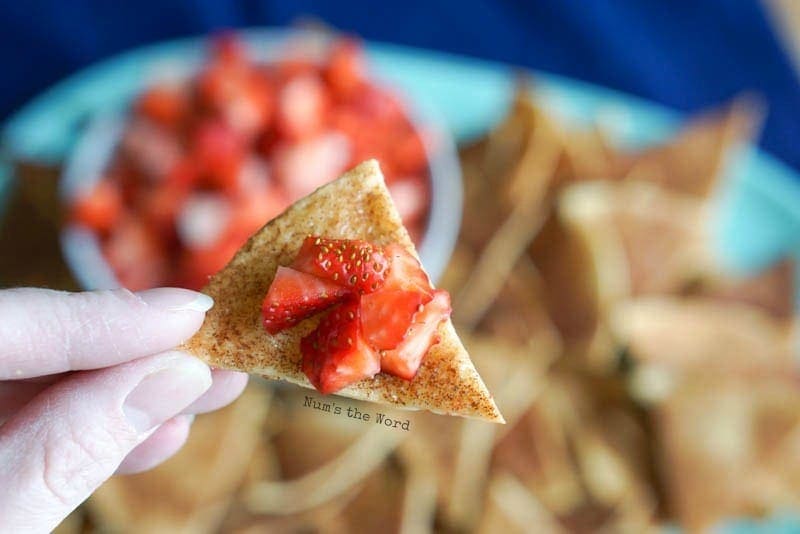 I love how this can be a simple at home snack, or on a table for a bridal shower, baby shower or even out for the big game.
Don't let a cute little strawberry fool you.
These Cinnamon Sugar Tortilla Chips with Diced Strawberries are a hit when watching the big game too!
If you need a simple yet delicious recipe that is fool proof, then whip up a batch of these and join the easy cooking crowd!
Yield: 64 Tortilla Chips
Homemade Cinnamon Sugar Tortilla Chips with Diced Strawberries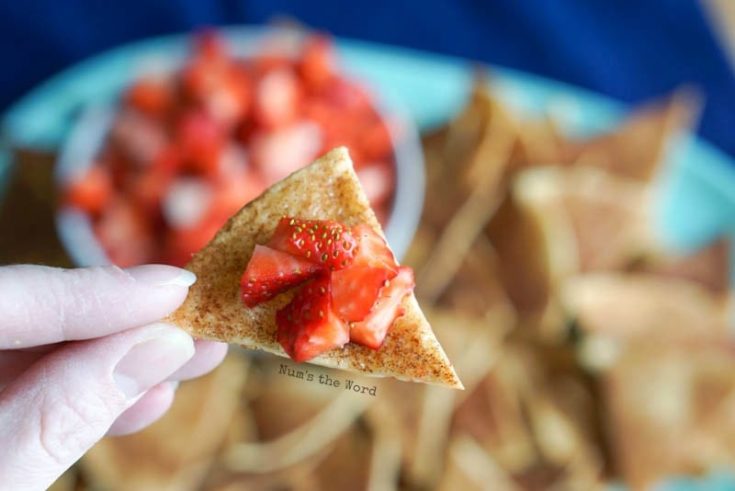 Ingredients
1 package of ripe strawberries, finely diced
1 package of medium sized tortillas
1 cup white sugar
4 Tablespoons ground cinnamon
1 stick of butter, softened to room temperature
Instructions
Heat oven to 350*F
Cover cookie sheet with parchment paper or non-stick foil.
Combine sugar and cinnamon in a small bowl until well mixed.
Lay out an entire tortilla onto your work space.
Spread a thin layer of butter over the entire tortilla.
Sprinkle generously (a medium to heavy amount) of cinnamon sugar mixture over tortilla.
Using a pizza cutter or sharp knife, cut tortillas into 8 slices, like you would a pizza.
Continue with remaining tortillas.
Once oven is preheated, place tortillas on cookie sheet and cook tortillas for 8 minutes or until edges start to turn golden.
DO NOT OVER COOK! These will go from perfect to burnt very quickly so keep an eye on them.
While chips are cooking, dice strawberries and place in a bowl.
Remove from oven and let cool to room temperature.
Dip chips into strawberries and devour.
Originally Posted: July 24, 2014
Photos and Post Updated: January 5, 2018
Other Easy Appetizers You'll Love...