Is it cheesecake? Chocolate chip cookie dough? How about a mix of both! Cheesecake Dip is AMAZING! And you will not be disappointed.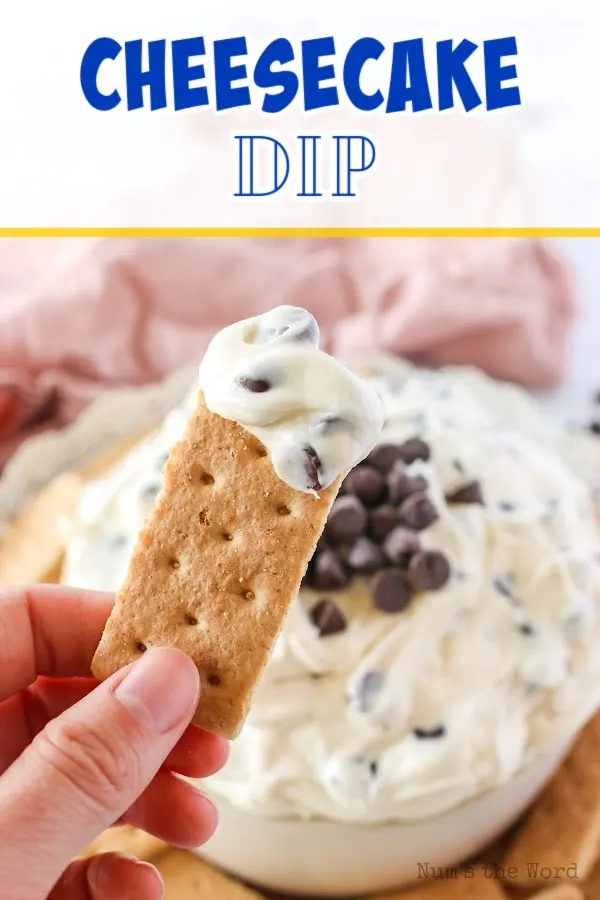 Creamy and filling and rich, each bite of is literally a piece of heaven on a graham cracker stick. Or a spoon. I won't judge.
You all know I love the dips. Savory dips like Jalapeno Popper Dip. Sweet dips like Apple Pie Dip.
But this creamy cheesecake dip recipe really takes the cake. If you get my meaning. MMMM.
What's so great about this dip recipe is it requires no cooking. Just mix and serve. Making it the easiest dip to serve at baby showers, bridal showers or holiday gatherings.
And every time I serve chocolate chip dip at a party, it's gone within minutes. I'm not kidding. I've totally timed it.
Plus you can host an entire dessert bar using only this Philadelphia cheesecake dip and toppings.
For a super easy dip look no further because this is a family favorite recipe that is always a huge hit.
What Ingredients are in Cheesecake Dip?
With just a few simple ingredients, you can whip this cream cheese mixture up in a matter of minutes!
Cream Cheese: Use the cream cheese that comes in packages, not tubs, this makes a creamy dip.
Butter: Real butter! No substitutes with margarine here. Get that outta here!
Vanilla: Real vanilla extract will also give you the best flavor.
Powdered Sugar: Confectioners sugar will melt right into the dip.
Brown Sugar: This is what gives the dip that characteristic cookie dough flavor.
Chocolate Chips: I prefer milk chocolate but feel free to use whatever you desire.
Graham Cracker Sticks: My personal favorite dippers! However you can use your favorite fruit.
How to Make Cheesecake Dip?
Making cheesecake dip could not be more simple! 2 steps!
Mix: The first few ingredients will need to be mixed with a hand mixer but the chocolate chips should be added gently.
Serve: As soon as it's done mixing, this cheesecake mixture is ready to serve in a beautiful serving bowl! Yay!
Pro Tips:
Mixing will go much better if the ingredients are all room temperature before you begin.
If you are making this in advance, simply cover it with plastic wrap and pop it into the fridge.
Serve immediately (it will harden in fridge) or set out 30 minutes before serving to soften.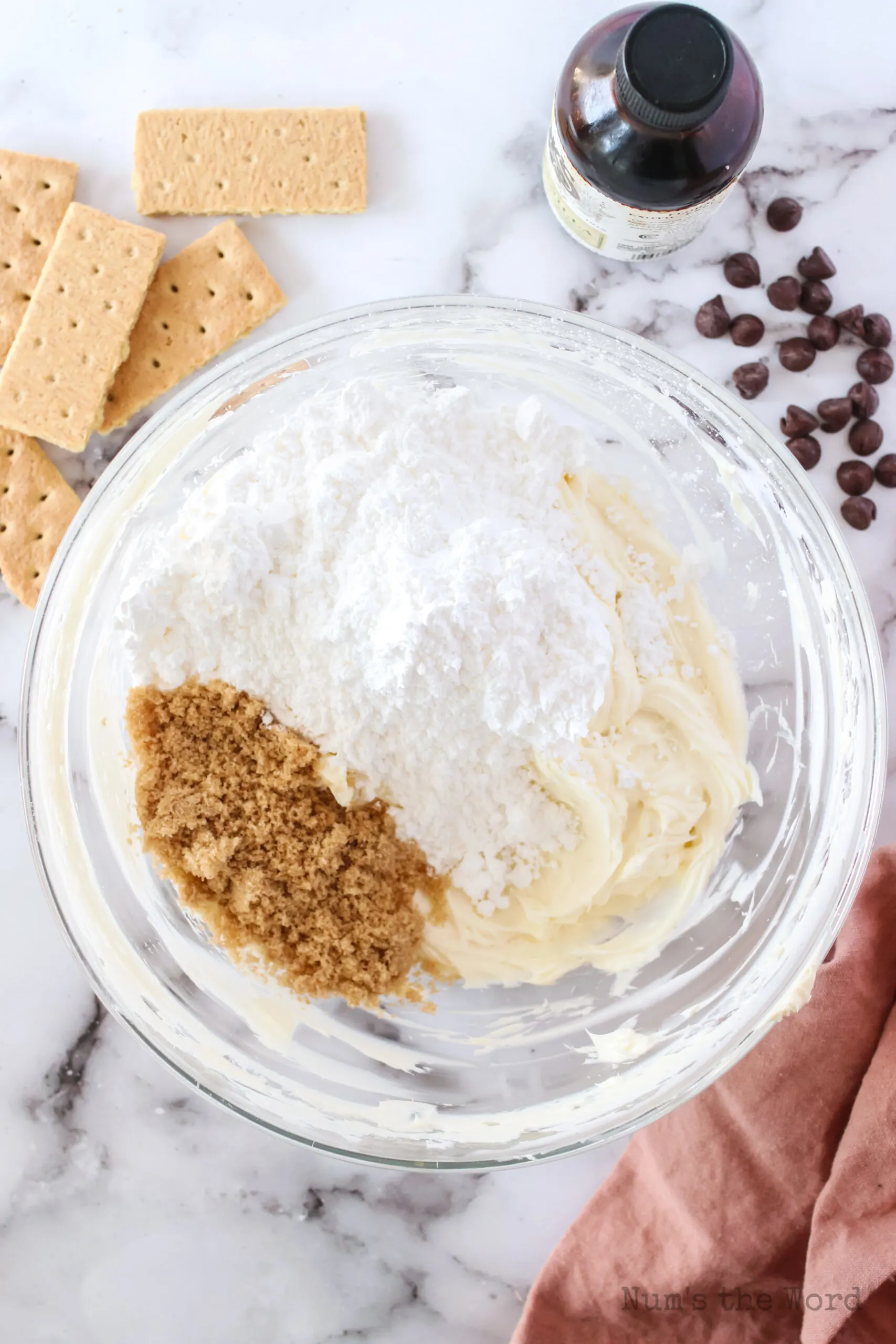 When to Serve Cheesecake Dip?
Cheesecake dip can be eaten at room temperature, or chilled. Just know that chilling will firm it up and it wont be very creamy. Go ahead and serve right away if desired.
You may also prefer it cold, in which case you'll want to pop the sweet cream cheese dip in the fridge for an hour or two. Do not try heating it up though! Any sort of heating of the chocolate chip cheesecake dip will cause it to melt all over.
Is Cheesecake Dip an Appetizer or Dessert?
Generally speaking, cheesecake dip is served as a no-bake dessert. However any cheesecake lover will eat it whenever you serve it. We've been known to serve it as an appetizer too.
Both regular cheesecake and cookie dough are accepted as delicious desserts by most people.
However, it's a dip. Not a cheesecake or cookie dough. So you do you! Serve as either an appetizer or dessert. No one will be complaining either way.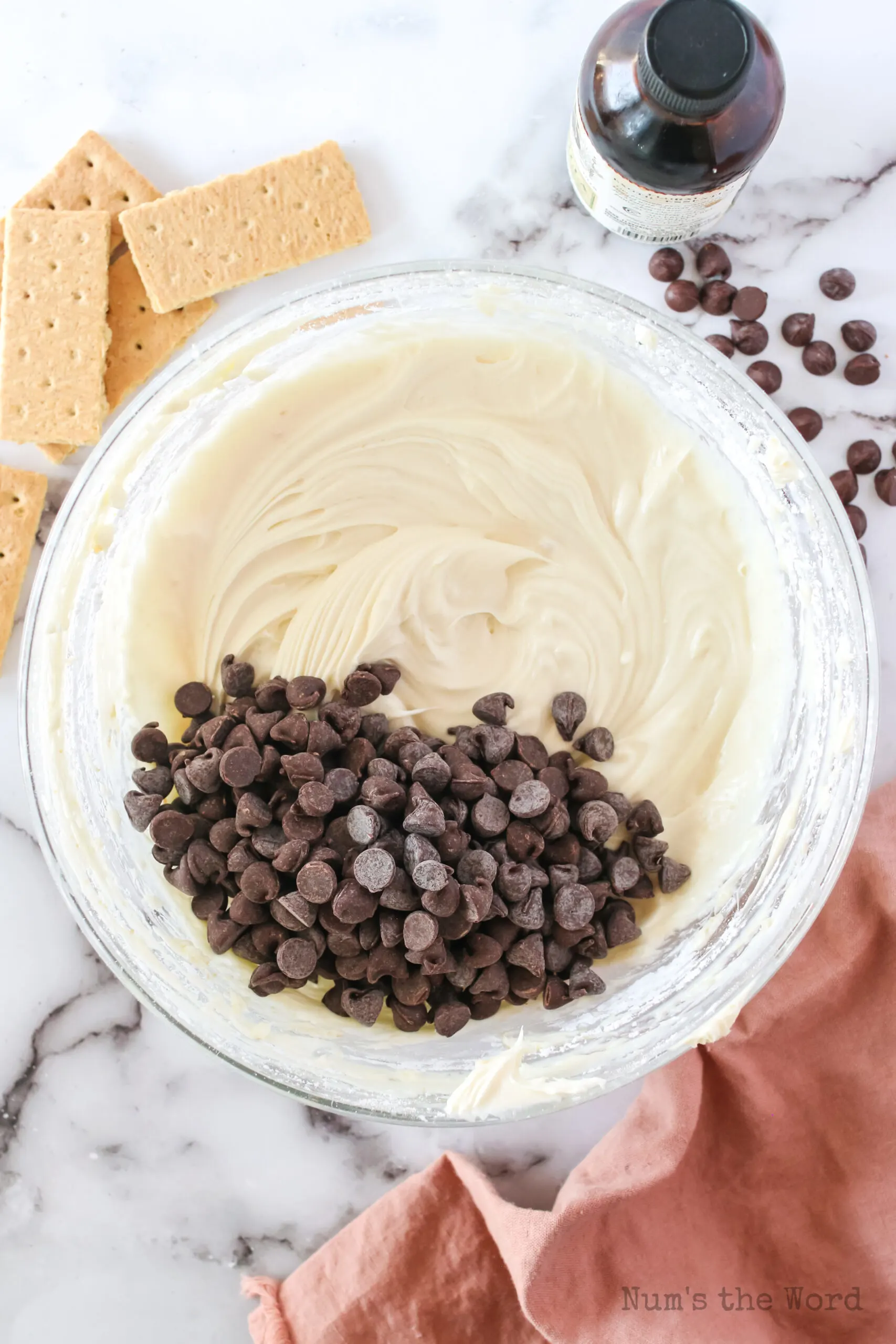 What to Dip in Cheesecake Dip?
Here's where you can let your imagination run wild!
When bringing your dip to a party or potluck, it's probably best just to bring one or two dipping options.
However, if you are hosting and an easy cheesecake dip dessert bar is your dessert of choice, the sky's the limit!
Here are a few great options.
Graham Crackers
Pretzels
Animal Crackers
Unfrosted Sugar Cookies
Strawberries
Apple Slices
Pita Chips
Cinnamon Bread Slices
Waffle Crisps
Vanilla Wafers
Fresh Fruit
Fresh Strawberries
Of course you can always serve it with a spoon. By yourself. At midnight. Been there. Done that.
No regrets.
How Long Does Cheesecake Dip Last?
Cheesecake dip will stay good in the fridge for up to 3 days. You'll want to keep it covered to prevent any growth from happening. We recommend in a sealed container.
You'll also be sure to only keep it on the counter for up to two hours at a time. So plan on pulling it out right when you're ready to serve it and put it away afterwards.
Cream cheese sitting on the counter for a long time will go bad so just keep an eye on it.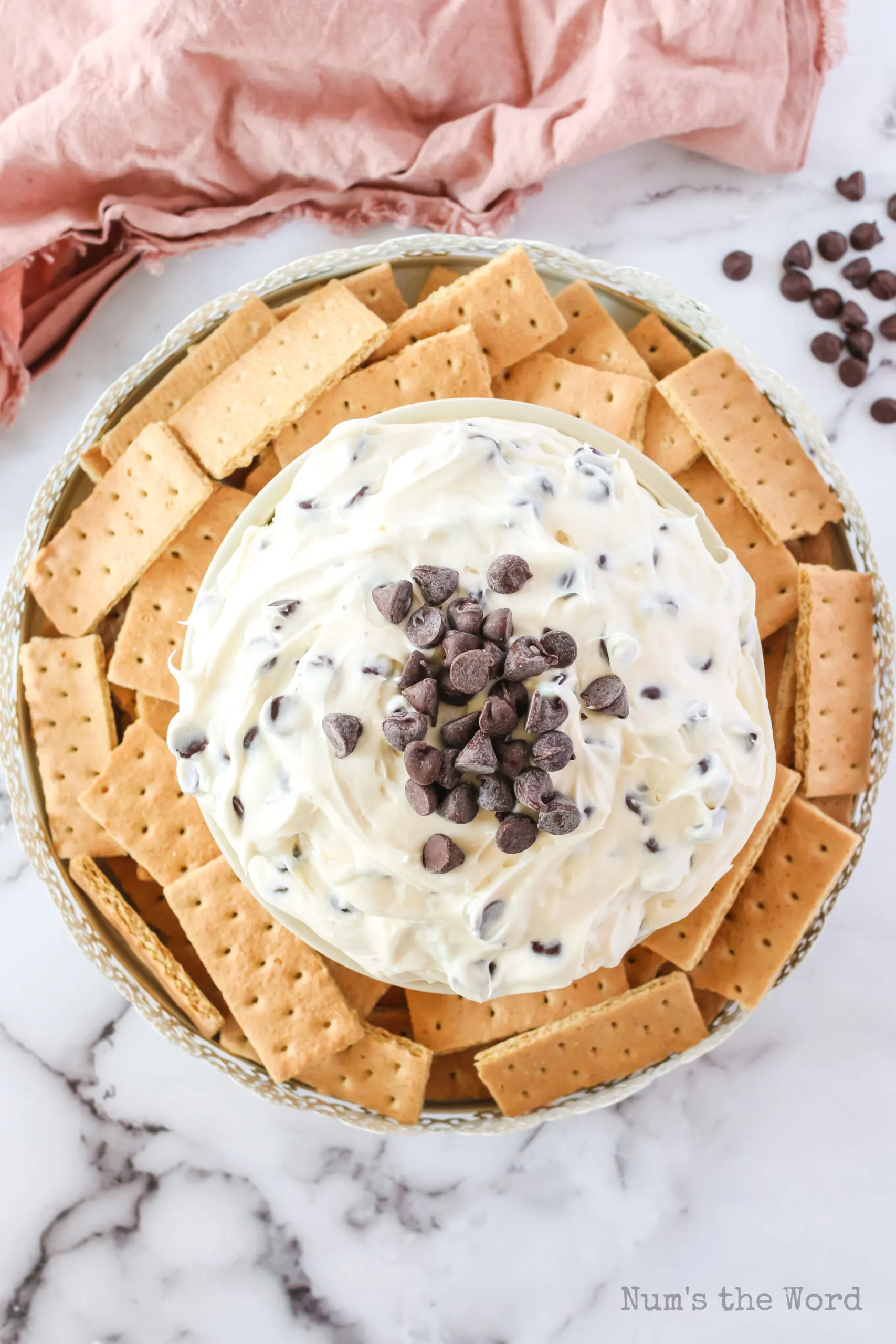 Can You Freeze Cheesecake Dip?
Yes you can freeze cheesecake dip! Freezing is an excellent way to preserve any leftover dip.
You can also freeze it in small portion sizes to pull out whenever you need a little pick me up!
To freeze this dip, put it in an airtight container and then toss it in the freezer.
The high fat content will help the dip stay good for up to three months.
Move the dip to the fridge the night before you want to eat it.
Or set it out on the counter and let it thaw, being sure that once it is thawed it gets eaten or put into the fridge.
Pro Tip: Write the name and date on the container so you don't have to wonder what it is a month from now!
Can I Bake Cheesecake Dip to Make Cheesecake?
No! Cheesecake dip might have the delicious cheesecake flavor and cookie dough flavor, but it's not either one.
And it doesn't have the ingredients required to fully make either cheesecake or cookie dough.
So don't ruin a perfectly good thing. Keep your cheesecake dip totally uncooked for best results.
If you want a cheesecake or cookie dough I recommend: New York Cheesecake Recipe or Soft Cookie Recipe.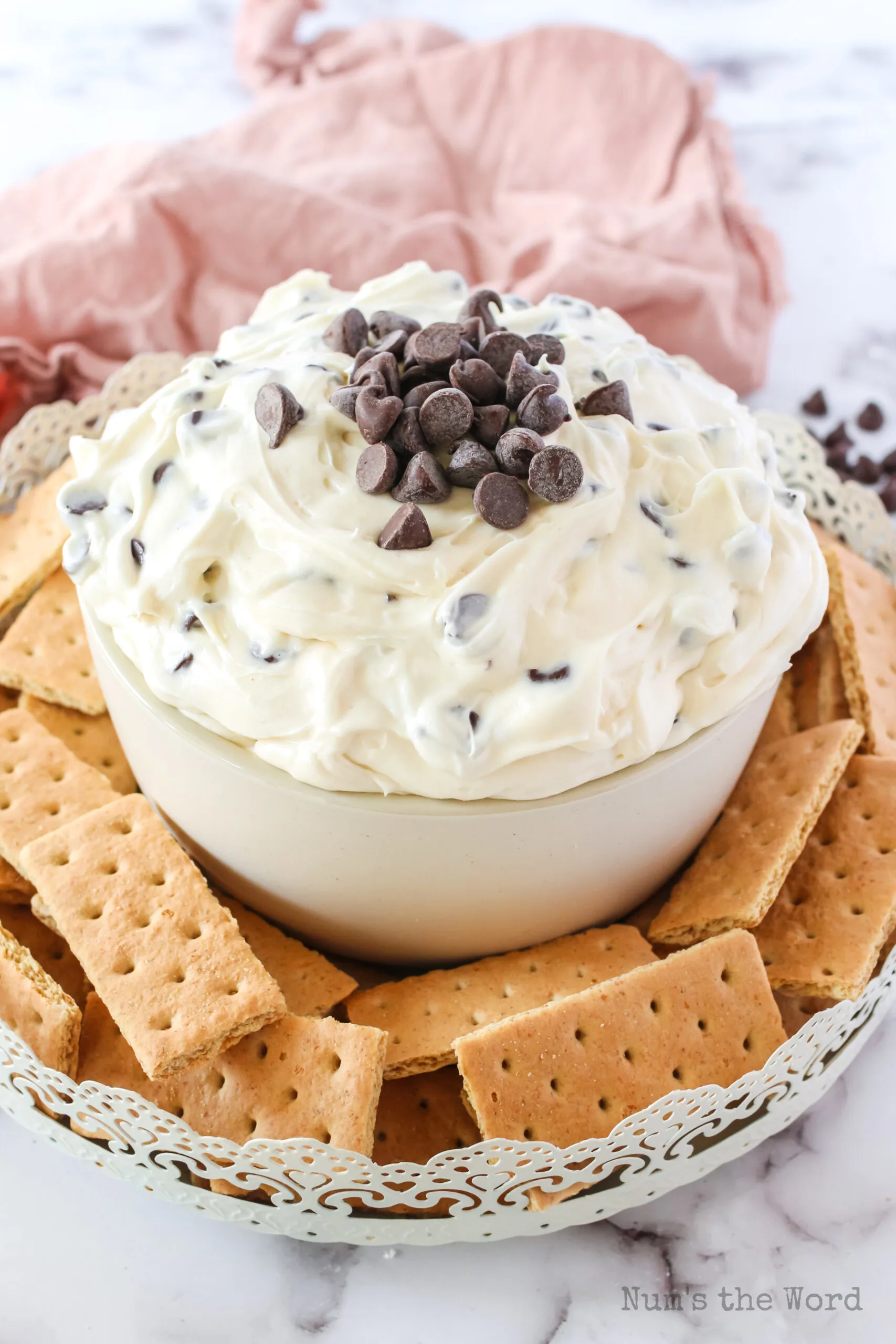 Can I Make Cheesecake Dip in Advance?
Yes you can make cheesecake dip in advance! As this dip is made with fairly stable ingredients, the flavor isn't going to change if you make it the day before.
Just be sure to keep it in the fridge.
I don't recommend making it more than that 48 hours though as you'll want it to be freshest when you serve it.
You could also make the cheesecake dip well in advance by freezing it. Pull it out of the freezer the night before you party and no one will be the wiser.
We often make cheesecake dip into balls and then deliver them to our neighbors! It's the perfect neighbor gift!
Cheesecake Dip is so good that everyone will be raving and want your recipe!
If you're watching your waistline be sure to make it right before the party or it might be gone! Maybe that's just me.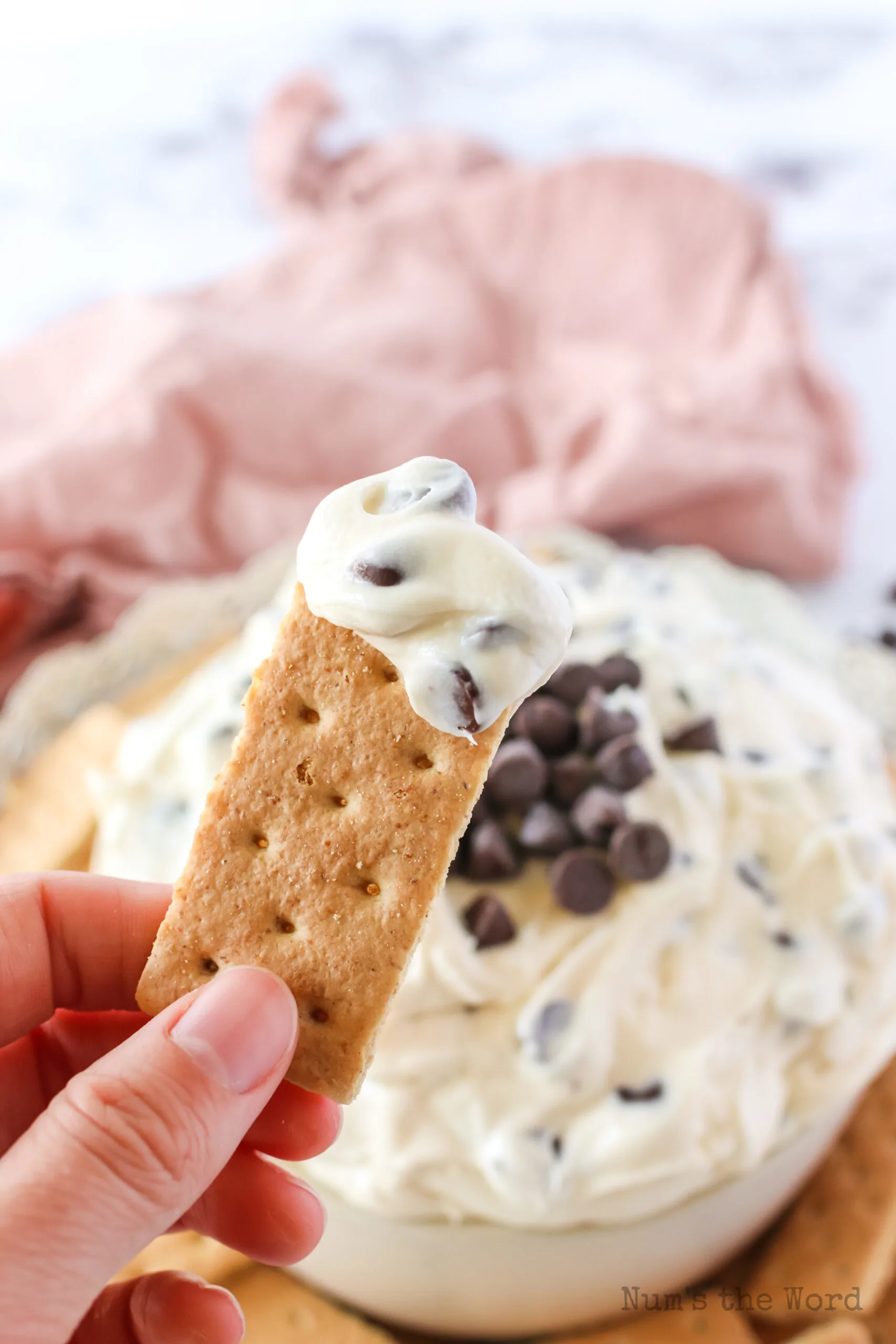 More Great Ideas for Dips You'll Love…
Enjoy this delicious cheesecake dip today and let me know what you think!
Yield: 12 Servings
Cookie Dough Cheesecake Dip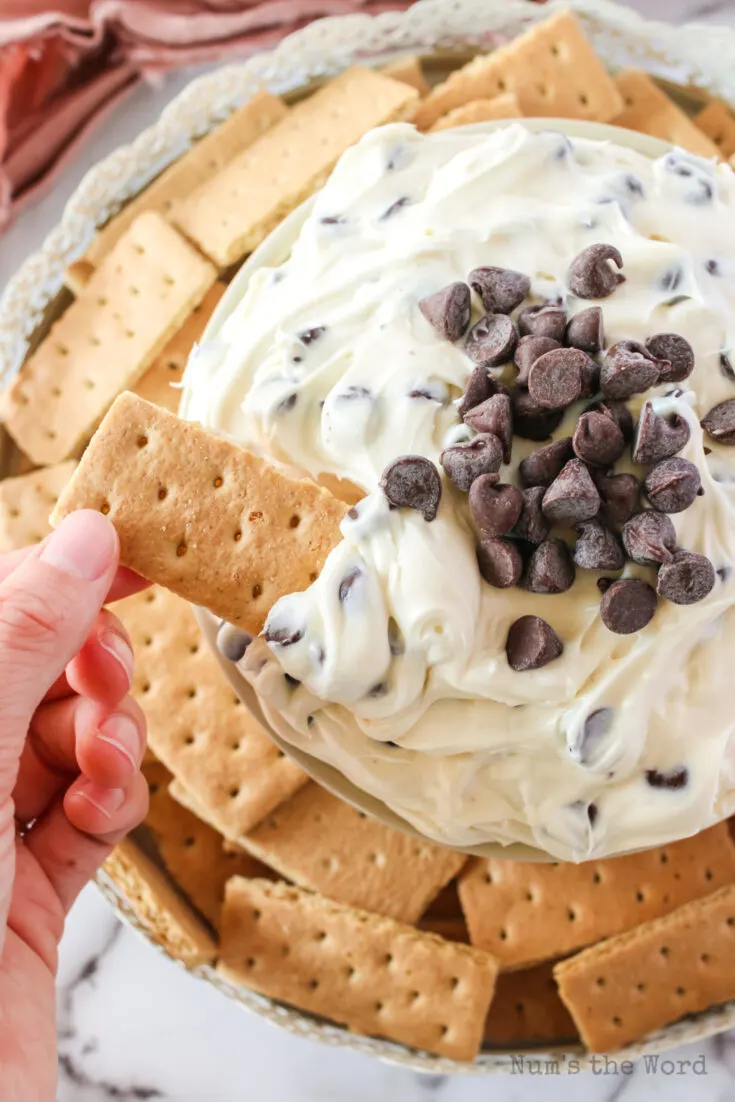 Is it cheesecake? Chocolate chip cookie dough? How about a mix of both! Cheesecake Dip is AMAZING! And you will not be disappointed.
Ingredients
1 (8 ounce) package cream cheese, room temperature
1/2 cup butter (no substitute), room temperature
1/4 teaspoon vanilla extract
3/4 cup confectioners sugar
2 Tablespoons brown sugar
3/4 cup milk chocolate chips
Graham Cracker Sticks
Instructions
Beat cream cheese, butter & vanilla together until smooth.
Mix in confectioner sugar & brown sugar.
Stir in chocolate chips.
Serve immediately or refrigerate for up to 3 days.
Nutrition Information:
Yield:
12
Serving Size:
1
Amount Per Serving:
Calories:

172
Total Fat:

12g
Saturated Fat:

7g
Trans Fat:

0g
Unsaturated Fat:

4g
Cholesterol:

25mg
Sodium:

83mg
Carbohydrates:

16g
Fiber:

0g
Sugar:

14g
Protein:

1g
Originally Posted: November 11, 2015
Photos & Text Updated: August 11, 2022