*VIDEO* Jalapeno Popper Dip – This hot, but not spicy, dip make a great party dip. Perfect appetizer for bridal showers, baby showers, football games, tailgating and game night. An easy appetizer anyone can make!
This post contains affiliate links. If you click on an affiliate link and make a purchase, I will make a small percentage on your purchase, which helps keep this website running! Thank you!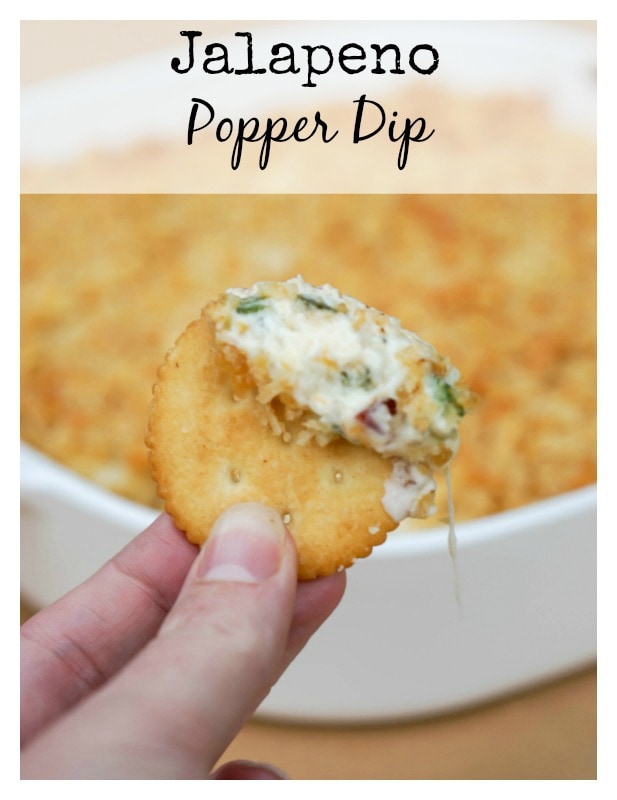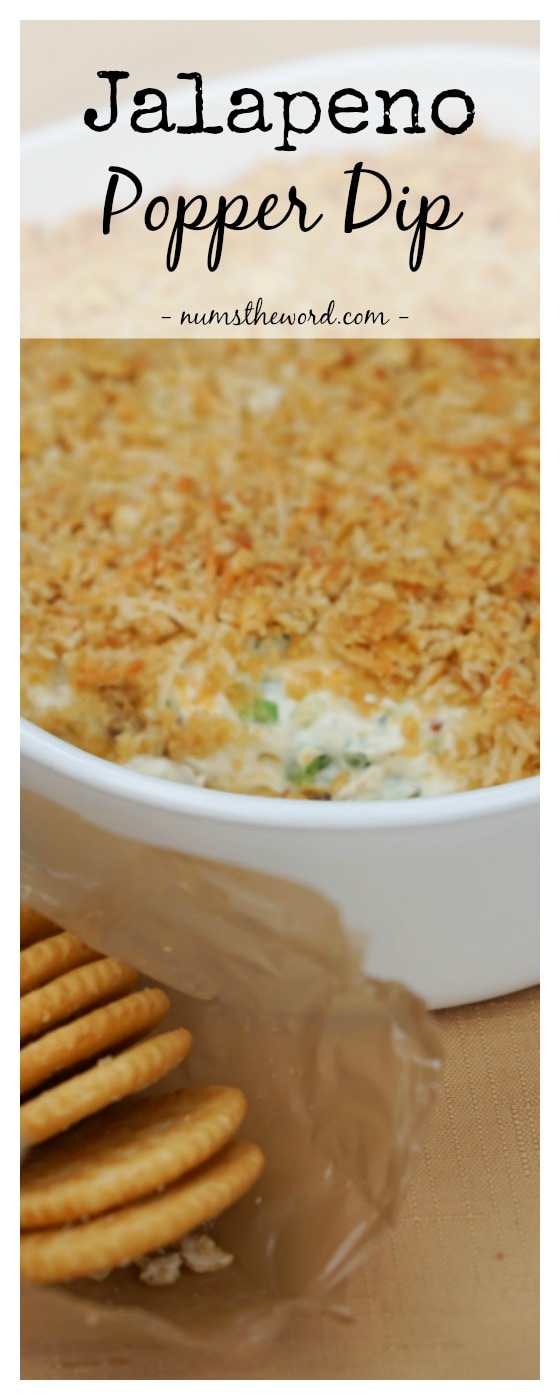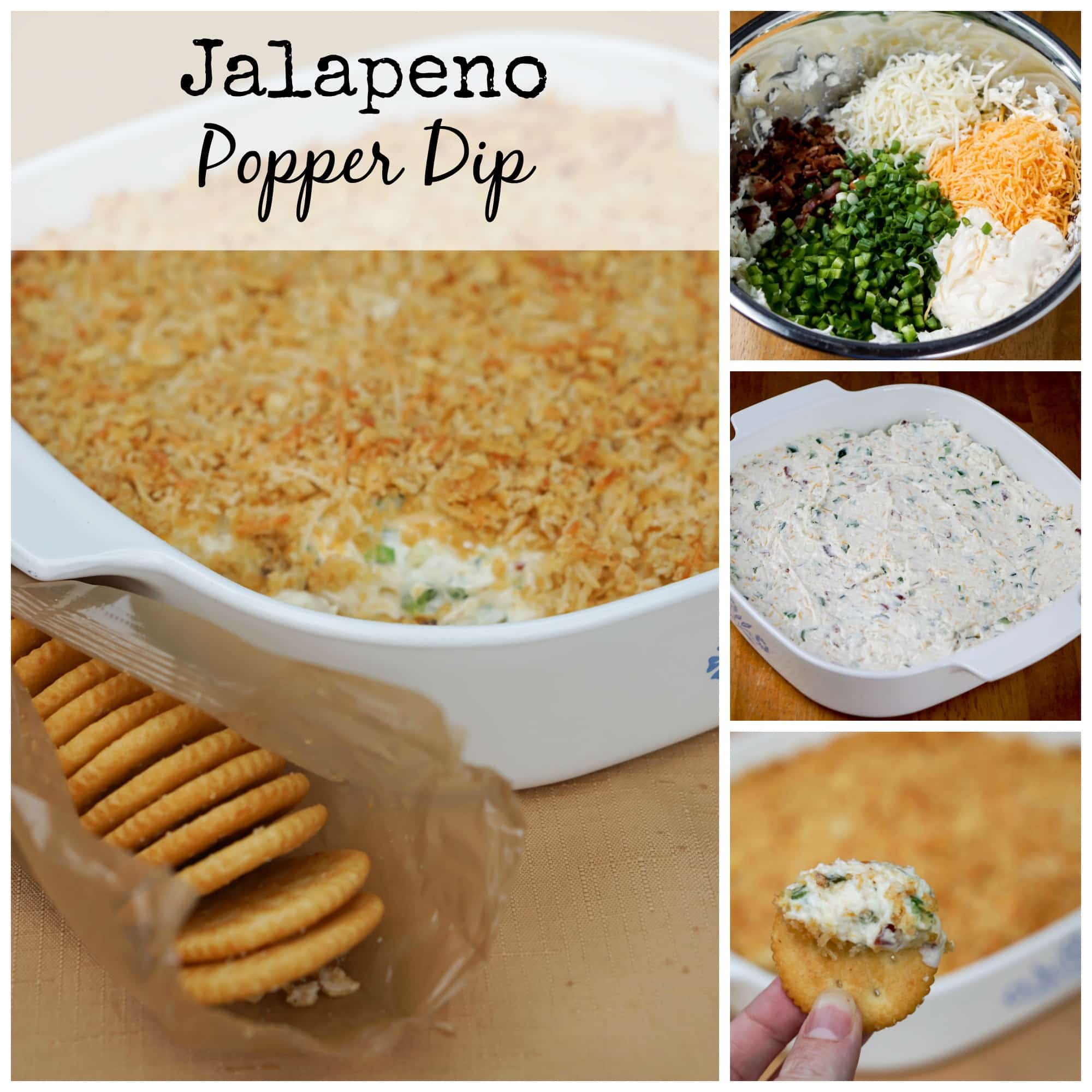 Whenever I am asked to bring an savory appetizer to a party or get together, I always bring this Jalapeno Popper Dip.
Generally when I tell people the name of this dip, they hesitate to try it.
Convinced that every bite will come with a kick, many people avoid it all together.
It's not until I assure them that there is ZERO kick to this dip that they hesitantly take their first bite.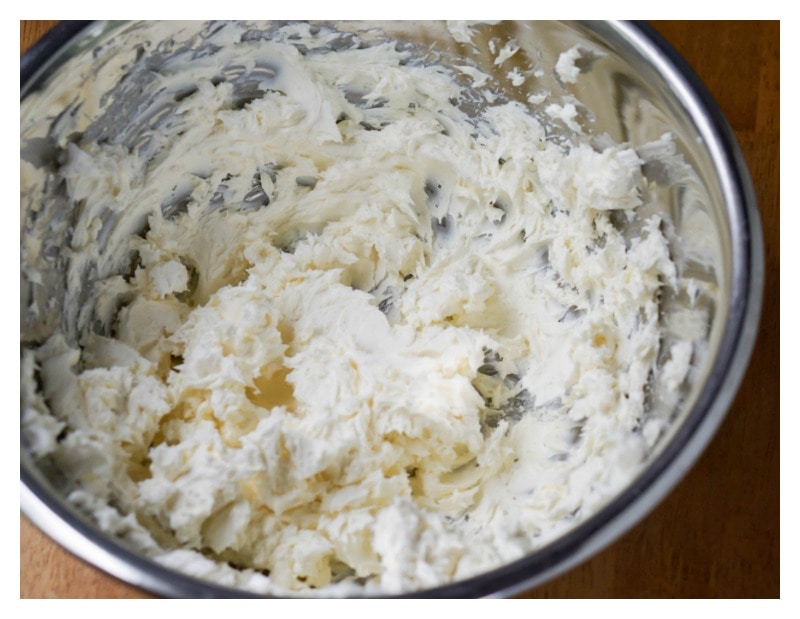 (Cream cheese blended up until smooth.)
I assure them that I remove all the seeds from each jalapeno by hand to ensure that you get the flavor without the spice.
To say that watching their reaction to their first bite of this dip is a little like Christmas morning, would be an understatement.
Watching someone who is convinced you're trying to poison them fall madly in love with this dip never gets old.
An individual's face goes from skepticism to amazement within a fraction of a second.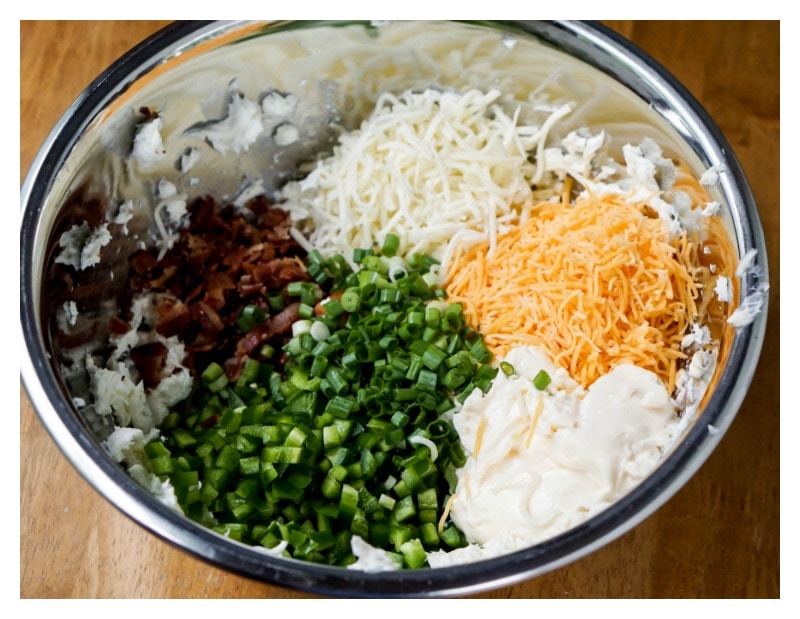 (Bacon, mayonnaise, jalapenos, cheddar cheese, Mozzarella cheese & green onions added to cream cheese)
Thus far in my life, I have yet to meet someone who didn't like this Jalapeno Popper Dip recipe.
I have had hundreds of people taste test it and the reviews are always positive.
Not to mention all of you who try this and leave comments on how much you enjoyed it as well!
It's almost like everyone who tries it your house, then has to go home and make it for themselves.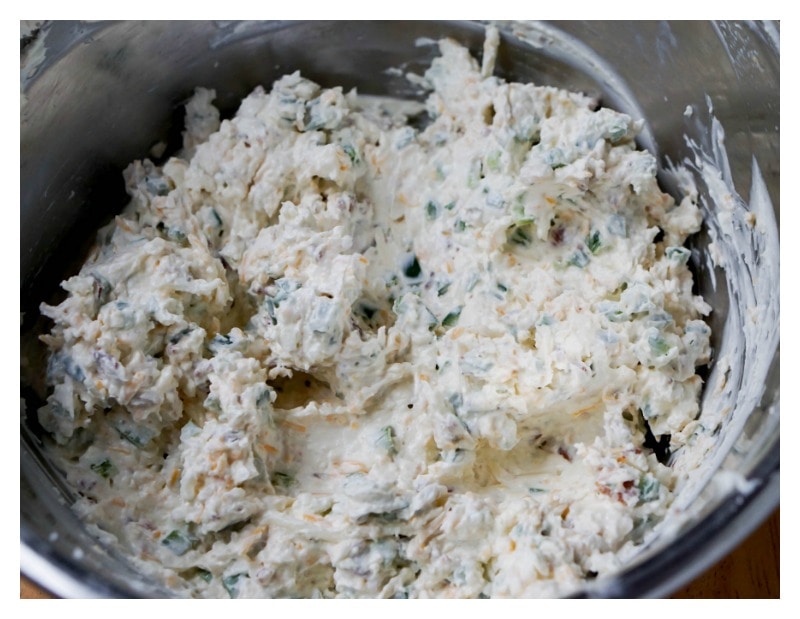 (Mix all ingredient together until a creamy mess!)
I'm not complaining, in fact THANK YOU.
Thank you for sharing this recipe with your party guests!
Because of you, this Jalapeno Popper Dip recipe is in demand more than ever!
For our family, we like to serve this dip as a pre-Thanksgiving appetizer.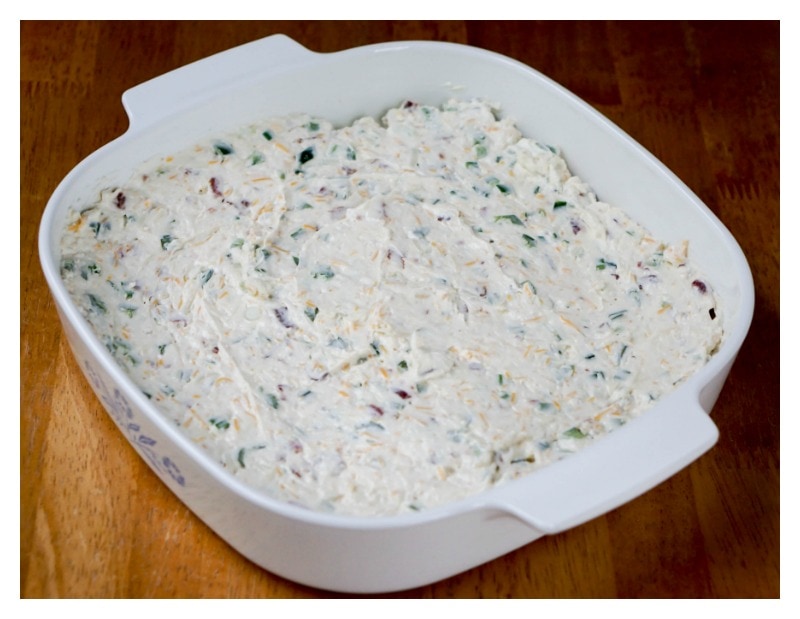 (place creamy dip mixture into a casserole dish)
We've also been known to serve it at a tailgate party and baby shower!
It has yet to fail me as a crowd pleaser!
I never considered myself a dip girl, until I met someone who said that dips, were their favorite foods.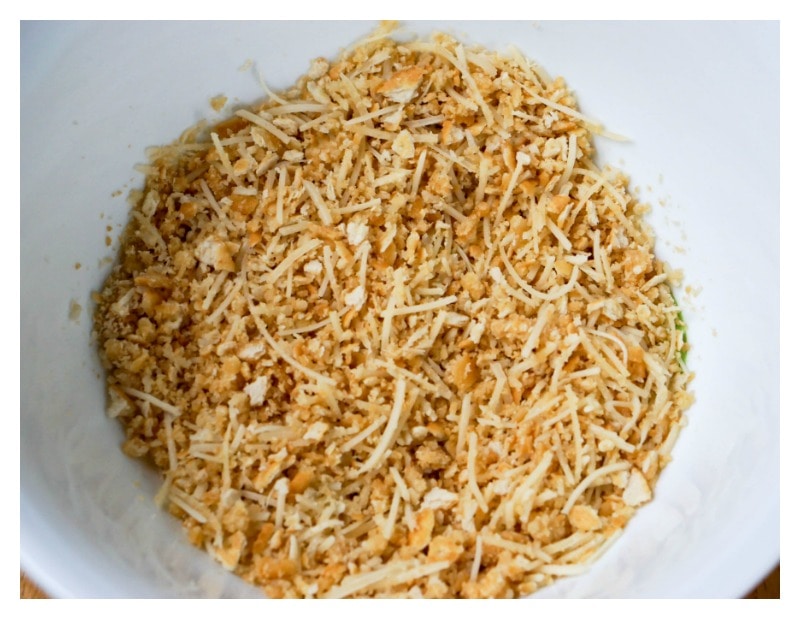 (Ritz crackers, Parmesan cheese & butter all mixed together in a bowl to create topping)
They couldn't resist a good dip.
It was at that point, I started trying different dips.
And it's while I've been on this journey, I have been converted to the world of appetizer dips.
I love them.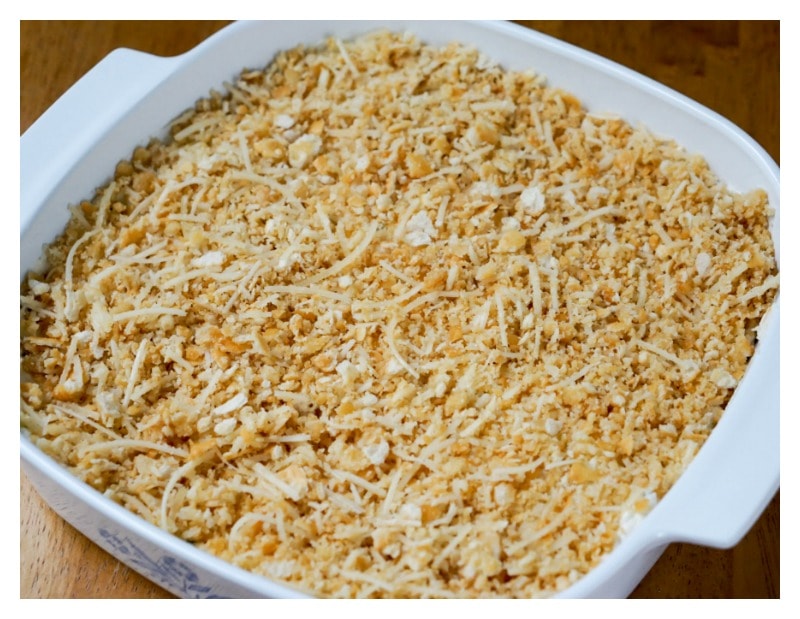 (Topping place on top of Jalapeno Popper Dip)
I can literally sit at a counter, or table and snack away my appetite.
This easy Jalapeno Popper dip is sooo creamy and the flavors all blend so perfectly together that it really has become one of our family favorites.
This easy Jalapeno Popper Dip can be prepared ahead of time and baked just when you need it!
Serve it hot or warm and don't hesitate to make it ahead of time and bake later!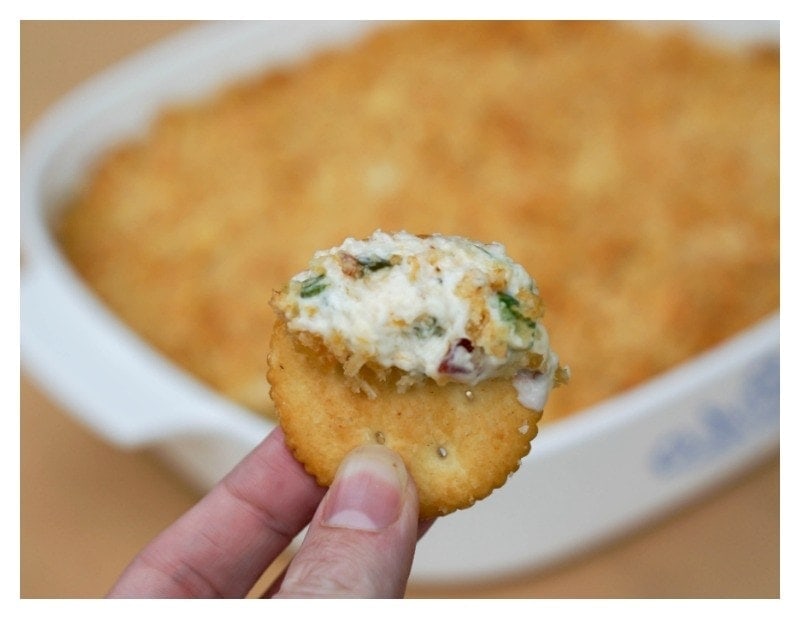 (Baked Jalapeno Popper Dip in a casserole dish with a cracker full of dip ready to be eaten!)
I have yet to meet anyone who hasn't fallen in love with this dip and I suspect you and your family will love it as much as we do!
Below are step by step directions on how to make this fresh Jalapeno Popper Dip.
I also included a little bonus for you.
I rarely post photos of my family or my "photo studio".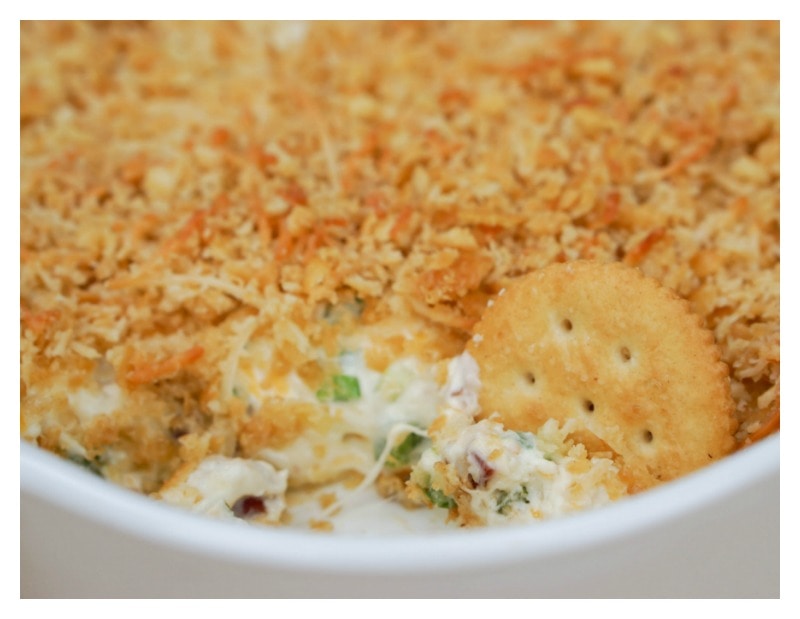 (A portion removed from casserole dish to show how yummy it is under the topping)
However, I really couldn't pass up on posting these photos of my husband and son.
It was late in the day and I was losing my daylight.
The place I normally take photos had already lost all of its light and on a whim, I grabbed my husband and supplies and headed outside to capture the last bit of natural light for the photos.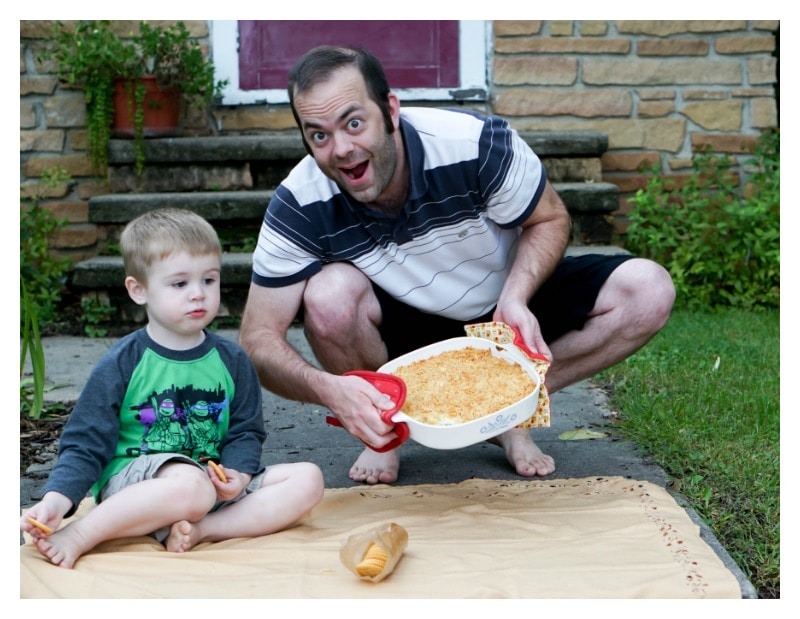 Looking at them you'd never know we were in my front yard on my walkway taking food photos.
And really, had my neighbors been outside they would have thought I was nuts.
But lucky for everyone, I was able to capture the photos without anyone noticing! Enjoy!
Yield: Approximately 20 Servings
Jalapeno Popper Dip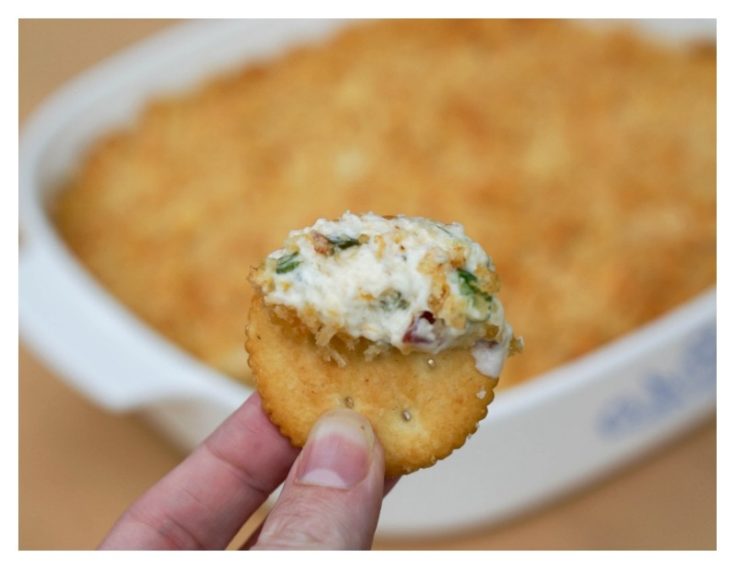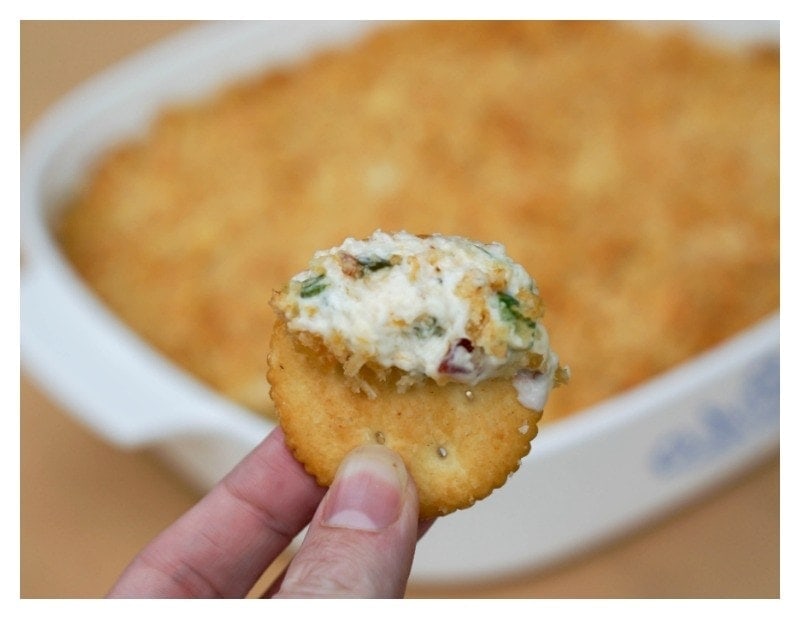 *VIDEO* Jalapeno Popper Dip - This hot, but not spicy, dip make a great party dip.   Perfect appetizer for bridal showers, baby showers, football games, tailgating and game night.  An easy appetizer anyone can make!
Instructions
Preheat oven to 350*F.
Blend cream cheese until smooth and creamy.
Combine bacon, mayo (or substitute), jalapenos, cheddar cheese, Mozzarella cheese & diced onion into a bowl. Stir well.
Transfer mixture to deep dish pie dish or 8x8 casserole dish. Spread even in dish.
In a small bowl combine Ritz crackers, Parmesan cheese & butter.
Sprinkle all over the top of the dip.
Bake the dip for 20-30 minutes or until bubbly.
Notes
Serve with Ritz Crackers or Wheat thins as a dip or spoon some on to each cracker and serve.
If making this ahead of time, assemble dish and refrigerate. Cook 30 minutes prior to event and serve hot.
Nutritional information is estimated, not exact.
Recommended Products
As an Amazon Associate and member of other affiliate programs, I earn from qualifying purchases.
Nutrition Information:
Yield:
20
Amount Per Serving:
Calories:

182
Total Fat:

14.4g
Saturated Fat:

7g
Cholesterol:

36mg
Sodium:

500mg
Carbohydrates:

4.9g
Fiber:

0.1g
Sugar:

2.3g
Protein:

9g
Frequently Asked Questions:
Can you make Jalapeno Popper Dip ahead of time?
Yes you can! This is one of those time saving recipes that you can prep ahead of time and then bake when you're ready to eat! Just follow the directions up until it's time to bake. Cover the dip with plastic wrap or aluminum foil and refrigerate until ready to bake. Once you're ready, bake as directed but add 10 minutes to the time! So easy!
Can you reheat Jalapeno Popper Dip?
Yes you can! You can toss it bask in the oven or even microwave it! By zapping it in the microwave you can portion out just as much as you need into a bowl without having to reheat the entire pan! It's just as delicious the next day as it is the first!
What goes with Jalapeno Popper Dip?
Because it's an appetizer, other appetizers pair well with it. We recommend fresh fruit a veggie tray or even some fresh meats. A nice slice of ham on top of a cracker full of Jalapeno Popper Dip would do nicely!
Recipe adapted from Simply Gourmet
Other Dips You'll Love...