These Honey Chipotle Peanuts are the perfect barbecue or game day snack. Sweet, salty and flavorful, these peanuts offer a little kick that isn't too spicy. A fun and easy snack that has become a favorite of ours!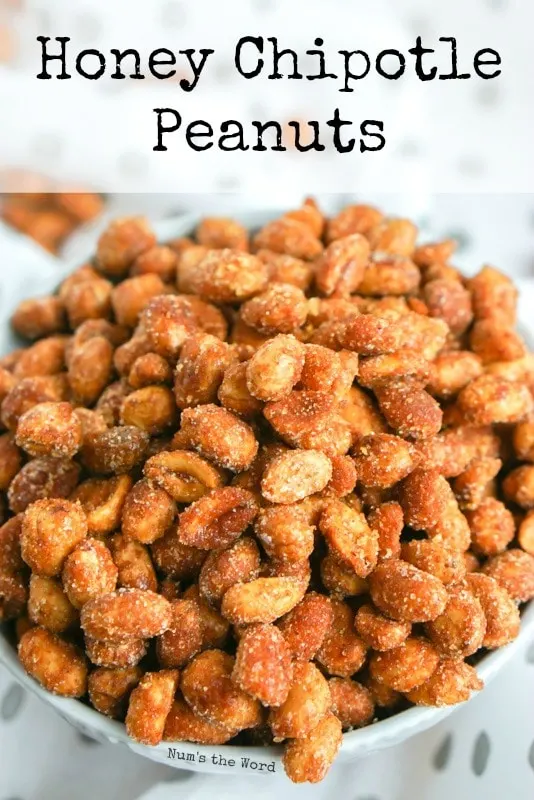 Peanuts these days seem to get a bad rap everywhere we turn.
So many places are deemed Peanut Free zones that I'm starting to feel bad for the little peanut.
Is it just me or are the number people with peanut allergies going up each year?
Back when I was a child, I don't recall anyone being allergic to peanuts.
Every single kid ate peanut butter sandwiches and peanut butter crackers that you were considered weird if you didn't.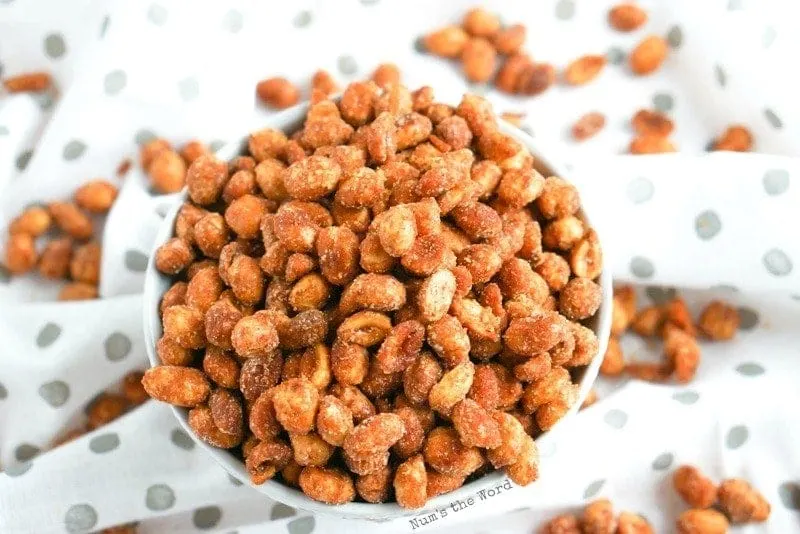 Not to mention the beloved peanut butter cookies your mom might pack in your lunch!
These days, my daughters school is deemed peanut free and all food containing peanuts is banned from the school.
My daughter has also mentioned that more than one child in her class has a peanut allergy.
Mind you there are only 19 kids in her school class so to have more than 1 with a peanut allergy are pretty high odds in my opinion.
This of course has caused a bit of an upheavel in terms of lunches in our house.
Peanut Butter is a way of life here.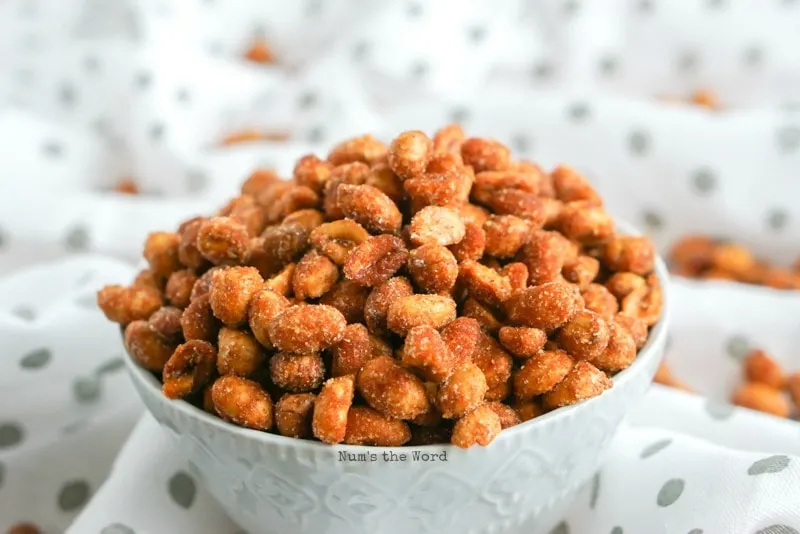 My daughter LIVES on peanut butter and jelly or peanut butter and honey sandwiches.
So to be told that she can no longer have them every day for lunch has been tough.
It was also tough because she is the WORLDS PICKIEST EATER.
She survived her first two years on jelly sandwiches and plain bread and sliced salami.
At least this year, she's finally expanding her taste buds and trying new things (thank goodness!)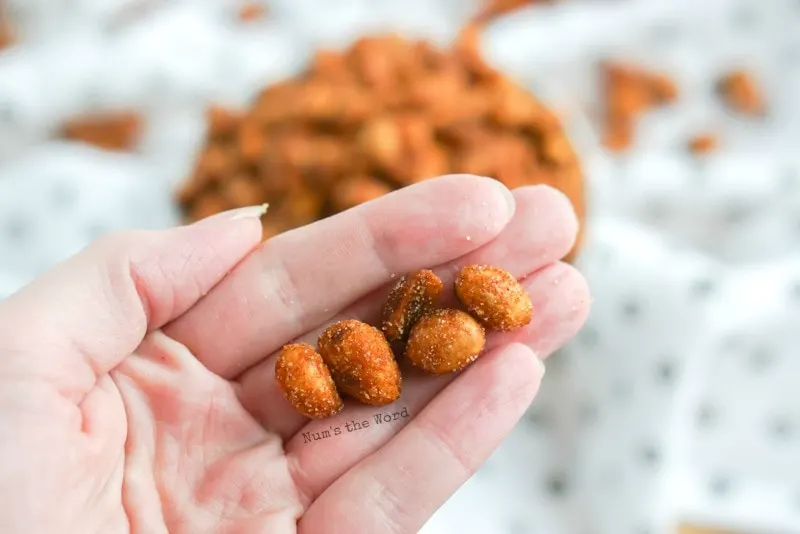 These days, because she can't have peanut butter at school, we rock the peanut butter at home when she gets home.
I don't think there is a form of peanuts that we don't love!
We love to eat them as whole peanuts that you peel, nut mixes, in candy and of course, our all time favorite, peanut butter.
We use peanut butter on sandwiches, in shakes, cookies, bars and just every possible way we can think of.
It's an easy protein snack that doesn't add to the waist line but fills our bellies so we can get through to the next meal.
We recently purchased a giant tub of peanuts from a wholesale club and have been happily munching away on them.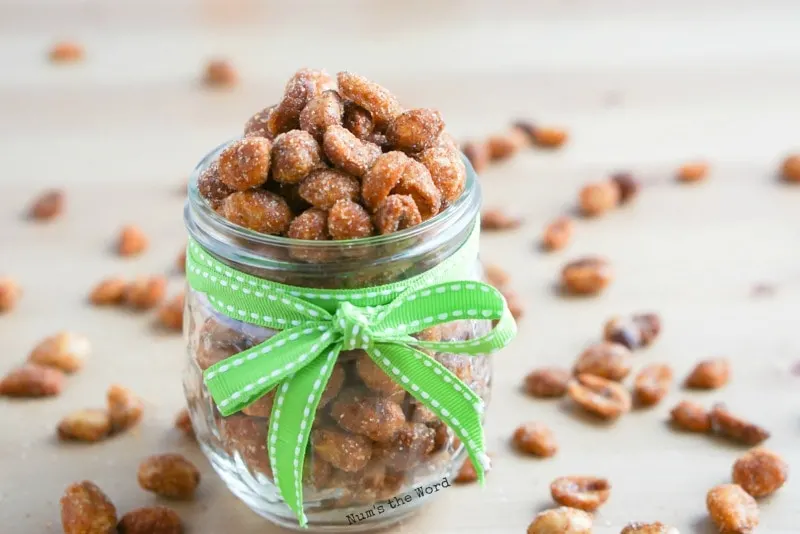 However one day I decided to try my hand at seasoned peanuts.
I have never made seasoned peanuts before, so I turned to good old All Recipes to see what others had success with.
This recipe for Honey Chipotle peanuts came from there and I've got to say, we were very happy with the results.
The chipotle seasoning isn't too strong and it's certainly not what I'd call spicy.
You pop a handful of nuts in your mouth, chew them up, swallow them and then just as you start to think, these didn't have much flavor, it hits you.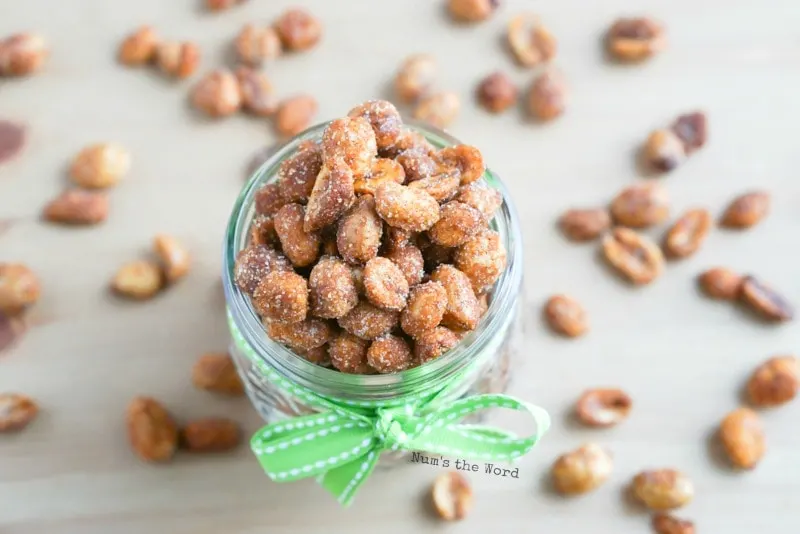 A subtle wave of heat and you suddenly smile and think, oooohhh these are good.
The lingering flavor doesn't last long at all and suddenly you find yourself wanting more.
Now if you are looking for more spice, I've added a tip into the notes of the recipe.
However for us, this was perfect.
This is one of those recipes that anyone can make.
You do not have to be an expert chef to bake and season these nuts, but they will certainly taste gourmet.
These Honey Chipotle Nuts are perfect for any party, game day or barbecue.
A great quick munchie to snack on while you're watching a movie, enjoying a game night with friends or to have on hand to snack on.
Anyone who loves peanuts, and a little flavor in their life, should give these a try!
We're sure glad we did!
Yield: 3 cups
Honey Chipotle Peanuts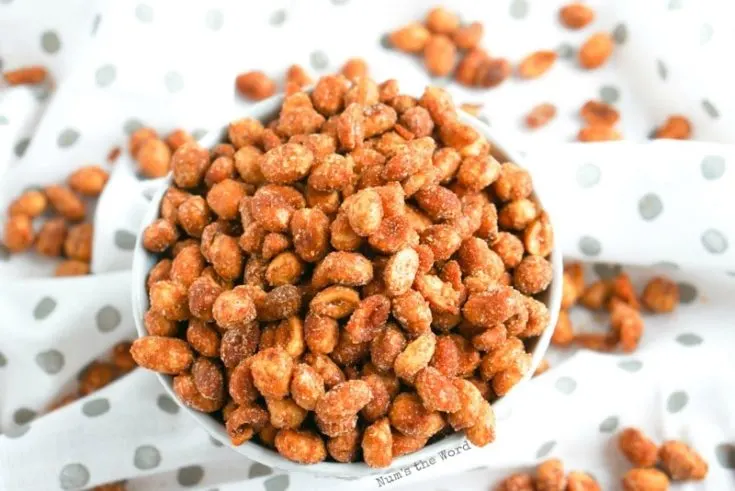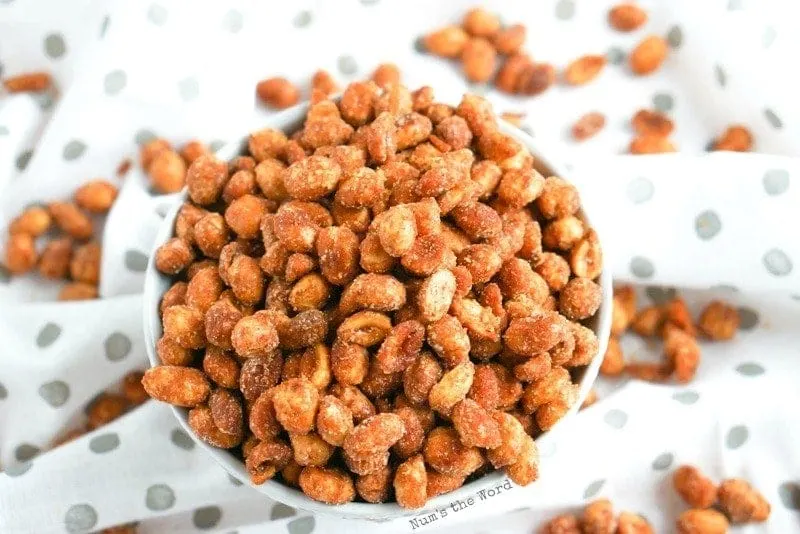 These Honey Chipotle Peanuts are the perfect barbecue or game day snack. Sweet, salty and flavorful, these peanuts offer a little kick that isn't too spicy.
Ingredients
1/3 cup white sugar
1 1/2 teaspoons chipotle chile powder (found at Walmart)
1/4 teaspoon chili powder
1/4 teaspoon garlic powder
2 Tablespoons butter
2 Tablespoons honey
1 teaspoon salt
3 cups skinless peanuts
Instructions
Preheat oven to 325*F
Prepare a cookie sheet (with edges) with a liner or spray. Set aside.
In a small bowl combine sugar, chipotle chili powder, chili powder and garlic powder. Set aside.
In a skillet, combine butter, honey & salt. Cook until it just comes to a boil.
Add peanuts to honey butter and stir well to coat.
Pour peanuts onto cookie sheet and bake for 10 minutes.
Remove from oven, stir peanuts then bake for another 10 minutes.
Remove again and stir well, then bake for 5 minutes more. Total baking time 25 minutes.
Remove from oven and sprinkle 1/3 of seasoning mixture onto peanuts. Mix well.
Sprinkle 1/3 more of seasoning onto peanuts and mix well.
Sprinkle last 1/3 of seasoning onto peanuts and mix well.
Let cool then store in a glass jar with a lid.
Notes
These peanuts have a subtle kick after you eat them. If you like spicier peanuts, then double the chili powder or add a pinch of cayenne powder to the mix!
Nutrition Information:
Yield:
6
Serving Size:
1
Amount Per Serving:
Calories:

534
Total Fat:

40g
Saturated Fat:

8g
Trans Fat:

0g
Unsaturated Fat:

27g
Cholesterol:

10mg
Sodium:

688mg
Carbohydrates:

34g
Fiber:

7g
Sugar:

21g
Protein:

18g
Recipe from: All Recipes