This Banana Yeast Bread isn't what you're used to. It's a classic yeast bread with bananas inside, giving it a wonderful mild banana flavor. A must try for any ripe banana's lying around!
This post contains affiliate links.  If you click on an affiliate link and make a purchase, I will make a small percentage on your purchase. This helps keep this website running! Thank you!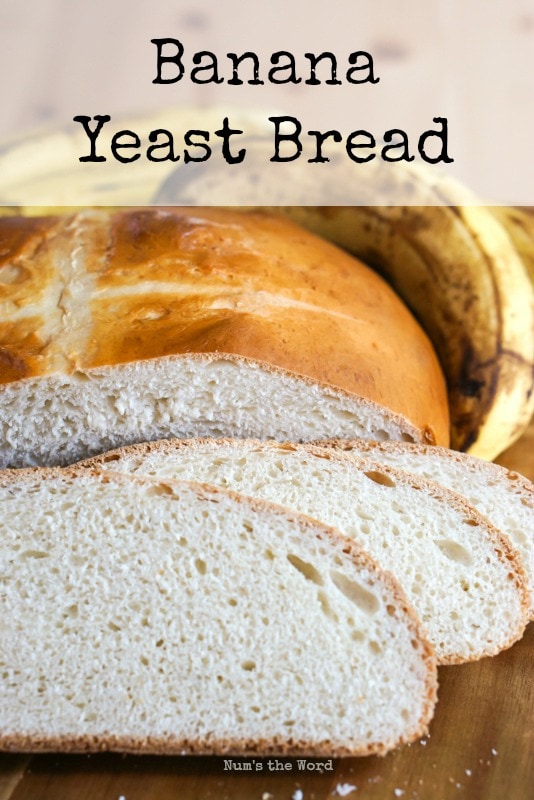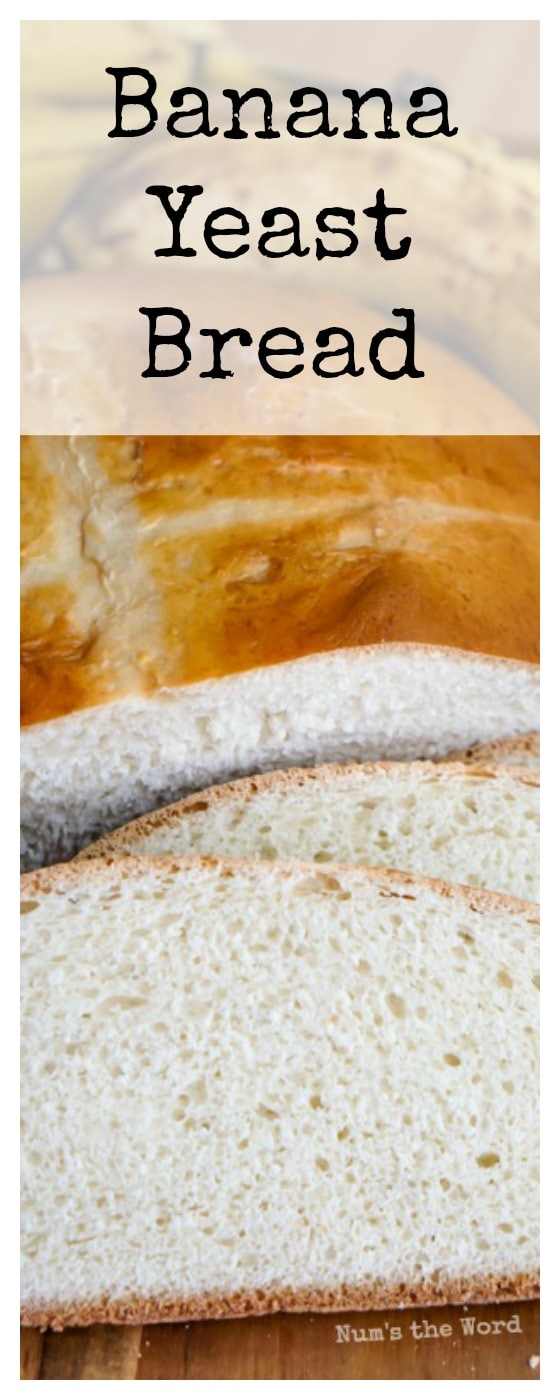 Growing up, my mother used to make bread from scratch.
It was the most amazing smell in the entire world to walk into my house after school and smell the aroma of freshly made bread.
My mother has always been what I consider an excellent baker.
She was always trying new recipes and did everything from scratch including grinding her own flour a good portion of the time.
I was quite spoiled as a child because I had a plethora of amazing baked goodies to munch on.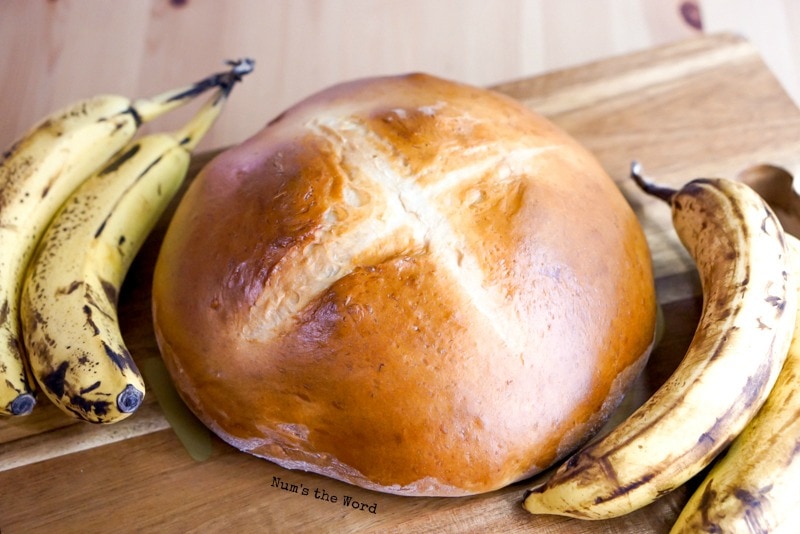 So it's no wonder that I am the same way.
I once had someone offer me a bread machine, knowing how much I love to make bread.
However I turned them down.
I love to make bread, because I love the process of making bread.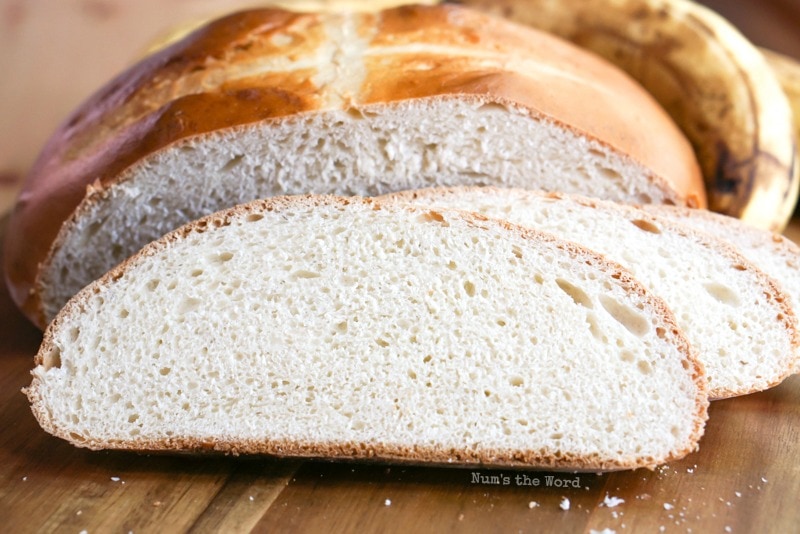 I personally find it relaxing and completely and utterly amazing.
However, don't get me wrong.
I don't make ALL my bread from scratch.
We use store bought bread for 99% of all our bread needs.
However, nothing beats a homemade loaf of bread.
And this Banana Yeast Bread is no exception.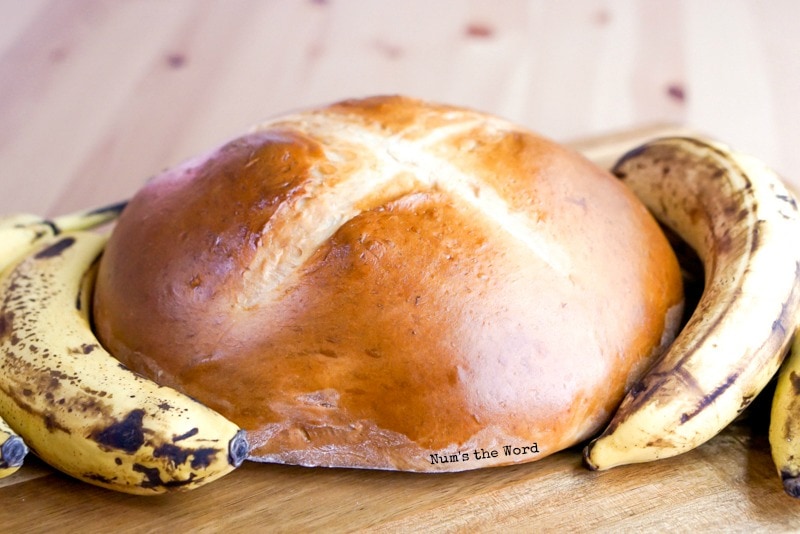 This Banana Yeast Bread is absolutely delicious and fun trick to play on others.
When you tell them you've made banana bread, they will NOT expect this.
They'll think you're kidding.
But alas my friends you and I are both NOT kidding.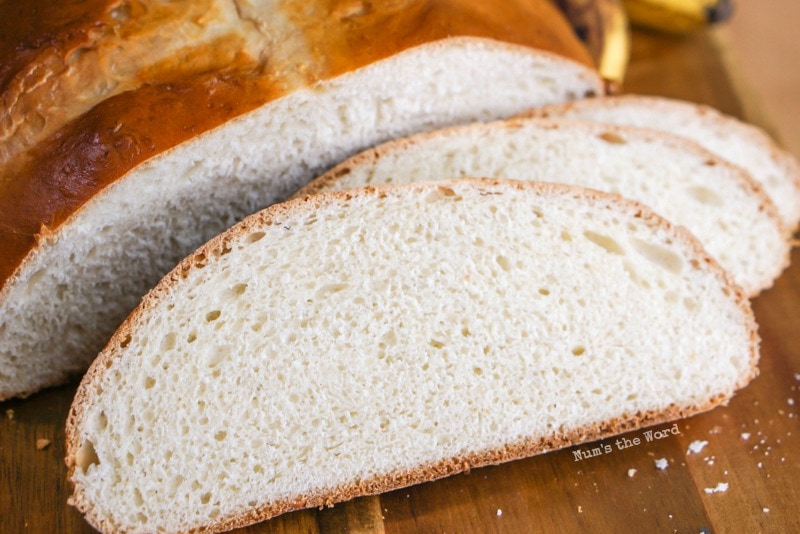 This is a yeast bread.
Plus it is a banana bread.
Mix it together it's a Banana Yeast Bread.
It tastes like regular bread, but with a hint of banana.
For me it was a bit of a mind trick.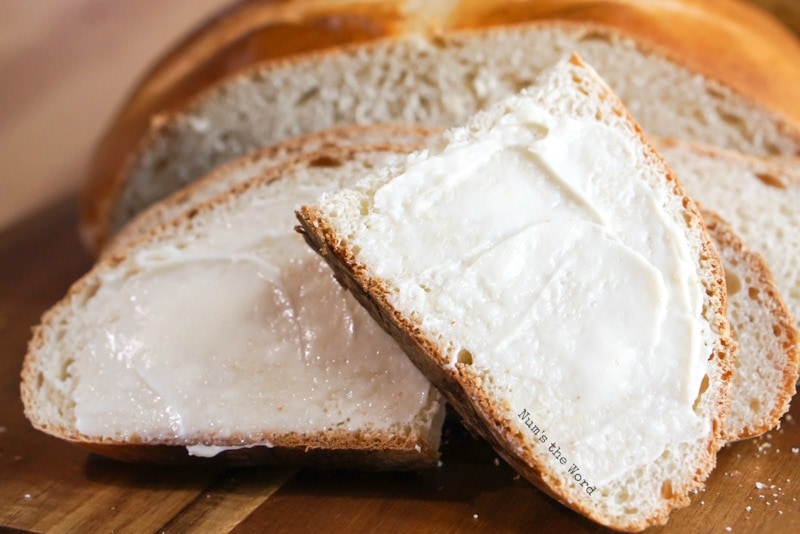 My mind saw and expected one taste but I got a completely new taste.
The flavor of this banana yeast bread isn't as strong on regular banana bread, but it is quite delicious.
If you are a lover of homemade bread, and like bananas, give this homemade old fashioned Banana Yeast Bread a try!
You wont be disappointed!
Ingredients
3/4 cup milk
1/2 cup butter
1/2 cup sugar
5 - 6 cups all-purpose flour
2 packages active dry yeast (4 1/2 teaspoons)
1 teaspoon salt
2 large eggs + 1 large egg
3 bananas, mashed
1 teaspoon water
Instructions
In a small saucepan over medium heat add milk, butter and sugar. Cook until butter is melted and sugar is dissolved.
Remove from heat a let cool, stirring regularly. Ideally you want the temperature to be between 120*F - 130*F. However if you do not have a kitchen thermometer, then you want to allow the mixture to cool to very warm but not hot. Test a drop on your inside wrist. It should be hotter than a warm bottle of baby milk, but not hot enough to burn your skin. Caution yourself on the side of warm than too warm if you are not sure. Your goal is to not kill the yeast but to help it to flourish in the recipe.
Once milk mixture is at a temperature you are comfortable with pour mixture into your stand mixer. Add salt, 2 eggs & bananas. Mix well.
Add yeast and 2 cups of flour. Mix for 3 minutes to allow the yeast to truly mix into the dough.
Add in additional 3 cups of flour, 1/2 cup at a time, mixing well after each addition.
Add UP TO 1 more cup of flour a little at a time until dough no longer sticks to the side of the mixing bowl while mixing.
Continue mixing dough for 5 more minutes. You can hand knead here, however I prefer to let me mixer do the job for me!
Butter or spray a large mixing bowl. Place dough inside bowl and turn once to coat entire dough with butter or oil. Cover with a cloth or plastic wrap and let rice in a draft free spot until double in size. This takes about 45 minutes.
Prepare 2 baking sheets by place parchment paper, non-stick foil, a Silpat or greasing the pans.
Scoop out half the dough and form into a round loaf. Place loaf onto prepared baking sheet. Cut decorative slits in the top - loaf WILL rise while baking and this will help it keep it's beautiful shape.
Scoop out other half and do the same for your second baking sheet.
Cover again, and let rise again. Should take another 45 minutes.
In a small bowl beat 1 egg and 1 teaspoon of water together. Brush this mixture on top of each loaf.
Bake at 375*F for 20 - 30 minutes. My oven only required 20 minutes, however mine bakes a bit hot. If you are unsure if dough is done it should have a nice golden color and sound hollow when you thump the bread with your finger.
https://numstheword.com/banana-yeast-bread/
Originally Posted: February 1, 2016
Photos & Text Updated: February 27, 2018
Other Banana Recipes You'll Love...