This Roquefort Pear Salad is easy yet gourmet. Packed with pears, avocado, blue cheese and toasted pecans, your mouth will love the flavor explosion. This makes the perfect winter salad!
This post contains affiliate links.  If you click on an affiliate link and make a purchase, I will make a small percentage on your purchase. This helps keep this website running! Thank you!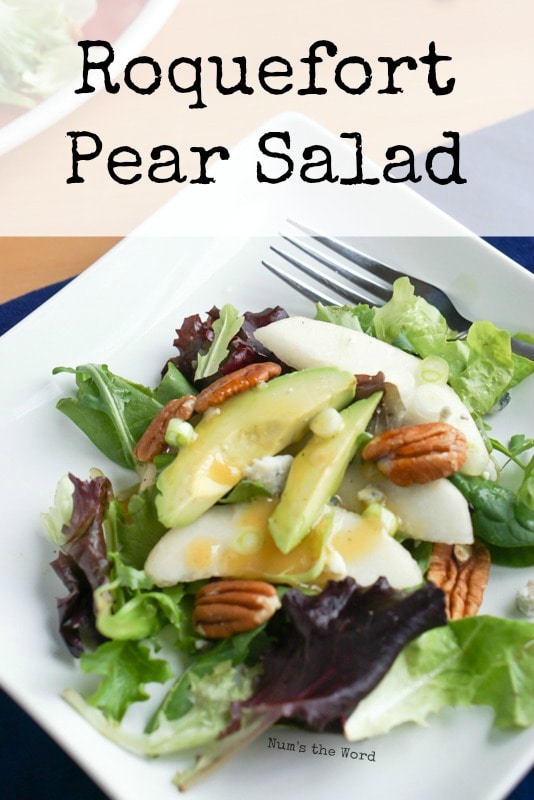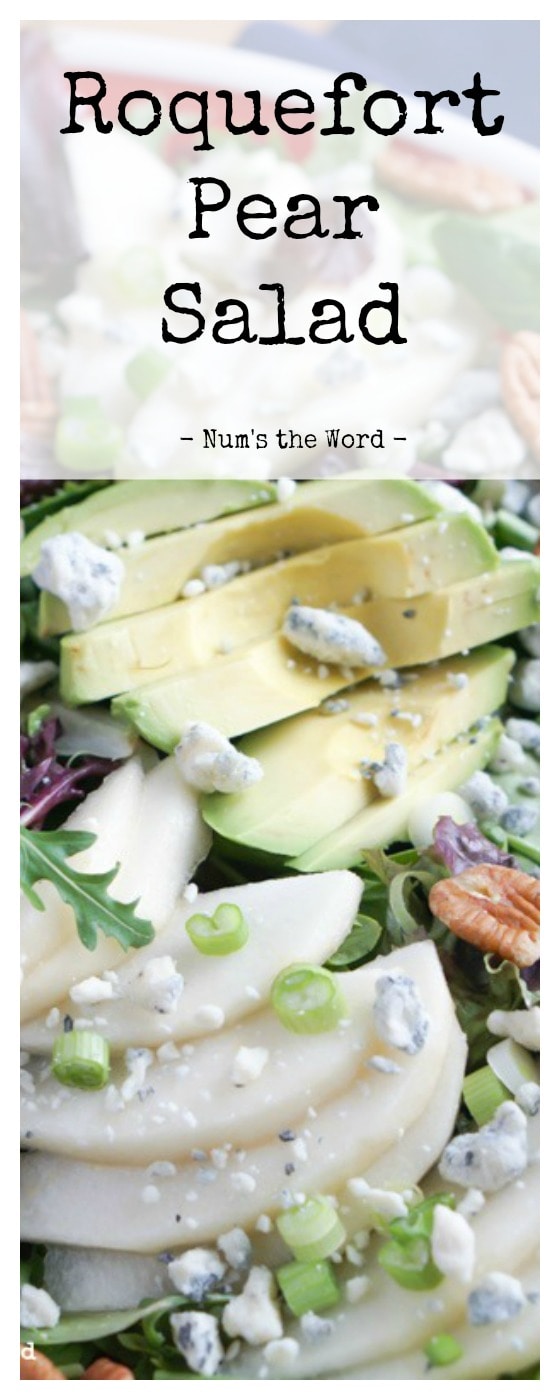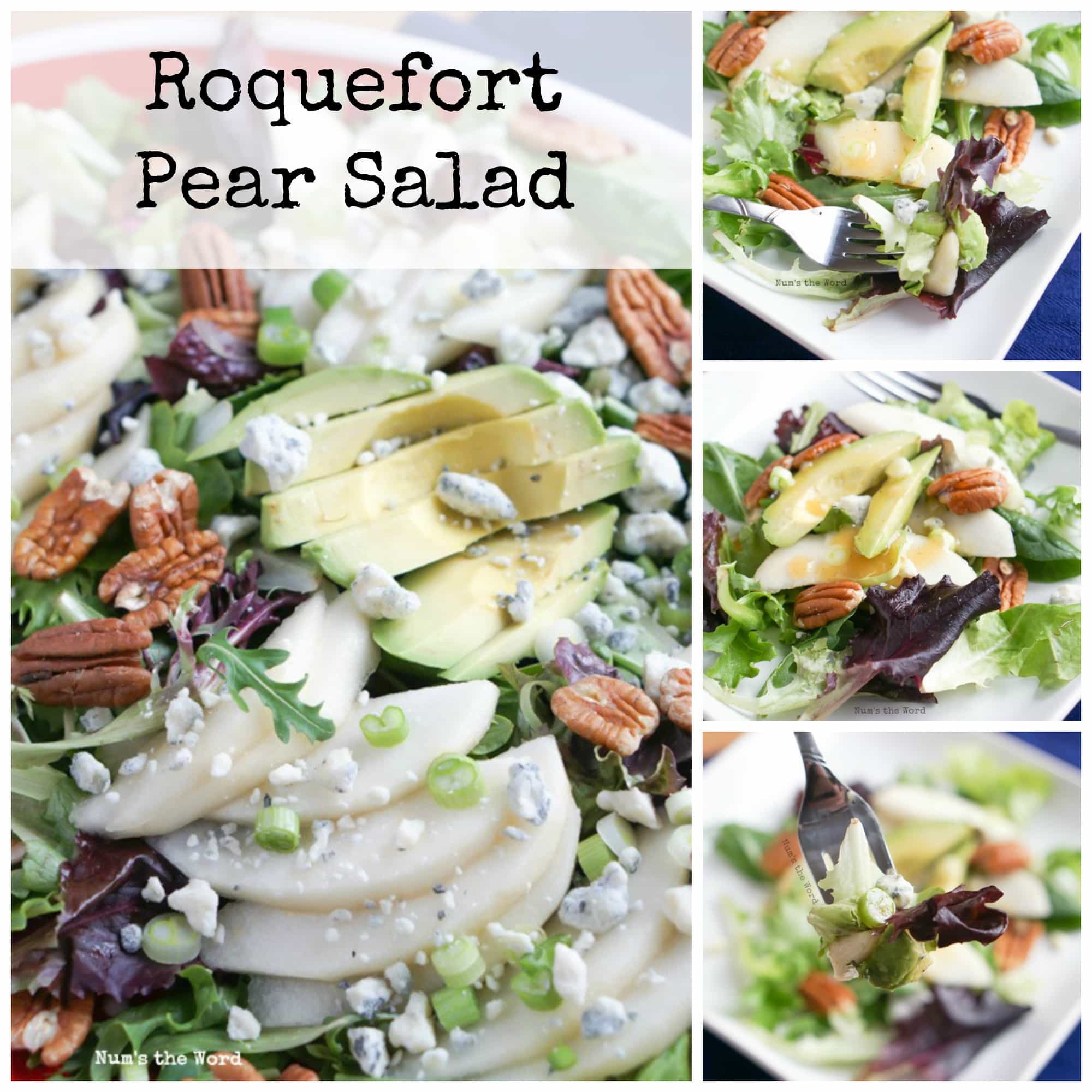 My husband and I are food bingers.
We find something we like and we tend to eat that one item or recipe a LOT.
Then one day decide we are tired of it and then wont eat it again for months.
My husband decided he was in the mood for salad a few weeks back.
And so, while at a "club" store, he saw that a large container of lettuce was less than $5.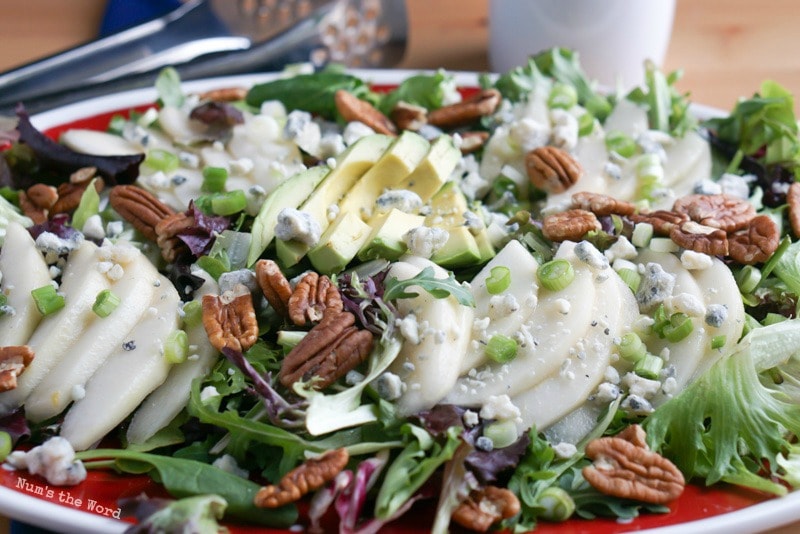 He was shocked at how cheap it was for such a large container of salad and since he was craving salads, decided to buy it.
What he didn't realize is that the big container or salad is a bit like the Bible story of Jesus and the 7 loaves of bread and fishes that fed 5000 people.
Once you remove a bowl full of lettuce from the salad container, it somehow seemed to replenish itself.
This of course ins't true as the salad is just so packed inside the container that it simply adjusts to fill the empty space.
However after multiple bowls of salad over multiple days, my husband hadn't really put a dent in lettuce supply.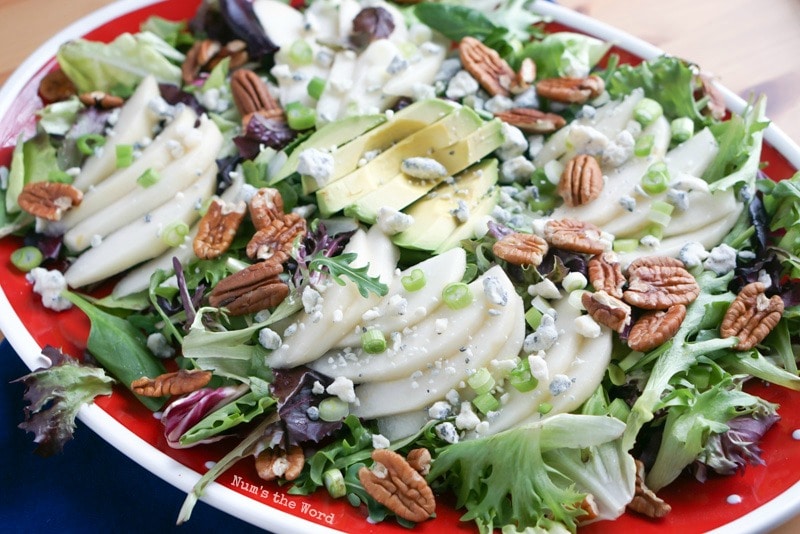 It just kept going.
It seemed that the lettuce was going wilt faster than he could eat it.
And so, knowing that we were having company over for dinner, I decided to whip up a large salad with the seemingly endless supply of lettuce in our fridge.
I decided to try out this Roquefort Pear Salad.
One of my favorite foods in the winter are pears.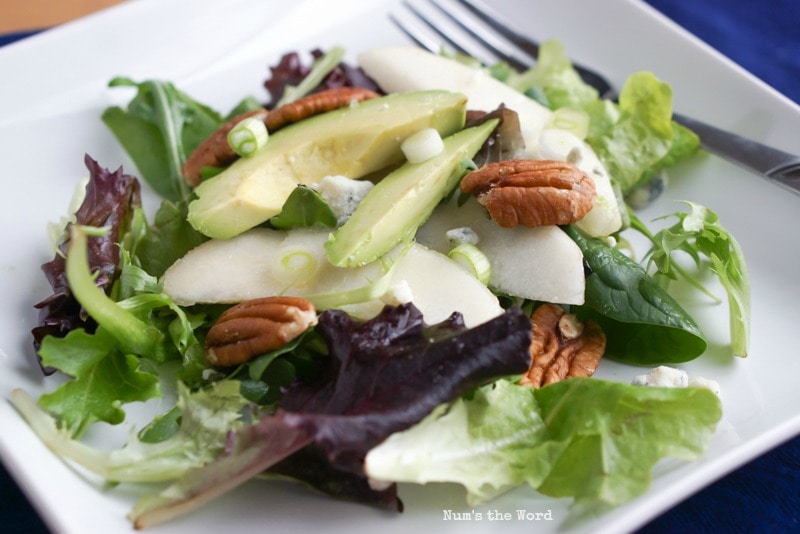 A fresh ripe pear that juices as soon as you bite into it, tastes like candy to me.
I'm a fruit junkie and generally eat a few servings of it each day.
In the winter, pears are one of my favorites.
And since I already had pears on hand, a Roquefort Pear Salad just made sense.
This salad is easy, yet gourmet.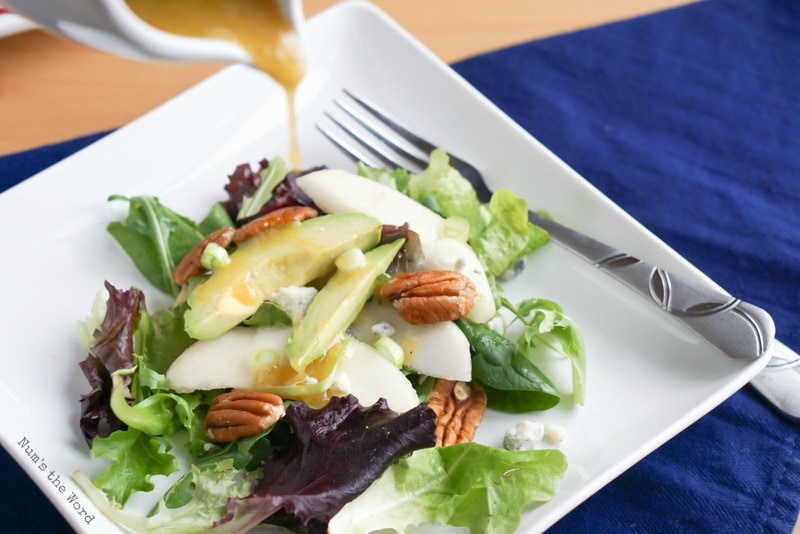 This Roquefort Pear Salad is fresh and flavorful and always goes over well with dinner guests.
We all enjoyed it so much that the next day I whipped up another salad for us to enjoy again!
The combination of the fresh pears with toasted pecans and avocado were scrumptious!
And lucky for everyone, the two large salads in addition to all the little salads my husband made FINALLY used up the lettuce.
Which is really quite sad as now I"M on a salad kick.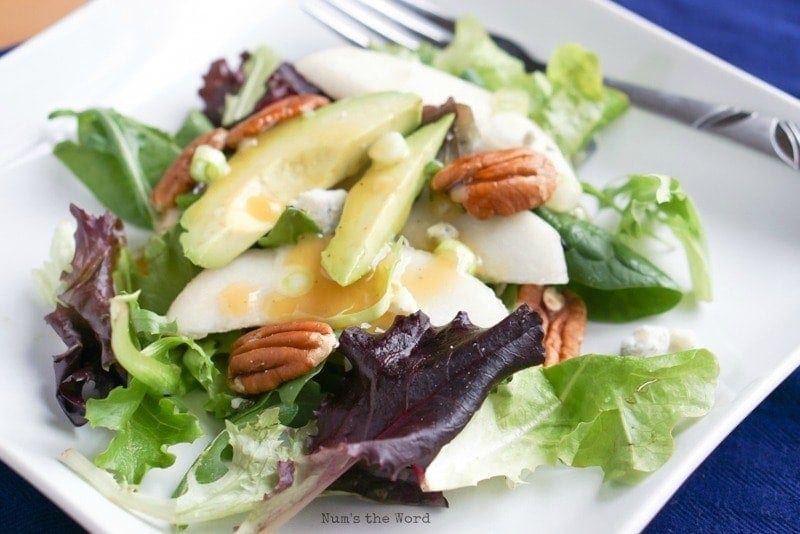 Now I'm the one craving salads.
Especially when they include fresh fruit and a yummy dressing!
This Roquefort Pear Salad is not my own creation, nor do I wish to take credit for it.
Instead I found the recipe on All Recipes as I was searching for a pear type salad.
I'm glad I did because it's now in the rotation for when we have guests over to dinner!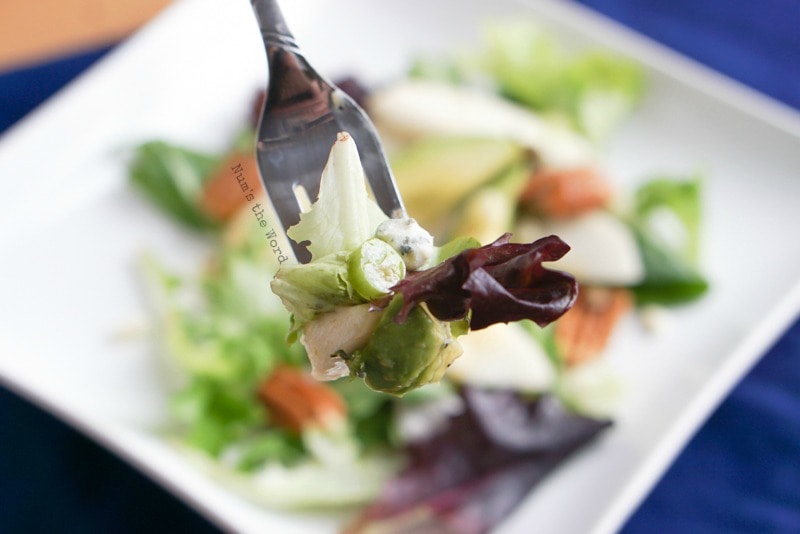 I will say that the original recipe called for candied pecans.
However making the candied pecans tends to be a bit of a mess and the pecans clump together making them annoying to use.
I found that just toasting them was perfect for this recipe as the pears offer all the sweetness this salad needs!
However if you want to add candied pecans, feel free!
I'd just suggest buying them versus making them!
Yield: 8 Servings
Roquefort Pear Salad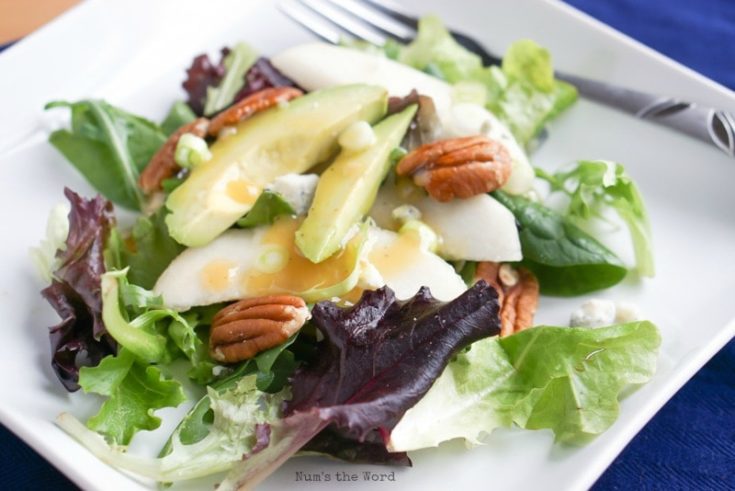 Ingredients
1 large bag of Spring Mix Salad Blend
2 ripe pears peeled and sliced
5 ounces blue cheese, crumbled
1 ripe avocado, peeled and sliced
1/2 cup sliced green onions
1/2 cup toasted pecans
1/3 cup olive oil
3 Tablespoons red wine vinegar
1 1/2 teaspoons sugar
1 1/2 teaspoons mustard
1 clove garlic, diced or 1 teaspoon garlic paste
1/2 teaspoon salt
pinch of black pepper
Instructions
Spread Spring Mix out on a large platter or place in a large but semi shallow serving dish.
Top with pear slices, crumbled blue cheese, avocado slices, green onions and toasted pecans.
In a separate small bowl or a quart sized canning jar, combine olive oil, vinegar, sugar, mustard, garlic, salt & pepper.
Blend well or put a lid on your jar and give it a good shake.
Serve salad with dressing on the side immediately.
Notes
This salad does not do well the next day due to the pears and avocados, which will cause the lettuce to wilt. So enjoy the day of!
Other Salads You'll Love...