Leftover Stuffing, wrapped in bacon and cooked to perfection are something your party guests will go nuts for. Three ingredients is all you'll need for these Bacon Wrapped Stuffing Bombs!
This post contains affiliate links. If you click on an affiliate link and make a purchase, I will make a small percentage on your purchase. This helps keep this website running! Thank you!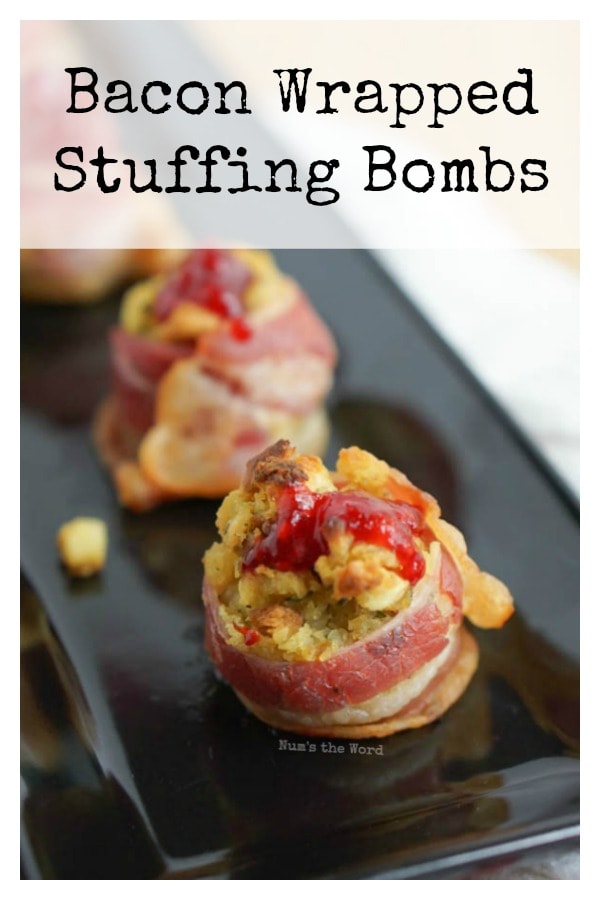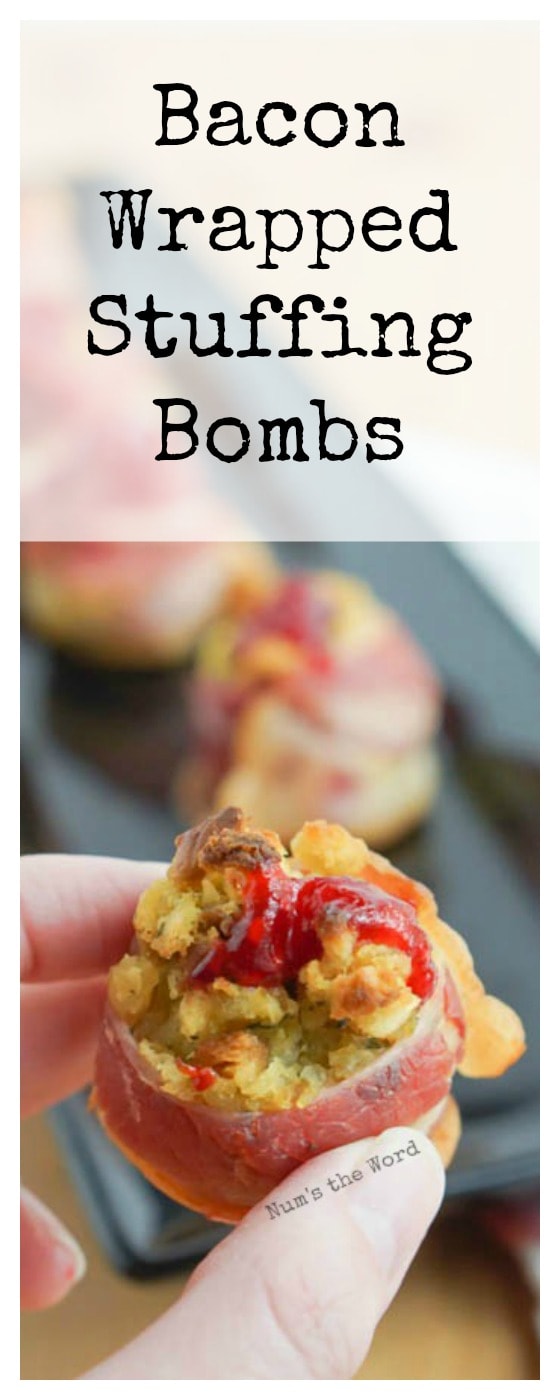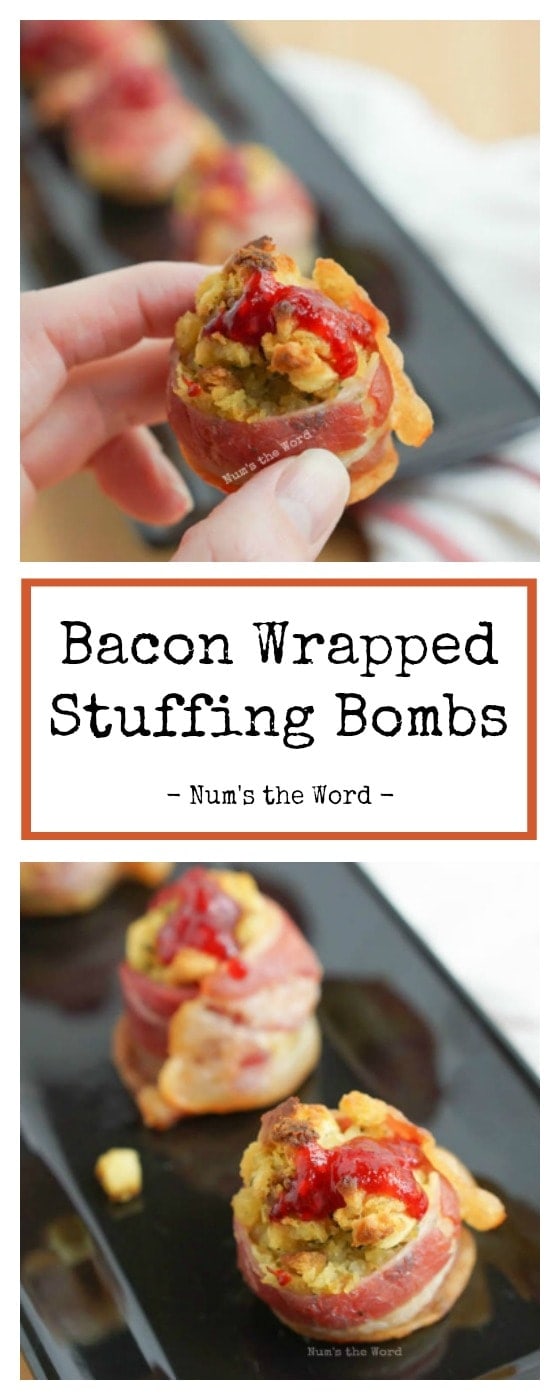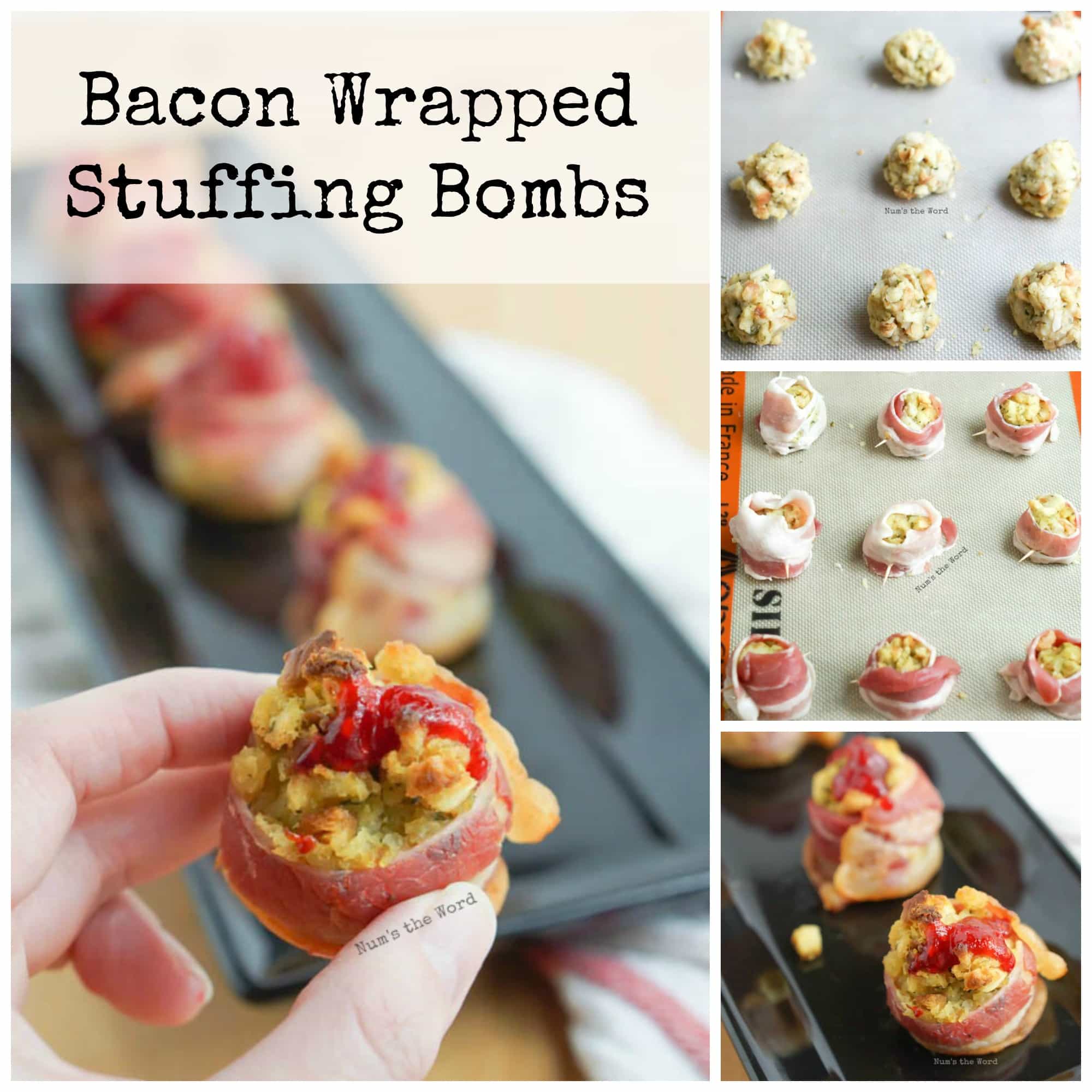 Another Thanksgiving has come and gone and we have enjoyed spending time with family and friends alike.
Every year my in-laws host and everything bring a dish to share.
This keeps the work light for everyone and gives each of us the opportunity to experience a recipe that we otherwise might not have tried before.
This year I made my Jalapeno Popper Dip for an appetizer, two pies, Bacon Green Bean Casserole and Classic Sweet Potato Casserole.
In addition, my brother in law made the dressing (it's delicious) and various other people brought sides and pies.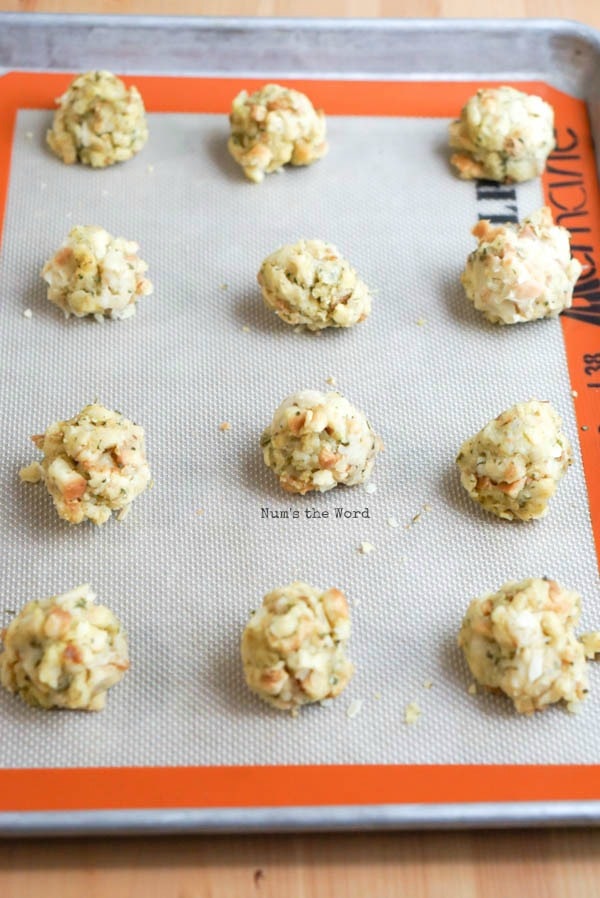 (Balls of stuffing on a lined cookie sheet)
This year my family has so much to be thankful for as we do every year.
However this past year we experienced a death in the family and it has helped us appreciate life so much more.
The precious gift in which we are all given, even if a short while, is the miracle of being healthy and alive.
Thanksgiving is a wonderful time to spend with family and friends but my favorite part is all that my oldest daughter does to make the holiday special.
This year she made everyone a special name cuff bracelet to wear, portraits of most of the guests as well as an "I'm Thankful for______" sheet on each of our plates.
(Bacon wrapped around stuffing balls and secured with a toothpick)
And if that wasn't enough, she also entered all of our names into a drawing for a special picture she drew!
It's these little thoughtful touches that really make the holiday shine for me.
This year at the dinner table we were all joking about the extra large dish of sweet potato casserole I made.
However, throughout the entire dinner, we ate maybe one-tenth of it.
Some apologized that I was left with so much to take home.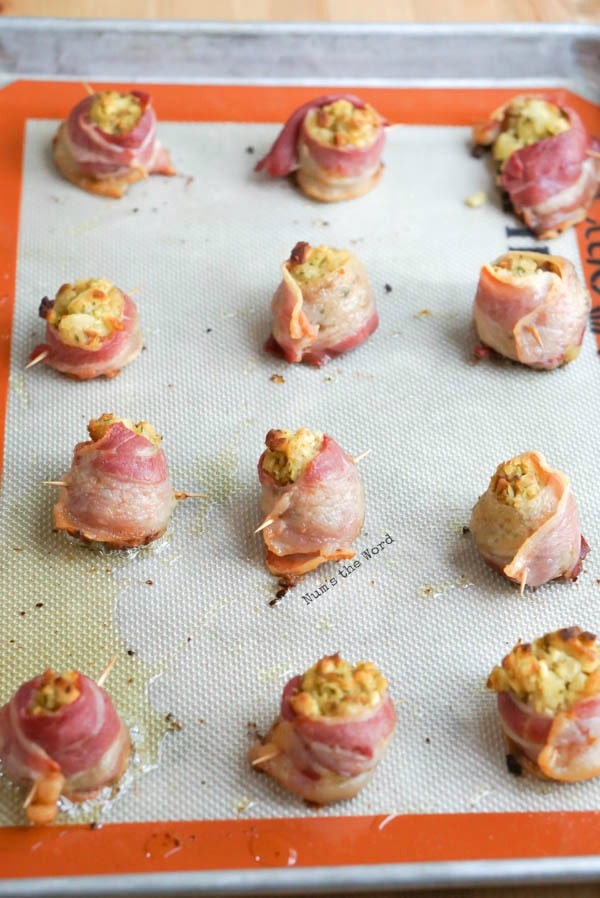 (Fresh from the oven, bacon wrapped stuffing bites!)
They explained that they just didn't like sweet potato casserole.
I laughed and told them I made an extra large batch of Sweet Potato Casserole on purpose.
One of my goals every year is to create recipes using holiday leftovers.
And I needed to do some recipe experimenting with leftover sweet potato casserole.
So to ensure I'd have enough to experiment with, I made a large batch!
One of my many side projects here on Num's the Word is to create a wide variety of recipes that use up holiday leftovers.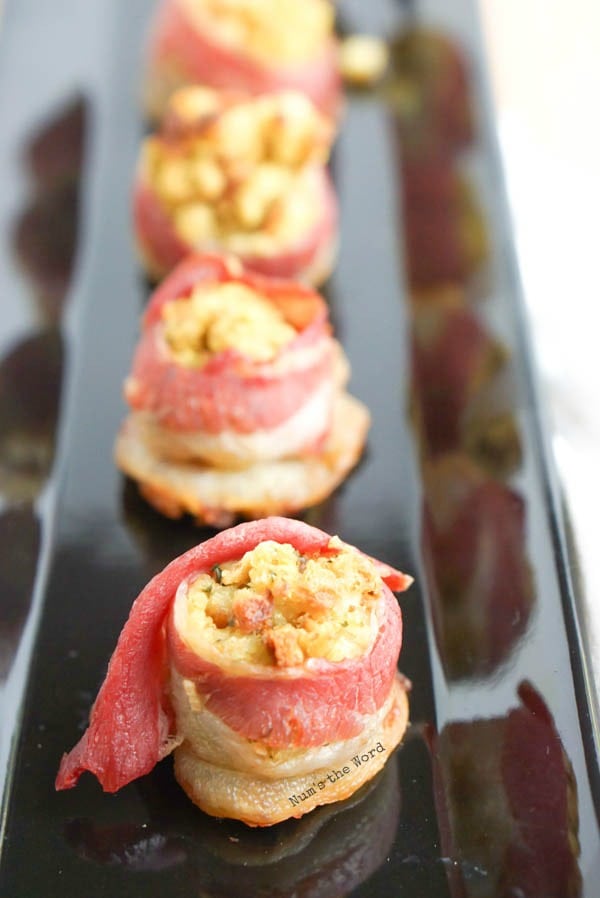 (Toothpicks removed from stuffing bombs and put on a serving platter)
Recipes from leftover turkey, ham, mashed potatoes, stuffing and cranberry sauce are all found somewhere on this website.
If you have leftovers, I have a recipe for it!
These Bacon Wrapped Stuffing Bombs are just one of the many ways you can use up your holiday leftovers!
I initially got this idea from my friend Lori at Who Needs a Cape?
With only 3 ingredients, it's pretty hard to mess these Bacon Wrapped Stuffing Appetizer up.
Bacon, Stuffing and Cranberry Sauce use up two holiday leftovers and taste amazing!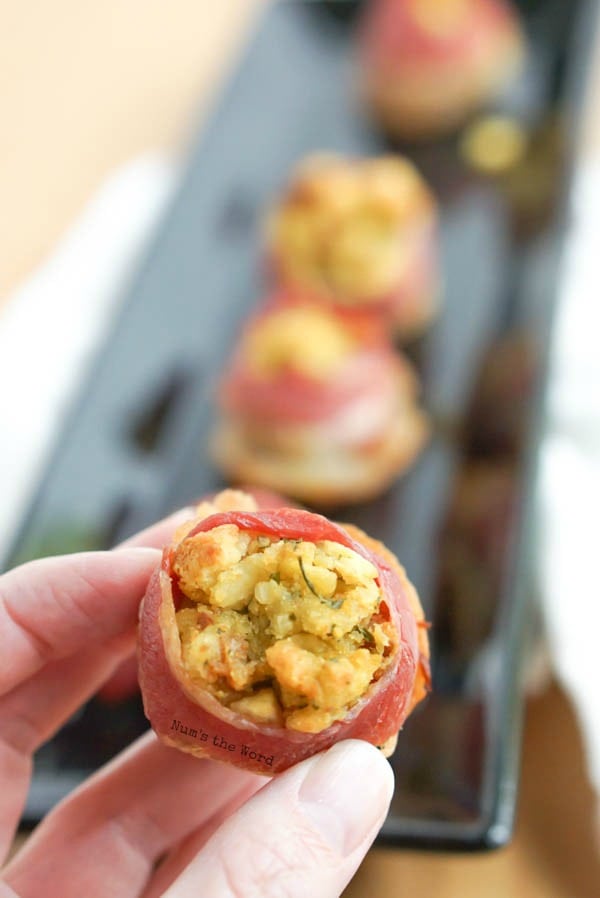 (Holding up a stuffing bomb to show details)
She is an amazing recipe blogger!
My family and I have enjoyed many of her recipes for our weekly meals and think you will too!
If you want another trusted source for quality recipes, check out Who Needs a Cape?!
Her recipe for Bacon Wrapped Stuffing Bites is the ultimate leftover stuffing recipe.
With her permission I've slightly adapted her recipe to create these Bacon Wrapped Stuffing Bombs.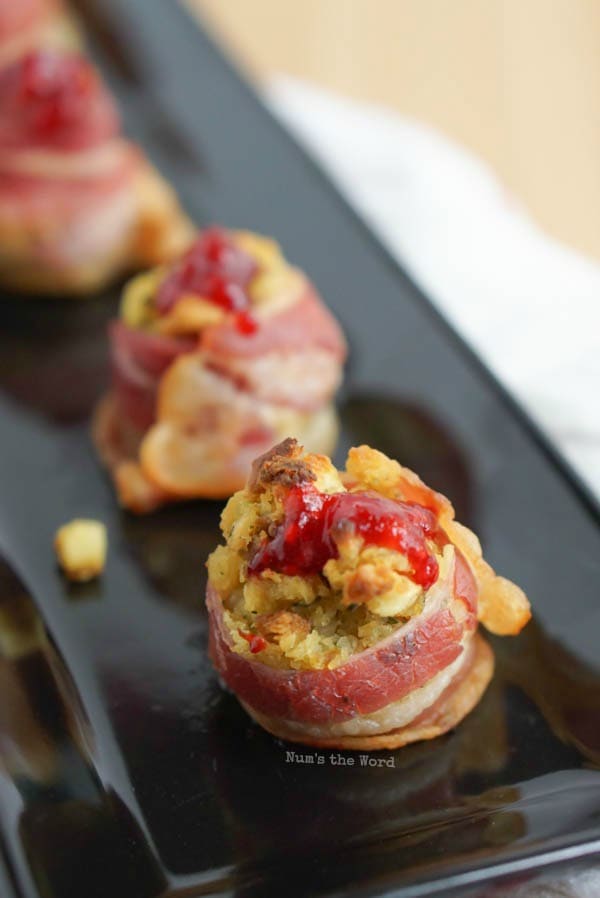 (Stuffing bombs on a serving platter with a dollop of cranberry sauce on top)
These make for a great snack, appetizer, game day food or even lunch.
The saltiness of the bacon, mixed with the savory stuffing which is all topped with an acidic cranberry sauce all compliment each other.
The best part is that anyone who loves stuffing, will love these Bacon Wrapped Stuffing Balls.
They have become a must have snack in our home whenever we've had leftover stuffing!
However, if I'm going to be honest, I've also made stuffing JUST so I can make these bites!
Why leave good food to be eaten just once or twice a year.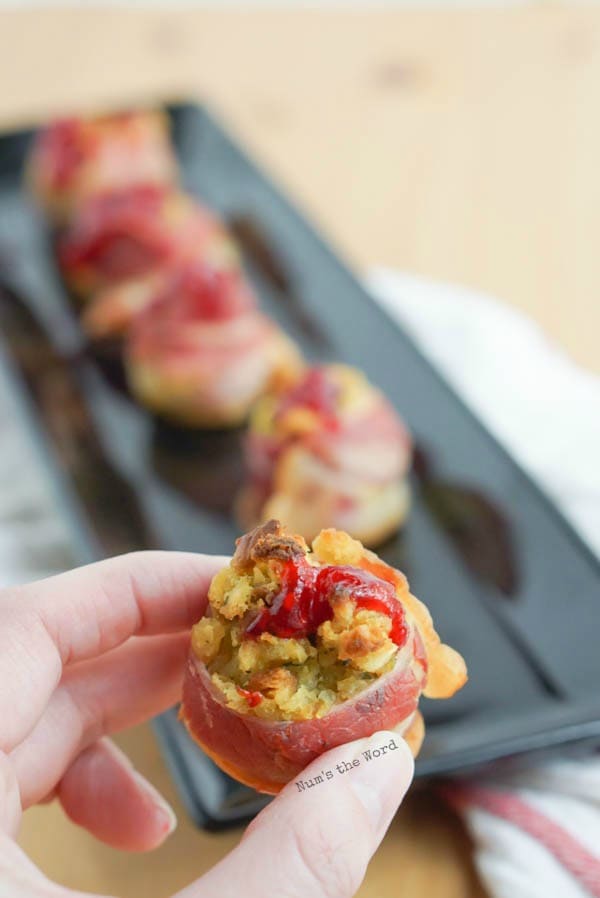 (Hand holding up a stuffing bomb with cranberry sauce)
Why can't we make delicious recipes like these Bacon Wrapped Stuffing Bombs all year round?
I mean, if I like stuffing in November, I'm pretty sure I'll also like it in March too!
So why limit ourselves?
Dealing with leftovers after a Holiday is inevitable.
However, eating them in the same boring way for days after is a choice.
Let's make a new choice this year and whip up this Bacon Wrapped Stuffing Recipe instead!
Yield: 20 Bacon Wrapped Stuffing Bombs
Bacon Wrapped Stuffing Bombs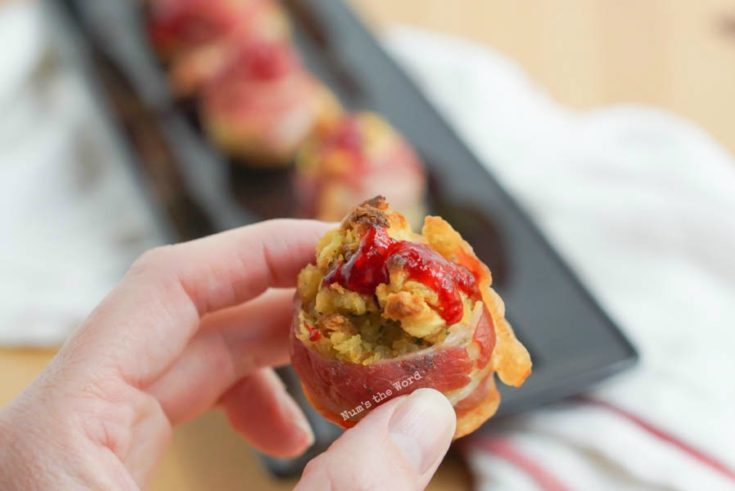 Leftover Stuffing, wrapped in bacon and cooked to perfection are something your party guests will go nuts for. Three ingredients is all you'll need for these Bacon Wrapped Stuffing Bombs!
Ingredients
2 cups leftover stuffing
10 slices thick cut bacon
½ cup leftover cranberry sauce
1 - 2 eggs (optional)
Instructions
Preheat oven to 350°F
Line a cookie sheet with non-stick foil, cooking spray or a baking mat.
If your stuffing is really dry, add 1 or 2 eggs to create moisture and help the stuffing stick together. Mix well. If stuffing is moist, do not use eggs
Create 20 round balls - approximately 2 Tablespoons of stuffing each and place on prepared cookie sheets.
Cut bacon in half and wrap each stuffing ball with ½ slice of bacon. Secure with a toothpick.
Bake for 20 minutes or until bacon is cooked through - the cooking time will depend on thickness of bacon.
Remove from oven.
Remove toothpick and place a small dollop of cranberry sauce on top.
Serve & Enjoy!
Notes
Nutritional Information is estimated, not exact.
Recommended Products
As an Amazon Associate and member of other affiliate programs, I earn from qualifying purchases.
Nutrition Information:
Yield:
20
Amount Per Serving:
Calories:

101
Total Fat:

6.4g
Saturated Fat:

2.2g
Cholesterol:

13mg
Sodium:

246mg
Carbohydrates:

5.2g
Fiber:

0.4g
Sugar:

2.8g
Protein:

4.3g
Other Recipes with Bacon You'll Love...