If you love apple pie, you'll love this Apple Pie Dip. Easy to make and tastes just like an apple pie! Perfect to serve at your next gathering!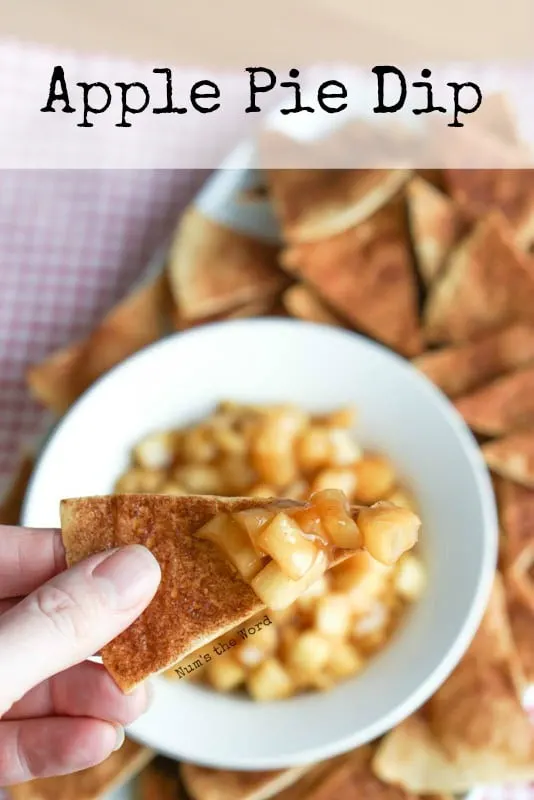 As with many recipes on Num's the Word, this recipe comes from an over abundance of ingredients.
I have a terrible habit of being a bulk shopper.
I buy large quantities of just about everything and when it comes to fruit, I tend to go overboard.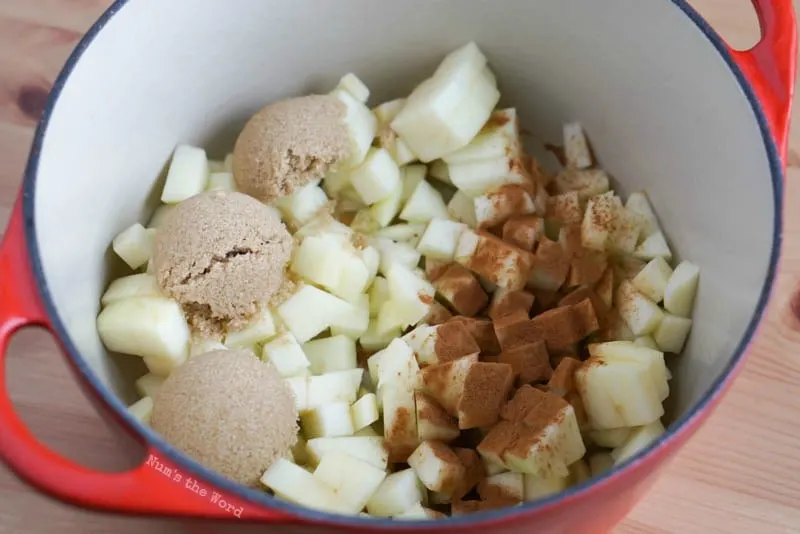 Fruits are my favorite and when fruit is ripe and sweet, I go a bit nuts.
Having apples on hand that needed to get used sooner than later I debated on what to make.
I quickly found a recipe for apple pie dip and knew I had to try it.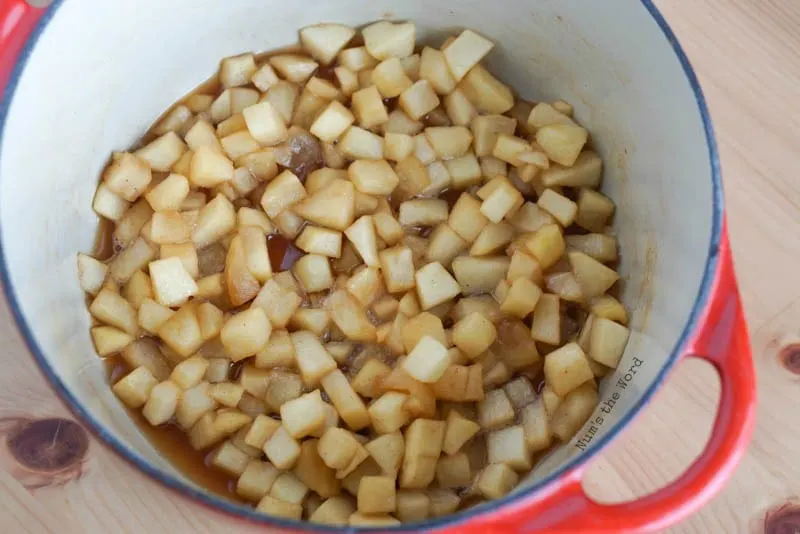 I'm a huge fan of apple pie – really all fruit pies – and loved the idea of making it into a quick and easy dip.
However, I also just happened to have a stack of tortillas that needed to be loved.
I love how a recipe can come together based on what I've got on hand and what my needs are.
I needed to use up my apples and tortillas and I got a tasty appetizer snack dip in the process!
I'm sure you've seen fruit salsas various dips floating around social media, but what about Apple Pie Dip?
This Apple Pie dip has become a staple in our home.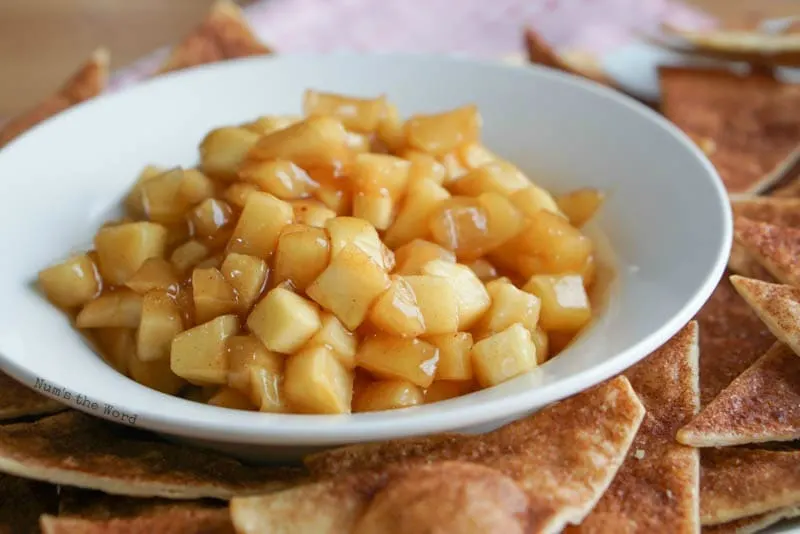 I love how quick and easy it is to make and I especially love that I can make it ahead of time for a party or potluck.
If you aren't sure what to serve it with, you can whip up my Cinnamon Sugar Tortilla Chips or use graham crackers or Nilla Wafers.
Or if you want a more authentic experience, whip up these Pie Crust Cookies!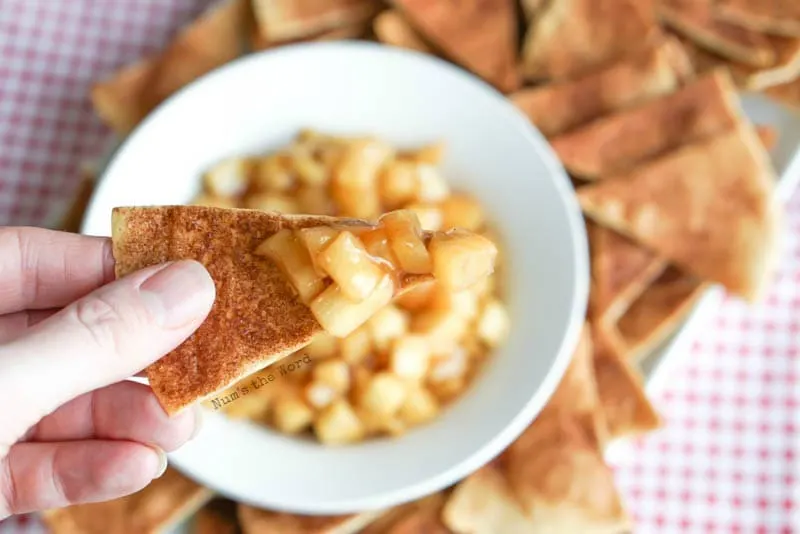 By using the Pie Crust Cookies you get the full apple pie experience!
However, all of the above ideas taste great with this apple pie dip.
I think my all time favorite time I made this dip was with friends.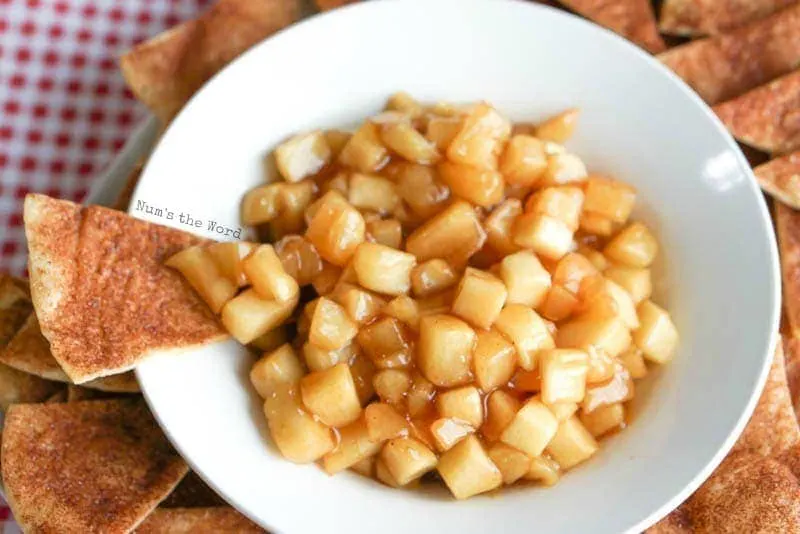 We went to a friends house for a game night and snacked on this while playing games.
It was a low key, easy going night of fun and memories and this apple pie dip was the perfect snack.
One way to tell if the recipe is good, is how often people ask for the recipe.
I am ALWAYS asked for this recipe.
Therefore, we know it must be good!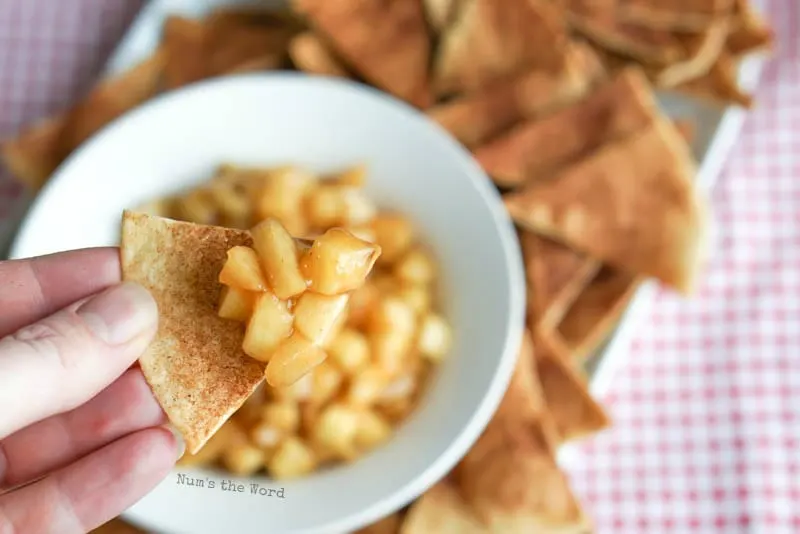 Anyone who loves apple pie, will love this Apple Pie dip.
So what are you waiting for?
I bet you already have the ingredients on hand!
Yield: 4 servings
Apple Pie Dip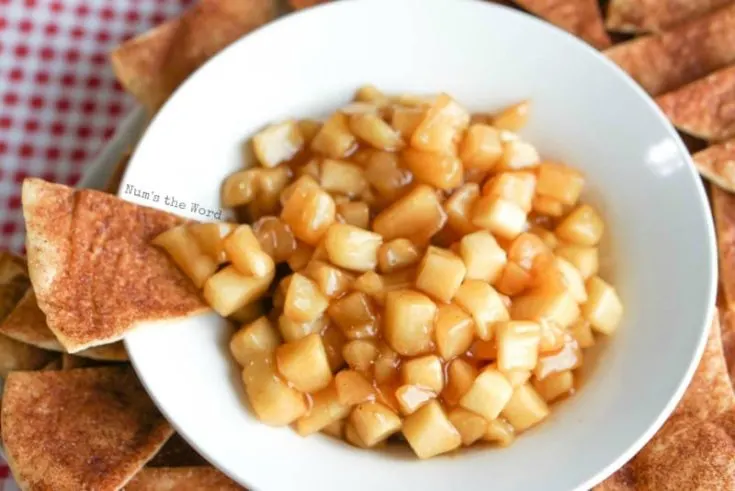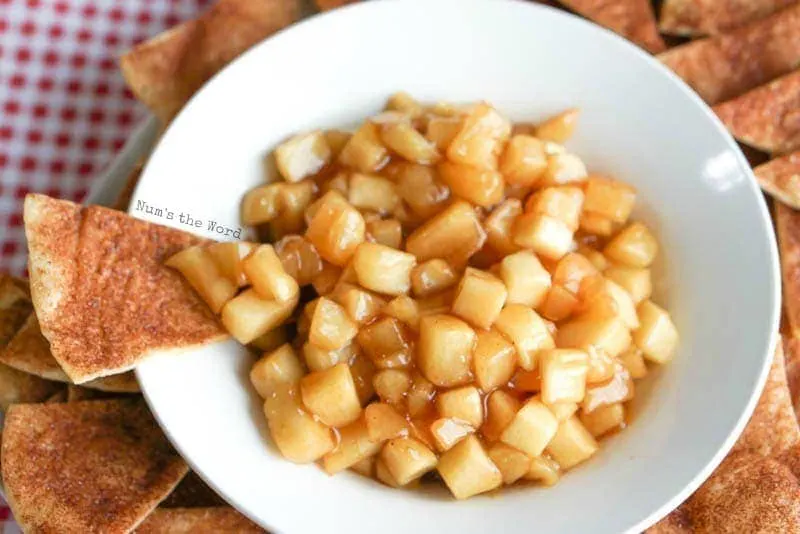 If you love apple pie, you'll love this Apple Pie Dip. Easy to make and tastes just like an apple pie! Perfect to serve at your next gathering!
Ingredients
2 cups apples, peeled, cored & diced - We prefer Granny smith with LOTS of spots. (The more spots, the sweeter the apple)
2 Tablespoons lemon juice
3 Tablespoons brown sugar
1/4 teaspoon cinnamon
1 teaspoon cornstarch
1 teaspoon water
Instructions
In a medium pot over medium heat, combine apples, lemon juice, brown sugar and cinnamon.
Cook until mixture is boiling and apples are cooked and soft.
In a small bowl combine cornstarch and water.
Add cornstarch mixture to the apples and continue to cook until apples glaze is nice and thick.
Serve with pie crust cookies or cinnamon sugar tortilla chips (both can be found on our website)
Nutrition Information:
Yield:
4
Serving Size:
1
Amount Per Serving:
Calories:

82
Total Fat:

0g
Saturated Fat:

0g
Trans Fat:

0g
Unsaturated Fat:

0g
Cholesterol:

0mg
Sodium:

5mg
Carbohydrates:

21g
Fiber:

2g
Sugar:

17g
Protein:

0g
Nutritional information is estimated, not exact.
Recipe adapted from: The Peach Kitchen
Originally Posted: October 28, 2014
Photo & Text Updated: March 30, 2018