These Cinnamon Sugar Tortilla Chips are easy and delicious! Perfect with diced fruit, a dessert dip or chocolate sauce.
This post contains affiliate links.  If you click on an affiliate link and make a purchase, I will make a small percentage on your purchase. This helps keep this website running! Thank you!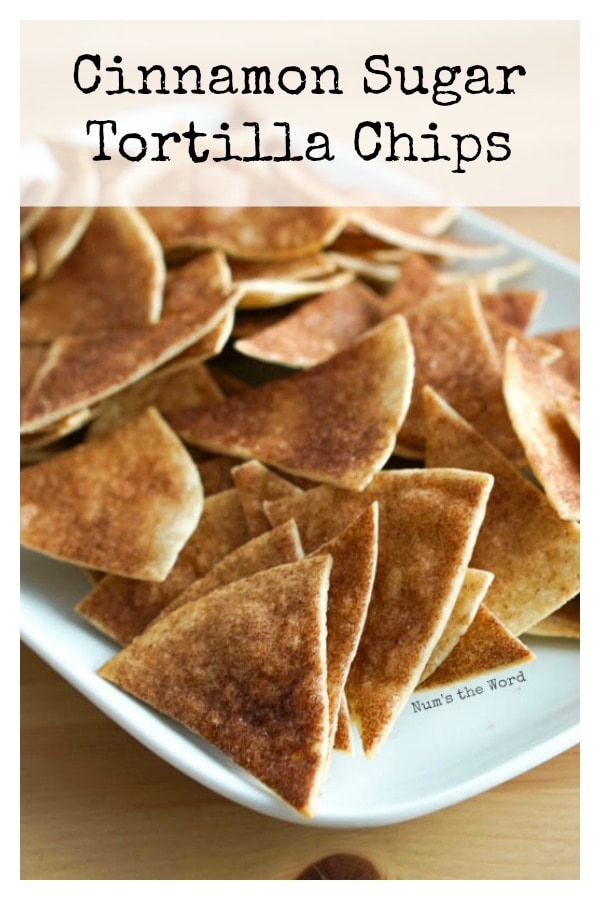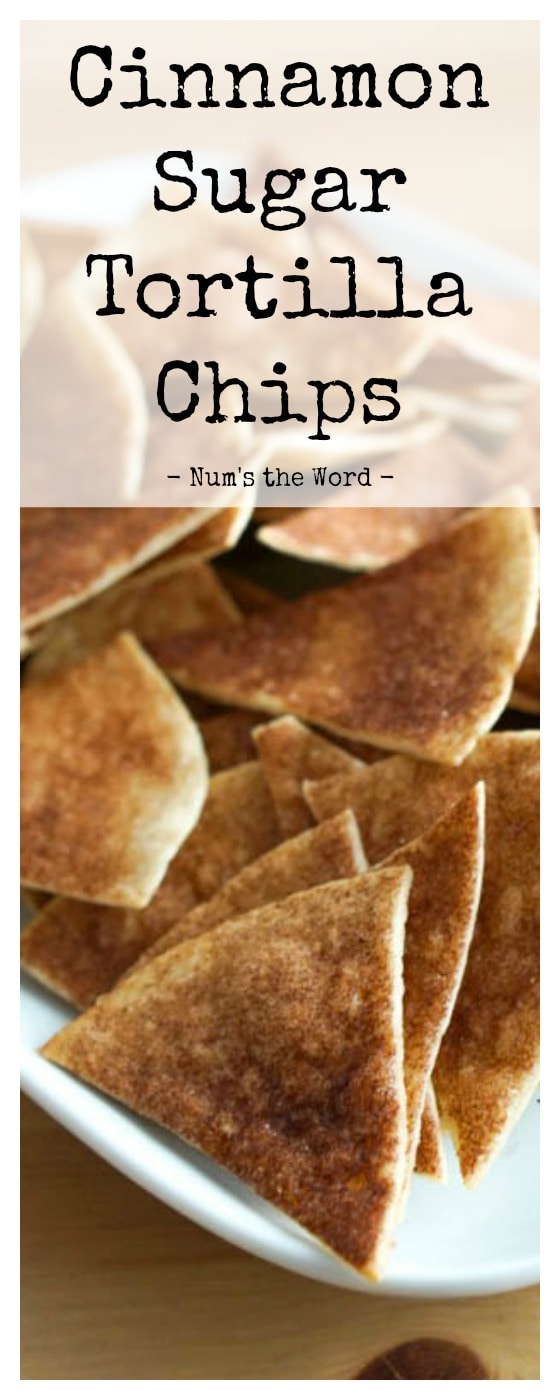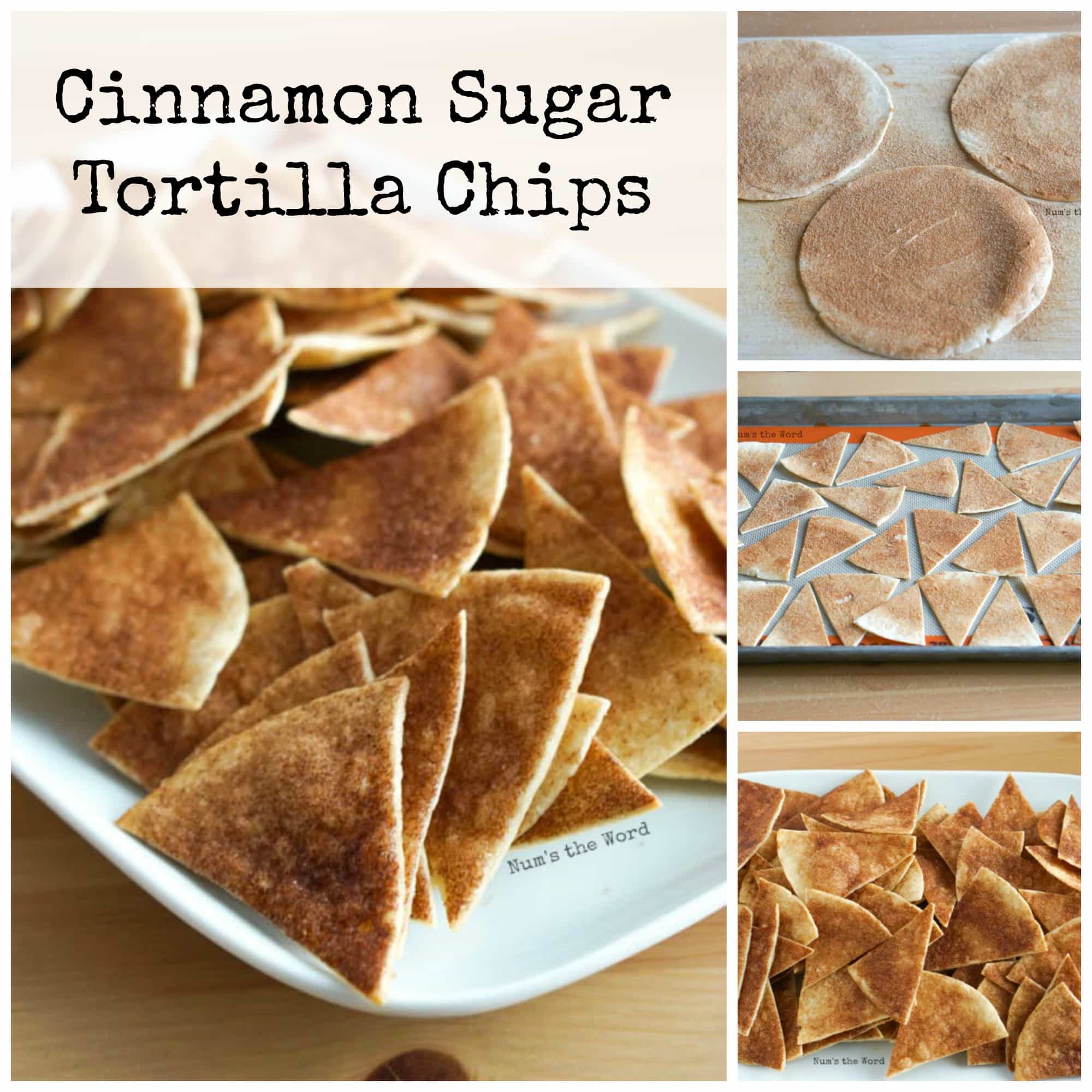 Have you ever made your own tortilla chips?
If not, you are really missing out!
they are simple to make and taste amazing.
These Cinnamon Sugar Tortilla Chips are sweet and use flour tortillas.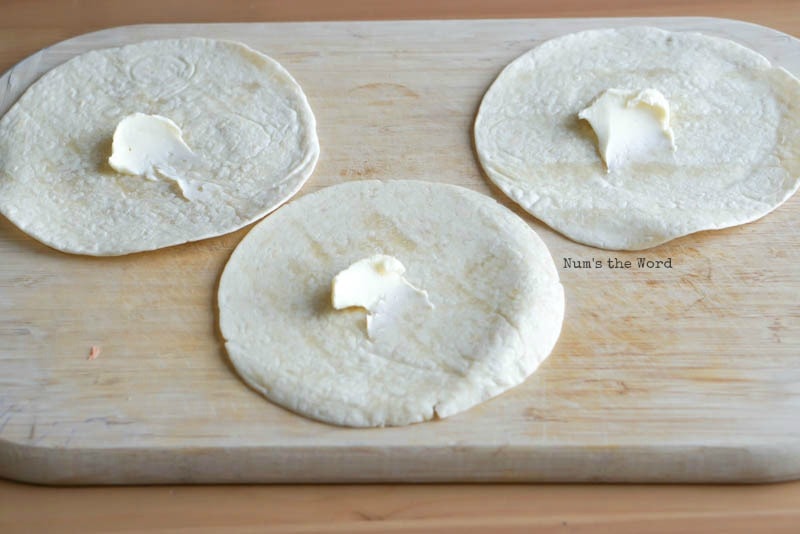 You can also make corn tortilla chips too.
I'm not sure how tasty they will be covered in cinnamon sugar.
Hence the reason I make these Cinnamon Sugar Tortilla Chips with flour tortillas.
I like to serve these with fruit salsa, diced strawberries or even a dessert cheese ball or dip.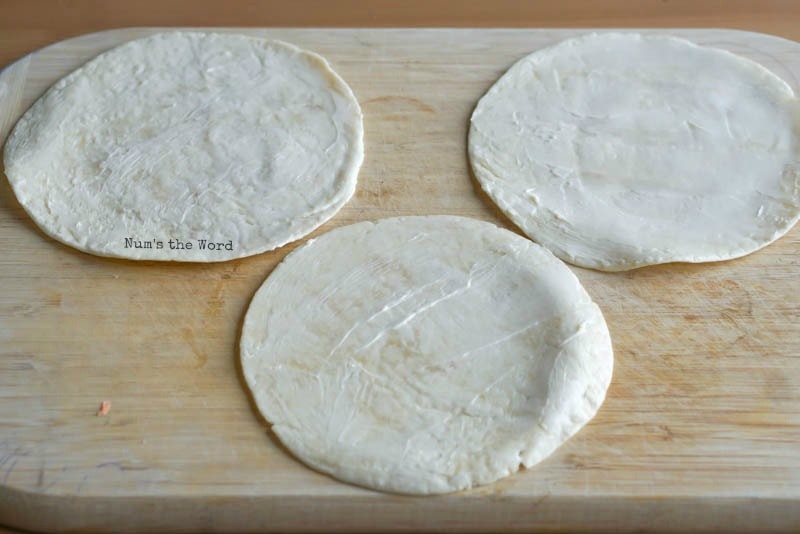 Last Christmas my in-laws like to invite other couples over who don't have family in town and we do a sing-a-long.
Before, during and after is a large spread of appetizers and snacks on the counter.
Everyone loves munch on snacks before dinner.
This year I had these Cinnamon Sugar Tortilla Chips on the counter with some diced strawberries and everyone went nuts for them.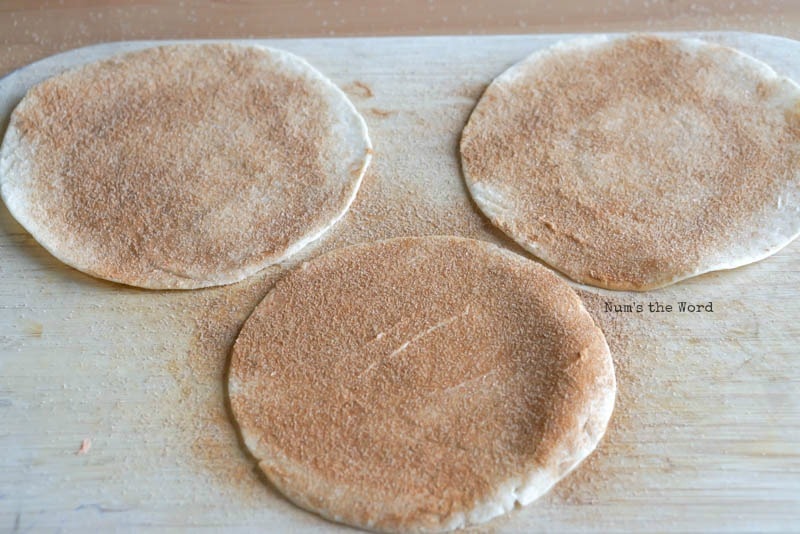 These are incredibly easy to recreate.
I suggest having two large cookie sheets that rotate in the oven.
Place one cookie sheet in the oven to bake while you prep the second.
Once the chips are baked, remove the first pan and toss the second in right away.
This gives you time to allow the first pan to cool and crisp up before moving them to a bowl.
Then rotate and fill that pan again with Cinnamon Sugar Tortilla Chips.
One of the best compliments I receive on these is when someone tells me they don't need a dip.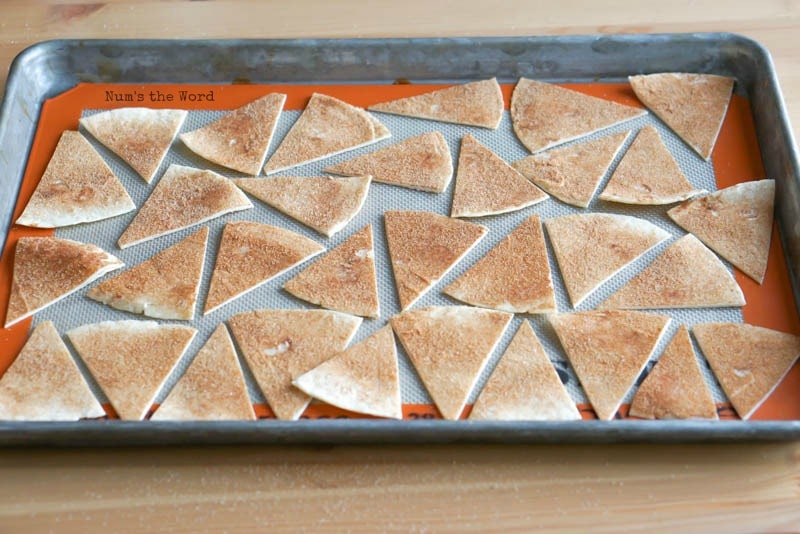 That these are absolutely tasty on their own.
And I have to agree.
It's not uncommon in our home to snack on these Cinnamon Sugar Tortilla Chips just as they are.
In addition to fruit and dips, you can also dip these in a bowl of chocolate sauce, warm hot fudge or ganache or even whipped cream.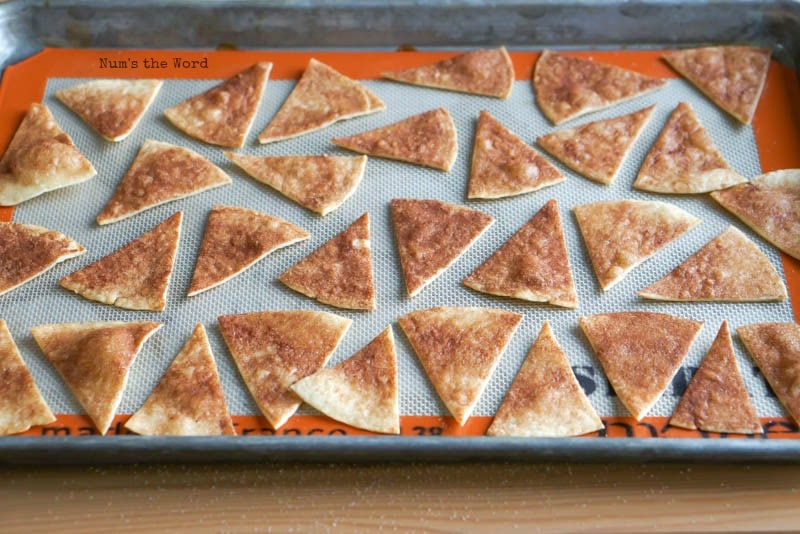 As you can see these are all dessert options.
I definitely consider these Cinnamon Sugar Tortilla Chips a sweet appetizer or dessert item.
Though I'm sure there are a few of you willing to stretch it to breakfast item too.
I'm not crazy, but I can see how someone can justify this as a breakfast item…well in America at least.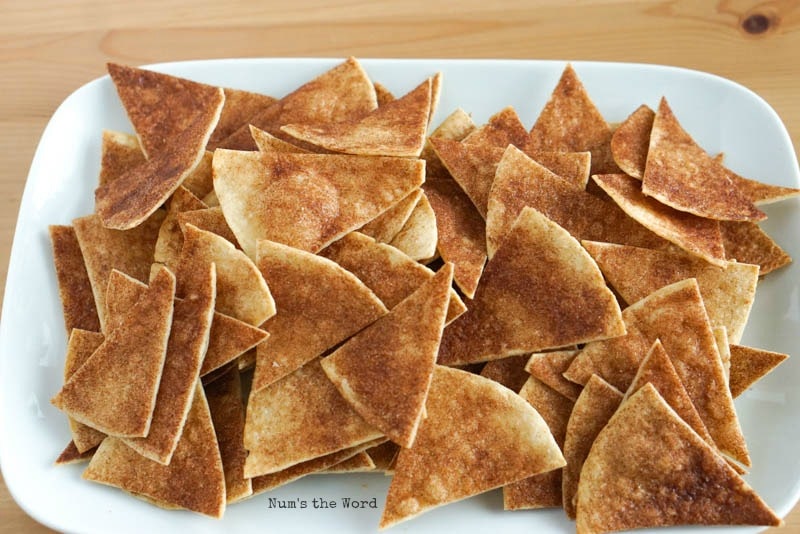 Tortillas are considered a breakfast item with breakfast burritos.
And Cinnamon Sugar is a breakfast staple with cinnamon sugar toast being a childhood favorite.
Mix the two together and you've suddenly got yourself Breakfast Cinnamon Sugar Tortilla Chips.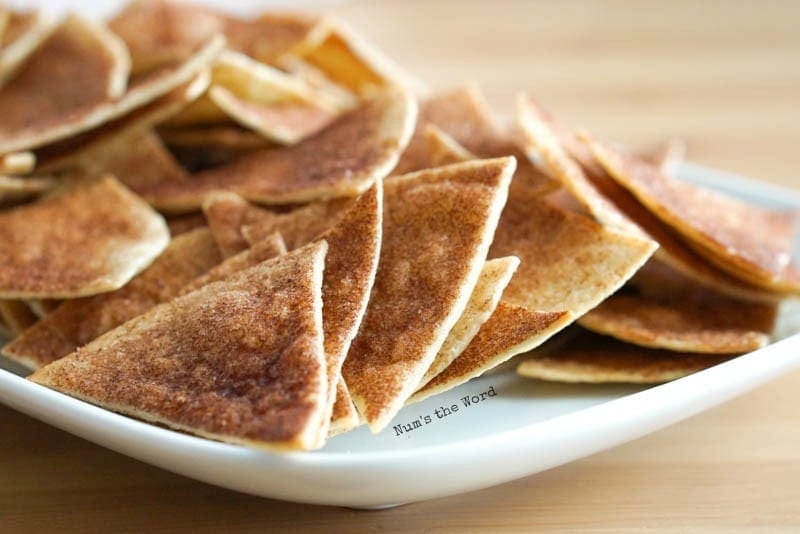 Ok..it's a bit of a stretch.
What isn't a stretch is how tasty and EASY these Cinnamon Sugar Tortilla Chips are.
Simple. Delicious. Easy.
A party appetizer or dessert everyone will go nuts for.
Yield: 96 Chips
Cinnamon Sugar Tortilla Chips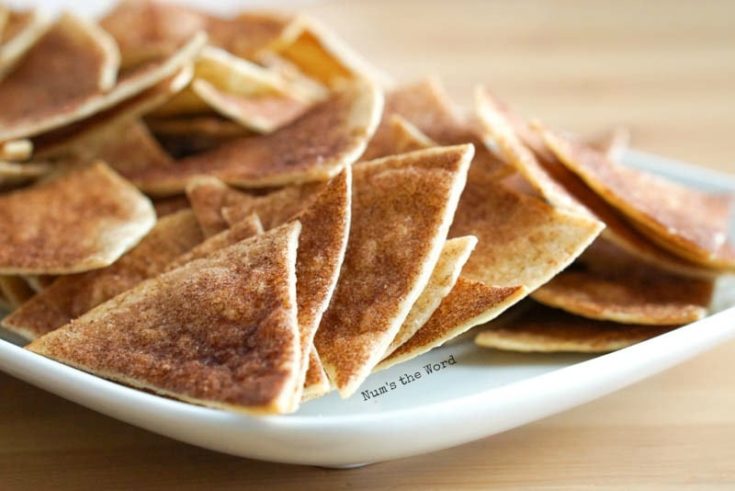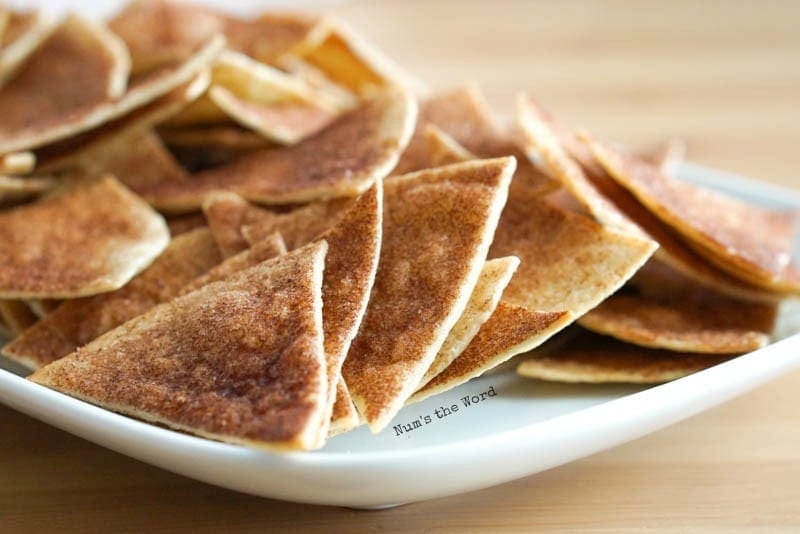 Ingredients
1 cup sugar
4 Tablespoons cinnamon
12 Flour Tortillas
1/2 cup butter (1 stick)
Instructions
Preheat oven to 350*F
Cover cookie sheet with parchment paper or non-stick foil for easy cleanup.
Combine sugar and cinnamon in a small bowl until well mixed. Set aside.
Lay a tortilla onto your work space.
Spread a thin layer of butter over one side tortilla.
Sprinkle cinnamon sugar generously over tortilla.
Using a pizza cutter or sharp knife, cut tortillas into 8 slices, like you would a pizza.
Continue with remaining tortillas.
Once oven is preheated, place tortillas on cookie sheet and cook tortillas for 8 minutes or until edges start to turn golden.
DO NOT OVER COOK! These will go from perfect to burnt very quickly so keep an eye on them.
Once cooled, remove from cookie sheet and place in bowl.
Serve with favorite fruit salsa or dessert dip.
Other Appetizers You'll Love...