These Pulled Pork Flautas are the perfect way to use up leftover pulled pork. These are the flour tortilla version of a taquito and are oh so tasty! Perfect baked, fried, leftover or as a freezer meal!
This post contains affiliate links.  If you click on an affiliate link and make a purchase, I will make a small percentage on your purchase. This helps keep this website running! Thank you!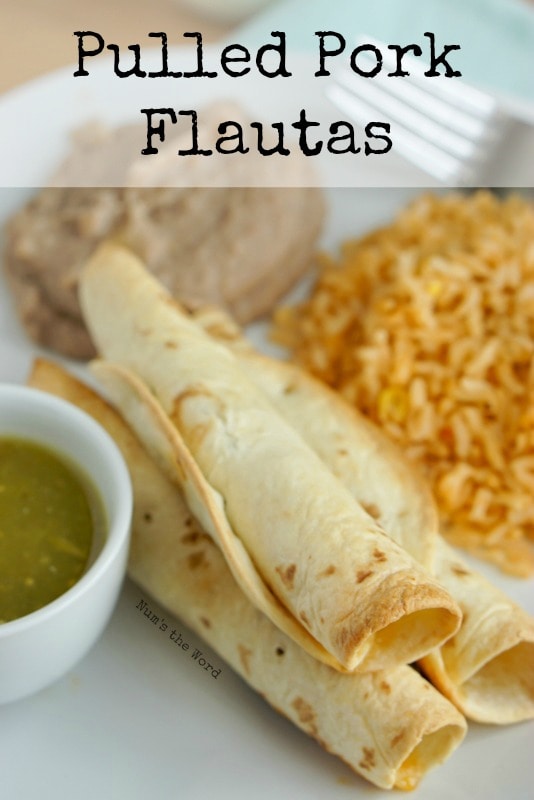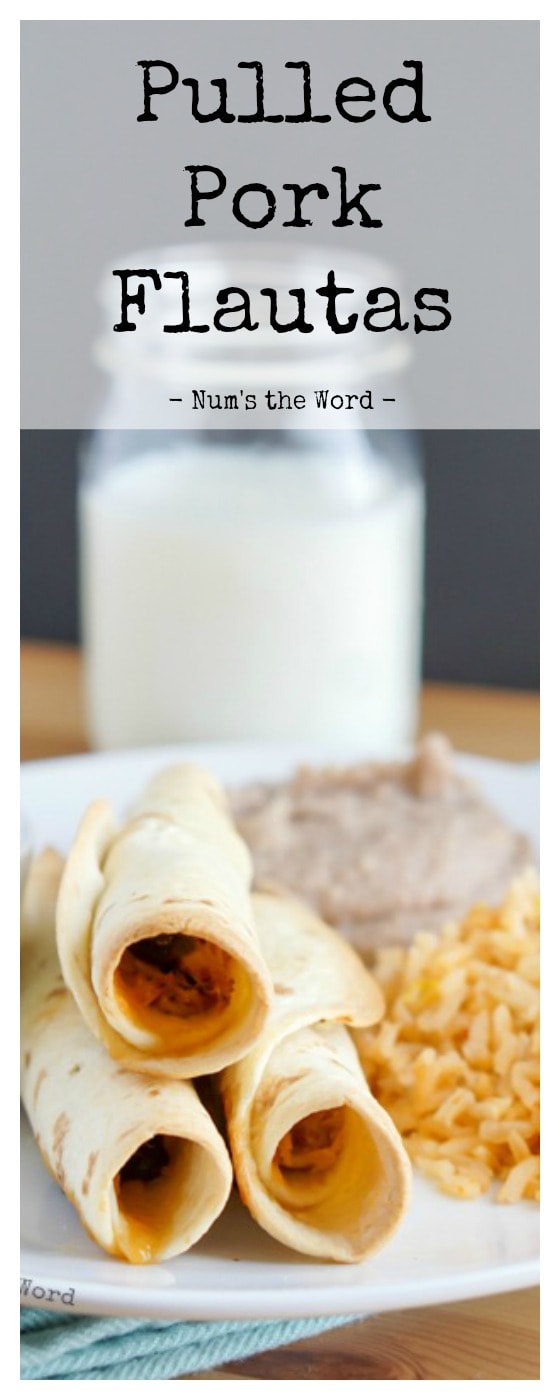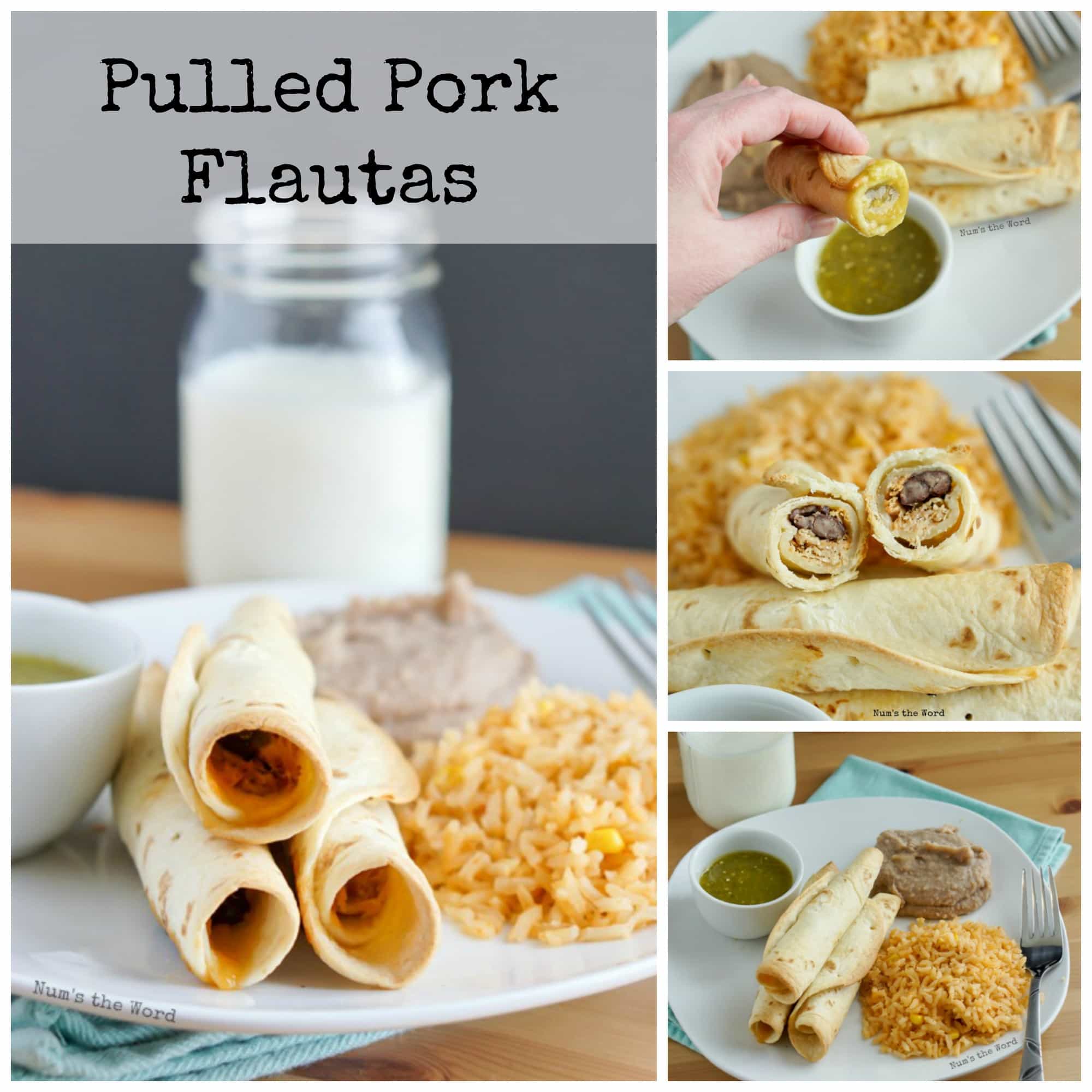 One thing you should know about me is that we have company over for dinner at least once a week.
Usually it's friends or new faces from church.
This may sound odd, but I love it.
Inviting people over for dinner is a very casual event in our home and some days you may come to dinner and I'm already in my PJ's.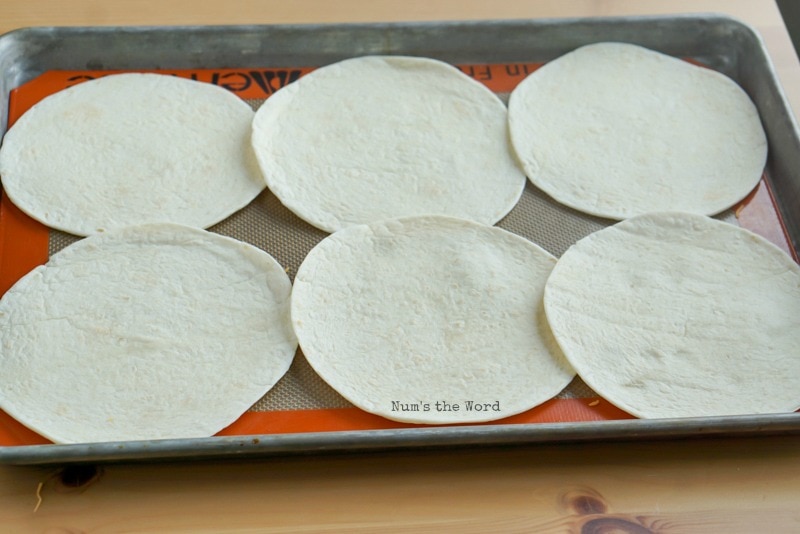 Other days my kitchen is a mess and toys are all over the ground, and that's ok.
My house ins't a museum, it's a home.
And with a home comes crazy and chaos and occasionally a nice hot meal.
My most requested recipe when we have company over is my Sweet Pork.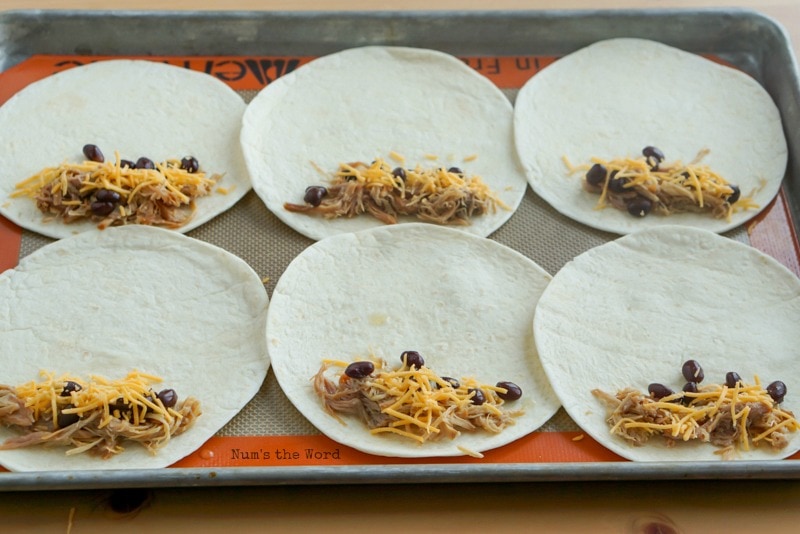 Word on the street has spread that it's off the charts good, and every once in a while someone brave will mention and request it when they get an invite.
Generally speaking though, when I make Sweet Pork, I like to make a double portion and invite a nice crowd of people over.
We whip up the sweet pork, cilantro lime rice, and cilantro lime dressing as well as all the other fixings for burritos, nachos and salads.
Our sweet pork nights are great for anyone who needs a gluten free meal as well as anyone who like good food.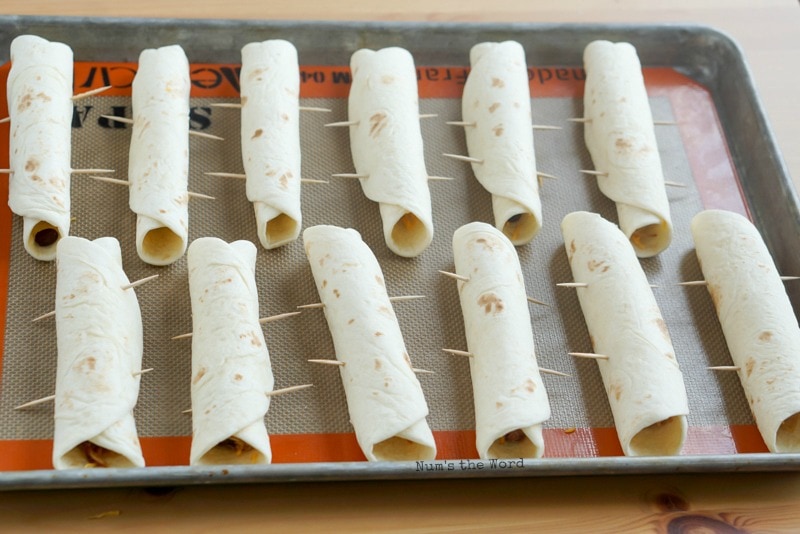 However once the night is over, we are stuck with a lot of leftovers.
Now don't get me wrong, this is exactly what I want.
I LOVE leftover sweet pork because there are so many ways to use it as leftovers.
On one such day, I found myself with a fridge full of leftovers and no clue what I was going to do with them all.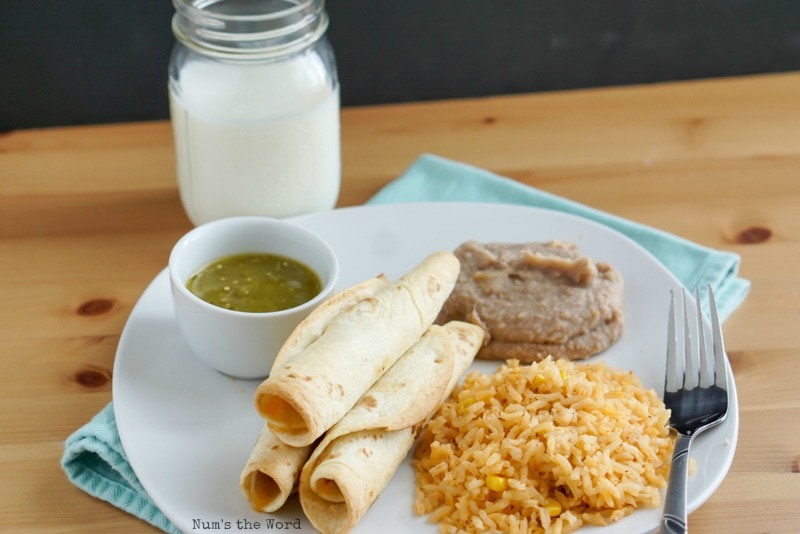 My go to food is almost always Mexican inspired so it's no wonder I immediate thought of flautas.
Flautas are essentially Taquitos but instead of a corn tortilla as traditionally used Taquitos, it's made with a flour tortilla.
I always prefer flour tortillas over corn and generally have them on hand at all times.
So I pulled out my leftover pulled pork, leftover black beans and leftover cheese and tossed together these flavorful Flautas.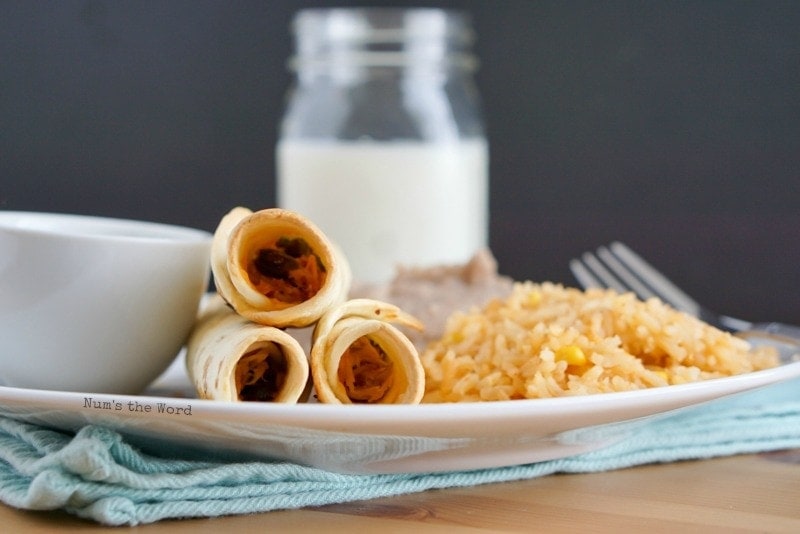 The flavor of the flautas will vary widely depending on the flavor of your pork.
These Flautas work great with barbecue pulled pork, Sweet Pork, or even a rubbed pork.
Heck you can even use a store bought prepackaged pulled pork if you wanted.
No matter the flavor, these should turn out delicious.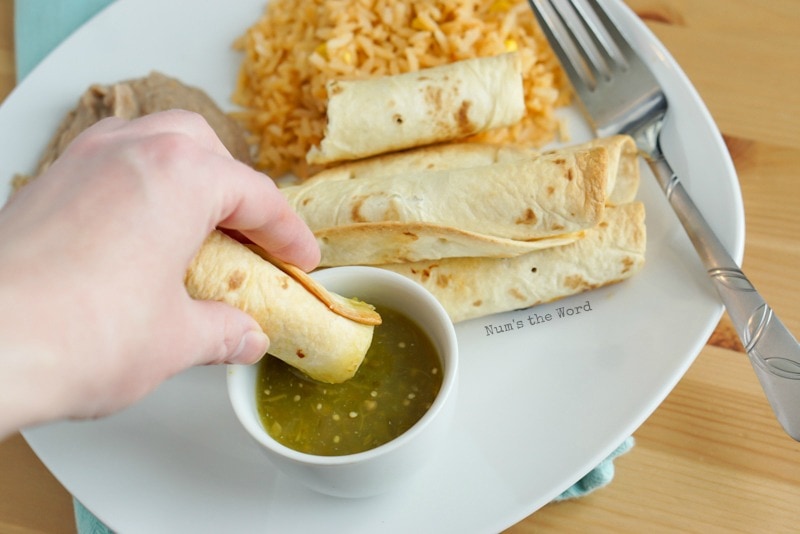 Now there are two ways to cook these.  You can bake them, as described in the directions or you can fry them.
These Pulled Pork Flautas taste great both ways!
My husband and I loved eating these for lunch and I'll definitely be making a double batch to freeze the next time we have pulled pork on hand.
If you have pulled pork laying around whip up a batch of these Flautas and enjoy!
Feel free to add any additional ingredients to them but be careful as you do not want them to be a burrito.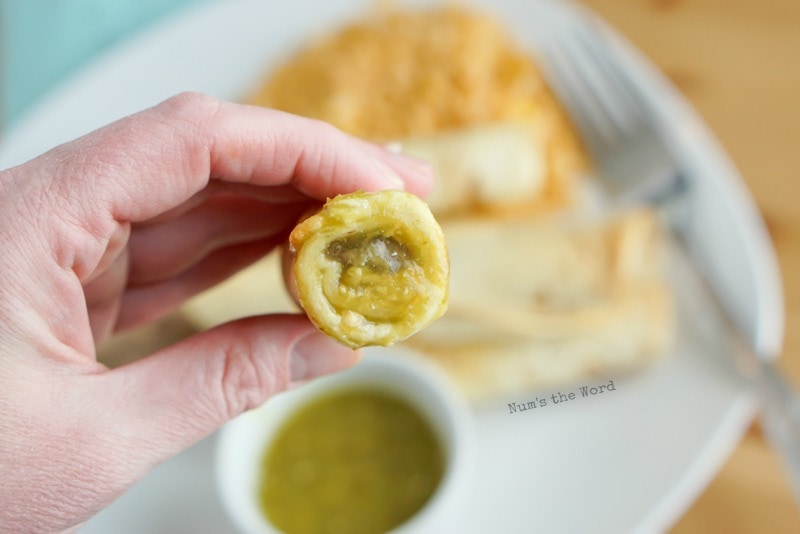 These should be long an thin.
Top them or dip them in your favorite sauces and salsas and enjoy!
Note: A normal person can down 3 or 4 easily so prepare ahead to have enough tortillas on hand.
Yield: 16 + Flautas
Pulled Pork Flautas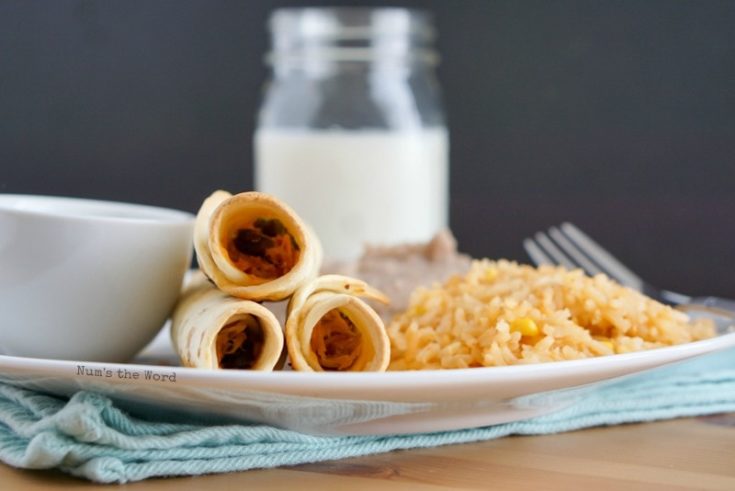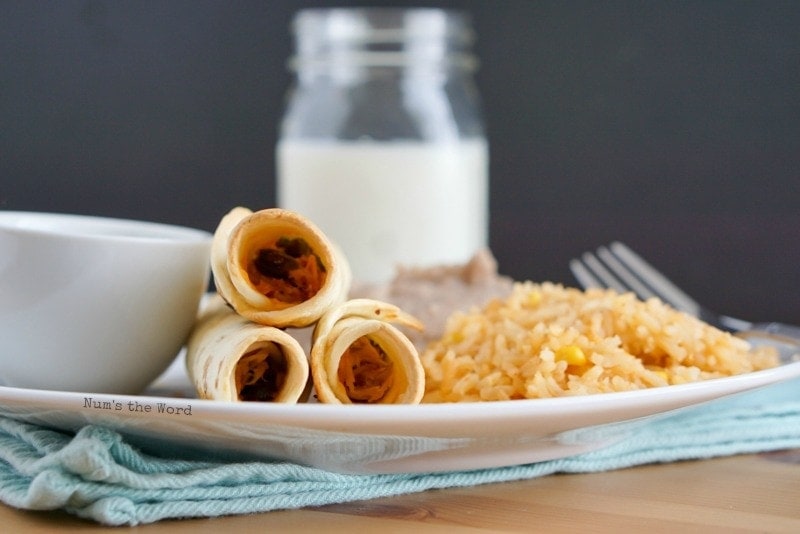 Ingredients
16 (6 inch) Flour Tortillas
2 cups Pulled Pork (any flavor)
1 (15 ounce) can Black Beans - drained and rinsed
1 cup Sharp Cheddar Cheese
Toothpicks
Cooking Spray
Salsa Verde (optional)
Sour Cream (optional)
Salsa (optional)
Instructions
Preheat oven to 400*F
Lay tortillas flat on work surface.
Spread 1 - 2 Tablespoons of pulled pork across the bottom of the tortilla.
Top with 1 Tablespoon of black beans.
Top with 1 Tablespoon of cheese.
Starting at the bottom, roll up as tight as you can and secure with 2 toothpicks for each flauta.
Place flautas on a prepared cookie sheet.
Spritz the top of each flauta with cooking spray. This will help them crisp up while baking.
Bake for 10 - 15 minutes or until flautas are golden.
Remove and serve with your favorite dipping sauce.
Notes
Frying in Oil: These Flautas can also be fried in oil. Just place 1/2 inch of oil in a skill, heat to medium heat and pan fry them, turning every minute or two to ensure an even golden cook.
Freezing: Whip up a double batch and freeze them. Bake them as directed then allow them to cool. Remove your toothpicks and place in a freezer bag. Use within 30 days. To reheat place on a cookie sheet and bake for 20 minutes at 350 or until cooked through.
Other Mexican Dishes You'll Love...