These Sea Salt Caramels are THE BEST CARAMELS ever. Rave reviews by EVERYONE who has tried them and LOTS of trial and error to create the perfect caramels!
This post contains affiliate links.  If you click on an affiliate link and make a purchase, I will make a small percentage on your purchase. This helps keep this website running! Thank you!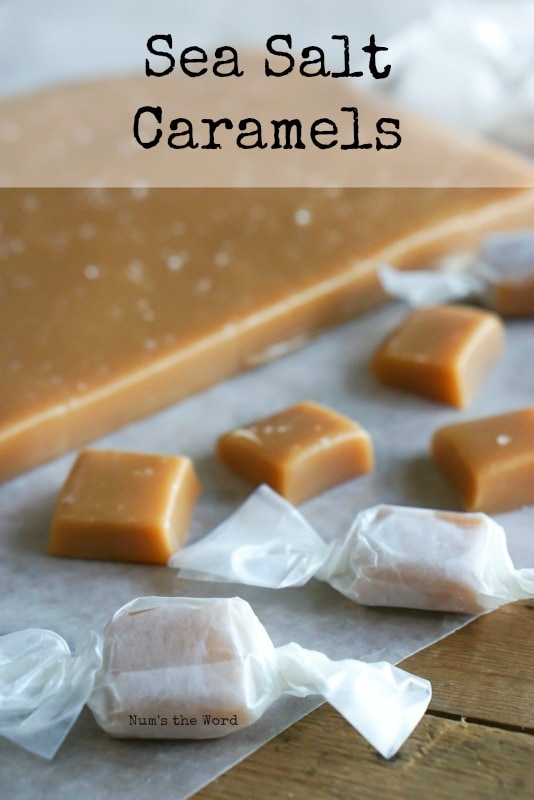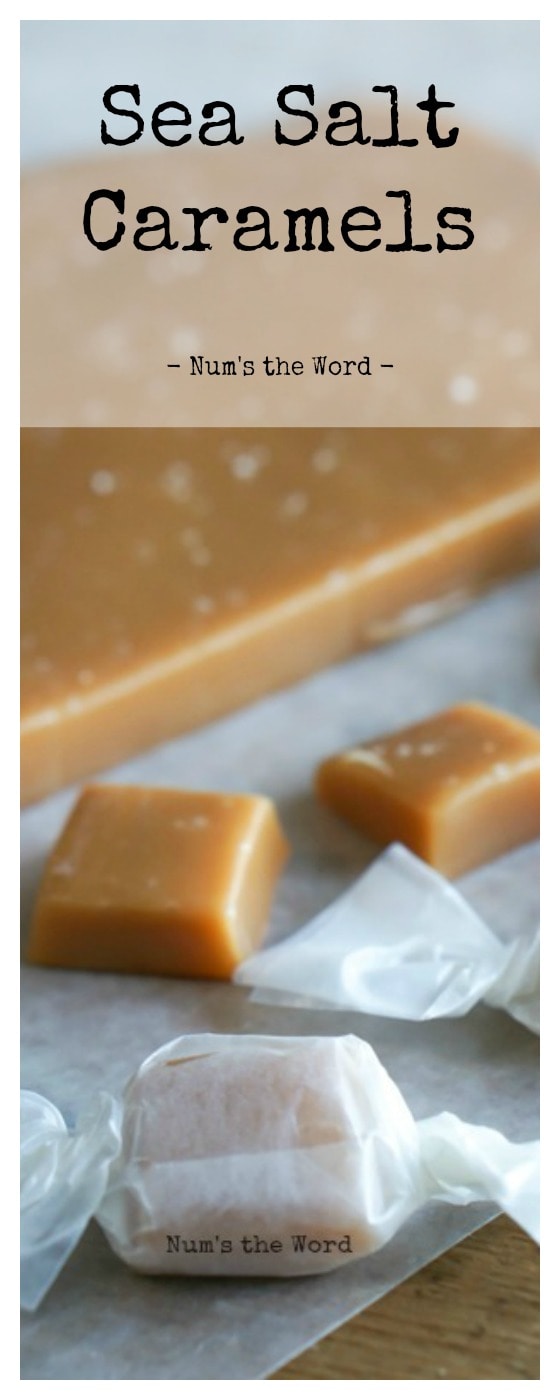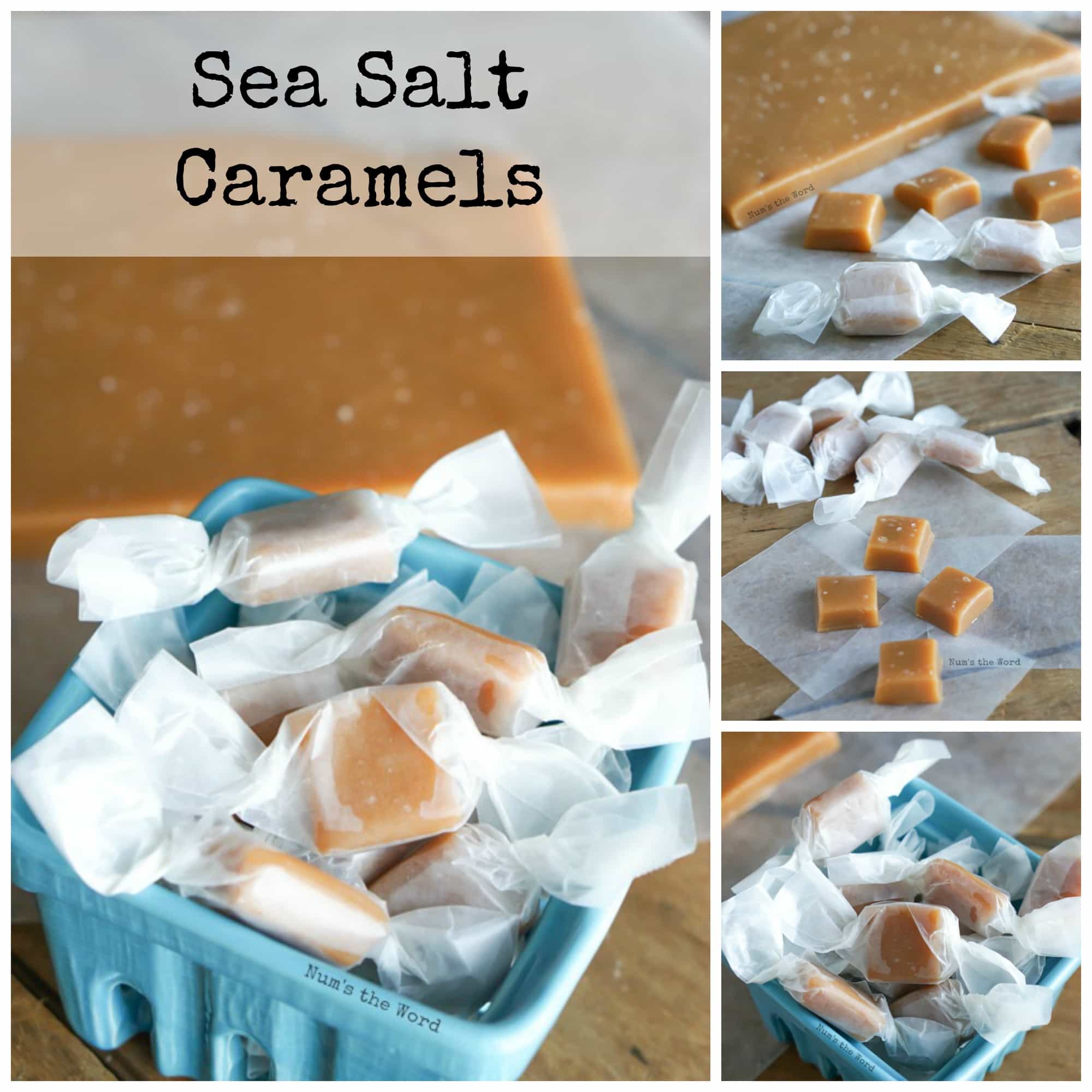 The talented inventor, Thomas Edison created the light bulb, an invention that we can hardly imagine life without these days.
However, before he was successful, he failed 1,000 times.
When asked, "How did it feel to fail 1,000 times", Edison replied, "I didn't fail 1,000 times.  The light bulb was an invention with 1,000 steps."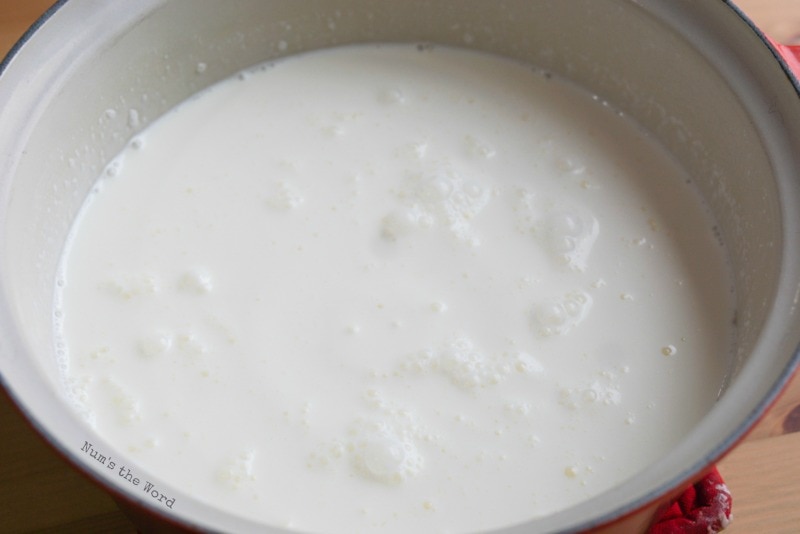 Though I am in no way Thomas Edison, being a recipe developer often feel like to have success with some recipes, you first have to have a lot of failures.
These caramels are the BEST DANG CARAMELS on the planet.
How do I know this?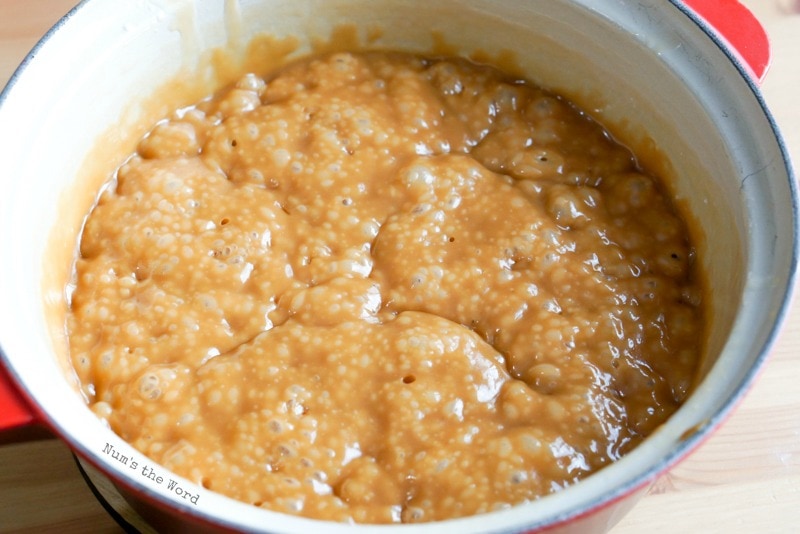 Because it took me 9 batches to find the perfect recipe.
Can you imagine 9 batches of caramels?
That's over 900 pieces of caramels and a whole lot of wrapping.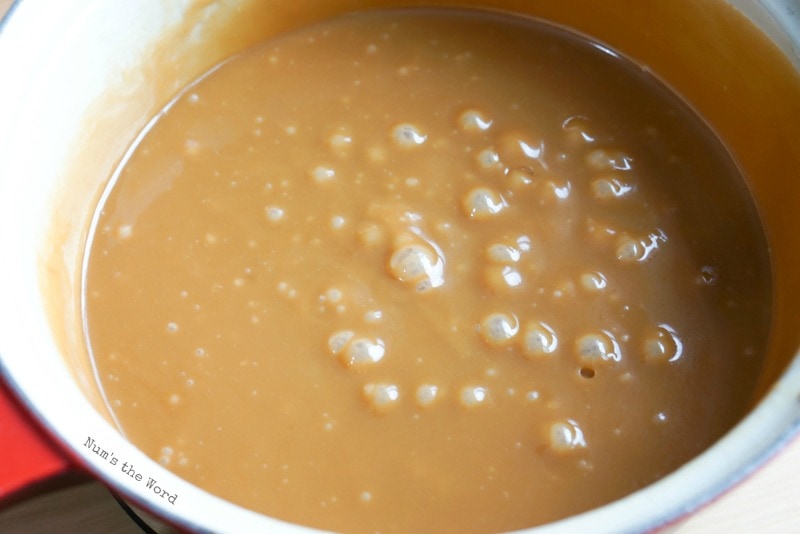 I was DETERMINED to create the BEST caramel recipe and in order to do so there was A LOT of trial and error.
As crazy as it sounds to have someone make 9 batches of caramels, what makes it EXTRA crazy is that I did all 9 batches in a 4 week period.
Batch after batch, wrapped caramel after caramel.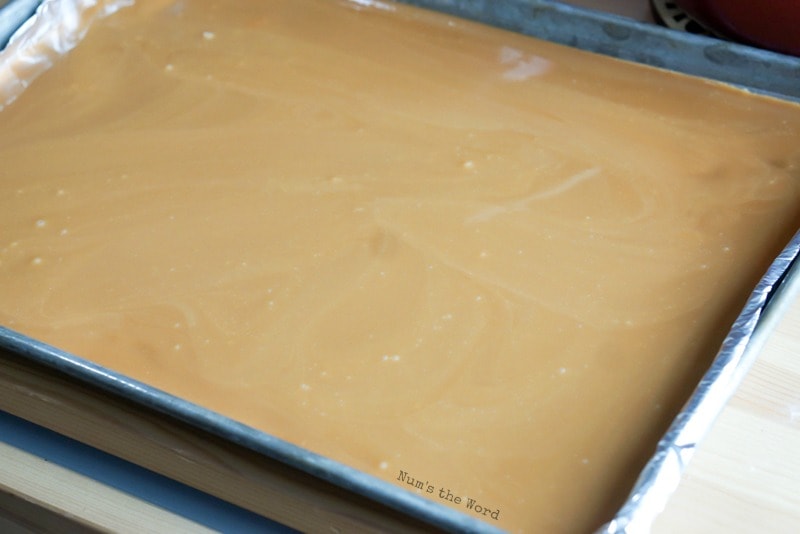 Everyone who met us, knew us or looked at us was offered a caramel, if not a bag of them.
We passed these on to my daughters teachers (multiple batches) as well as everyone from church as well as neighbors and friends.
You may be asking how difficult can a recipe with 4 ingredients really be, and I'm here to tell you very.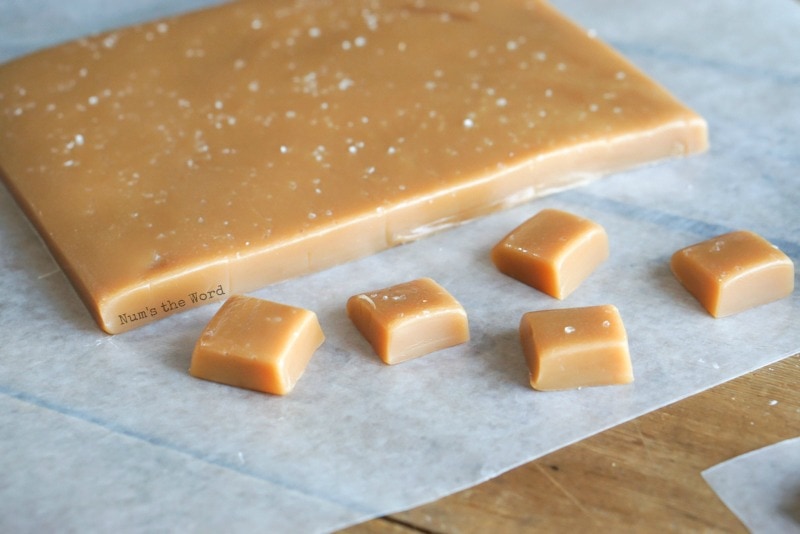 Figuring out the right balance of ingredients was the easy part.  The difficult part (and main reason for so many batches) was the temperature.
How long do I cook these?!
We made caramels at 240*F, 242*F, 243*F and 244*F.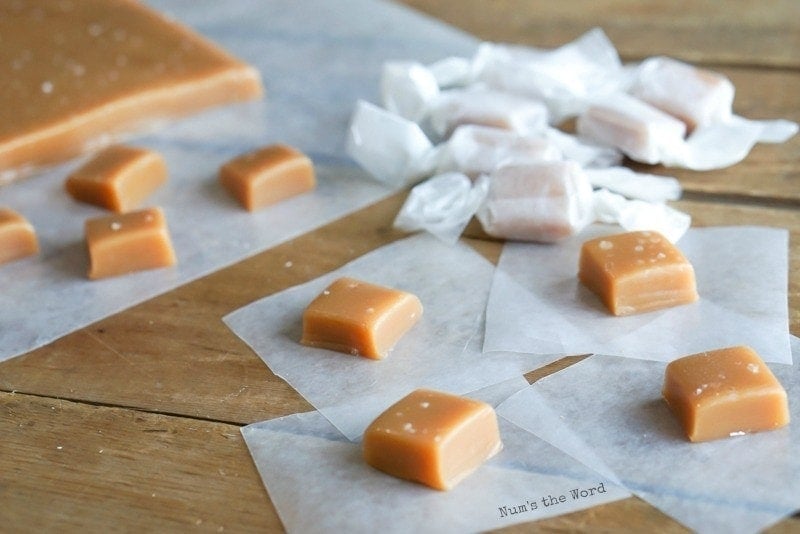 I wanted a caramel that wasn't too sticky and would pull out a cavity and wasn't too hard that it would break a tooth.
Something that was rich in flavor and the right amount of chew.
In the end, I figured out the exact ingredients, the best process (cue a few boil over messes) and the right temperature.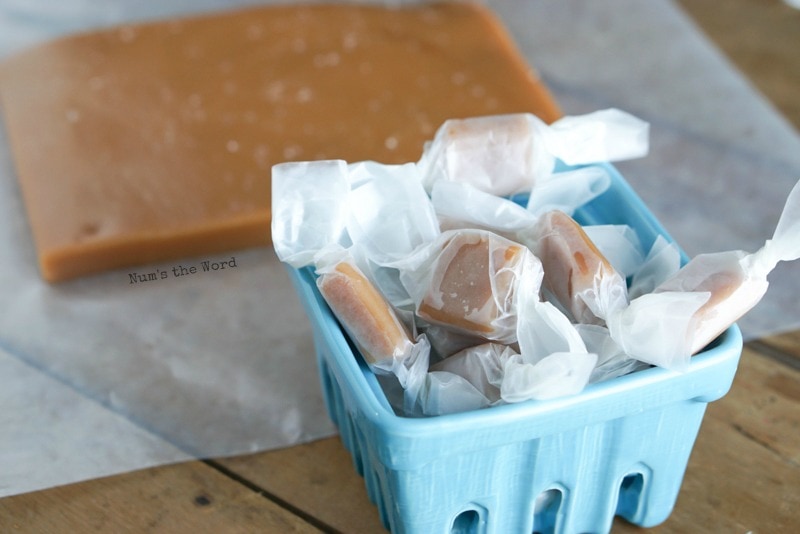 Whew.  Talk about a crazy few weeks of caramels.
If that wasn't crazy enough I also decided to do several variations of caramels once I got the recipe figured out!
The funny thing is that I wasn't going to do caramels for the website at all.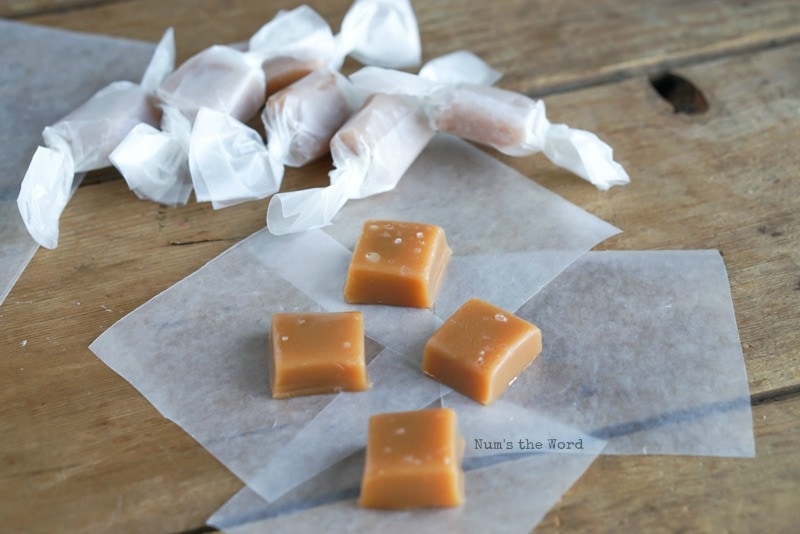 I love them but always felt that they were going to be difficult to make.
This is why I've stuck to my microwave caramel version instead.
However, thanks to my friend Nate since he's the one who got me into the caramel making business!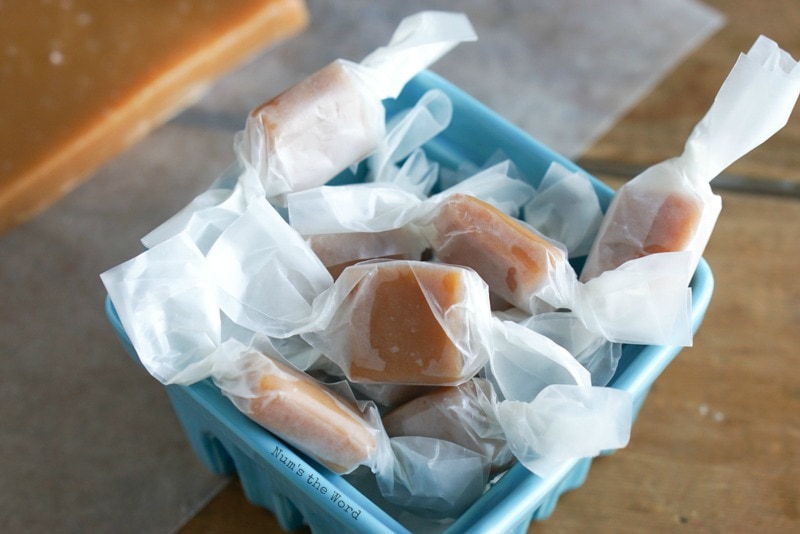 Overall we are in LOVE with this recipe.
Yes it's time consuming but HOLY GUACAMOLE is it worth every single minute!
If you are a fan of caramels and want to try the best dang caramels on the planet, then give these Sea Salt Caramels a try!
Yield: 100 Caramels
Sea Salt Caramels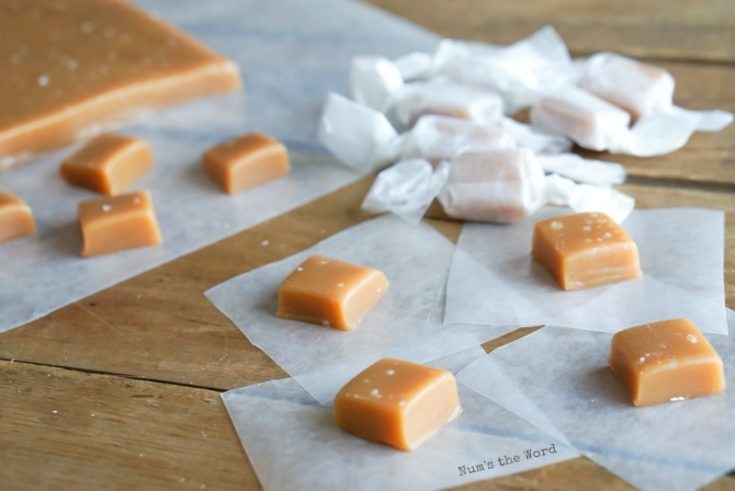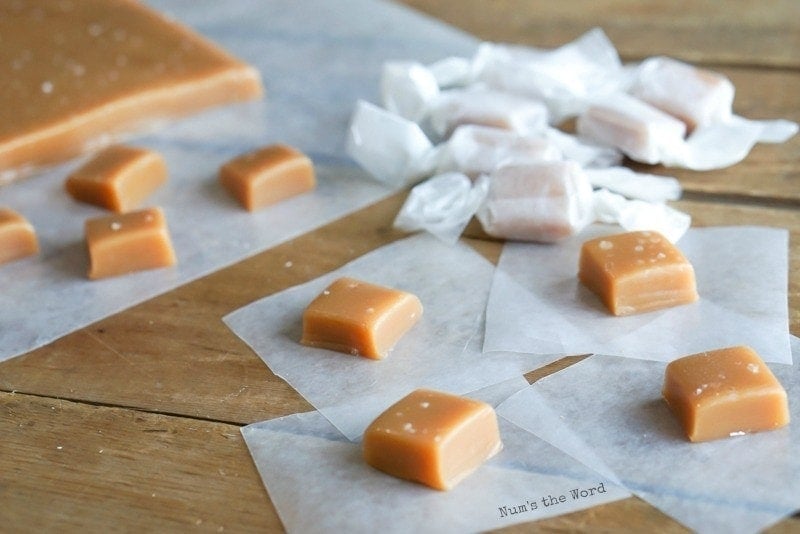 These Sea Salt Caramels are THE BEST CARAMELS ever. Rave reviews by EVERYONE who has tried them and LOTS of trial and error to create the perfect caramels!
Total Time
1 hour
45 minutes
Ingredients
2 cups white sugar
1/8 teaspoon salt
1 cup white Karo syrup
3 cups heavy whipping cream
Candy thermometer or digital thermometer. I prefer a digital meat thermometer.
1 Tablespoon coarse sea salt
Instructions
Line a 9x13 casserole dish with parchment paper that you spray with cooking spray or nonstick foil. Make sure liner comes up over the edges of the pan on all sides.
In a LARGE pot mix sugar, salt, corn syrup and whipping cream.
Clip a candy thermometer onto the pan if your pan allows. If not, you'll have to check the temperature regularly with your thermometer then rinse it off after each time.
Cook caramel mixture over medium heat (I like to cook mine at a 7.5 level on my stove) until caramel reaches 243*F. Caramel should cook at a heavy simmer / boil and will double, if not triple, in volume from the bubbles.
Stir caramel mixture every few minutes to prevent from scorching the bottom of the caramel.
The mixture will come to 218*F pretty quickly, so don't panic. Between 218*F - 243*F will take a little while.
As you cook and stir, the caramel will start off white, then a light caramel then eventually a rich caramel color.
Once caramel reaches 243*F, remove from stove.
Pour mixture into prepared pan and sprinkle with coarse sea salt.
Allow to cool for 1 hour or more, until caramel has set.
If caramel is still sticky when cutting, it's still slightly warm in the center. Caramel should cut without sticking to knife.
Notes
I have made these using a 9x13 casserole dish as well. Your caramels will be thicker so cut them smaller. Line pan with non-stick foil or cooking spray as directed.
Other Recipes Using Caramel