These Ham Steaks with Sauteed Apples are the perfect 30 minute main dish your family will love. Buy ham steaks or use leftover ham! The Cracker Barrel style Sauteed Apples (Fried Apples) are to die for!
This post contains affiliate links.  If you click on an affiliate link and make a purchase, I will make a small percentage on your purchase. This helps keep this website running! Thank you!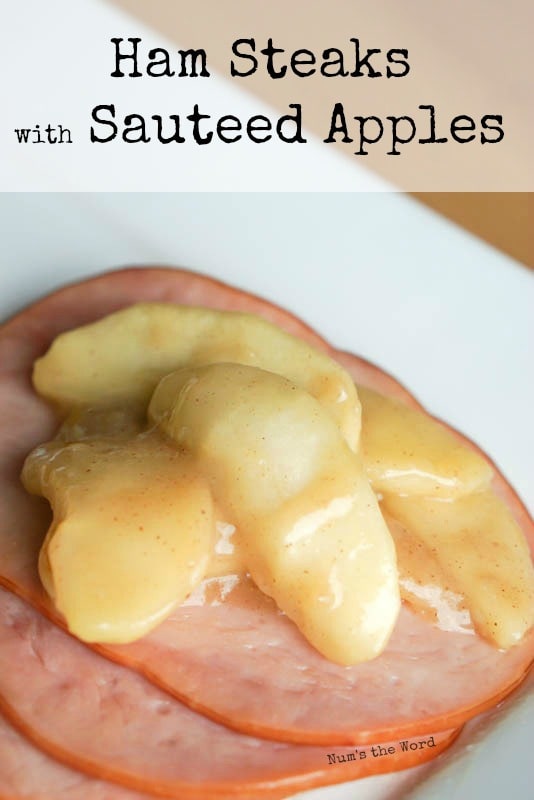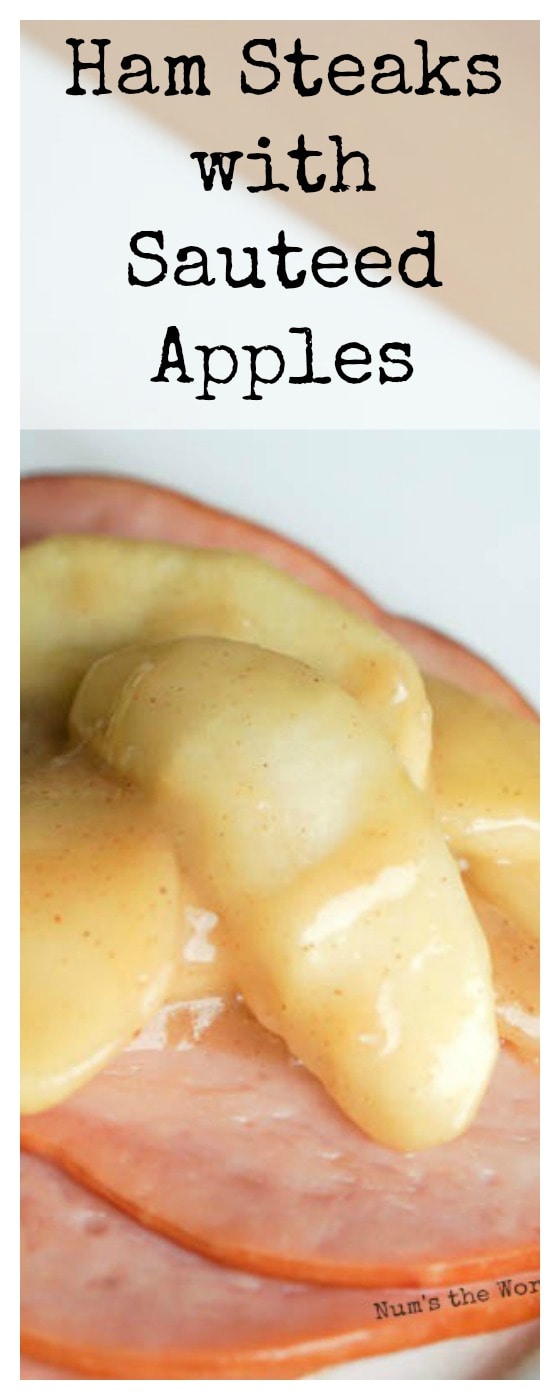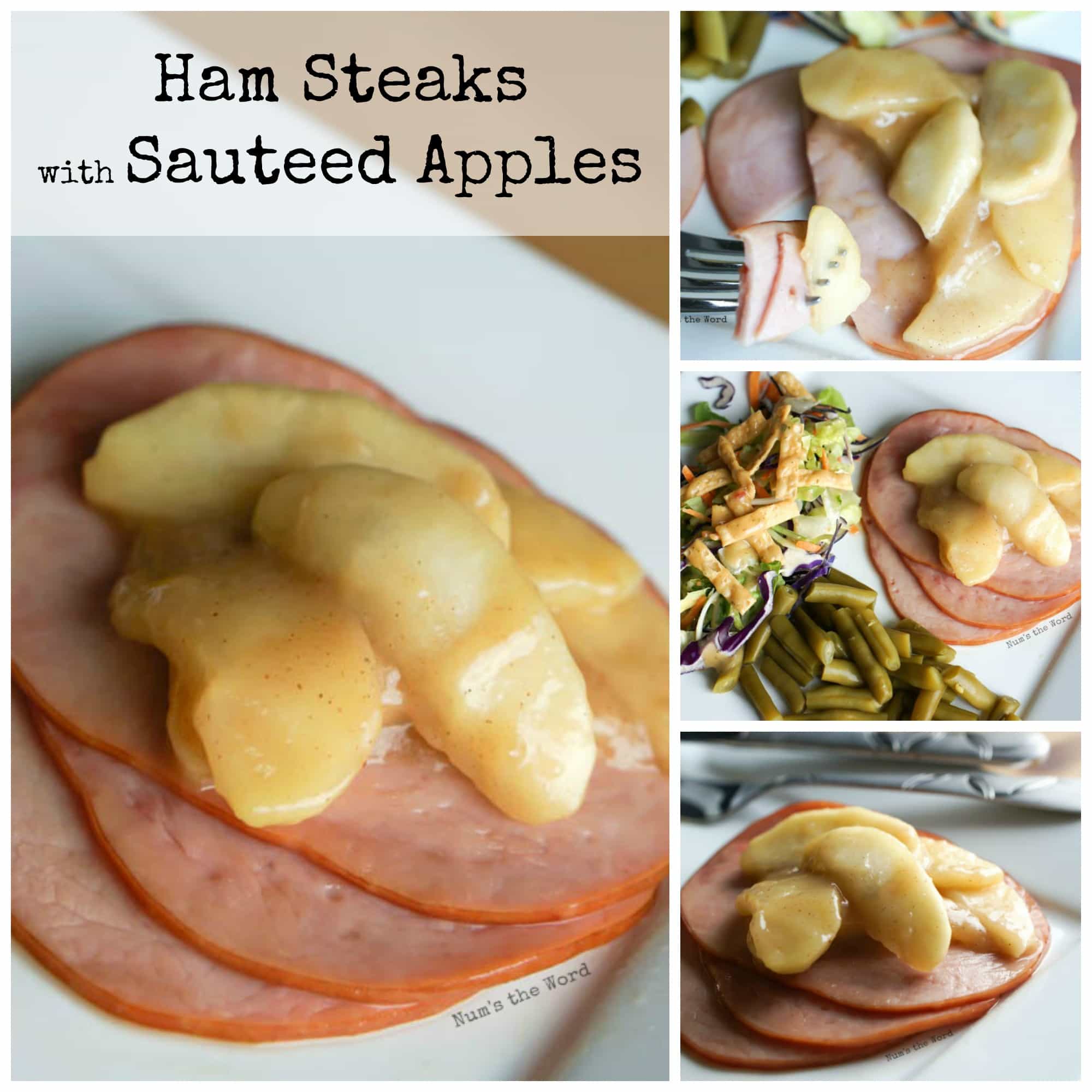 What if I told you that you could make this dinner, including the sauteed apples, in 30 minutes?!
Any dinner that is ready in 30 minutes is fabulous and to get something as tasty as this is just a bonus.
These Sauteed Apples are one of our favorite side dish treats.
We think they taste just like the Fried Apples you can get from Cracker Barrel.
These apples aren't just quick to make, but they also taste like apple pie!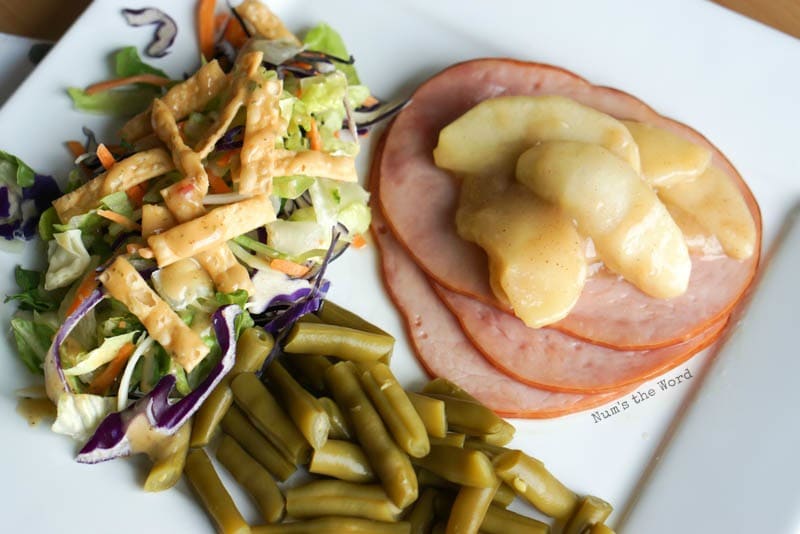 Anything that tastes like apple pie, not only goes great with ham but also ice cream and pancakes too!
Our personal opinion is that the Sauteed Apples make a versatile dish and are really the star of these Ham Steaks.
There are two different ways I like to make these Ham Steaks with Sauteed Apples.
The first way is to use a nice slice of leftover ham.
The second is to buy an actual Ham Steak from your local grocery store, which is already a cooked ham slice that needs to be heated up.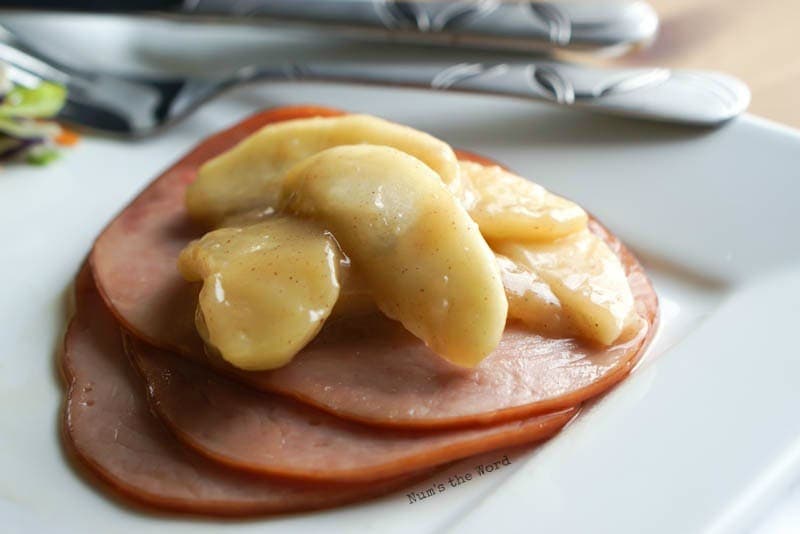 Both ways work.
However the method you use will really depend on what you have on hand.
When making this dish, the first thing you'll want to do is make the sauteed apples.
The apples themselves take 20 minutes to make and are hands down one of my favorite side dishes.
As stated earlier you can use Sauteed Apples on ice cream, pancakes, as a side dish or even on top of a ham steak!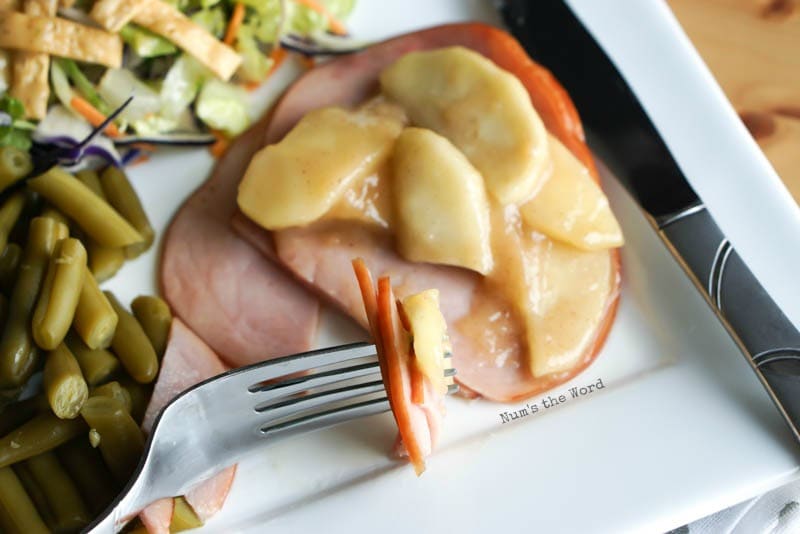 The reality is, that these ham steaks make a great kid friendly meal as well as being easy and delicious!
I should mention that they reheat well for lunch the next day as this is always a key factor for us when it comes to evening meals!
Such an easy and quick way to use up leftover Holiday ham!
One question I get quite often about this recipe is "where do you find ham steaks"?
My answer is always, " at your local grocery store".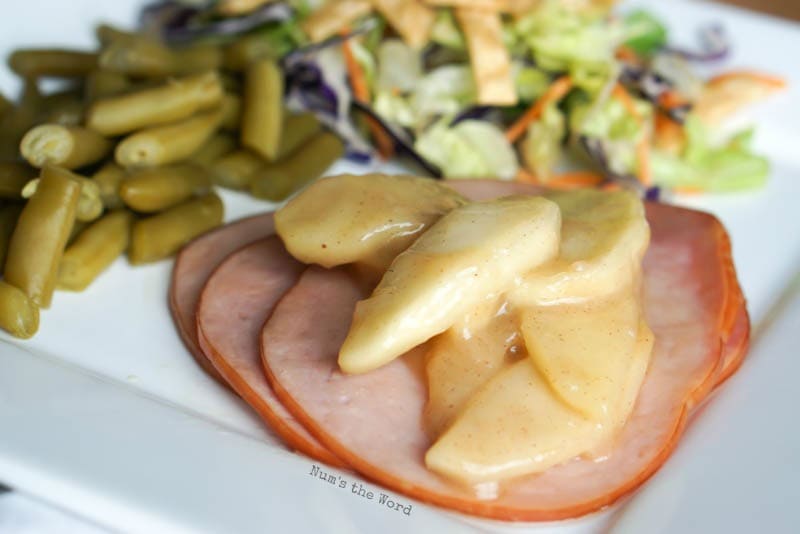 If you are unfamiliar with ham steaks it's because you simply haven't noticed them before.
They are there, I promise.
Just check the ham section or ask your meat stand person and I'm sure they'll be happy to help you locate them.
I've picked up a two pack of large steaks as well as smaller sliced precooked hams to use as well.
The larger steaks were a fairly large and easily fed 2 adults and 2 children.
Now if you don't want to use a ham steak, then I highly suggest using leftover ham!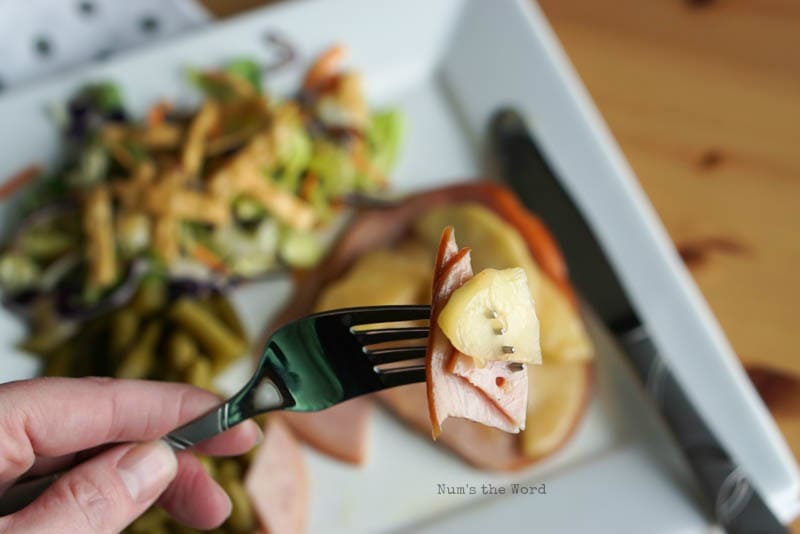 I should quickly point out that any flavor of ham will work well with the Sauteed Apples, so don't fret over that.
This makes a great leftover ham recipe for Thanksgiving ham, Christmas ham, Easter ham or weeknight ham.
I hope you'll give these easy and tasty ham steaks a chance and please don't forget the sauteed apples.
Ham Steaks with Sauteed Apples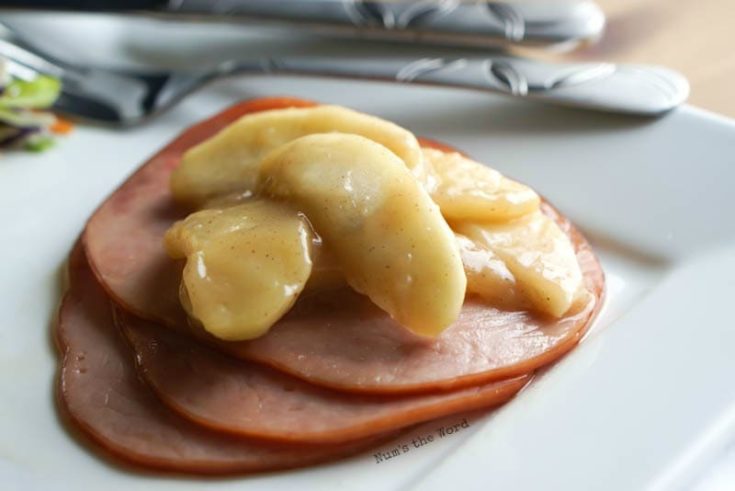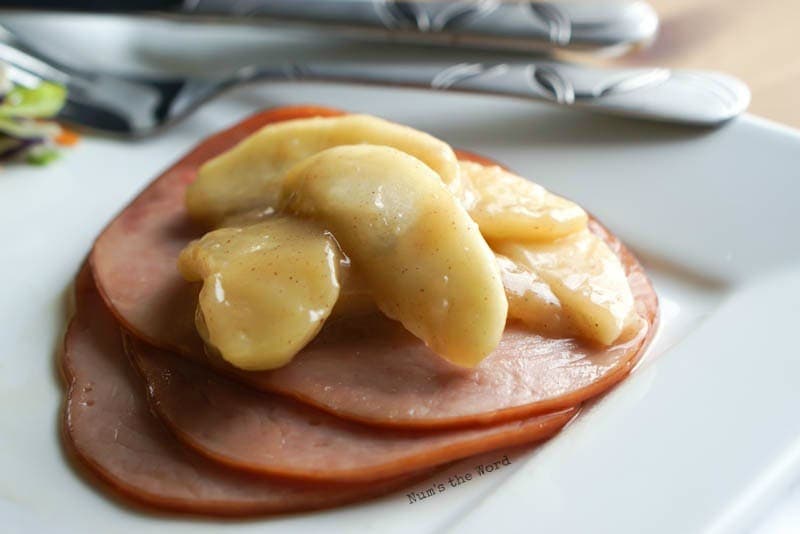 Ingredients
1 recipe for Sauteed Apples - 20 minutes to make!
1 package (any weight) Ham Steaks
1 Tablespoon butter (per steak)
1 Tablespoon brown sugar (per steak)
Instructions
In a skillet, heat butter and brown sugar together until butter is melted and brown sugar is dissolved.
Add ham steak into pan and cook 3 - 4 minutes on each side until cooked through.
Place ham steak on plate and top with fresh or warmed up sauteed apples.
Notes
You can eat these ham steaks as is, or you can top with sauteed apples. Topped with the sauteed apples adds to the flavor and is incredible!
Originally Posted: January 11, 2016
Photos and Text Updated: March 20, 2018
Other Ham Recipes You'll Love...