These Easy Chicken Enchiladas make for a quick and filling weeknight meal that the entire family will enjoy!
With only 6 ingredients, you can whip these up the night before and pop them in the oven when you get home from work!
These enchiladas are definitely one of our favorite meals!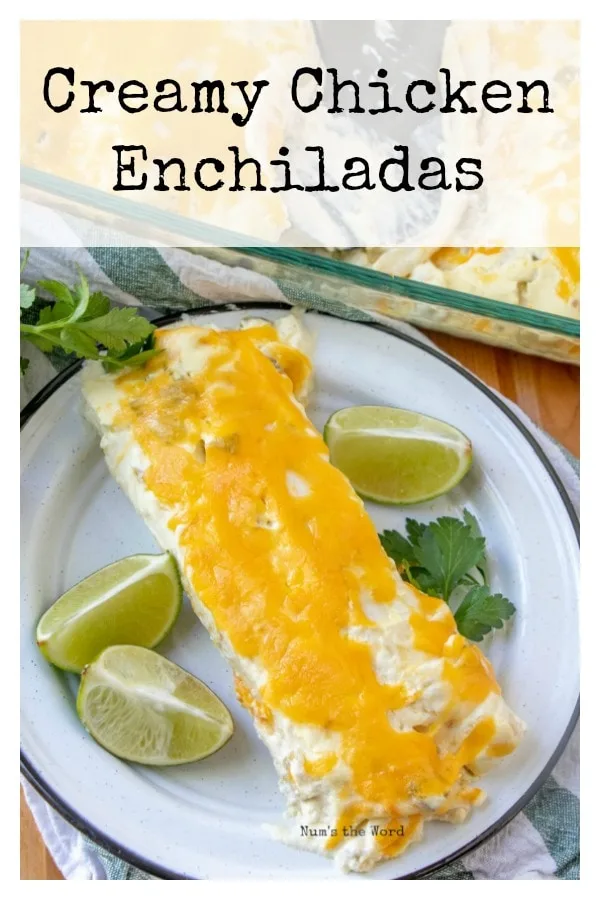 I love diving into a plate of warm Creamy Chicken Enchiladas — saucy, creamy, and flavorful goodness.
I once thought that because they were so delicious, they certainly must be difficult to make.
I was so happy to learn that one of my favorite meals was quick, easy, and one that my family loves to share with me.
These Creamy White Chicken Enchiladas only have 6 ingredients and are ready to serve in just 35 minutes!
Because there isn't much to do and it doesn't take long to make, this makes for a perfect weeknight meal. This is the best Chicken Enchilada recipe around!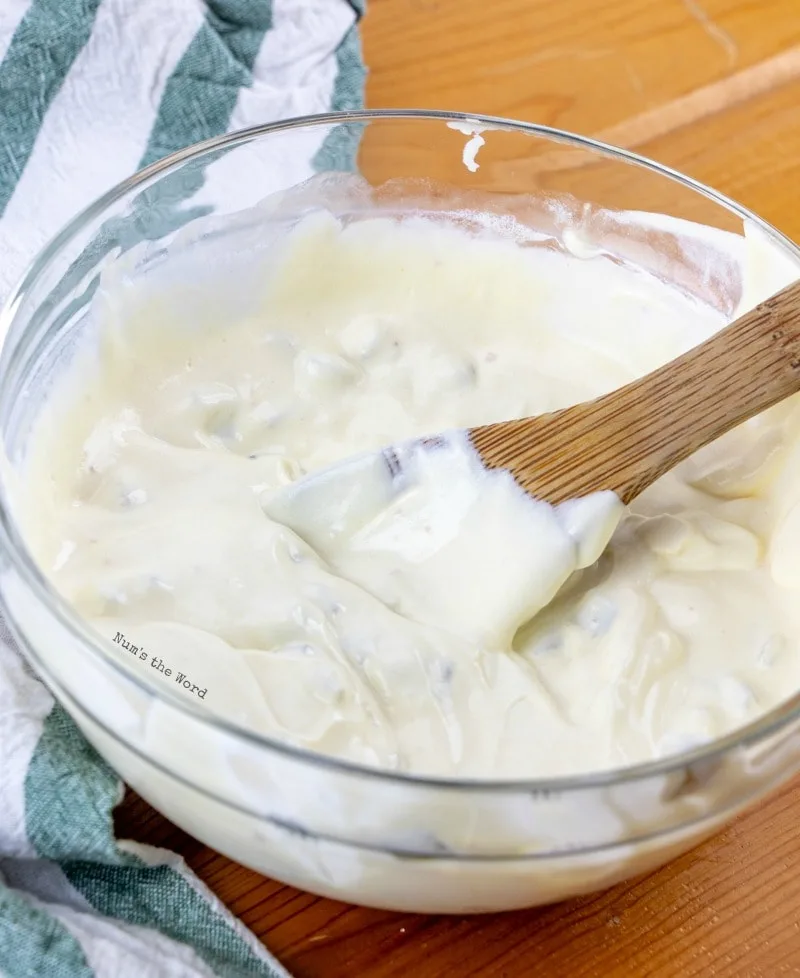 What's in these Creamy Chicken Enchiladas?
To make the best Chicken Enchilada Recipe you need six key ingredients:
Sour Cream:

You'll need sour cream for your Creamy Chicken Enchiladas sauce you'll roll up and cover the enchiladas with. But you can always save some for a fresh dollop on top!

Cream of Chicken Soup:

This is the main base for our homemade enchilada sauce.

Green Chiles:

These provide a lot of great flavor, and they aren't spicy!

Flour Tortillas:

Enchiladas are traditionally made with corn tortillas, but I like to use flour tortillas because they are easier to roll and soak up the sauce!

Cheese:

I tend to use mild shredded cheese, but if you prefer a Colby Jack mix or Mexican Cheese blend, or even Pepper Jack cheese to give it some extra magic, then go for it!

Chicken Breasts:

You could also use a rotisserie chicken if you want to cut down on prep time! That makes these enchiladas even easier and faster to prepare!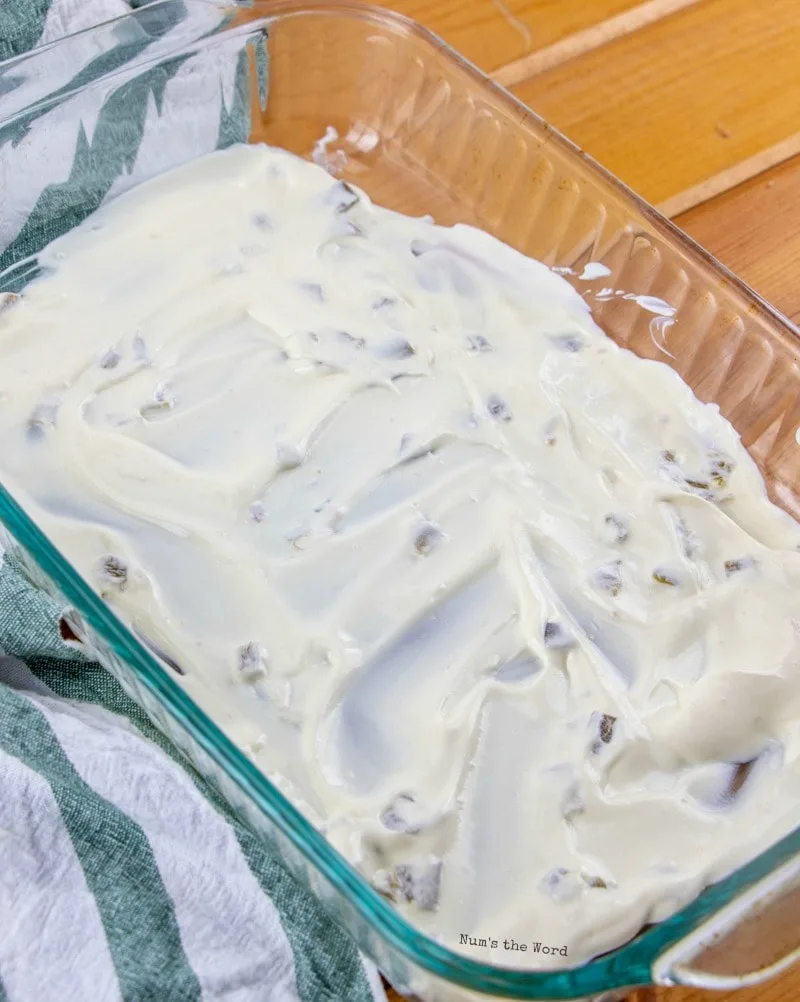 How to make Creamy Chicken Enchiladas:
Make the Sauce:

The sauce is everything!

Coat your Pan:

To prevent the enchiladas from sticking to the pan, I like to spread a little sauce on the bottom before adding my enchiladas.

Create the Enchiladas:

Now is the time to add your sauce and chicken to your tortilla! Num!

Top it Off:

Top with remaining sauce sprinkle with cheese.

Cook it Up:

Because the chicken is already cooked, you simply need to bake them long enough to warm up!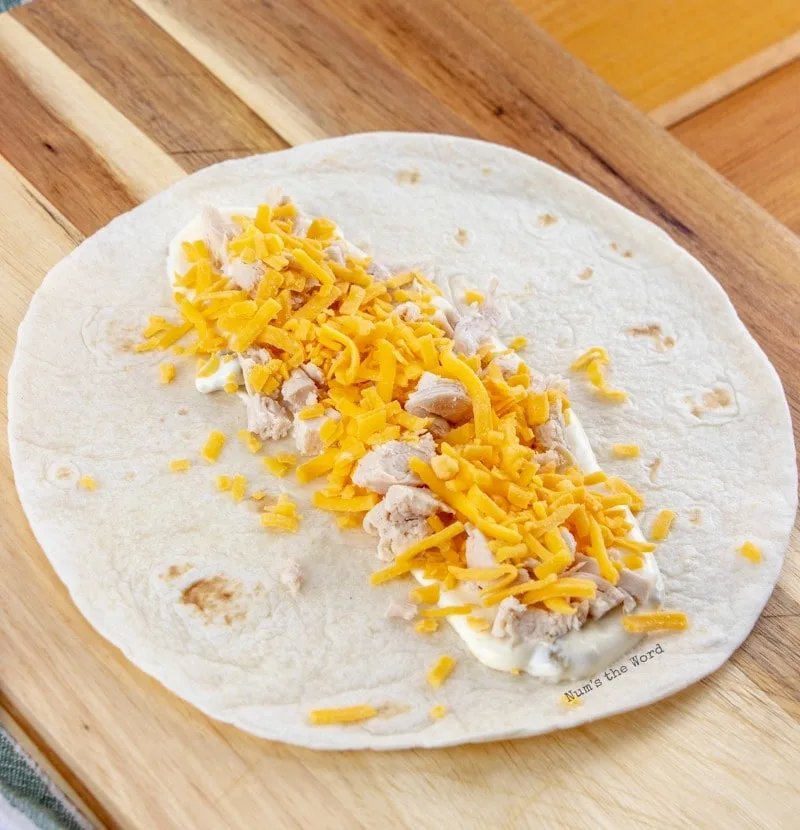 What to serve with Creamy Chicken Enchiladas:
Toppings: These Creamy Chicken Enchiladas taste great with a few extras you can customize to your own tastes!
An extra dollop of sour cream on top

Fresh Cilantro

Sliced avocado

Diced red onion
Sides: You can't go wrong with a few yummy side dishes!
Add some tortilla chips and you'll feel like you're at your favorite Mexican restaurant!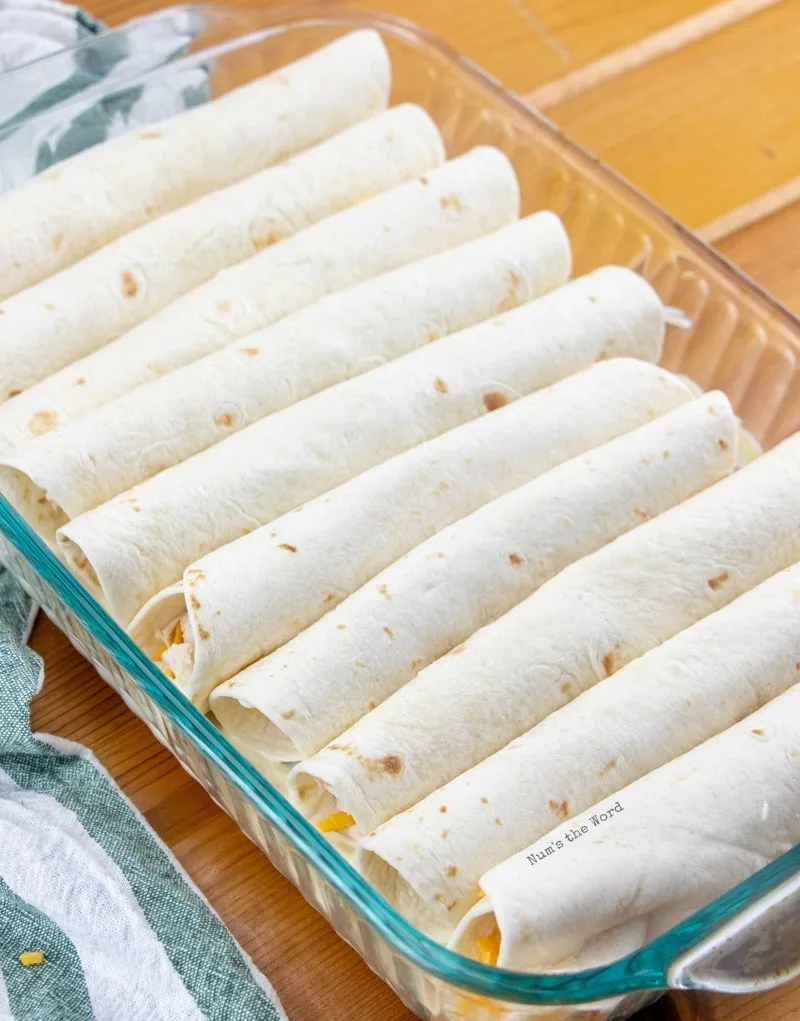 How to make shredded chicken for Creamy Chicken Enchiladas:
If you're using fresh chicken breasts, you'll first cook your chicken. I highly recommend this air fryer chicken breast recipe to make this step in the recipe go by quickly.
Then, take two forks and shred the chicken up by poking and pulling apart the chicken breasts. Voila! Shredded chicken!
If you prefer the boil method, simply add 4 chicken breasts to a pot with 4 cups of chicken broth.
Boil for 10 minutes or until center of each breast reaches 165*F. Then remove chicken from broth and shred.
You could also use a rotisserie chicken or canned chicken to cut down on your prep time.
If you do this, still shred the chicken with the fork method until you've got bite size pieces of chicken to roll into your Cream of Chicken Enchiladas.
Can I make Creamy Chicken Enchiladas ahead of time?
To freeze unbaked enchiladas:
Certainly! Just follow the recipe through until you get to baking! Stop there — and bake right before you are ready to eat.
You can put your enchiladas together a day in advance or even freeze them to bake in the future!
If you're going to freeze them, make sure they're covered well in the freezer to prevent freezer burning.
To reheat frozen enchiladas:
Preheat oven to 375*F and bake covered with foil for 40 minutes. Then uncover and bake for an additional 20 minutes.
Stick a toothpick in the center to ensure enchiladas are cooked through.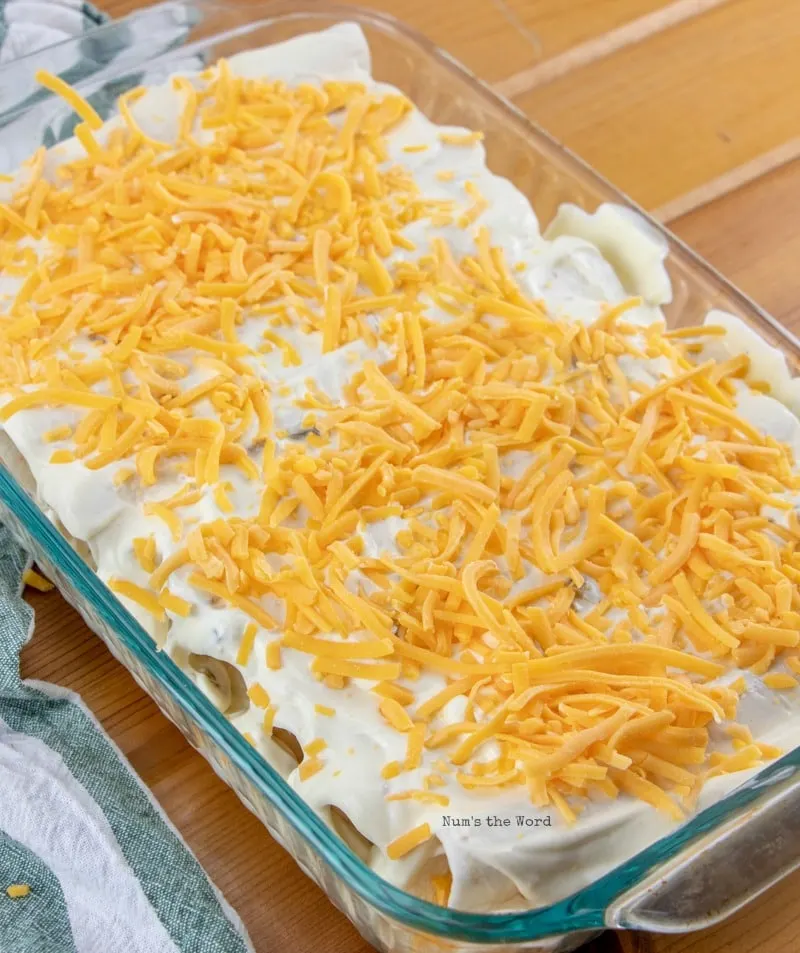 How to enjoy these Creamy Chicken Enchiladas reheated:
If you store these properly (fully covered, air tight container) they should last in your refrigerator for up to 4 days!
I love to reheat them in the microwave; all of the flavors have soaked together a bit longer and taste just as good a day or two later!
You can also pop them back in the oven, covered, for an additional 20 minutes, or until heated through.
Are Creamy Chicken Enchiladas bad for you?
If something makes you happy, I say it's good for you!
These Creamy Chicken Enchiladas might not cut it for a strict diet plan, but they are loaded with happiness and protein — and that is not bad for you!
Mexican inspired Creamy Chicken Enchiladas are definitely one of my favorite meals.
I have found that this is the best Chicken Enchilada recipe because it has a simple list of ingredients and is ready in just over half an hour.
I could probably eat everything by myself, especially since these are great as leftovers — but it is certainly a bonus that my family loves them too.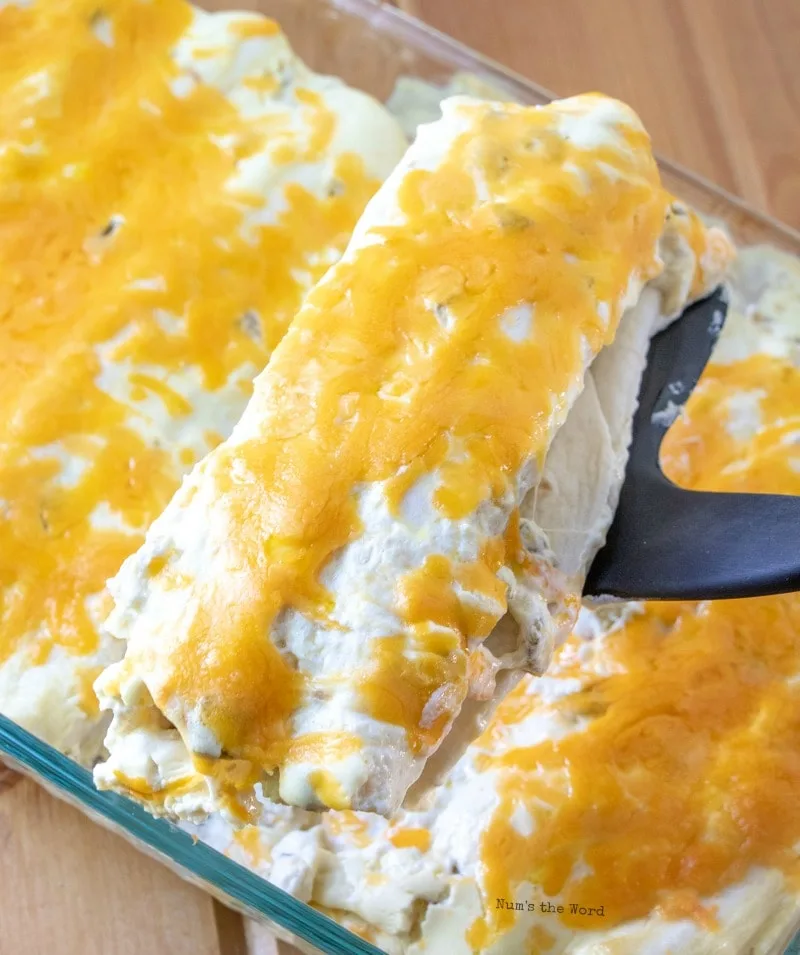 Other Mexican Recipes You'll Love…
Yield: 6 servings
Creamy Chicken Enchiladas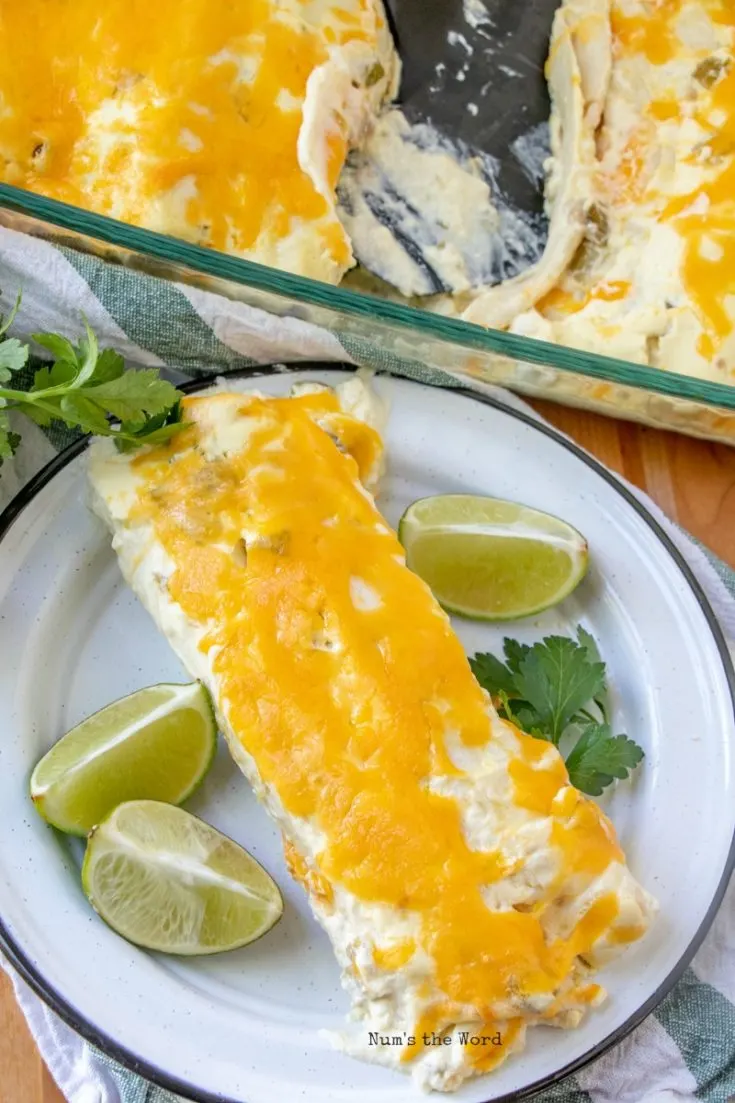 Creamy Chicken Enchiladas – These simple non-traditional enchiladas are a huge hit with our family. 6 ingredients and 30 minutes is all you need for an awesome meal!
Ingredients
1 pint sour cream
1 (10.5 ounce) can cream of chicken soup
1 (4 ounce) can green chilies, diced
10 flour tortillas
2 cups cheddar cheese, shredded
3 chicken breasts pre-cooked & cut up or use a Rotisserie Chicken!
Instructions
Preheat oven to 350*F.
Combine sour cream, soup and chilies in a bowl.
Take 3/4 cup of soup mixture and slather the entire bottom of a 9x13 casserole dish. This will be a thin layer that will help the enchiladas from sticking to the bottom.
In each tortilla, layer soup mixture, cheese & chicken.
Roll up and place in casserole dish.
Top with remaining soup mixture and sprinkle with remaining cheese.
Bake for 20 minutes or until hot and bubbly and cheese is melted.
Nutrition Information:
Yield:
8
Serving Size:
1
Amount Per Serving:
Calories:

333
Total Fat:

20g
Saturated Fat:

9g
Trans Fat:

1g
Unsaturated Fat:

7g
Cholesterol:

96mg
Sodium:

368mg
Carbohydrates:

17g
Fiber:

1g
Sugar:

2g
Protein:

22g
Recipe from Brenda Williams in the Laura's Legacy Cookbook
Originally posted: April 24, 2014
Photos & Text Updated: April 24, 2020