Creamy Chicken Enchiladas are an easy, mouthwatering, come back for seconds kind of meal!  And one you really should make for dinner tonight!
This post contains affiliate links.  If you click on an affiliate link and make a purchase, I will make a small percentage on your purchase, which helps keep this website running! Thank you!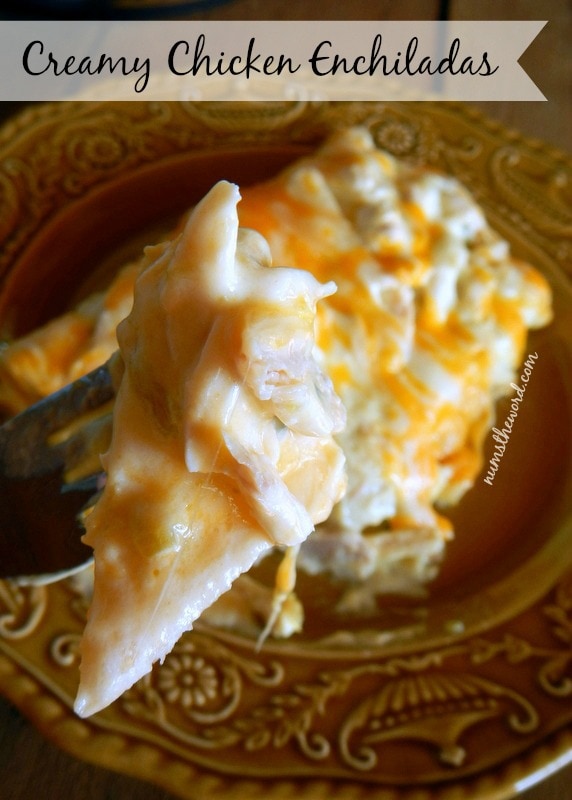 Let's take a trip down memory lane.
21 years ago, my dad and his sister were in charge of the family reunion.
This was a reunion that involved my Great Grandparents and all their children.
Each child's line would take a year and spread out the responsibilities.
So when it came to my grandfather's turn, my Dad and his sister took over and planned the whole thing.
Family Reunions in our family was a big deal back in the day.
Every time it was our family's turn to plan it, you knew it was going to be great.
Good food, good entertainment, games, and of course homemade ice cream.
As if that wasn't enough, the my Dad and his sister ALWAYS did something big.
And so years ago, before cool photo books or awesome technology, they put together their own family cookbook – binder style.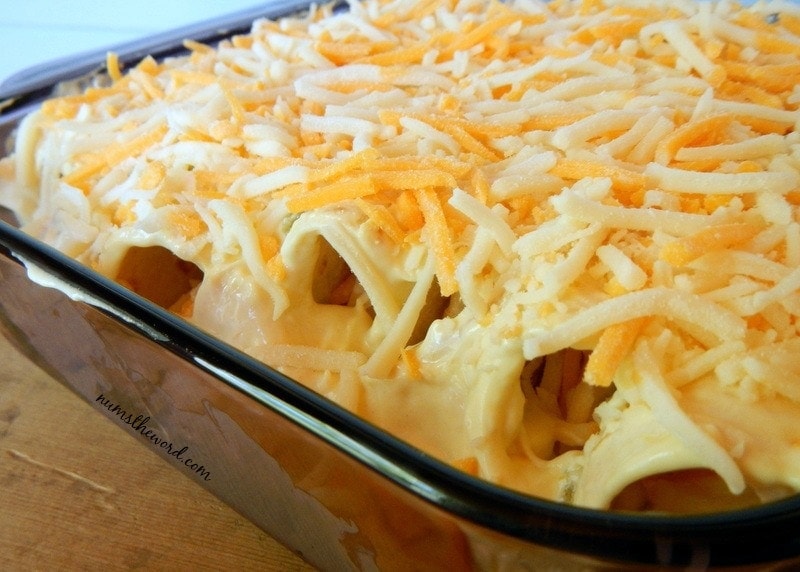 They had recipes submitted as far back as my great grandparents (who were alive back then), my grandparents and their siblings and then the cousins, 2nd cousins, 3rd cousins etc.
It turned out to be quite the book.
Everyone got copies and to this date, it doesn't matter whose home you walk into, you know that they have a family cookbook and that it is well used.
This recipe comes right from there – as well as the Chicken Cream Cheese Pockets.
Recently my grandmother even made it during one of our visits as she told me it was her go-to enchilada recipe as well.
So as you read over the ingredients you'll notice that these Creamy Chicken Enchiladas are not your typical enchiladas.
There is zero enchilada sauce used in the recipe.
Personally I don't really care for traditional enchiladas. – probably because I don't like enchilada sauce.
However this alternative is simple (UBER simple) to make and they really do taste amazing.
So if you are looking for a simple non-traditional enchilada recipe, this is it.

Yield: 6 servings
Creamy Chicken Enchiladas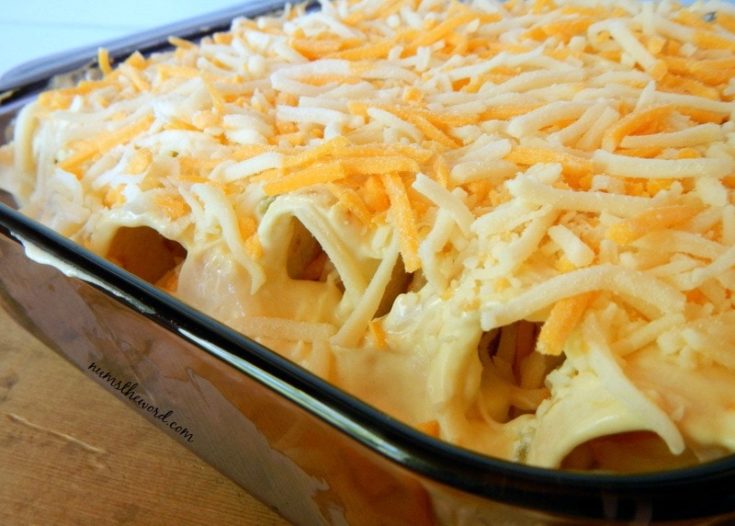 Ingredients
1 pint sour cream
1 (10.5 ounce) can cream of chicken soup
1 (4 ounce) cans green chilies, diced
6 flour tortillas (we used whole wheat but any will work)
1 small package mild cheese, shredded
3 chicken breasts pre-cooked & cut up or use a Rotisserie Chicken!
Instructions
Preheat oven to 350*F.
Combine soup, sour cream and chilies in a bowl.
Take 3/4 cup of soup mixture and slather the entire bottom of a 9x13 casserole dish. This will be a thin layer that will help the enchiladas from sticking to the bottom.
In each tortilla, layer soup mixture, cheese & chicken.
Roll up and place in casserole dish.
Top with remaining soup mixture and sprinkle with remaining cheese.
Bake for 20 minutes or until hot and bubbly and cheese is melted.
Recipe from Brenda Williams in the Laura's Legacy Cookbook
Tasty Side Dishes You'll Love...