This tasty Mexican Sour Cream Rice side dish is the perfect alternative to traditional Mexican/Spanish rice. It's easy to make and a great side dish for Cinco de Mayo! It also makes for a great burrito filler too!
This post contains affiliate links.  If you click on an affiliate link and make a purchase, I will make a small percentage on your purchase. This helps keep this website running! Thank you!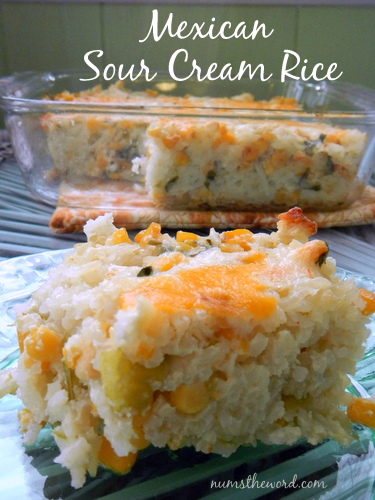 We LOVE Mexican food in our family and this Mexican Sour Cream Rice is mighty tasty!
I'd have to say that Mexican cuisine is my favorite kind of food.
I'm also a huge fan of classic American and Thai food coming in as a close third.
There is such a diversity of flavors and combinations and Mexican food is easy to create and make.
I also love how Mexican food is pretty hard to mess up.
You can easy substitute ingredients with what you have on hand and it pretty much always turns out!
This Mexican Sour Cream Rice makes a tasty side dish for your dinner or for your Cinco de Mayo meal.
It's a perfect side dish for anyone who is looking for something different than the traditional Mexican/Spanish rice.
However, you can upgrade this side dish to a main meal by adding in some shredded rotisserie chicken or even leftover turkey!
I've also had suggestions by those who have tried it that it would make for a great burrito filler.
Rather than your traditional Mexican Rice, you could add this, your protein and some yummy salsa to create a tasty meal!
Just keep that idea in mind if you have any leftover!
This Mexican Sour Cream Rice is easy to make, tastes delicious and is something that everyone will love.
Plus it reheats well.
This is very important to me as we tend to always have leftovers when we cook!
To reheat it, just add a little extra cheese, nuke it and you've got a great leftover dish.
This would go great with any Mexican meal!
However, don't limit yourself!
Try this with any meal that needs a tasty side dish!
It's sure to be a nice change from the standard boring sides we all eat every night!
As you'll see by reading the comments below, several people have tried it, loved it and many have even tweaked it to meet their dietary or taste bud needs – and it always turns out great!
It's really a side dish that goes well with any meal (Mexican/Spanish themed or not) and it really is quite tasty!
Go on, whip up this Mexican Sour Cream Rice tonight!
Yield: 9 Servings
Mexican Sour Cream Rice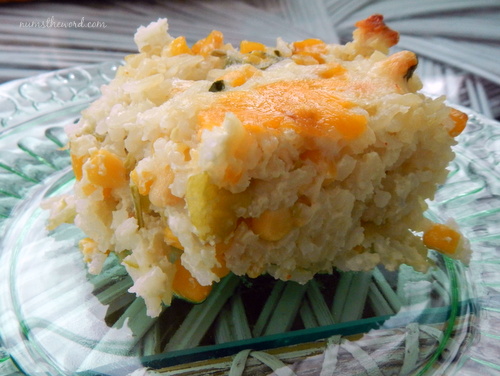 Ingredients
1 can (14 ounce) chicken broth
1 cup uncooked rice - we like Jasmine (NOT MINUTE RICE)
1 cup sour cream
4 ounces diced green chilies
1 cup shredded Monterey jack cheese
1 can (15.25 ounce) corn, drained or 2 cups fresh (yellow or white)
1/4 cup cilantro, chopped
1/4 teaspoon salt
Instructions
Preheat oven to 350*F
In a large pot, bring the rice and chicken broth to a boil.
Once rice begins to boil, cover and reduce heat to low. Simmer for 20 minutes.
Spray an 8x8 square casserole dish with non-stick spray set aside.
Once rice is done, all chicken broth will be absorbed.
Turn off burner and place pot on a cool burner.
Add to the rice the sour cream, green chiles, 1/2 cup Monterey Jack cheese, corn, and cilantro. Mix well.
Season with salt and mix again.
Pour rice mixture into prepared casserole dish, and top with remaining 1/2 cup of cheese.
Bake uncovered 30 minutes. Cheese will be bubbly and lightly browned.
Serve immediately!
Notes
TIP: A reader of ours left this comment below! Great tip for anyone wanting to use Minute Rice instead of regular rice.
"I made it with minute rice . I just fixed the rice as it said and then added it to bowl with other ingredients and cooked it til cheese melted! was great thanks!!!"
Recipe from Just a Pinch
Main Dishes You Should Try...