Mexican Stuffed Shells – If you love Mexican food and love food that reheats well for leftovers, then try these simple, yet delicious Mexican Stuffed Shells. A perfect dish!
This post contains affiliate links.  If you click on an affiliate link and make a purchase, I will make a small percentage on your purchase. This helps keep this website running! Thank you!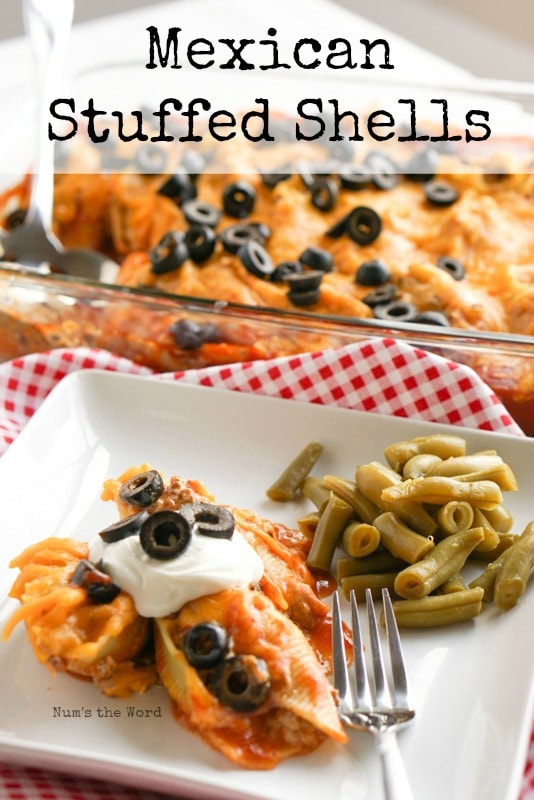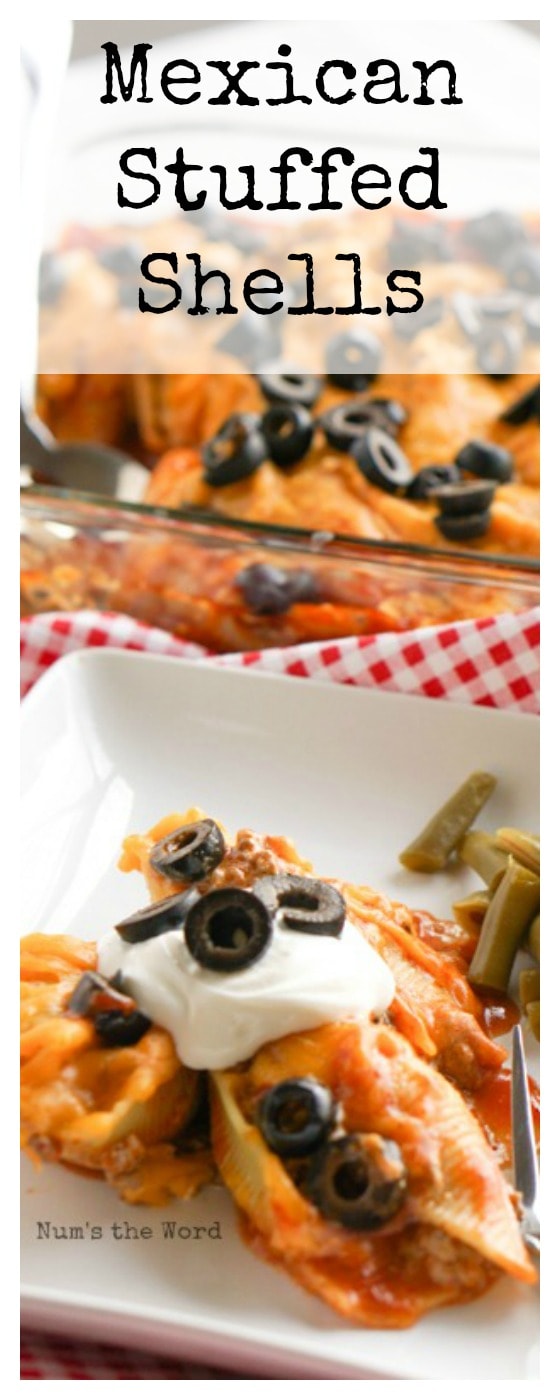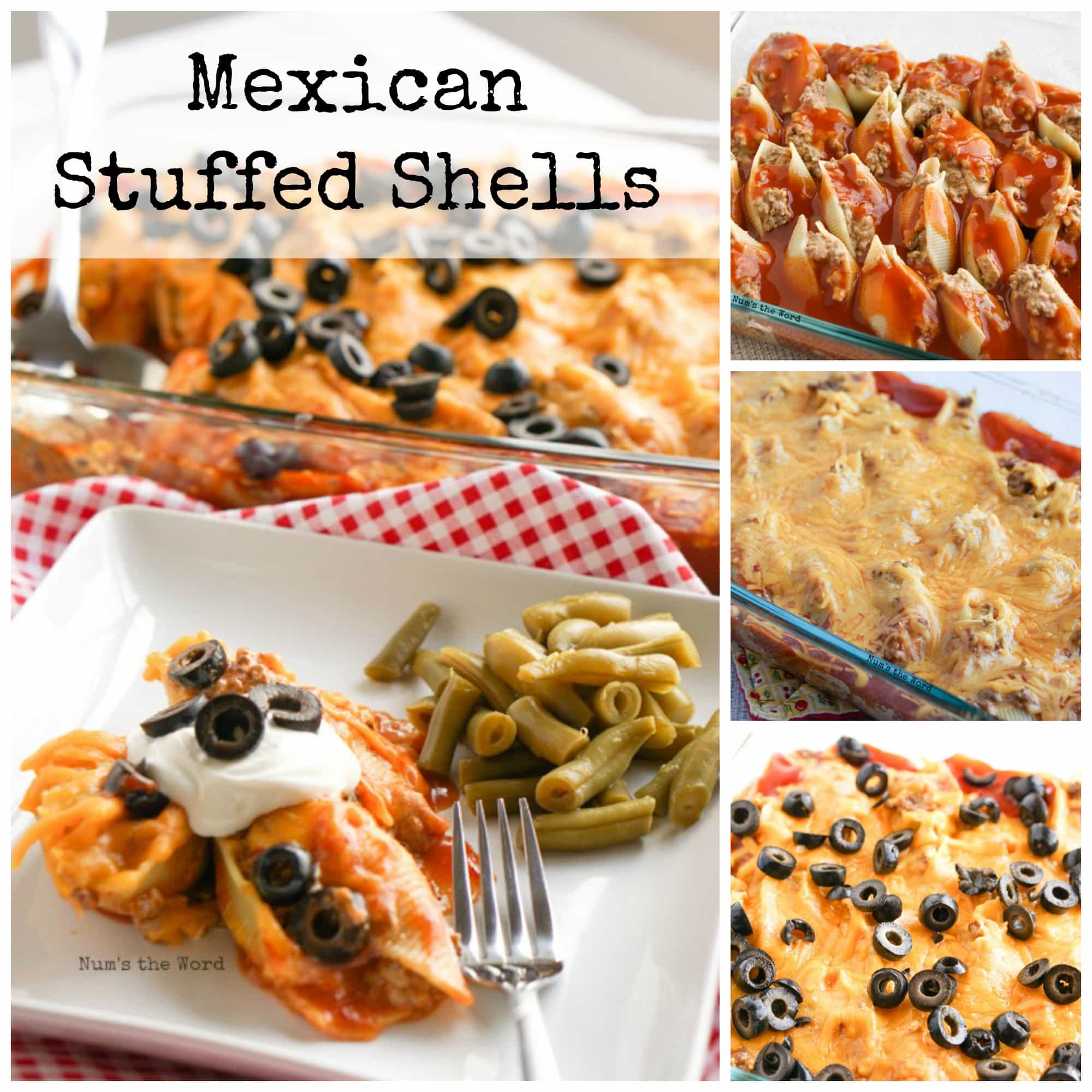 As I was editing new photos for this post (since the photos I had on here were pretty old), my husband leans over my shoulder and says – Oh, I really liked that.
My response was: Good, because we are having it again this week!
These Mexican Stuffed Shells are one of those simple but delicious meals.
Easy to pull together and tastes great.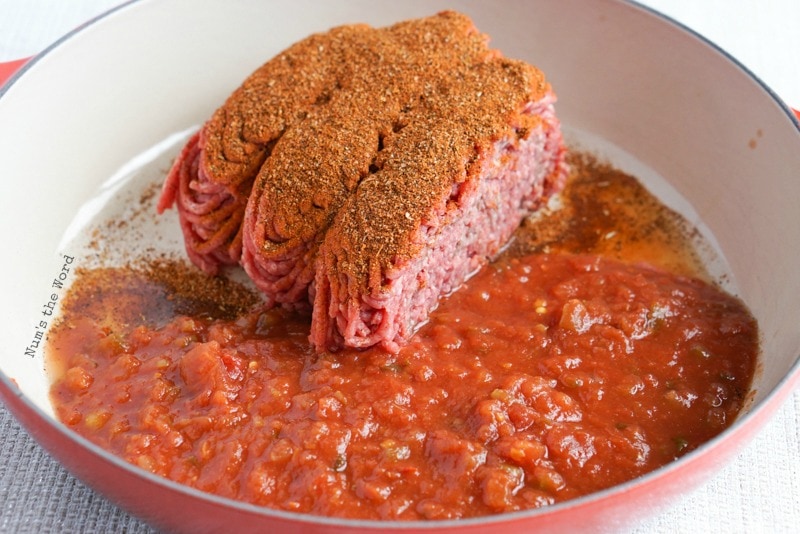 I should also mention that it reheats well too.
Back when I was first playing with this recipe, my husband made it clear that he was probably not going to like it.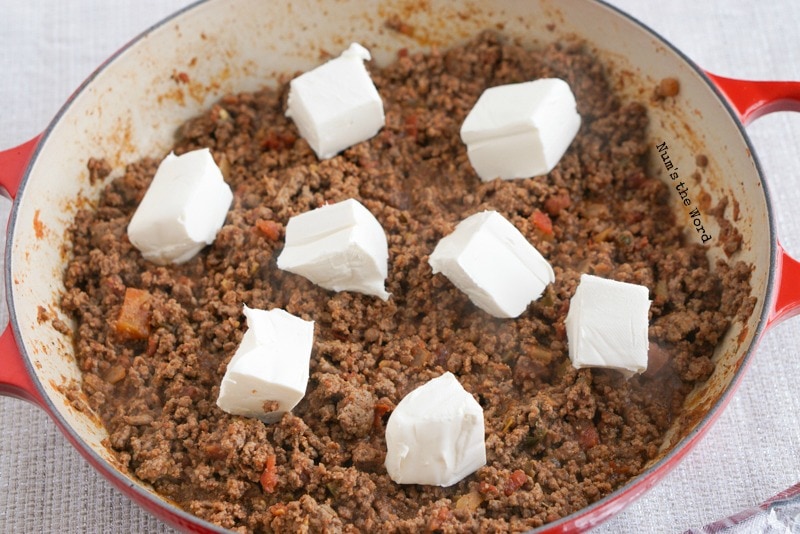 He's not a fan of enchilada sauce and because Mexican is my favorite genre's of food, we tend to eat it a lot.
As you saw above, he not only liked it but has requested it again.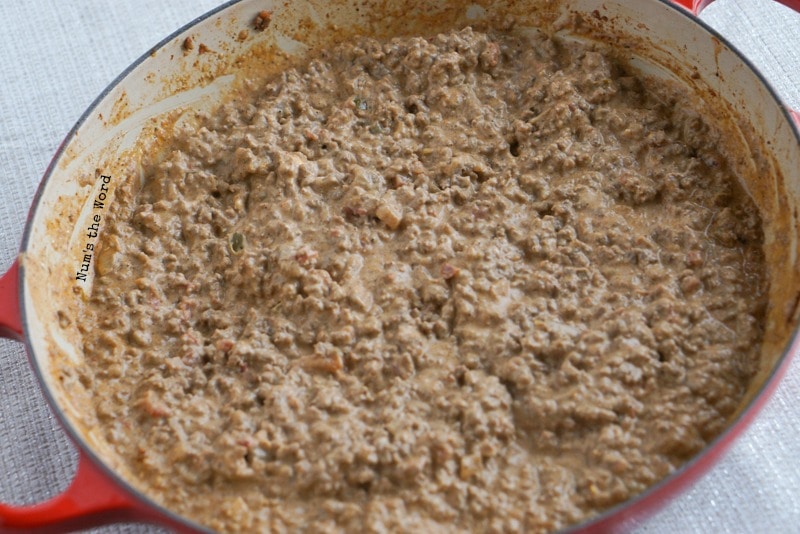 I made these Mexican Stuffed Shells for dinner one night and since our family is so small I didn't make the full batch of shells.
I only actually made half the shells.
However I saved the filling and per my husbands request, and made them again for lunch the next day.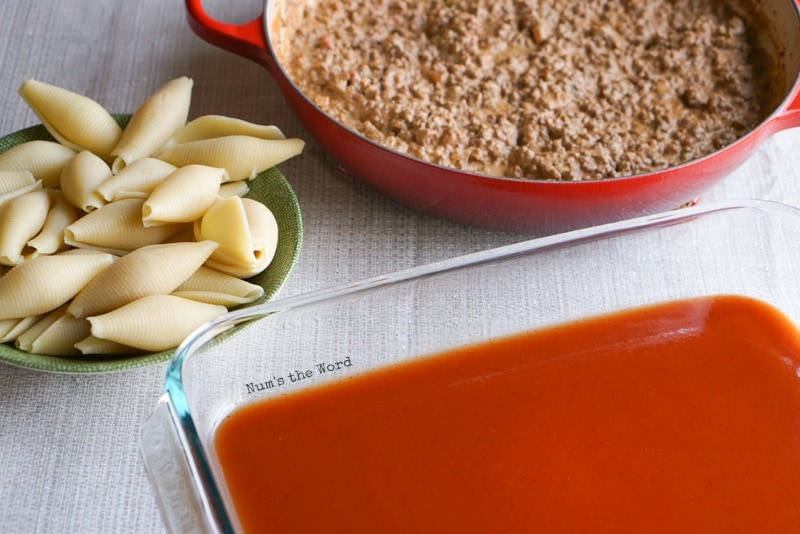 I should mention that my husband works from home.
We are around each other 24 hours a day, 7 days a week.
Well, pretty much.
And though some people would hate if their spouse worked from home, I actually enjoy it.
I find myself quite spoiled by it.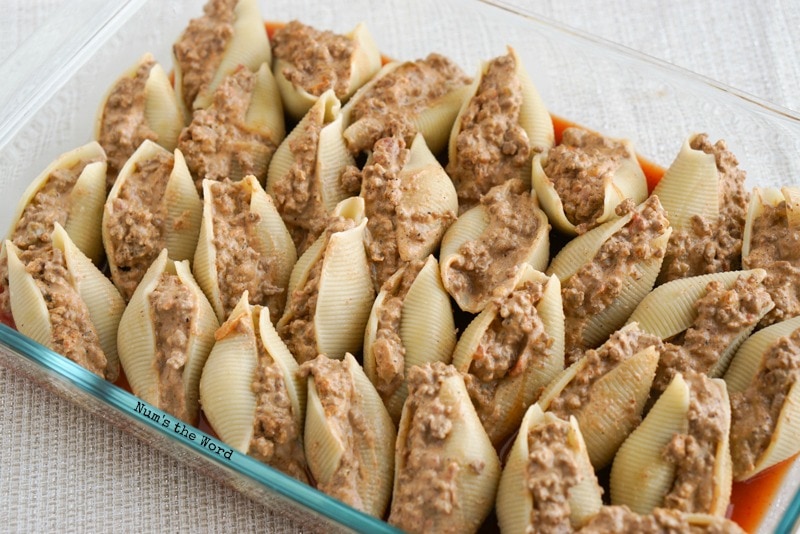 Because he works from home I can run errands while my son is napping, I can take my daughter to the movies and I can get a second pair of hands when it comes time to change a very squirmy 1 year old's diaper.
And it's really nice when I can make dinner for lunch so I can have the proper lighting.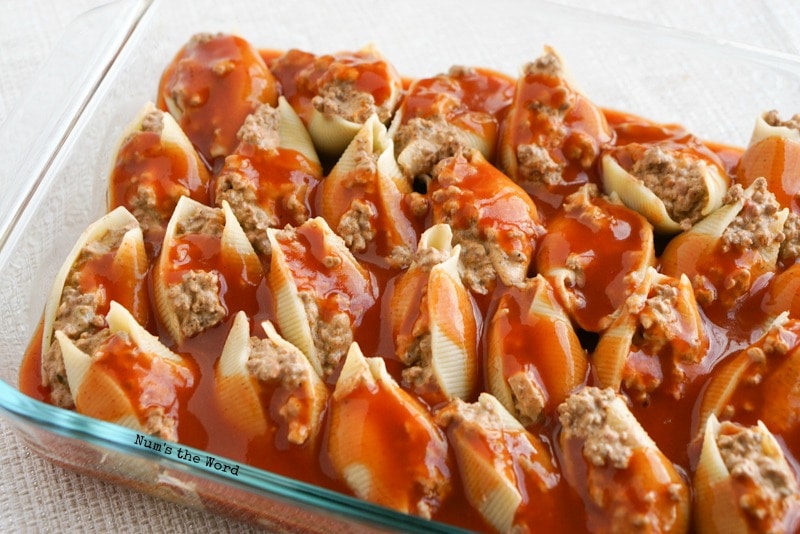 For those whose spouses do not work from home, these Mexican Stuffed shells make a great take to work lunch.
The kind that reheats well in a microwave but doesn't taste like plastic or come with mystery meat.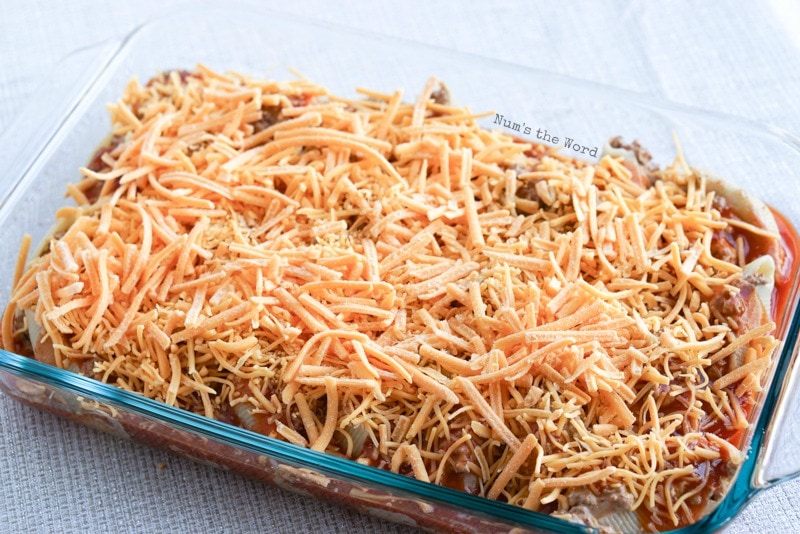 Another great idea with this meal is to make a double batch!
Make one casserole pan for dinner tonight and freeze one!
Think of how glorious this is.
You only make a mess of your kitchen ONCE.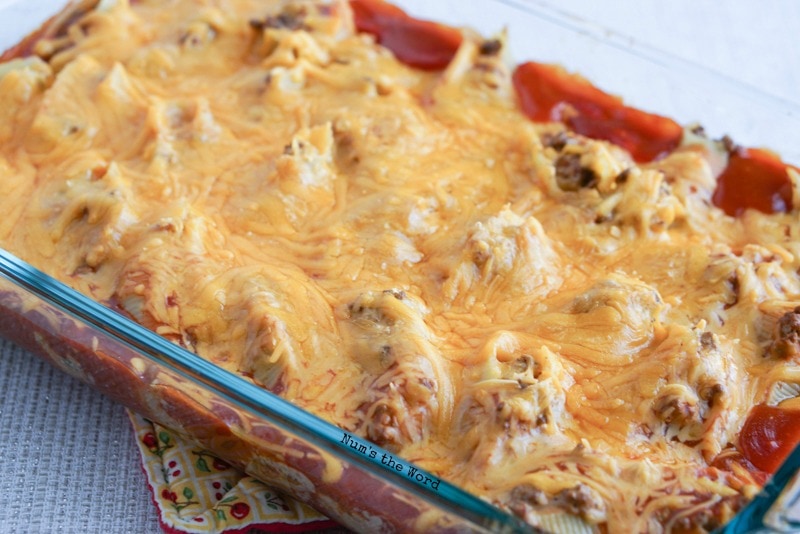 You're already going to have dirty pans and yet you get TWO meals out of one task!
Then in a few weeks, when your life is crazy busy, whip it out and cook it.
You're family will celebrate a home cooked meal, and you'll celebrate having a clean kitchen with only one messy casserole pan to clean – unless you go with disposable, then that's an extra bonus!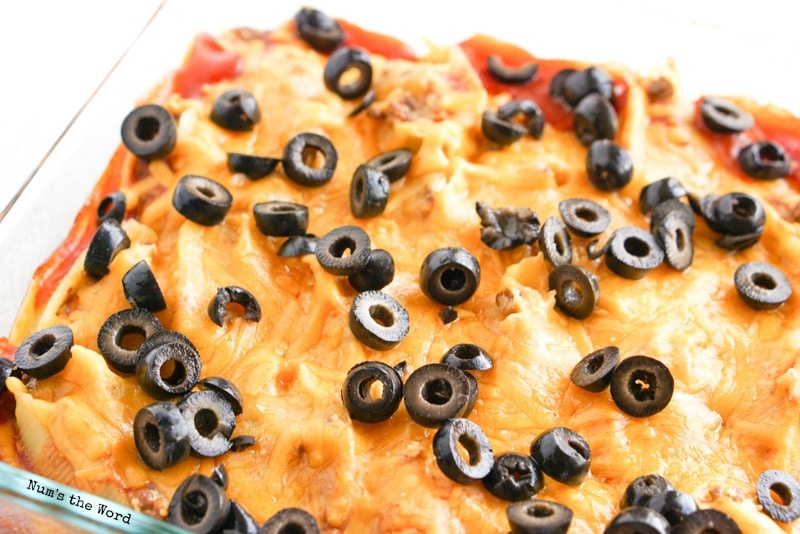 These Mexican Stuffed Shells are also great for kids, company or dinner.
My kids will actually eat this meal as it includes three of their favorite things: ground beef, noodles and cheese.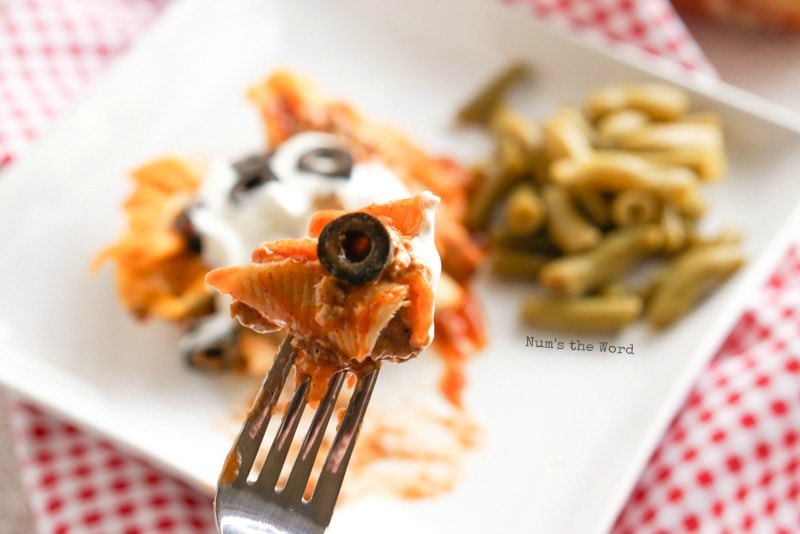 If you love Mexican food, then try these Mexican Stuffed Shells!
I'm sure you'll join in the comments below and left on Facebook and Pinterest comments that these Mexican Stuffed Shells are a hit!
Ingredients
20 - 25 jumbo pasta shells
1 lb ground beef or turkey
1 package taco seasoning or 4 heaping Tablespoons of your own homemade
1 1/2 cup salsa (we like black bean & corn salsa)
4 ounces of cream cheese (1/2 a block), room temperature.
1 cup red enchilada sauce (or more per taste preference)
1 cup Cheddar cheese
1 cup Monterrey Jack cheese
Sour cream (optional)
Avocado (optional)
Black Olives (optional)
Instructions
Preheat oven to 350*F
Cook sells according to package directions. You'll want to make about 20 - 25 of them.
While shells are cooking, in a separate skillet, combine ground beef, taco seasoning and salsa. Cook until beef is cooked through.
Add cream cheese to beef and mix well. Continue mixing until cream cheese is melted and well combined with beef mixture.
Shells should be done right about now. Lay sells out individually on a plate or rack so they don't stick together.
In a 9x13 baking dish,
Pour 3/4 cup of enchilada sauce onto bottom of the dish.
Stuff shells with beef mixture and put them into the pan, keep them close!
Once pan is full, drizzle remaining 1/4 cup of enchilada sauce over shells and top with cheese.
Bake for 20 minutes or until cheese is melted and shells are hot.
Top with sour cream, avocado, olives or additional salsa.
https://numstheword.com/mexican-stuffed-shells/
Originally published: August 10, 2015
Photos updated: July 21, 2017
Other Mexican Recipes You'll Love...