This Southern Yellow Squash Recipe will soon become a family favorite! If you want to know how to cook yellow squash, try this simple 30 minute baked yellow squash recipe! The perfect way to use up garden fresh squash!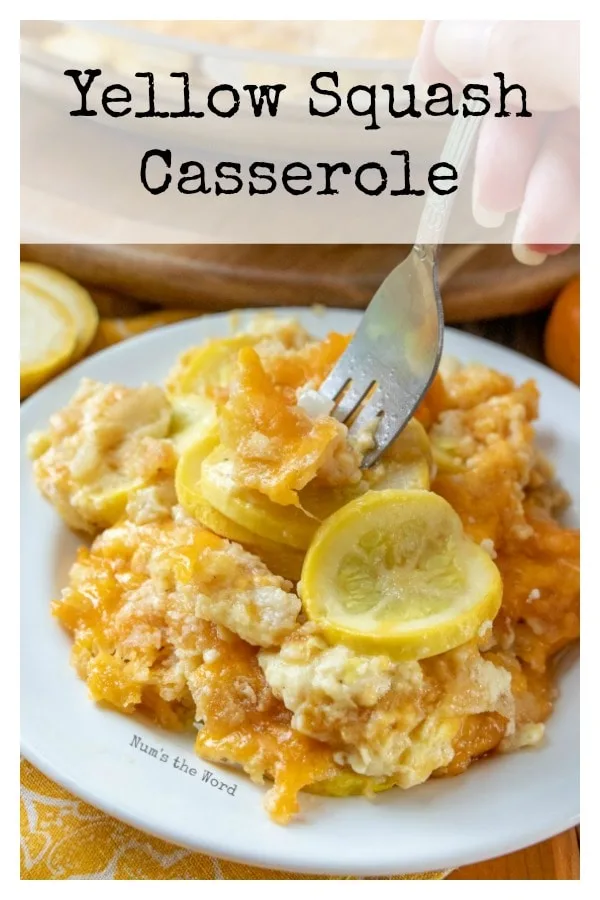 Do you like yellow squash, but aren't sure about incorporating it into a recipe? Why not try making a baked yellow squash casserole! All you need is 35 minutes, a handful of simple ingredients, and one pot to make the best yellow squash casserole you'll ever eat.
I've concluded that my mother-in-law and I are kindred spirits when it comes to making (and eating) good food. We both tend to enjoy the dishes, and this yellow squash casserole is no exception!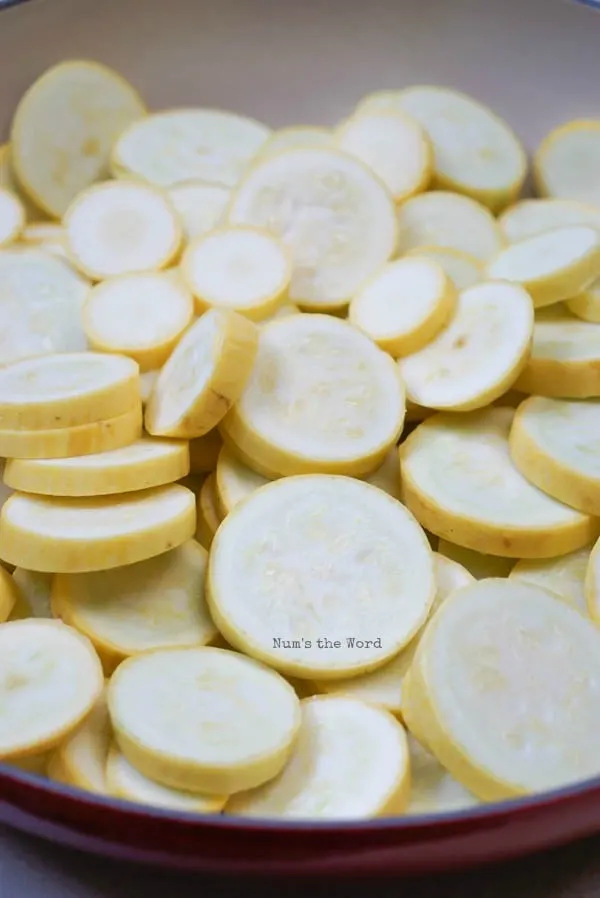 Full disclosure – this yellow squash casserole recipe is one of my all-time favorite ways to eat yellow squash. In fact, myself, my mother-in-law, and my 10-month-old ate an entire pan of this easy yellow squash casserole by ourselves the last time I made it. How's that for bonding?
We were surprised by how much my 10-month-old loved this yellow summer squash recipe, even if I still can't convince my other two kids to try it! I'll get them eventually; even my husband caved to loving this yellow squash casserole with Ritz crackers as much as we do!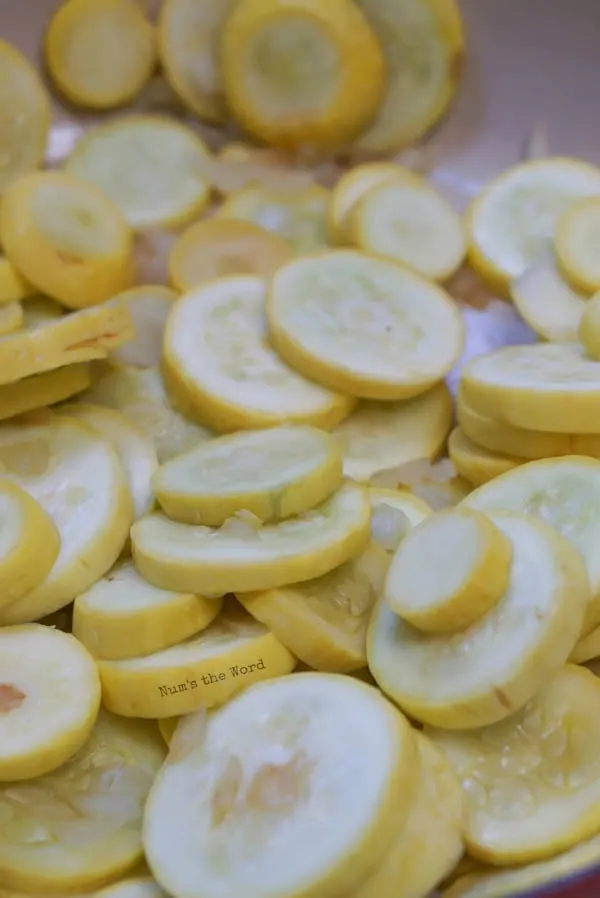 Is It Good for the Holidays?
This yellow squash recipe is easy to make and goes great with ANY main dish. Feel free to serve it for your family's Thanksgiving or Christmas dinners, alongside your holiday pot roast or pork loin. This Southern yellow squash casserole will also be a good complement to any of your heavier dishes, so you can balance out those flavors.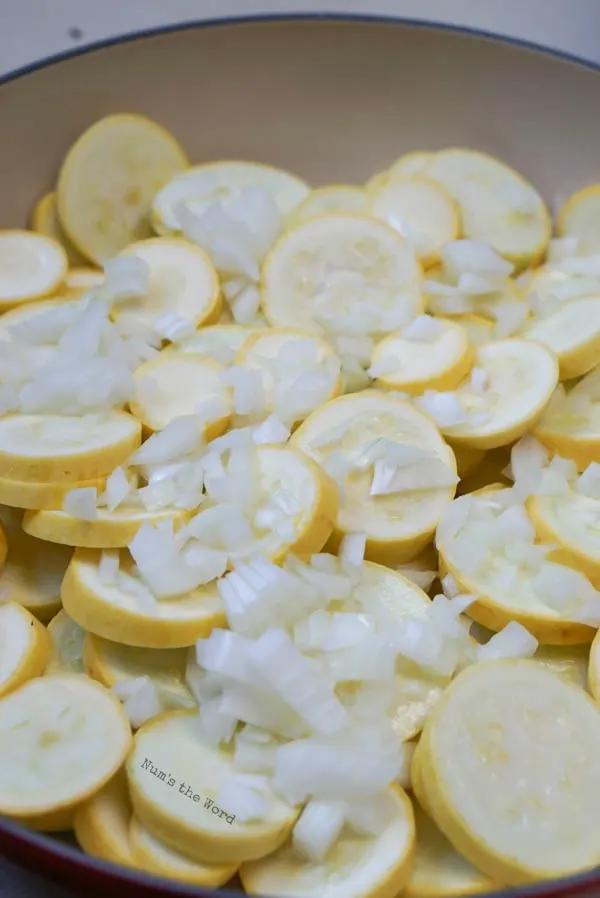 How Healthy Is It (And Can You Eat it "Un-Healthy")?
This fabulous yellow squash casserole is a great way to use up ripe squash from your garden or even squash you buy from the store. It's healthy without tasting healthy! Of course, the amount of butter and cheese I use in this recipe might be pushing the "healthy" aspect of it, but it's still a delicious way to enjoy fresh vegetables for dinner.
If you want to spice this yellow squash recipe up, dice some bacon and add it to the squash and onion sauté step in my recipe. If a dish is just "okay," bacon is a sure-fire way to make it "great!"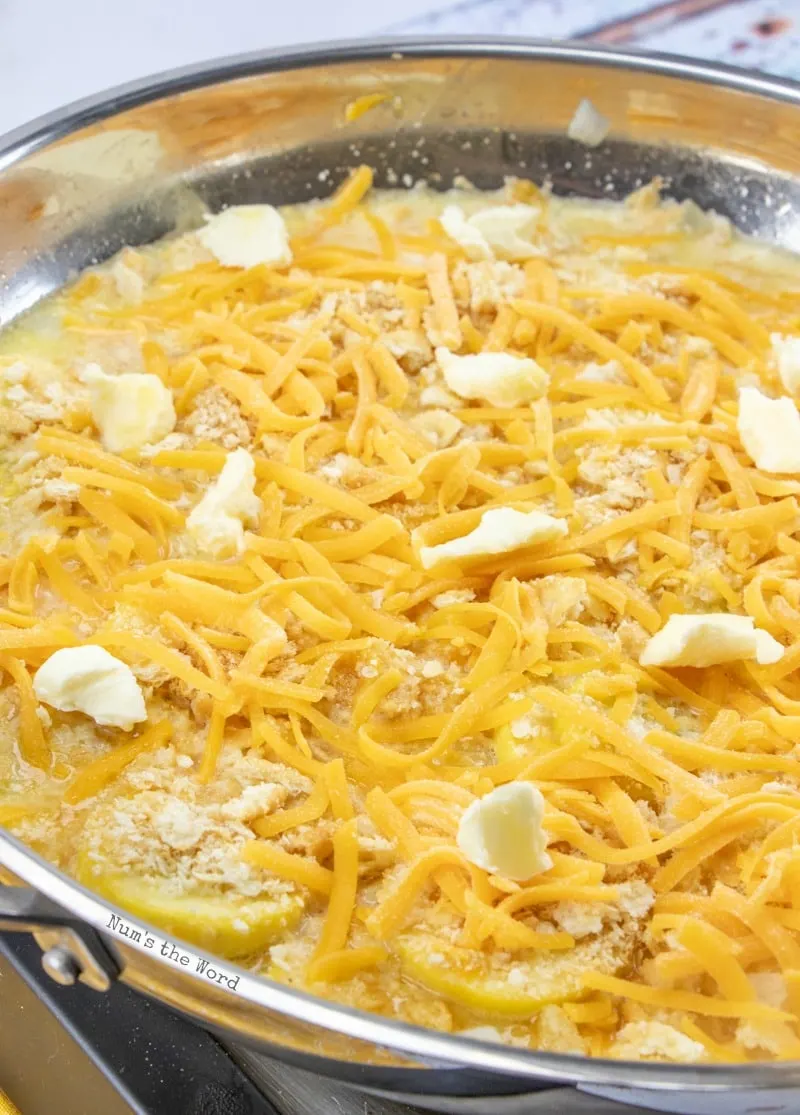 What are the Different Varieties of Squash?
There are two types of squash: summer squash and winter squash. Though you'd imagine that summer squashes are only available in the summer, and winter squashes in the wintertime, that's actually not true. You can buy them interchangeably throughout the year.
What are the main differences between the two? Winter squashes take longer to mature than summer squashes and can be stored for months on end in a cool basement, such as when you're trying to save food for the winter (hence the name).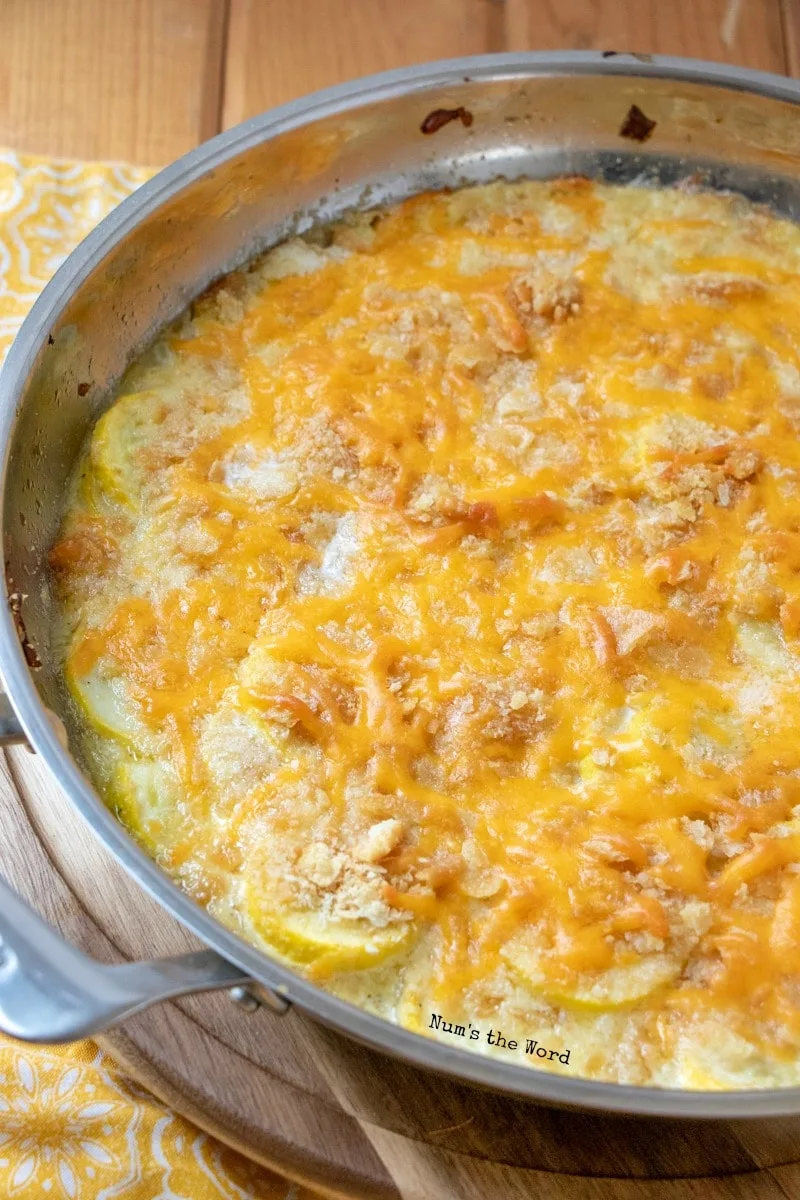 Yellow squash is classified as a summer squash. Other summer squashes include:
Cousa Squash

Crookneck Squash

Luffa (or Loofah) Squash

Pattypan Squash

Ronde de Nice (or Gourmet Globe Squash)

Tatuma Squash

Tinda Squash

Zephyr Squash

Zucchini
Can You Use a Different Kind of Squash?
In my recipe, you can, but just know that no two squashes are alike! Even those belonging to the same variety (i.e. summer or winter squashes) have different tastes and textures to them.
Good substitutes for baked yellow squash include:
Zucchini

Pattypan Squash

Crookneck Squash

Chayote (a type of Mexican squash; it may also be called a "vegetable pear" or chocho).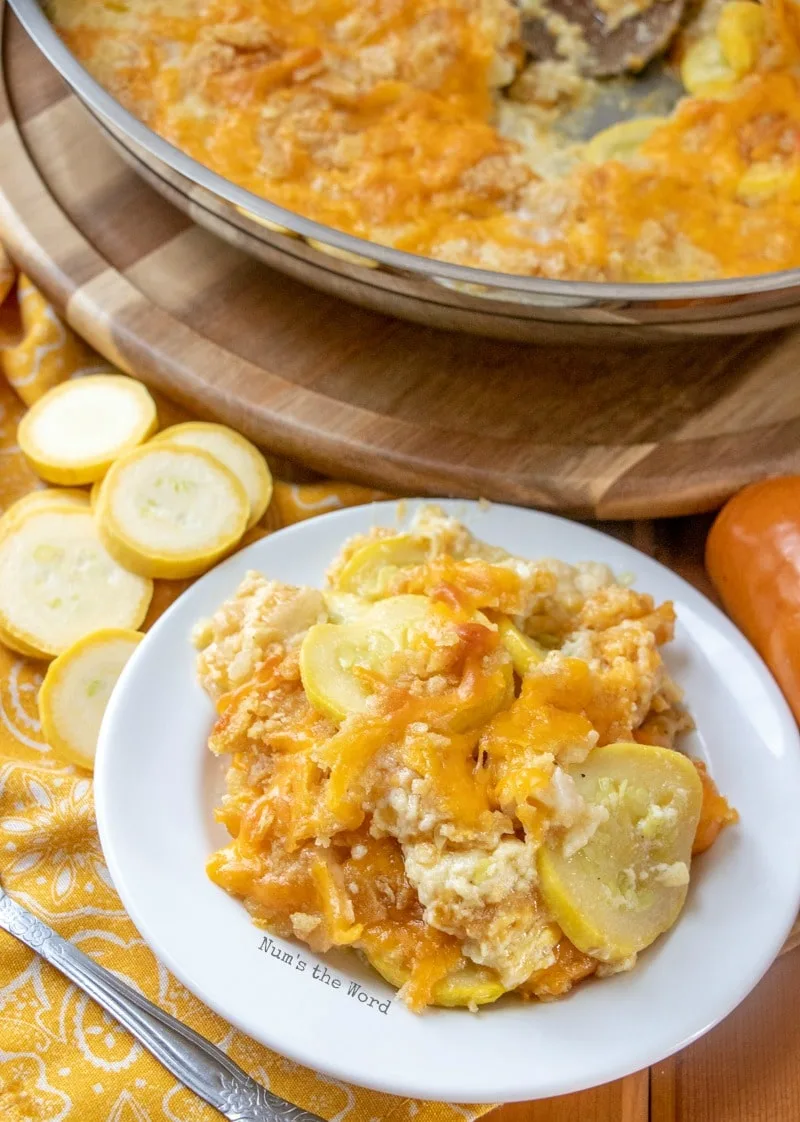 Are Squash and Zucchini the Same Thing?
Though yellow squash and zucchini are both kinds of summer squashes, they are definitely NOT the same thing.
First off, these two squashes are different colors, with yellow squash being – well – yellow, and zucchinis typically being green. Zucchinis are also straighter and more uniform than yellow squashes, which have fat bottoms and tapers toward their necks. Yellow squash also has more seeds in it.
Generally, however, some squashes (like yellow squash and zucchinis) can be used interchangeably with one another in recipes. Both yellow squash and zucchini are mild-tasting vegetables, so whichever you choose all depends on your personal squash preference. (Didn't think you had one, did you?)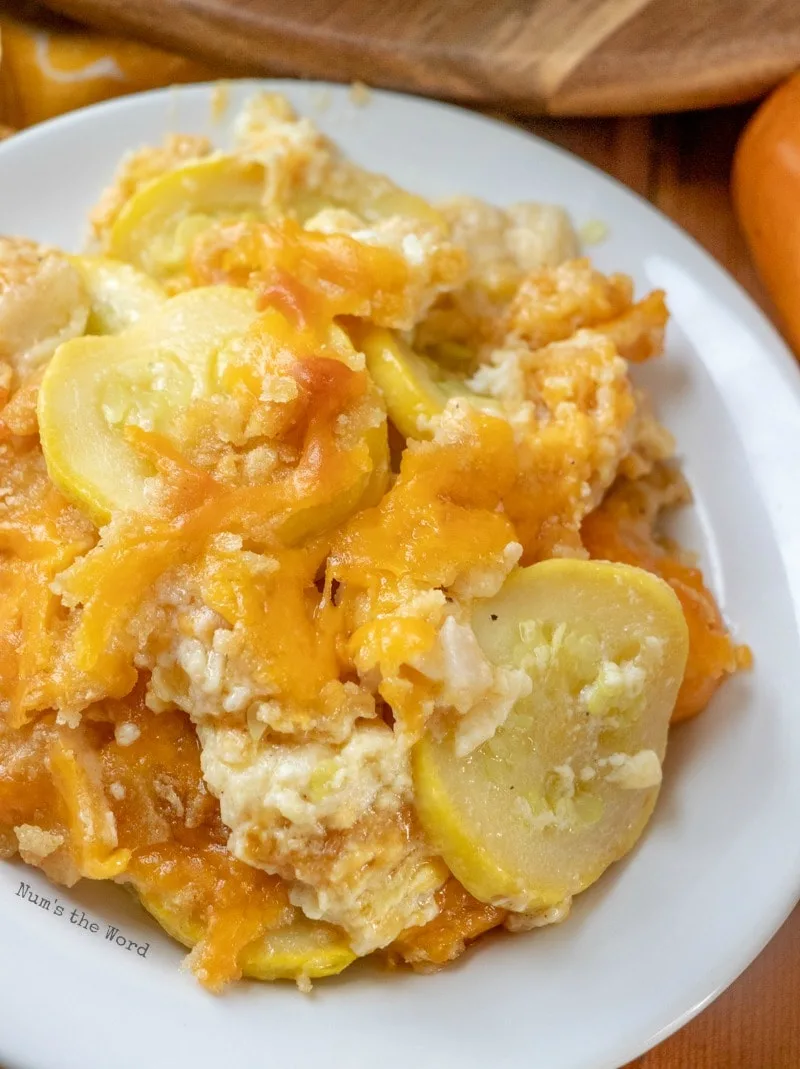 Tips for Swapping Squash
If you choose to swap out yellow squash for pattypan, crookneck, or chayote, just know that your squash casserole may end up tasting differently than expected.
Pattypan squashes, for instance, are slightly denser and crunchier than other types of summer squash. Accordingly, you may need to leave it in your skillet longer than noted in my recipe (unless you like a crunchy casserole).
Crookneck, on the other hand, is simply another name for yellow squash that has a curved (or crooked) neck. This small difference won't affect the taste, so go nuts!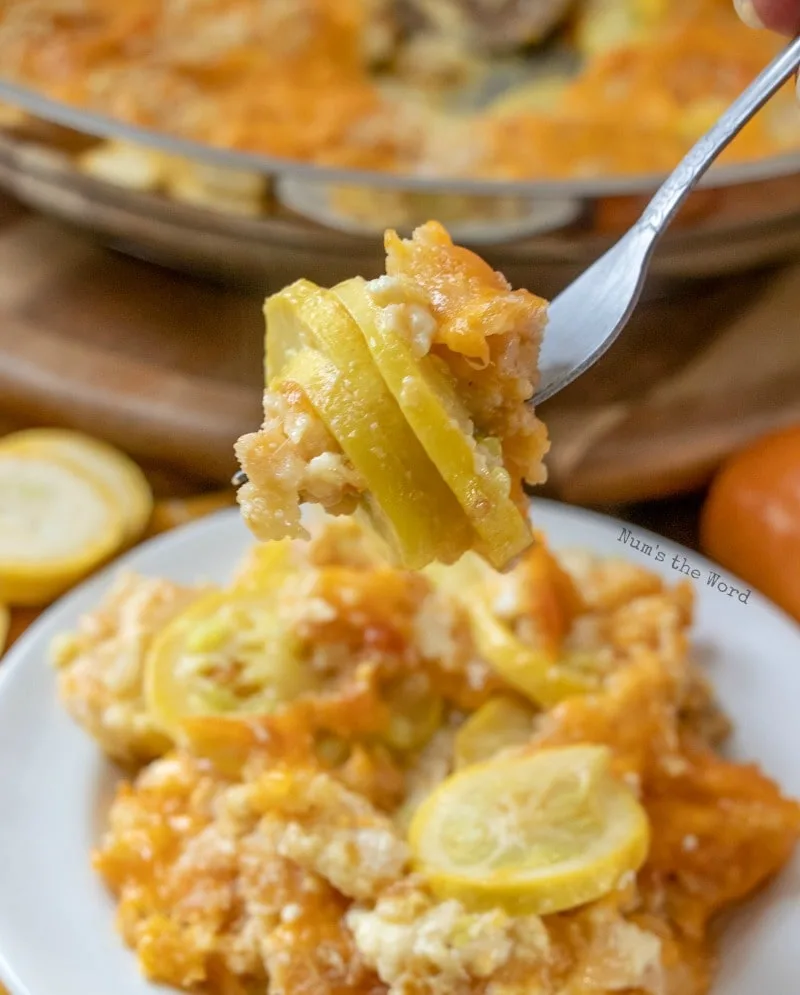 What Health Benefits Does Squash Have?
Each type of squash will have their own unique health benefits. These may include:
Improved vision

Aid in skin care

Strengthened immune system

Cancer prevention

Better management of diabetes symptoms

Strengthened bones

Better heart health

Reduced insomnia or related symptoms

Prevention of inflammatory conditions

Relieved symptoms of arthritis

Elimination of ulcers

Elimination of parasites and/or infections

Improved prostate health

Protection against birth defects

Boosted respiratory health

Reduced blood pressure
This is largely because squashes are a great source of essential vitamins and minerals, such as:
Vitamin A

Magnesium

Vitamin C

Vitamin E

B-vitamins such as vitamin B6, niacin, thiamin, pantothenic acid, and folate

Potassium

Manganese

Copper

Phosphorus

Calcium

Iron

Carotenoids, which are responsible for making red, orange, and yellow plants and vegetables the color they are. They are also excellent sources of antioxidants and cancer-fighting properties.

Other important anti-inflammatory and antioxidant compounds.
Of course, the amount of health benefits you retain depends on your method of cooking yellow squash. You will still absorb some vitamins and minerals if you choose to fry your squash, but to truly gain the most benefits, it's wise to turn to baked yellow squash recipes like mine! This allows you to keep all those vitamins and minerals packed in.
Yield: 6 Servings
Yellow Squash Casserole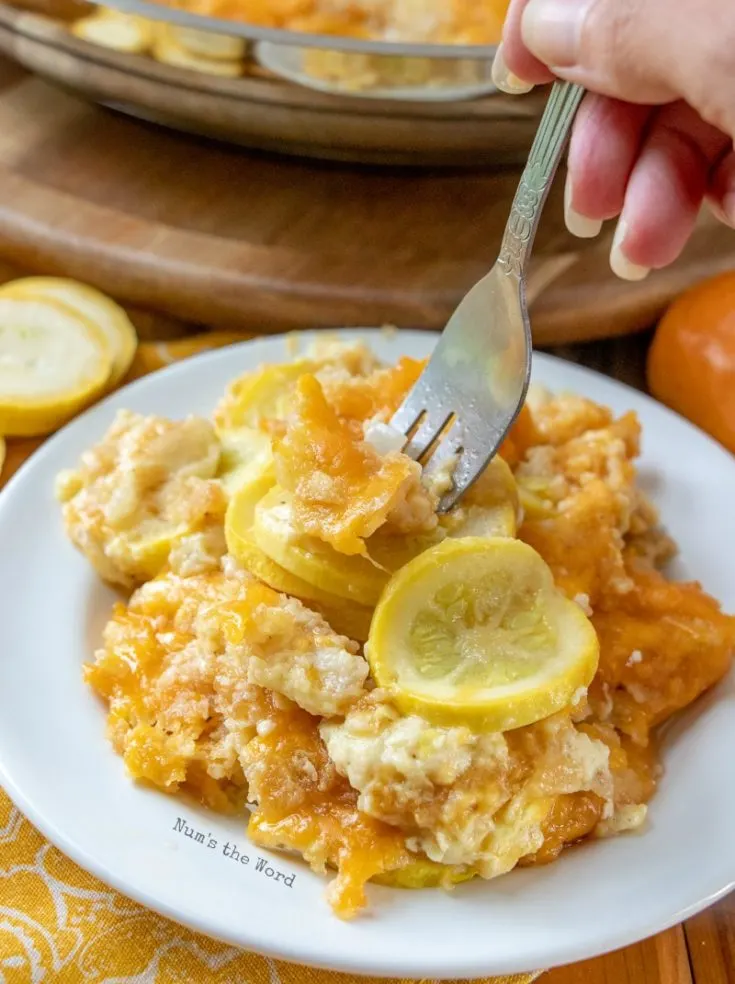 This Southern Yellow Squash Recipe will soon become a family favorite! If you want to know how to cook yellow squash, try this simple 30 minute baked yellow squash recipe! The perfect way to use up garden fresh squash!
Ingredients
4 cups yellow squash, sliced
1/2 cup white onion, diced
2 Tablespoons water
1 sleeve of buttered cracker rounds, crushed
1 cup shredded cheddar cheese
2 eggs, beaten
3/4 cup milk
1/4 cup butter, melted
1 teaspoon salt
1/4 teaspoon black pepper
2 Tablespoons butter
Instructions
Preheat oven to 350*F
In a deep 12 inch skillet, add squash, onion & water.
Cook over medium heat just until pan is hot.
Place lid on and lower heat to medium low. Cook for 5 minutes with lid on until squash is tender.
Add half the crushed cracker rounds and half the cheese to squash and mix well.
Add eggs, milk, butter, salt & pepper and mix well.
Top mixture with remaining cracker crumbs and cheese.
Dot top of casserole with butter.
Bake for 25 minutes then devour!
Notes
If you want to jazz it up, add some diced bacon to the initial squash and onion mixture and cook it with your squash.
Nutrition Information:
Yield:
6
Serving Size:
1
Amount Per Serving:
Calories:

253
Total Fat:

21g
Saturated Fat:

12g
Trans Fat:

1g
Unsaturated Fat:

7g
Cholesterol:

114mg
Sodium:

613mg
Carbohydrates:

10g
Fiber:

2g
Sugar:

4g
Protein:

9g
Recipe: All Recipes
Originally Posted: October 28, 2015
Photos and Text Updated: August 14, 2019