If you have 5 minutes and a few ingredients, you can create your own delicious Homemade Taco Seasoning! Gluten free and oh so tasty, you'll never want to buy it again!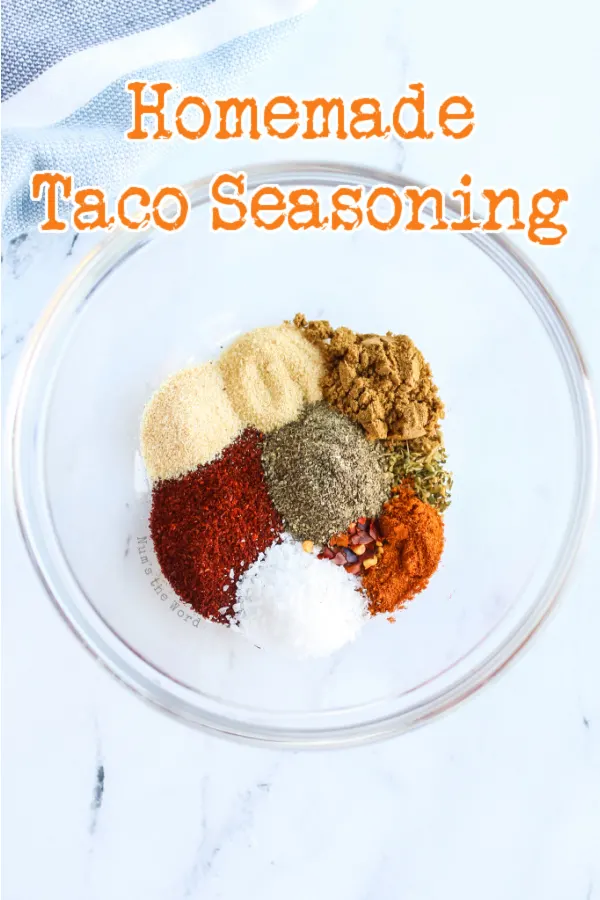 Ever had a hankering for tacos, but find your pantry disappointingly devoid of taco seasoning? We've all been there. But the great news is that you can make your own taco seasoning using pantry-staple spices in no time at all!
This recipe is a versatile seasoning that can be used on your choice of meat! Anything you put in a tortilla can be seasoned with this fantastic homemade taco seasoning. It's also great in soups, dips, casseroles, on veggies or seafood, and on or in just about anything with a little tex-mex or latin flair.
It's very convenient knowing that you can whip up a batch of seasoning on your own if you ever need it. Personally, I prefer the flavor and the control I have over the salt content and other spices when I make my own taco seasoning.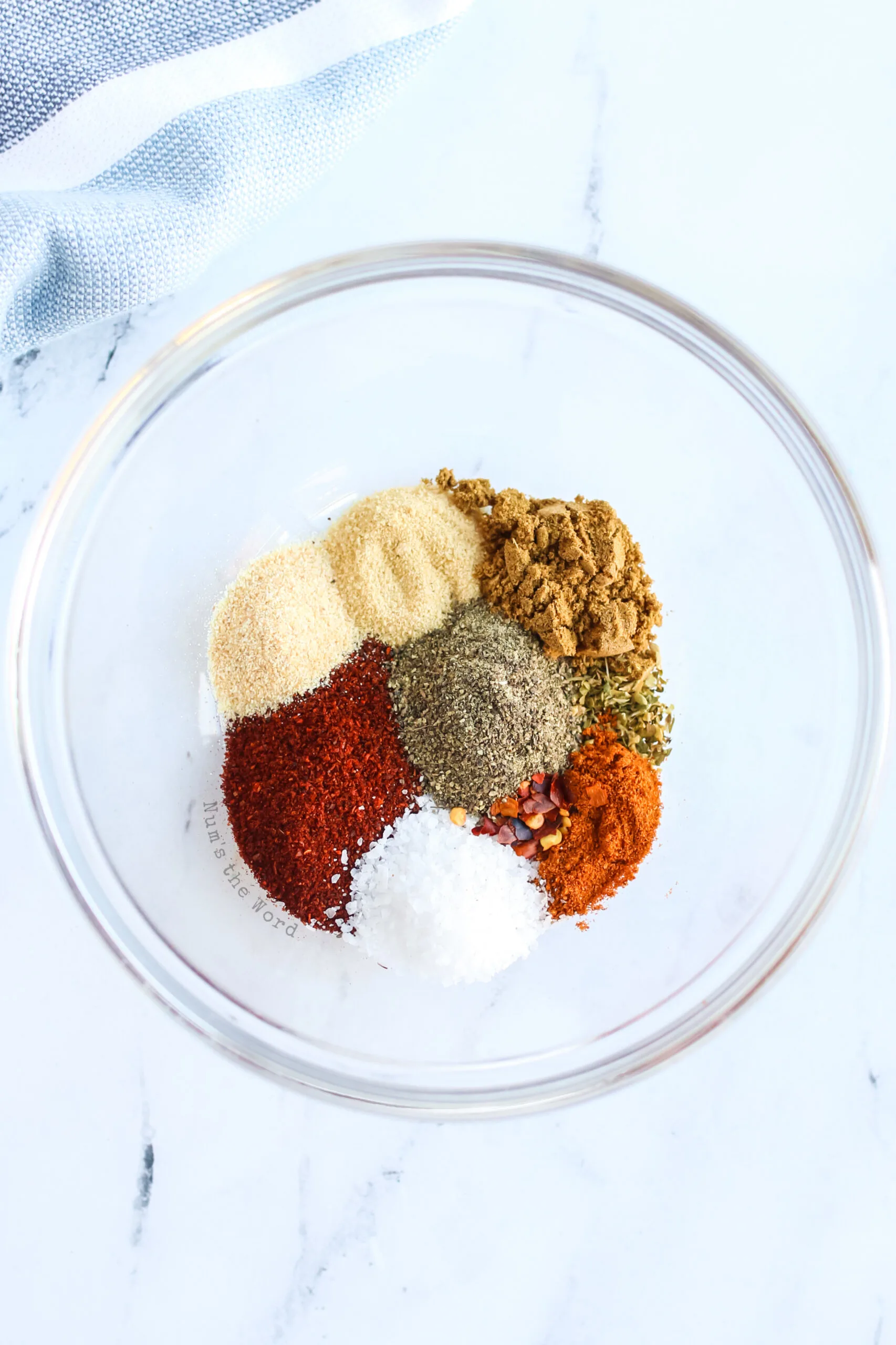 What is in Homemade Taco Seasoning?
You probably have all the taco seasoning ingredients you need in your pantry right now! If not, they are easy to find at any grocery store. Here's what you'll need for this taco seasoning recipe:
Chili powder

– chili powder is the base of your taco seasoning. It's the predominant flavor.

Garlic powder

– garlic powder blends nicely with the other flavors and spices in this seasoning.

Onion powder

– onion powder and garlic powder combined notable hints of flavor in this seasoning. It's great how well all these different spices blend together to make one delicious taco meat seasoning!

Ground cumin

– cumin is the second most dominant flavor. I've found that there is a distinct taste difference between the ultra cheap and middle-of-the-road cumin. I personally recommend avoiding the $1 containers of cumin, as I've found they have a strange aftertaste and a much more bitter flavor.

Dried oregano

– oregano is an essential herb throughout many cuisines, and adds a lot of flavor to this seasoning.

Paprika

– vibrant and flavorful, paprika adds both color and additional sweet red pepper taste. I love using a smoked paprika when I have it. It lends an earthy, meatier, fresh-off-the-grill flavor.

Salt & black pepper

– you can play with the ratios of these! Make this recipe your own.

Red pepper flakes

– want more spice? Add another pinch of red pepper flakes. Want less spice? Take some away. The beauty of this DIY taco seasoning is you can DO IT YOUR own way!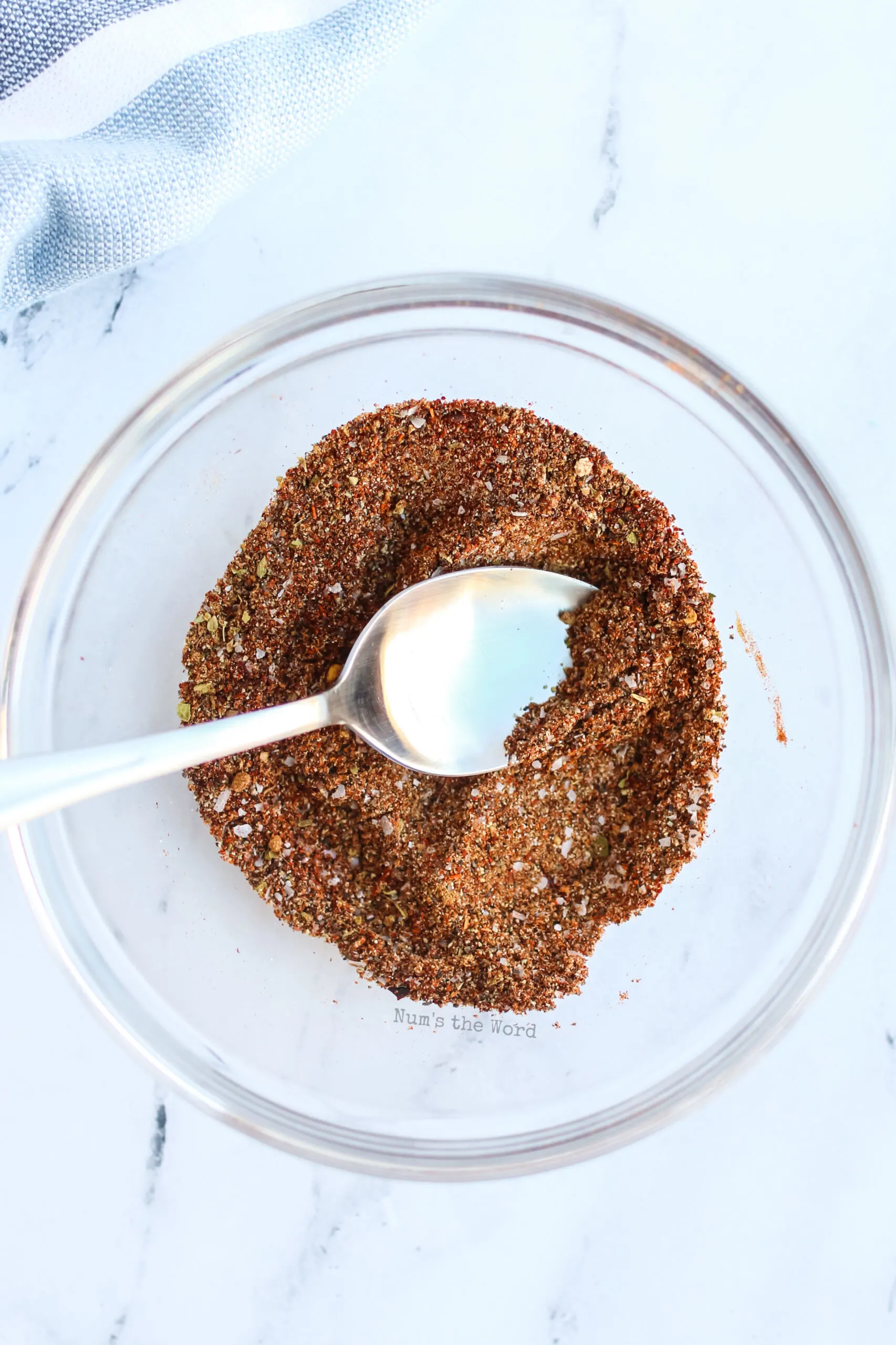 How to make your own taco seasoning:
I kid you not, "how to make taco seasoning" is going to be the easiest set of instructions you've ever read:
Mix it all together.
Yep, that's it! Mix all the ingredients together and store in an airtight container, bag, or spice jar. That's how to make homemade taco seasoning!
How many tablespoons in a packet of taco seasoning?
Taco seasoning packets come in 1 oz portions. One dry ounce is made up of 2 dry tablespoons. A packet of taco seasoning contains 2 tablespoons, which is also how much this recipe makes too!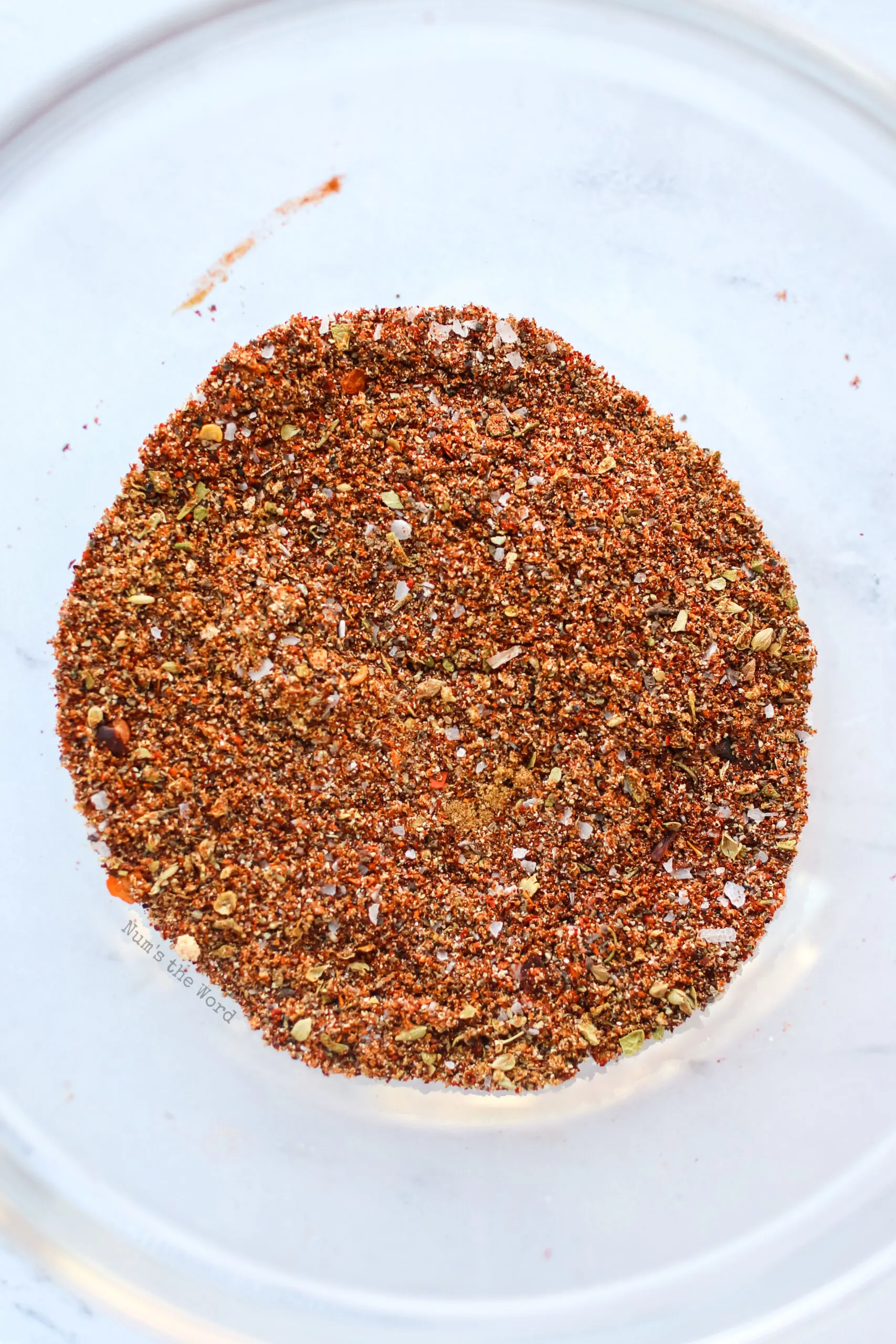 How much taco seasoning per pound of meat?
Typically, a packet, or TWO TABLESPOONS of taco seasoning is used per pound of meat. Whether chicken, shrimp, fish, pork, steak, or beef taco seasoning, this ratio is the same.
Can you use taco seasoning on chicken?
Yes, you can use homemade taco seasoning on chicken! Taco seasoning is a great way to spice up any meat you put in a tortilla, on a tostada, in a burrito, or even in other recipes.
I like to cook chicken in the slow cooker or instant pot and shred, then mix with taco seasoning and a touch of broth to make a quick and easy shredded chicken taco!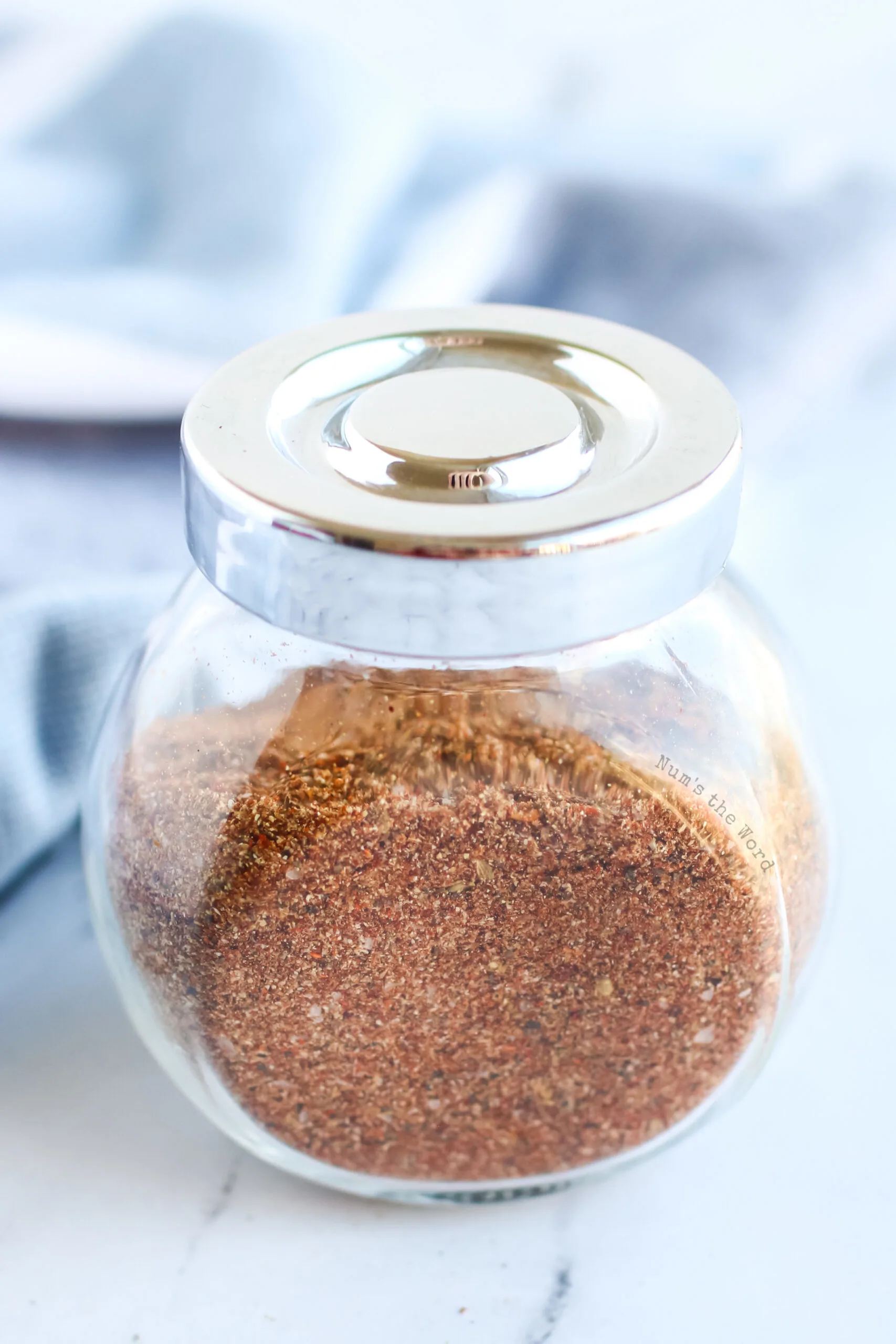 How to season steak for tacos:
Steak tacos are best marinated, and you can use your taco seasoning to marinate your steaks before cooking! Simply combine your homemade taco seasoning with the juice of a freshly squeezed lime and a couple tablespoons of vegetable or canola oil and marinate in an airtight container or bag for 4 hours or overnight.
If you have some leftover or pre-cooked steak you'd like to transform into taco meat, make a paste of taco seasoning and lime juice and coat the steak strips in it. Heat a pan over medium-high heat and spray generously with canola oil spray. Pan fry steak strips with seasoning until nicely seared and heated through.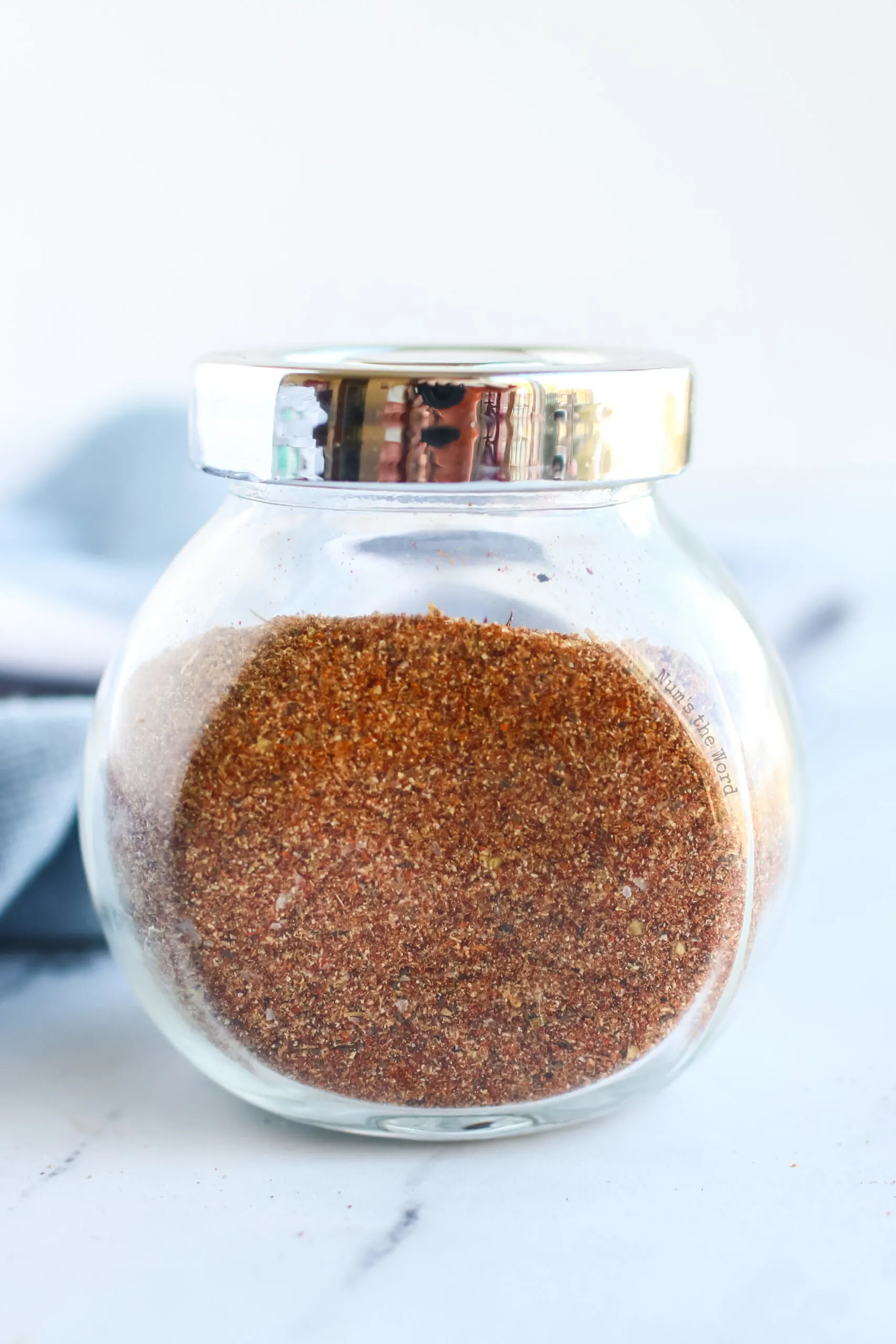 What to make with your taco seasoning:
Here are some other ideas from Num's the Word that use taco seasoning:
Making your own homemade taco seasoning also means you can ensure it is gluten free taco seasoning! Some store bought seasonings can contain gluten, so making your own with spices from your own pantry ensures your taco seasoning is not only delicious, but gluten free as well!
This is also a keto-friendly taco seasoning, though I don't profess to be a keto expert.
Whether you're making traditional tacos or a soup or casserole, this homemade taco seasoning recipe will be your new go-to for spicing recipes up! You'll never need to worry about adding taco seasoning to your grocery list again, as this recipe can be made in a scant few minutes using household pantry staples.
Yield: 1 serving
Taco Seasoning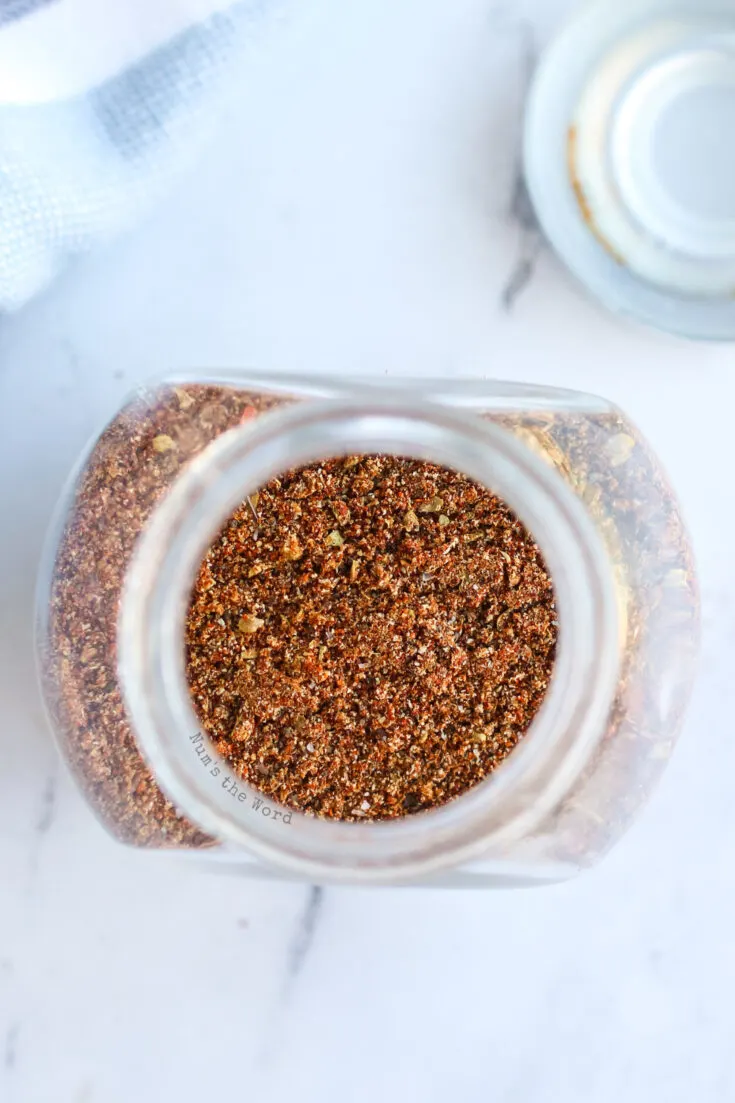 If you have 5 minutes and a few seasonings, you can create your own delicious Homemade Taco Seasoning! Gluten free and oh so tasty, you'll never want to buy it again!
Ingredients
1 Tablespoon chili powder
1/2 teaspoon garlic powder
1/2 teaspoon onion powder
1 teaspoon ground cumin
1/4 teaspoon dried oregano
1/2 teaspoon paprika
1 teaspoon salt
1 teaspoon black pepper
1/4 teaspoon red pepper flakes
Instructions
Mix all ingredients together for 1 serving of taco seasoning.
Notes
This recipe can be doubled or more to make big batches to keep on hand. Simply place unused seasoning in an air tight container.
2 Tablespoons of taco seasoning equals a 1 ounce packet at the store.
Nutrition Information:
Yield:
1
Serving Size:
1
Amount Per Serving:
Calories:

50
Total Fat:

2g
Saturated Fat:

0g
Trans Fat:

0g
Unsaturated Fat:

1g
Cholesterol:

0mg
Sodium:

2352mg
Carbohydrates:

9g
Fiber:

5g
Sugar:

1g
Protein:

2g