If you love Tacos, try these easy Taco Egg Rolls. A taco rolled up into an egg roll and fried. Kid friendly, spouse approved, easy weeknight meal!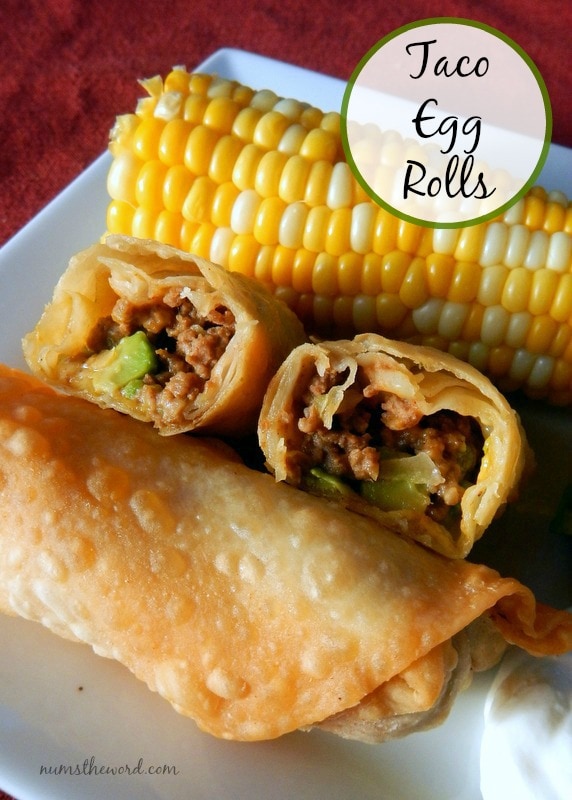 If there is one thing you should know about me, it's that I love all things fried.
If I had to pick between eating a healthy baked item and an unhealthy fried item, I would choose fried every time.
The crispy fried flavor of the oil on the item is just so good.
It's one of the reasons I love egg rolls so much.
Well…Fried Egg Rolls.
Not to mention that egg rolls are SUPER easy to put together and cook.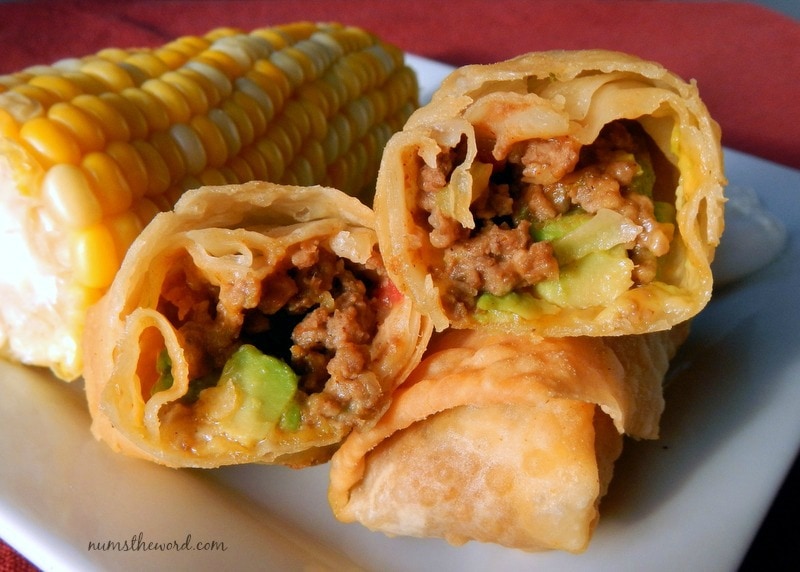 You can literally put ANYTHING in an egg roll, fry it up and it is GUARANTEED to taste delicious!
Now if you aren't a fan of the extra calories that come with fried foods, try an Air Fryer.
I've heard so many great things about them and plan on getting one for myself soon!
These Taco Egg Rolls were a creation I whipped up one day after Taco Tuesday.
I had some extra ground beef laying around, didn't feel like making traditional tacos again, and then saw the egg roll wrappers in the fridge.
Bam, next thing I know, I'm tossing all my favorite leftover taco ingredients into an egg roll.
And that my friends, is how Taco Egg Rolls became a thing in our house.

I also love how easy these are to take on the road or pack up in a lunch!
If you've got a toaster oven at work, you can take a few of these, toast them up and enjoy them with your favorite salsa, sour cream or even guacamole dip, while all your co-workers drool over your tasty homemade meal.
Not only will the look of these drive your co-workers mad, but the smell of how tasty they are will too!
Taco lovers will appreciate this twist on a classic recipe.
These Taco Egg Rolls are a perfect item to make during a weeknight or if you have leftover taco meat and aren't sure what to do with it, you now do!
If you are in need of a great side dish to go with this recipe, I highly recommend our recipe for Esquites – Mexican Corn Salad.
Yield: 8 Servings
Taco Egg Rolls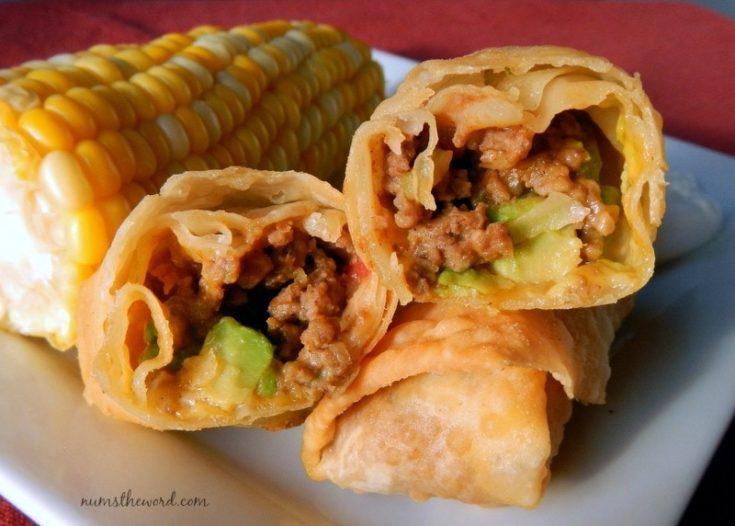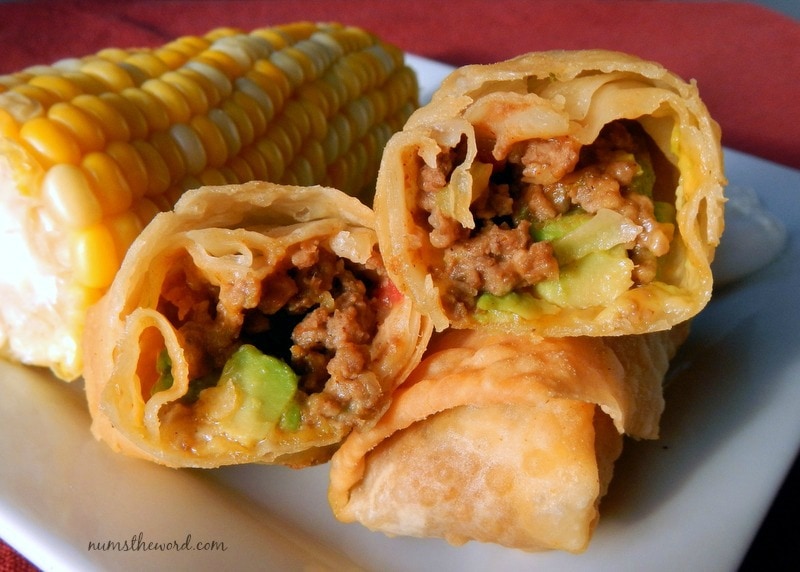 Ingredients
1 pound ground beef
1/2 cup diced white or yellow onion
Taco Seasoning - homemade or 1 store bought packet
1 can Rotel Tomatoes
1 can Refried beans
1 package Egg Rolls
Vegetable Oil
1 cup Sharp Cheddar Cheese or Mexican Blend
Avocado
Sour Cream
Salsa
Instructions
In a skillet, cook ground beef, onion and taco seasoning until beef is cooked through.
Add Rotel Tomatoes and mix well.
Add Refried Beans and mix well then set aside.
In a fryer or in a sauce pan, add 2 inches of oil. Heat oil until oil is hot and ready.
While oil is heating, make egg rolls.
Lay egg roll out flat. Add 2 Tablespoons of beef mixture to center of egg roll.
Top with 1 tablespoon of cheese.
Add optional avocado.
Seal and roll according to package directions.
Fry in oil until egg rolls are cooked and golden.
Serve with additional avocado, sour cream and salsa.
Notes
For a baked version: Preheat oven to 425*F.
Lay egg rolls seam side down on a prepared cookie sheet. I like to use a baking mat or non stick foil, however you can also spray the pan.
Lightly spray tops of egg rolls with cooking spray and bake for 10 - 15 minutes until golden and crispy!
Other Ground Beef Recipes You'll Love...