When it comes to 30 minute meals that even the pickiest of eaters will love, these Taco Egg Rolls are our first choice! Quick, easy and perfect to make ahead and freeze!
A crunchy, fried egg wrapper shell encases a delectable combination of taco meat, cheese, and seasonings to form these quick and easy southwest egg rolls.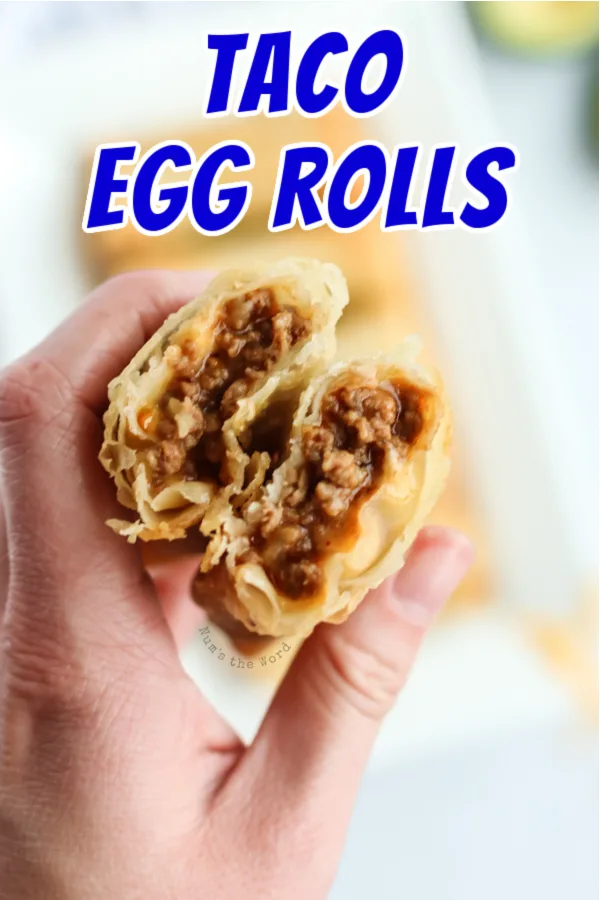 You can LITERALLY put anything in an egg roll and it's practically guaranteed to be DELICIOUS. These Taco Egg Rolls are no exception! Not only do these make a great weeknight dinner, but they are also the perfect party food, appetizer, or work lunch.
Did I mention this egg roll recipe is SUPER easy? And versatile! These great pan fried, air fried, or baked taco egg rolls are made to fit your cooking preferences. And they can easily be reheated in a toaster oven, air fryer, or microwave!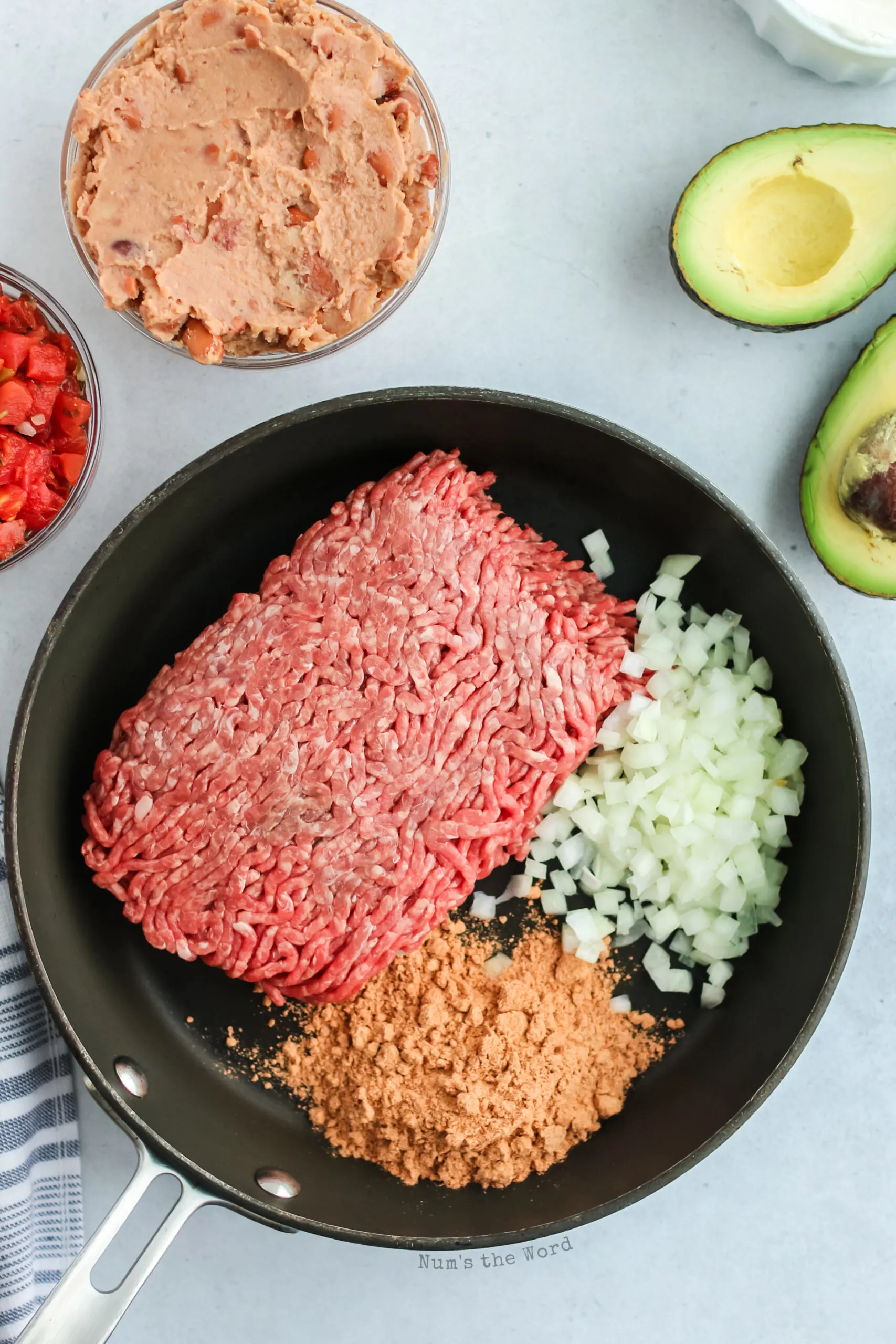 Spring roll vs. egg roll:
Wondering what the difference between a spring roll and egg roll is? Well, the biggest difference is in their names! Spring rolls are not made with egg, while egg rolls are. The eggs in egg rolls give the wrapper a sturdier and thicker texture, while spring rolls are thinner and more delicate; both can be cooked to crisp perfection.
Spring rolls are considered a part of traditional Asian cuisine. Egg rolls are more of an American Chinese food. These taco egg rolls are a combination of different cuisines, to make something new and FANTASTIC.
Spring rolls can be prepared in a couple different ways. Sometimes they are served without cooking the actual wrapper, providing an almost translucent and chewy wrapping. Other times they can be pan fried or baked to form a crisp, albeit much lighter than egg rolls, shell.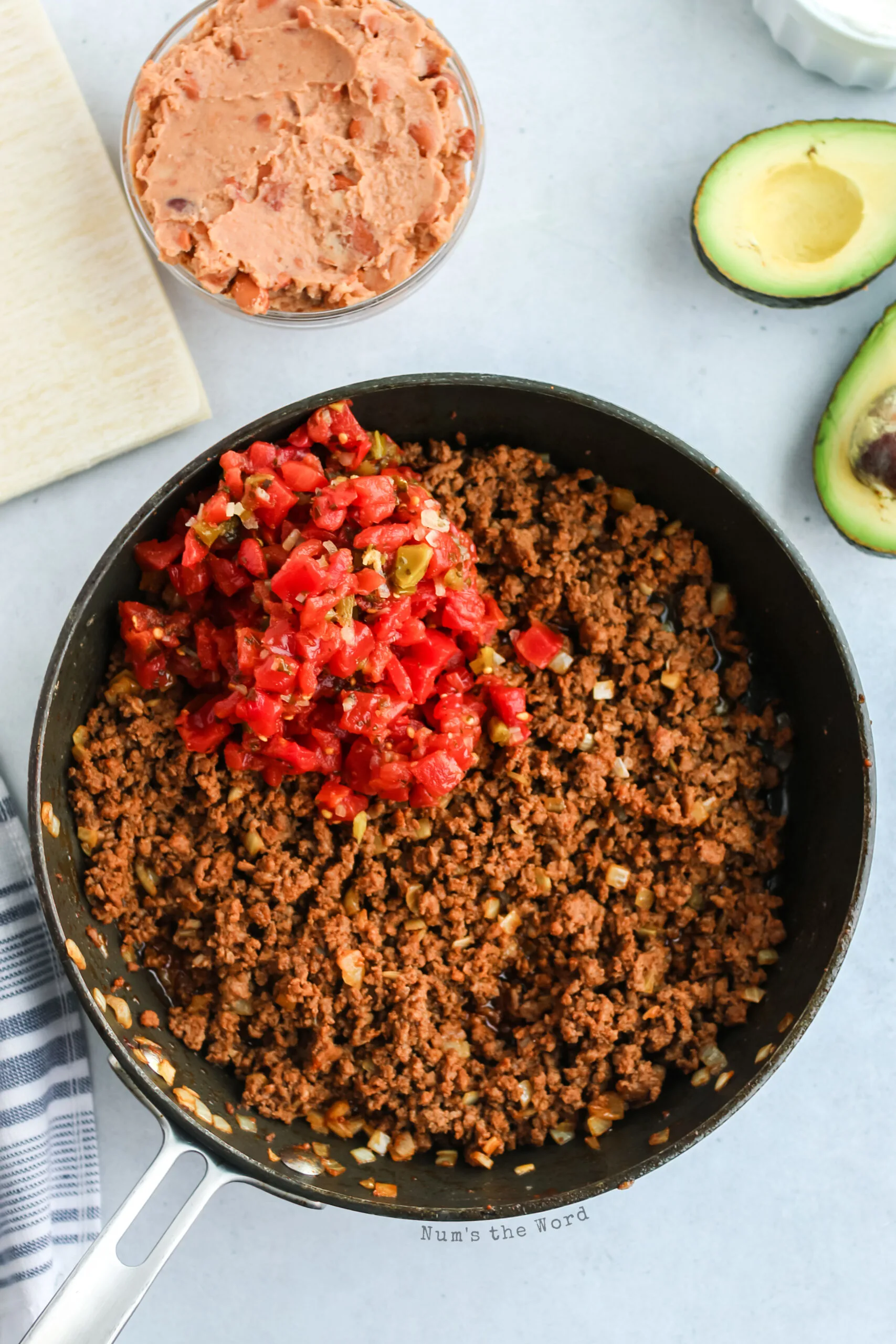 What goes in a Taco Egg Roll?
Here's what you will need to make these delicious southwestern style egg rolls:
Ground beef

– while this recipe uses ground beef, you can also use just about any other meat you would normally put in a taco. Chicken, pork, steak — even leftover turkey!

Onion

– onion provides additional flavor to your taco meat and also makes up a significant portion of the egg roll filling.

Taco Seasoning

– 2 tablespoons homemade

or 1 store-bought packet.

Rotel Tomatoes

– I love using Rotel tomatoes in my taco meat because it not only adds a nice tomato base, but brings a little kick to the taco filling as well!

Refried beans

– Added protein and holds your filling together so it's not drippy.

Egg Roll Wrappers

– these premade wrappers help make this meal super easy to prepare, especially if you're using leftover taco meat!

Vegetable Oil

– you'll use this to fry your taco egg rolls.

Sharp Cheddar Cheese or Mexican Blend

– cooked inside these taco egg rolls, the cheese makes these gooey and irresistibly delicious.

Avocado, sour cream, and salsa

– FOR DIPPING. Yum.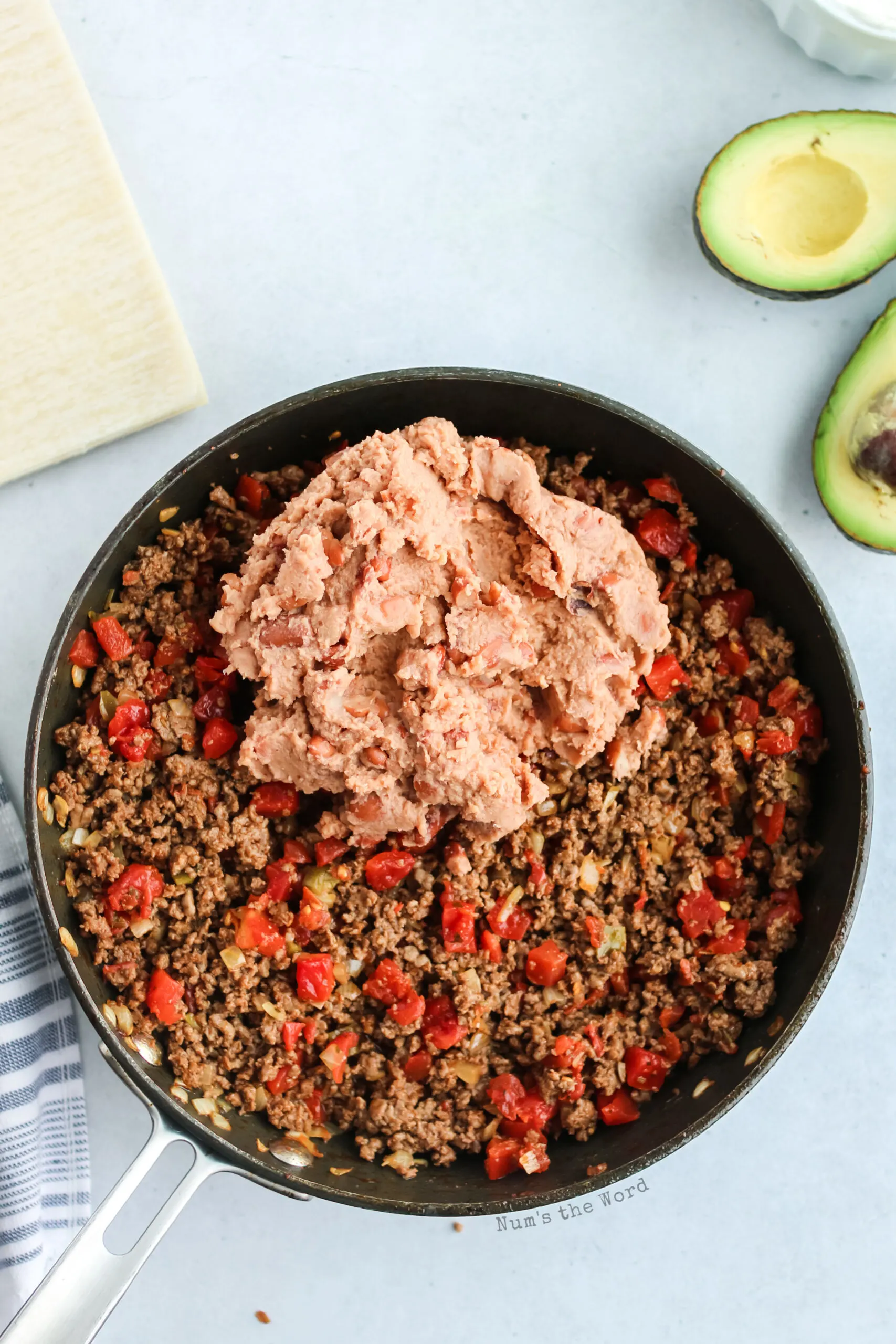 Where to buy egg roll wrappers?

You can purchase egg roll wrappers at most grocery stores. Our local Walmart and Kroger both carry egg roll wrappers. If you're not putting in a grocery order (yay, grocery orders!), check the refrigerated section of the produce aisle, or the ethnic foods sections.
Egg roll wrappers are refrigerated, so that should help narrow down your searchable aisles a bit! If you cannot find them at your normal grocery store, try your local Asian food stores.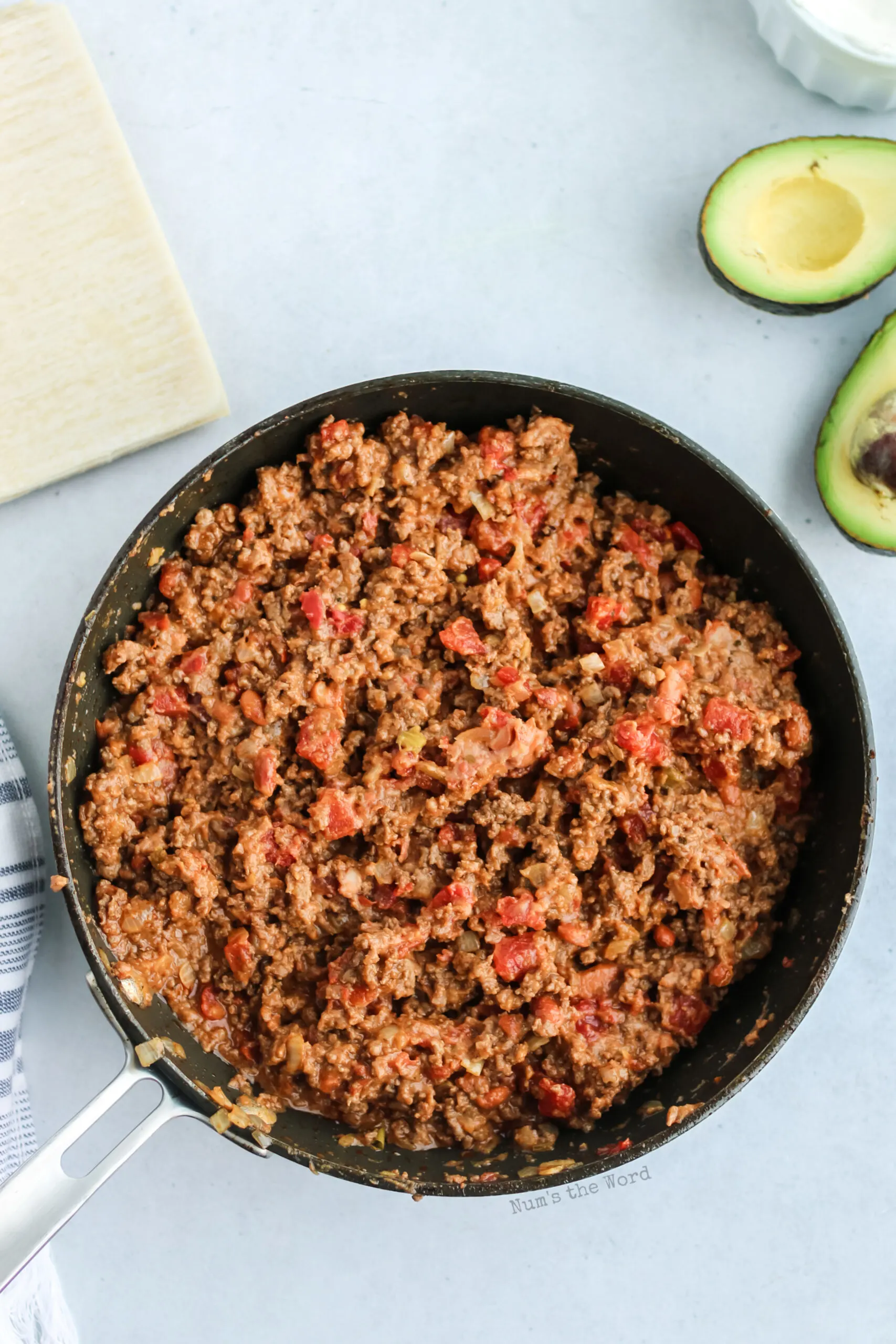 How to roll egg rolls:
Lay out the egg roll wrapper like a diamond.

Place a couple tablespoons of filling and cheese in the center of your egg roll and distribute it evenly across in a loosely log-like shape

Fold up the bottom point of the wrapper over top of the filling and use the folded side to pack in the taco filling a little more tightly.

Now wet your finger with a drop or two of water and run your finger around all exposed edges of your wrapper. This will combine with the white cornstarch to seal your egg roll closed.
Next, fold over each side and make sure it adequately covers the filling and edges entirely, pressing edges down to seal them.
Then continue rolling up until the egg roll is fully sealed!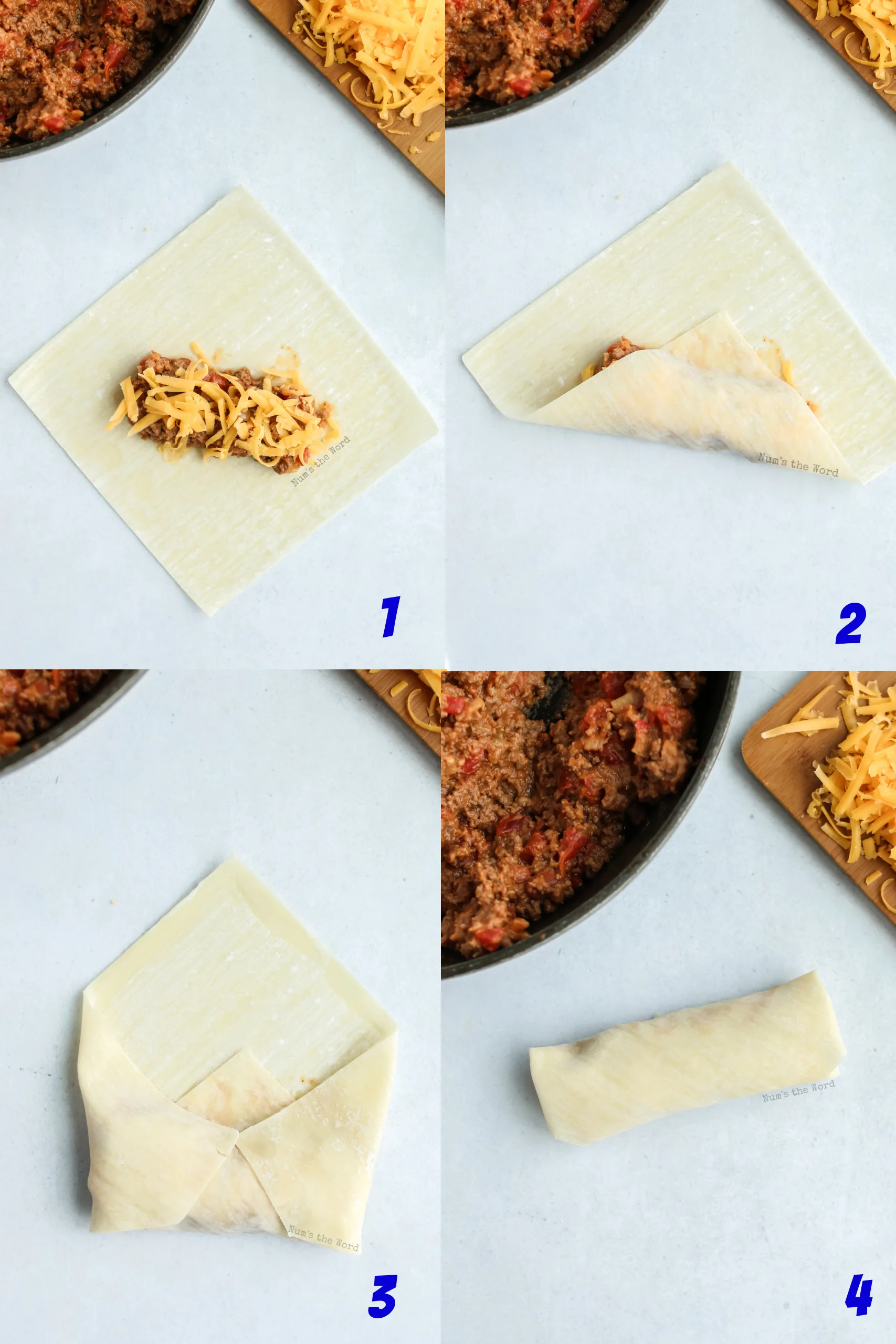 How to fry egg rolls:
Heat about ¼ inch of oil in a wok or skillet over medium heat. Once the oil is hot, place egg rolls in the oil and cook until golden, turning as needed. You can test the oil by dropping in a small piece of an egg roll wrapper into the oil and watching to see how quickly or slowly it cooks.
If your egg roll burns, that means your oil is too hot. If your egg roll takes a long time to cook, that means your oil is too cold. Ideally you want to cook your egg roll for about 1 minute on each side.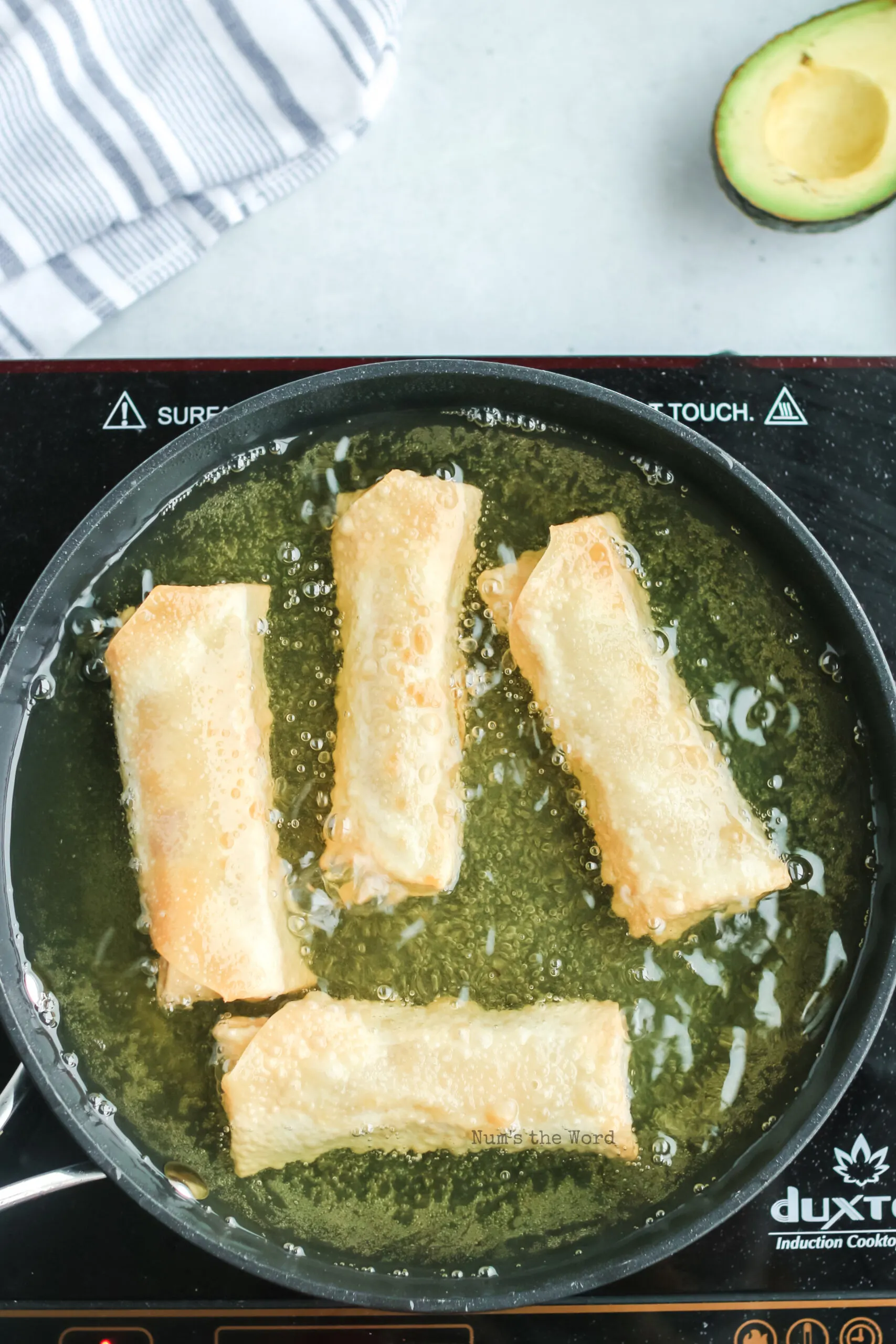 How to bake egg rolls:
If you prefer to bake your taco egg rolls, preheat the oven to 425 degrees. Prepare baking sheet with foil, a baking mat, or nonstick spray and lay egg rolls seam-side down. Lightly spray the top of the egg rolls with cooking spray and bake for 10-15 minutes until crisp and golden!
How to air fry egg rolls:
Place egg rolls in the air fryer basket without allowing them to touch or overlap. Spray or brush the egg rolls lightly with cooking spray or oil. Turn the air fryer to 350 degrees and cook for 6 minutes, then flip the egg rolls, spray or brush with oil again, and cook for an additional 5 minutes. Once again, egg rolls should be crisp and golden!
What are egg roll wrappers made of?
Egg roll wrappers are mostly made of wheat flour and egg, sometimes along with additional wheat gluten (for binding), water, vinegar, salt, and cornstarch.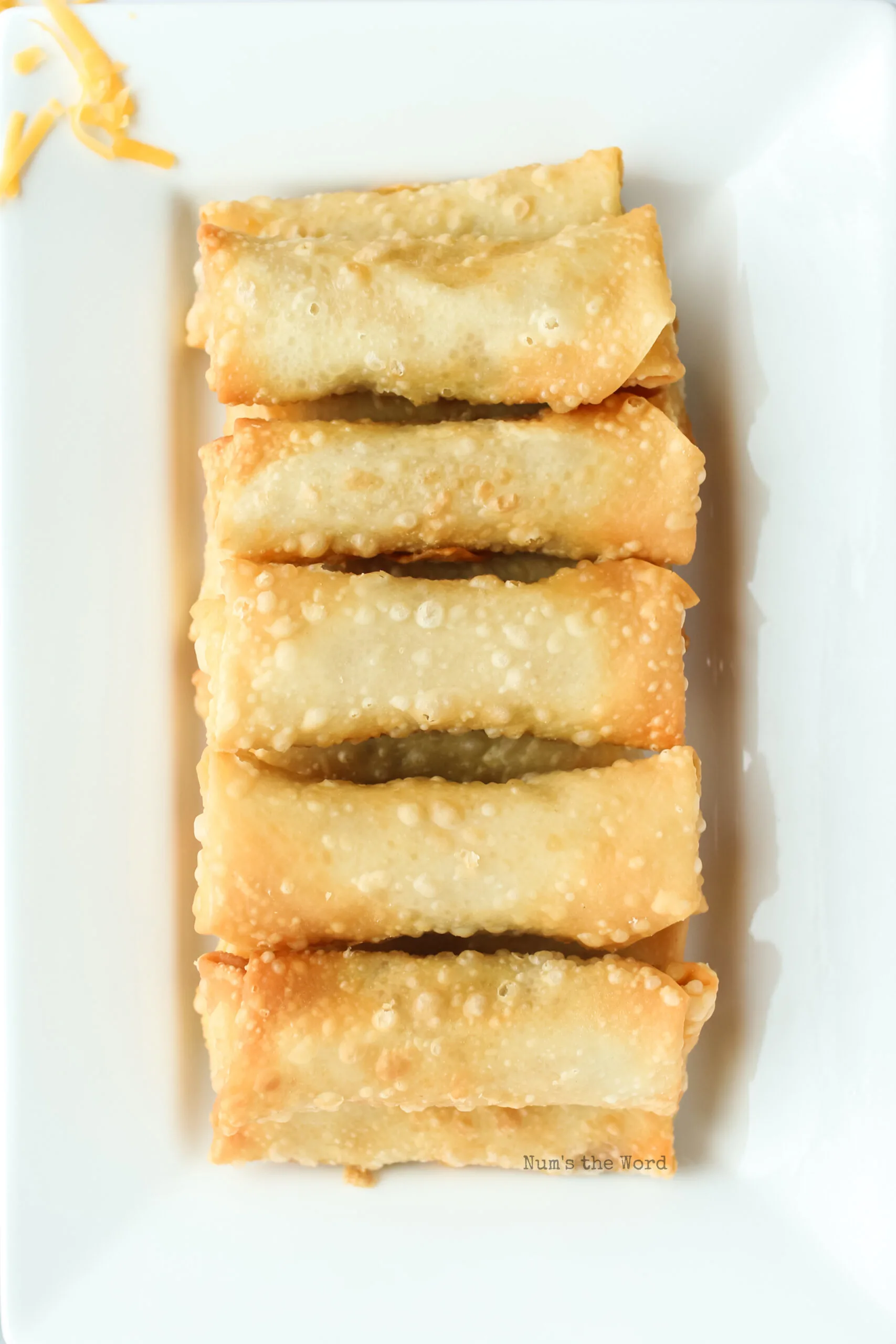 Are egg rolls gluten free?
No, typical egg roll wrappers are not gluten free as they are made with wheat flour. You may be able to purchase gluten free egg roll wrappers at your local health foods store.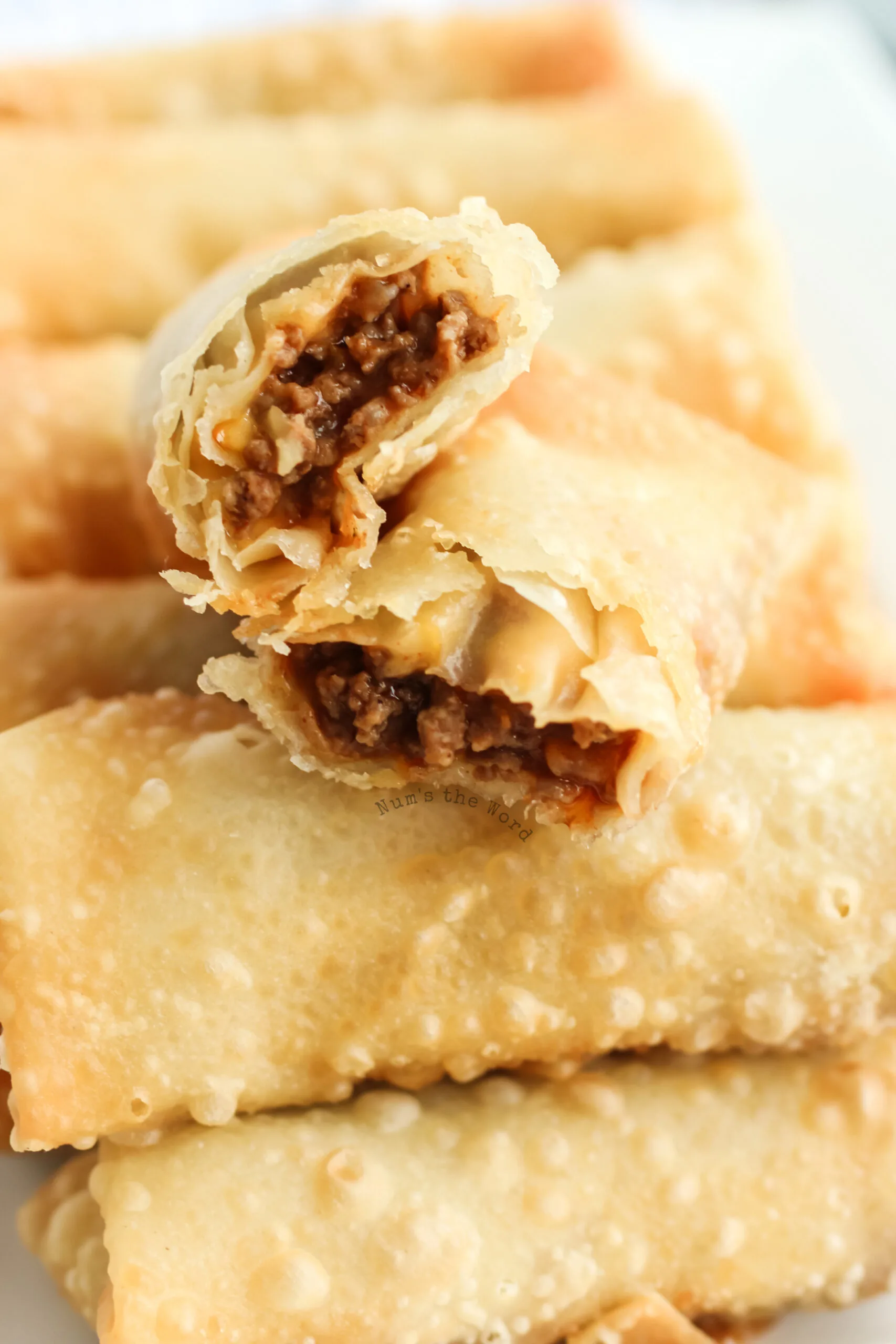 Can you freeze egg roll wrappers?
Yes! You can freeze unused egg roll wrappers for up to 6 months. But you'll want to separate them using waxed or parchment paper before freezing, otherwise they will stick together when thawed. Store in an airtight bag or container.
If you plan on making a big batch of these, you can freeze them! Simply lay out premade (but not cooked) egg rolls on a cookie sheet and freezing for 1 hour. Then transfer egg rolls to a freezer bag. May be frozen for up to 2 months.
When ready to bake, thaw in fridge overnight then fry as directed.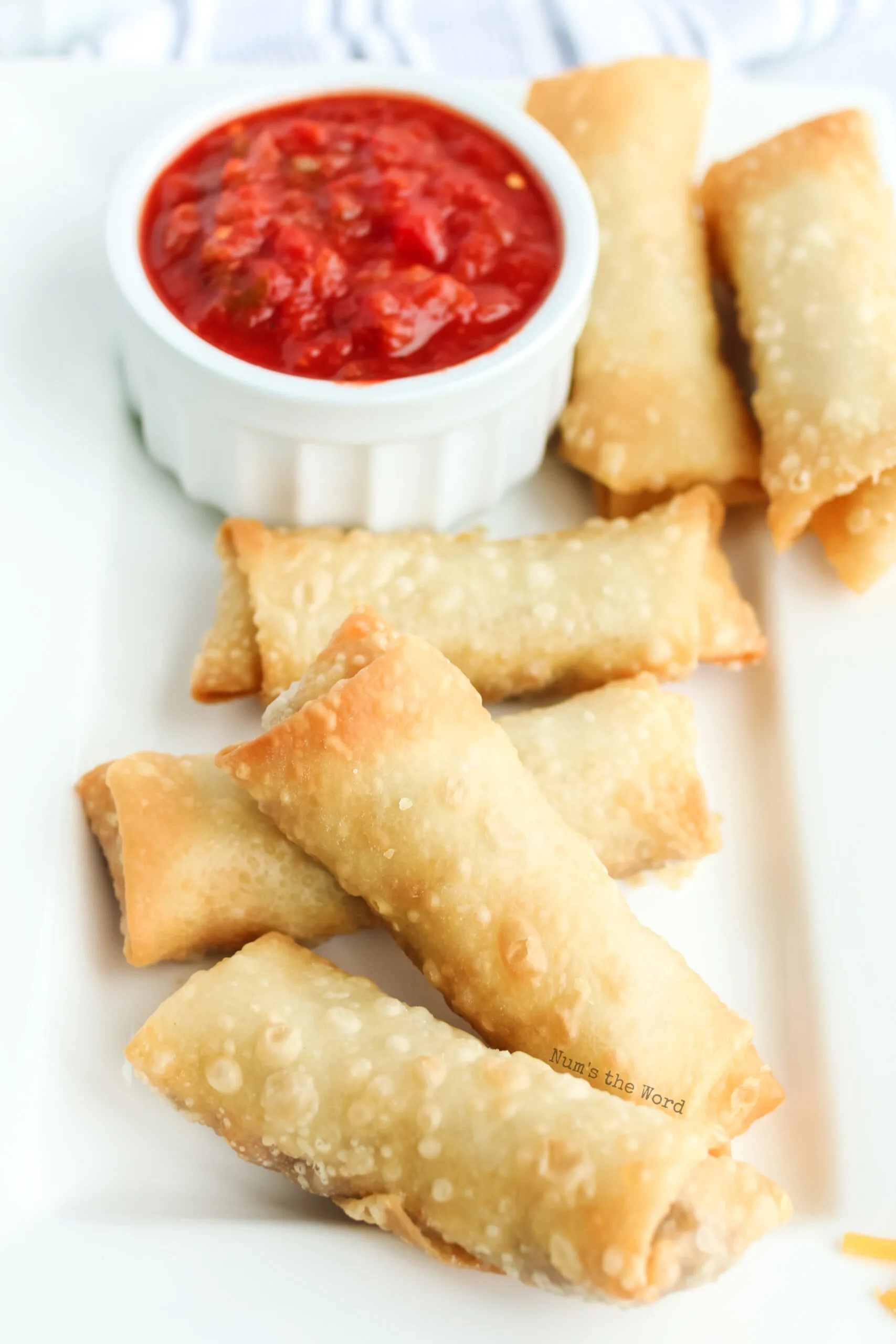 I love recipes that can utilize and reimagine leftovers in fun and delicious ways, and this taco egg roll recipe epitomizes that love!
These Taco Egg Rolls are hands down one of our favorite meals! It's a versatile recipe that will allow you to use what you have on hand to create the a delicious dinner, lunch or appetizer! I'm sure your family will love this meal as much as mine!
Yield: 8 Servings
Taco Egg Rolls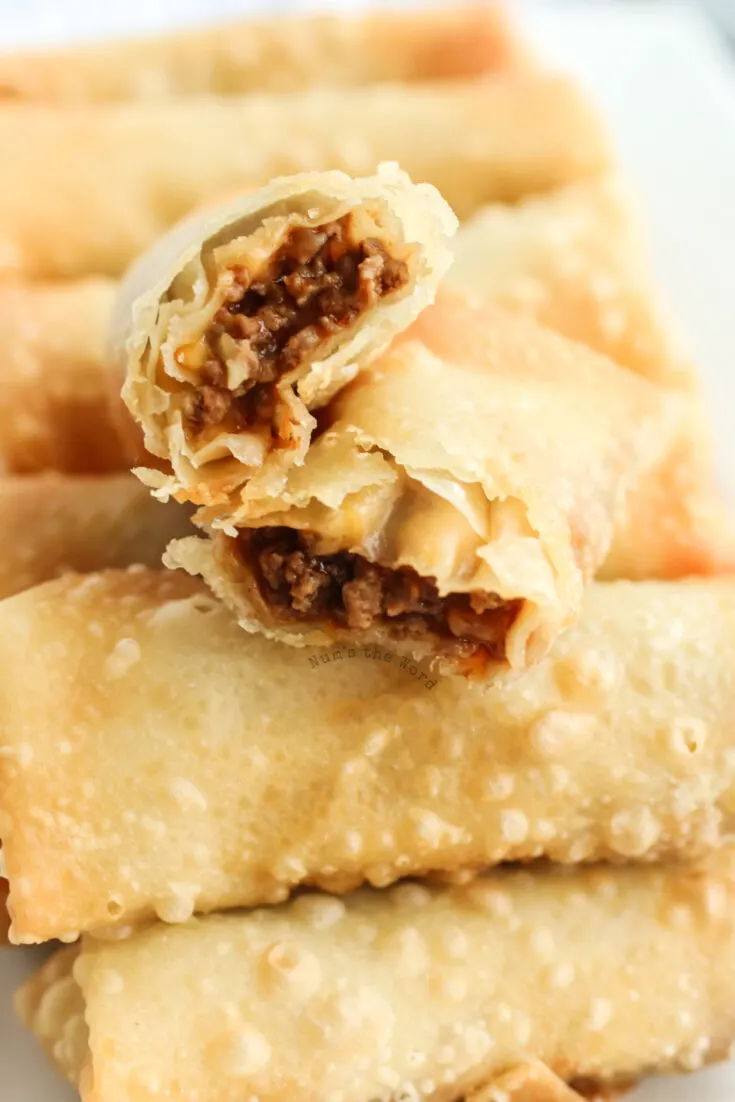 When it comes to 30 minute meals that even the pickiest of eaters will love, these Taco Egg Rolls are our first choice! Quick, easy and perfect to make ahead and freeze!
Ingredients
1 pound ground beef
1/2 cup yellow onion, diced
1 can Rotel Tomatoes
1 can Refried beans
1 package Egg Roll wrappers
Vegetable Oil or Peanut Oil
1 cup Sharp Cheddar Cheese or Mexican Blend
Avocado
Sour Cream
Salsa
Instructions
In a skillet, cook ground beef, onion and taco seasoning until beef is cooked through.
Add Rotel Tomatoes and mix well.
Add Refried Beans and mix well then set aside.
Lay egg roll wrapper out flat. Add 2 Tablespoons of beef mixture to center of egg roll.
Top with 1 tablespoon of cheese.
Add optional avocado.
Seal and roll according to package directions and set aside.
Fill all egg roll wrappers.
In a wok or skillet, add 1/4 inch of oil. Heat oil until oil is hot and ready.
Test oil to see if it is hot enough by dropping a small piece of egg roll wrapper into oil and seeing how fast/slow it takes to cook. If it cooks quickly, turn your heat down, if it takes FOREVER to cook, turn your heat up.
Another method to test the oil is to put the end of a wooden spoon in the oil and if the oil bubbles around the wooden spoon it is ready.
Fry egg rolls in oil until egg rolls are cooked and golden.
Serve with additional avocado, sour cream and salsa.
Notes
For a baked version: Preheat oven to 425*F.
Lay egg rolls seam side down on a prepared cookie sheet. I like to use a baking mat or non stick foil, however you can also spray the pan.
Lightly spray tops of egg rolls with cooking spray and bake for 10 - 15 minutes until golden and crispy!
Nutrition Information:
Yield:
8
Serving Size:
1
Amount Per Serving:
Calories:

408
Total Fat:

26g
Saturated Fat:

10g
Trans Fat:

1g
Unsaturated Fat:

13g
Cholesterol:

80mg
Sodium:

753mg
Carbohydrates:

17g
Fiber:

4g
Sugar:

2g
Protein:

27g
Originally Posted: May 6, 2015
Photos & Text Updated: January 11, 2021