Does your family want a Hearty Comfort Food meal that is also super quick and DELICIOUS? Salisbury Steak Casserole is exactly what you are looking for!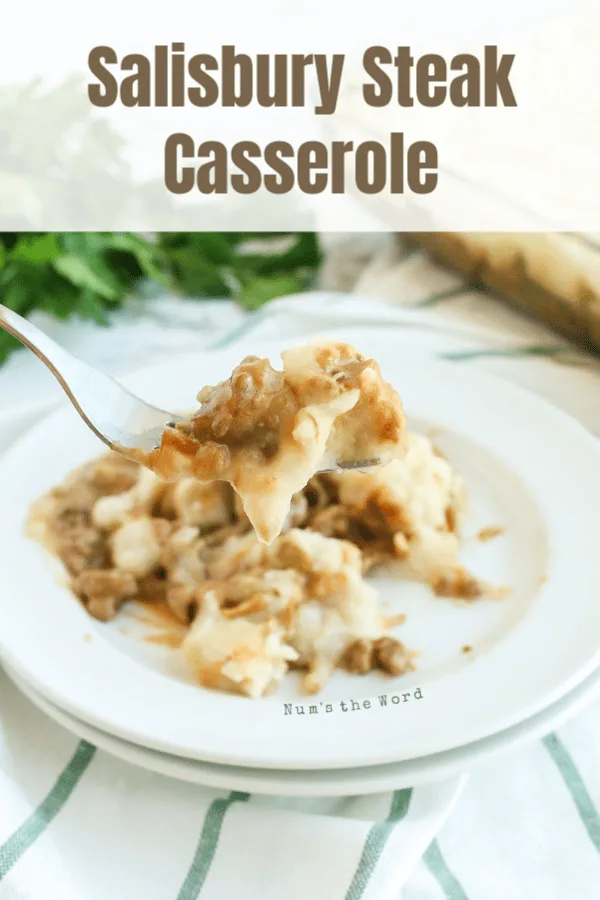 Salisbury Steak Casserole is mouthwatering! It is everything you love about the classic Salisbury Steak but so much easier! Meat, potatoes, gravy, and veggies! See. Told you your mouth would be watering!
So what are you going to love about this Salisbury Steak Casserole? It comes together in 30 minutes. "What?!" Seriously. There is no complicated Salisbury Steak patty making required. AND your entire family is going to love it.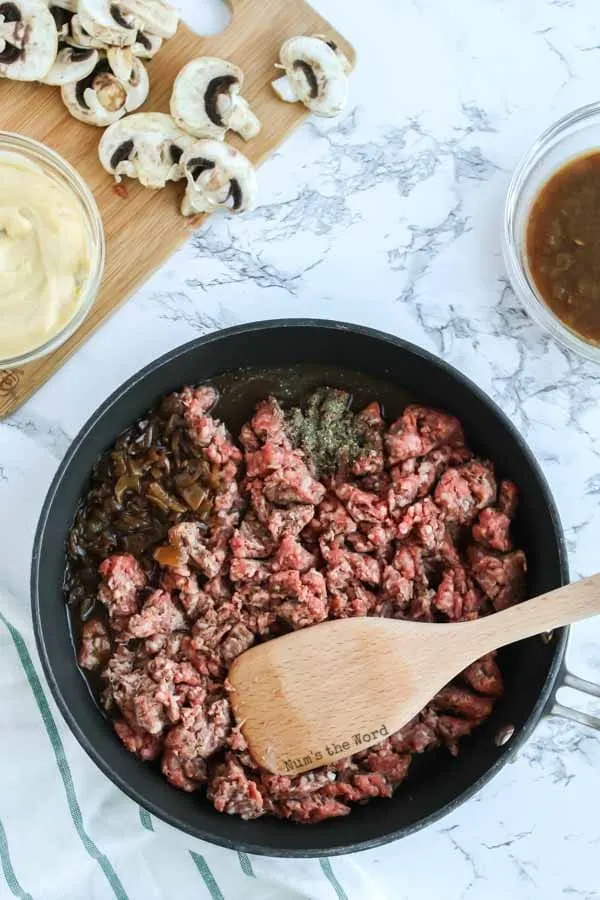 What ingredients do you need?
Mashed Potatoes

: How can you serve Salisbury Steak without mashed potatoes? Luckily this recipe includes them right in the dish! If you are looking for an easy mashed potato recipe check out my

Homemade Crock Pot Mashed Potatoes

!

French Onion Soup

: The onion flavor is what makes a Salisbury Steak taste different from meatloaf or hamburger steak. If you're looking for a yummy one of those instead try these

Glazed Mini Meatloaves

!

Lean Ground Beef

: This is an important one! You cannot make this Salisbury Steak recipe without the meat!

Black Pepper

: A little spice!

Cream of Mushroom Soup

: You can substitute this for other cream based soups if that's what you've got in your cupboard making this part ultra flexible.

Dry Onion Soup Mix

: This is your salt!

All Purpose Flour

: For your yummy thick gravy.

Ketchup

: Also known as Table Sauce! Sweet and tangy is the way I would describe it.

Water

: Easy enough!

Worcestershire Sauce

: Like ketchup only sweet and savory!

Mustard Powder

: The dry form of prepared mustard. If you don't have mustard powder you can always substitute for prepared mustard. It shouldn't change your recipe too much.

Sliced Mushrooms

(optional): Mushrooms taste delish in this recipe but if they aren't your thing, just leave them out or substitute with another veggie you love.

French Cut Green Beans

: Add some color and nutrition!
Pro Tips:
Don't forget to preheat!

This recipe comes together fast and you'll be grateful you can pop it in right away when you're done.

Use an oven safe skillet to cook your beef

and you can layer everything right on top. Just make sure it doesn't have a plastic handle. A one skillet meal! Less mess! Yay!

Pick and choose your veggies

. I love green beans and mushrooms. But if you don't (or your kids don't) add a yummy veggie you do love to make this a family favorite. Almost any veggie will go perfectly in this recipe. Peas, corn, roasted cauliflower, bell peppers or carrots are all possible ideas!

Use leftover mashed potatoes

. I'm a HUGE fan of leftover mashed potatoes! Like in my

Leftover Mashed Potato Peppermint Patties

,

Leftover Mashed Potato Cinnamon Rolls

, or

Leftover Mashed Potato Bread

. I could go on! They go great in everything! Plus they make cooking a cinch!

Gotta love the sodium!

Salisbury Steak is known for having a powerful salty flavor and the dry onion soup mix is what gives it that yummy flavor. If you want less salt, use half the packet or you can cut it altogether. I LOVE the flavor with the whole packet though.
Can I freeze Salisbury Steak Casserole?
Yes you can freeze this Salisbury Steak Casserole! Make ahead meals are my favorite so I understand if they are your favorite too. Take it straight from the freezer to the oven! Not bad for a ground beef gravy casserole!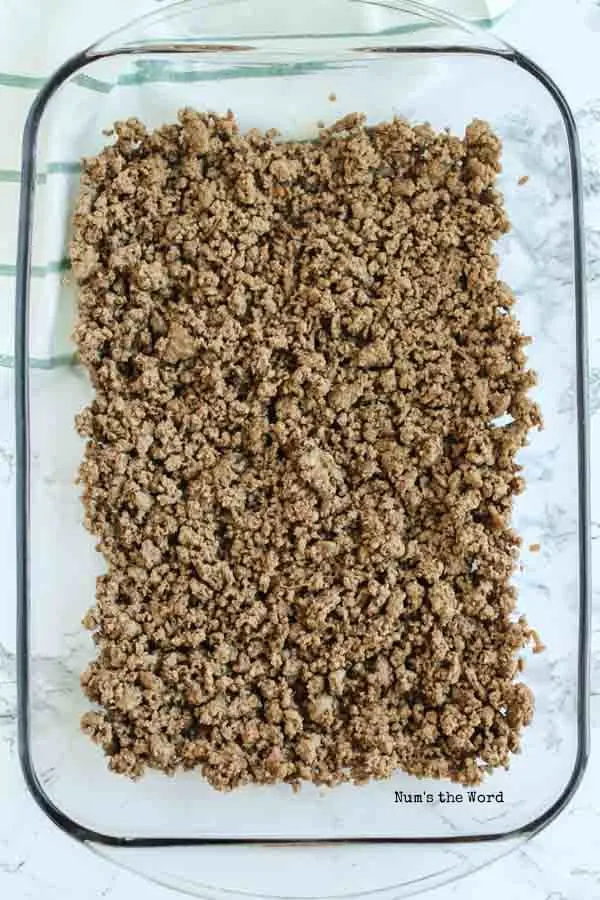 What is Salisbury Steak?
Perhaps you've made it this far and you have no idea what Salisbury steak even is! Though if you've read all this, you've probably got a pretty good idea!
Basically, Salisbury steak is a very popular American comfort food made from a homemade ground beef patty and covered in a yummy onion gravy. Most homemade Salisbury steaks are served either on top of mashed potatoes or with mashed potatoes as a side dish.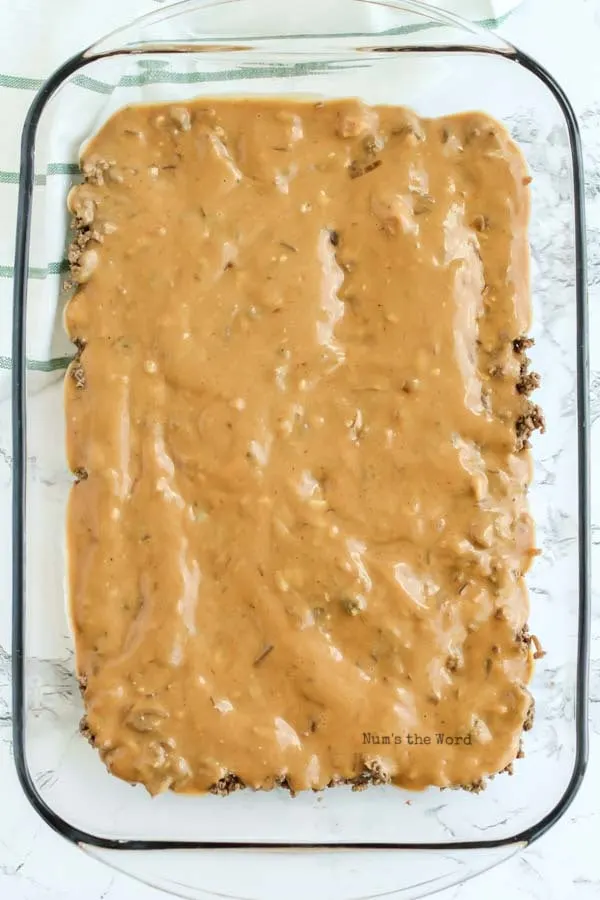 What is the difference between Salisbury Steak and Meatloaf?
First, typically Salisbury steak is served in a patty while meatloaf is served in a loaf. Salisbury steak also tends to have a brown gravy or sauce (like onion gravy or a mushroom sauce for instance) while Meatloaf is typically served with a tomato based sauce.
While they are very similar, their flavorings and presentation can be quite different.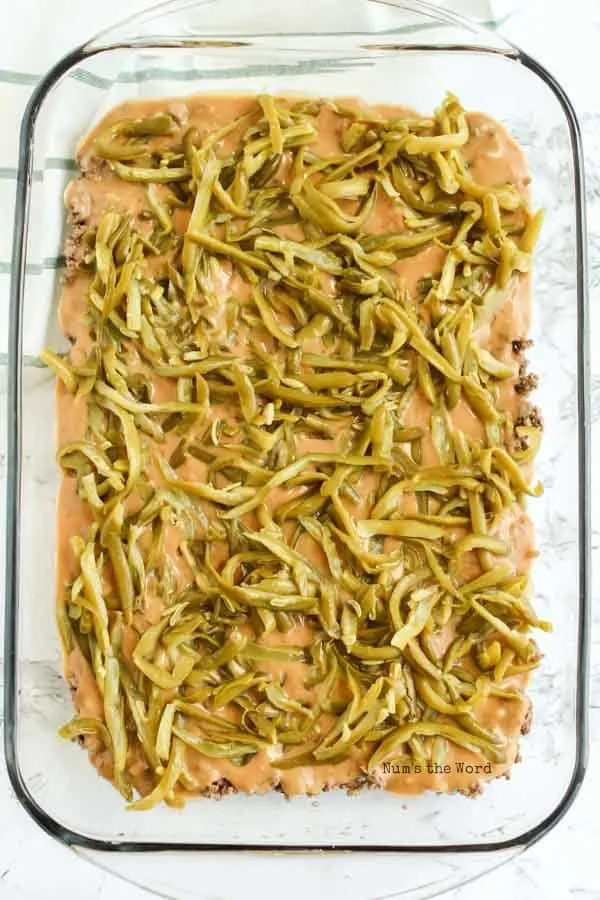 What is the difference between Salisbury Steak and Hamburger Steak?
These two are a lot more similar than Salisbury steak and meatloaf. They are presented in nearly the same way. While Salisbury steak is typically served in a steak type shape, hamburger steak is normally served in a more round or square shape. They both are normally served with similar sides though.
The main difference is that hamburger steak is made from ONLY beef and seasonings while Salisbury steak usually contains additional vegetables such as onions, mushrooms, or even bell peppers within the meat itself.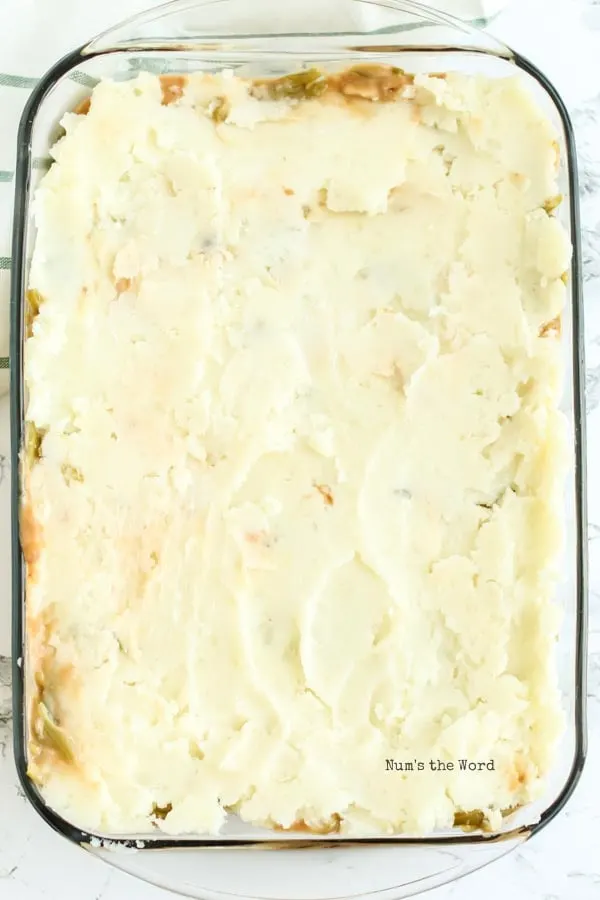 Why is it called Salisbury Steak?
Salisbury steak was first created in New York in 1888 by James H. Salisbury, a physician who believed that diet played a large role in your health. Ground breaking right? Well, it was the 1800s.
He believed that people needed to eat a high meat diet – with vegetables, fruits, starches, and fats only consisting of about ⅓ of what you eat each day.
To ensure you met these high meat requirements, he famously suggested that everyone eat his Salisbury steak three times a day! But really who wouldn't suggest everyone eat their recipe three times a day?
If you're going to eat something three times a day I suggest this New York Cheesecake! But then I may have more of a sweet tooth than Mr. Salisbury.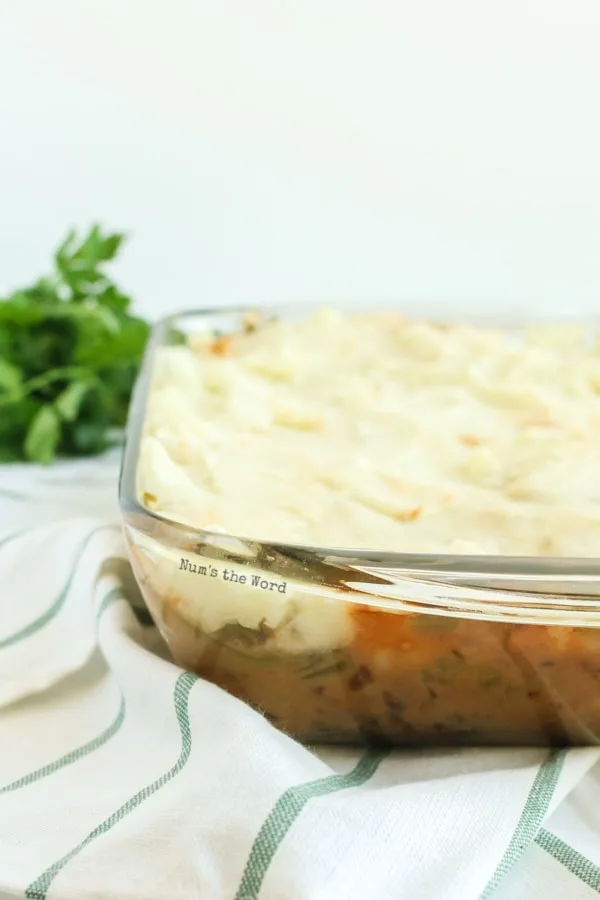 Salisbury Steak Gravy:
If you don't want to make this Salisbury Steak Casserole Recipe, and would prefer traditional Salisbury Steak, then you could still make this gravy! A good gravy is a must have when it comes to classic Salisbury Steak.
Just mix the gravy and cook your steaks in the gravy. You can bake or stove fry them with this gravy.
What is the Difference Between Salisbury Steak and Hamburger Steak?
The main difference between these two steak dishes lies in their ingredients.
Hamburger steak is ONLY made from beef and various spices. Salisbury steak, on the other hand, usually contains additional vegetable content such as onions, mushrooms, or bell peppers within the meat itself.
Salisbury steak is also steak-shaped, whereas hamburger steak is presented as a round or square-shaped patty.
Side Dishes to Serve with Salisbury Steak Casserole:
This Salisbury steak casserole recipe is absolutely scrumptious. It's easy. It's quick. And trust me, you are going to thank yourself (and your family will be thanking you too) when you make it!
Yield: 6 Servings
Salisbury Steak Casserole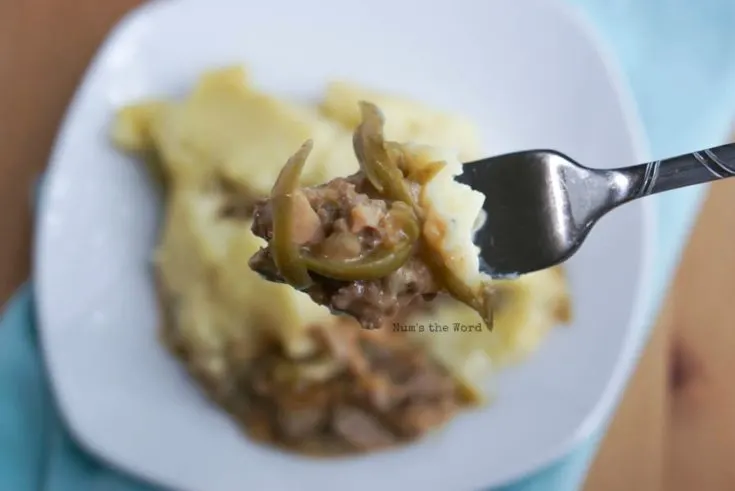 If you love Salisbury Steak, then give this simple 30 minute Salisbury Steak Casserole a chance. Easy, delicious and perfect weeknight meal! This also reheats and freezes well!
Ingredients
2 - 3 cups pre-made mashed potatoes - leftovers work great!
1/3 can + 2/3 can (10.5 ounce total) can of french onion soup, divided
1 1/2 pounds lean ground beef
1/8 teaspoon black ground pepper
1 (10.5 ounce) can cream of mushroom soup (or cream of chicken if you don't like mushrooms)
1 packet of dry onion soup mix
3 Tablespoon all purpose flour
1/4 cup ketchup
1/2 cup water
2 Tablespoon Worcestershire sauce
1 teaspoon mustard powder
sliced mushrooms (optional)
1 (14.5 ounce) can of french cut green beans, drained
Instructions
Preheat oven to 350*F
If mashed potatoes are not already prepared, prepare now.
In a deep skillet, combine 1/3 can of french onion soup, ground beef & pepper. Cook until meat is cooked through. If using a higher fat meat, drain liquids.
While ground beef is cooking, in a small bowl combine remaining french onion soup, cream of mushroom soup, dry onion soup mix, and flour until well combined and flour isn't lumpy.
Add to soup mixture ketchup, water, Worcestershire sauce, mustard powder and mushrooms. Mix well.
If you have a heavy duty skillet that can go in the oven (no plastic handles) then you can just layer everything it your skillet and bake it. If you do not, or are not comfortable baking with your skillet, then a 9 x 13 pan would work too! If you are doing the 9 x 13 pan, transfer meat mixture into pan now.
Pour soup mixture over ground beef.
Dump and spread green beans over ground beef.
Top with mashed potatoes.
Bake for 20 minutes.
Serve immediately.
Nutrition Information:
Yield:
8
Serving Size:
1
Amount Per Serving:
Calories:

508
Total Fat:

22g
Saturated Fat:

7g
Trans Fat:

1g
Unsaturated Fat:

11g
Cholesterol:

84mg
Sodium:

1450mg
Carbohydrates:

44g
Fiber:

4g
Sugar:

8g
Protein:

32g
Nutritional information is estimated, not exact.
Originally Posted: November 2, 2015
Photos & Text Updated: September 1, 2020