If you love Salisbury Steak, then give this simple 30 minute Salisbury Steak Casserole a chance.  Easy, delicious and perfect weeknight meal!  This also reheats and freezes well!
This post contains affiliate links.  If you click on an affiliate link and make a purchase, I will make a small percentage on your purchase. This helps keep this website running! Thank you!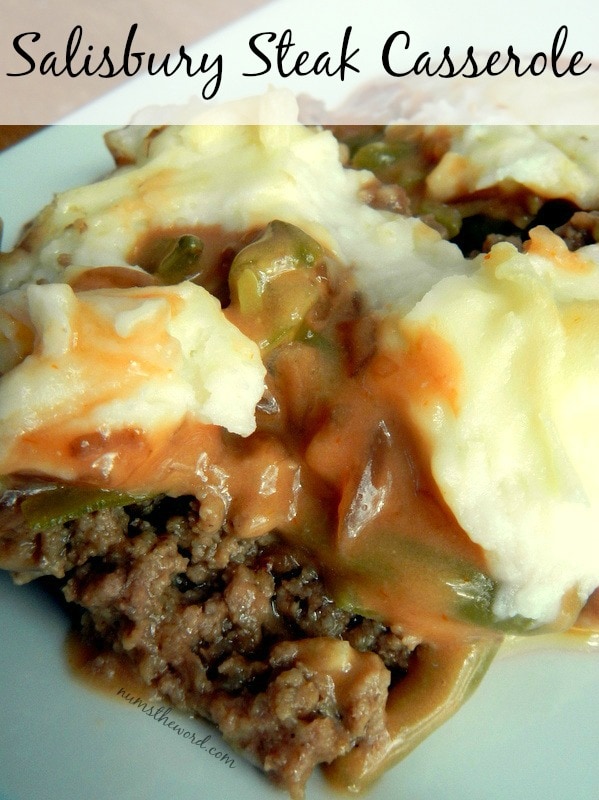 There is something comforting about the phrase Salisbury Steak.
I have always related this term to comfort food.
Salisbury Steak Casserole is an easy to make, down to earth, good home cooking meal that so far just about everyone I've met likes.
This Salisbury Steak Casserole recipe is a bit unique in the sense that it's not a true Salisbury Steak and it's entire creation was an accident.
I was originally trying to make real from scratch Salisbury Steaks.
However I got distracted and added my ingredients in the wrong order and then said…what the heck, let's see where this creation goes.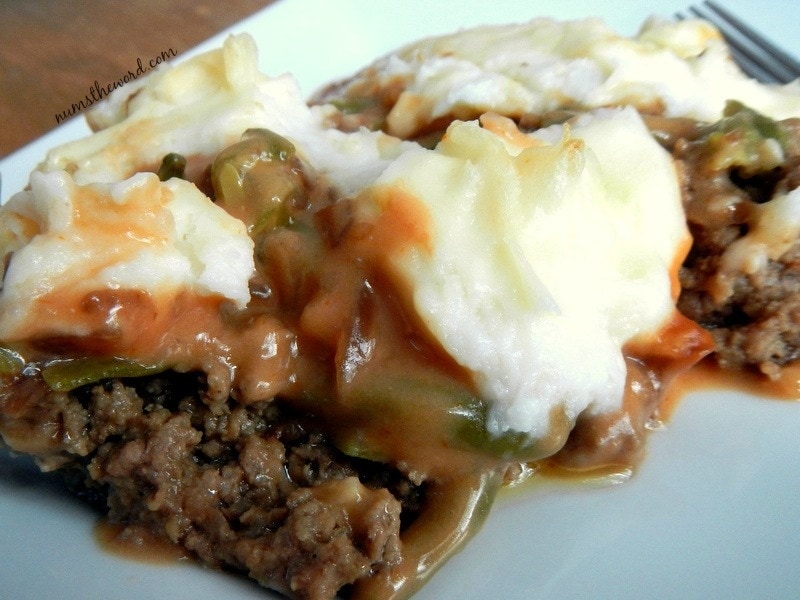 Next thing I know, I've got myself the most amazing and tasty Salisbury Steak Casserole.
The entire thing took 30 minutes, which for me included the potatoes.
I got my potatoes boiling, then started working on my ground beef mixture.
When it was all said and done I had used 2 pots total, 1 for boiling potatoes and a second for my ground beef mixture.
I guess I should add in a bowl for mixing up the mashed potatoes, unless you do that in the pot you cooked them in.
If you want to save time, use leftover mashed potatoes or even instant potatoes.
I will say, for the record I can't stand instant potatoes, so I personally would never go that route.  However, if you like them, go for it!
This really is an easy dish that my family enjoyed and yours will too!
Salisbury Steak Casserole
Ingredients
2 - 3 cups pre-made mashed potatoes - leftovers work great!
1 (10.5 ounce) can of french onion soup
1 1/2 pounds lean ground beef
1/8 teaspoon black ground pepper
1 (10.5 ounce) can cream of mushroom soup (or cream of chicken if you don't like mushrooms)
1 packet of dry onion soup mix
2 Tablespoon all purpose flour
1/4 cup ketchup
1/2 cup water
2 Tablespoon Worcestershire sauce
1 teaspoon mustard powder
sliced mushrooms (optional)
1 (14.5 ounce) can of french cut green beans, drained
Instructions
Preheat oven to 350*F
If mashed potatoes are not already prepared, prepare now.
In a deep skillet, combine 1/3 can of french onion soup, ground beef & pepper. Cook until meat is cooked through.
While ground beef is cooking, in a small bowl combine remaining french onion soup, cream of mushroom soup, dry onion soup mix, and flour until well combined and flour isn't lumpy.
Add to soup mixture ketchup, water, Worcestershire sauce, mustard powder and mushrooms. Mix well.
If you have a heavy duty skillet that can go in the oven (no plastic handles) then you can just layer everything it your skillet and bake it. If you do not, or are not comfortable baking with your skillet, then a 9 x 13 pan would work too! If you are doing the 9 x 13 pan, transfer meat mixture into pan now.
Pour soup mixture over ground beef.
Dump and spread green beans over ground beef.
Top with mashed potatoes.
Bake for 20 minutes.
Serve immediately.
https://numstheword.com/salisbury-steak-casserole/
Other Casserole Recipes You'll Love...