These Crock Pot Mashed Potatoes make cooking for a crowd easy! From start to finish these potatoes are cooked, mashed and blended in the crock pot! Perfect for Thanksgiving, Christmas or Easter dinner!
This post contains affiliate links. If you click on an affiliate link and make a purchase, I will make a small percentage on your purchase. This helps keep this website running! Thank you!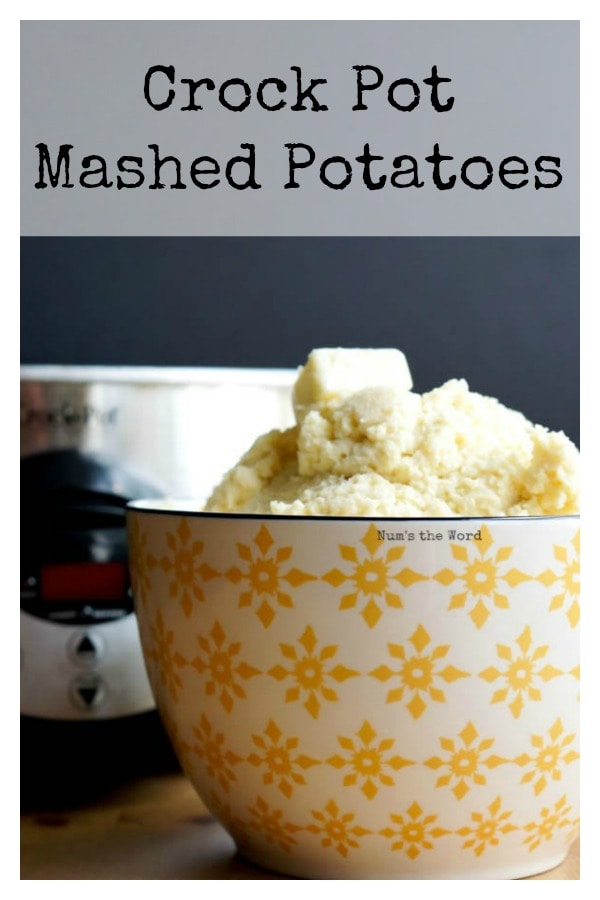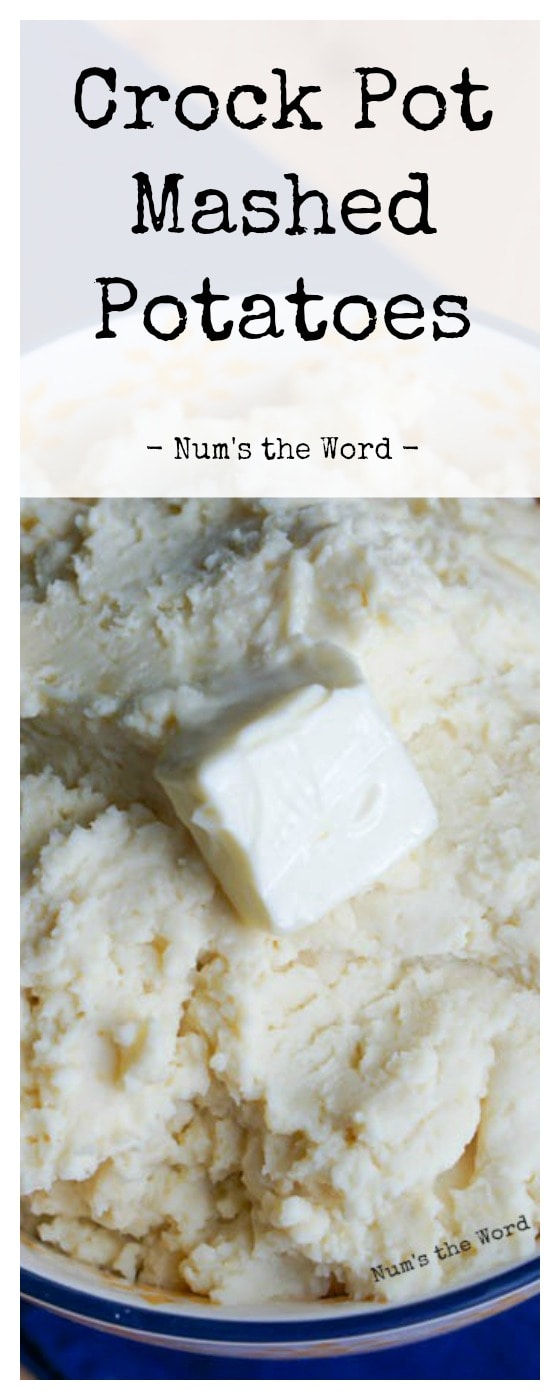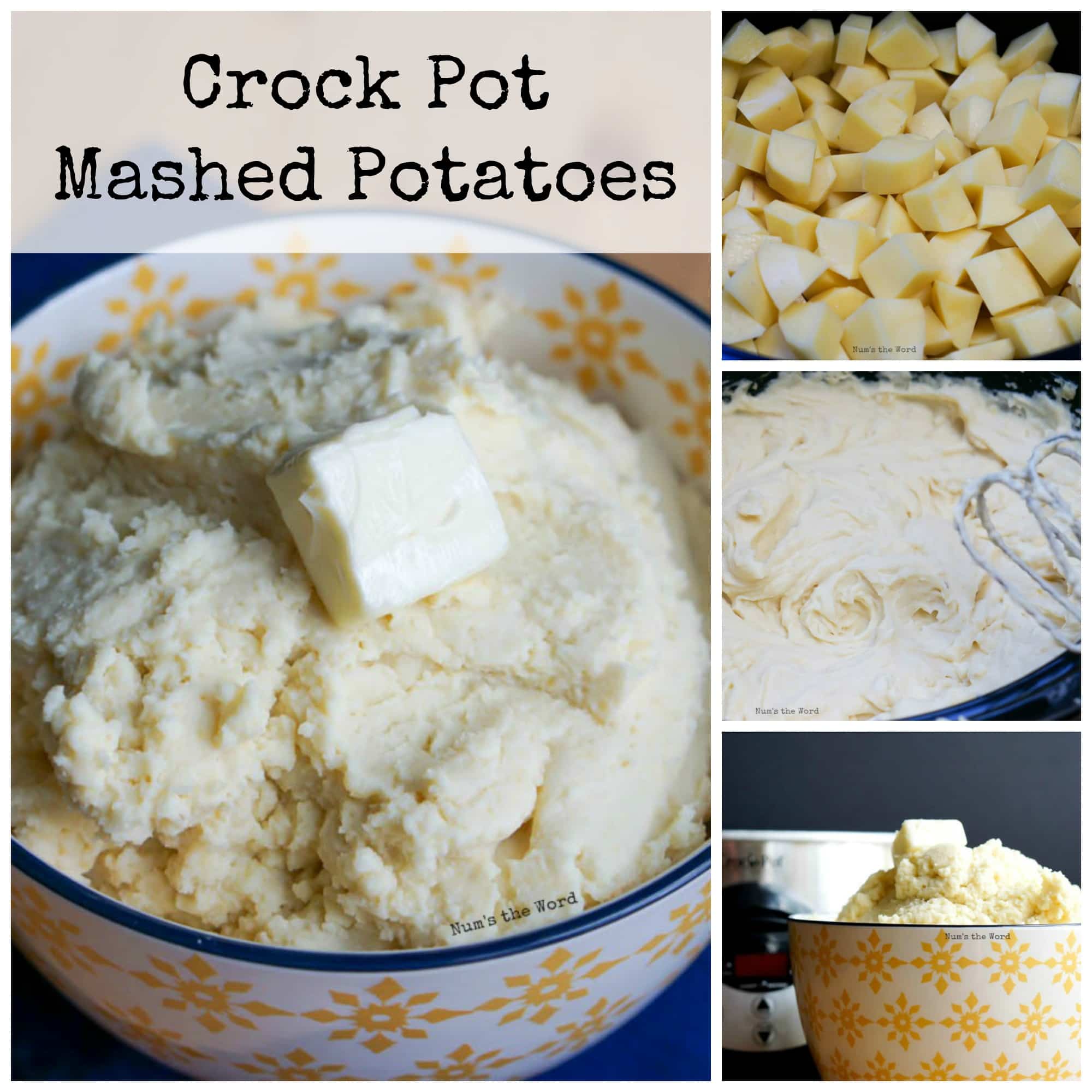 I'm not sure about you, but I work in a kitchen that has ONE oven.
Oh the dream of having a double oven!
However, if we're going to be realistic, my dream is to have four.
I want FOUR ovens in my dream kitchen.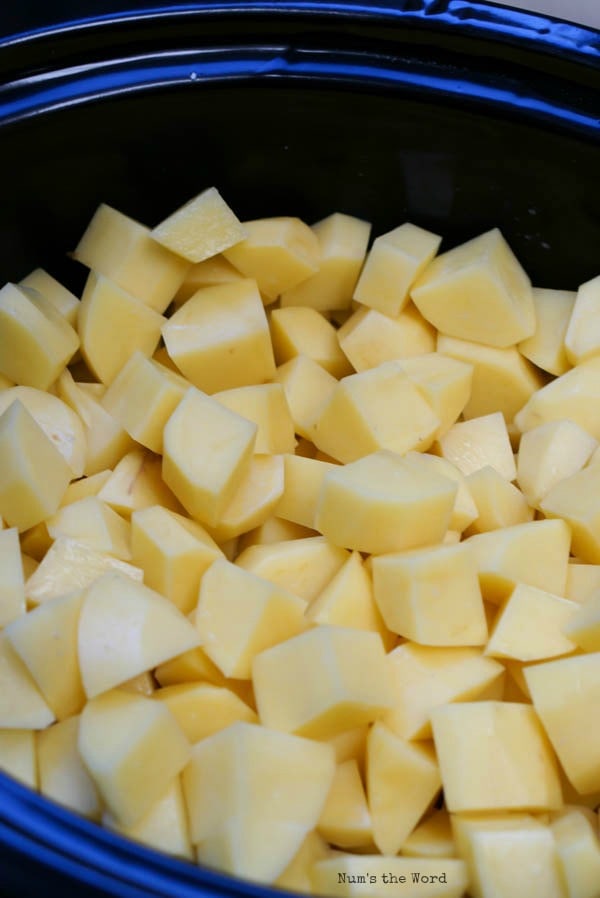 You may think this is a bit excessive, but I love to have people over to dinner and it's a pain to schedule and work around and plan so that everything can be ready at the same time with only one oven.
I have 1 oven, and 4 burners.
And at Thanksgiving and Christmas it is kitchen crazy up in here.
On those days, I have every burner going with the oven cranking out food non-stop.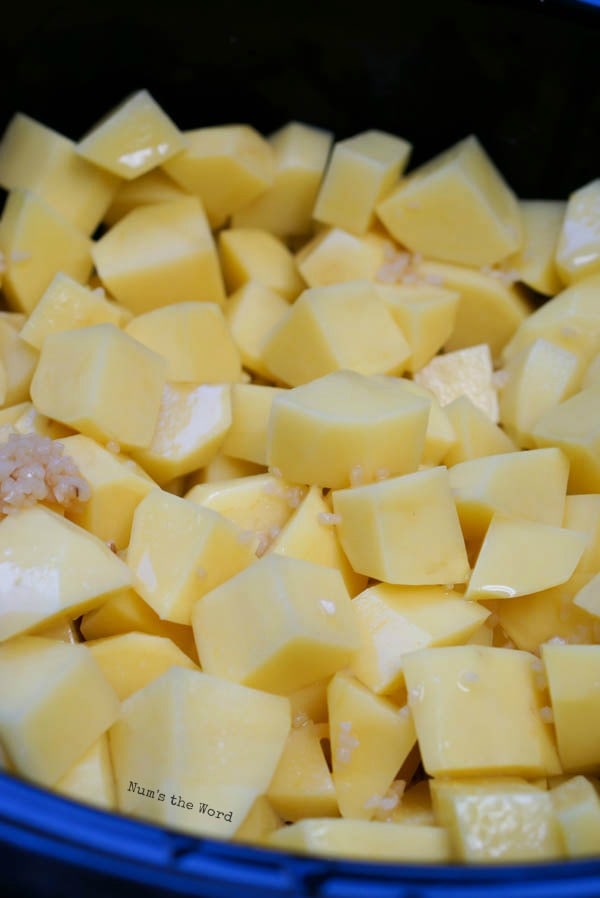 In an attempt to cool the house down, I crank the AC on or open the windows to cool down the house before I collapse of heat stroke.
Any help I can get to make my life easier for those big meals is considered a life changing moment.
These Crock Pot Mashed Potatoes aren't just easy peasy.
They are so, so, so good.
Packed with flavor.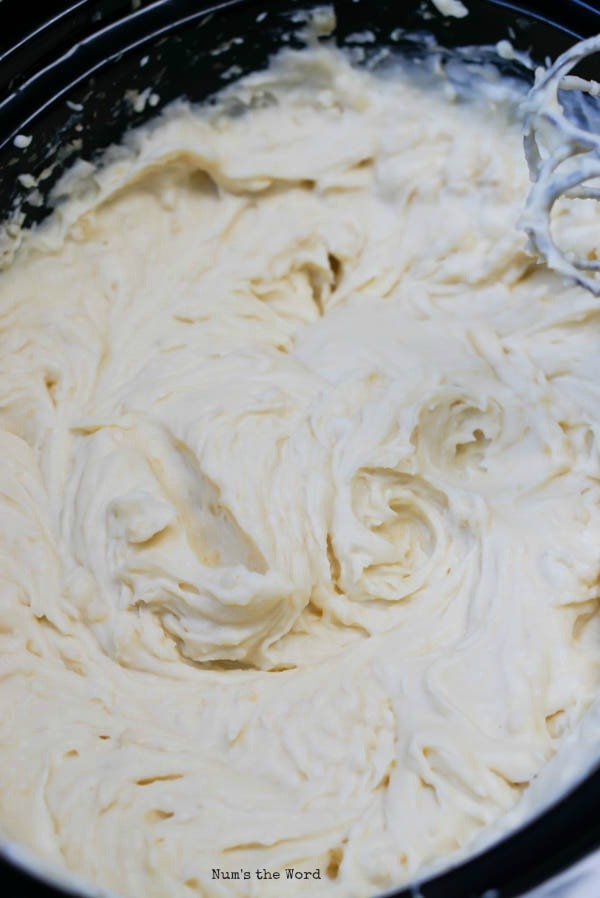 Easy to make and a mashed potato favorite in this house!
Plus they are made in the CROCK POT! <– Life Saver!
Instead of several dirty dishes, you can now make them in your crock pot from start to finish!
You can ever pop your hand blender in the crock pot and blend them up!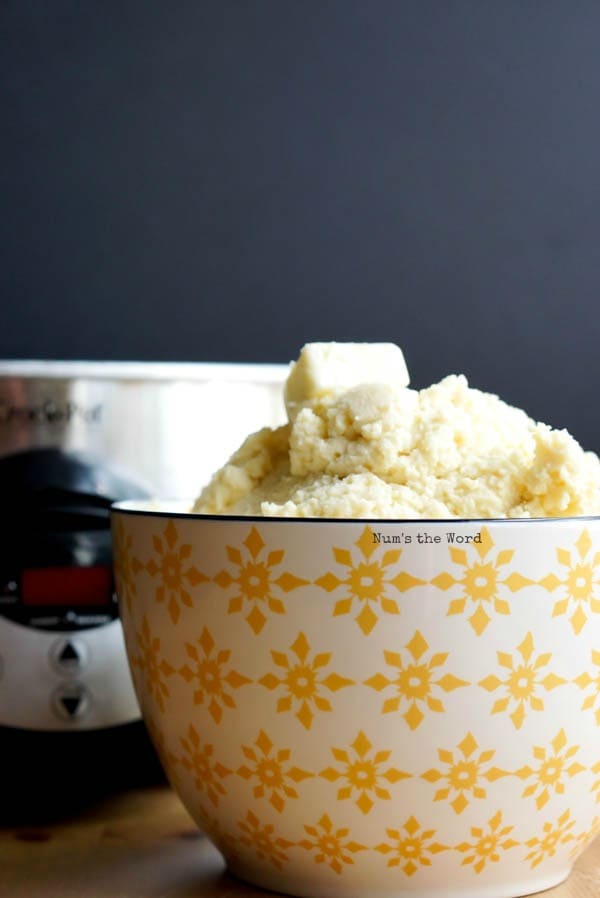 Talk about a space saver (and time saver) for feeding a crowd!
For those of you who heard about my fight with a potato (in 2014) and were waiting to see what recipe the injury was caused from, this is it.
However I'll spare you of any photos as there were many.
From my fight with a potato (in which I lost) I offer this warning…
When cutting a potato or any veggies – ok when cutting ANYTHING ,do it standing up.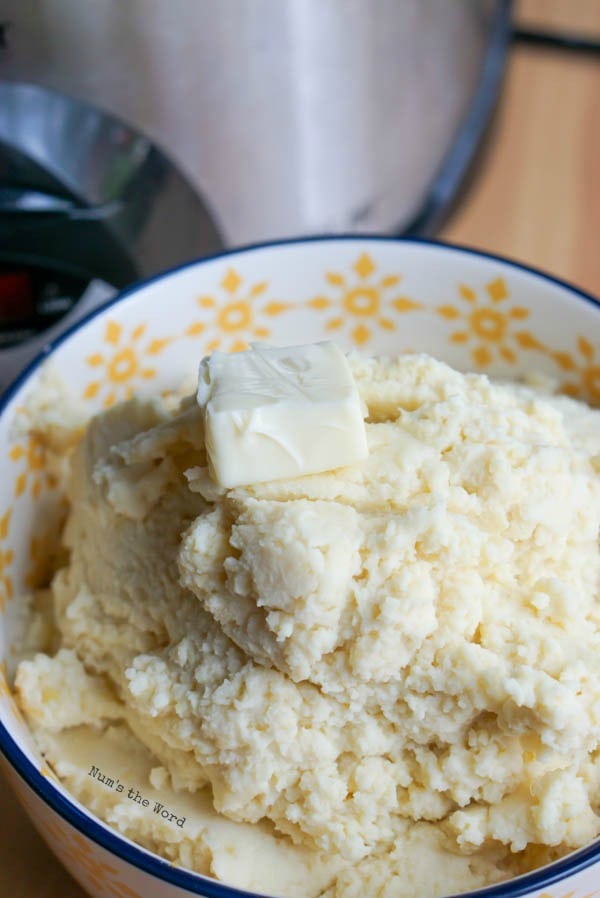 Trust me, I ALWAYS cut my veggies and fruits and well, everything, standing up at the counter with a sharp knife and a cutting board.
I believe you should always stand because it gives you the best control of the knife and best leverage of the item you are cutting.
Let me repeat I ALWAYS cut standing up.
However on the day that I was making these, I had thrown my back out that morning.
As in I could only walk hunched over.
So in my tush was in a chair as much as possible with a heating pack on my back.
So I thought it was a great idea to peel and dice potatoes while SITTING at the kitchen table.
NOOOO.
Not a good idea.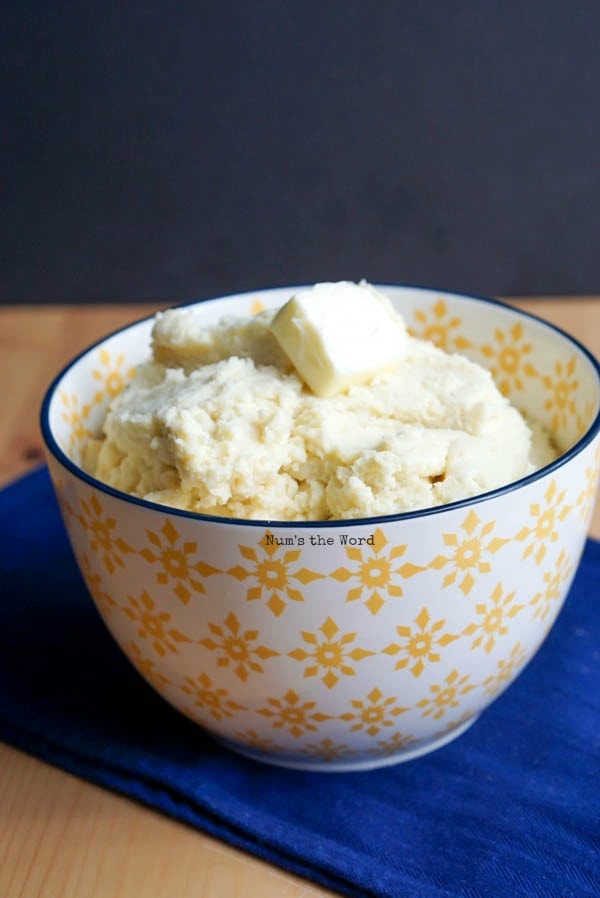 While dicing the potatoes, I did not having the proper leverage over the potato and it slipped out of my hands.
The knife missed the slippery potato and came down right across the top of my pinkie. Ouch!
3 stitches later and a husband who barely made it to the hospital because the sight of blood makes him queezy and I'm alive and well.
Honestly I don't even think there will be a scar.
Anyway, while at the ER, my Mother-in-Law (who is the most amazing person ever) finished my potatoes for me.
Really she's amazing.
These potatoes will forever be remembered in our family because of the story attached to them.
Yield: 12 Servings
Crock Pot Mashed Potatoes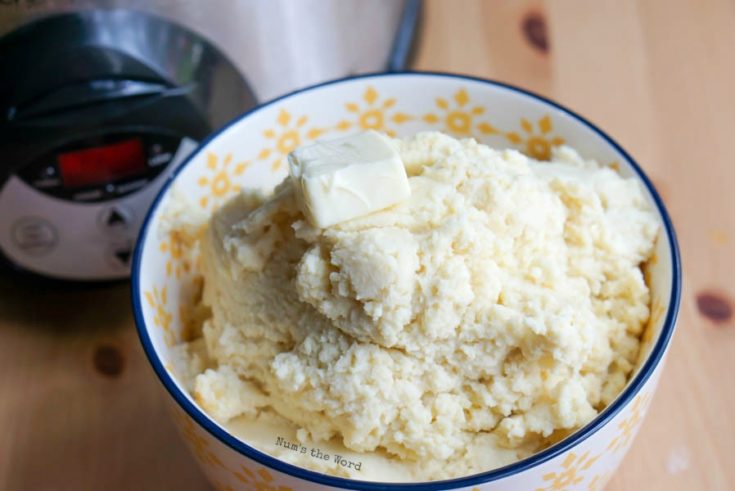 These Crock Pot Mashed Potatoes make cooking for a crowd easy! From start to finish these potatoes are cooked, mashed and blended in the crock pot! Perfect for Thanksgiving, Christmas or Easter dinner!
Additional Time
15 minutes
Total Time
4 hours
30 minutes
Instructions
In a 6 quart (or larger) crock pot, add diced potatoes, chicken broth and salt. Cook on high for 3 hours.
Add garlic and cook until potatoes are easily mashed with a fork. The timing will depend on how thick you cut your potatoes. For me it generally takes another hour of cooking.
Once potatoes are fork tender, turn crock pot off.
Using a hand held blender or potato masher, blend/mash potatoes in crock pot until desired creaminess.
Add in sour cream and cream cheese and blend/mash again.
Serve immediately with 1/2 cup of butter on top.or turn crock pot to warm and let sit in crock pot until ready to use.
Notes
To make it healthier, you can always do light sour cream, light cream cheese and skip the butter.
Nutritional Information is estimated, not exact.
Recommended Products
As an Amazon Associate and member of other affiliate programs, I earn from qualifying purchases.
Nutrition Information:
Yield:
12
Amount Per Serving:
Calories:

318
Total Fat:

18.9g
Saturated Fat:

11.7g
Cholesterol:

49mg
Sodium:

924mg
Carbohydrates:

31.9g
Fiber:

3.2g
Sugar:

2.2g
Protein:

7.1g
Originally Posted: November 5, 2014
Photos & Text Updated: October 12, 2018
Recipes that Use Mashed Potatoes...