Ever wanted a sticky, delicious, succulent Honey Baked Ham Recipe but don't want to spend your entire savings? Well then look no further because this recipe is divine and won't even come close to breaking the bank!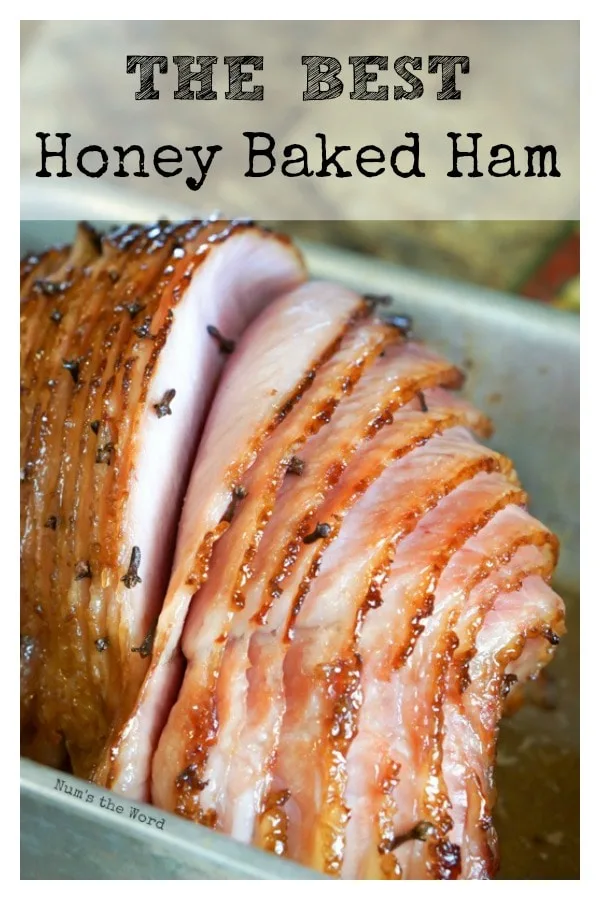 This Honey Baked Ham recipe is easy and packed with flavor. This is our favorite ham recipe that will leave your family begging for more! Skip the expensive price tag of buying a Honey Baked Ham and make it at home! Perfect for Christmas, Easter, and Thanksgiving!
This delicious ham recipe has a honey baked ham glaze that is sticky, crispy, and succulent. It is way easier than you would think! It only takes 5 ingredients including the ham!
And every time I've ever made it, someone asks me for the recipe. Without fail.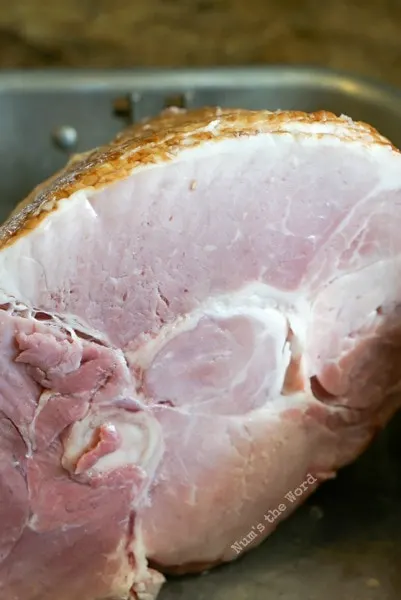 How to Prepare a Honey Baked Ham
Here's what you're going to need:
Spiral Cut Ham

: Spiral cut, bone in ham is what you want. It means the ham is already cut into slices so less work for you! Plus the cuts make it easier for the delicious glaze to slide down between every slice. You want that yummy flavor through every bite, not just the outside.

Cloves:

Cloves are the flower buds of the clove tree. They commonly come in either whole or ground form. For this ham recipe you will want whole cloves.

Brown Sugar, Honey, and Butter:

This is how you create your sticky, delicious glaze. Brown sugar and honey are your sweeteners and when you mix them with butter… oh man! Just try not to lick it all off the spoon before you get it onto your ham. You'll be grateful you waited.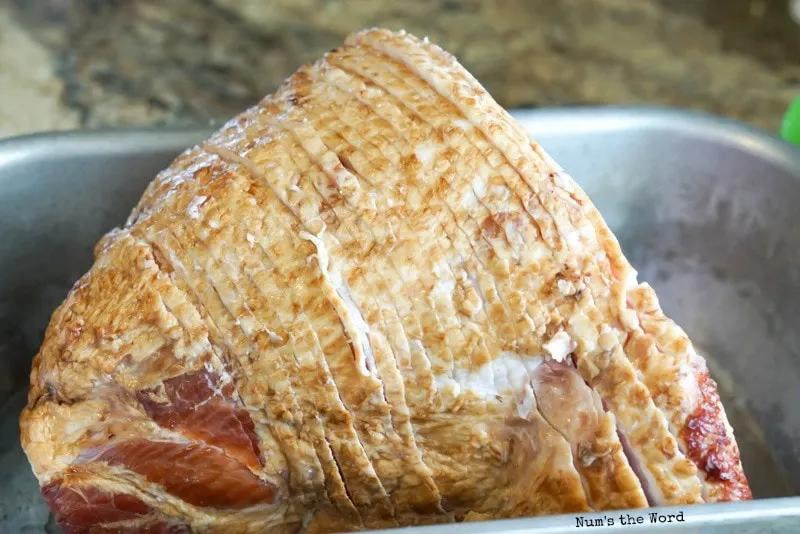 Pro Tip:
If you don't have a spiral cut ham you can score/cut the ham before cooking instead. This is way more work but worth it if you can't find a spiral cut.

If your ham is wet coming out of the package, pat dry to help your glaze adhere to the ham.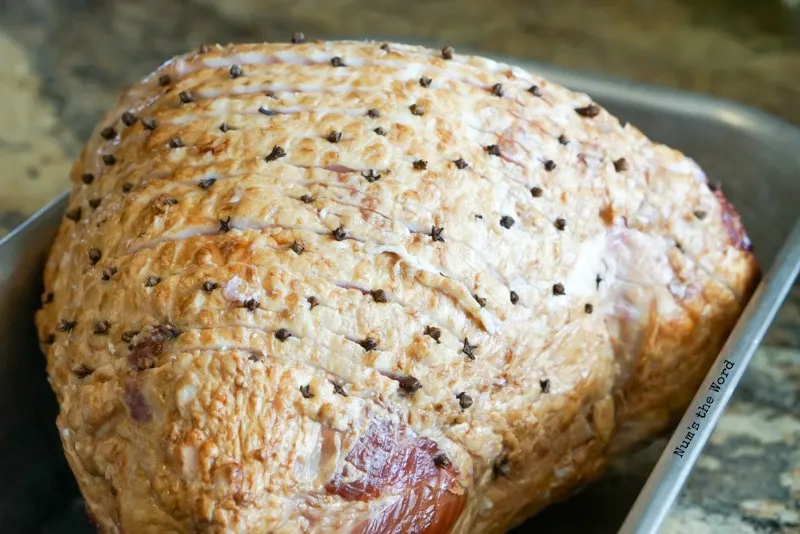 How to Bake a Honey Baked Ham
How to cook a copycat Honey Baked Ham is a fairly common problem that intimidates a lot of people. Don't let it intimidate you! It's pretty straightforward and painless.
Prep Work: Open, and dry off your ham. Then open the slits with cloves – trust me this helps not only add flavor but also helps the ham glaze get into every slice.
Bake: To ensure a nice moist ham you'll want to baste it every 15 – 20 minutes.
Serve: Trust me your efforts will be very much rewarded with your first bite!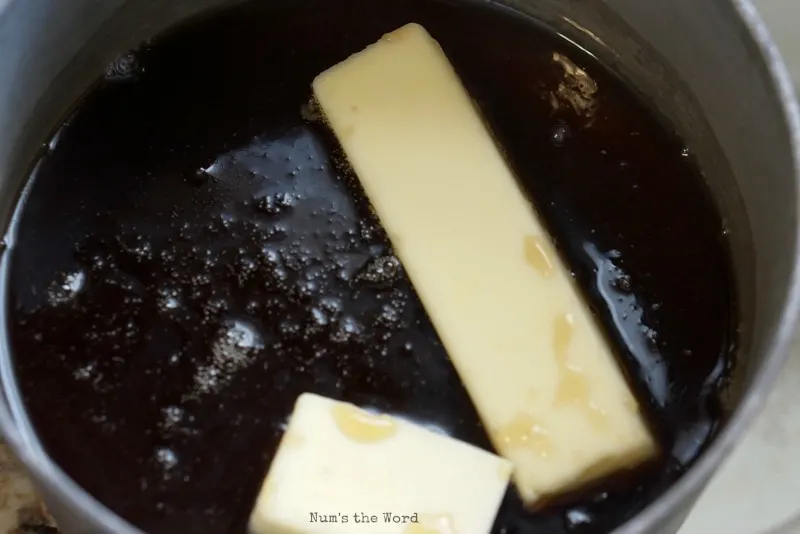 Pro Tip:
Did you know the professionals often use a blowtorch to give it that nice, crunchy outside layer? Please don't attempt that at home. While it might be a fun experiment, it could quickly lead to catching yourself or your home on fire. Opt instead for using a broiler. So much easier.

When your ham is under the broiler it can quickly go from golden, delicious to black and burnt. Keep a close eye on it! A broiler is incredibly hot and cooks your meat in seconds!

You can also make this in a crockpot (instructions are below). I recommend using the broiler after the crockpot to give your ham the crispy outside layer.

If you don't have a baster, use a long handled spoon. Spoon the yummy juice over your ham, making sure to get into the slices if possible.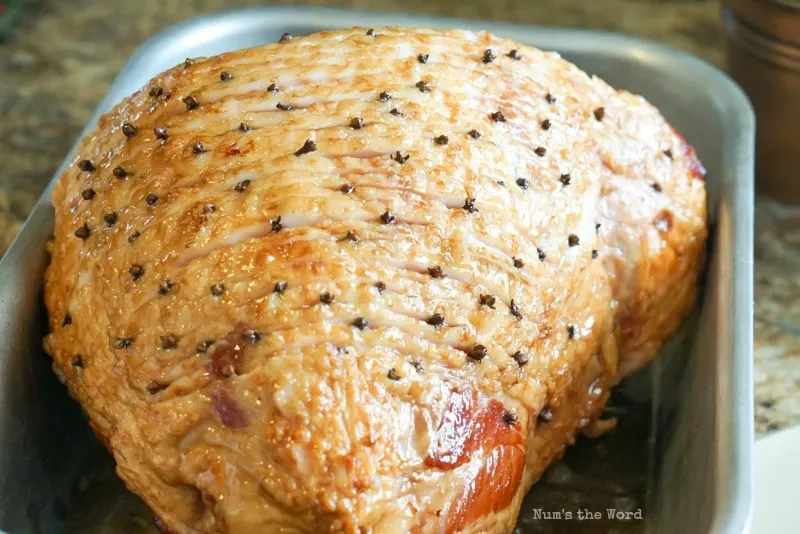 How Long Can You Keep an Unopened Honey Baked Ham
This is the great thing about ham! It can keep for a long time in your fridge before it is opened. This recipe technically isn't Honey Baked until you bake it. So you can keep your ham for quite a long time.
From what I've seen of expiration dates they will last in your fridge anywhere between 2 weeks and 1 month. Be sure to check the expiration date on your ham but don't feel like you need to cook it the same day you buy it.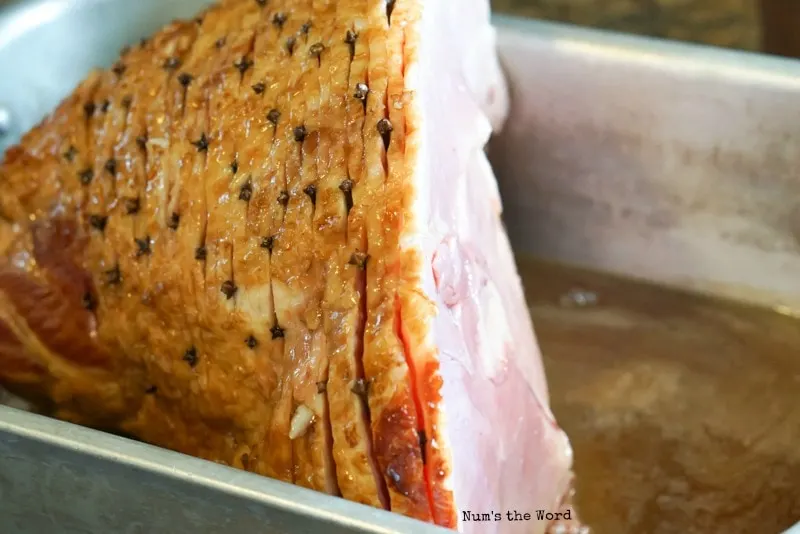 Can You Freeze Honey Baked Ham?
Yes you can! Sealed in an airtight container, a Baked Ham will last in your freezer for 2-3 months. You can also freeze or refrigerate the ham bone too! Ham bones are always worth saving. If you aren't sure what to do with your ham bone try this Ham and Vegetable Soup.
You can also keep this Honey Baked Ham in your fridge, sealed in an airtight container for 4-5 days. It is wonderful for making Hot Ham and Cheese Sandwiches!
Feel free to eat it straight from the fridge or heated up. Eating ham cold or hot is a personal preference. It goes great in sandwiches, soups, casseroles, or quiches.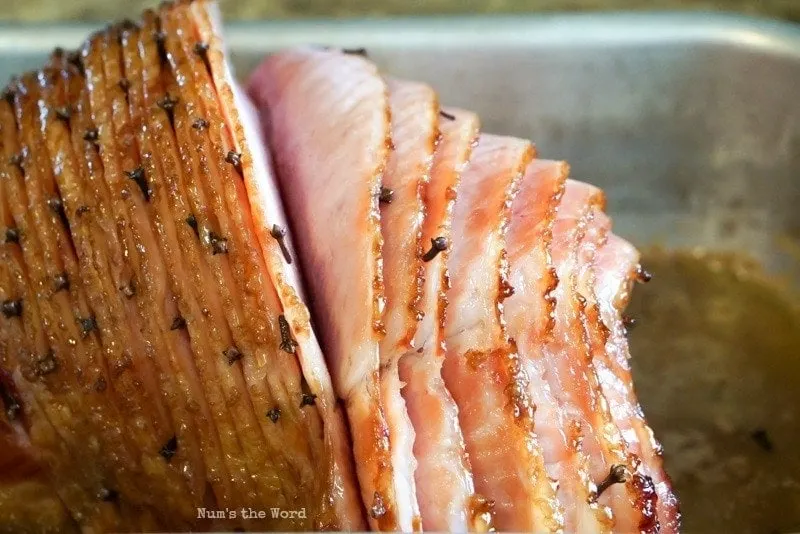 Honey Baked Ham Sides and Desserts
Serve with Potatoes

:

Serve with Veggies

:

Serve with Salad

:

Serve with Dessert

: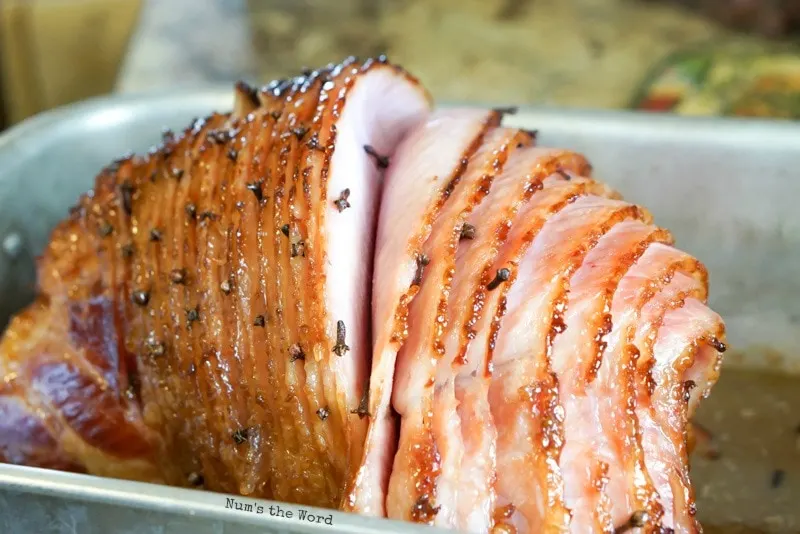 What Size of Ham Should I Buy?
This honey baked ham recipe calls for a 5 pound, bone in, spiral cut ham. Typically you want to ⅓ to ½ pound per person. This also covers the weight of the bone. Although you can do the math for your own personal gathering, here's a few numbers that might cover what you need.
8 People – 2 ½ – 4 pound bone in ham

12 People – 4 – 6 pound bone in ham

16 People – 5 ½ – 8 pound bone in ham
Pro Tip:
Buy an extra ⅓ – ½ pound per person so you have leftovers!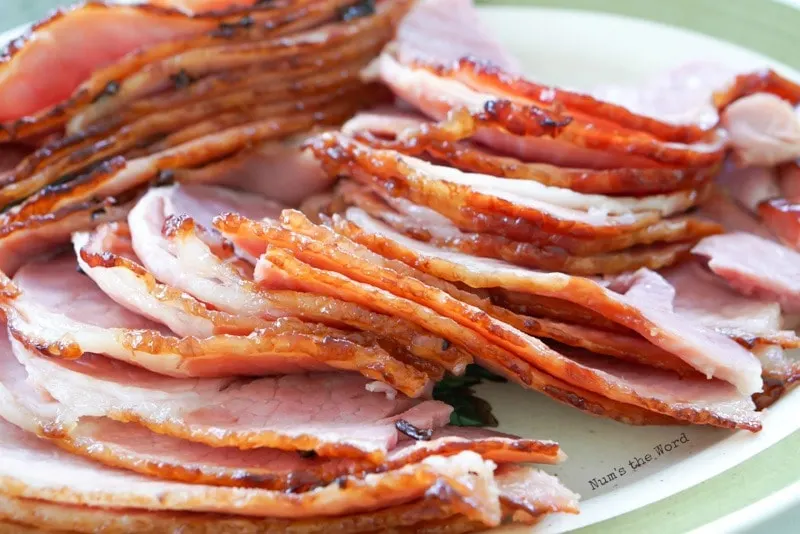 This Honey Baked Ham recipe is a symphony of flavors that give you a juicy, sticky, delicious ham that is sure to be a crowd pleaser at all your holiday events. Enjoy!
Yield: 5 pound ham
Honey Baked Ham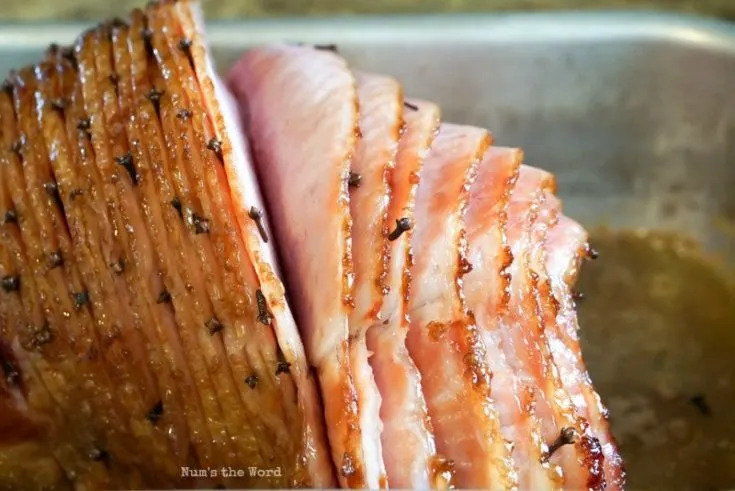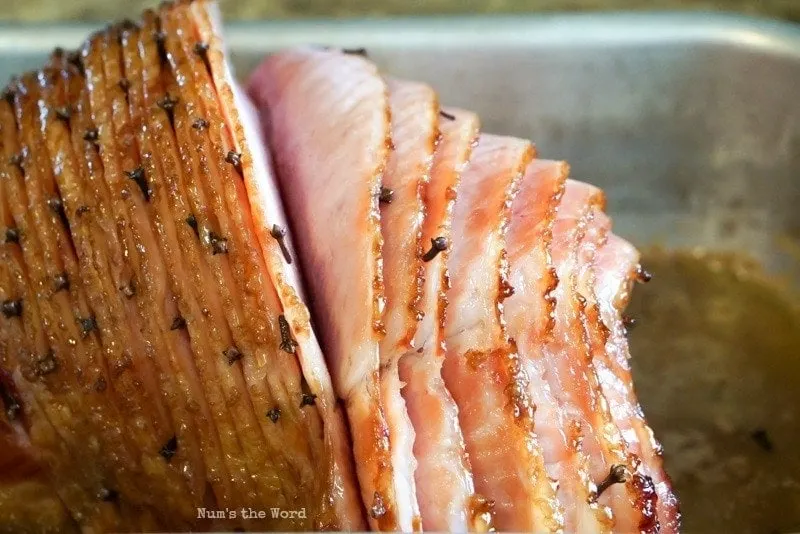 This Honey Baked Ham is easy and packed with flavor. This is our favorite ham recipe that will have your family begging for more! Skip the expensive price tag of buying a Honey Baked Ham and make it at home! Perfect for Christmas, Easter & Thanksgiving!
Cook Time
1 hour
15 minutes
Total Time
1 hour
30 minutes
Ingredients
1 (5 pound) bone in spiral cut ham
2 Tablespoons whole cloves
2 Tablespoons brown sugar
1 cup honey
1/3 cup butter
Instructions
Preheat oven to 325*F
Throw away any seasoning packets that came with ham. You wont need them.
Open ham and place in pan.
With a spiral cut ham, place cloves between the slices - sticking out. Several per slice - spaced out. This will help open up those cuts to for basting and will give it tons of flavor!
In a small pot, on low heat) cook the brown sugar, honey and butter until sugar is dissolved.
Gently brush glaze over ham, and pour remaining on top and bake for 1 hour and 10 minutes in the preheated oven. Generously baste ham every 15-20 minutes making sure to get it in between the slices with the honey glaze. After basting brush on a new layer of glaze.
After ham has baked for 1 hour 10 minutes, turn on the broiler and broil your ham for 30 seconds - 2 minutes. Watch CAREFULLY as it can quickly burn if in too long. You are creating a nice crunchy top layer that will be absolutely scrumptious!
Remove ham from oven and let sit for 10 minutes before serving.
Notes
This can also be made in the crock pot. Cook on LOW for 3 - 5 hours basting every 25 - 30 minutes. Cook time depends on size of ham.
Nutritional Information is estimated, not exact.
Nutrition Information:
Yield:
10
Amount Per Serving:
Calories:

817
Total Fat:

42.1g
Saturated Fat:

18.6g
Cholesterol:

153mg
Sodium:

2765mg
Carbohydrates:

71.7g
Fiber:

1g
Sugar:

70g
Protein:

43.2g
Recipe
Adapted from All Recipes
Originally Posted: December 6, 2014
Photos & Text Updated: October 17, 2020