This Easy Chocolate Pie is absolutely amazing. With only 5 ingredients it's almost impossible to ruin and I bet you already have the ingredients on hand! This no bake pie can also double as a freezer pie! Make ahead and thaw when ready to eat!
This post contains affiliate links. If you click on an affiliate link and make a purchase, I will make a small percentage on your purchase. This helps keep this website running! Thank you!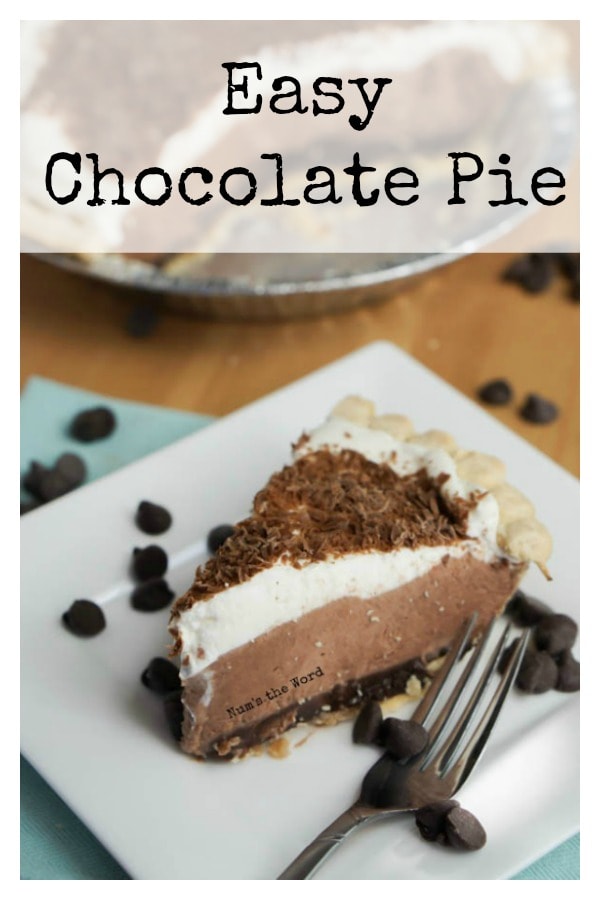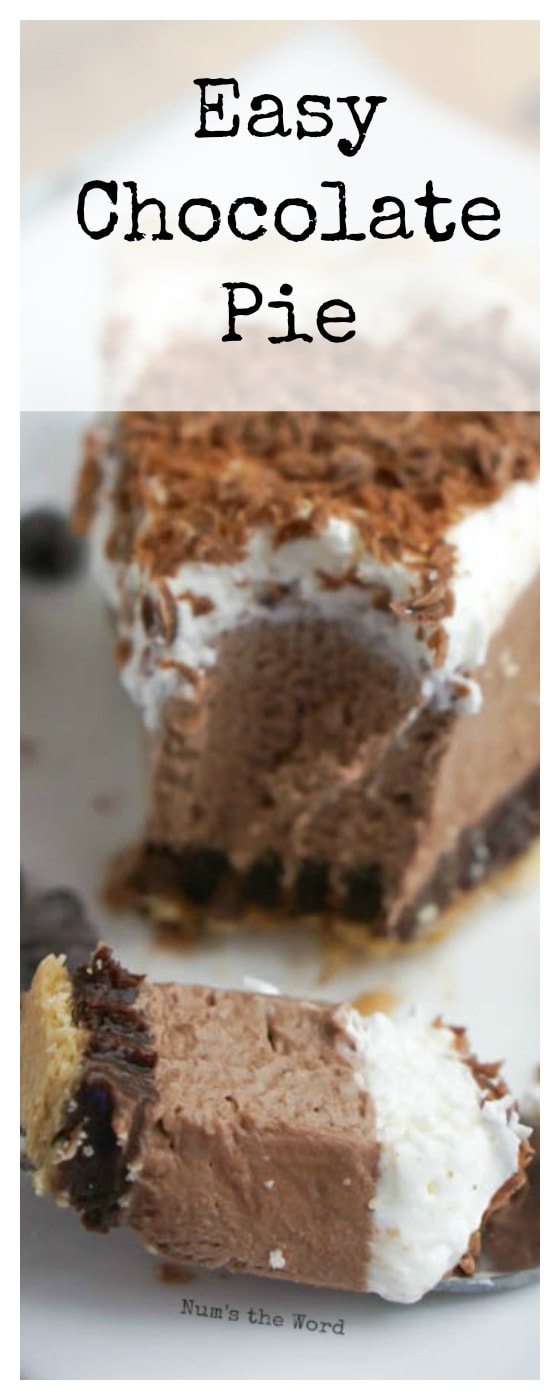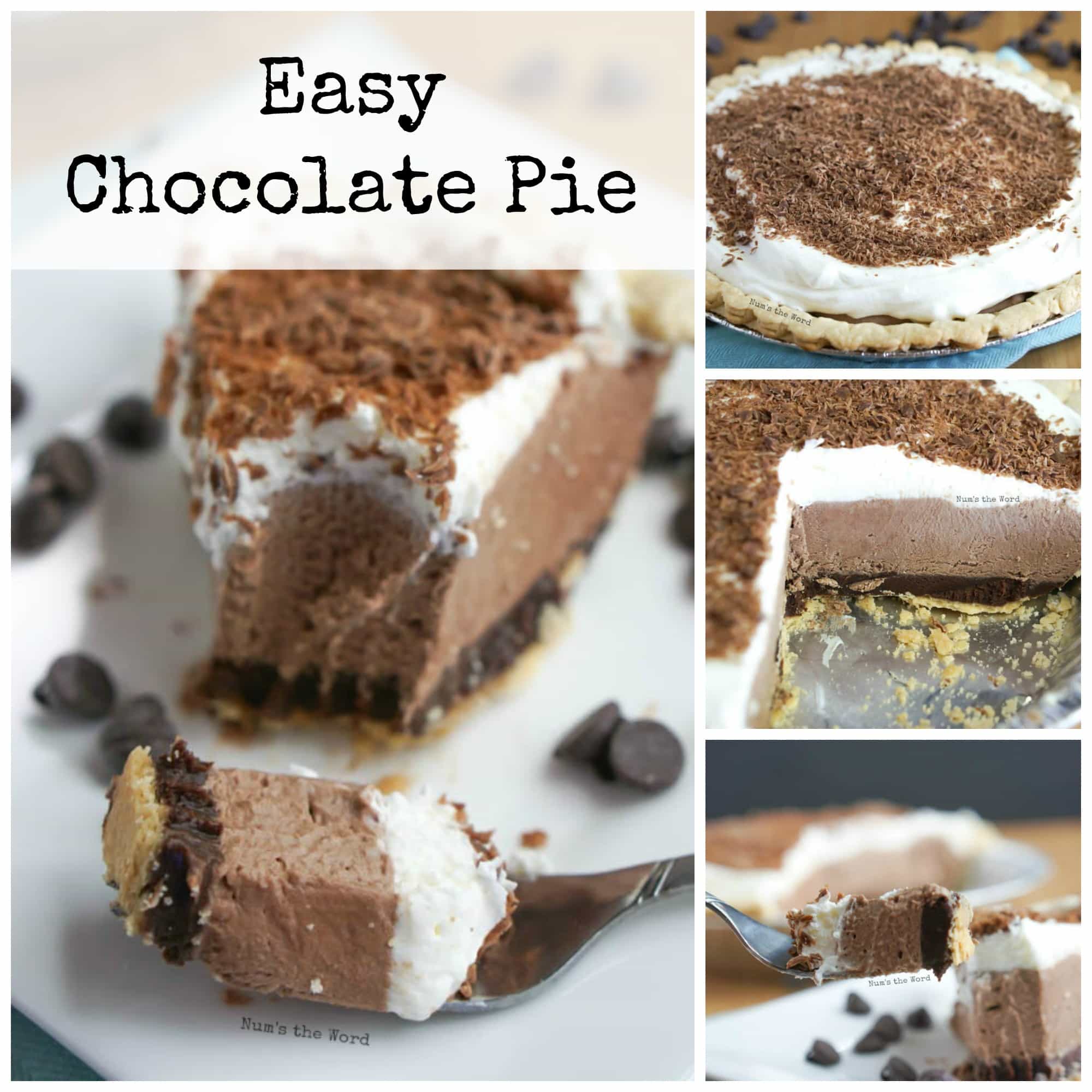 When I was a child, we used to do Thanksgiving with my Mom's brothers each year.
We'd gather up with all the cousins at one of our homes and celebrate the holiday.
The cousins would play for hours, doing things I can't even remember now and the adult would all sit around and chat.
Then at some point, we'd eat.
I enjoyed spending time with my cousins and loved having the day off of school.
However, Thanksgiving was by far my least favorite holiday.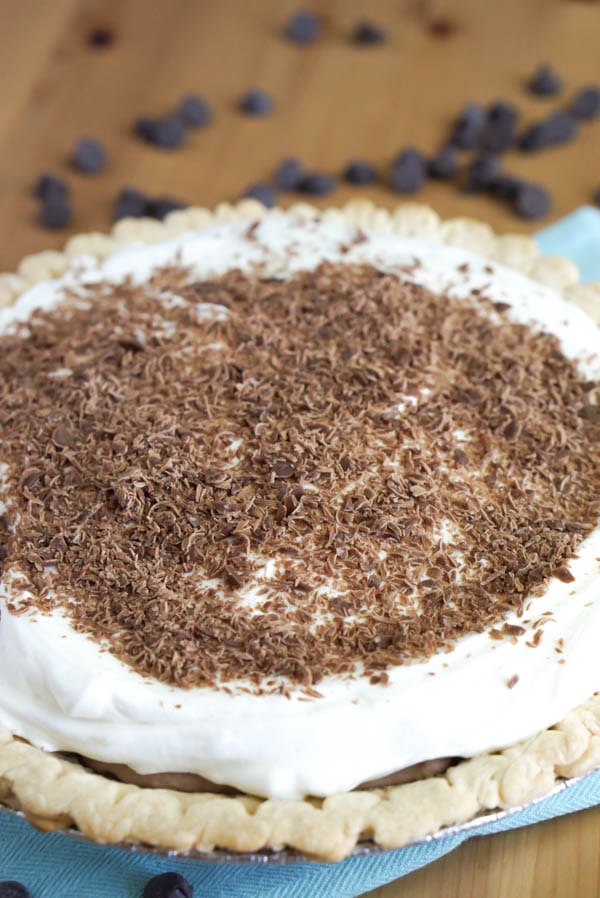 I was an extremely picky eater and in general didn't like anything on the Thanksgiving table.
Turkey tasted like poo, cranberry sauce was weird and mashed potatoes were only good when they were real.
Green Bean Casserole had mushrooms, stuffing was gross and sweet potato casserole was an orange mass I wasn't willing to try.
My dinner usually consisted of rolls.
I laugh now as my kids generally eat the exact same thing on Thanksgiving.
Rolls.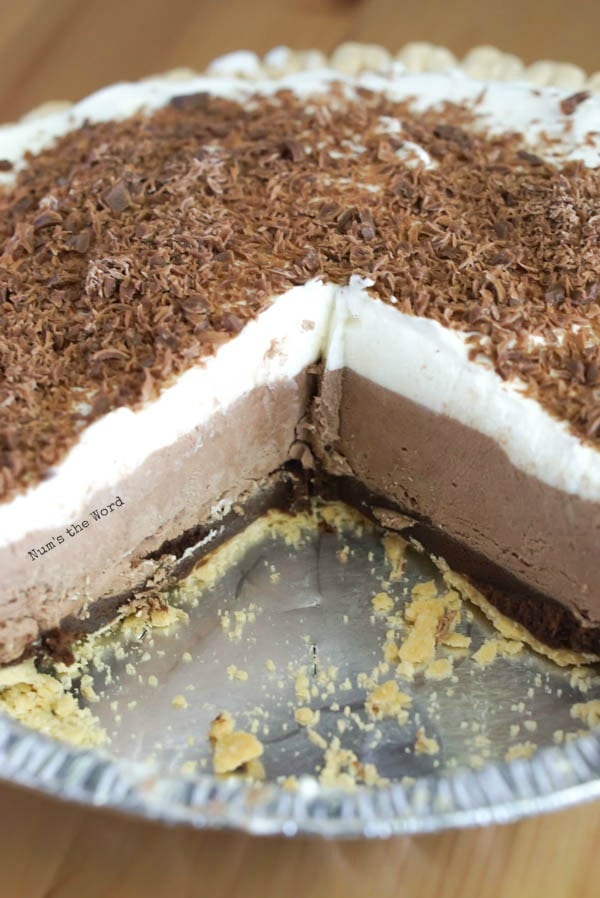 On occasion I can get them to eat turkey too.
However every year it's rolls for dinner and pie for dessert – sometimes.
Even pie is a picky subject.
I didn't like pumpkin, hated lemon meringue and apple was usually the first to go so you had to be fast.
However one year, my Aunt Kathy brought a chocolate pie.
The words chocolate and pie sounded like heaven and the pie looked so incredible.
Her chocolate pie was coveted by all the kids.
We each declared we must have a slice since it was the first time many of us had ever heard of chocolate pie.
I was amazed at such a novel idea and have thought about that pie every Thanksgiving since.
Though I can't quite remember in detail, I suspect that her chocolate pie was nothing more than chocolate jello pudding in a pie shell.
A simple creamy pie that had all of us kids going crazy for a slice.
That chocolate pie was the most distinct memory I have as a kid at Thanksgiving.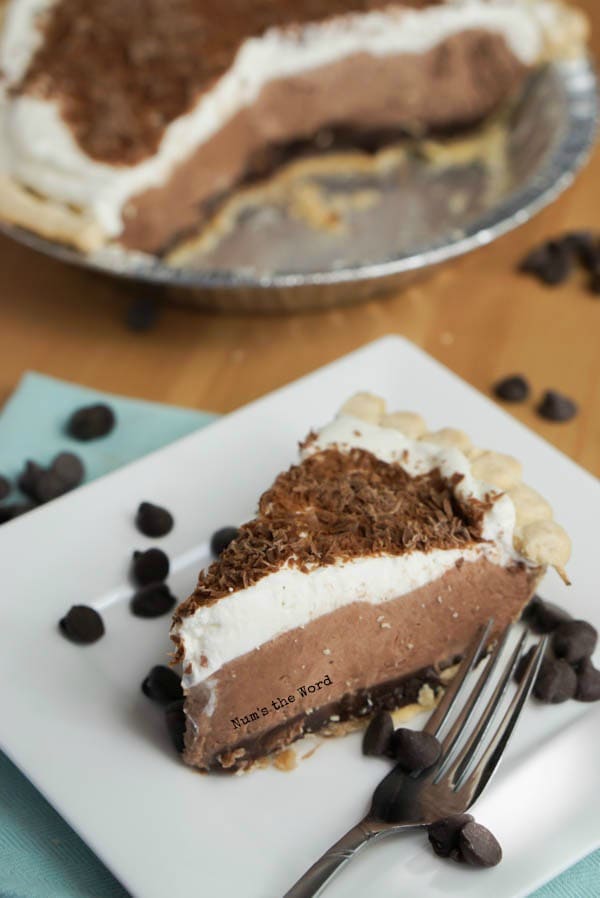 I can't recall ever seeing that pie again at Thanksgiving but then again, this was 30 years ago and my memories are fuzzy.
Perhaps that pie did come back each year.
However it never struck me quite so strongly as it did that first year.
It was creamy and delicious and left a lasting impression on my young mind.
Remembering that chocolate pie, I knew I needed to make one for my kids.
This is not my own pie recipe.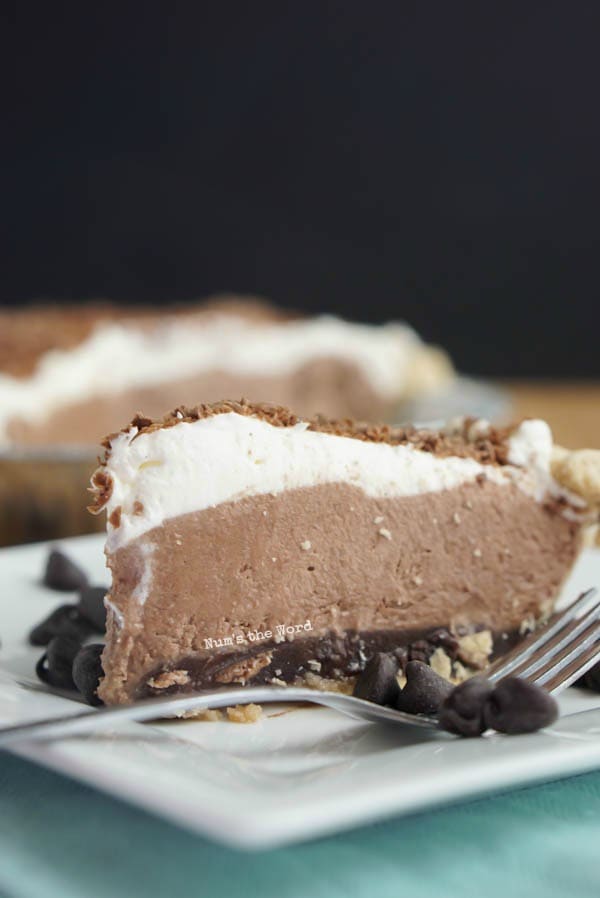 It's the Dean Brother's Pie and absolutely fantastic.
This Easy Chocolate Pie recipe has 5 ingredients all of which you probably already have on hand.
I have made this Easy Chocolate Pie for years now and every time I make it I think I know what to do.
And every time I don't look at the recipe I mess it up.
Now here's the key to this Quick & Easy Chocolate Pie recipe.
You can't mess it up.
I have tried.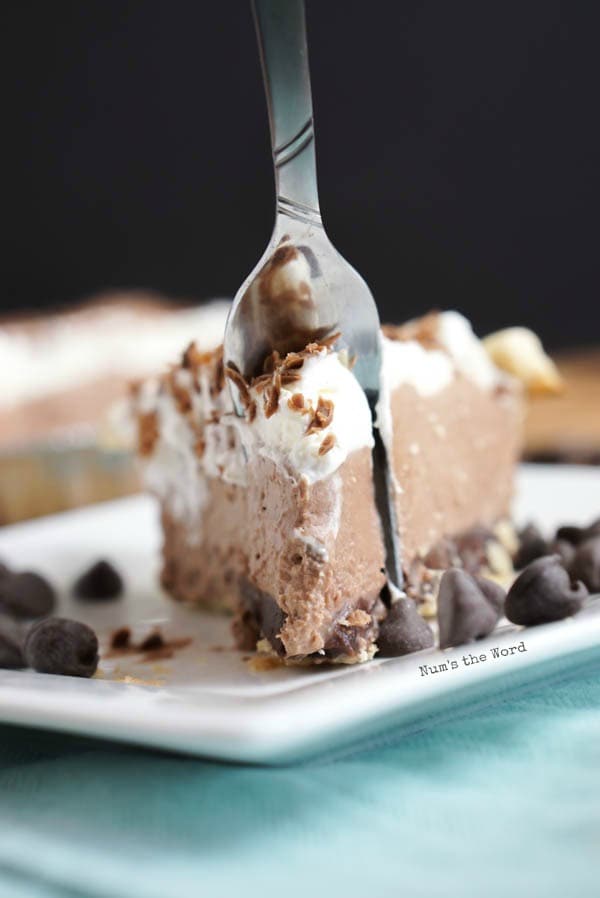 I have added too much of one ingredient and not "enough" of another.
I've forgotten the 3 layers and whipped it together with 2.
I've made it dark chocolate and light chocolate, to thick and to thin.
Despite all the ways I've tried to ruin this pie, I can't.
This pie turns out amazing EVERY SINGLE TIME.
So unless you start adding in ingredients that aren't on the list, you can't mess it up.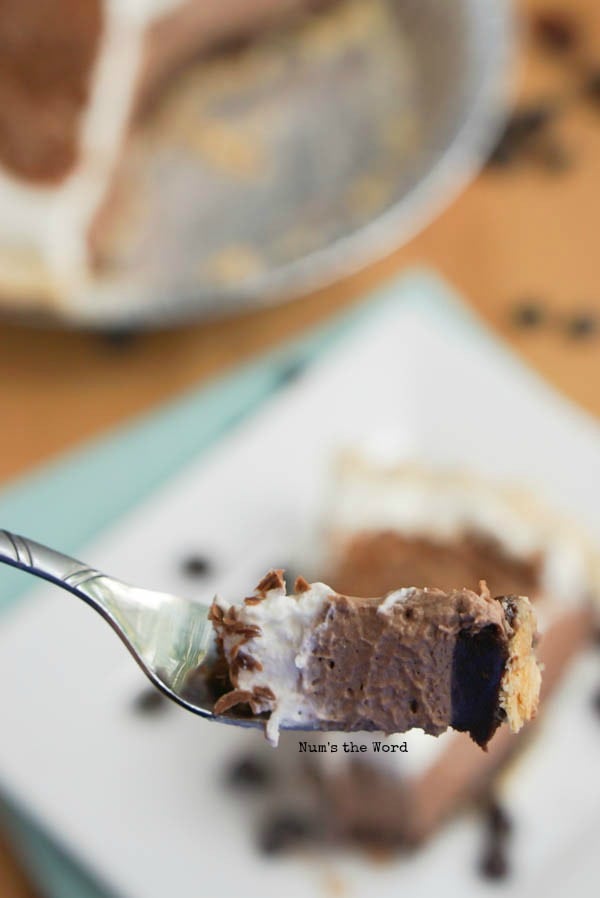 Which makes it a great pie for anyone just learning how to cook or even the best chef.
The other thing that makes this pie amazing (aside from the taste) is that it's a make ahead pie!
This Easy Chocolate Pie recipe is a no bake pie that you can make ahead!
You can even put it in the FREEZER until an hour before you serve!
Maybe I should have called this Easy Chocolate Cream Pie a Chocolate Freezer Pie.
Or No Bake Chocolate Pie.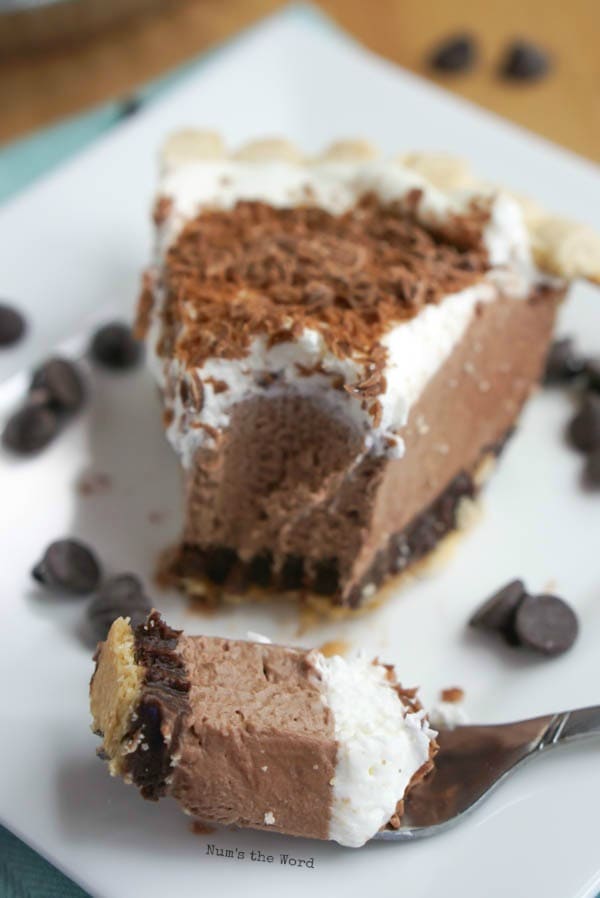 However I think the best name is Easy Chocolate Pie.
Simple, straightforward and true.
This chocolate cream pie does not include the words jello anywhere and is by far the best chocolate pie I've ever eaten.
It has also quickly become a favorite pie among EVERYONE who has ever tried it.
If you love pie, and are in need of an easy and decadent dessert for your dinner, then give this one a try!
Perfect for Thanksgiving, Christmas or even family dinner.
Yield: 8 slices
Easy Chocolate Pie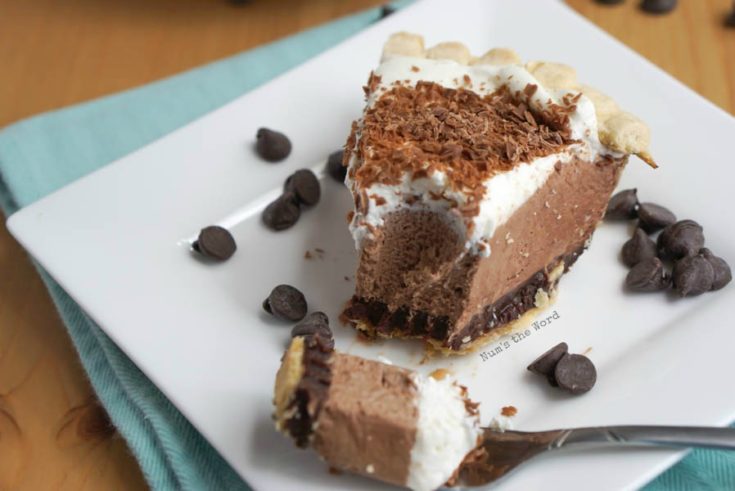 This Easy Chocolate Pie is absolutely amazing. With only 5 ingredients it's almost impossible to ruin and I bet you already have the ingredients on hand! This no bake pie can also double as a freezer pie! Make ahead and thaw when ready to eat!
Instructions
If pie crust is not ready, bake now.
In a double broiler or in a small pot on low heat, add 1/3 cup heavy cream and 3/4 cup semi sweet chocolate chips. Stir frequently until melted and smooth.
Pour chocolate mixture into baked pie crust and freeze for 20 minutes.
While pie is in the freezer, in same chocolate pan add 1/2 cup of heavy cream & 3/4 cup semi sweet chocolate chips. Mix frequently until chocolate is melted and smooth. Allow to cool to room temperature. If in a hurry, pop into the fridge to cool quickly.
In a separate bowl, beat 1 cup of heavy cream and vanilla until soft peaks form.
Add cooled chocolate mixture to heavy cream and continue beating until thick, creamy and soft peaks form.
Pour this second chocolate layer into pie crust and return to freezer for 20 more minutes.
In another bowl mix 1 cup heavy cream with 1/4 cup powdered sugar. until stiff peaks form. Spread over Chocolate pie.
Top with chocolate shavings or grated chocolate.
Serve immediately or return to freezer.
Remove from freezer and transfer to fridge 1 hour before serving.
Notes
For the second layer, I've skipped the whipped part and just melted the chocolate with all the heavy cream and that turned out delicious too! So don't panic if you mess it up. This pie is delicious no matter how you make it!
Nutritional Information is estimated, not exact.
Recommended Products
As an Amazon Associate and member of other affiliate programs, I earn from qualifying purchases.
Nutrition Information:
Yield:
8
Amount Per Serving:
Calories:

683
Total Fat:

57.3g
Saturated Fat:

35.4g
Cholesterol:

164mg
Sodium:

52mg
Carbohydrates:

38.6g
Fiber:

0.3g
Sugar:

28.6g
Protein:

5.6g
Recipe by: The Dean Brothers
Originally Posted: November 19, 2015
Text & Photos Updated: November 16, 2018
Other Pie Recipes You'll Love...