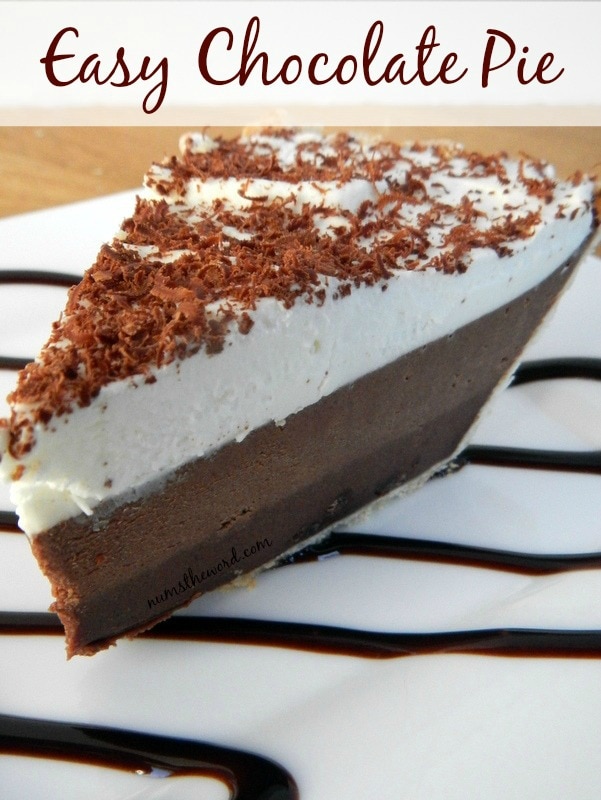 When I was a child, we used to do Thanksgiving with my Mom's brothers each year. Overall, Thanksgiving was by far my least favorite holiday.
I was an extremely picky eater and in general didn't like anything on the Thanksgiving table.
I did however love pie.
One year, my Aunt Kathy brought a chocolate pie. It was coveted by all the kids and we each declared we must have a slice.
It was the first time I had ever heard of chocolate pie. I was amazed at such a novel idea and have thought about that chocolate pie every Thanksgiving since.
I suspect, though memory is quite fuzzy, that her chocolate pie was nothing more than chocolate jello pudding in a pie shell. No matter what it was, it was delicious.
Remembering that chocolate pie, I had to make this one as soon as I saw it. This is a Dean Brother's pie. It's literally 5 ingredients (of which you probably already have on hand) and quite possibly impossible to mess up.
This chocolate pie does not include the words jello anywhere and is by far the best chocolate pie I've ever eaten. It has also quickly become a favorite pie among EVERYONE who has ever tried it.
If you love pie, and are in need of an easy and decadent dessert for your dinner, then give this one a try! Perfect for Thanksgiving, Christmas or even family dinner.
This post contains Amazon affiliate links as a free service to you!

Ingredients
Prepared 9 inch pie crust or graham cracker crust - if using 8 inch you'll have extras of each layer.
1/3 cup + 1/2 cup + 1 cup + 1 cup heavy cream (You'll need a QUART of heavy cream, not a Pint! Almost 3 cups of Heavy cream! ~ Trust me, TOTALLY worth it!)
3/4 cup + 3/4 cup semi-sweet chocolate chips
1/2 teaspoon vanilla
1/4 cup powdered sugar
Chocolate shavings
Instructions
In a double broiler or in a small pot on low heat, add 1/3 cup heavy cream and 3/4 cup semi sweet chocolate chips. Stir frequently until melted and smooth.
Pour chocolate mixture into prepared pie shell and freeze for 20 minutes.
While in freezer, in same pan add 1/2 cup of heavy cream & 3/4 cup semi sweet chocolate chips. Mix frequently until chocolate is melted and smooth. Allow to cool to room temperature. If in a hurry, pop into the fridge to cool quickly.
In a separate bowl, beat 1 cup of heavy cream and vanilla until soft peaks form.
Add cooled chocolate mixture to heavy cream and continue beating until thick, creamy and soft peaks form.
Pour this second chocolate layer into pie crust and return to freezer for 20 more minutes.
In another bowl mix 1 cup heavy cream with 1/4 cup powdered sugar. until stiff peaks form. Spread over Chocolate pie.
Top with chocolate shavings or grated chocolate.
Serve immediately or return to freezer.
Remove from freezer and transfer to fridge 30 minutes to 1 hour before serving.
Notes
For the second layer, I've skipped the whipped part and just melted the chocolate with all the heavy cream and that turned out delicious too! So don't panic if you mess it up. This pie is delicious no matter how you make it!
https://numstheword.com/easy-chocolate-pie/
Recipe by: The Dean Brothers
Items used in this recipe include…
Another Recipe We Think You'll love…