This easy, creamy No Bake Peanut Butter Pie recipe is the perfect treat for any peanut butter lover! Made with a graham cracker crust, cool whip and topped with peanut butter cups, this pie is a must have at your next dinner party or Holiday
This post contains affiliate links. If you click on an affiliate link and make a purchase, I will make a small percentage on your purchase. This helps keep this website running! Thank you!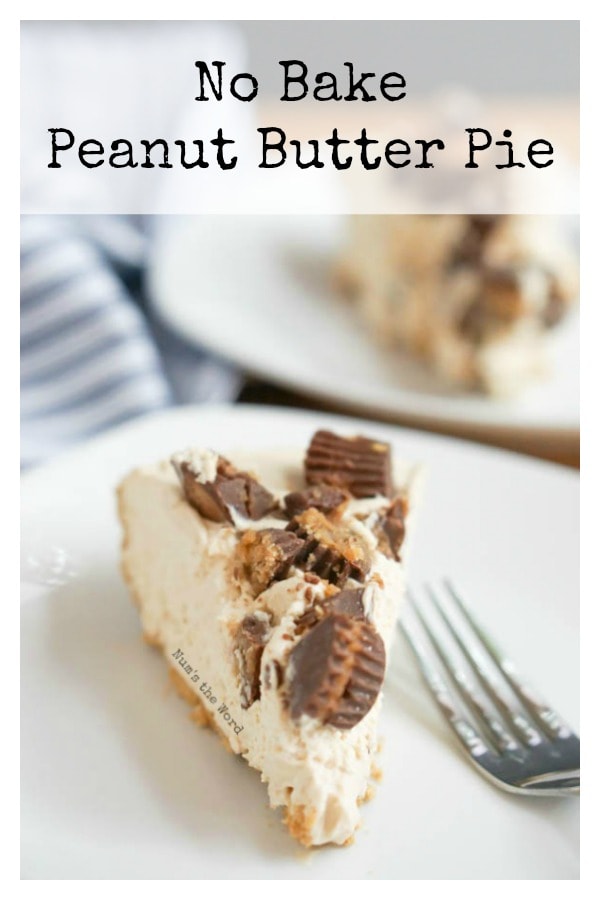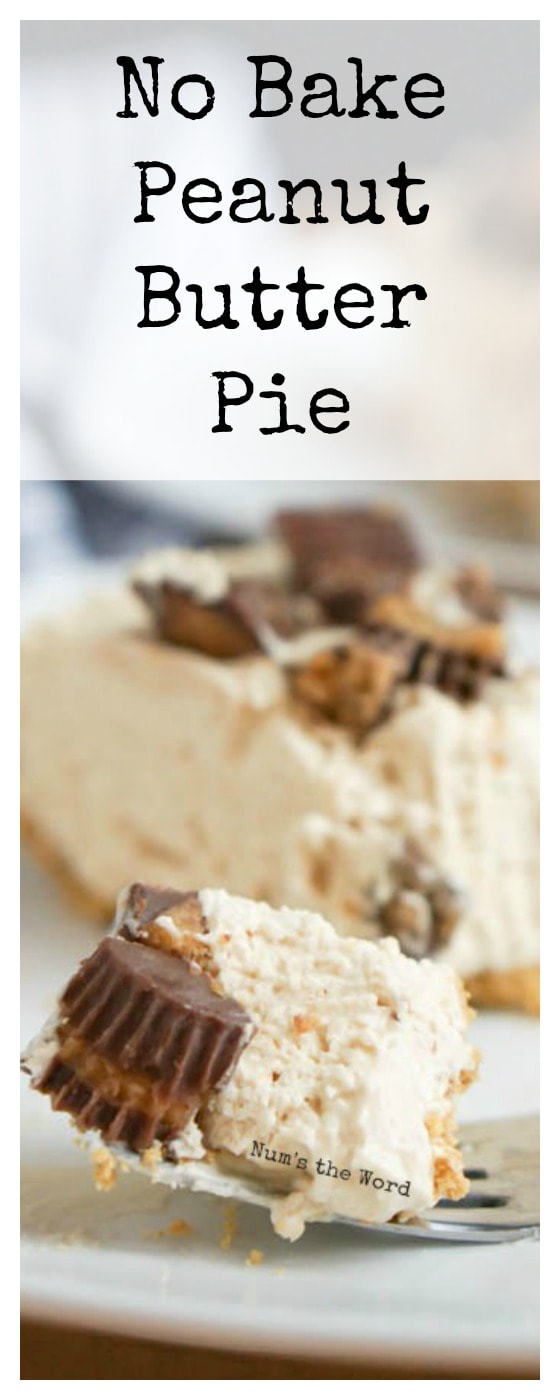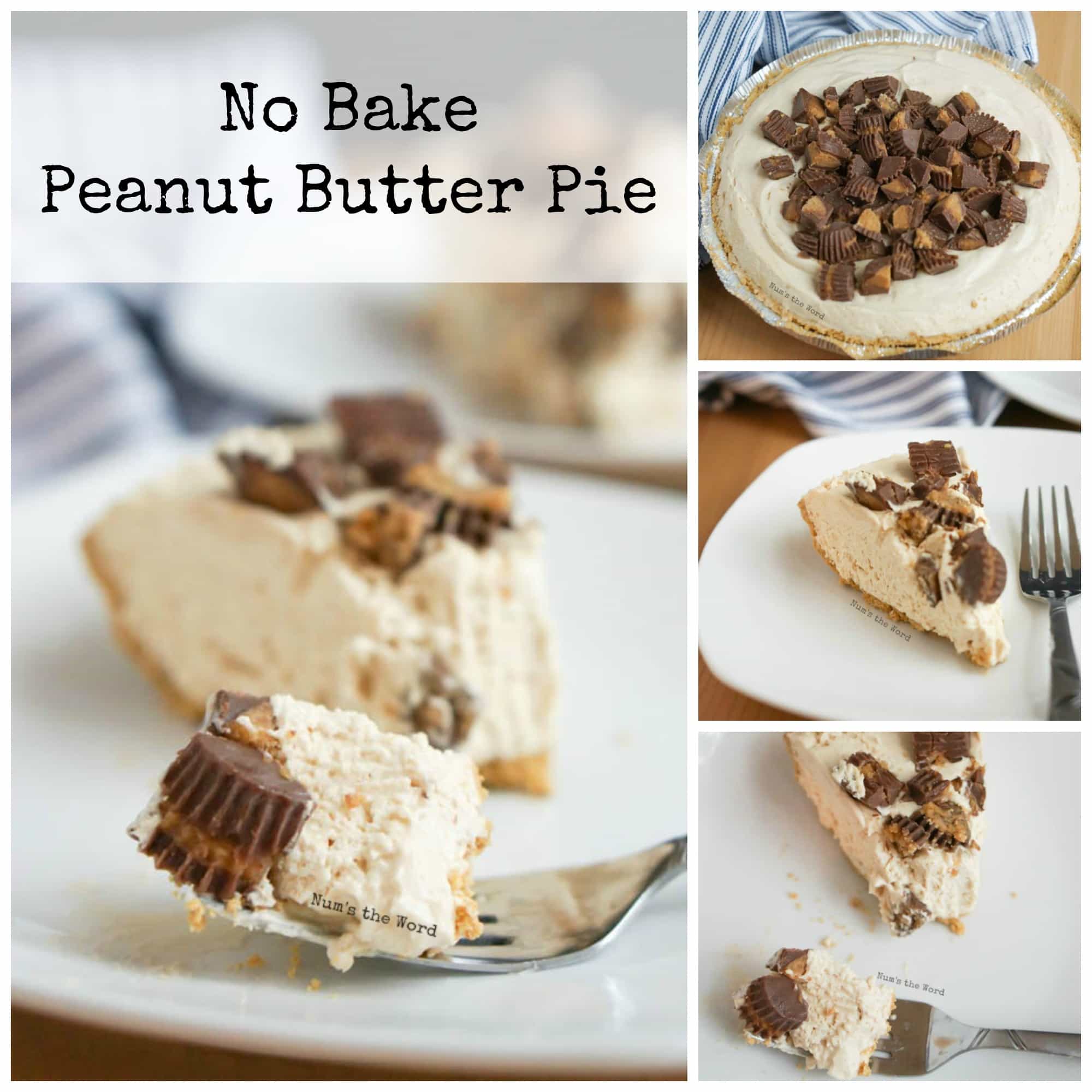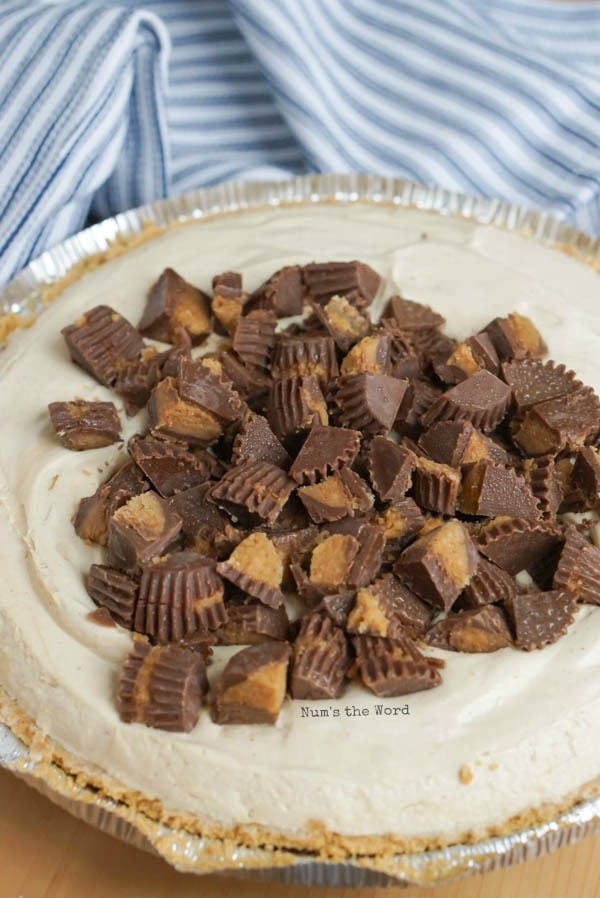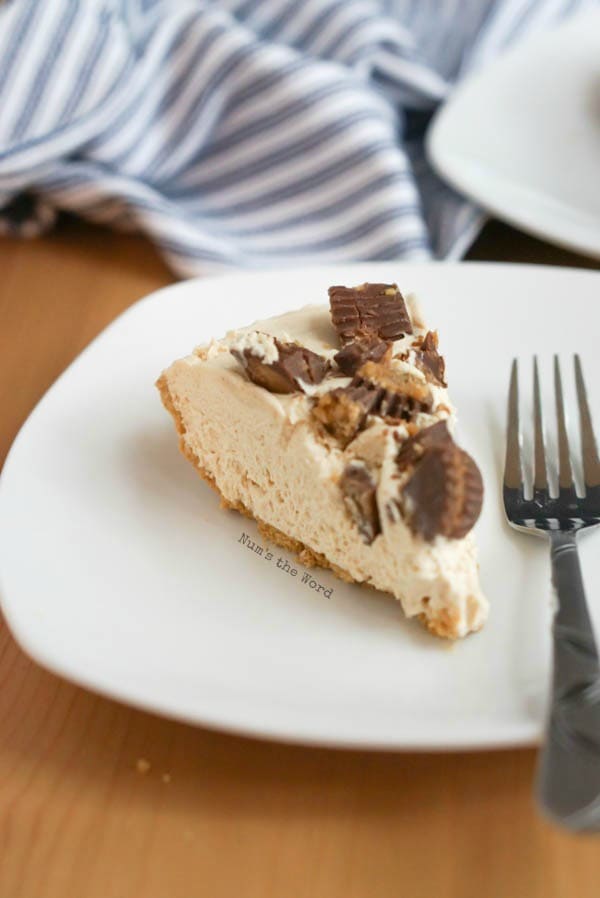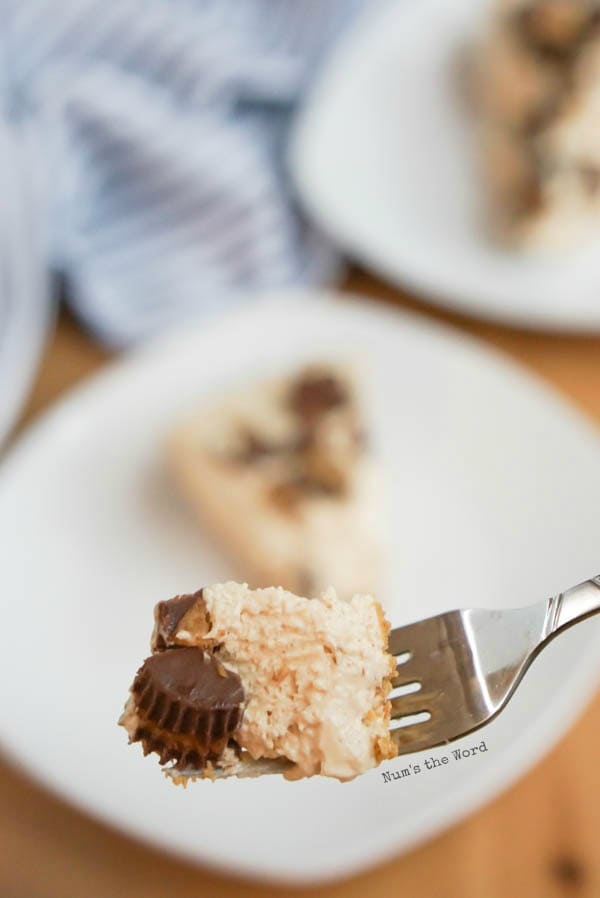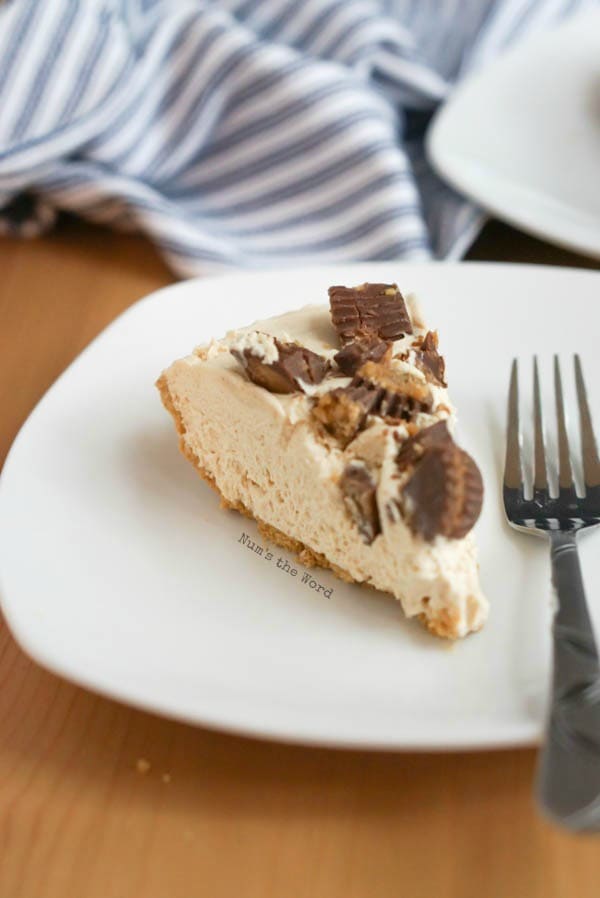 When you think of classic american food, your first thought is most likely Apple Pie.
However, what about Peanut Butter?
It's the epitome of classic american food.
What would you life look like if you didn't carry a peanut butter and jelly sandwich to school every day?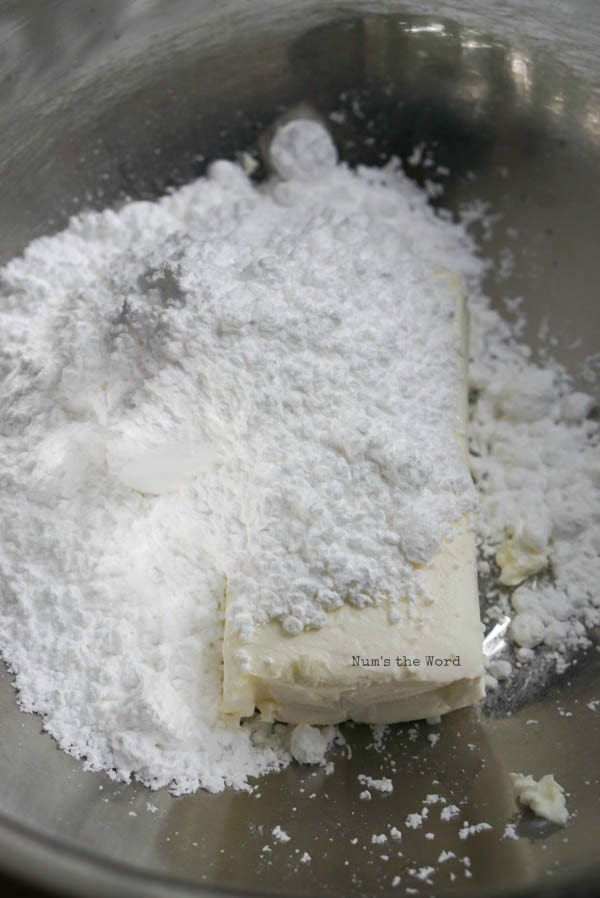 A jelly sandwich is a pretty sad sandwich that wouldn't provide the needed protein to get you through the day!
Peanut butter, a protein packed item is a staple in every American home.
The average American eats 3 pounds of peanut butter every single year!
Whether you like it crunch or smooth peanut butter is a big business.
With so many brands on the market, each of us over time have tried them all.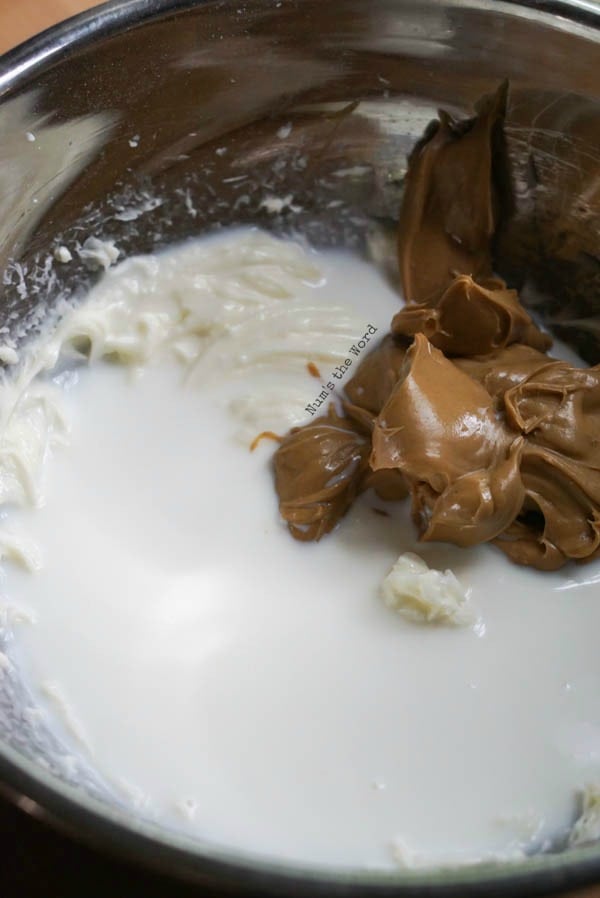 However, we eventually settle on one particular brand.
My kids are so picky about their peanut butter brand that they refuse to eat any other brand.
To them all others taste funny.
And it's true.
Each brand of peanut butter does taste unique to the next.
This Creamy No Bake Peanut Butter Pie recipe can be made with any brand of peanut butter and will still taste amazing!
Smooth creamy peanut butter pie is one of the ultimate desserts for any peanut butter or peanut butter cup lover.
My husband, who doesn't care for many desserts actually likes this one.
That my friends is a big deal.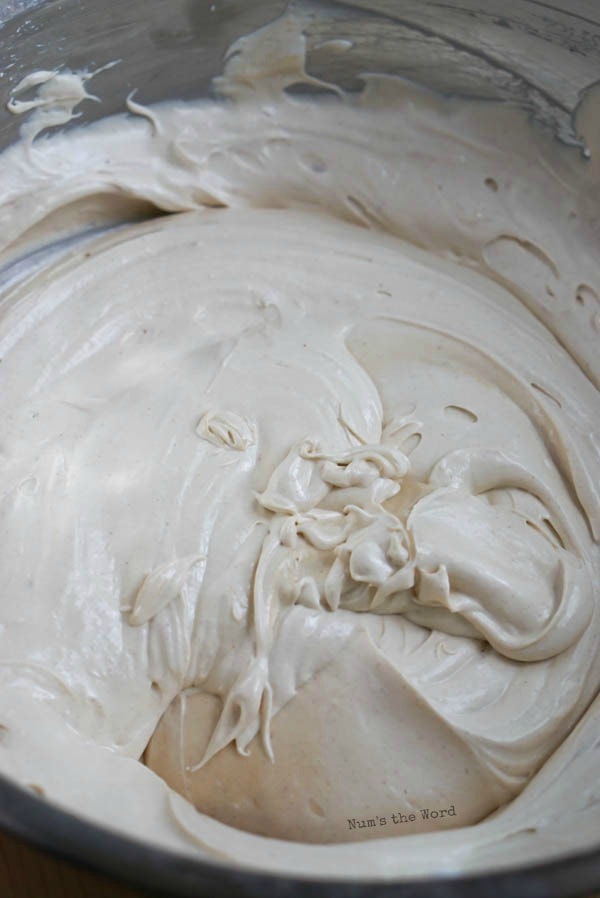 When he was a child he used to tell people he was allergic to chocolate just so they'd stop asking why he didn't like it.
When you think about it, it's actually a smart response.
Just telling people you don't like chocolate, makes them insanely curious.
They can't quite understand how that is possible and must then pepper you with a billion questions as to what is wrong with your taste buds.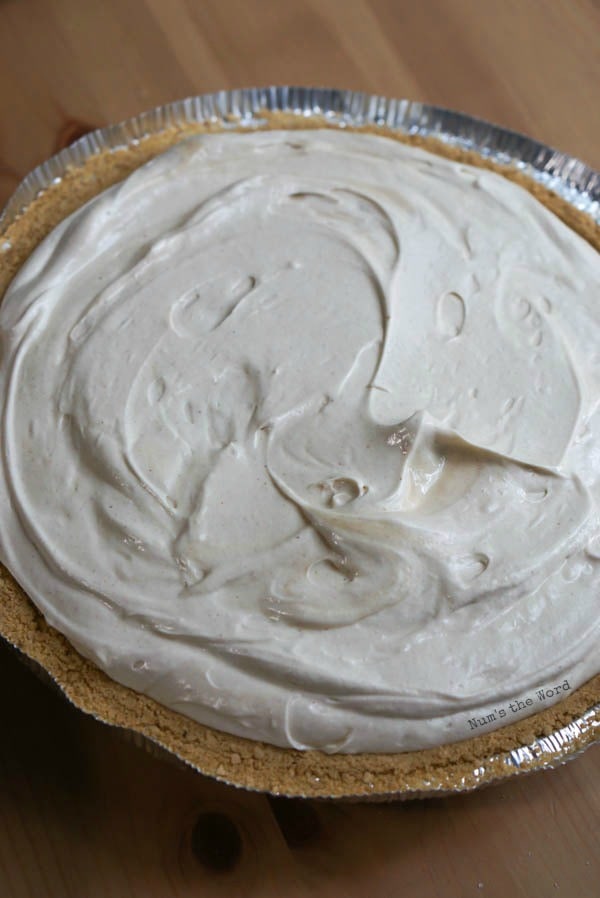 Now days, it's completely acceptable to no like chocolate.
Or to just like dark bitter chocolate and not sweet chocolate.
However, back in the 80's and early 90's claiming that you didn't like chocolate was about as crazy as jumping out of a plane.
Despite my husband not liking chocolate, he did like Peanut Butter Cups – mainly for the peanut butter of course!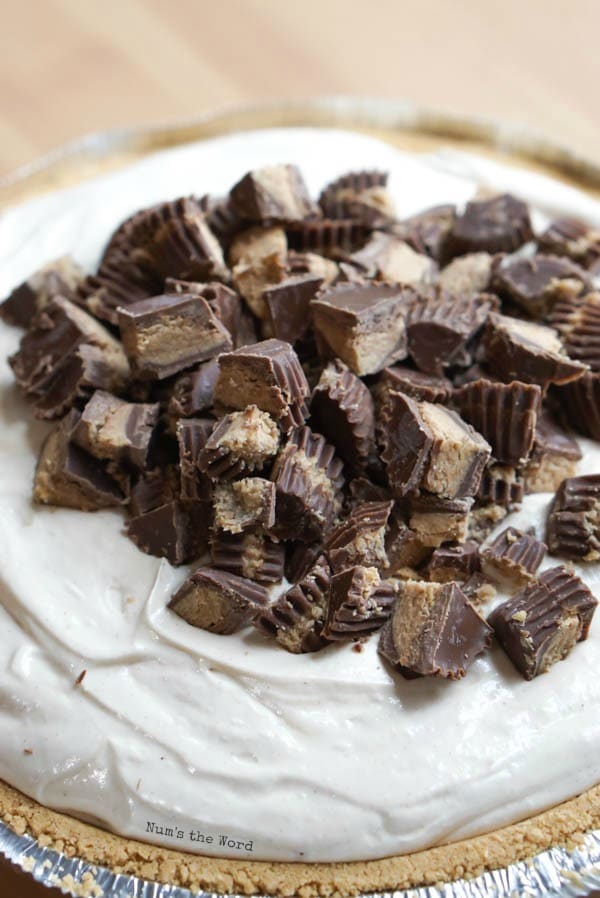 The first time I whipped up this pie we were both in love.
Smooth creamy peanut butter pie topped with Peanut Butter Cups.
What could really be better than that?
The biggest problem with this pie was that it was a little TOO easy.
So easy that I ended up making it a few times.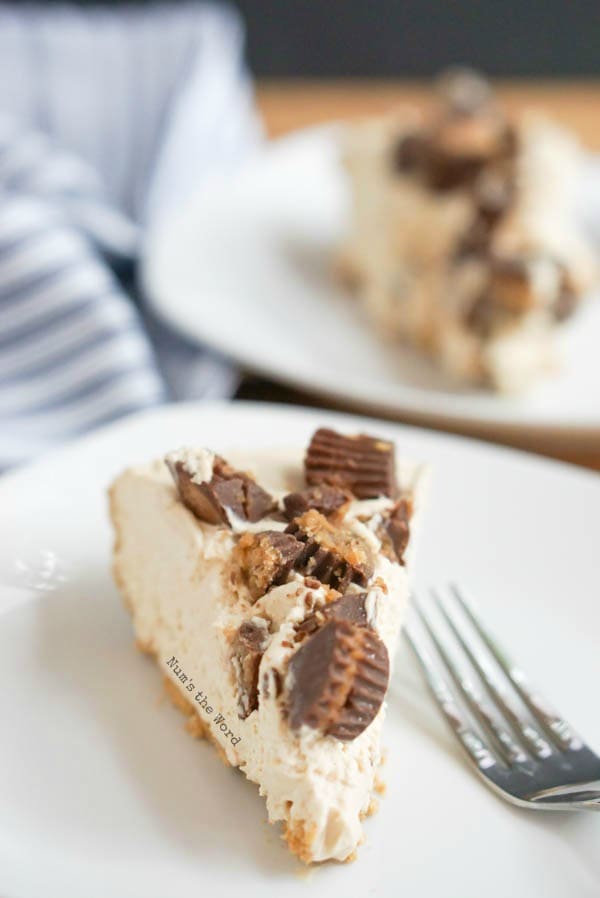 Eventually word got around that I made a mean easy peanut butter pie and suddenly I had people requesting it.
Several years ago, I was visiting a new friend at church.
I asked if I could bring over a treat for her family.
With encouragement from her family, she said yes.
I decided on this simple No Bake Creamy Peanut Butter Pie recipe.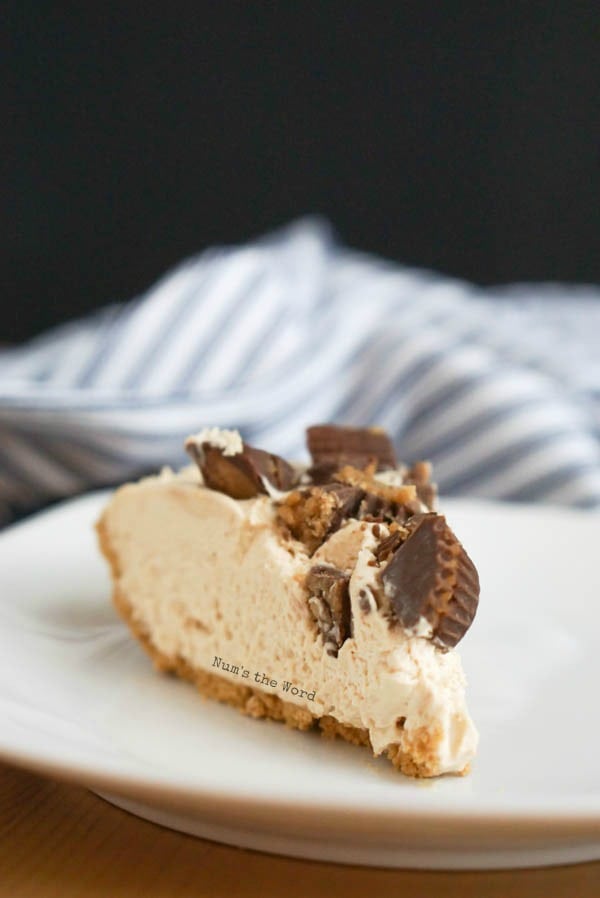 That family raved about the pie for weeks and every time I saw them they would talk about it.
Something so simple and yet brought so much happiness to a family.
Since then, this easy No Bake Peanut Butter Pie with cool whip has been featured on our table many times.
It has also been dropped off with a meal or two for new moms or friends who have been ill.
Once you whip this up, you'll realize that it really is one of the easiest and quickest desserts you can make.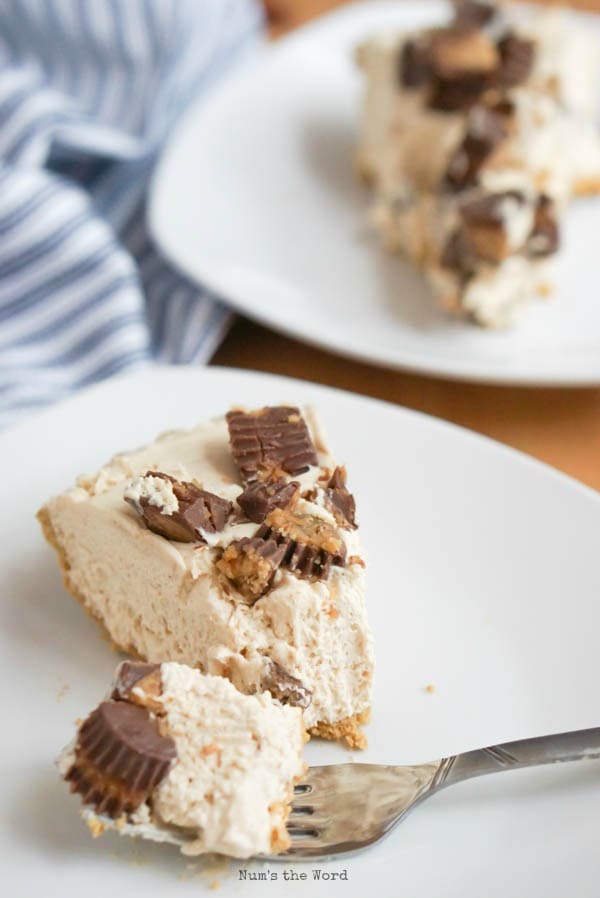 This year, I decided to tweak this pie recipe and create a few new dishes.
However none of that would have been possible without this Easy No Bake Peanut Butter Pie with cool whip recipe.
Before you get started I wanted to offer a few tips and ideas.
Feel free to chop up some peanut butter cups and mix them in with the pie.
You can use a graham cracker crust or a chocolate Oreo crust. Both work well with this recipe.
The decorations on top are up to you! Top with Peanut Butter cups, or even a chocolate drizzle.
This pie can be a soft pie so don't hesitate to toss it into the freezer! It makes for a great make ahead freezer pie. Just thaw for 30 minutes on the counter or 1 hour in the fridge before eating.
Make 2 if you plan on sharing with anyone.
Because peanut butter is packed with protein, I'm fairly certain this counts as a healthy meal. Or at least a protein packed meal. There will be zero judging from me if you eat a slice for dinner.
Now that you've been given the low down, it's time to whip up this Easy Peanut Butter Pie.
Yield: 2 Pies
No Bake Peanut Butter Pie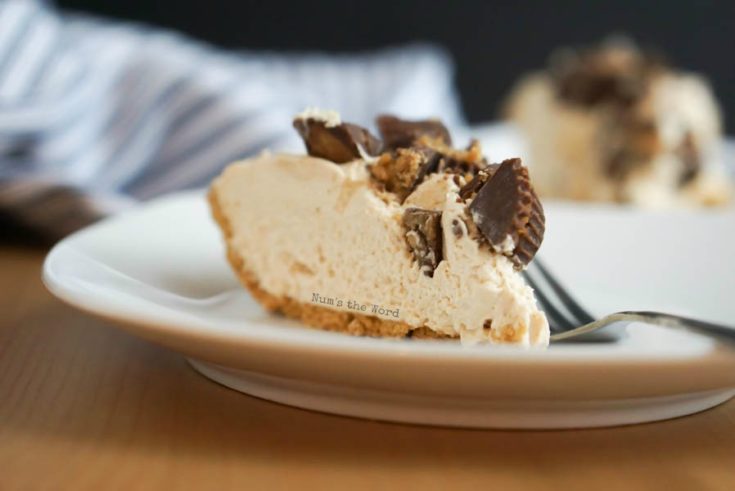 This easy, creamy No Bake Peanut Butter Pie is the perfect treat for any peanut butter lover! Made with a graham cracker crust and topped with peanut butter cups, this pie is a must have at your next dinner party or Holiday meal!
Total Time
2 hours
20 minutes
Ingredients
2 prepared graham cracker crusts
1 (8 ounce) package of cream cheese
1 1/2 cups powdered sugar
1 cup peanut butter
1 cup milk
1 (16 ounce) container frozen whipped topping, thawed.
Peanut Butter Cups (optional)
Chocolate sauce (optional)
Instructions
Beat together cream cheese and powdered sugar.
Mix in peanut butter and milk until incorporated.
Fold in whipped topping.
Spoon mixture into two prepared crusts.
Top with peanut butter cups (optional).
Cover and refrigerate until firm, approximately 2 hours or freeze for 1 hour.
When ready to serve you can drizzle with chocolate sauce if you wish!
Notes
Nutritional information is estimated, not exact.
Nutrition Information:
Yield:
16
Amount Per Serving:
Calories:

433
Total Fat:

28g
Saturated Fat:

12.7g
Cholesterol:

17mg
Sodium:

301mg
Carbohydrates:

41.5g
Fiber:

1.4g
Sugar:

31.2g
Protein:

7.2g
Originally Posted: February 22, 2014
Photos & Text Updated: December 5, 2018
Other Recipes with Peanut Butter You'll Love...