This Swedish Apple Pie is a unique twist on the American classic. An apple pie that makes its own crust while baking. It's easy to make and tastes great! Try something new on your table this week!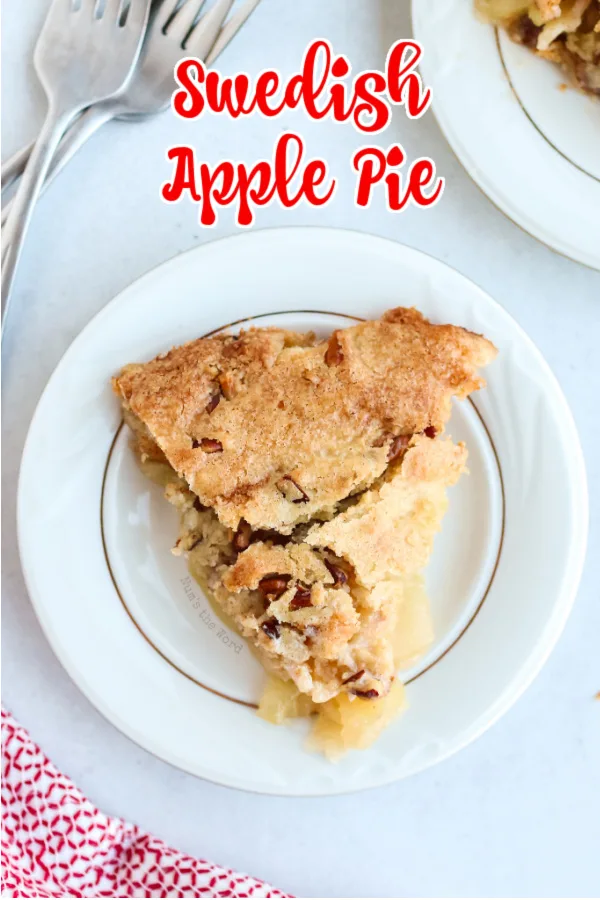 I love all things apple and all things pie, and nothing quite combines the two together like this apple pie.
Because I love apple pie, I also love trying unique variations of it. Like this Swedish Apple Pie. It's simply apples with an almond pecan cookie crust. It may sound odd, but trust me the flavors really come together and give your taste buds a unique treat.
One of the things I think makes this the best Swedish apple pie recipe is the ease of preparation and that most of the ingredients are things you probably have on hand in your pantry. This Swedish apple pie recipe has no crust — that's right, NO CRUST — so you really can whip it up at a moment's notice.
A traditional Butter Pie Crust can be difficult at first, however over time you'll see it's actually really easy to create. If the idea does scare you, don't worry, there is not double pie crust in this recipe.
This crustless Swedish apple pie has a cookie-crumble topping that provides all the texture and topping you'll ever need. I'm sure you'll love this recipe as much as my family does!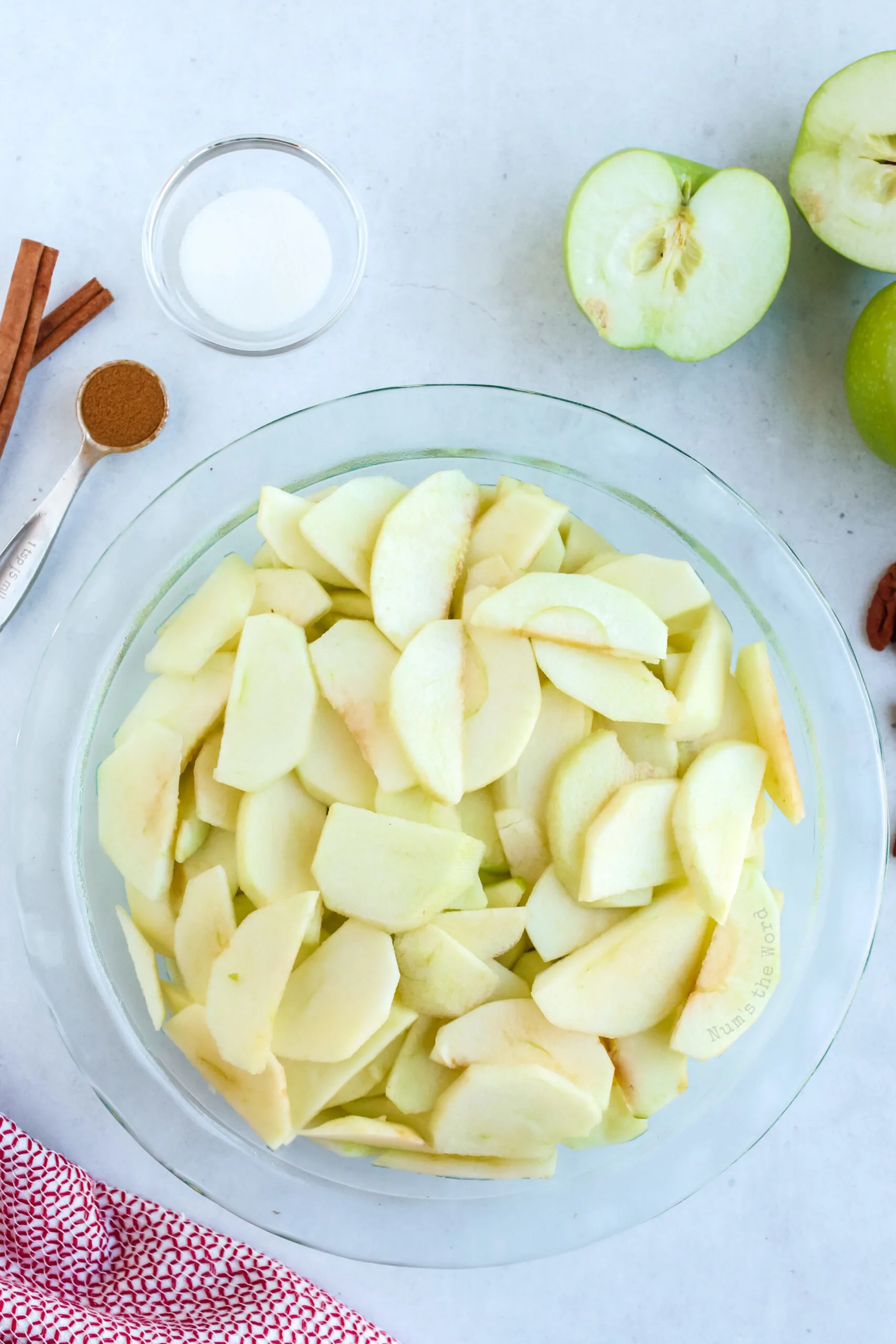 Apple pie origin:
Though apple pie is often seen as the unofficial pie and a symbol of America, not much about it can really be attributed to American origins. Apples are originally from Asia, but were brought to the Americas with the European colonists.
American farmers and the land really took to the fruit and began growing and creating thousands of different varieties through cross pollination.
The concept of apple pie was originally from England in the 1300's, though there are records of Dutch apple pies from as early as the 1500's.
There are many varieties of Apple pie from regions across the world, and many of the different styles have been adapted or modified or combined to form a plethora of apple pie recipes today.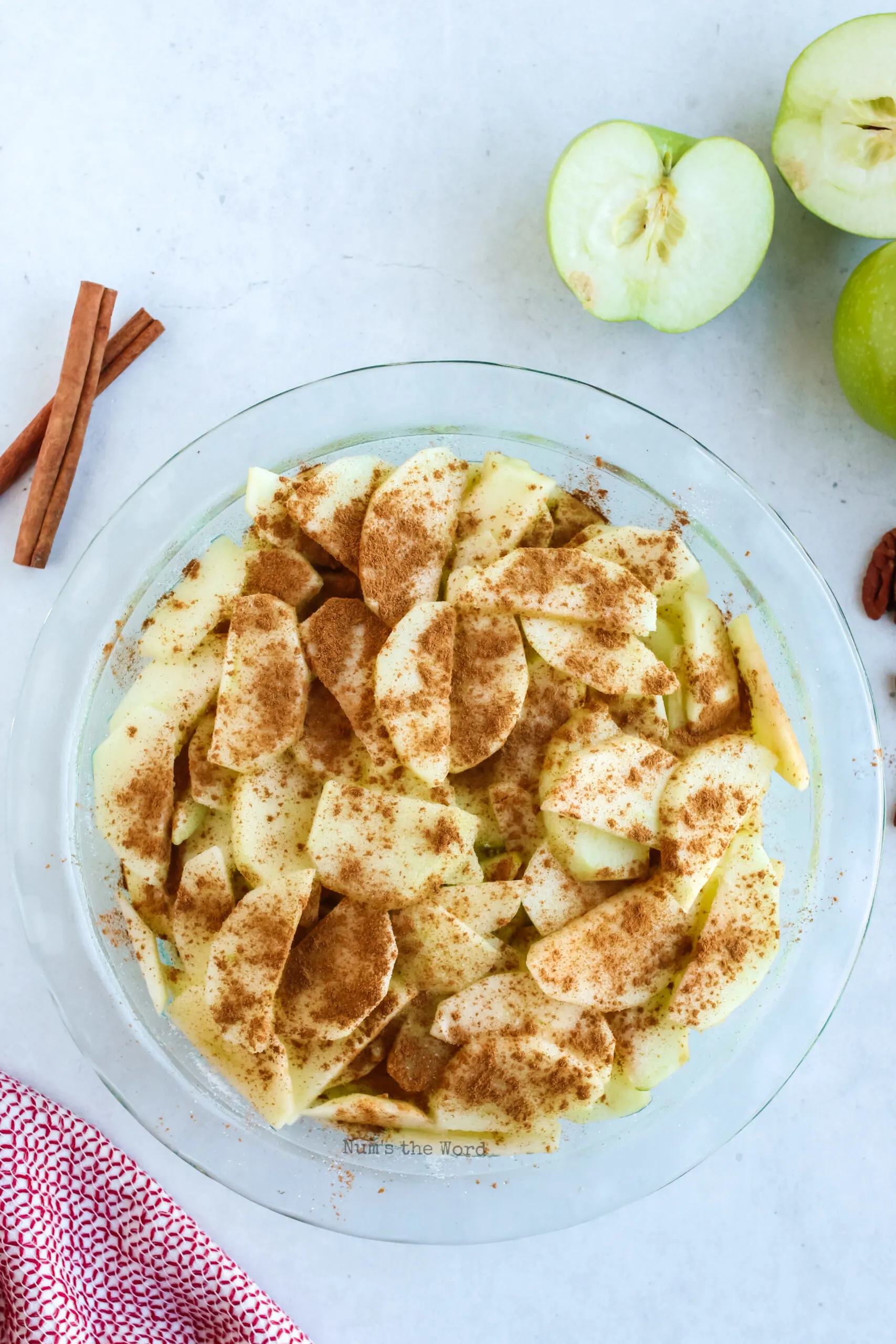 What is Swedish apple pie?
This particular recipe for Swedish apple pie follows closely to the basics of Smulpaj, meaning crumb pie. In this case, we combine apples with seasoning, then top with a cookie-like, crumbly topping and bake until golden and decadent.
It really is an apple pie Swedish style, for all intents and purposes, as the style of pie is commonly cooked as a dessert in Sweden.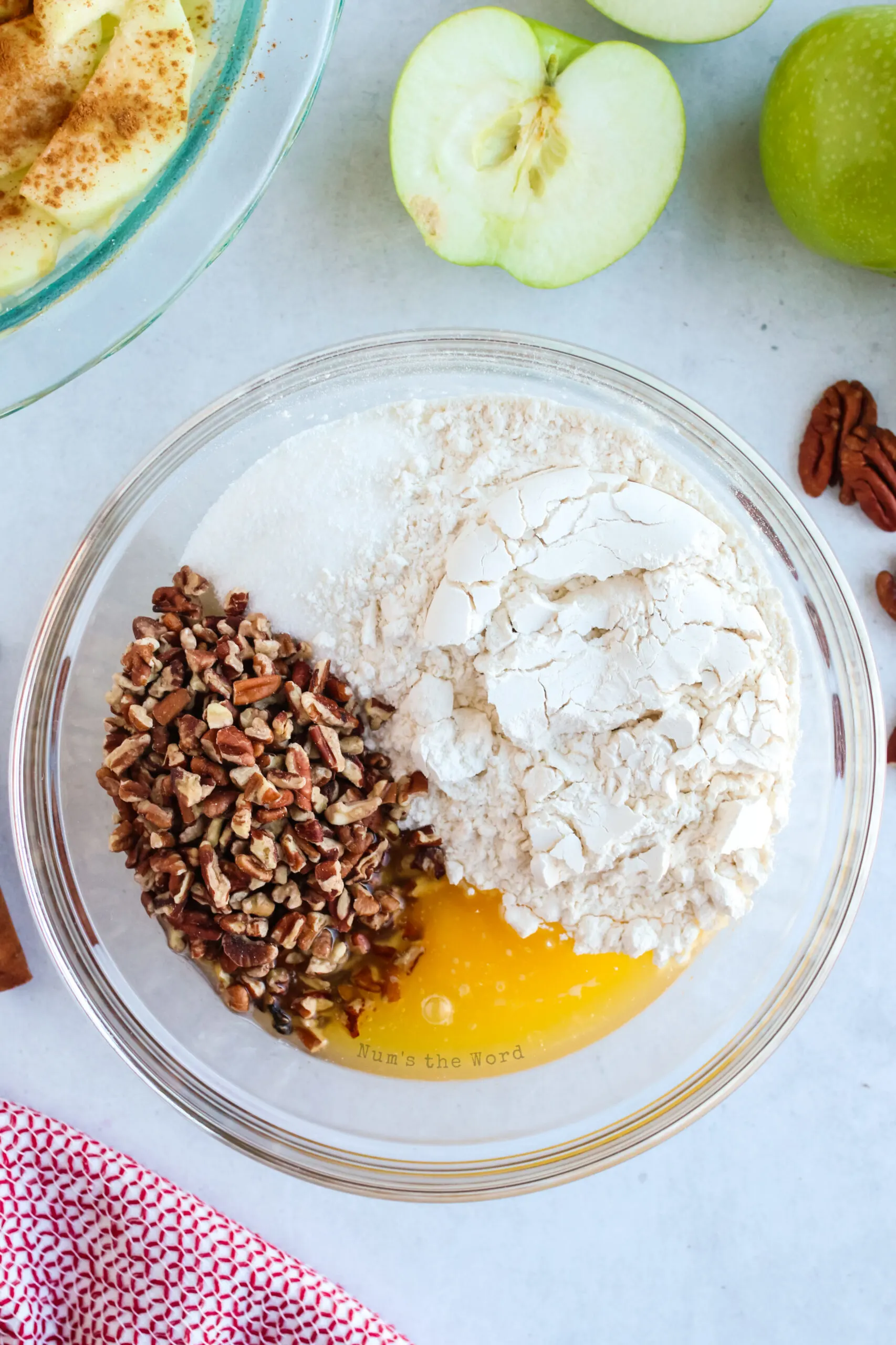 Does Swedish apple pie come from Sweden?
As previously mentioned, this easy Swedish apple pie recipe is very similar to Smulpaj, or crumb pie, in Sweden. Smulpaj does not have a pie crust, just as this recipe does not.
Traditionally, the filling is added straight into the bottom of a greased dish and topped with a crumbly dough and baked to a golden crisp.
Commonly used fillings in Sweden are apples, such as in this recipe, or rhubarb or bilberries. Much like we like to do here in the United States, Smulpaj is often topped with whipping cream, ice cream, or vanilla sauce.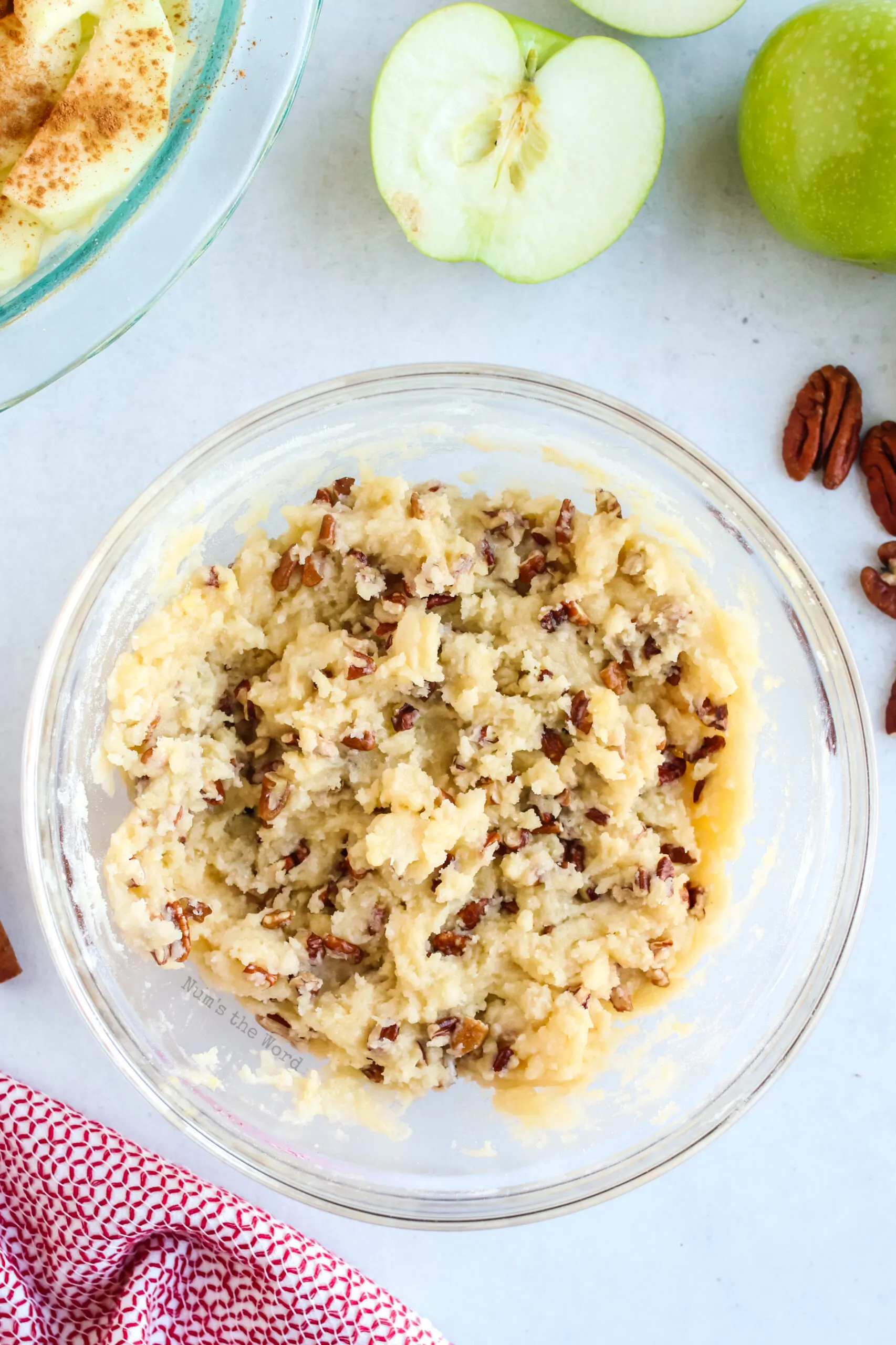 Is there a crust in Swedish apple pie?
No, Swedish apple pie does NOT have a "traditional" pie crust. Instead, the fruit filling is added straight to the bottom of a greased pie dish and topped with a delicious crumbly topping and baked to a golden, crunchy crisp.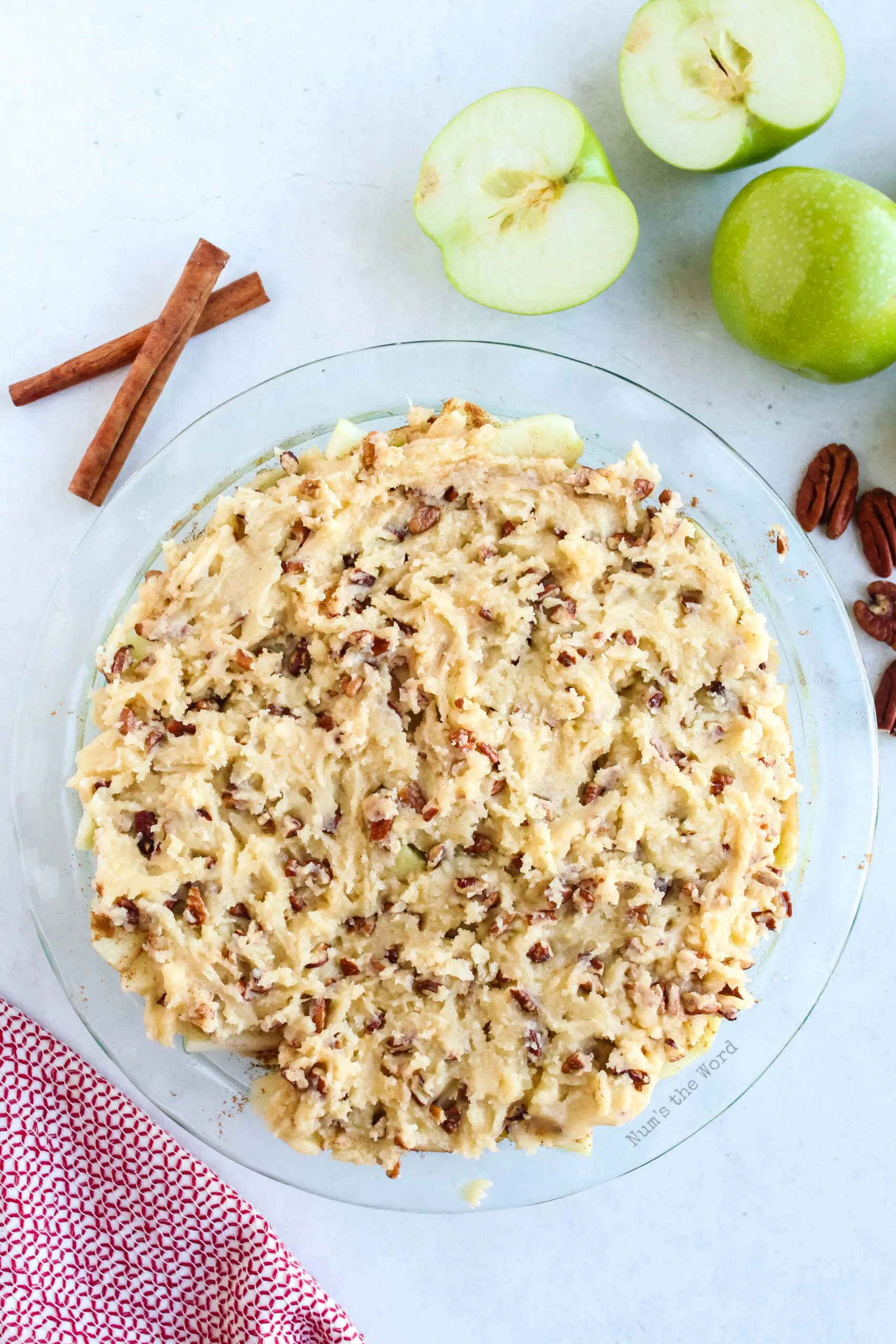 What ingredients are in Swedish Apple Pie?
To make Swedish apple pie, you will need the following ingredients:
Granny smith apples

– I love a tart apple in baked apple goods. Any tart variety will work. Don't worry about bruises on the apples, as the more bruises they have, the sweeter they'll be.

Cinnamon

– who doesn't love the combination of cinnamon and apples? It's like they were made for each other.

Butter

– melted & cooled, butter adds richness to the crumbly topping and the entire dish.

White sugar

– since there's very little added sugar in the apple filling, most of the sweetness comes from the cookie-like crumble topping and the sugar used there.

Salt

– the age-old flavor enhancer.

Egg

– egg will help hold the cookie-crumble topping together and provides structure.

Flour

– flour makes up a large part of the crumble topping, almost like a cookie dough! It's so tasty!

Almond extract

– I love the depth of flavor just a bit of almond extract adds to baked goods! A little goes a long way in this crumb topping and does a lot to add complementary flavor to your apple filling.

Pecans

– pecans add a nice, nutty flavor as well as crunch and texture to your crumbly topping.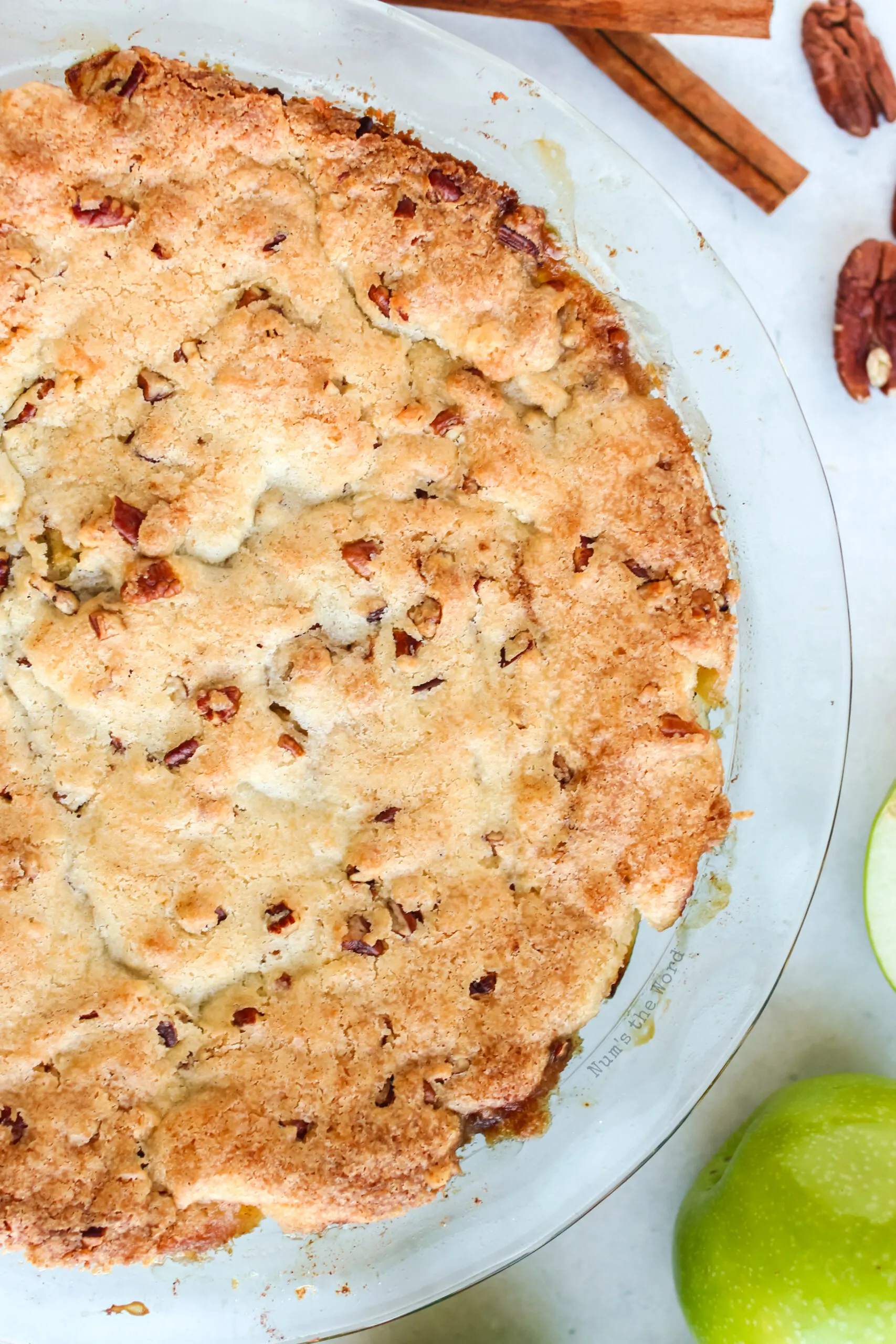 How to make Swedish apple pie?
Spray

pie plate with nonstick spray.

Fill

with apples.

Sprinkle

with cinnamon and sugar.

Combine

topping ingredients.

Spread

topping over apple filling.

Bake

.

Eat

! (Don't forget the ice cream!)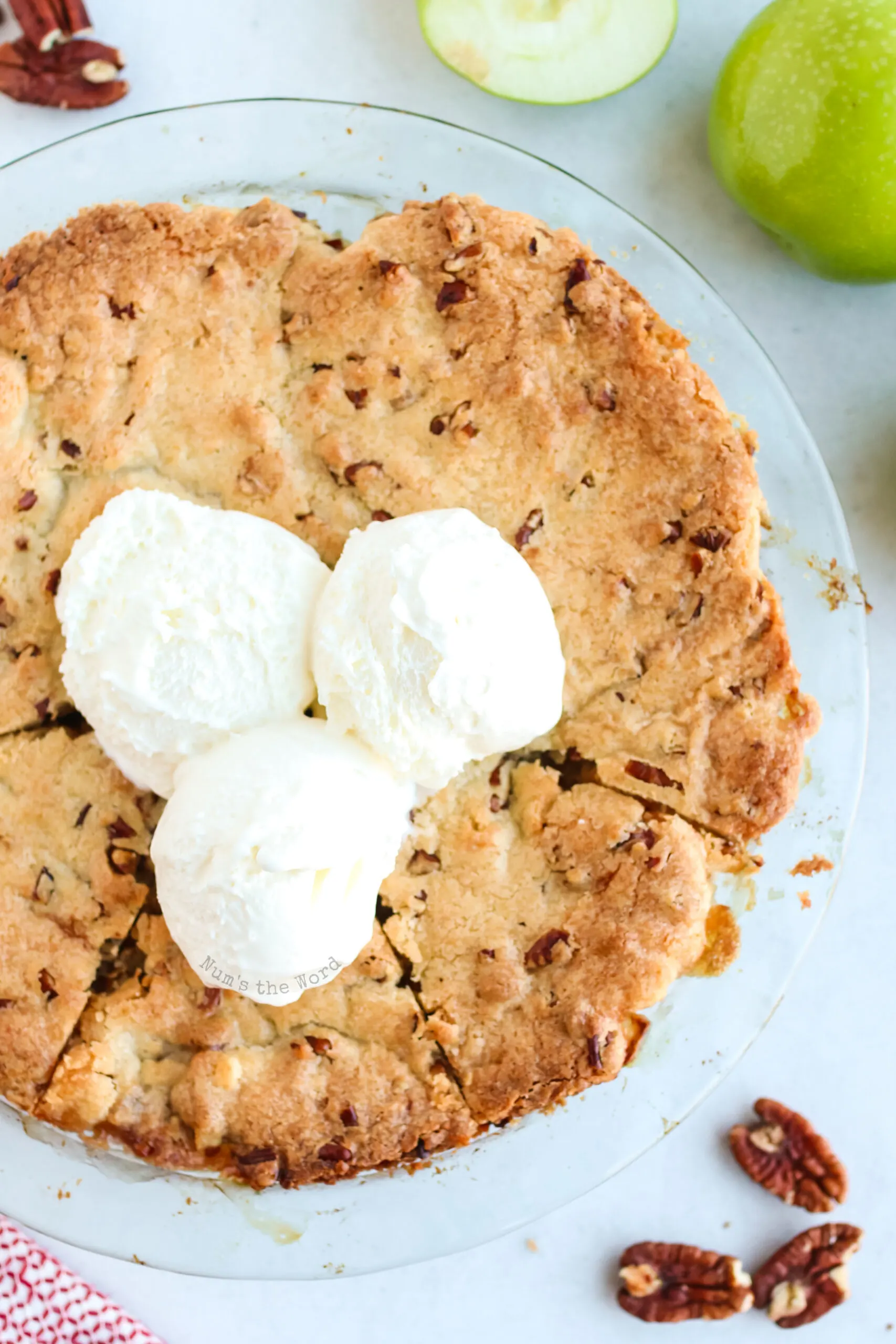 How to cut down fat in Swedish apple pie?
Since all of the fat in this Swedish apple pie recipe is in the topping, the easiest way to cut down the fat is to skip the topping when you eat your apple pie. However doing that leaves you with just baked apples!
To reduce the fat in this pie, you could consider substituting a crumble topping of your choosing with less fat (though I hope you'll give this recipe a try, because it is SPECTACULAR!).
Many lower-fat crumble recipes will use oats (which is also a common topping ingredient in Smulpaj), a smaller amount of flour and sugar, and a reduced amount of coconut oil or butter. Since I haven't tried a lower calorie option myself, I don't have one to personally recommend.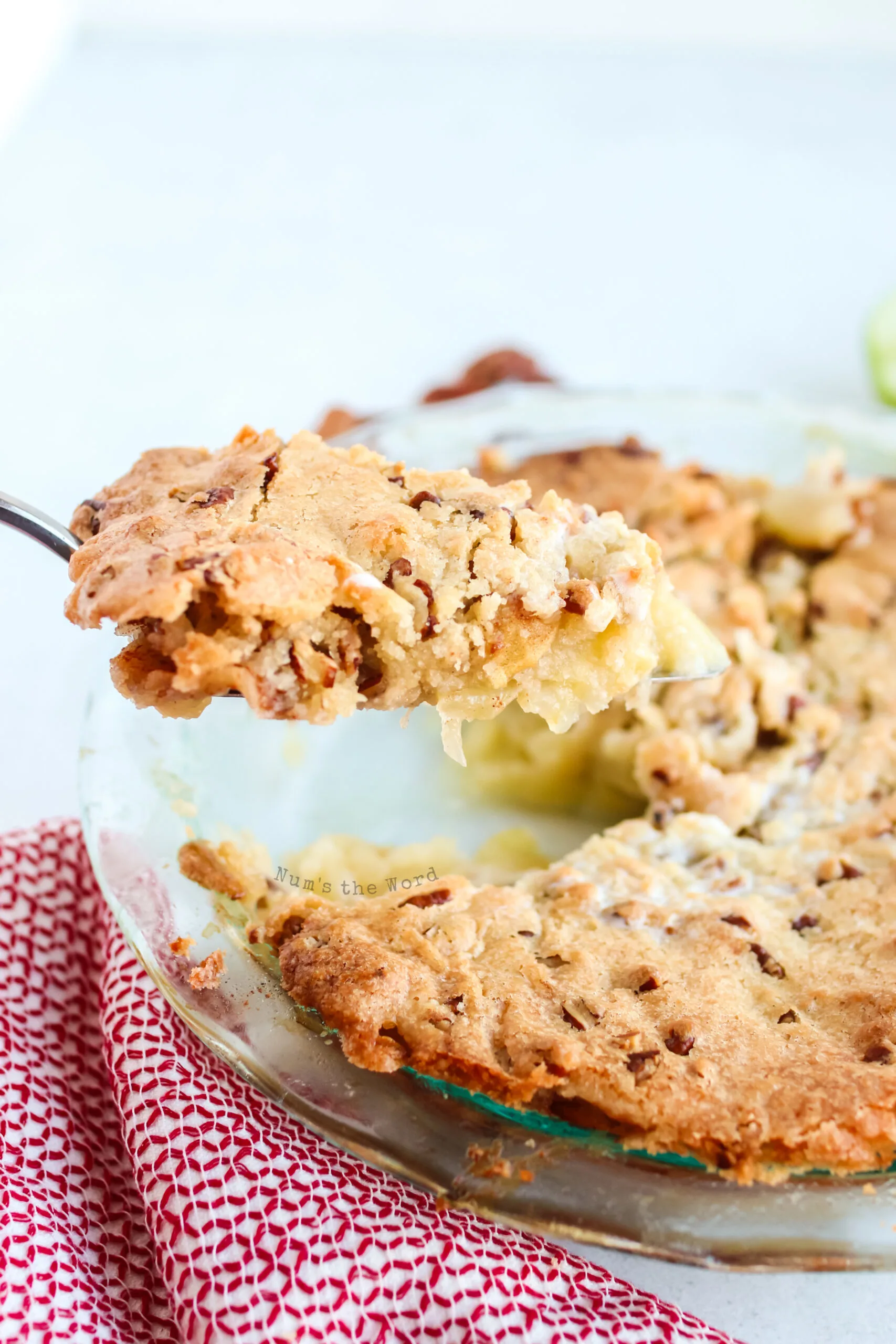 Can you freeze Swedish apple pie?
Yes, you can freeze your leftover Swedish apple pie! Leftovers … is that a thing with dessert?!
Simply pre-freeze slices of pie and store frozen pieces in plastic wrap or an airtight bag or container. You can separate the slices in the original pie tin and freeze them uncovered until solid, then wrap or bag individually.
To thaw and reheat, place an unwrapped pie piece on a microwave safe dish and heat, covered, in short bursts of medium-low power.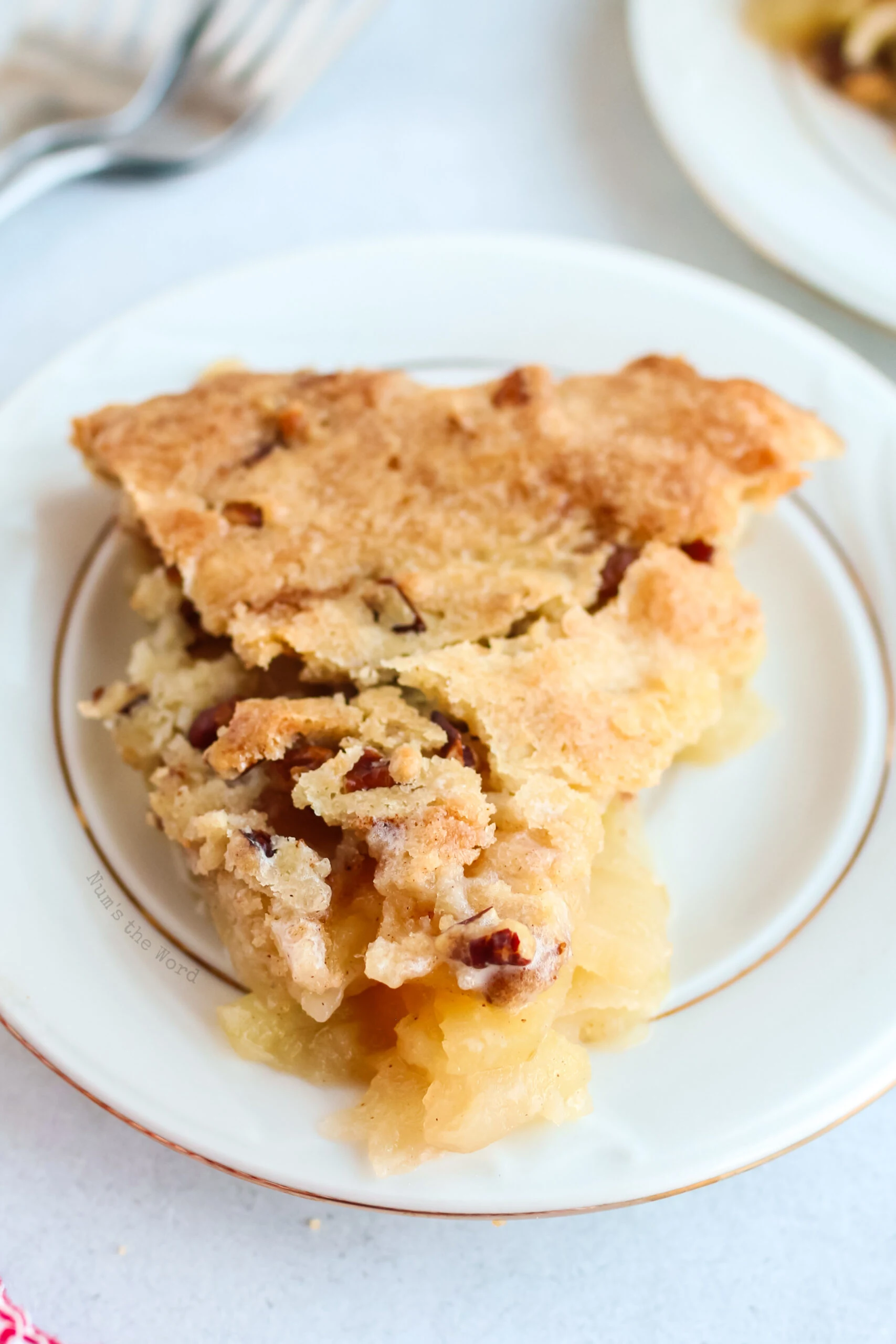 More Apple Recipes You'll Love…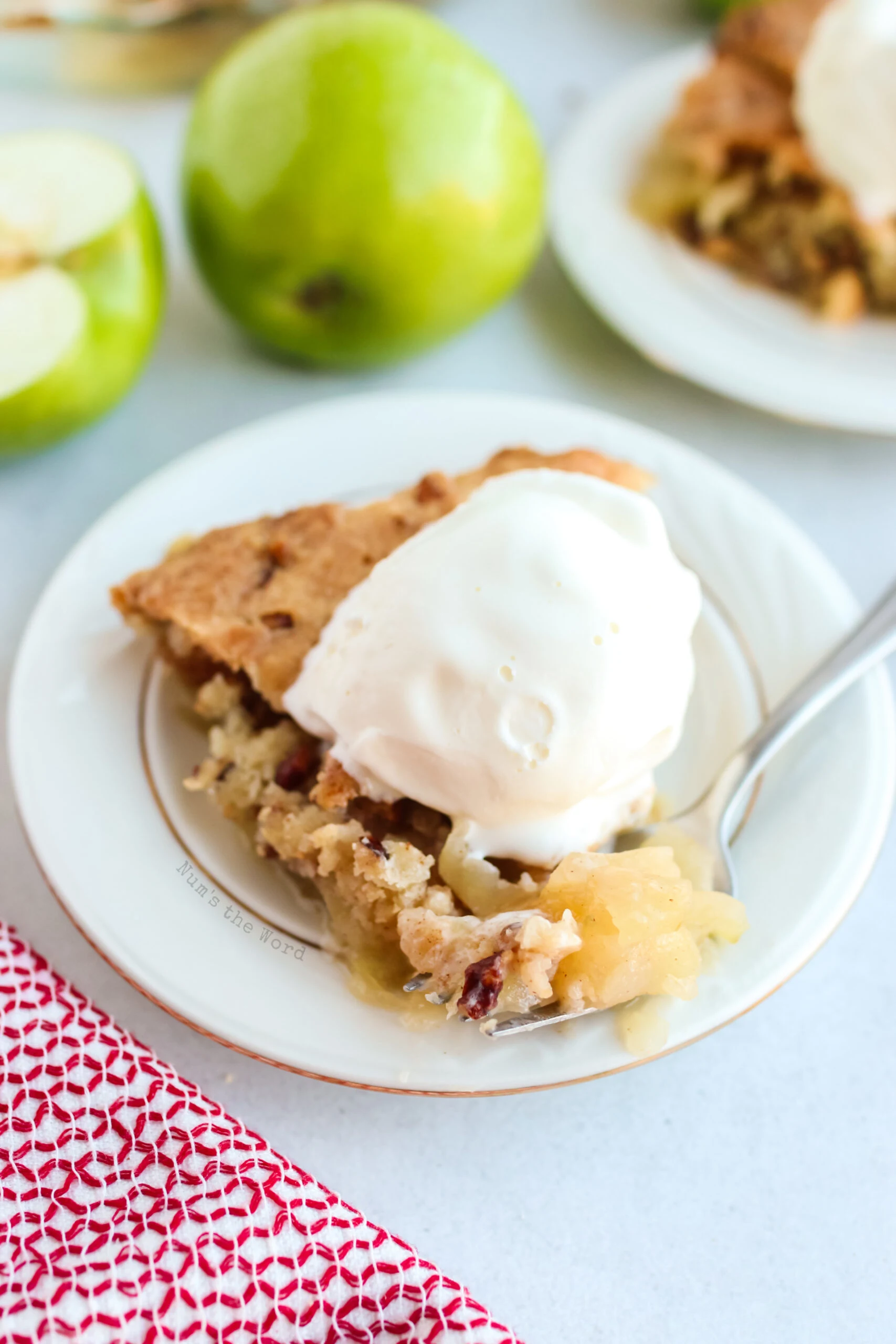 You're bound to love this Swedish apple pie recipe! The simplicity, the flavor, the texture — there's so much to adore in this recipe. And you can make it with apples and the ingredients you probably have in your pantry right now!
Yield: 8 - 10 slices
Swedish Apple Pie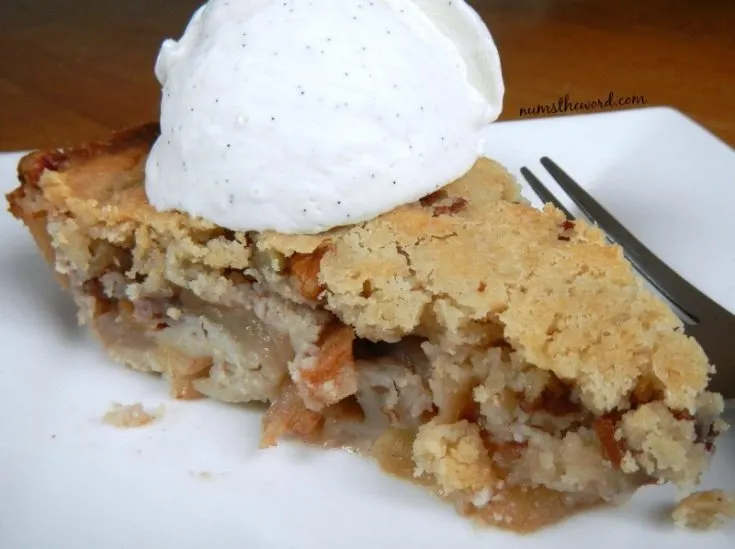 Total Time
1 hour
20 minutes
Ingredients
8 medium sized granny smith apples, peeled, sliced and cored. (The more spots on the apple, the sweeter the apple)
1 Tablespoons white sugar
1 teaspoon cinnamon
3/4 cup butter, melted & cooled.
1 cup white sugar
Pinch of salt
1 egg
1 cup flour
1/2 teaspoon almond extract (original recipe called for 1 tsp but we found that to be a bit overwhelming)
1/2 cup chopped pecans
Instructions
Preheat oven to 350*F
Spray a pie plate with non-stick spray and fill pie plate 3/4 full with sliced apples.
Sprinkle apples with 1 Tablespoon white sugar and cinnamon.
In a separate bowl, combine melted butter, 1 cup sugar, salt, egg, flour, almond extract & pecans. Mix well.
Spread egg mixture over apples gently.
Bake for 50 - 60 minutes or until crust is golden.
Can be served warm or cold with whipped cream or ice cream.
Recipe By: Beverly Reschke in Church cookbook
Originally Posted: November 5, 2015
Photos & Text: May 5, 2021