Cherry Rhubarb Crisp is the perfect summer treat! Oatmeal crisp topping, rhubarb and cherry pie filling make for a great summer treat! Perfect for family dinners, picnics or grilling out with friends!
This post contains affiliate links.  If you click on an affiliate link and make a purchase, I will make a small percentage on your purchase. This helps keep this website running! Thank you!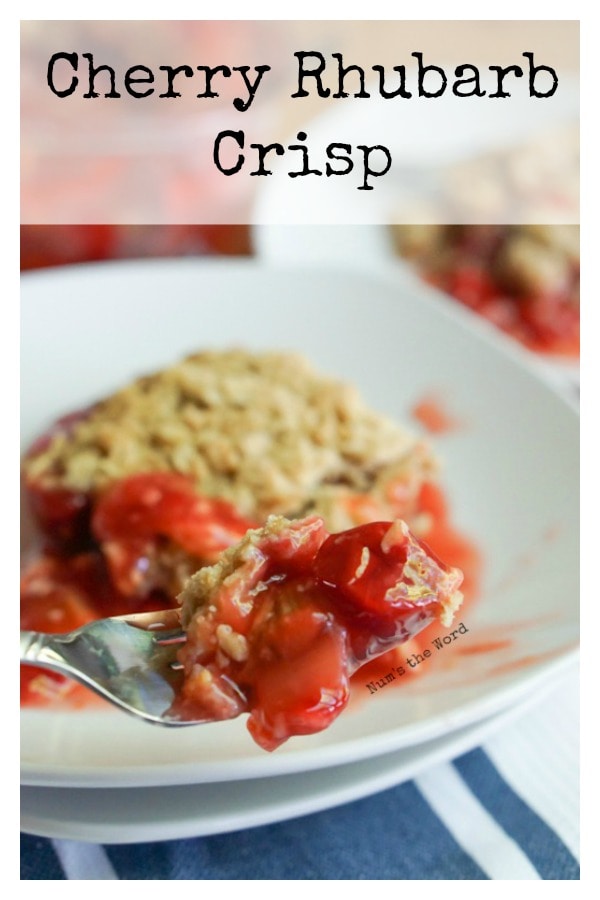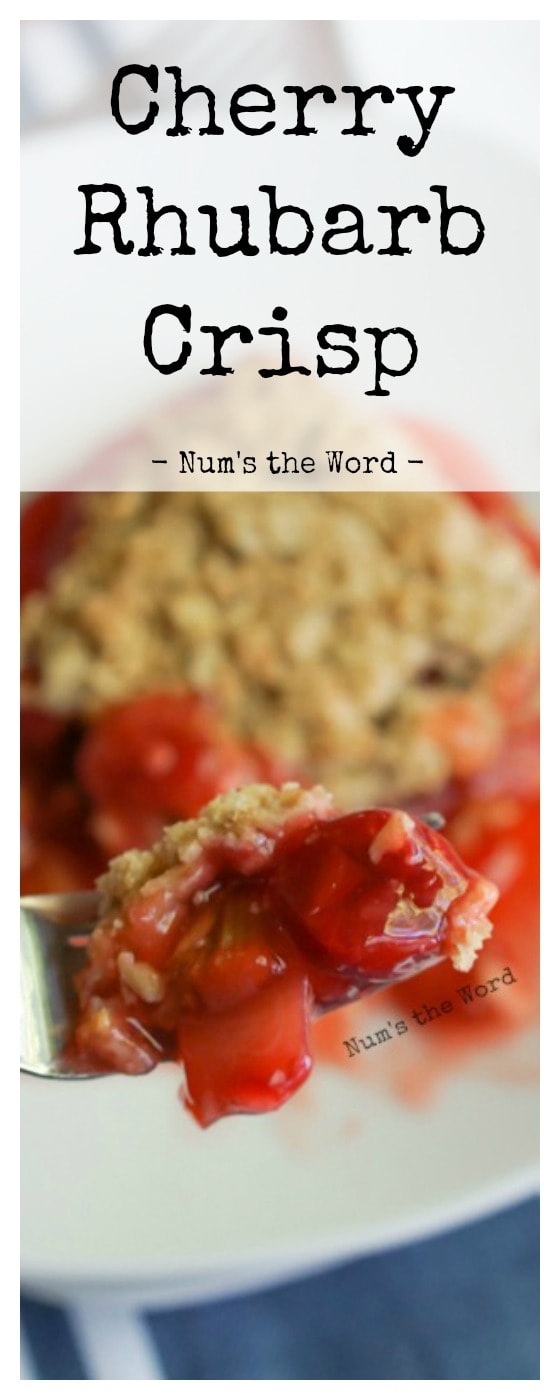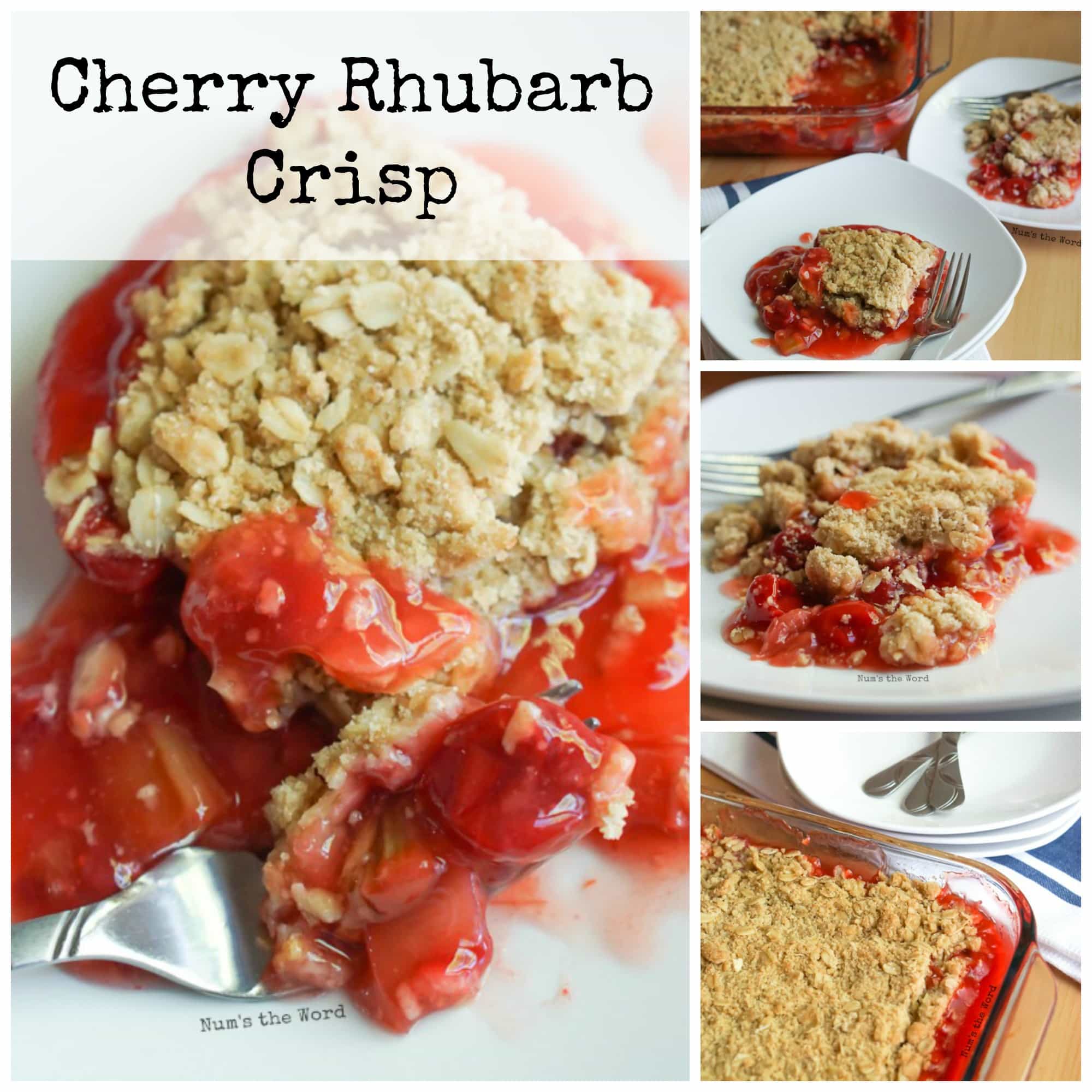 One of my goals when I started Num's the Word was to add one or two new rhubarb recipes each year.
This was a pretty big goal for me as when I started Num's I was fairly certain I didn't like rhubarb.
Well fast forward a few years and it is now a staple in our lives and something we look forward to every year.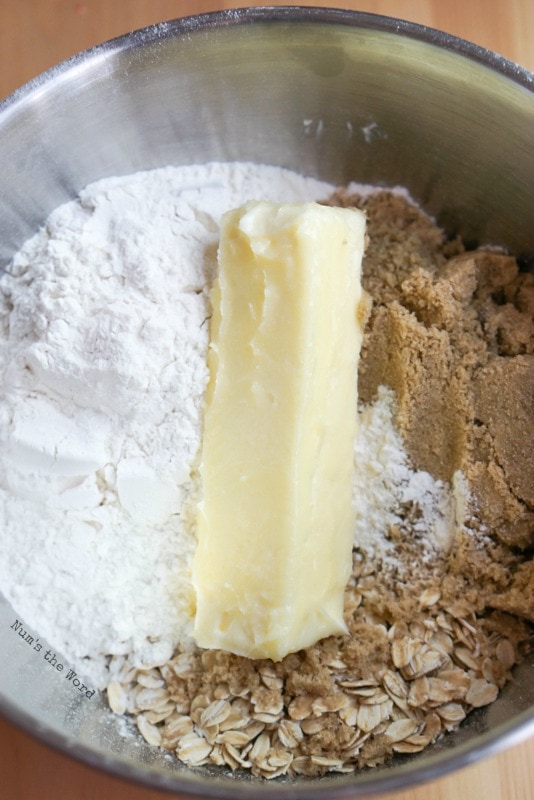 This year we are EXTRA thankful for rhubarb because we've discovered some new FAVORITE recipes.
Take this Cherry Rhubarb Crisp.
Rhubarb, cherry pie filling and a crisp topping make this a must have summer treat!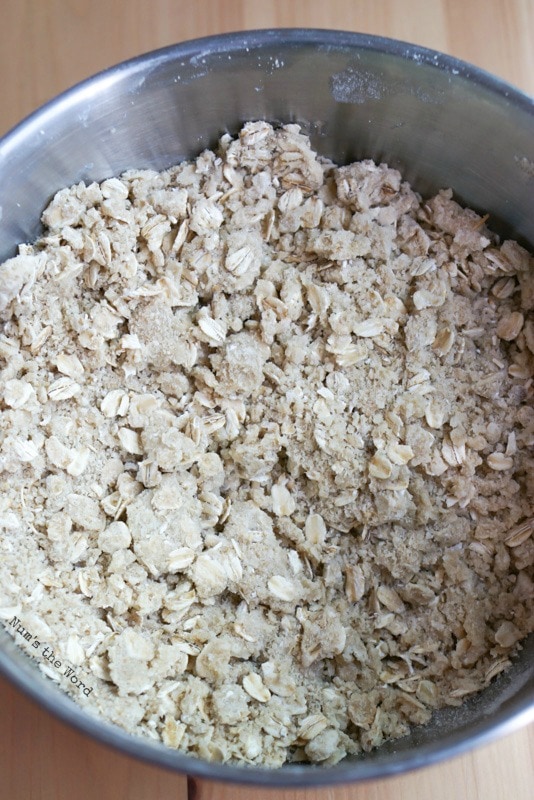 Seriously, this year was just mouthwatering delicious when it comes to rhubarb!
Our lives are centered around in season fruits and veggies.
June is Rhubarb month.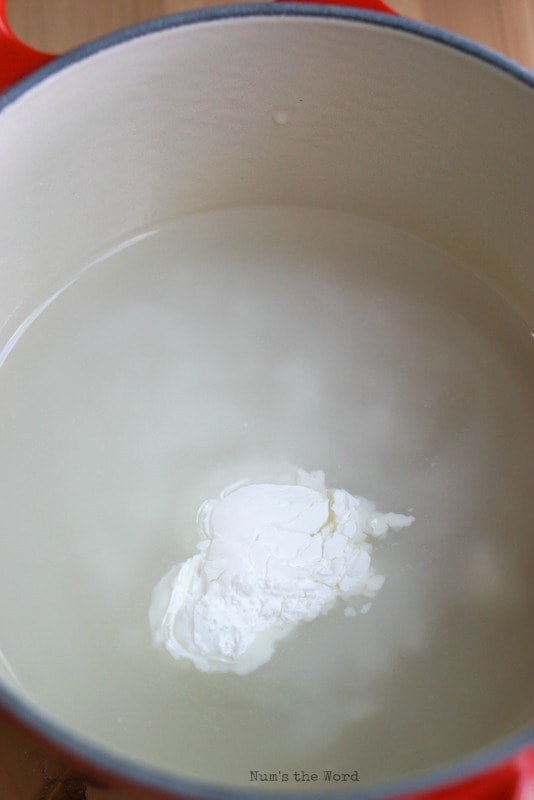 This year, not only did I attack our two plants but I had the most amazing staff member at my daughters school donate a HUGE stash of her mother's rhubarb to me as well.
Did you know that there are several varieties of rhubarb that can be grown?
My Mother-in-Law Liz and I both grow green rhubarb which looks a lot like smooth celery with a hint of red.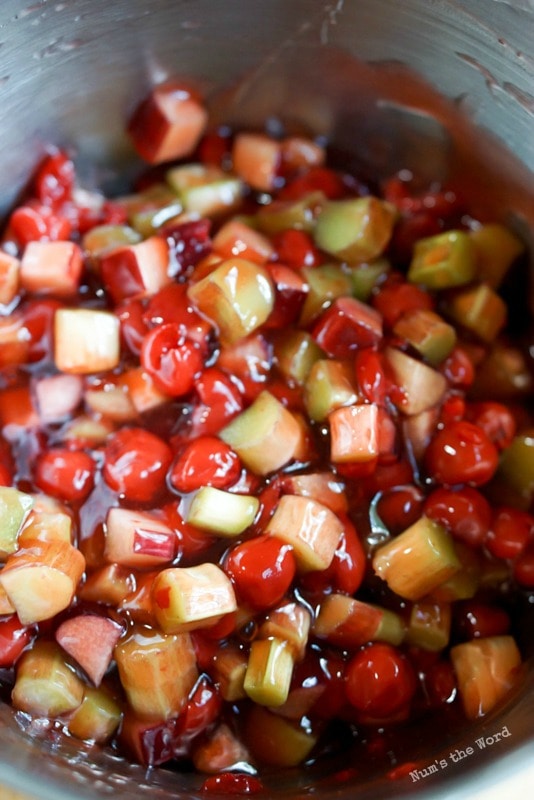 Red rhubarb though is much prettier and much easier to tell what it is at first glance.
The taste though is virtually the same, so it really doesn't matter what color your rhubarb is.
UNLESS you are photographing it.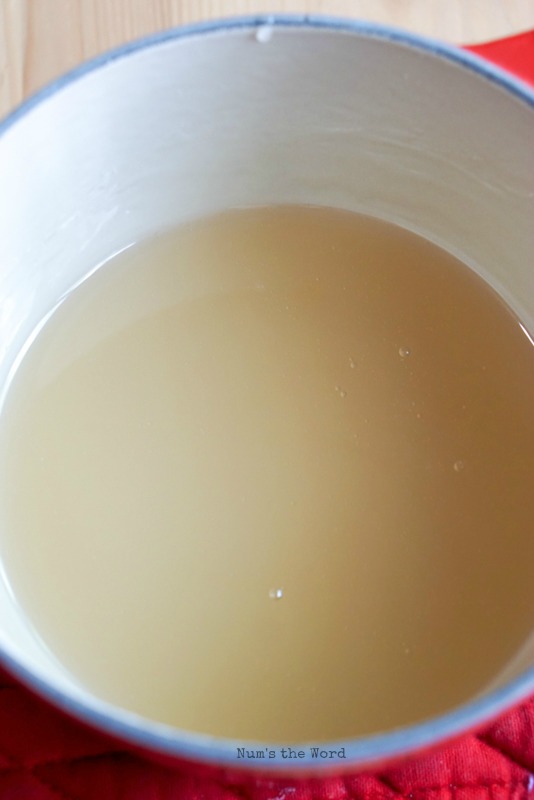 I've learned that using green rhubarb in breads, muffins and desserts for photos isn't the most appealing looking thing out there.
Mainly because it blends right in and you really can't see the rhubarb.
This is GREAT when you are trying to get your kids to eat it!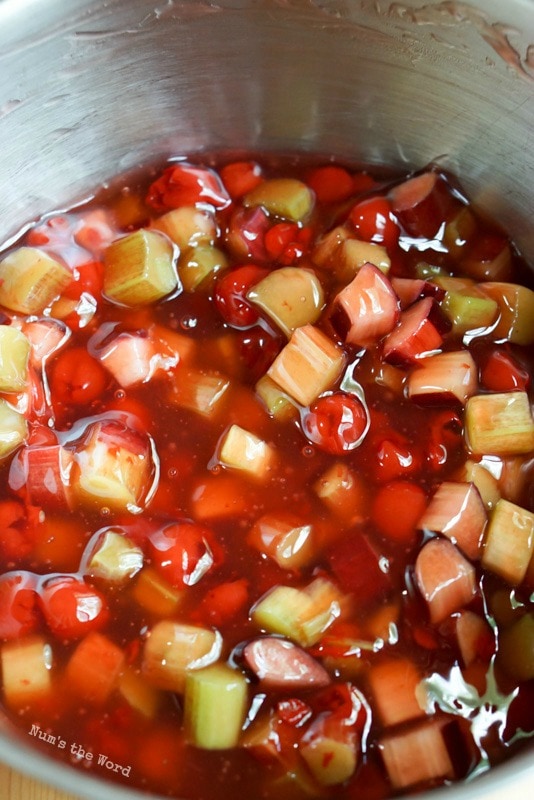 However, when it comes to photographing it for a recipe website, you really WANT people to see the rhubarb.
Thus needing RED rhubarb for photos.
Back to the story… a FABULOUS staff member at my daughters school provided us with a HUGE batch of "as close to red as we can find in Minnesota."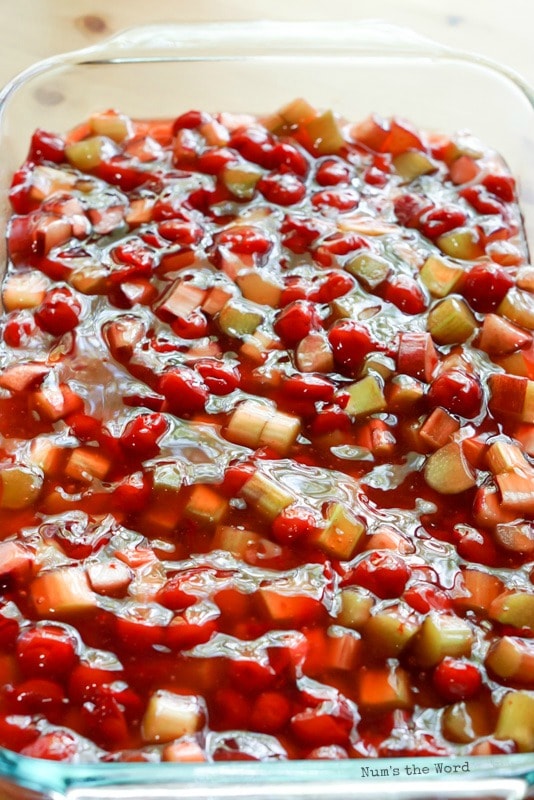 I made so many tasty recipes with it and am SO GRATEFUL for her generosity!
The rhubarb in this Cherry Rhubarb Crisp comes from her!
Every year I look forward to rhubarb season because we get to recipe experiment with it.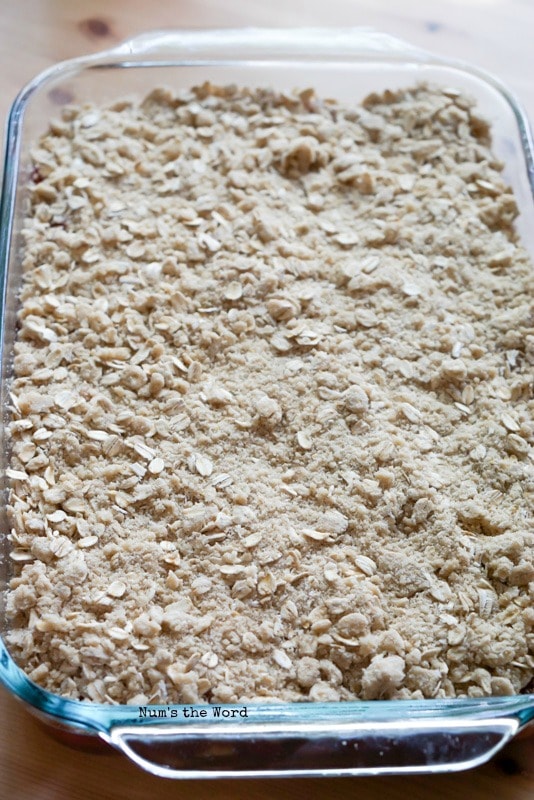 And every year we discover one or two new recipes we wonder how we ever lived without!
As if that wasn't enough, we also get to introduce several people to the flavors of Rhubarb!
When I asked my friends on Facebook if anyone had red rhubarb we could have, so many friends said they had rhubarb they never use and I was welcome to as much as I wanted.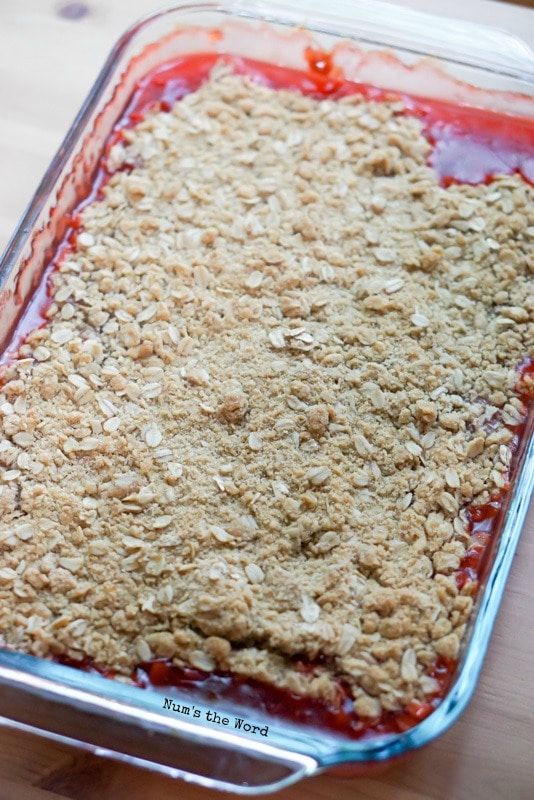 I loved the outpouring of kindness from everyone (even though they all grew green rhubarb).
I was surprised by how many said they had never cooked with it before.
So every year we make it a point to introduce people to the amazing flavors of rhubarb.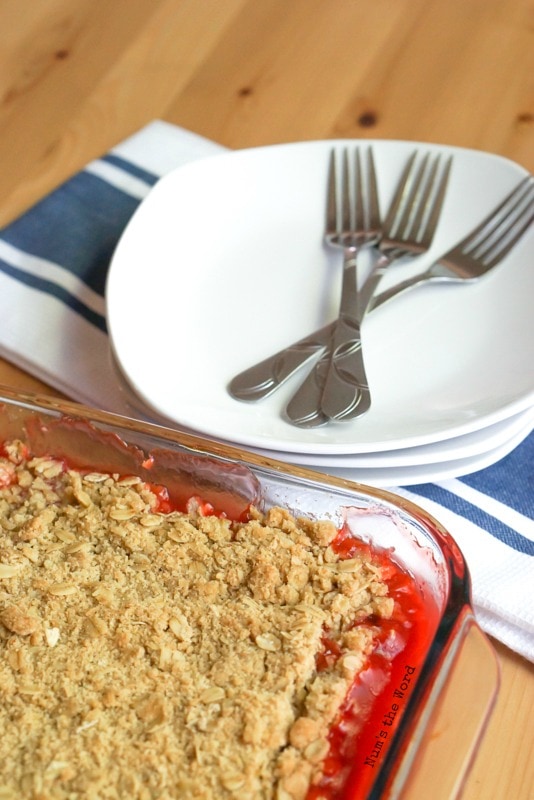 I want to help break people of the idea that rhubarb is crunchy or sour or gross.
Those are all things I used to think until I really gave it a try.
Now we are huge rhubarb lovers.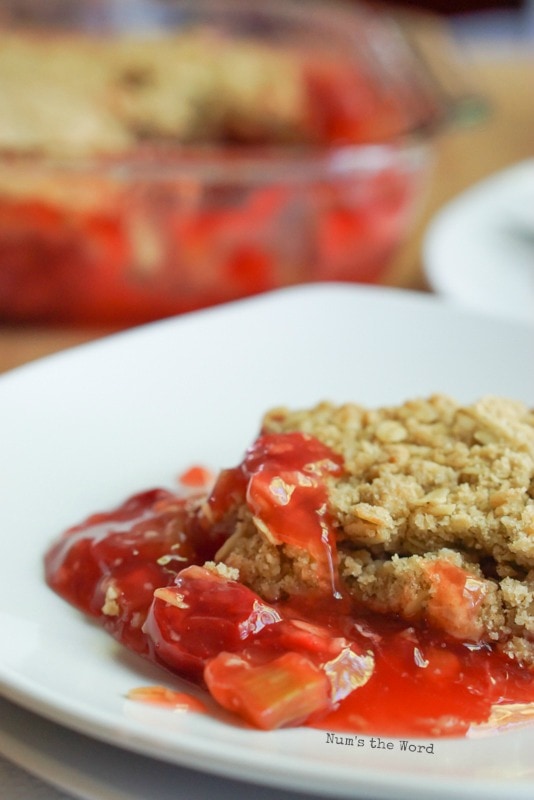 So much so that we are now thinking we should plant another crop or two!
If you love fruit crisps and cherry pie filling, then I really hope you try this Cherry Rhubarb Crisp.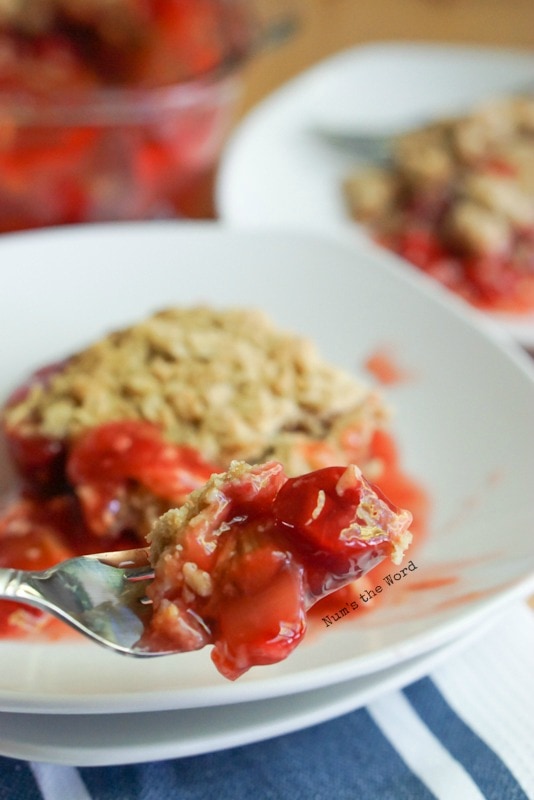 This Cherry Rhubarb crisp is an easy treat that is perfect for summer picnics or grilling out with friends!
Before rhubarb season is over, I hope you'll give it a try!
Yield: 12 - 15 Servings
Cherry Rhubarb Crisp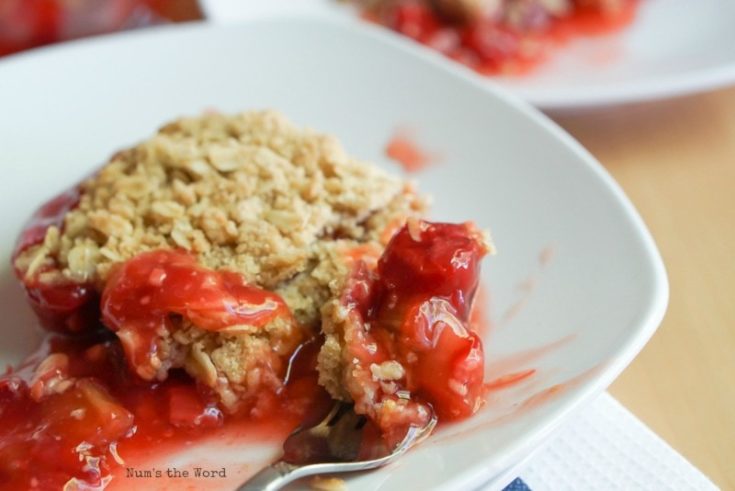 Ingredients
1 cup rolled oats
1 cup all-purpose flour
1/2 cup butter
1 cup brown sugar
1/4 teaspoon salt
4 cups rhubarb, cut into 1/2 inch pieces
1 (21 ounce) can cherry pie filling
1 cup white sugar
1 cup water
2 Tablespoons cornstarch
1 teaspoon vanilla
Instructions
Preheat oven to 350*F
Spray a 9 x 13 casserole dish with cooking spray and set aside.
In a medium bowl add oats, flour, butter, brown sugar and salt.
Using a fork or pasty blender, combine ingredients together until they resemble coarse crumbs. Set aside.
In a new bowl combine rhubarb and cherry pie filling. Set aside.
In a sauce pan add white sugar, water and cornstarch. Mix well.
Cook cornstarch mixture over medium heat until it is clear and thickened.
Remove from stove and add vanilla. Stir well.
Pour thickened mixture over rhubarb and cherry mixture. Mix well.
Scoop out rhubarb mixture into prepared casserole dish.
Top with crumbled oatmeal mixture.
Bake for 40 minutes or until bubbly and golden.
Remove from oven and allow to cool for 10 minutes.
Serve plain or with a scoop of vanilla ice cream or whipped cream!
Other Rhubarb Recipes You'll Love...