We love this Grilled Bacon Wrapped Asparagus! Perfect for grilling out with friends or when company is coming to dinner! You can grill or bake this asparagus, both taste great! An easy flavorful side dish even non asparagus lovers will like!
This post contains affiliate links.  If you click on an affiliate link and make a purchase, I will make a small percentage on your purchase. This helps keep this website running! Thank you!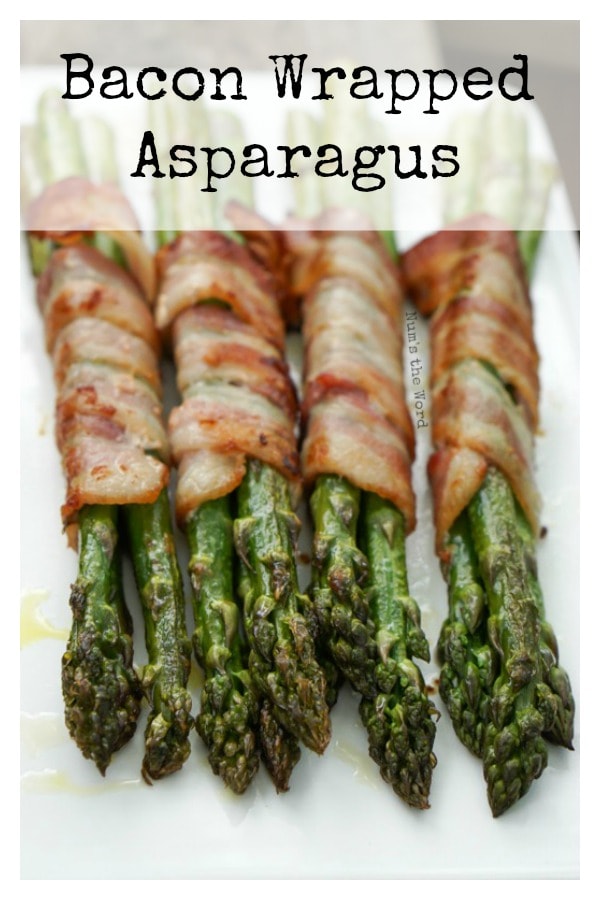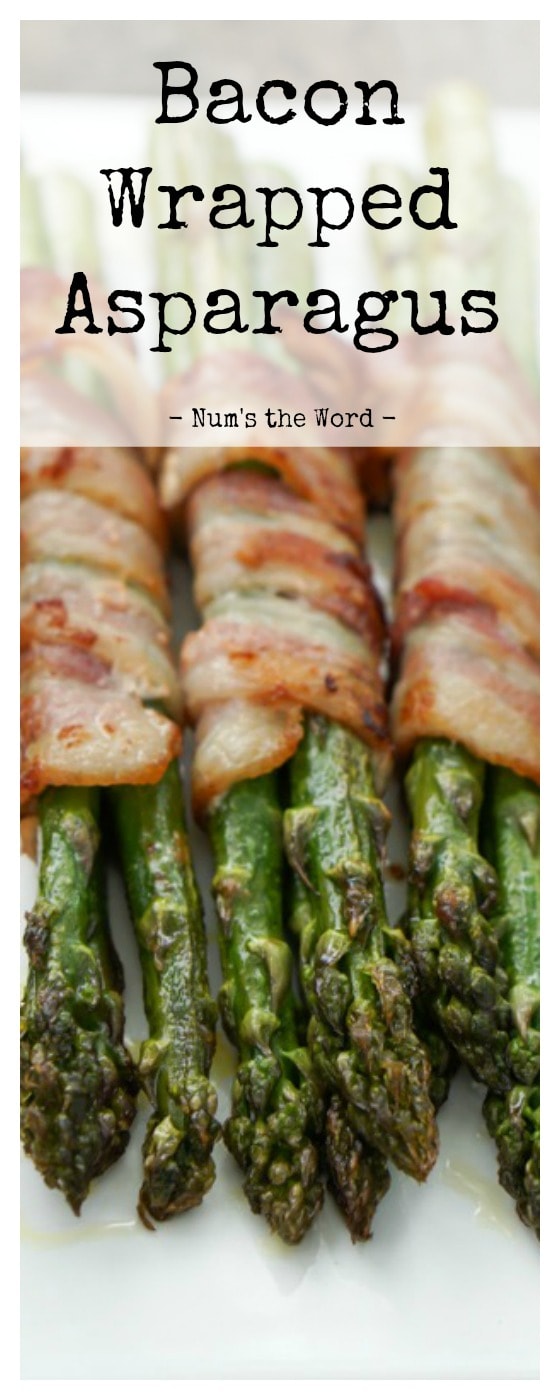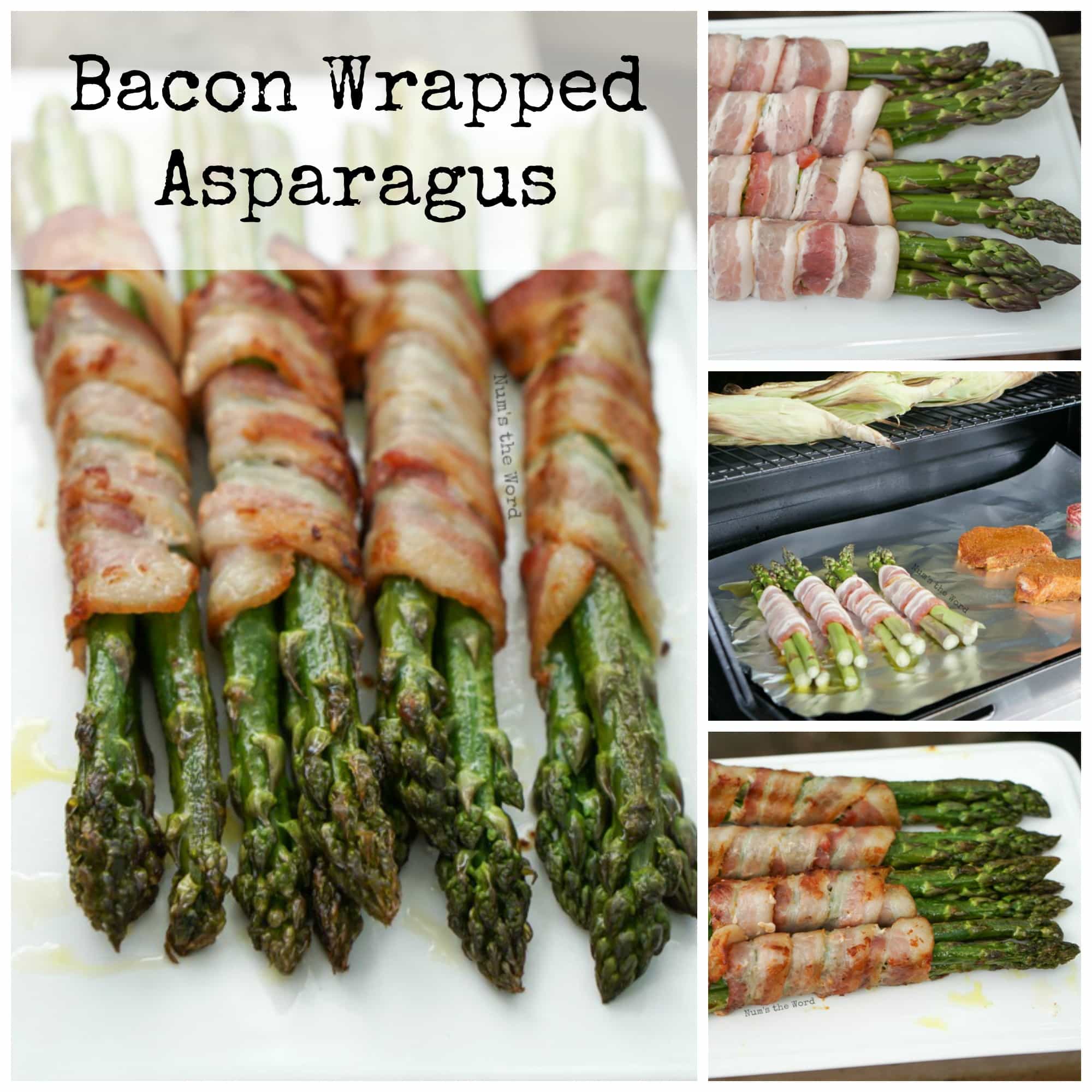 How many of you at the first speck of sunshine started up the grill?
We have been itching all winter long to get our the grill and whip up some tasty grilled foods!
So far we've had all the usual food items.
Steaks, burgers, hot dogs, corn have all been grilled to a perfection.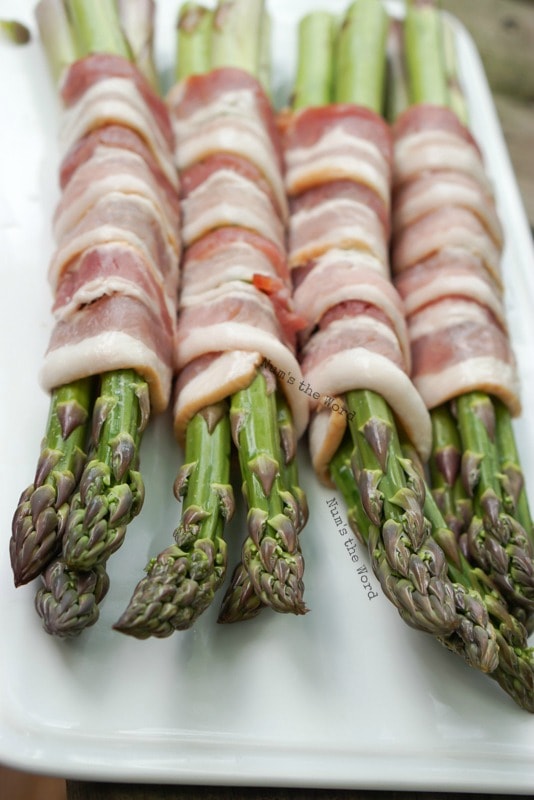 However, just like we do every year, we are trying some new tasty recipes!
These Bacon Wrapped Asparagus Bundles are one of my newest favorite grilled items!
Depending on how you like your asparagus you can cook them to a tender state or leave them with a hint of crispiness.
I've never been much for asparagus in my life.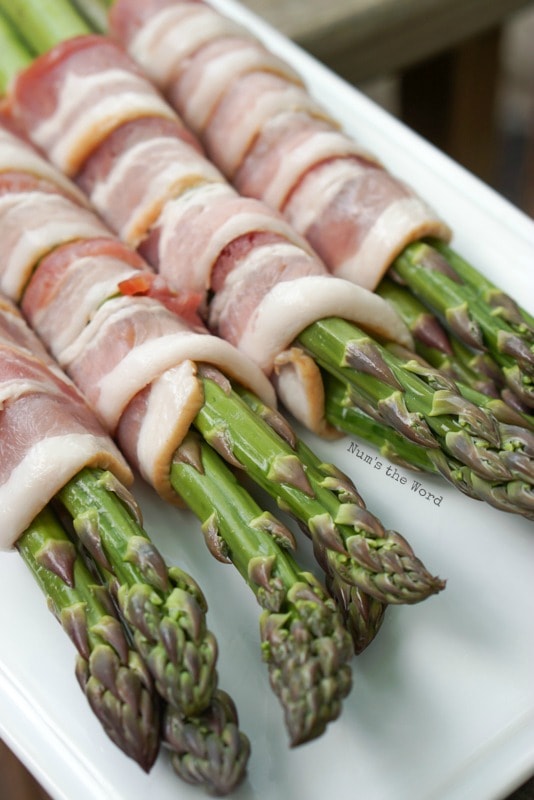 In fact, my parents grew asparagus in our garden my entire childhood and I refused to eat it.
It was too earthy and green to taste good and so I never ate it.
However, as an adult, when my parents weren't looking, I decided to try it one day.
It was really more by accident / no choice than anything.
I was at a restaurant and wanted their pasta.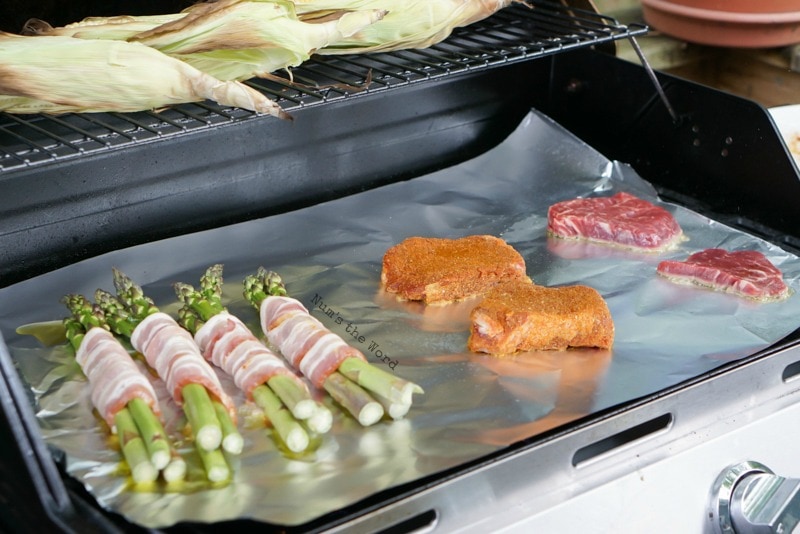 It came with asparagus and so I figured that if I were ever going to try it, that moment would be the best time.
My thought was that it would be covered in a creamy sauce that would help disguise the earthy flavor.
I was pleasantly surprised that it really want's half bad.
In fact, I ate all of the asparagus that came in my pasta!
Now I'm not saying that I became an advocate for asparagus at that time in my life.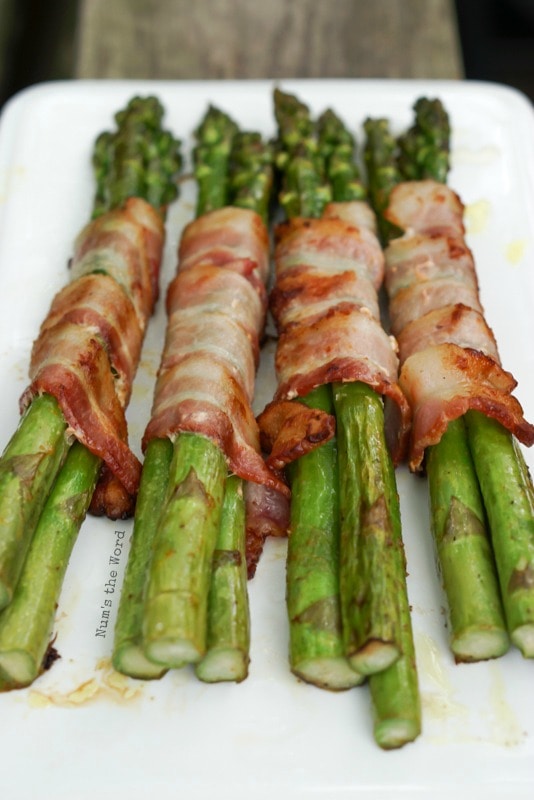 I did however stop shying away from it or saying mean things about it behind it's back.
I will admit that for the most part I can eat it but it's not something I crave.
However, after trying the Baked Prosciutto Wrapped Asparagus on this website, and falling in love with it, I really wanted to try my hand at Bacon wrapped asparagus!
This time, instead of baking it (which you can certainly do) I grilled it.
I LOOOVED this Bacon Wrapped Asparagus!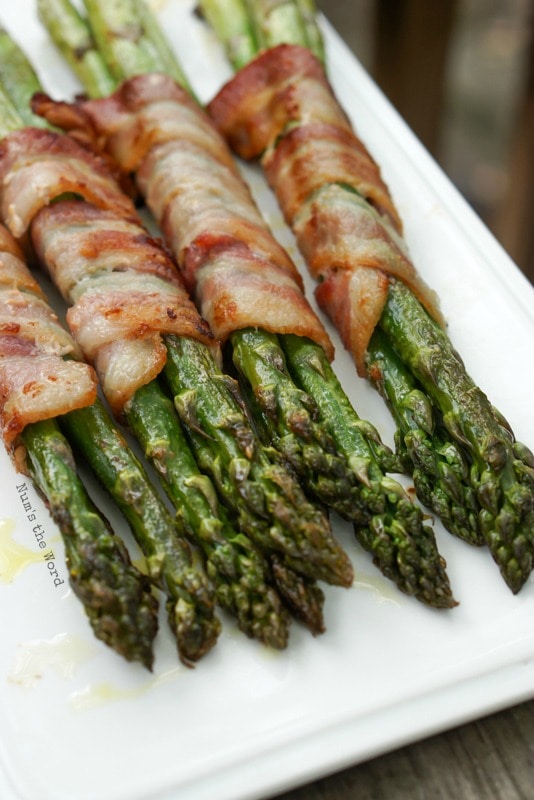 In fact I ate it the next day as leftovers too! Soo good!
We are huge bacon lovers in our home and when you combine anything with bacon it always makes it taste better!
The saltiness of the bacon, grilled to a crisp, mixed with the tender earthy flavor of Asparagus really works well.
My husband on the other hand, is still a firm no when it comes to Asparagus.
He is not a lover and nothing I say or do will convince him of it's goodness.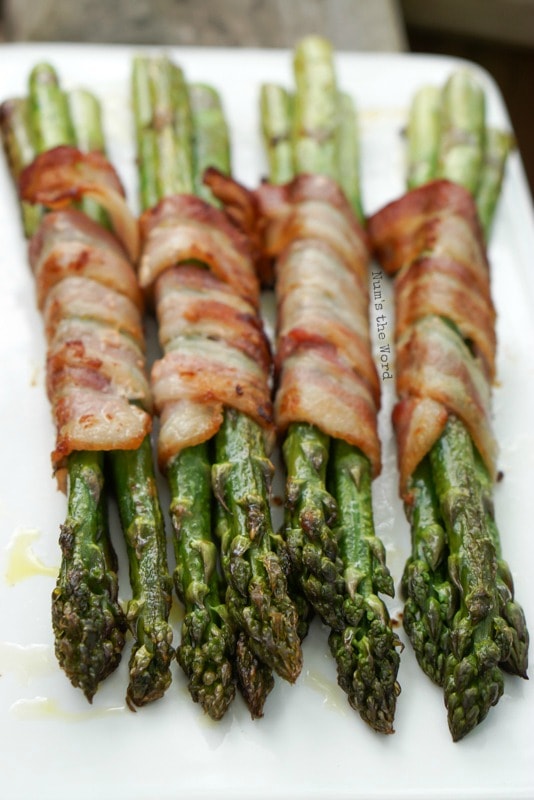 And so as I do with all things asparagus, I either wait to cook it until we have company over for dinner or I pass it along to my in-laws.
Lucky for me they like asparagus and I like them!
These make a great looking and tasting side dish that is perfect for the grill!
If you plan on grilling this summer, give these Bacon Wrapped Asparagus bundles a try!
Yield: 8 Bundles depending on size of asparagus
Bacon Wrapped Asparagus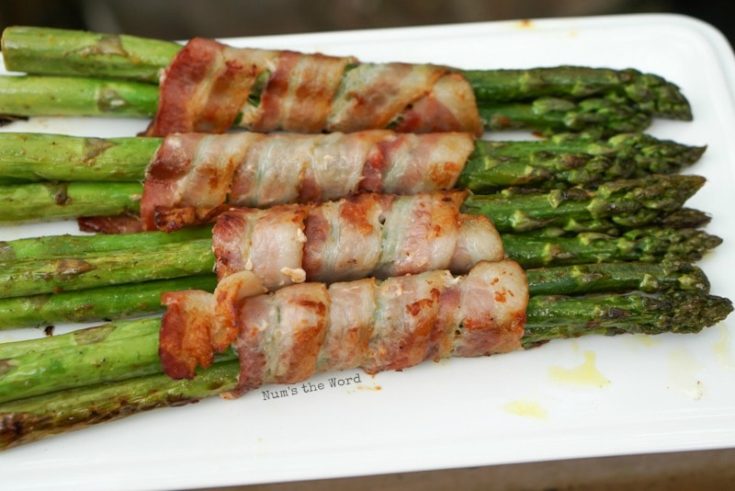 Ingredients
1 pound asparagus spears
1 pound bacon (any flavor)
olive oil
Instructions
Preheat grill.
Depending on how thick your asparagus is, grab 3 or 4 spears.
Wrap a full length slice of bacon around the bundle of asparagus spears, starting at the top, working your way down. Make sure to lightly overlap the bacon as it will secure itself.
Sprinkle a light drizzle of oilve oil over the exposed ends of the asparagus. No need to get the bacon.
If grilling on the grate make sure to grease it up so the bacon doesn't stick. Or you can grill on a grilling mat or non stick foil (dull side faces UP).
Grill for approximately 3 - 4 minutes per side, rotating so the bacon can cook.
Remove from grill when bacon is crisp and the asparagus tender.
Devour immediately!
Other Grilled Recipes You'll Love...