This Crockpot Apple Cider is the stuff of dreams — warm and flavorful, totally from scratch, and easy to make in a crockpot. It will fill your home with the sweet aroma of apples and spices, and it will warm your body and soothe your soul.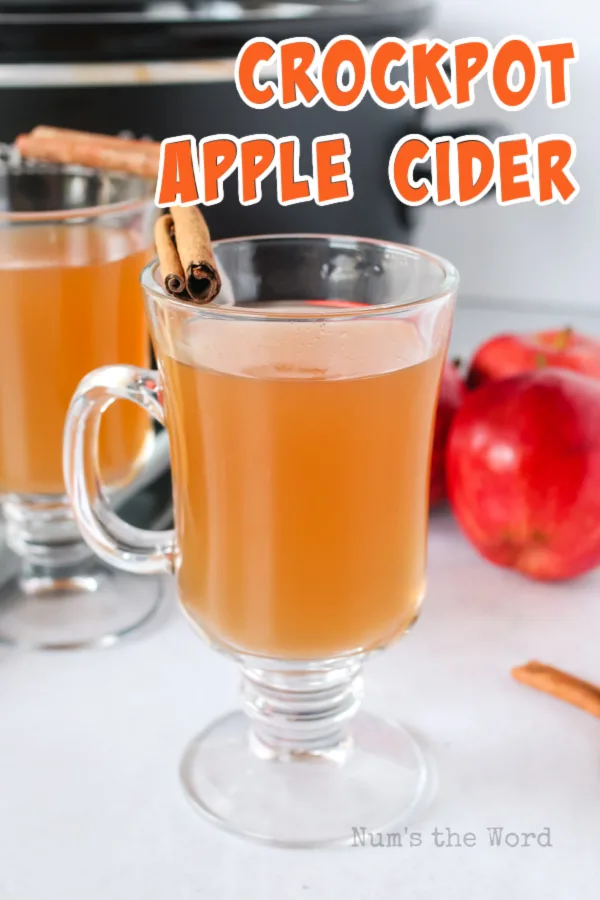 Homemade apple cider in the crockpot is practically a miracle elixir, it tastes so heavenly! I love this cider recipe so much, I get giddy anticipating cooler weather curled up with a mug of this stuff.
Whether you're looking for a family-friendly drink for a holiday gathering or party, or simply want to enjoy a fall-favorite at home, this easy apple cider crockpot recipe is the one for you! Make some to share, make some to freeze, or both!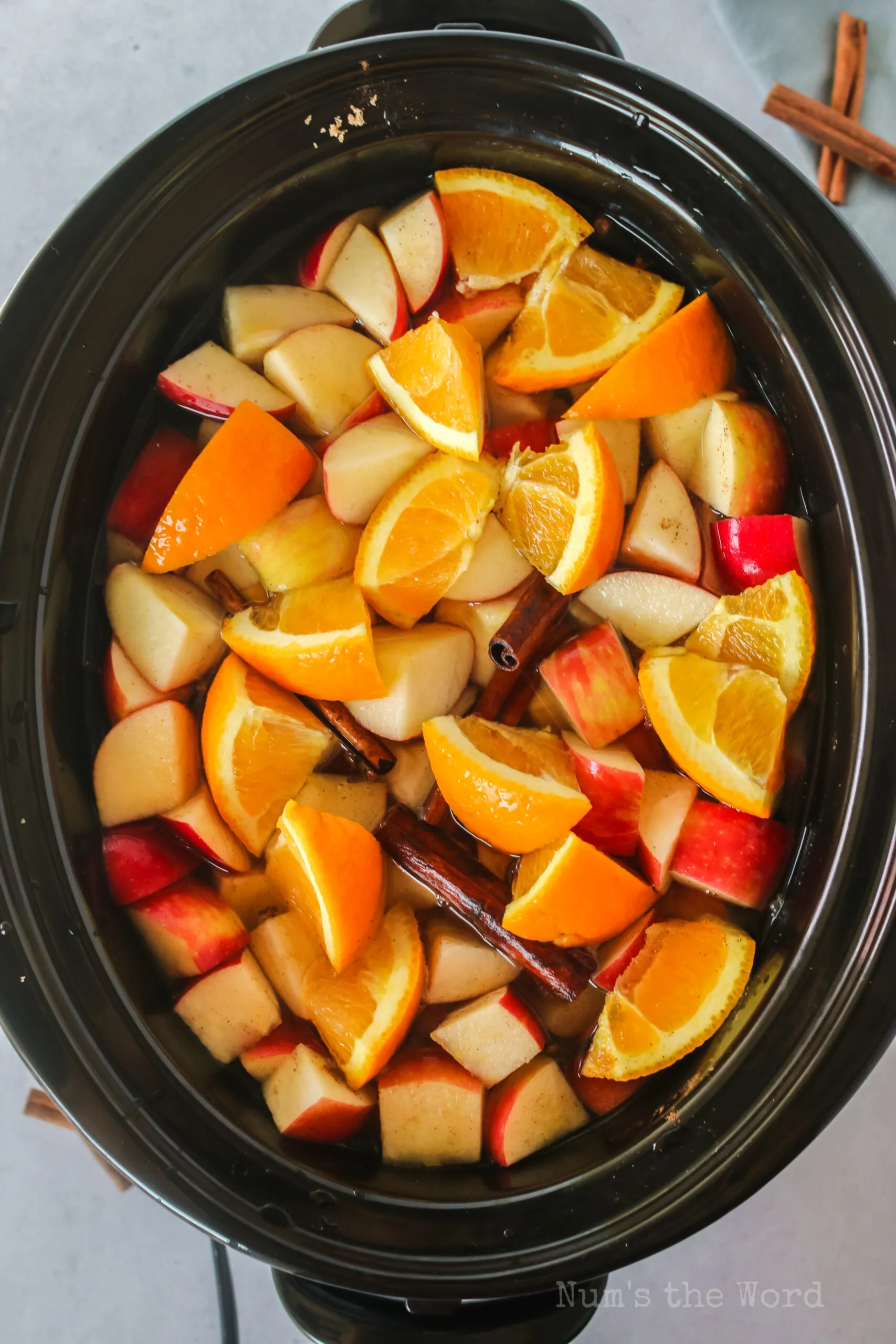 What spices are in crock pot apple cider?
One of my favorite things about slow cooker apple cider is that your entire house smells like autumn. It's better than any scented candle or air freshener, and you can drink it too! To make this recipe, you'll need the following ingredients:
Apples

– you can chop up any apple variety that you like to eat! I've used a combination of Ambrosia and Honeycrisp with great results. The tarter the apple, the tarter the cider.

Brown sugar

– the brown sugar will help enhance the natural sugars in the apples you use to make this cider.

Cinnamon sticks

– I love using cinnamon sticks in my cool-weather drinks. My kid's favorite is to use them as straws with their hot chocolate!

Allspice

– I used to think allspice was a spice blend, but it's not! It comes from an allspice berry, which is native to Jamaica and looks remarkably like a peppercorn.

Cloves

– there's something especially holiday-like about the smell and flavor of cloves. They add amazing taste to this homemade hot apple cider in the crockpot.

Orange

– a bit of citrus elevates this cider to near wassail standards — but with more emphasis on the apple cider part.

Water

– you're basically making your own cider concentrate, so you'll need water to achieve the perfect flavor and provide a liquid for cooking the spices and fruit.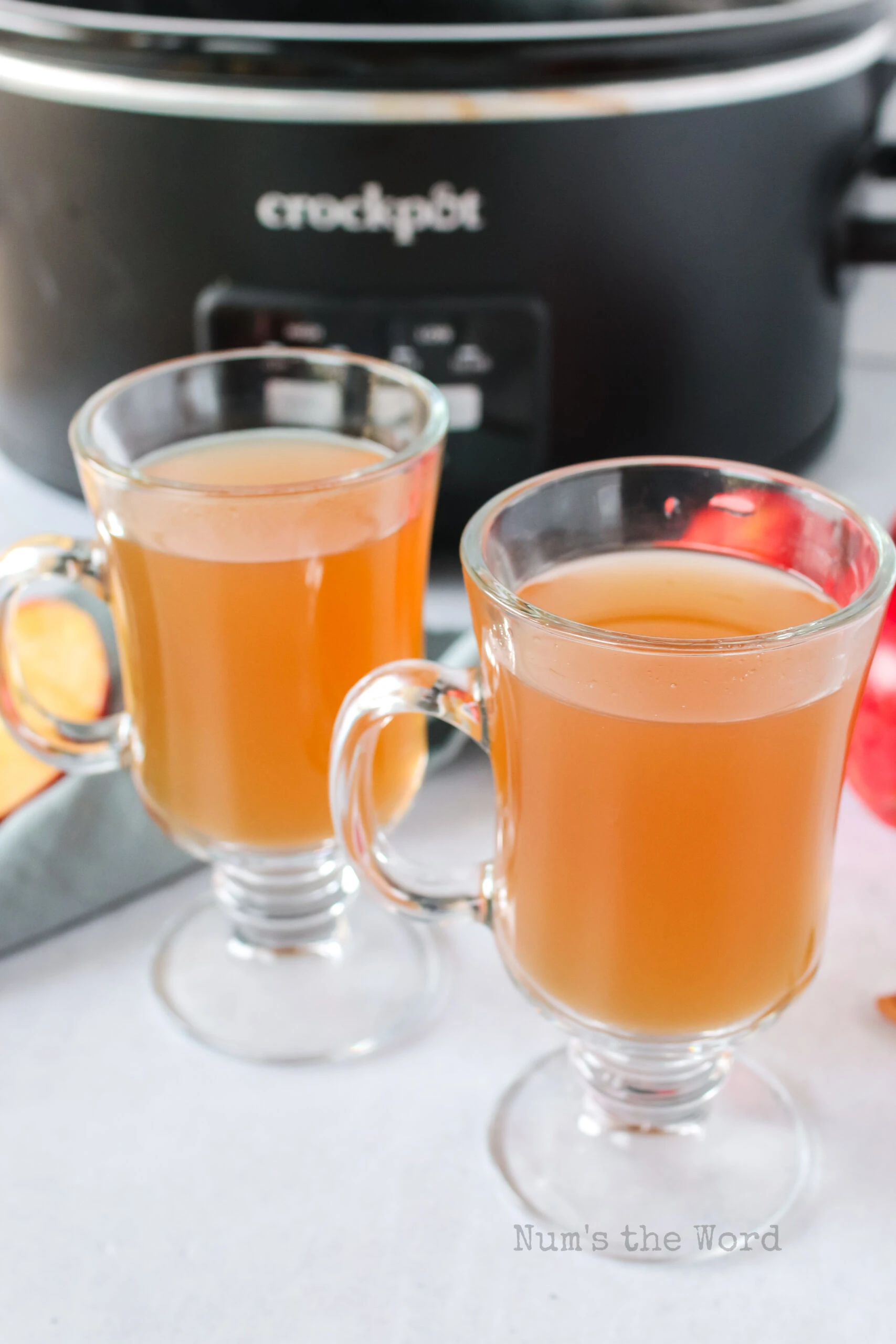 How to make crock pot apple cider?
Wondering how to make apple cider in a crockpot? Once you have the fruit and spices you'll need to make this hot apple cider recipe in crockpot, the rest is a breeze! All you need to do is:
Place

all the ingredients in the crockpot.

Set

crockpot to low heat.

Mash

cooked fruit and spices.

Strain

liquid.

Serve

immediately and ENJOY!
See, there's a reason I'm calling this crockpot apple cider EASY. It's so simple to make — just combine the ingredients and let the crockpot do the rest! Enjoy the mouthwatering scent of apples and spices and citrus filling your home all day!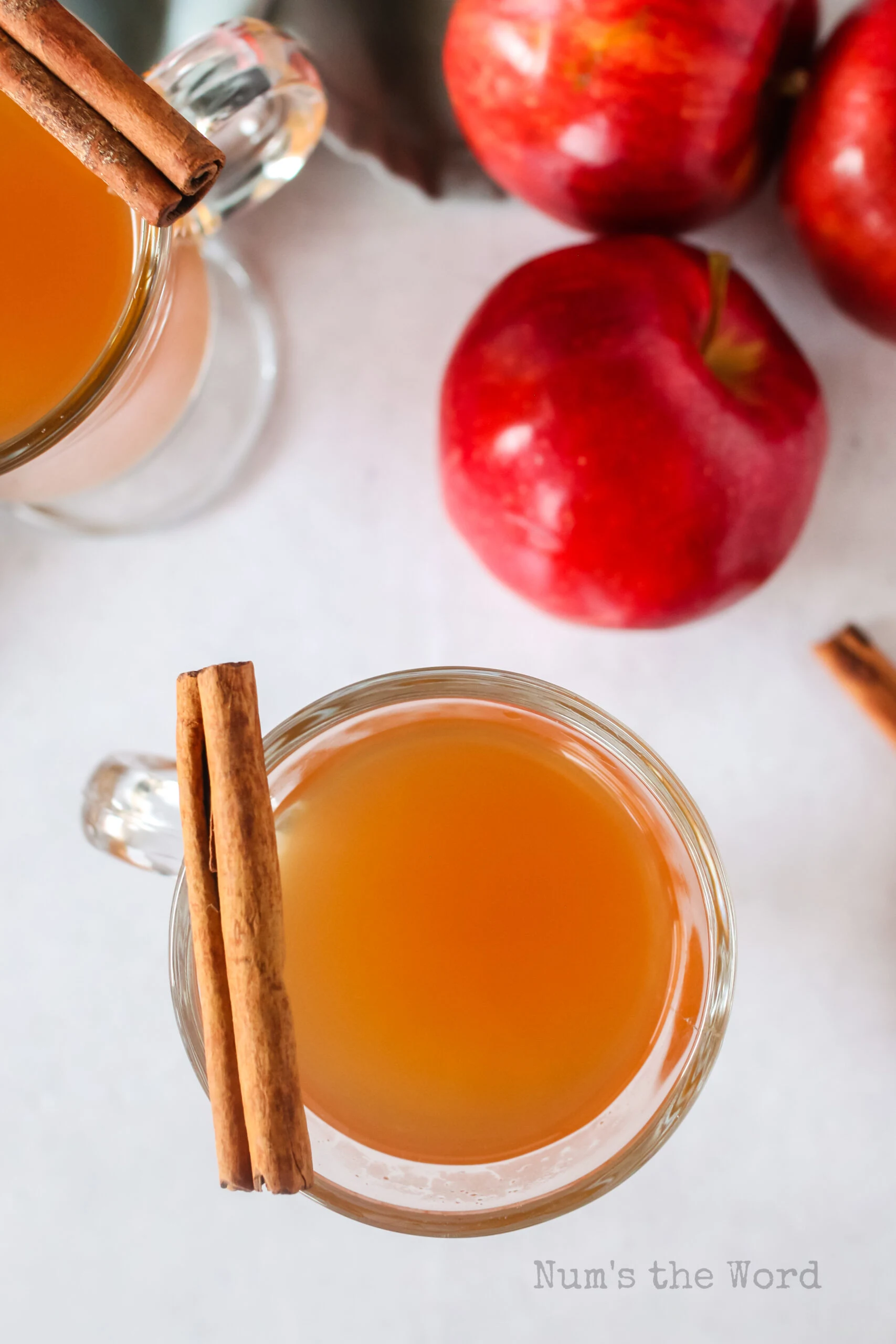 How do I strain the spices and fruit?
There are a couple different ways you can strain your crockpot spiced apple cider:
Mesh strainer

– I'm not talking about a colander (bowl with holes), but an actual strainer. This is probably the easiest way to strain the spices and fruit as they come in a variety of sizes and fineness of mesh.

Strainer bag

– these are often used for nut milks or cheeses and yogurts, but work equally well for straining this delicious drink. You can get them online or often in your local grocery store.

Cheesecloth

– cheesecloth is another great option for straining drinks and often has a finer mesh than a typical strainer or strainer bag.
Can I keep apple cider warm in crockpot?
Absolutely! That's one of the things that makes this the best crockpot apple cider crockpot recipe. Turn your crockpot to the keep warm setting and have hot apple cider ready throughout a party or gathering!
Can you freeze apple cider?
Yes! In fact, this is another thing we love about this cider recipe. After you've strained it, allow the cider to cool and place any leftovers in an airtight container or bag.
I recommend using a container that is smaller than the crock of your slow cooker so you can easily reheat later! Or freeze in single servings for a personal cup of hot cider any time.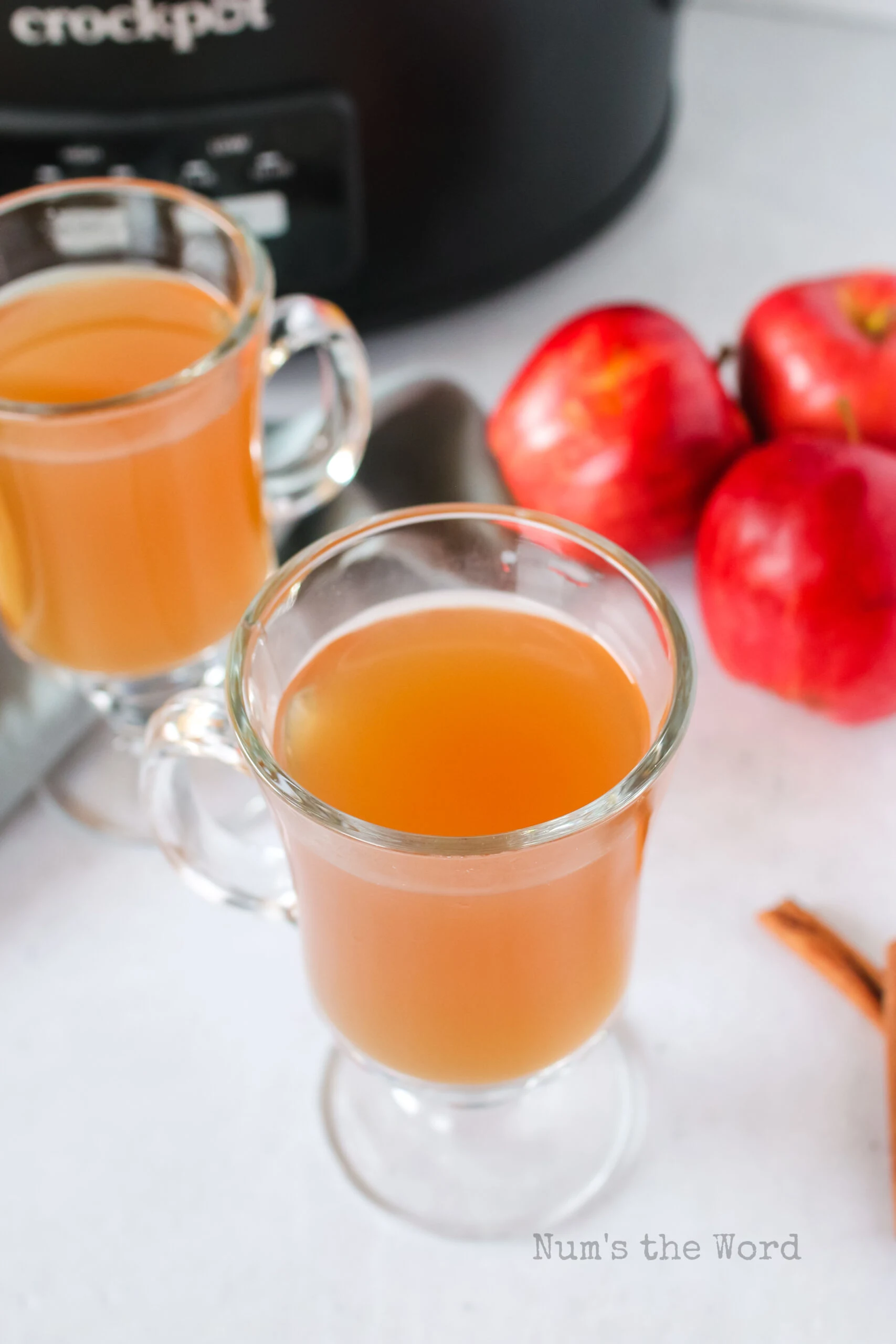 How to reheat frozen apple cider?
You can reheat apple cider crock pot-style, on the stovetop, or in the microwave. As I mentioned above, sometimes it's nice to have a single serving of cider to heat in a mug in the microwave whenever you want it!
A great way to freeze single serving portions is to pre-freeze the cider in silicone muffin trays and then transfer them to an airtight container or bag. Use two "muffins" per serving!
You can also use this method to heat a couple servings at a time over the stovetop. Heat covered over medium heat, stirring occasionally.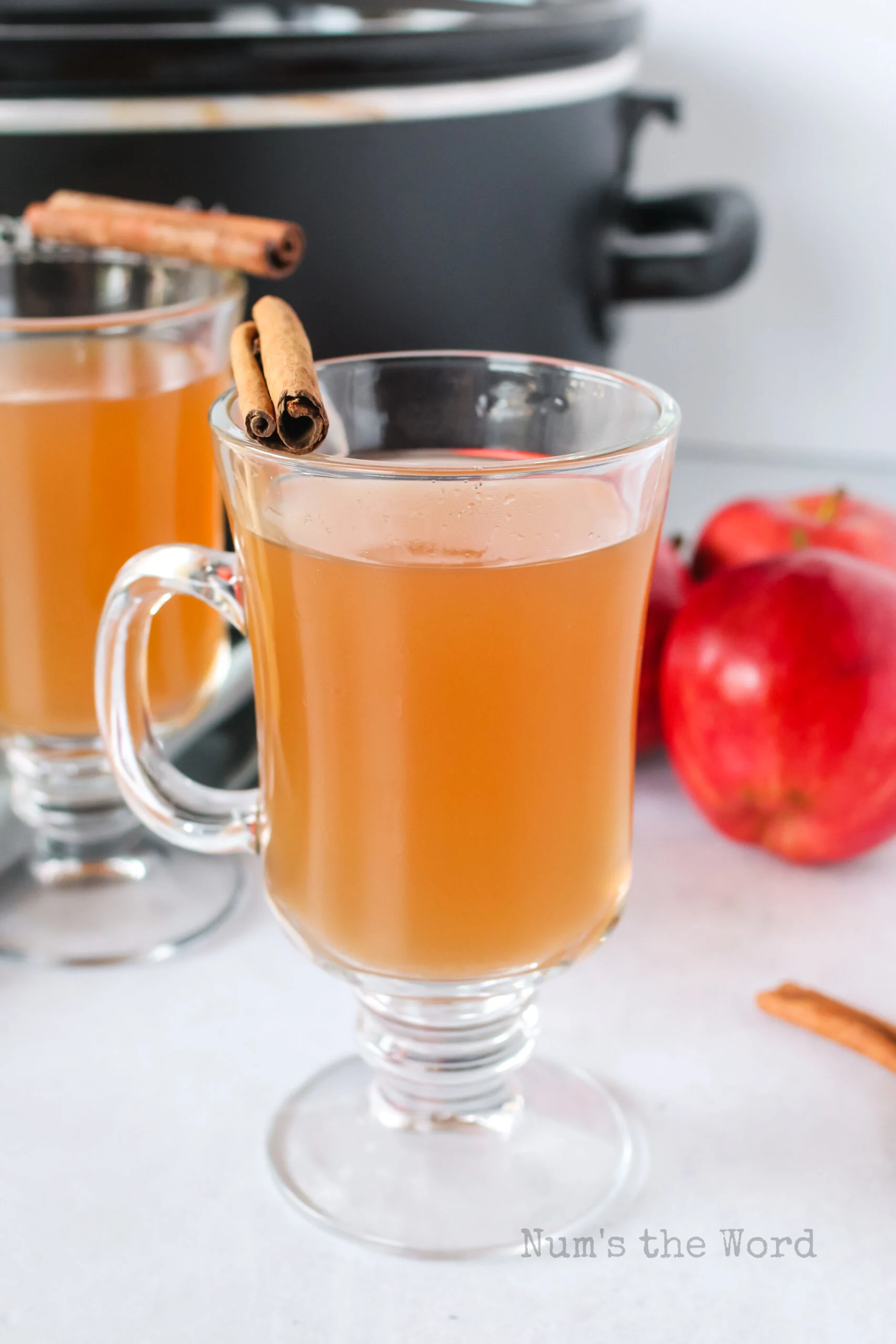 How to heat apple cider in a crock pot?
I think it's easiest to reheat this hot apple cider recipe in crock pot, which is why I recommend freezing it in blocks or containers that are smaller than the crock of your slow cooker.
Just place the frozen blocks in the slow cooker, set heat to low, and let the crockpot do the rest of the work!
Can dogs drink apple cider?
Because this drink contains added sugar, as well as allspice, I don't recommend feeding it to your furry friend. Juices/cider are often high in sugar (though mostly natural), which isn't something your pet needs.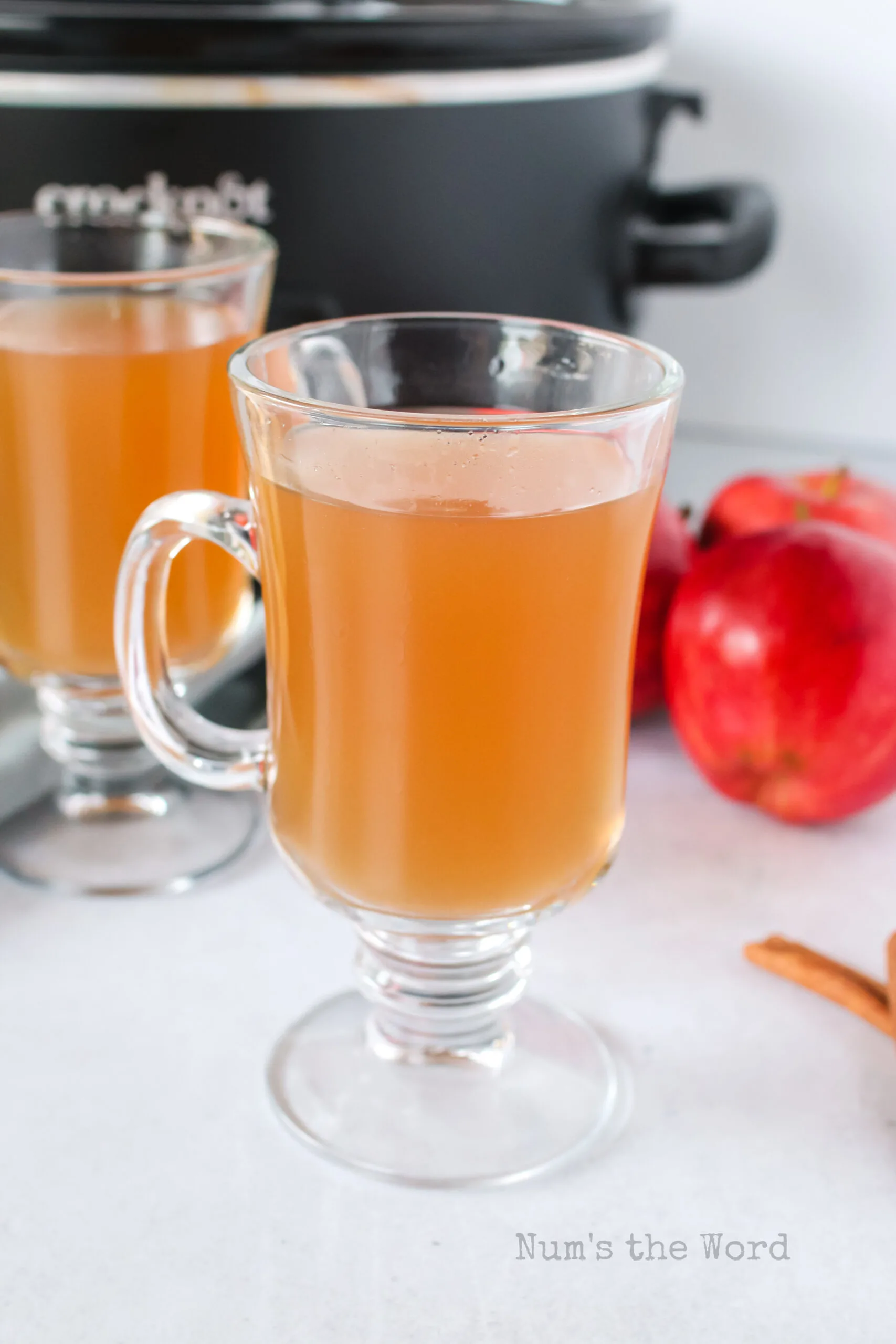 Whether you have a bunch of apples you want to use or are looking for a family friendly party drink or just want a taste of autumn in liquid form, this is the recipe for you! This crock pot apple cider will fill your home with blissful aromas while pleasing your taste buds and keeping you warm! It's a winner!
Yield: 12 Servings
Crockpot Apple Cider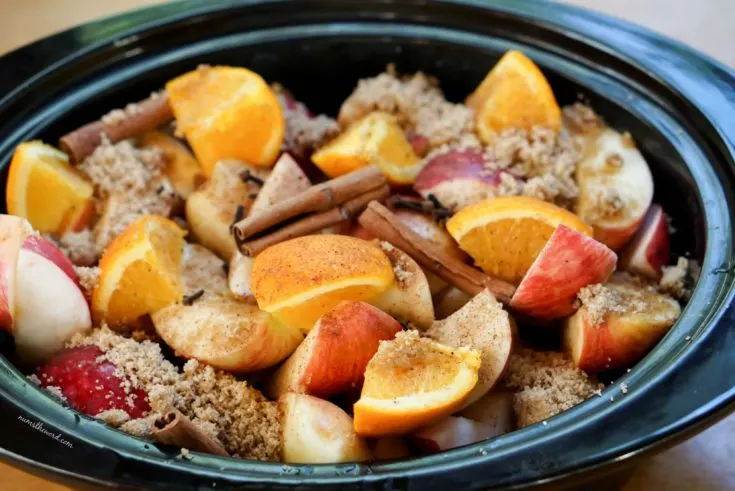 This Crockpot Apple Cider is the stuff of dreams -- warm and flavorful, totally from scratch, and easy to make in a crockpot.
Total Time
6 hours
10 minutes
Ingredients
4 pounds apples, chopped - any eating apple will work. I used a combination of Ambrosia and Honey Crisp for mine.
1/2 cup brown sugar
4 cinnamon sticks
1 teaspoon ground all spice
1 teaspoon whole cloves
1 orange, chopped
2 quarts water
Instructions
Place all items into a crock pot and set on low for 6 hours.
After apples have coked and are soft, mash entire contents with a potato masher.
Squeeze out as much juice as possible from apples and orange.
Scoop out chunks and pour the cider through a fine mesh sleeve.
Drink apple cider immediately or store in an air tight container.
Notes
If freezing, place in a freezable jar, 4/5 full with lid tight.
Nutrition Information:
Yield:
12
Serving Size:
1
Amount Per Serving:
Calories:

131
Total Fat:

0g
Saturated Fat:

0g
Trans Fat:

0g
Unsaturated Fat:

0g
Cholesterol:

0mg
Sodium:

12mg
Carbohydrates:

35g
Fiber:

5g
Sugar:

27g
Protein:

1g
Originally Posted: October 27, 2016