Crock Pot Apple Cider not only makes your home smell like Autumn, it tastes amazing too! Fresh Homemade Apple Cider is the best on a chilly day or night!
This post contains affiliate links.  If you click on an affiliate link and make a purchase, I will make a small percentage on your purchase, which helps keep this website running! Thank you!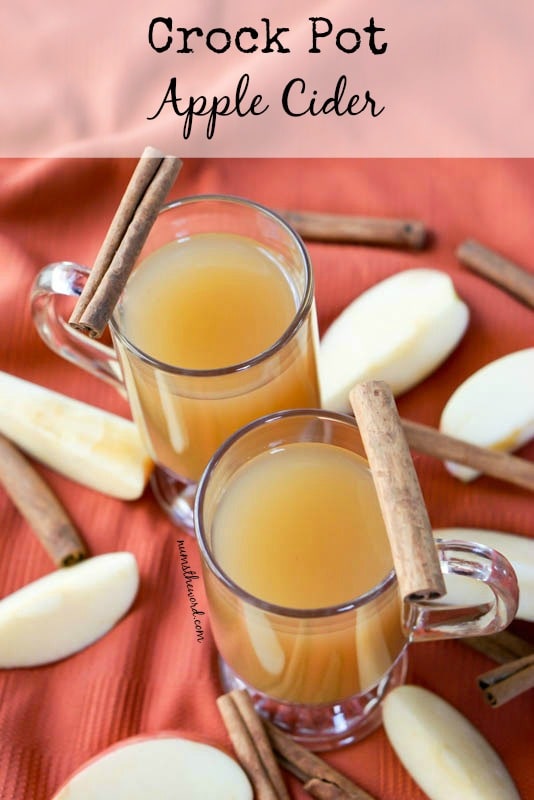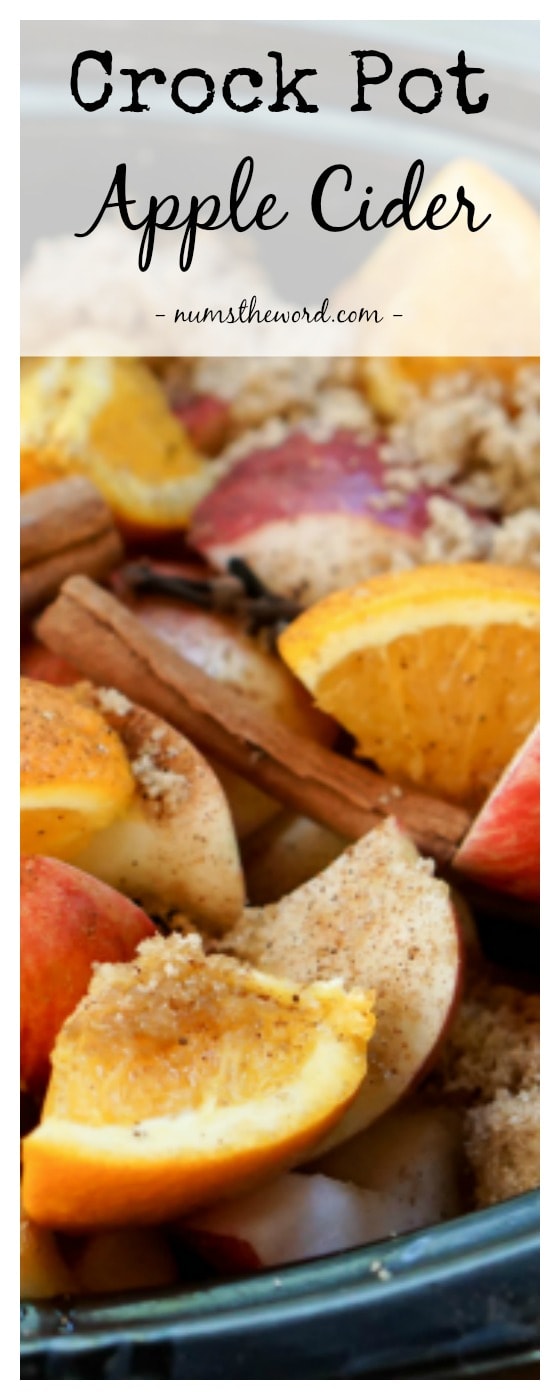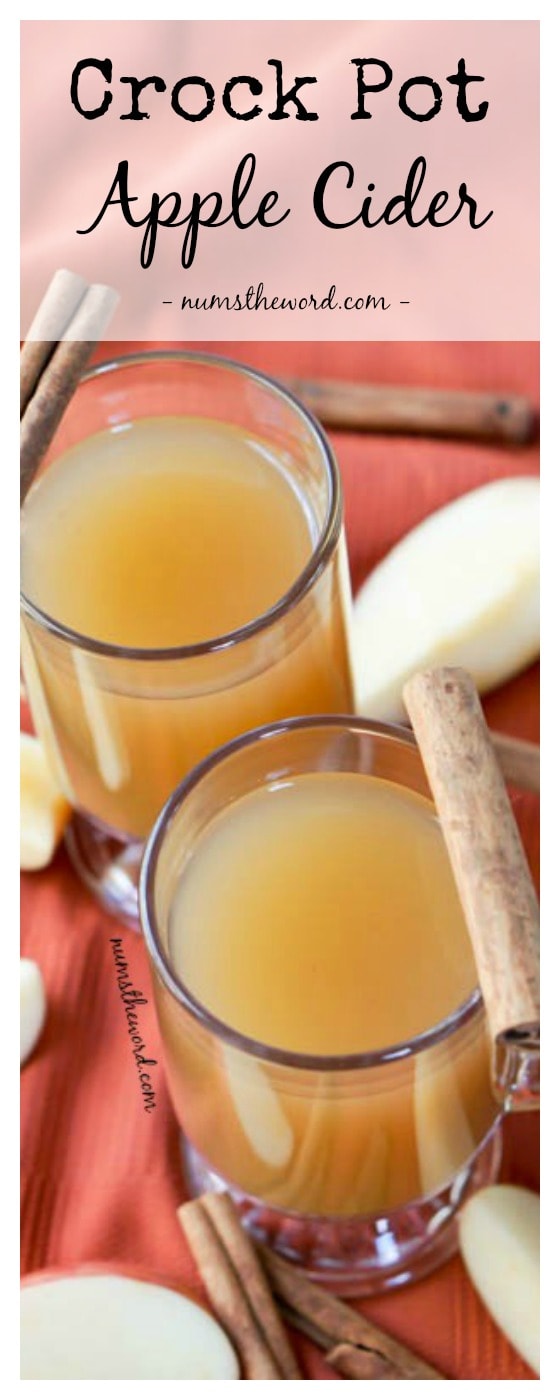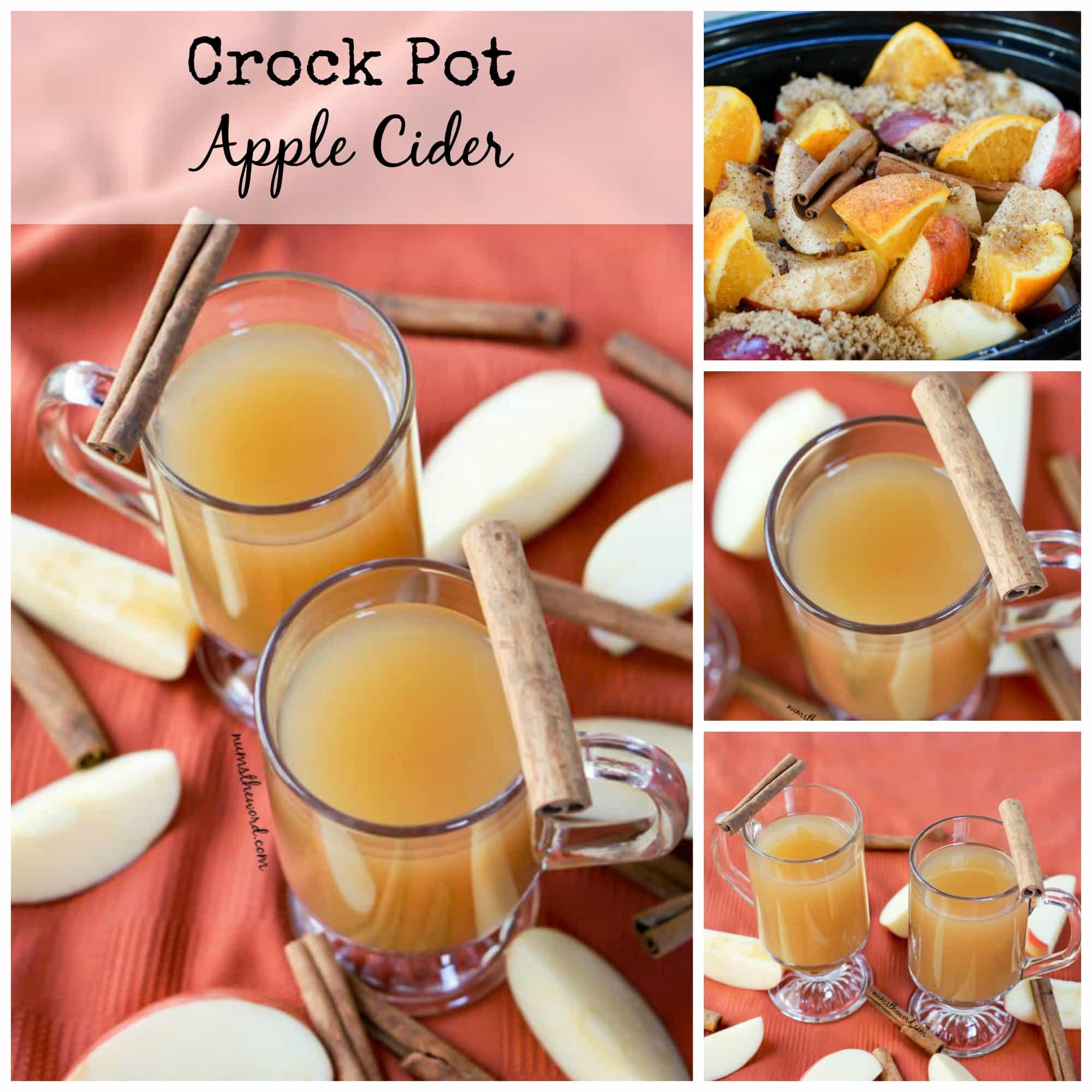 Though not difficult at this exact moment for many of us, imagine for a moment, a chilly 40* day with leaves crunching under your feet as you walk.
There is a slight breeze all around you, causing you to tug your scarf just a smidge bit higher to fully cover neck and keep you warm.
You tuck your cold hands deep into your pockets in an attempt to keep them warm, but not until after you clasp them together and blow on them in an attempt to take the chill off.
You suddenly wish you had grabbed a hat that morning, regretting the decision to leave it behind for fear of getting hat hair, and pick up your step in an attempt to get home just a few seconds faster.
Upon opening the door you smell the fresh scent of apples, cinnamon and clove wafting through the air, and suddenly, just by the scent alone, feel a bit warmer, cozier and have a deep sudden desire to curl up under a warm blanket and sip a cup of hot, homemade apple cider.
This scenario is possible with this Crock Pot Apple Cider.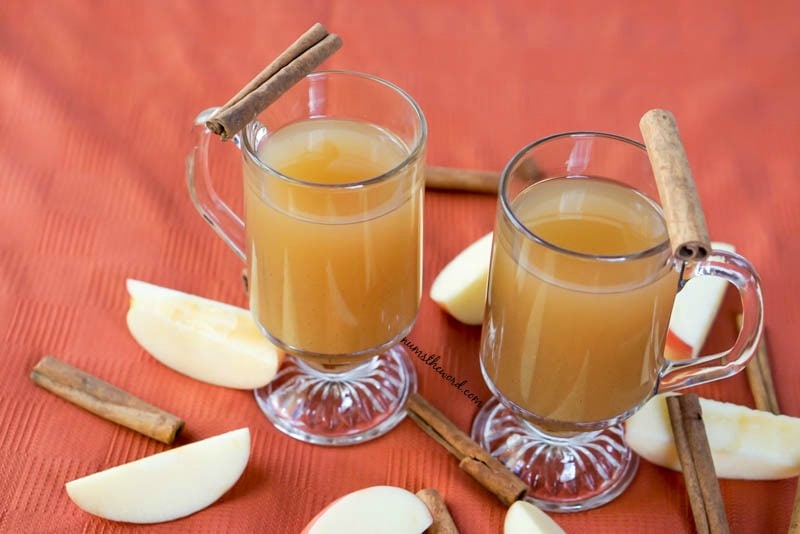 Imagine how amazing your home will smell to your family, guests and friends as they show up for your holiday party or event.
Imagine how wonderful your home will smell to potential home buyers as you sell your house?
Finally, stop and imagine what that delicious cup of hot Crock Pot Apple Cider would taste like?
Does it taste like Autumn?  Thanksgiving?  Christmas?
Does it taste like your childhood, gathered around playing games and laughing?
I love the smell of Crock Pot Apple Cider brewing.
I also love holding the toasty mug and sipping my cider.
There is something about breathing in the intoxicating odor and how at peace this simple drink can make me feel.
Somehow, all my worries melt away when I'm sipping my cider.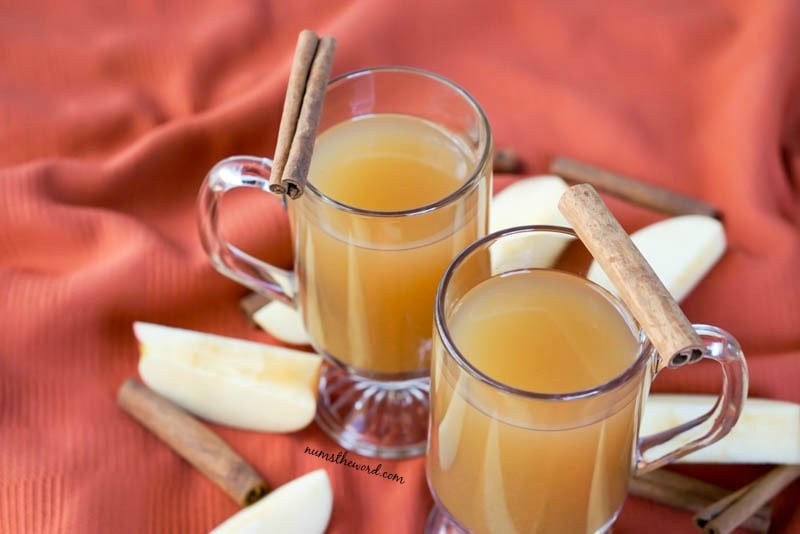 It may only last for 5 minutes, but sipping a cup always makes me feel calm, happy and content.
Can you go buy a bottle of apple cider and warm it on the stove?
Sure.  But your home wont smell the same.
And the cider wont taste the same.
However making it from scratch tastes so much better than anything you could buy.
If you love apple cider, give this one a try.
We love it hot and fresh and we love to freeze it and enjoy it later.
Ingredients
4 pounds apples, chopped - any eating apple will work. I used a combination of Ambrosia and Honey Crisp for mine.
1/2 cup brown sugar
4 cinnamon sticks
1 teaspoon all spice
1 teaspoon whole cloves
1 orange, chopped
2 quarts water
Instructions
Place all items into a crock pot and set on low for 6 hours.
After apples have coked and are soft, mash entire contents with a potato masher. Squeeze out as much juice as possible from apples and orange.
Scoop out mixture and run through a fine mesh sleeve.
Drink apple cider immediately or store in an air tight container.
Notes
If freezing, place in a freezable jar, 4/5 full with lid tight.
https://numstheword.com/crock-pot-apple-cider/
Beverage Recipes You'll Love...