For an out of this world amazing Peppermint Hot Chocolate, look no further! It's delicious, creamy and can stay warm all day! The perfect hot chocolate for parties, snowball fights, and your cold winter evenings!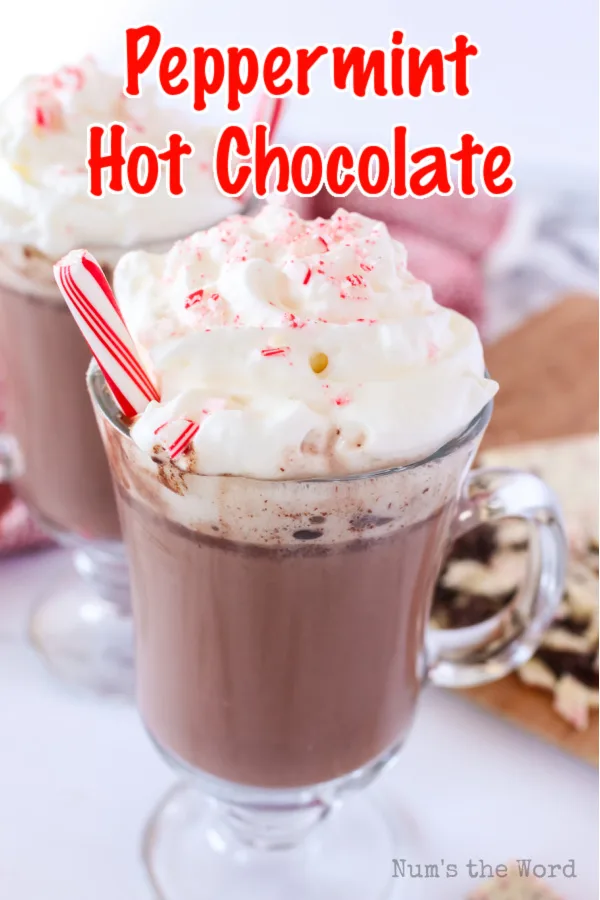 This crockpot hot chocolate with mint is made with real melted chocolate, spicy peppermint bark, and creamy milk.
It's a warm mug of rich peppermint cocoa and it's simply irresistible.
One of the best things about crockpot hot chocolate is that it's so easy to make!
Since the peppermint hot cocoa is made in the crockpot it is impossible to burn!
Plus crockpot peppermint hot chocolate can serve a crowd! Easily doubled or tripled, you can serve it for all your kids and their friends!
And all it takes is four simple ingredients with optional mix-ins!
Making this slow cooker hot chocolate is going to become a new holiday tradition for sure!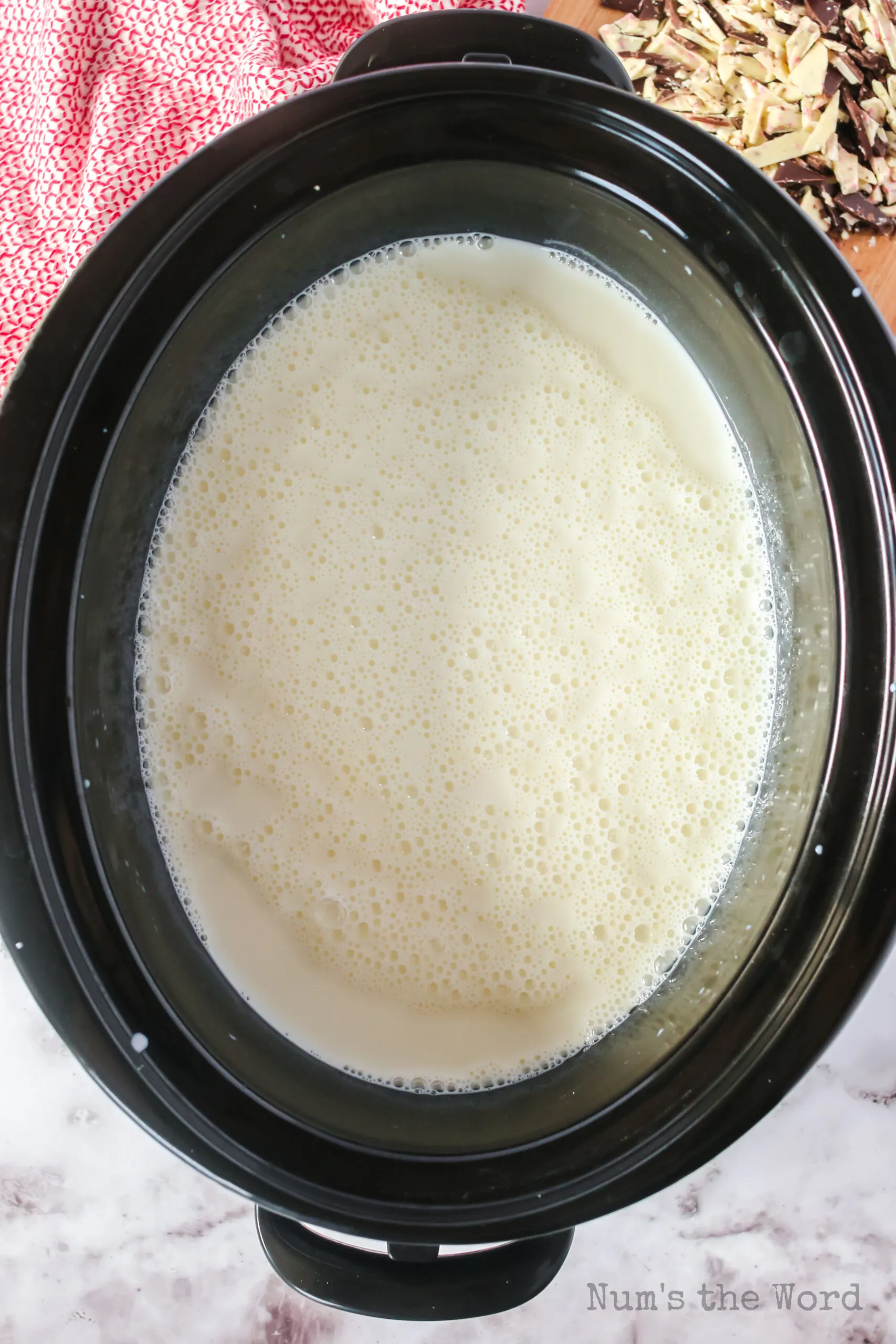 What Ingredients Are In Peppermint Hot Chocolate?
This easy hot chocolate is way better than any hot cocoa mix you can buy at the store!
Sweetened Condensed Milk: This milk is extremely sweet and acts as a thickening agent for the hot cocoa.
Milk: 2% milk will give your crock pot peppermint hot chocolate the best texture but whole milk will also work.
Cocoa Powder: Unsweetened cocoa powder is bitter on it's own but heavenly once sweetened.
Ghirardelli Peppermint Bark Chocolate Bars: Make sure to chop these up so they melt easier.
Marshmallows: Use small or big marshmallows, whichever you prefer. They are optional.
Peppermint Stick: We like using all different flavors or colors. Also optional.
Whipped Cream: The whipped cream can be whipped on top or mixed in. Another optional mix-in.
Peppermint Chips: These are optional but so fun for sprinkling on top!
Pro Tips:
Make a peppermint hot chocolate bar by lining up all the optional mix-ins and letting everyone add their own thing!
Don't substitute with pure peppermint extract or peppermint oil as they will overpower the hot chocolate.
Heavy cream will make the mixture really thick so keep that in mind if you decide to substitute the milk!
I haven't tried coconut milk or almond milk but if you do let me know how it turns out in the comments!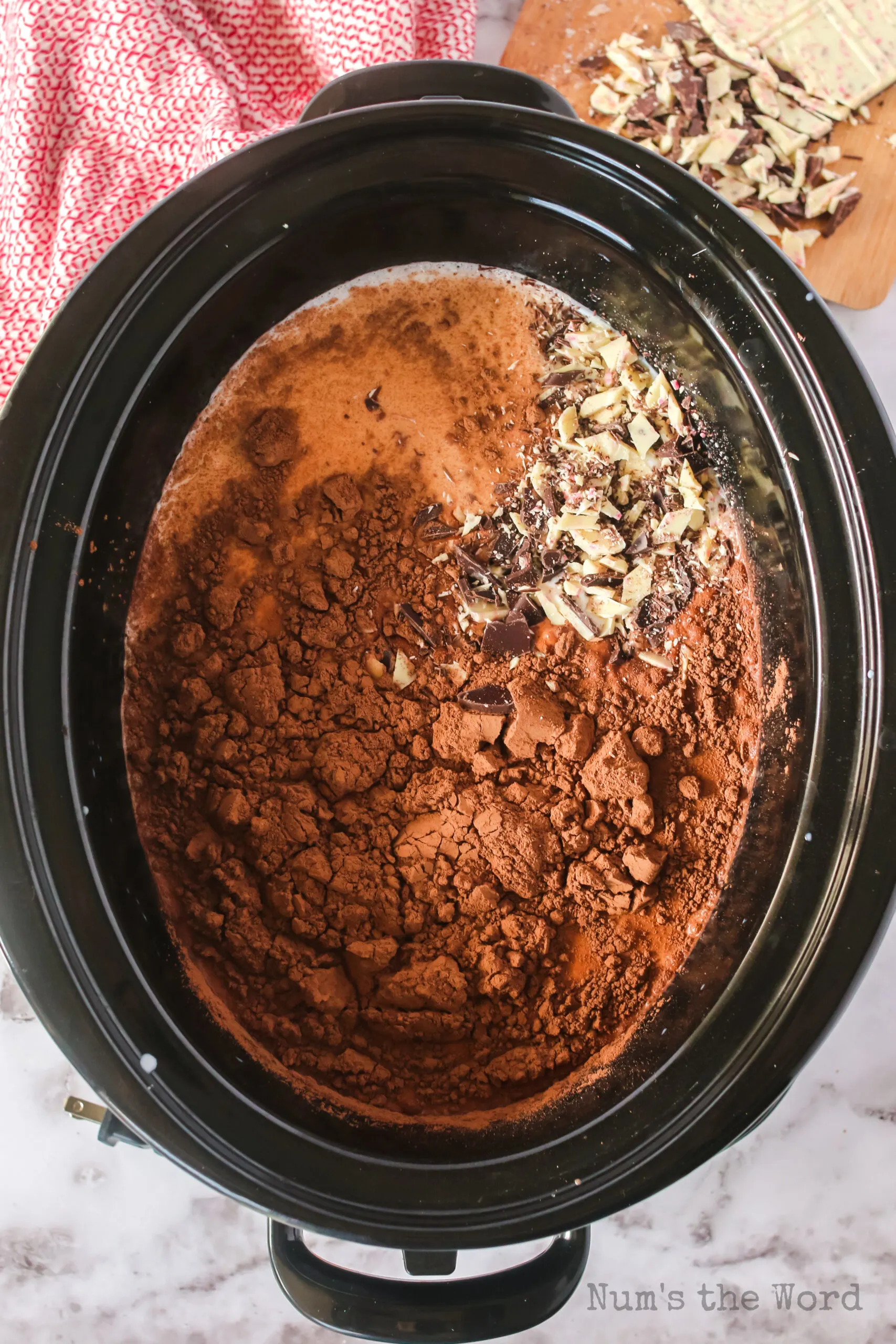 How to Make Peppermint Hot Chocolate
Sitting next to the Christmas tree at the holiday parties with the peppermint hot drinks! is there anything better?!
Mix: Don't mix in the optional ingredients until after the regular ingredients are cooked.
Cook: Once the hot chocolate is hot it'll be done. That will vary based on your crockpot and heat.
Enjoy! For best results consume hot!
Pro Tip: The hot cocoa cooks much faster than other slow cooker meals so be sure to stir occasionally to keep the hot cocoa from burning.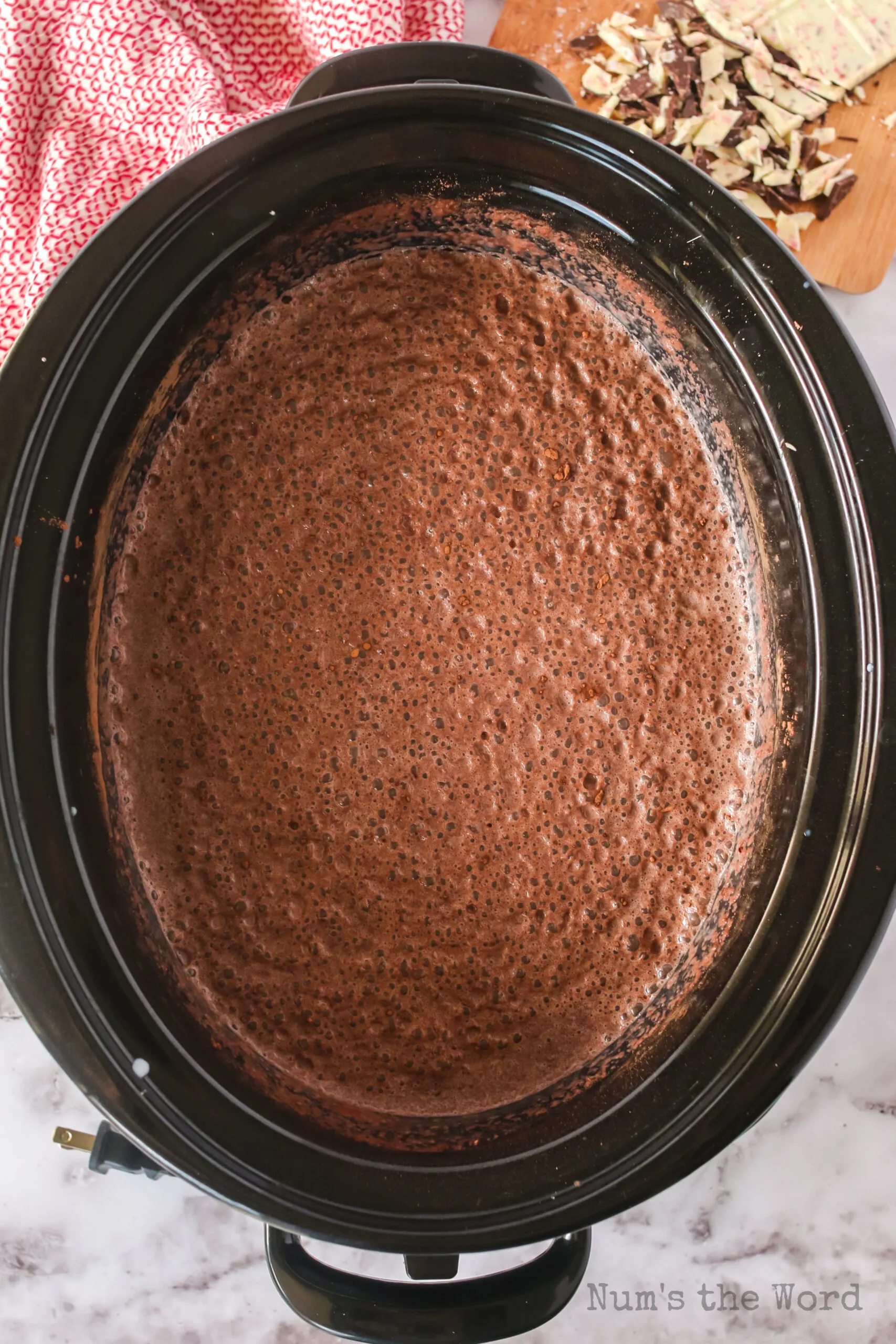 Can Dogs Drink Peppermint Hot Cocoa?
Chocolate is toxic to dogs and should not be fed to dogs under any circumstances.
Chocolate poisoning in dogs can show up anywhere from 24 – 48 hours after ingestion.
A small amount of chocolate may cause a mild upset while a larger dose of chocolate could be enough to cause death.
If your dog accidentally ingests peppermint hot chocolate the best advice would be to contact your local vet for monitoring or evaluation.
Pro Tip:
If you're drinking slow cooker peppermint hot chocolate with lots of little kids or at a holiday party, keep the dogs in a separate room until the hot cocoa is consumed.
If you need to call the vet, pull up the recipe to be able to share all the ingredients for evaluation.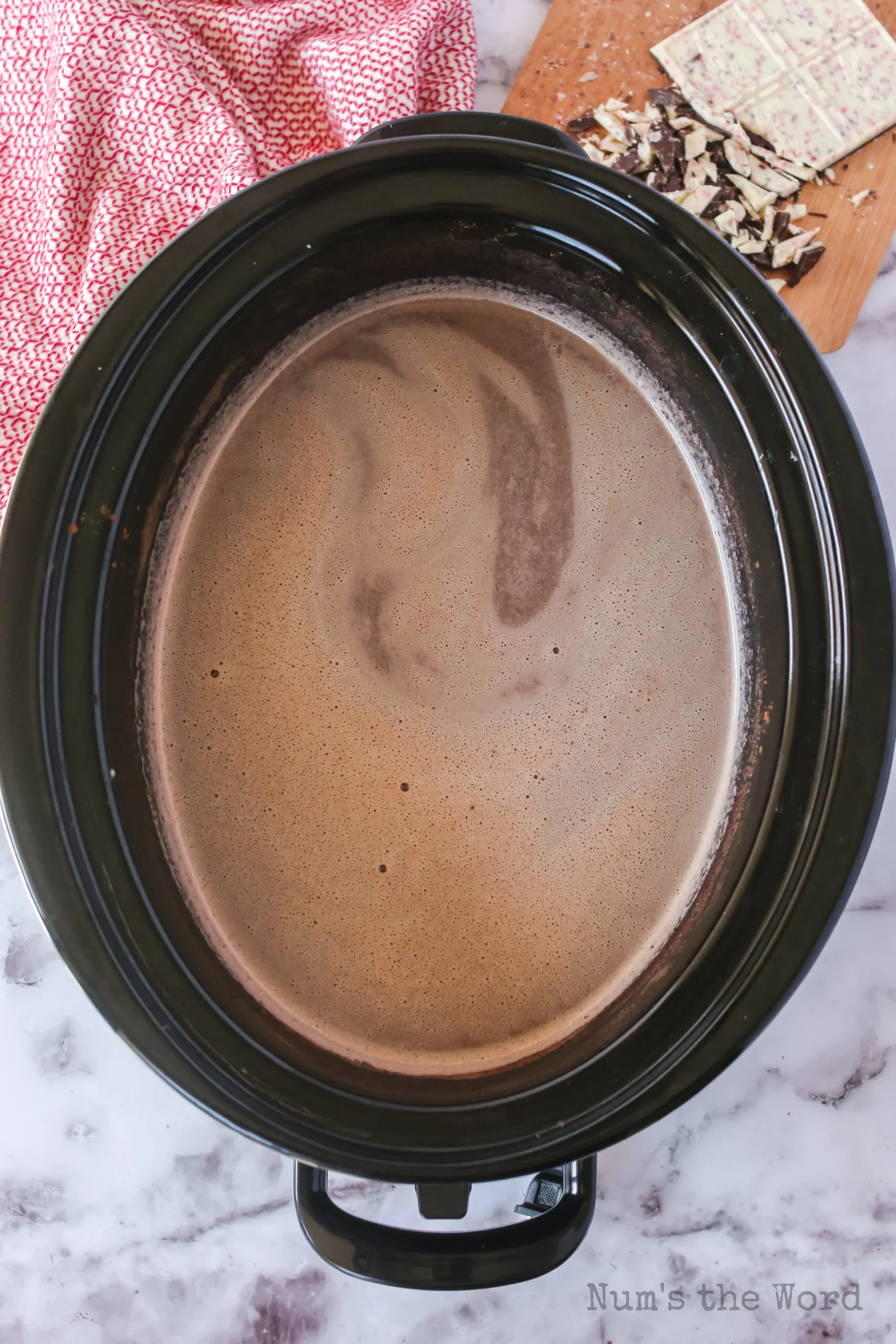 Is Peppermint Hot Cocoa Gluten Free
Yes peppermint hot cocoa is gluten free! This Peppermint Hot Chocolate recipe has no gluten in it and is naturally gluten free.
How to Store Leftover Hot Chocolate
Peppermint Hot Chocolate should be stored in a covered container in the fridge. The hot chocolate will thicken once it cools but will go back to hot cocoa consistency once it is warmed again.
The condensed milk hot chocolate will stay good in the fridge for up to 5 days.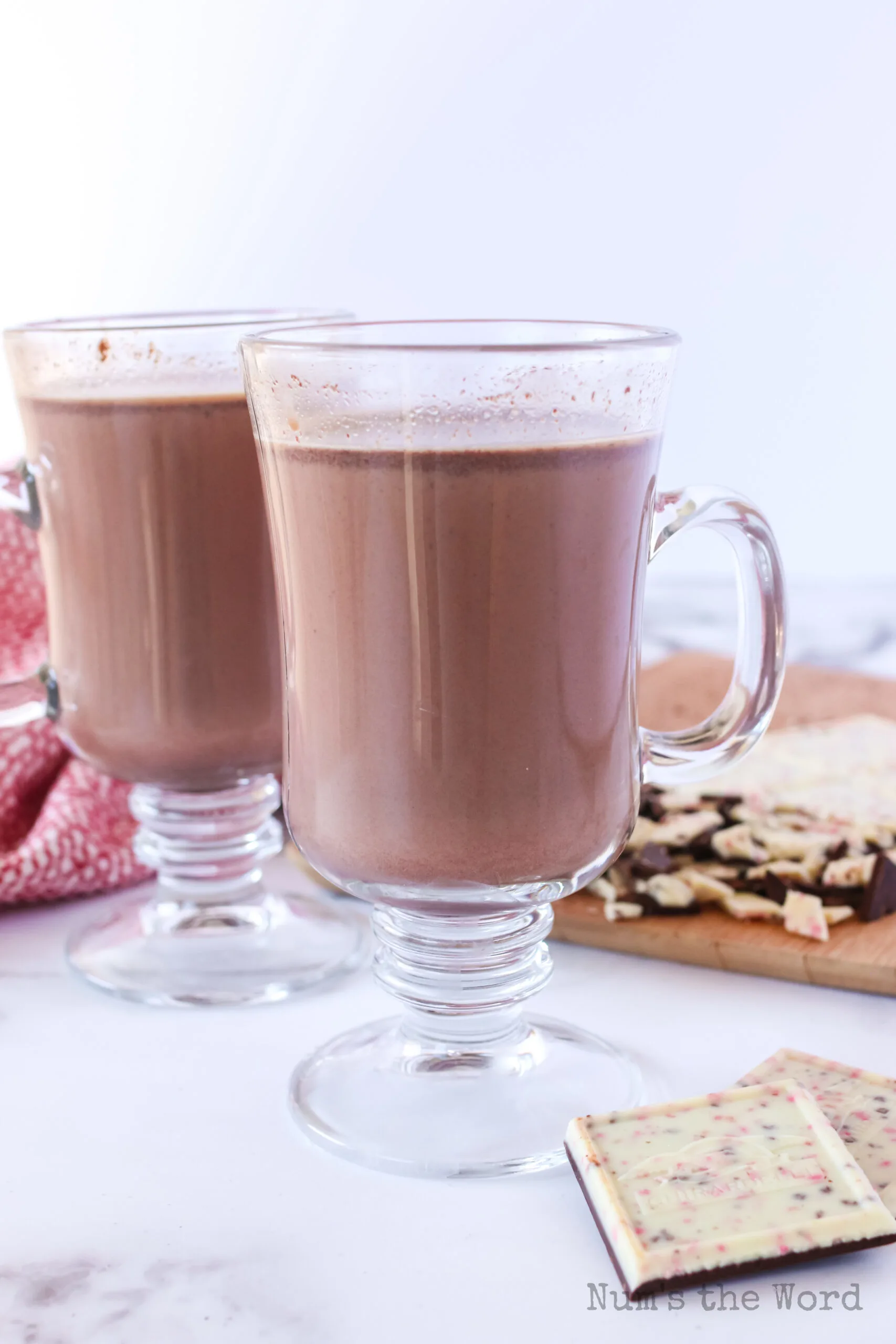 Can You Freeze Peppermint Hot Chocolate?
Yes, peppermint hot chocolate can be frozen so you can preserve your favorite warm drinks!
Although it seems crazy that anyone would have leftover hot chocolate after tasting this recipe, I understand that sometimes it happens.
Do not freeze it with the mix-ins as they won't stay good in the freezer. Wait until it's heated up for that.
I recommend reheating on the stove top though the microwave will work too for a small cup of hot chocolate.
I find the hot chocolate consistency isn't quite as good once frozen and then thawed, but it is still a very delicious drink!
The peppermint hot chocolate will stay good in the freezer for up to 3 months.
Pro Tips:
Freeze in small portions for easy, individual cups of hot chocolate.
Write the date and name on everything in your freezer. That'll keep things from getting lost!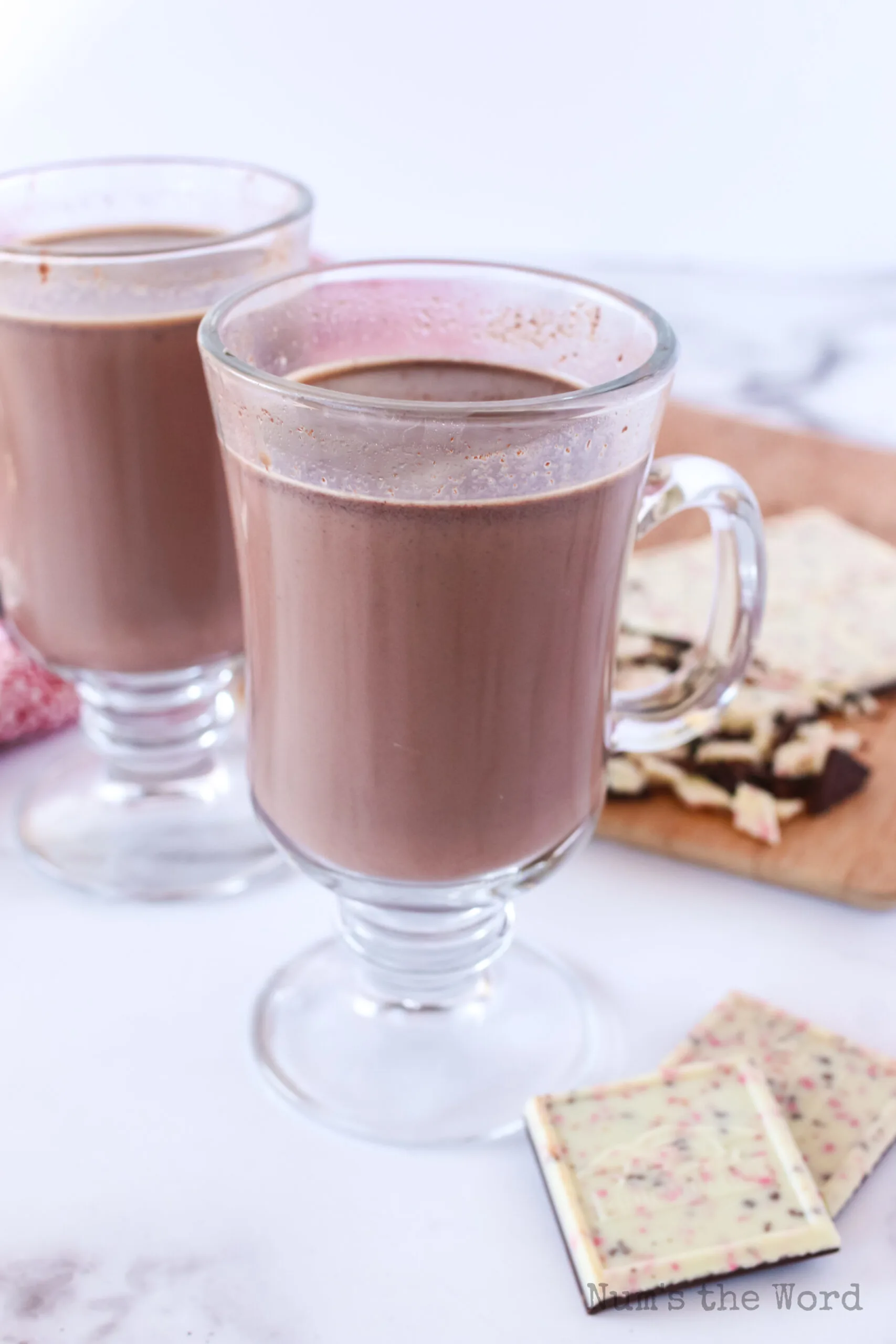 Peppermint Hot Chocolate Variations
I've already mentioned a few but here's a run down of lots of mix-ins for a fun peppermint hot cocoa bar.
These all pair well with the peppermint flavor of the hot cocoa recipe.
Marshmallows
Whipped Cream
Peppermint Stick
Peppermint Chips
Chocolate Chips (milk chocolate, dark chocolate, and white chocolate!)
Holiday Sprinkles
Candy Cane Pieces
Mint Leaves
Caramel Drizzle
Chocolate Drizzle
Cookies for dipping
Sprinkle of Cinnamon
Nut Butter
Crushed Candy Cane
Peppermint Syrup
Another fun idea is to dip the mugs into melted chocolate and toss on some sprinkles.
It adds a touch of fun and thoughtfulness to your chilly days gathering!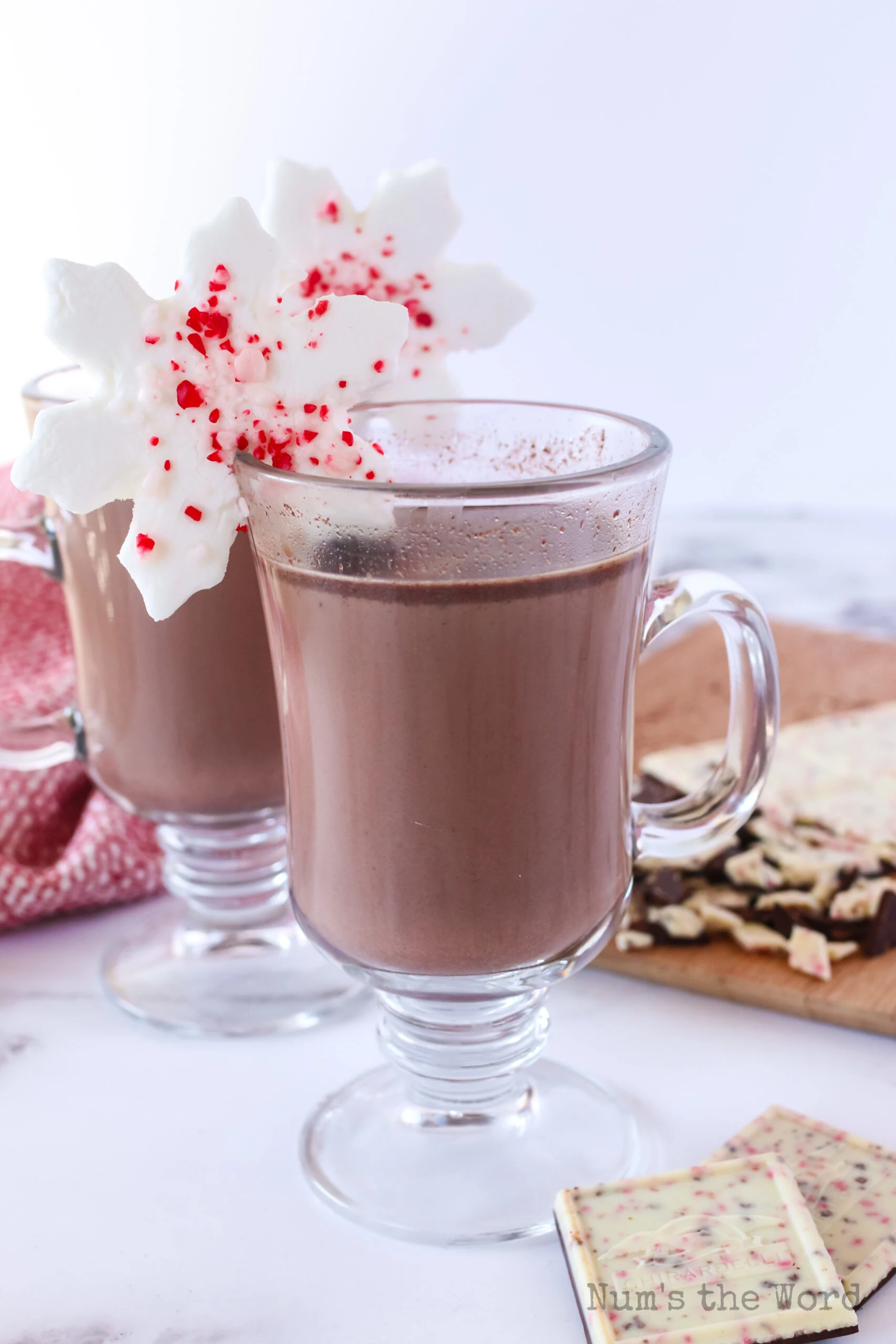 What to Eat With Hot Chocolate
Remember to keep in mind that serving hot chocolate with a lot of heavy chocolate tends to be too much for most people.
The combination of chocolate with extra chocolate is too much! Even at this time of year!
Instead stick to other flavors for your foods or keep the chocolate to accents like this creamy drink.
Hot chocolate often pairs well with other sweets, fruits, Christmas cookies, or brunch items.
To keep your guests both hydrated and fed, serve your peppermint hot chocolate with any of these delicious foods!
Chocolate Cherry Muffins
White Chocolate Macadamia Nut cookies
Popcorn Kettle Movie Mix
Canadian Maple Syrup Pie
Apple Pie Dip
Soft Gingerbread Whoopie Pies
Apple Fritter Breakfast Casserole
Ginger Molasses Crinkle Cookies
Sweet Potato Cupcakes
Gingerbread Pancakes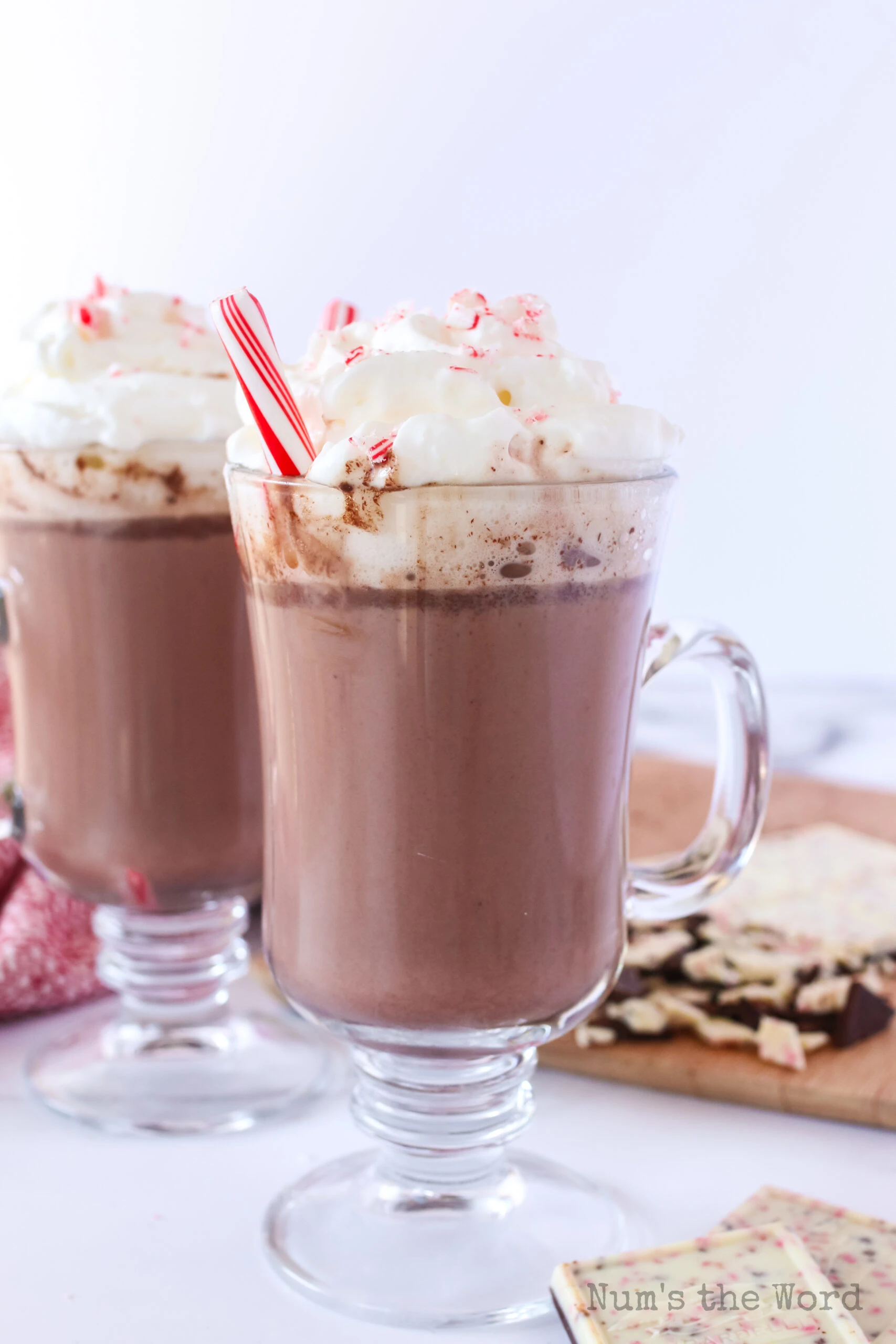 Does Peppermint Hot Chocolate Have Caffeine?
Chocolate naturally contains caffeine in the cocoa bean.
That means when you sip a cup of peppermint hot cocoa you'll have at least small amounts of caffeine.
I recommend not drinking hot cocoa right before you want to go to sleep to prevent the caffeine from keeping you up all night.
Pro Tip: In the winter months peppermint hot cocoa serves as a perfect and delightful afternoon pick me up.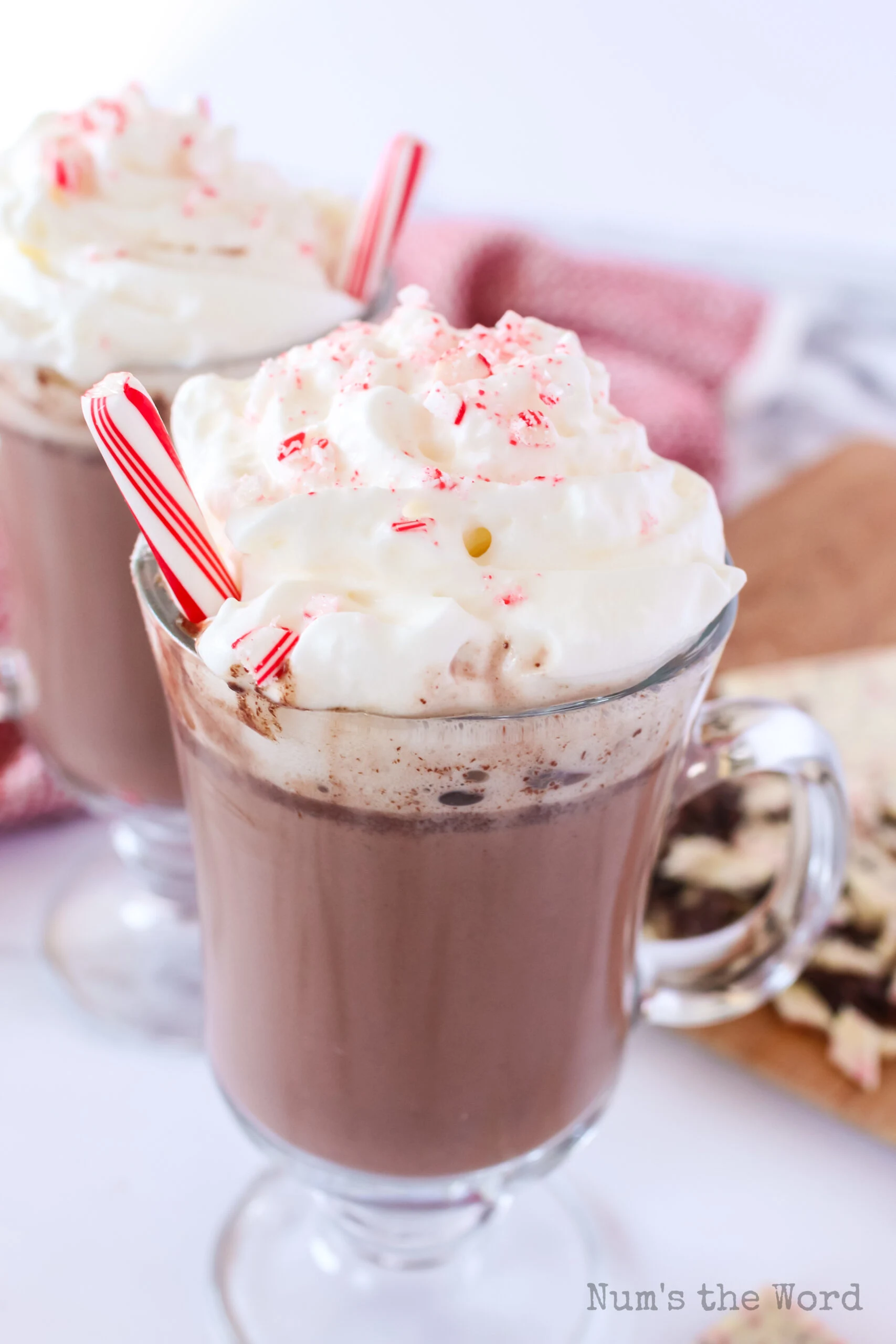 Peppermint Hot Chocolate is simple, easy, and creamy. It's perfect for serving on a cold winter evening.
I promise you're going to get rave reviews when you serve peppermint hot chocolate this holiday season.
Yield: 6 Servings
Peppermint Hot Chocolate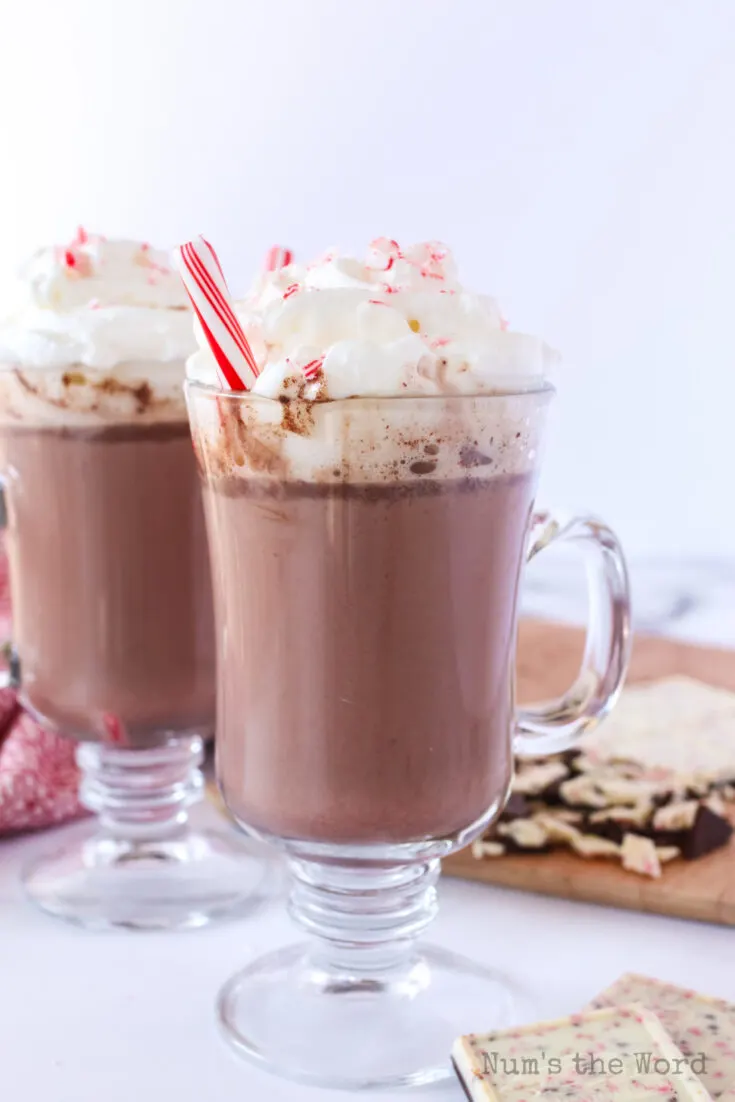 This Crock Pot Peppermint Hot Chocolate is the perfect beverage on a cold winter day. Creamy with the perfect amount of peppermint.
Cook Time
1 hour
30 minutes
Total Time
1 hour
40 minutes
Ingredients
1 (14 ounce) can of sweetened condensed milk
1/2 gallon 2% milk
1/2 cup cocoa powder
2 full Ghirardelli Peppermint Bark Chocolate Bars, chopped
Marshmallows (optional)
Candy Cane (optional)
Whipped Cream (optional)
Instructions
In a crock pot set on low, combine sweetened condensed milk and 2% milk.
Stir to incorporate.
Add cocoa powder and chopped peppermint bark.
Cook on low, stirring every 20 minutes until peppermint bark is completely melted and incorporated and coco is hot.
Cook for a total of 60 - 90 minutes (depending on your crock pot & heat).
Once chocolate is melted and liquid is hot, then serve with your favorite garnish!
Nutrition Information:
Yield:
6
Serving Size:
1
Amount Per Serving:
Calories:

290
Total Fat:

12g
Saturated Fat:

6g
Trans Fat:

0g
Unsaturated Fat:

4g
Cholesterol:

29mg
Sodium:

200mg
Carbohydrates:

33g
Fiber:

2g
Sugar:

26g
Protein:

14g
Originally Posted: January 25, 2014
Photos & Post Updated: January 8, 2018
Photos & Text Updated: November 10, 2022