This Crock Pot Peppermint Hot Chocolate is the perfect beverage on a cold winter day. Creamy with the perfect amount of peppermint, this is one of our favorite beverages!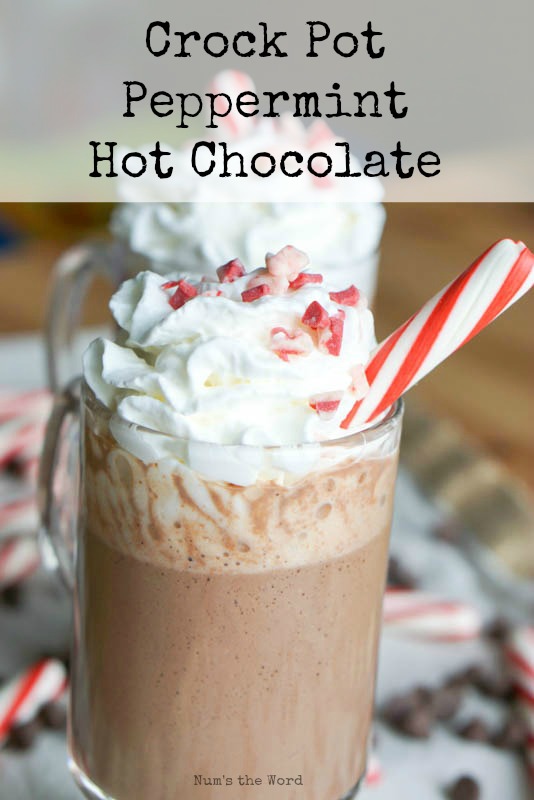 A warm cup of hot chocolate is one of the greatest creations that man kind has created, in my humble opinion.
The sweetness of the chocolate and the warmth of the cup in your hands are what Cold winter days should be made up of.
I have to admit that I am not a fan of winter.
The cold weather and I do not get along.
Bundling up for 10 minutes just to go outside isn't my idea of a good time either.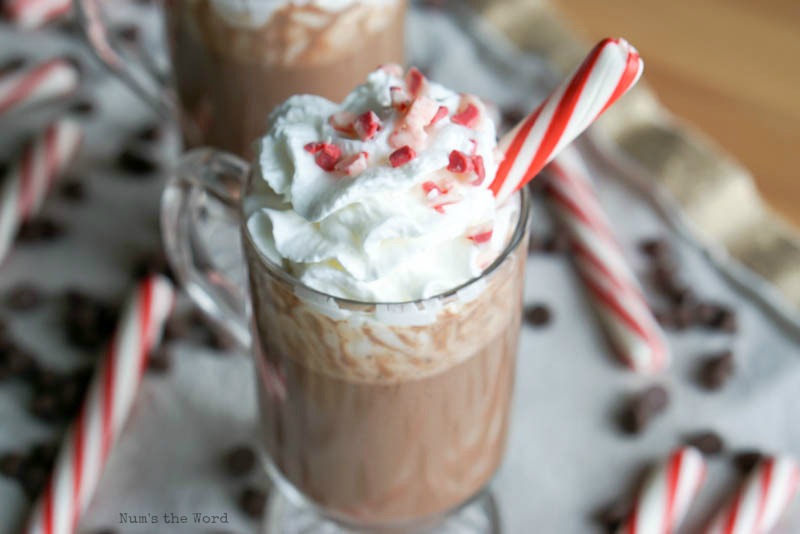 And I really do not like sitting in a cold car or having to start my car early just so its warm enough to get in.
It wasn't until I moved to Minnesota that I finally realized how lotion companies stayed in business.
Lotion was never needed in sunny humid Florida and now its my best friend.
As a parent I dislike how long and how much effort goes into getting my kids dressed to play in the snow, just to have them quit 10 minutes into the winter activity.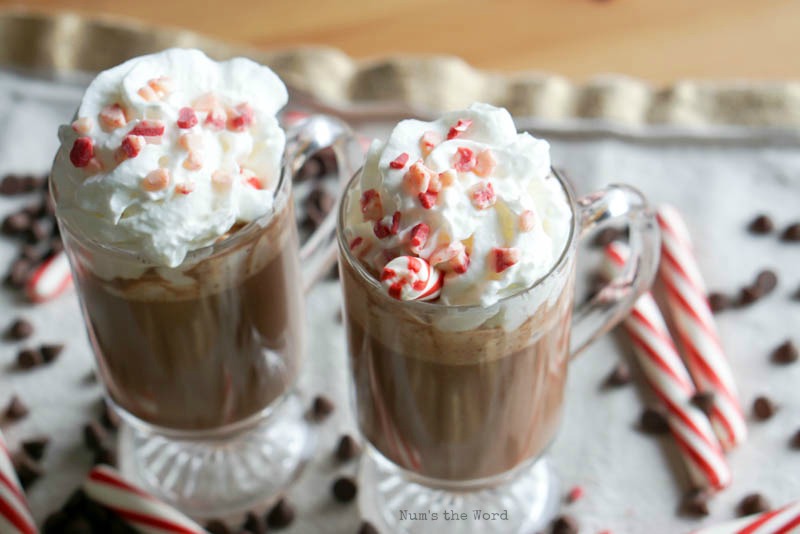 I do enjoy building a snowman, having a snowball fight and making snow angels.
And I do enjoy coming inside to a warm cup of Hot Chocolate.
One of my favorite winter "activities" is drinking Hot Chocolate.
I love that it is acceptable to enjoy chocolate for breakfast in this form.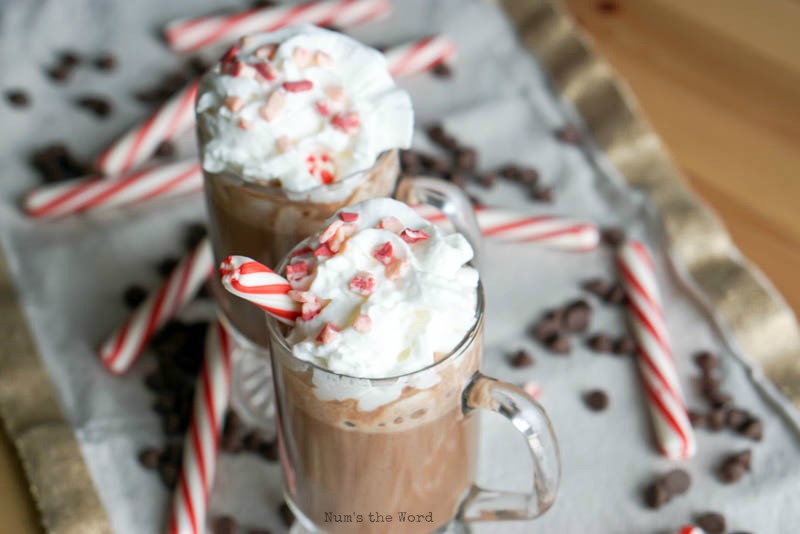 No one will argue with you – especially if it's cold outside.
The key though to a good hot chocolate on a cold winters day, isn't necessarily the flavor, but the method.
Crock Pot Hot Chocolate is the way to go on a cold day because once made, it will stay warm all day.
One of our favorites is this Crock Pot Peppermint Hot Chocolate.
We love the creaminess of this Peppermint Hot Chocolate as well as the flavor of Peppermint.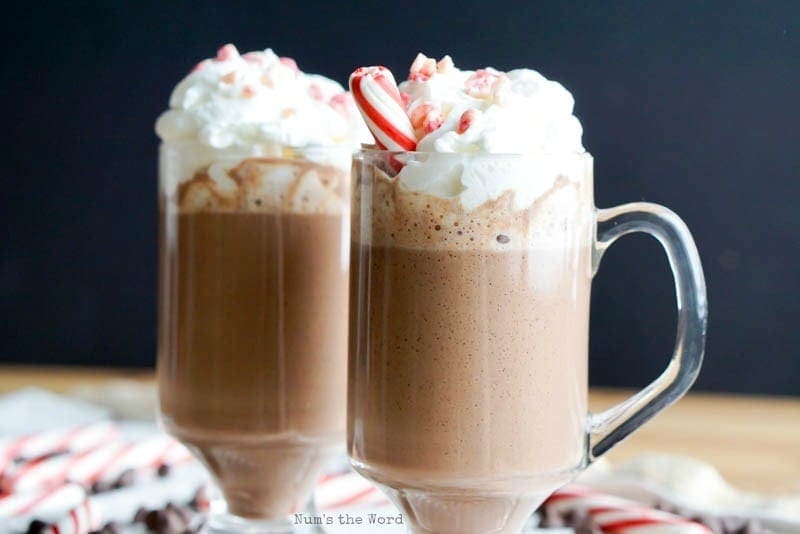 This Hot Chocolate isn't too pepperminty and doesn't involve peppermint extract, which often can be overwhelming.
I use Peppermint Bark to flavor my hot chocolate which offers a beautiful but not overpowering flavor.
Even my kids love this hot chocolate, and request that I make it on especially cold days.
Now if you don't finish your entire crock pot full, refrigerate it for another day or freeze it.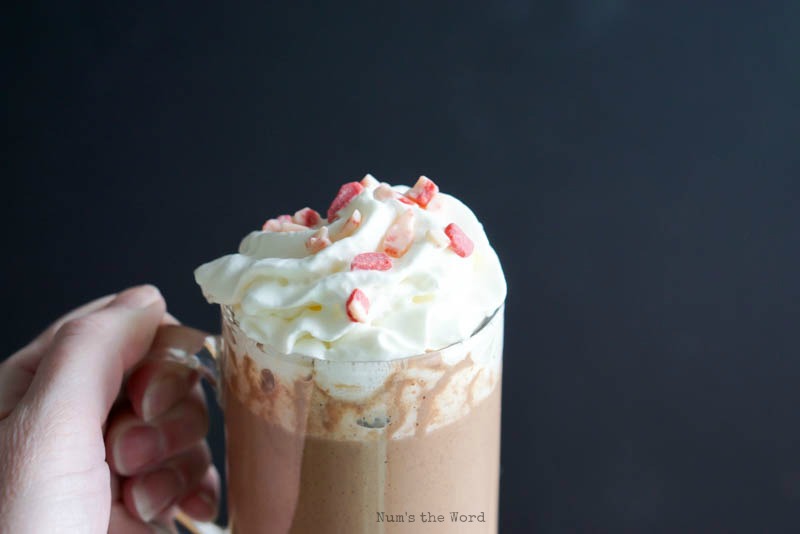 This makes for an excellent Frozen Peppermint Hot Chocolate to sip as you sit by the fire.
Winter is miserable for me, but I have to remind myself that without it, I wouldn't enjoy this Peppermint Hot Chocolate as much.
Looking for more delicious Hot Chocolate recipes?
If you love Hot Chocolate, I hope you'll try this Crock Pot Peppermint Hot Chocolate!
Yield: 6 Servings
Peppermint Hot Chocolate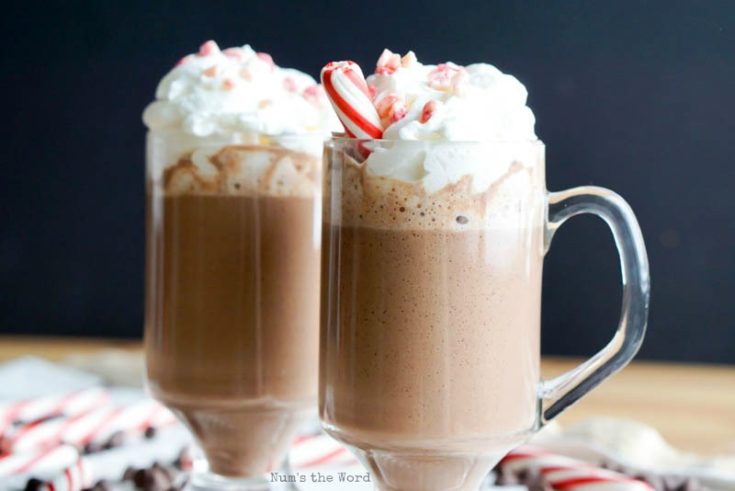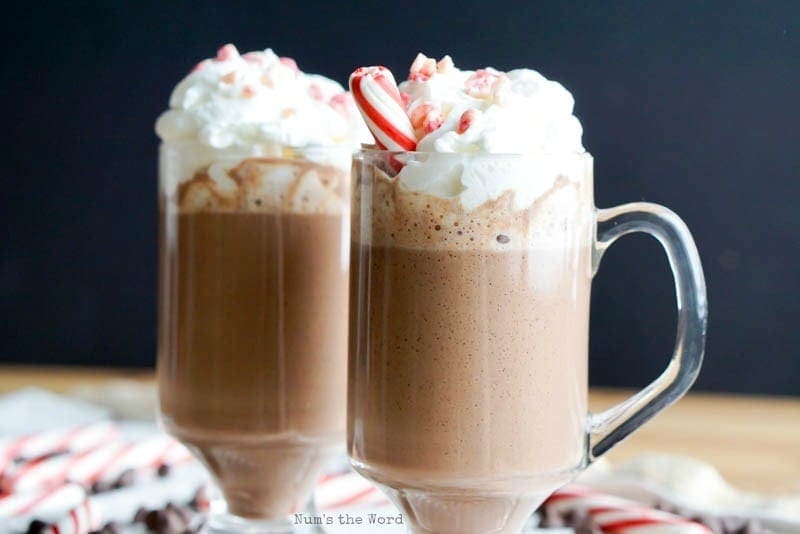 Cook Time
1 hour
30 minutes
Total Time
1 hour
40 minutes
Ingredients
1 (14 ounce) can of sweetened condensed milk
1/2 gallon 2% milk
1/2 cup cocoa powder
2 full Ghirardelli Peppermint Bark Chocolate Bars, chopped
Marshmallows (optional)
Peppermint stick (optional)
Whipped Cream (optional)
Peppermint Chips (optional)
Instructions
In a crock pot set on low, combine sweetened condensed milk and 2% milk.
Stir to incorporate.
Add cocoa powder and chopped peppermint bark.
Cook on low, stirring every 20 minutes until peppermint bark is completely melted and incorporated and coco is hot.
Cook for a total of 60 - 90 minutes (depending on your crock pot & heat).
Once chocolate is melted and liquid is hot, then serve with your favorite garnish!
Originally Posted: January 25, 2014
Photos & Post Updated: January 8, 2018