Move over traditional banana splits and make room for Banana Split Pie! An easy no bake dessert that is a family favorite!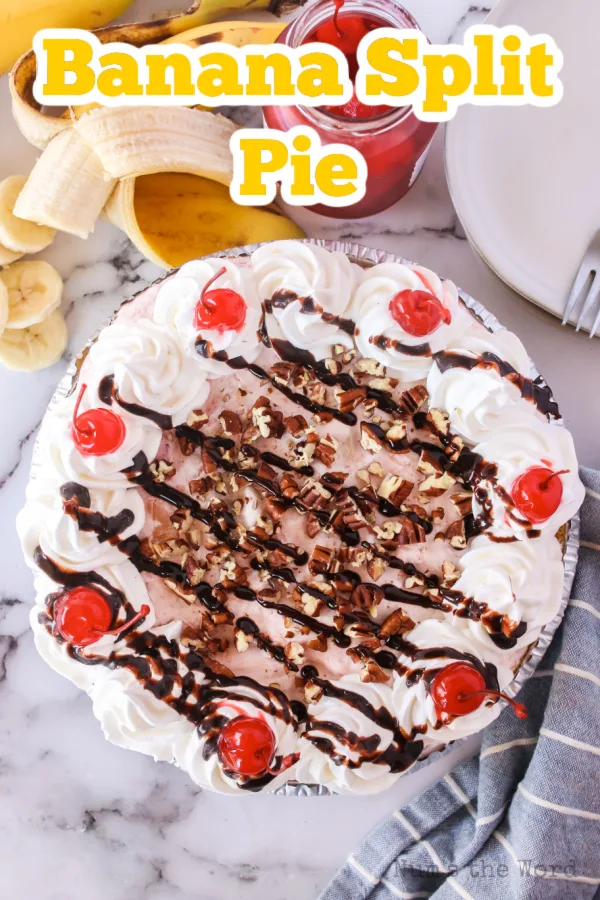 Cream cheese, pineapple, strawberries, bananas, and cool whip all served over a graham cracker crust! Now that I'm drooling, let's get into it!
I love this banana split pie recipe because it is quick to make! Although you need to let it freeze, it takes very little work up front.
It's also a great recipe because it's a no bake pie! Which during the summer when it's hot outside, are the only kinds of recipes I'm gonna make!
Plus this banana split pie recipe is easy to customize. Nuts, syrup, cherries, strawberries, whipped cream, cool whip, all flexible!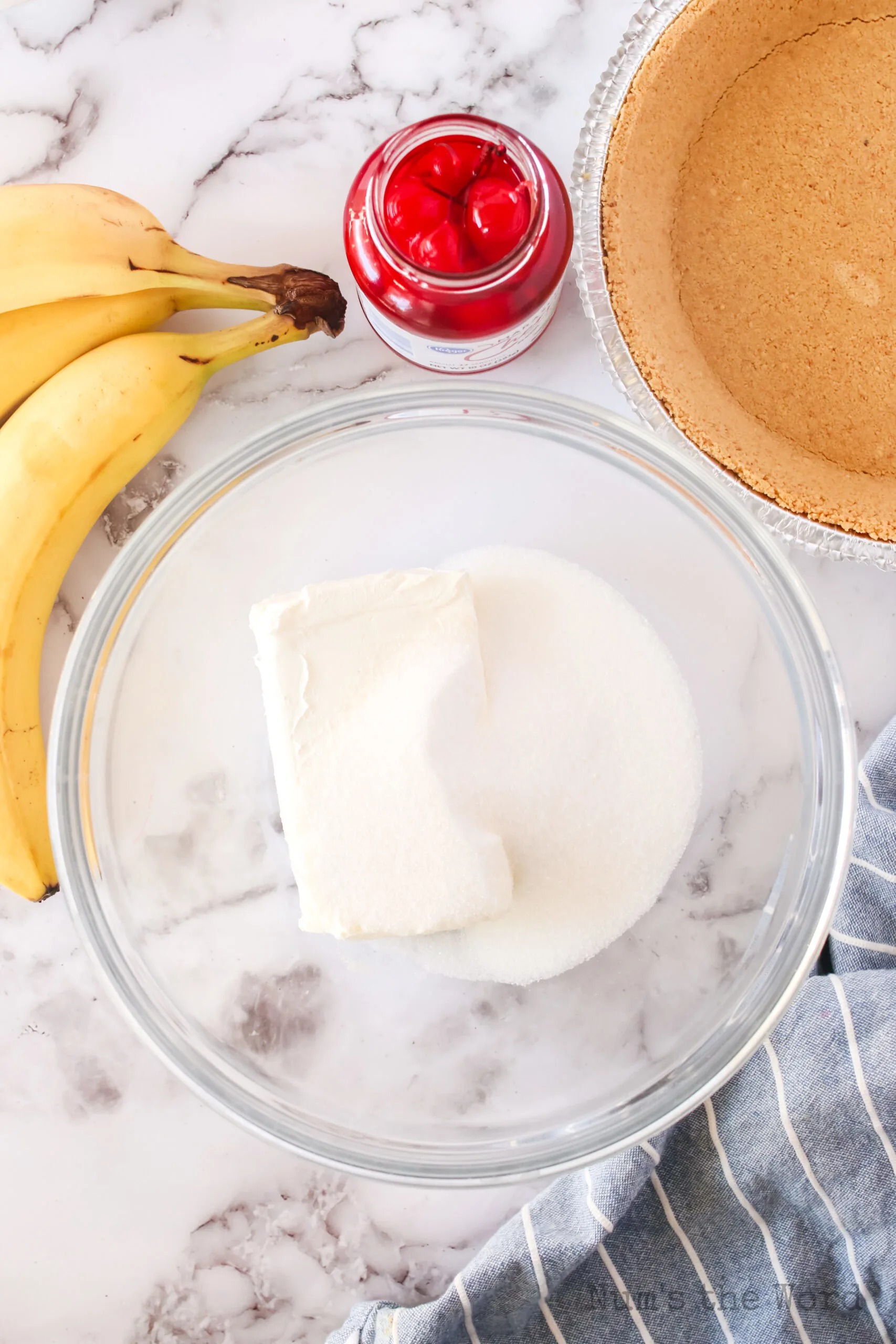 What is in a Traditional Banana Split?
Let's start with the basics! The classic banana split!
Most often found in ice cream shops or at specialty restaurants, a real banana split or ice cream sundae is a classic ice cream treat!
It starts by cutting fresh bananas straight down the center thus the banana is literally split.
Then it'll be filled with strawberry, vanilla, or chocolate ice cream, and possibly all three.
Each scoop is then coated in pineapple, chocolate syrup, hot fudge sauce and/or strawberry syrup.
On top of those, you'll find a beautiful piping of whipped cream, chopped nuts, and maraschino cherries! Yum!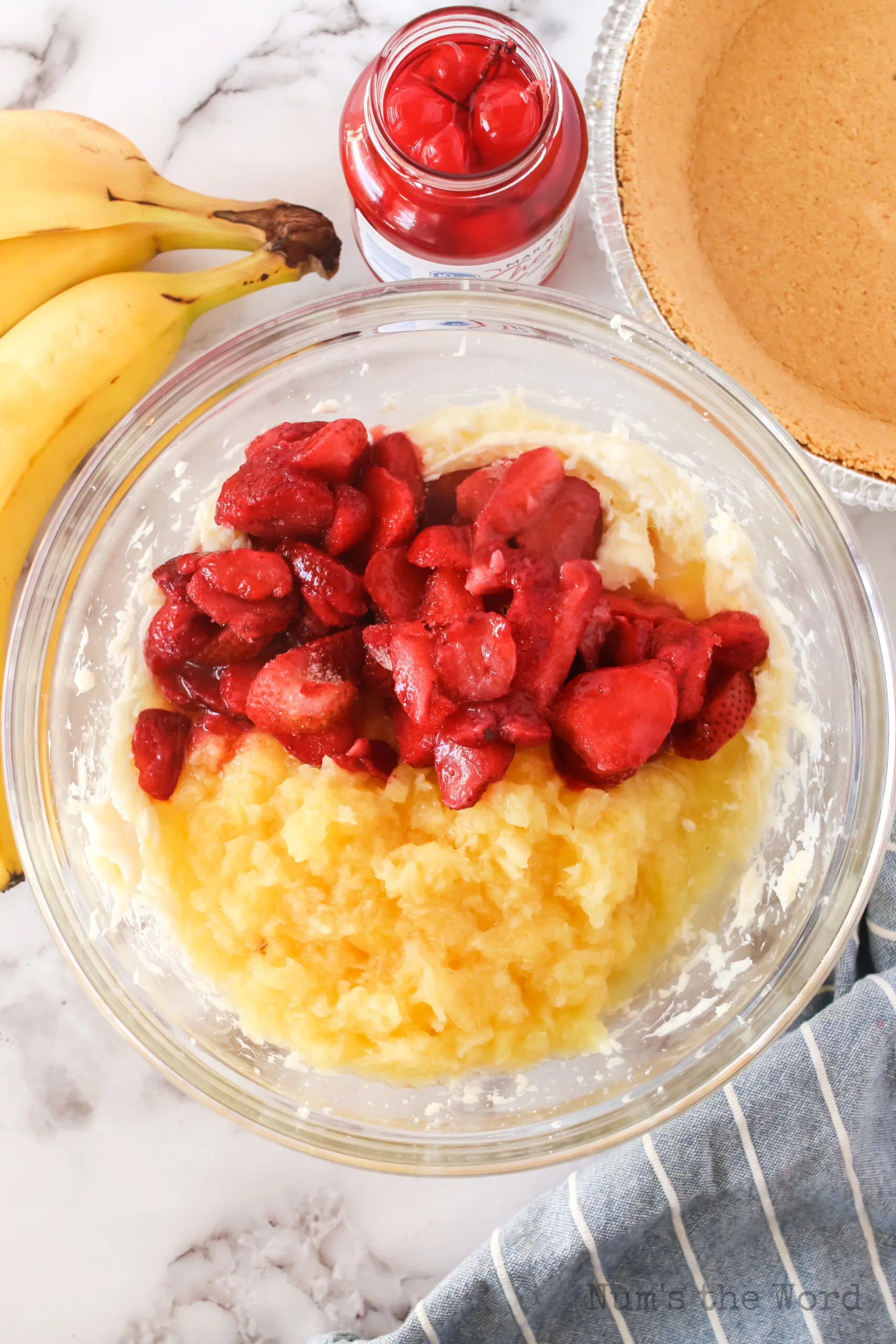 What is a Banana Split Pie?
A banana split pie incorporates all the delicious flavors of a traditional banana split, but leaves out the ice cream.
So you'll find the strawberries, pineapple, banana, nuts, whipped cream, and a vanilla flavored base.
However, this pie can be made in advance, which is a huge bonus!
It can also be scaled up or down and can easily serve a crowd! Which is another thing the traditional banana split usually can't.
Just like with the classic, you can easily put on any of your favorite banana split toppings!
Which means this banana split pie is a crowd pleaser!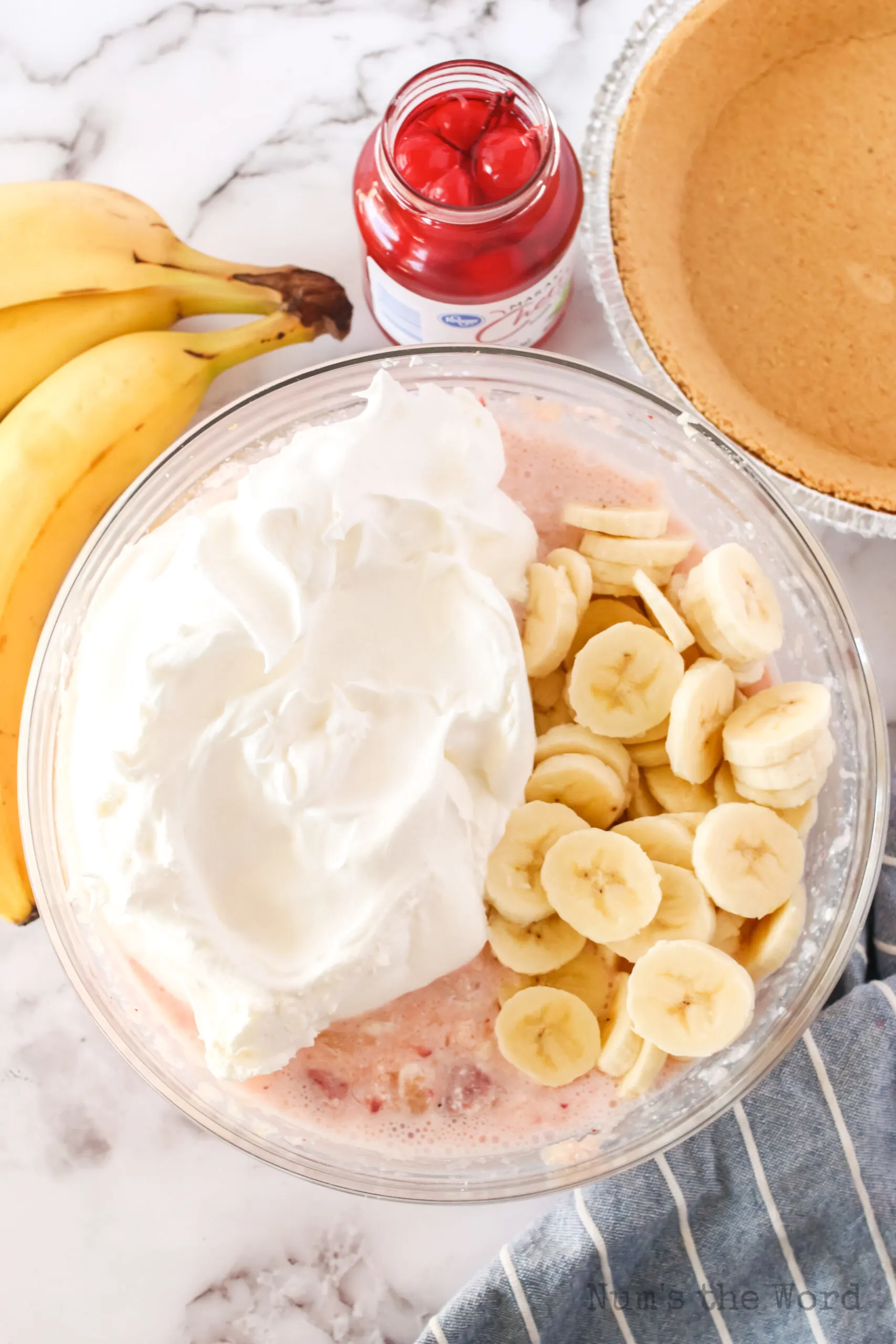 What Ingredients are in Banana Split Pie?
This makes two delicious pies so be so you can enjoy your no bake desserts even longer!
Graham Cracker Crusts: Grab two pie crusts or make your own!
Cream Cheese: Allow the cream cheese to come to room temperature for easy mixing.
Sugar: Regular white sugar works best with the rest of the flavors.
Pineapple: Drain crushed pineapple juice before adding to the recipe.
Frozen Strawberries: You'll want to let the strawberries come to room temperature or use sliced fresh strawberries.
Bananas: Choose bananas that are still medium firm so the banana slices won't mash in the pie mixture.
Cool Whip: Let this sit on the counter to thaw before mixing in.
And for the toppings grab:
Chocolate Syrup: For drizzling on the frozen pie once finished!
Cool Whip: Grab a piping bag or just spread it around the pie.
Chopped Nuts: I prefer walnuts or pecans but peanuts would work too.
Maraschino Cherries: Ones with stems! Beautiful looking and a sweet bite too!
Pro Tips:
Mix it up! Strawberry syrup, caramel syrup, no nuts, strawberries instead of cherries, all are easy swaps!
If you're making your own crust, you'll need melted butter and graham crackers. Find the Graham Cracker Pie Crust recipe here.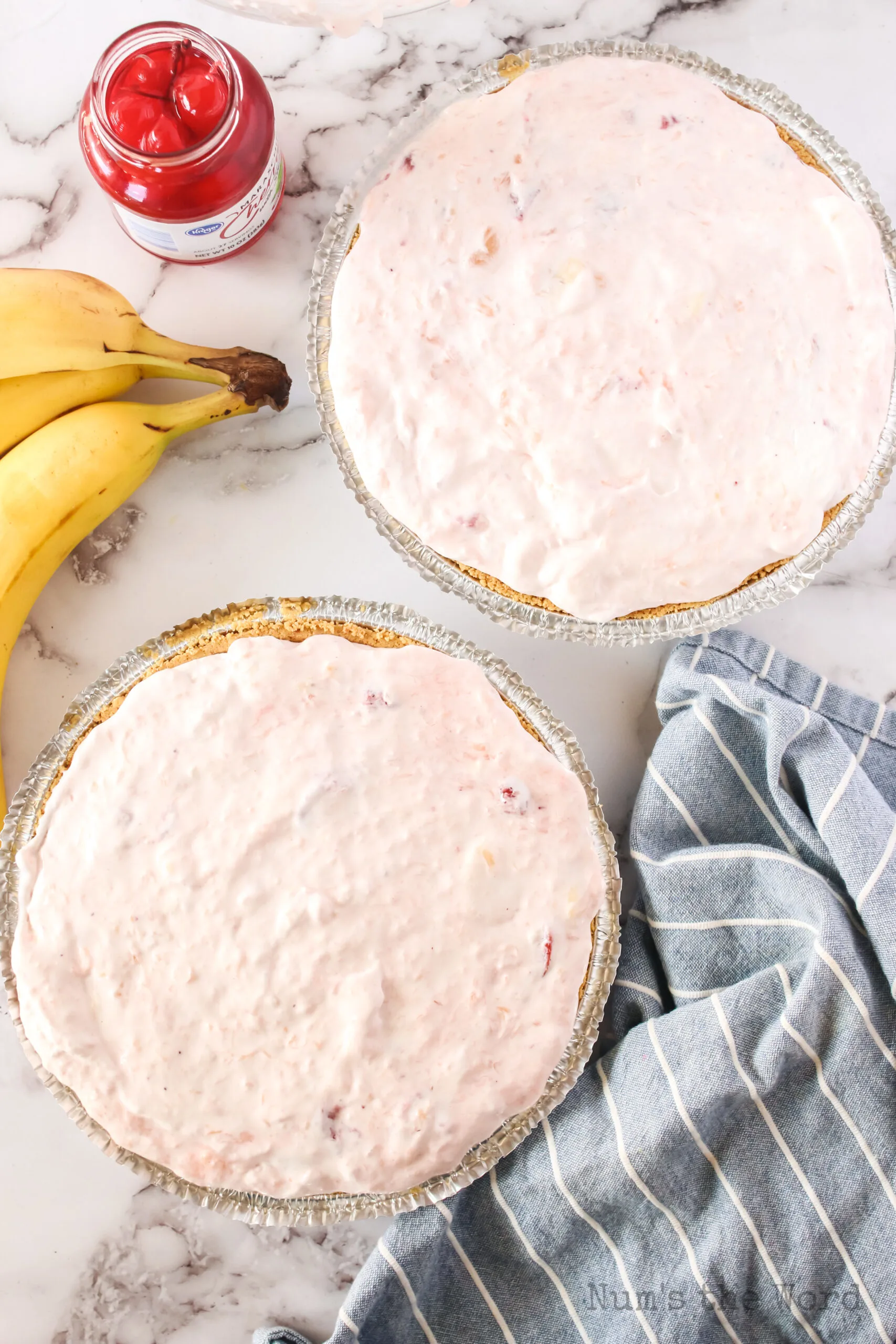 How to Make a Banana Split Pie?
The full recipe card is below but here's the basics for making the no bake banana split pie.
Combine: Be very careful not to smash the cream cheese mixture as you mix!
Freeze: Toss the cream cheese layer onto the graham cracker crusts and freeze for at least 6 hours.
Serve: Add your favorite toppings and share with all your besties!
Pro Tips:
Don't use a hand mixer or electric mixer or you may squash the slice bananas.
Other recipes may call for raw eggs! Never use raw eggs in a no bake recipe to be safe!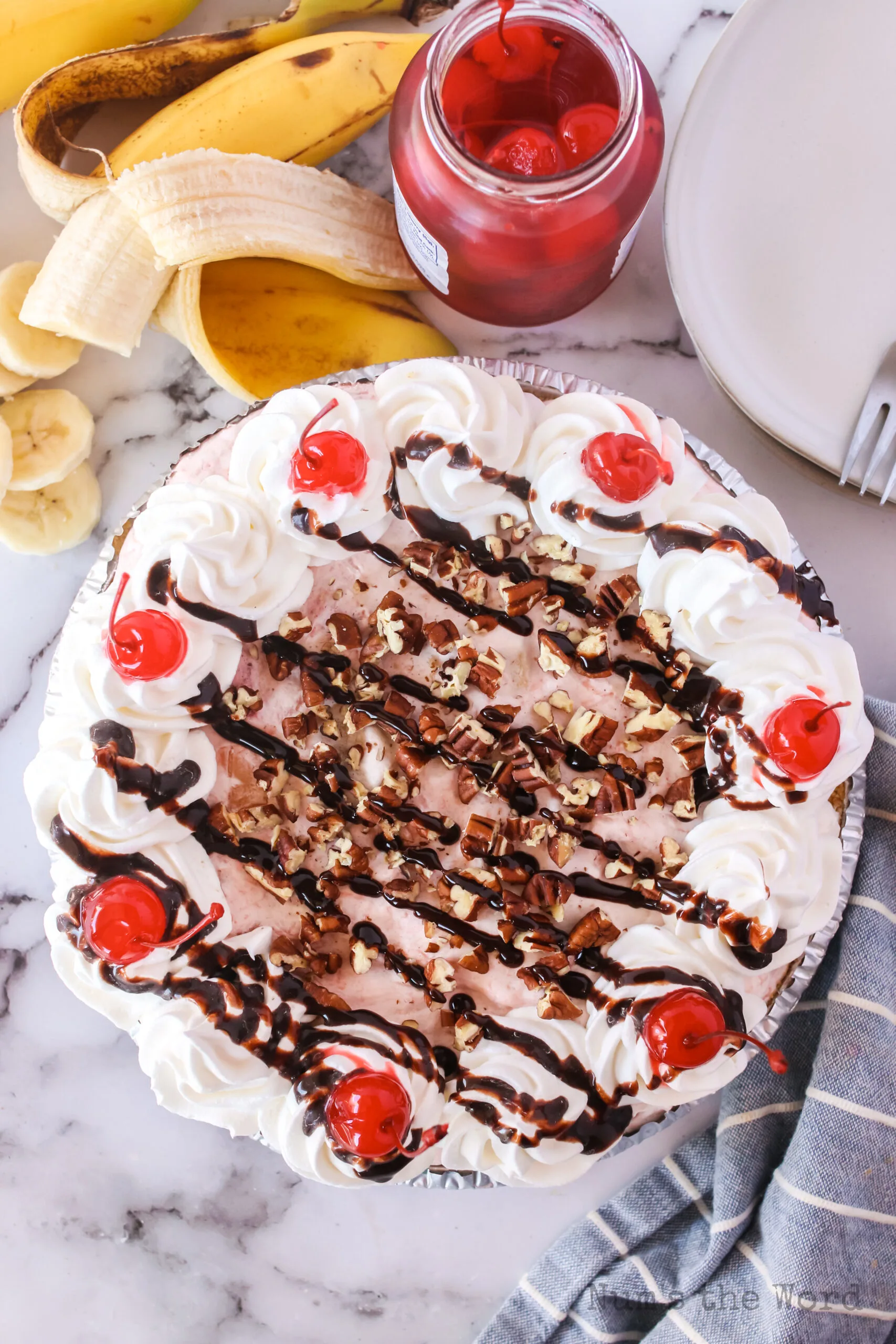 How To Store Leftover Banana Split Pie
Any leftover banana split pie should be kept in the fridge.
This perfect dessert can quickly deteriorate if left on the counter for too long.
Wrap the pie tightly with plastic wrap to prevent it from going bad.
It'll soften as it sits in the refrigerator so you can also keep the leftover pie in the freezer.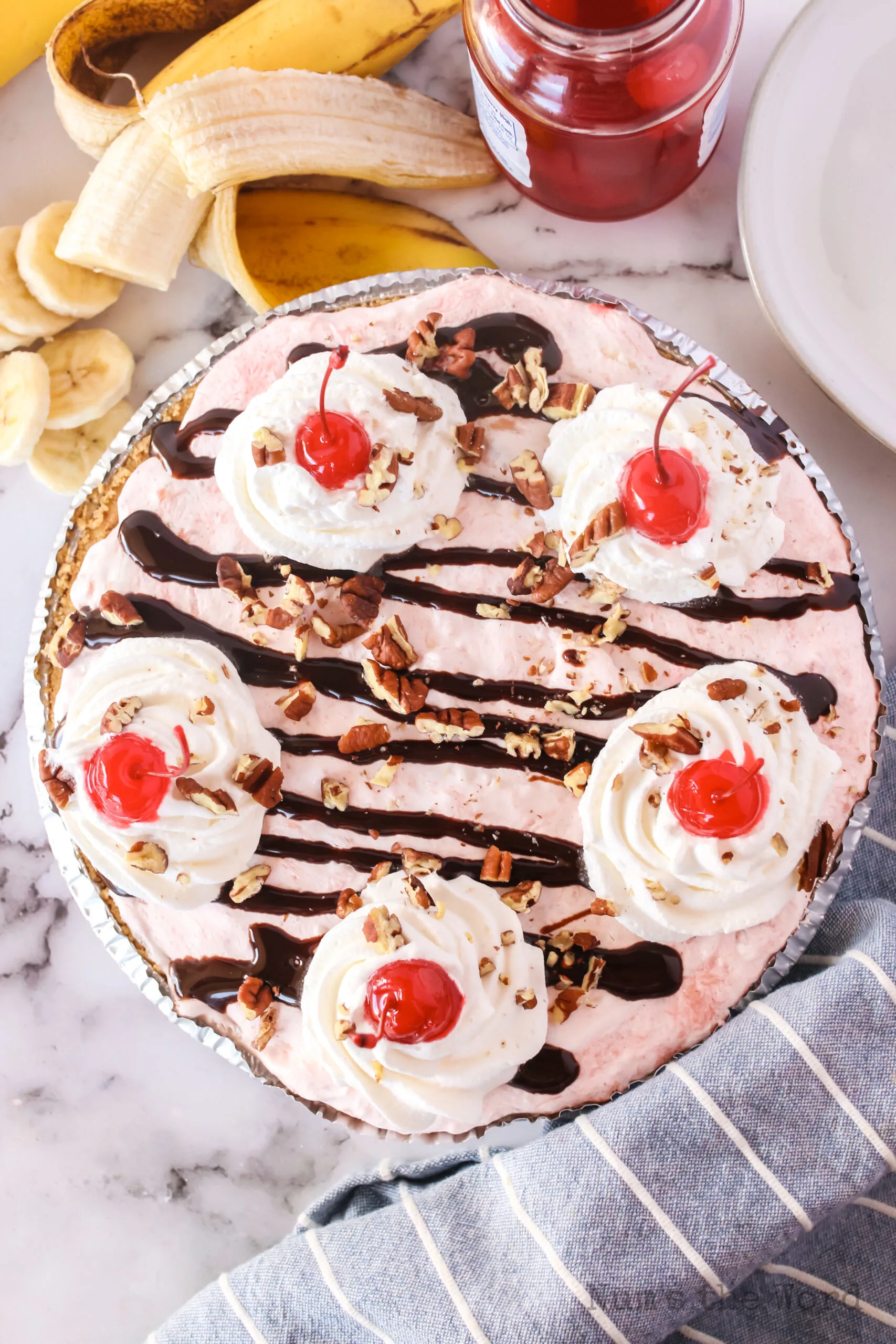 Can I Freeze Banana Split Pie?
Definitely! Since this pie must be frozen before being eaten anyway, it's an easy dessert to make ahead.
I recommend not adding the toppings until you're ready to serve it.
So after the pie has frozen, take it out, wrap it tightly with plastic wrap and aluminum foil, and then put it back in the freezer.
Be sure to write the name and date on the foil so you know when you need to eat it by!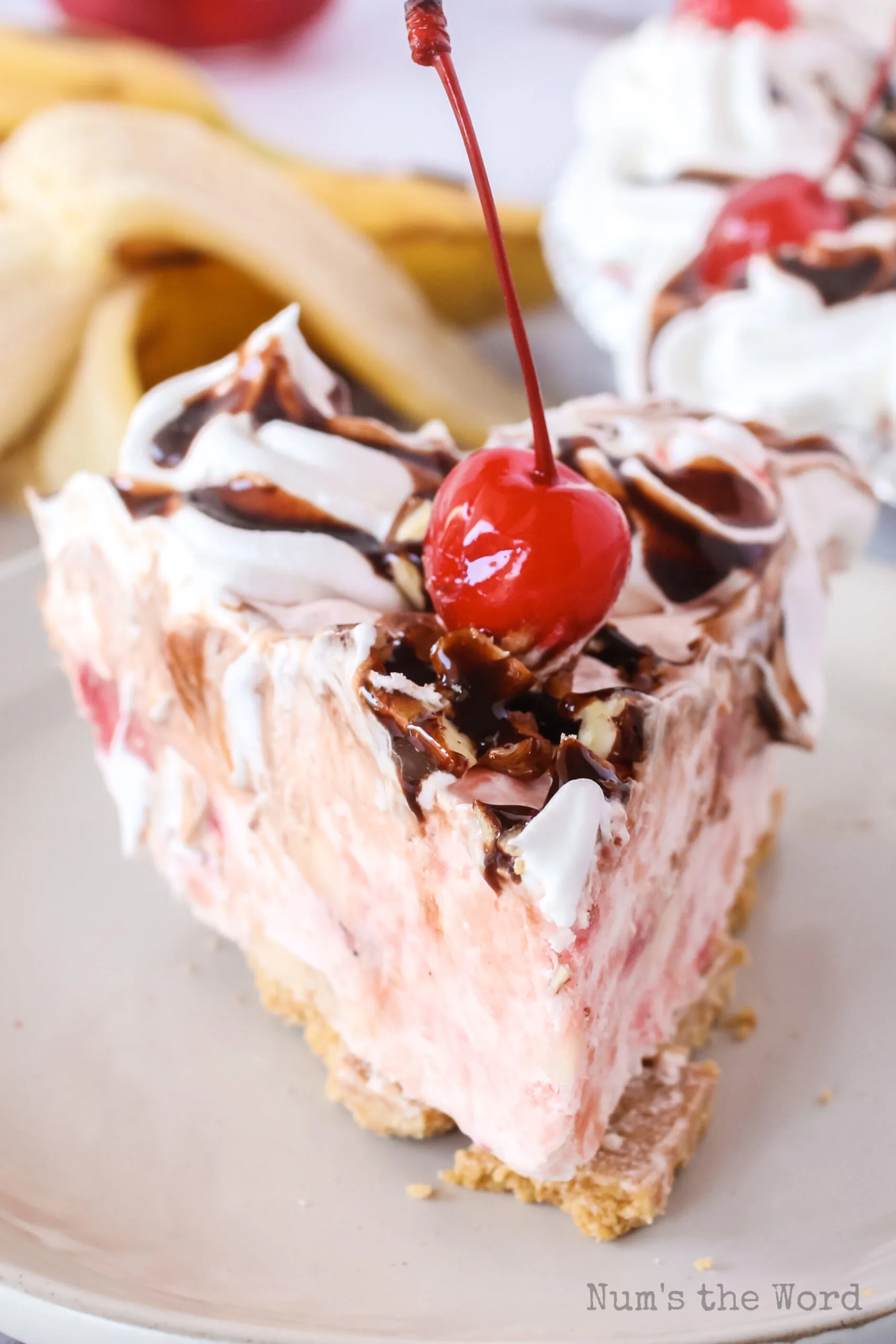 How Long Does Banana Split Pie Last?
Here's how long you can safely eat this delicious banana split dessert:
Fridge: Keep any leftover banana split pie in the fridge for up to 48 hours. The bananas will begin to turn brown before that, but it'll still be safe to eat.
Freezer: Wrapped, the frozen banana split pie can be kept for up to 2 months.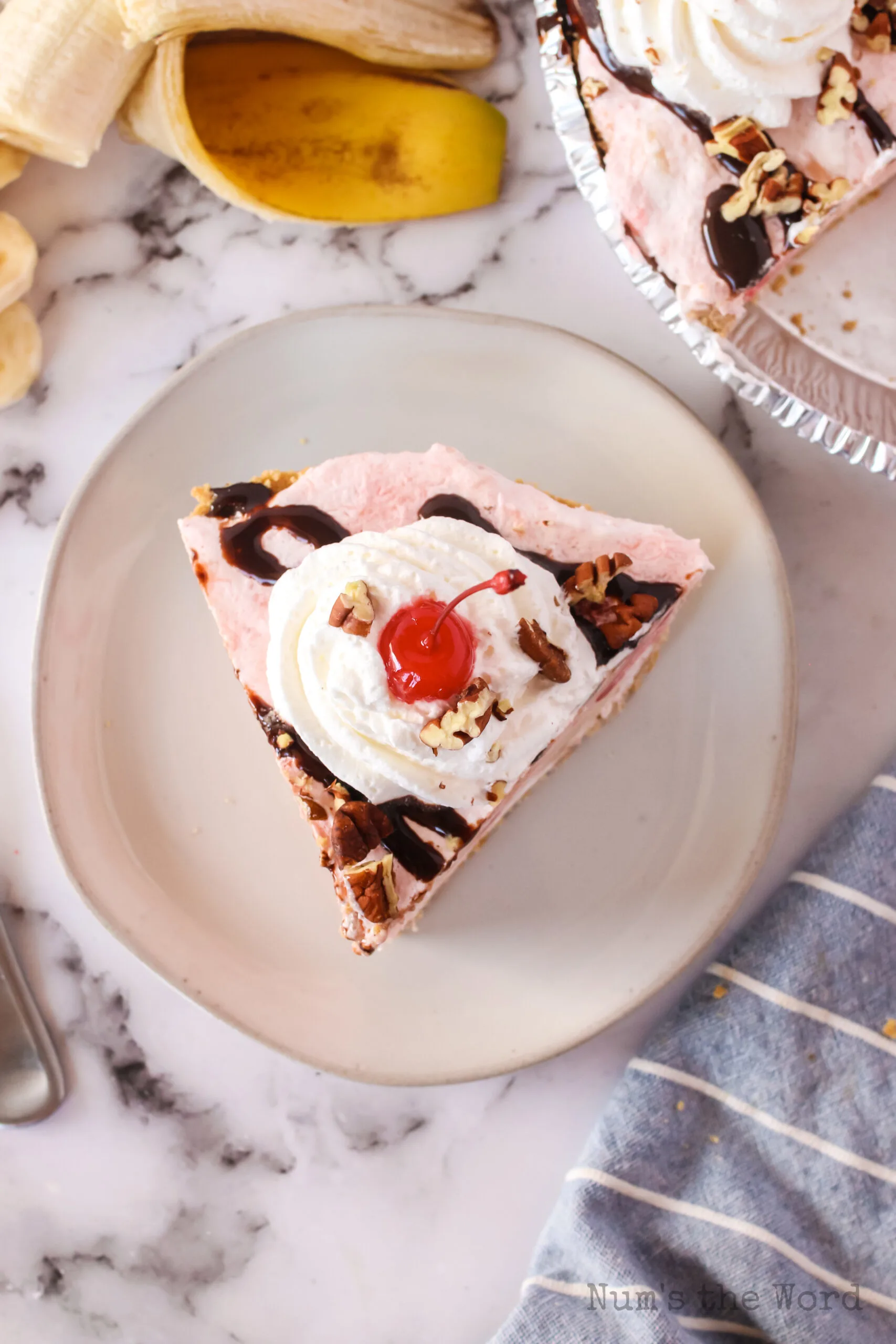 Can Dogs Eat Banana Split Pie?
Desserts that are meant for humans are usually not good foods for dogs. And that definitely includes banana split pie!
While bananas, strawberries, and pineapple are all normally fine for dogs in moderation, other things are not.
All that sugar can be very hard on a dog's stomach and may be a very long night for you to say the least!
Not only that, but if your cool whip contains xylitol, that can actually be toxic for dogs! And the same goes for the chocolate syrup!
If your dog consumes any banana split pie, be sure to watch them for any symptoms and contact a vet if needed.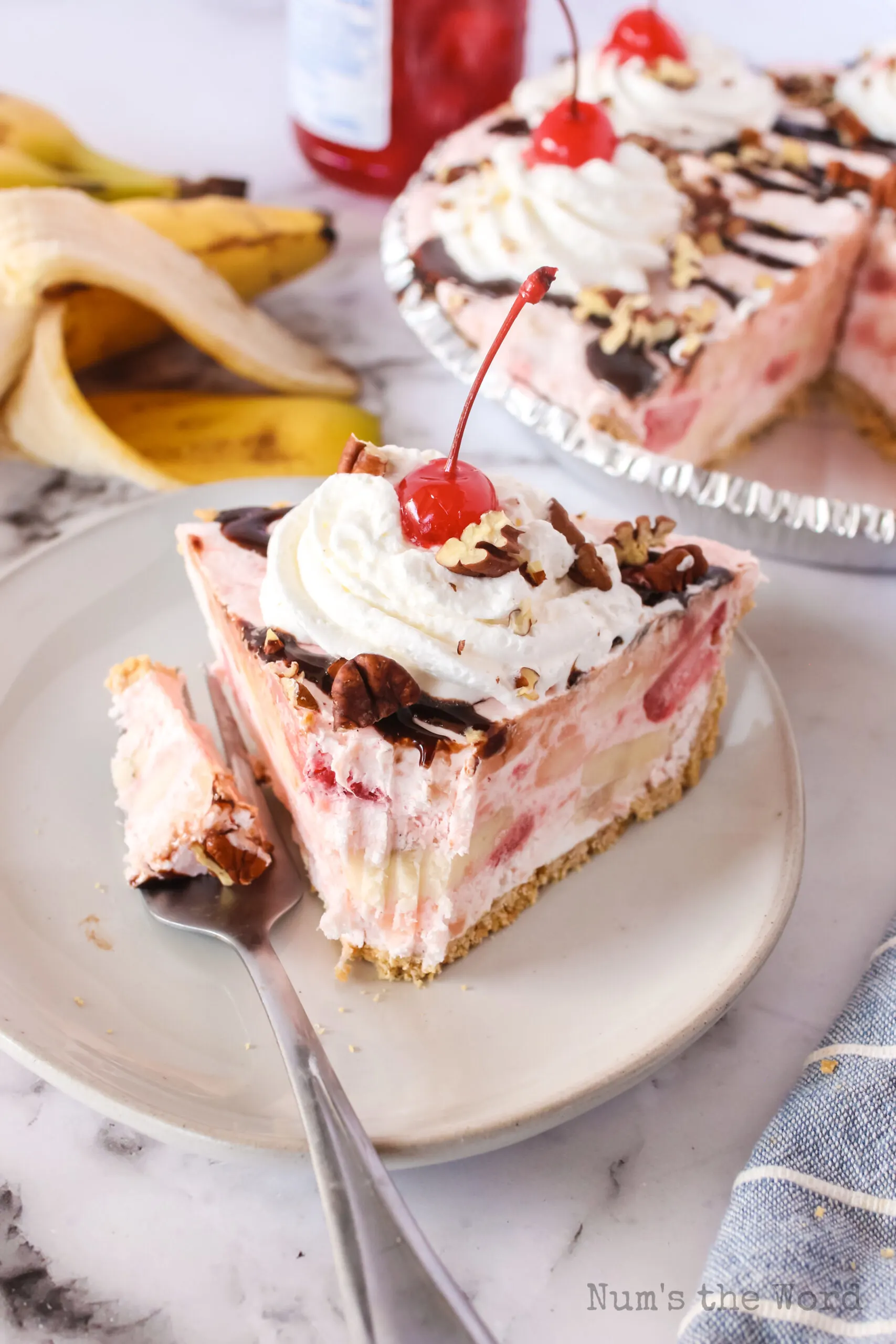 Banana Split Pie is a delicious summer dessert that your whole family will love! All the classic flavors of a banana split in shareable form! Enjoy!
Yield: 16 Servings
No Bake Banana Split Pie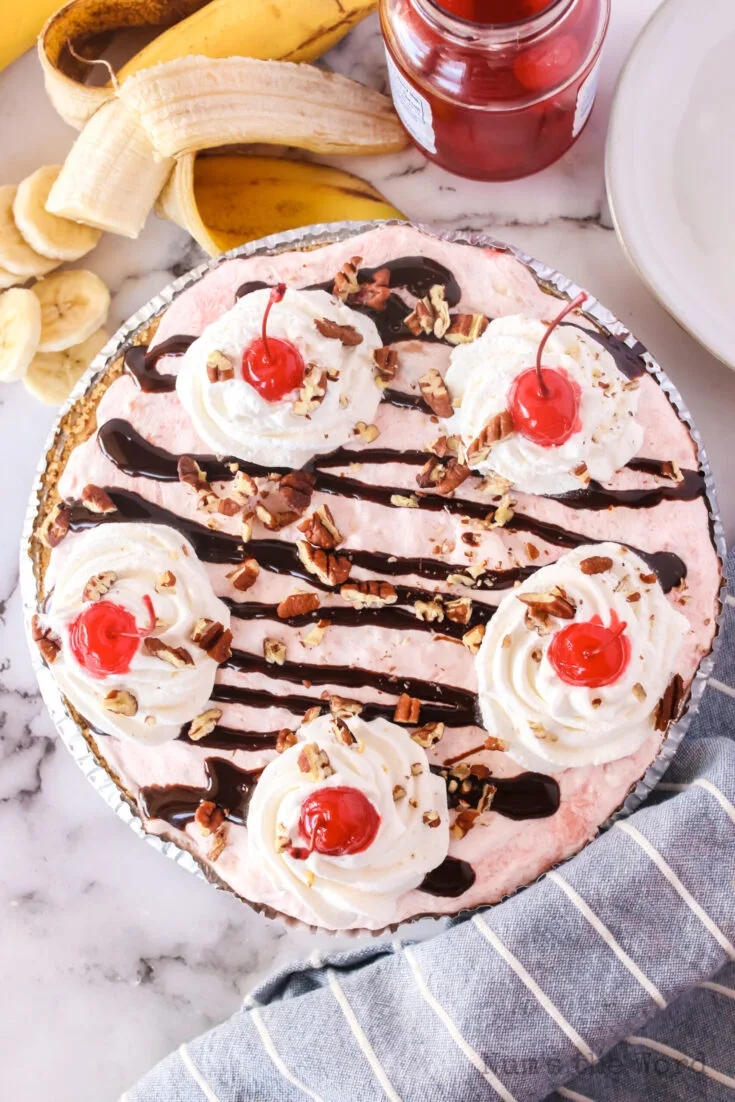 Move over traditional banana splits and make room for Banana Split Pie! An easy no bake dessert that is a family favorite!
Total Time
6 hours
30 minutes
Ingredients
2 graham cracker crusts
1 (8 ounce) package cream cheese, room temperature
1/2 cup white sugar
1 (20 ounce) can crushed pineapple, drained well
1 (10 ounce) frozen sliced strawberries in sugar, thawed room temperature
2 medium firm bananas, sliced
2 (8 ounce) container cool whip, room temperature, divided
Chocolate Syrup (topping)
1/4 cup nuts (walnuts or pecans)
Maraschino cherries with stems
Instructions
In a bowl combine cream cheese and sugar.
Add drained crushed pineapple and frozen sliced strawberries (with syrup) and mix well.
Add sliced bananas and 1 container of cool whip and gently fold until well mixed.
Gently spread this mixture into each pie shell and freeze for 6 hours or longer.
When ready to serve, pipe cool whip onto the pie around the edges.
Drizzle with chocolate syrup.
Add maraschino cherries on top of cool whip.
Sprinkle chopped nuts.
Serve and enjoy!
Nutrition Information:
Yield:
16
Serving Size:
1
Amount Per Serving:
Calories:

192
Total Fat:

8g
Saturated Fat:

2g
Trans Fat:

0g
Unsaturated Fat:

5g
Cholesterol:

2mg
Sodium:

121mg
Carbohydrates:

30g
Fiber:

1g
Sugar:

17g
Protein:

2g