Apple pie is delicious but have you ever tasted Pear Pie? It's like apple pie, only better. Dripping with cinnamon and sugar and wrapped in a buttery, flaky crust, this pear pie is all you are ever going to look for in a pie. I promise!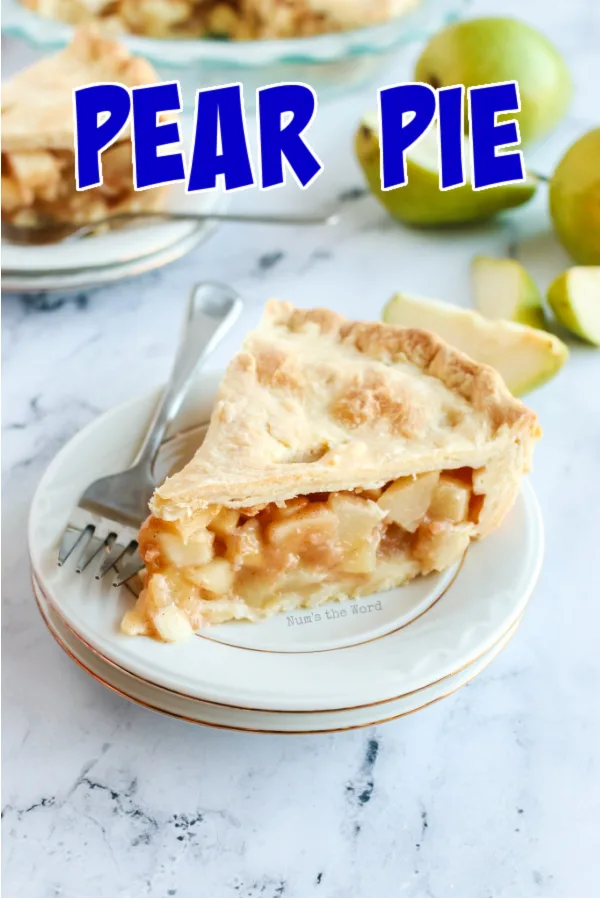 This pear pie recipe is seriously wonderful! I love how you don't have to cook the fruit first since pears are already so soft.
You may think I'm crazy for suggesting Pear Pie. If you've never had it, I can see why. But I kid you not when I say I prefer Pear Pie over Apple Pie. It's easy, delicious and your guests will be surprised with this new addition to your collection.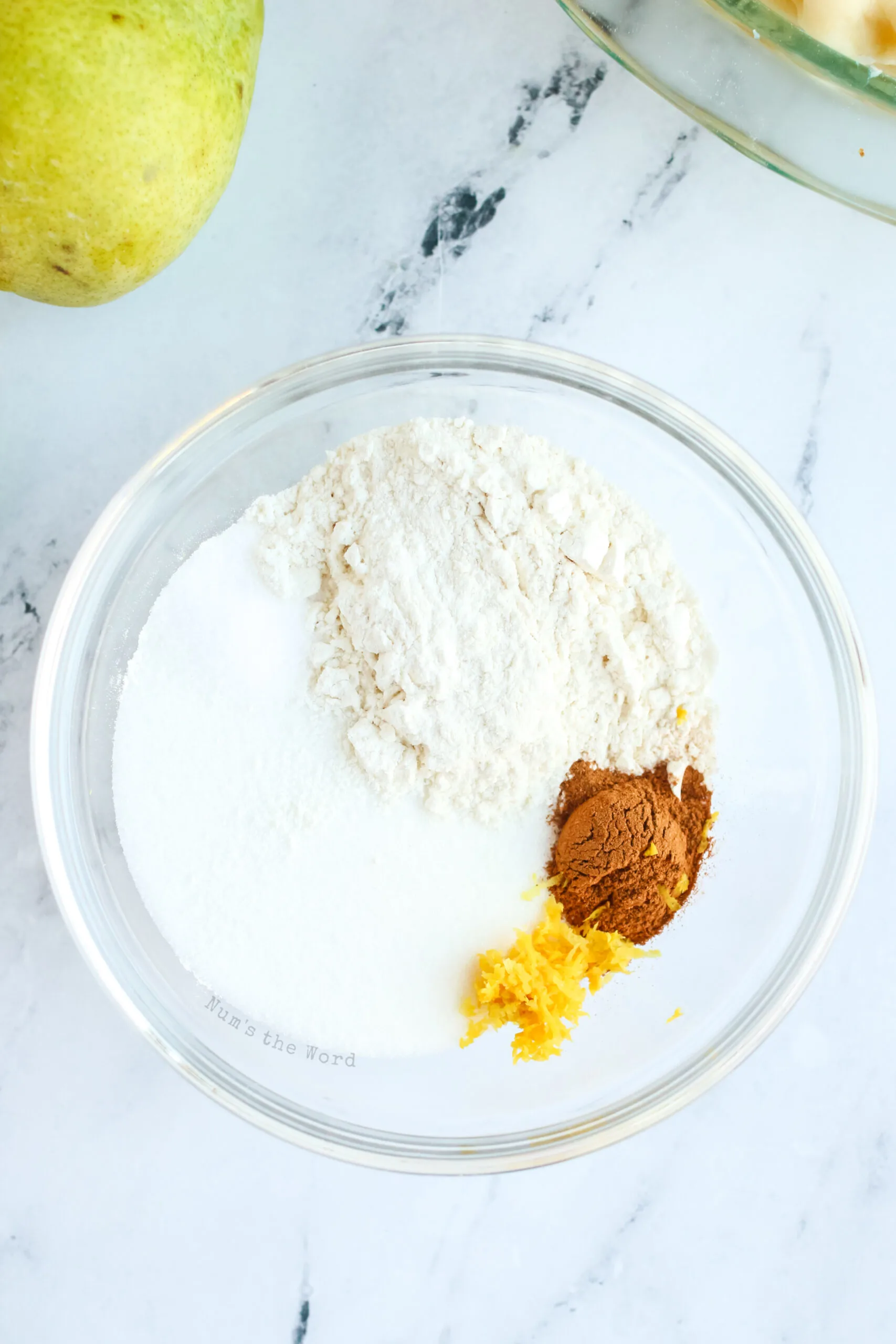 Ingredients in Pear Pie
Pie Crust:

I recommend this

Butter Pie Crust

. You cannot go wrong with it. You'll need a double pie crust, one for the bottom and one for the top.

Sugar:

Use plain white sugar. Though you could experiment with different ratios of brown sugar and white, I personally haven't tried it so recommend sticking with white sugar.

Flour:

Again, maybe I'm just a plain jane kind of girl (or the flavor is just that good), I recommend using all-purpose flour. Other substitutes have not been tried or tested by me, but the white flour you'll love.

Salt:

I never recommend leaving salt out as it brings to life your other flavors. Luckily salt is a pantry food that most of us almost always have on hand.

Cinnamon:

Cinnamon with pears? I think that's a thing right? I know it's definitely a thing around my house.

Lemon Zest:

Also pears and lemons. Pretty sure that's a thing too. All I know is in this recipe you'll love the combo of them all.

Pears:

You'll want your pears peeled and cut into chunks. Bartlett or Anjou pears are my personal favorites for baking but you can feel free to use really any pear you want.

Butter:

This is absolutely not somewhere where you want to try substituting shortening. Or any other oil based fats actually. Use real butter for best results.

Lemon Juice:

This keeps the pears from turning brown while baking!
Pro Tips:

Zest First.

If you are using a real lemon, it's much harder to zest the lemon after you juice it. Trust me. Zest first. Juice second. And when it comes to baking, don't use bottled juice, use real.

Buy extra pears!

A few of them quickly disappear from my bowl while I'm cutting. I think my kids may have a "distract the mother" system worked out. I swear if I so much as blink all my pears will be gone.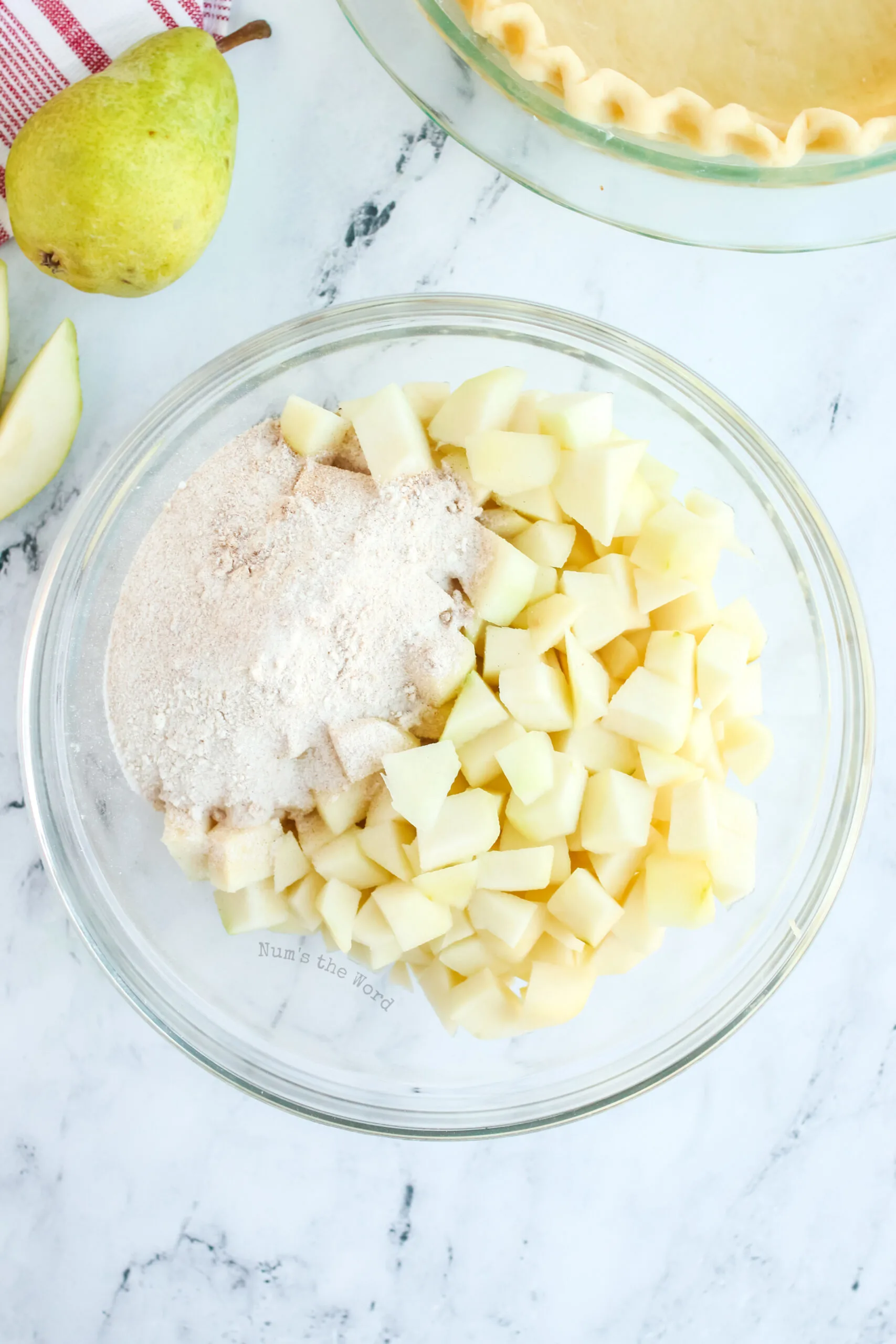 How to Make Pear Pie
Mix:

Mix the sugar, flour, salt, cinnamon, lemon zest, and then the pears together. This is my time for also getting the oven ready, getting the pan ready, etc. Also for cutting extra pears to make up for the ones that randomly disappeared! My kids don't look guilty at all…

Layer:

First line the bottom of your pan with crust. Follow that with the pear pie filling, a dot of butter and lemon juice. Finally top with the top pie crust. My kids favorite here is cutting the slits in the top of the pie crust. I think it makes them feel like professional bakers.

Bake:

You'll be doing something a little strange with the temp here so pay attention. Your first 10 minutes are at a different temperature than the rest of the baking time. This allows your fruit to be cooked and your crust to come out golden and crispy.
Pro Tip: Pear Pie can also be eaten on the run! If you want to take these along for a fun picnic or trip try my Mini Pear Pies. Same delicious flavor, but portable!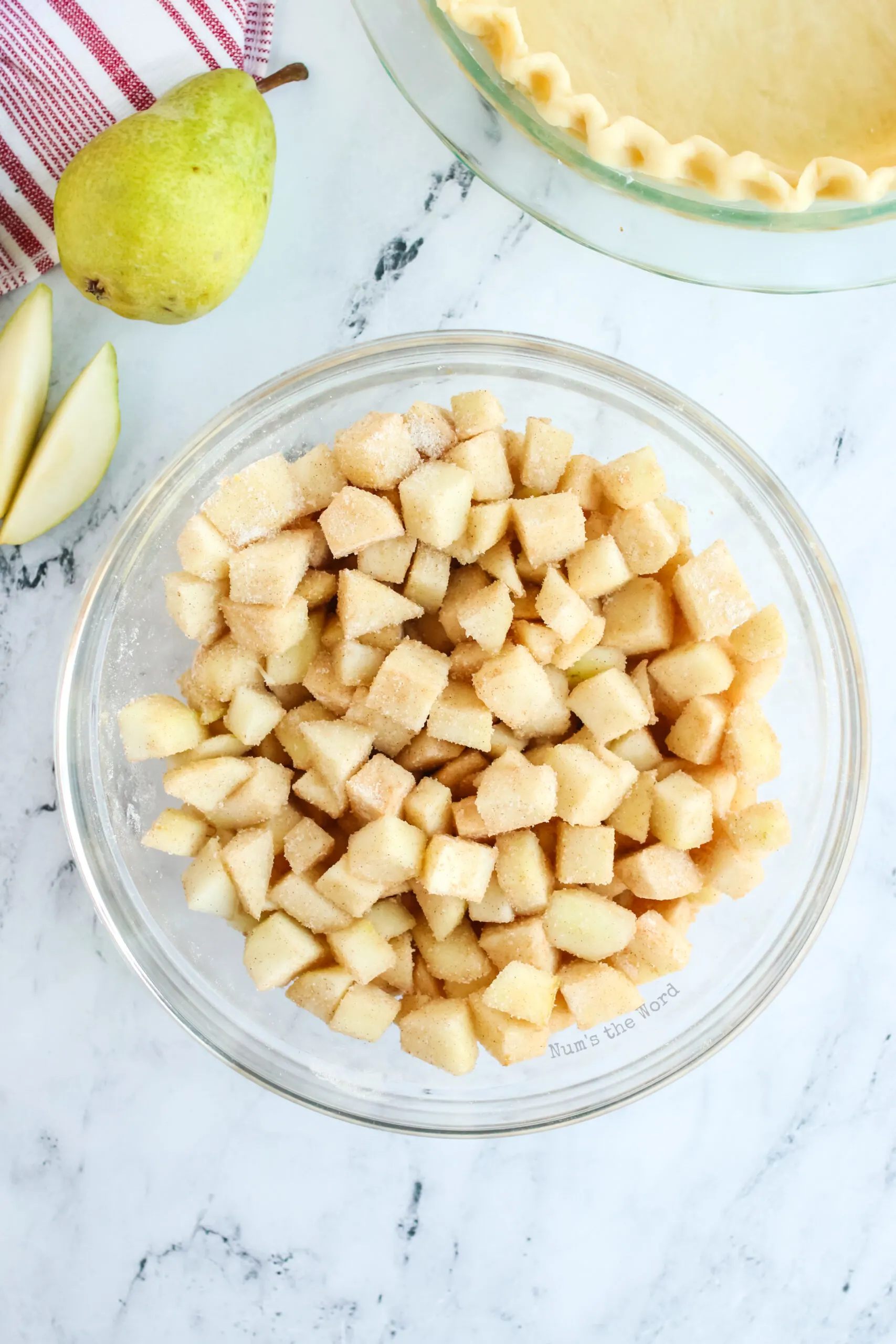 How to Peel and Slice Pears
If you're buying pears to eat out of hand don't worry about how ripe they are. If they are very ripe, all the better for eating in the car on the way home.
Though I wouldn't hand the over ripe pears to the hungry mob in your back seat. They'll get that sticky juice all over their car seats and it's a pain to clean.
If you are cooking the pears in a recipe that requires you to peel first, such as easy pear pie, try to choose ones that offer a little given when gently pressed. The peels should come right off as you peel them.
I suggest using a butter knife instead of a potato peeler to peel your pears. Pears have such a thin skin, it doesn't actually take much work to get it off.
Next slice in half lengthwise. You can use a small melon baller to core out the center or just use your knife to cut it out.
Finally cut the pears into chunks. You want them to be about a bite size piece. Any larger than that and you'll bite out the entire middle of your pie. Sad day. There is no reason to try and make them pretty though so just chunk them up and call it a day.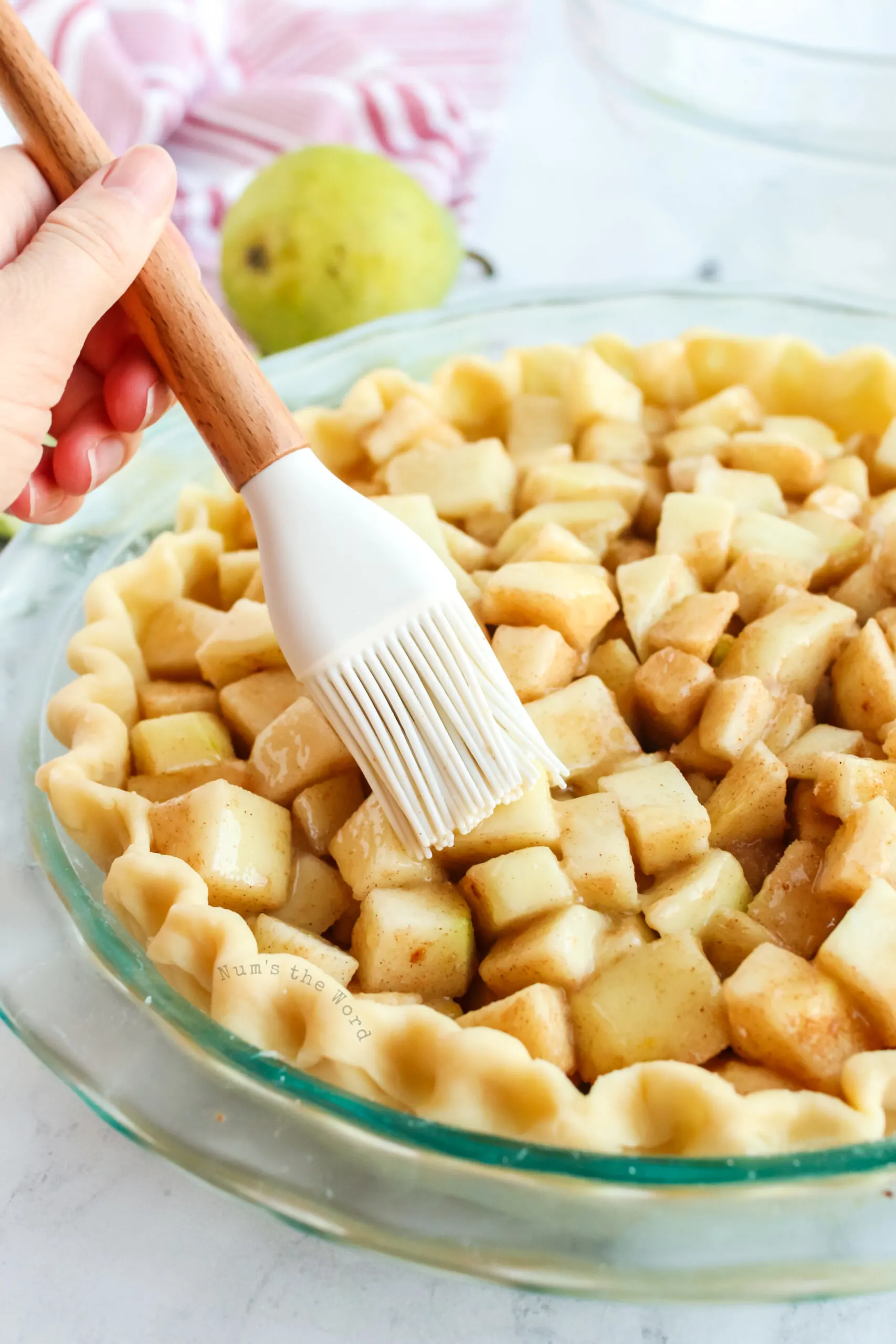 Can you Freeze Pear Pie
You can freeze the baked pear pie for up to 3 months. Bake the pie as directed and then allow the pie to thoroughly cool. Cover tightly in a freezer friendly container. I prefer first wrapping in freezer plastic wrap before placing in the container.
When you're ready to eat, thaw the pear pie overnight in the refrigerator and allow it to come to room temperature before serving.
Personally I'd recommend making the filling, and freezing just the filling, then letting it thaw and make your pie that way. Just add in an extra teaspoon of cornstarch to your mixture to absorb the extra water from freezing.
You can also freeze just the pear pie filling for up to three months and then when you're ready for the pie, combine it with the crust and bake as directed.
Your pear pie will also last in the refrigerator for up to 5 days after being baked.
Pro Tip: If you know you'll be baking and then freezing, this is the perfect opportunity to try the Pear Hand Pies. Then you can take out however much you want at a time and keep the rest in the freezer until you're ready for them.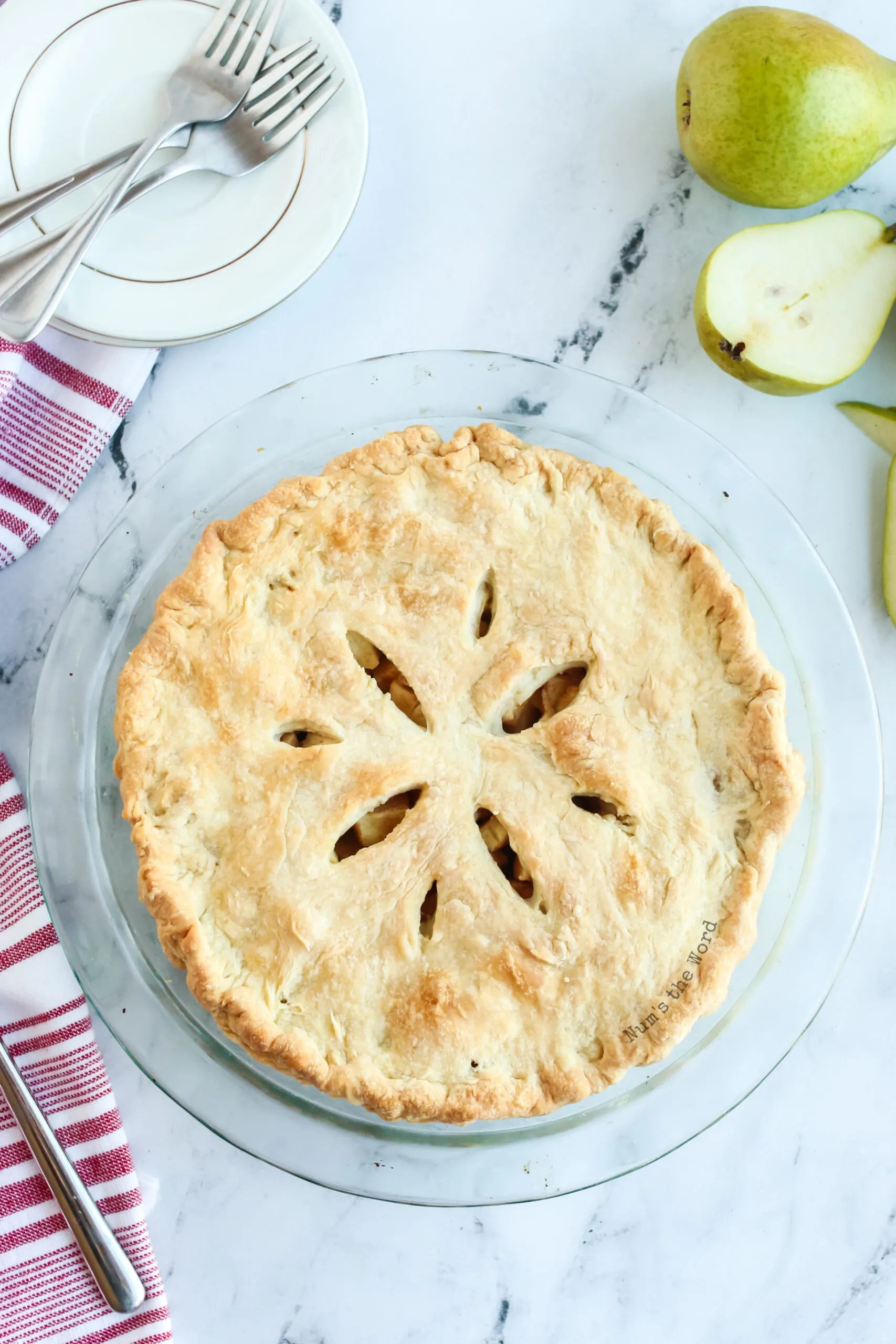 If you have a sweet tooth, we recommend you try these Simple Desserts too!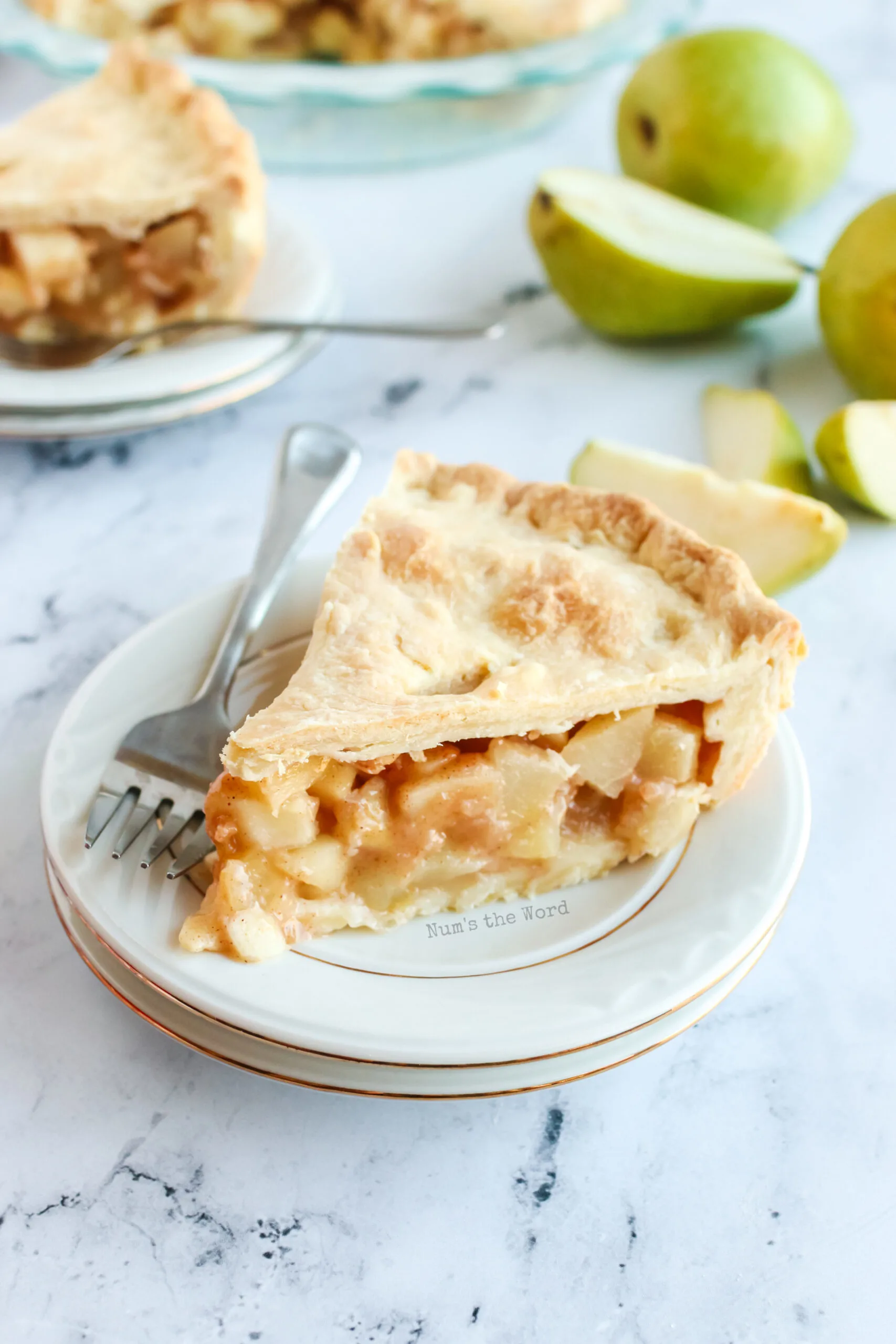 This Pear Pie will not disappoint! Perfect all year round, it's an easy, unique and oh so tasty fruit pie you'll absolutely love!
Yield: 1 whole pie
Pear Pie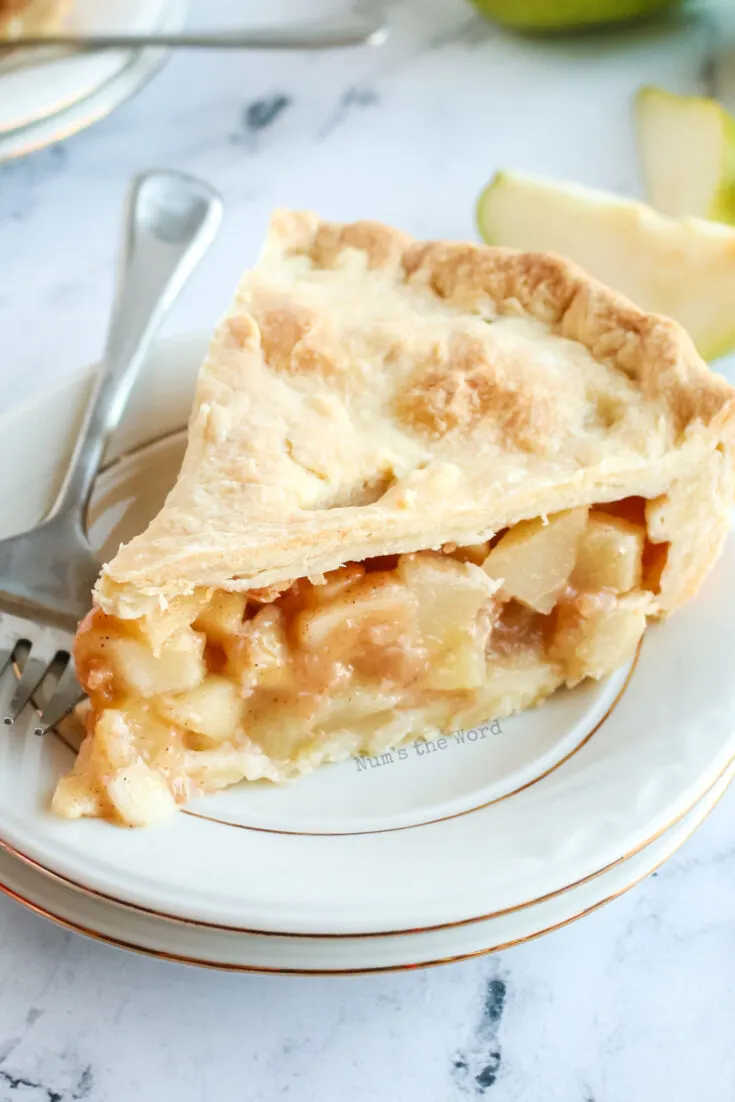 Apple pie is delicious but have you ever tasted Pear Pie? It's like apple pie, only better. Dripping with cinnamon and sugar and wrapped in a buttery, flaky crust, this pear pie is all you are ever going to look for in a pie. I promise!
Ingredients
1/2 cup white sugar
3 Tablespoons all-purpose flour
1/2 teaspoon salt
1 teaspoon ground cinnamon
1 teaspoon lemon zest
5 cups pealed & chunked pears
1 Tablespoon butter
1 Tablespoon lemon juice
Instructions
Preheat oven to 450*F
Spray a deep dish pie pan with nonstick spray.
In a medium sized bowl, combine sugar, flour, salt, cinnamon and lemon zest. Mix well.
Toss pealed and chopped pears into sugar mixture until well coated.
Line a deep dish pie plate with single crust.
Place pear mixture into pie crust.
Dot with butter & lemon juice.
Top with second pie crust and seal edges.
Cut slits on the top
Bake for 10 minutes.
Reduce oven temperature to 350*F and bake for an additional 35 - 40 minutes or until crust is golden.
Nutrition Information:
Yield:
8
Serving Size:
1
Amount Per Serving:
Calories:

335
Total Fat:

14g
Saturated Fat:

5g
Trans Fat:

0g
Unsaturated Fat:

8g
Cholesterol:

8mg
Sodium:

336mg
Carbohydrates:

51g
Fiber:

4g
Sugar:

23g
Protein:

3g
Originally Posted: January 30, 2015
Photos & Text Updated: March 1, 2021