For soft and Chewy Oatmeal Cookies that exceeds all your expectations, look no further. It is loaded with oats, delicious butter, sweet sugar, and fresh eggs melding into a delicious tasting cookie with every bite.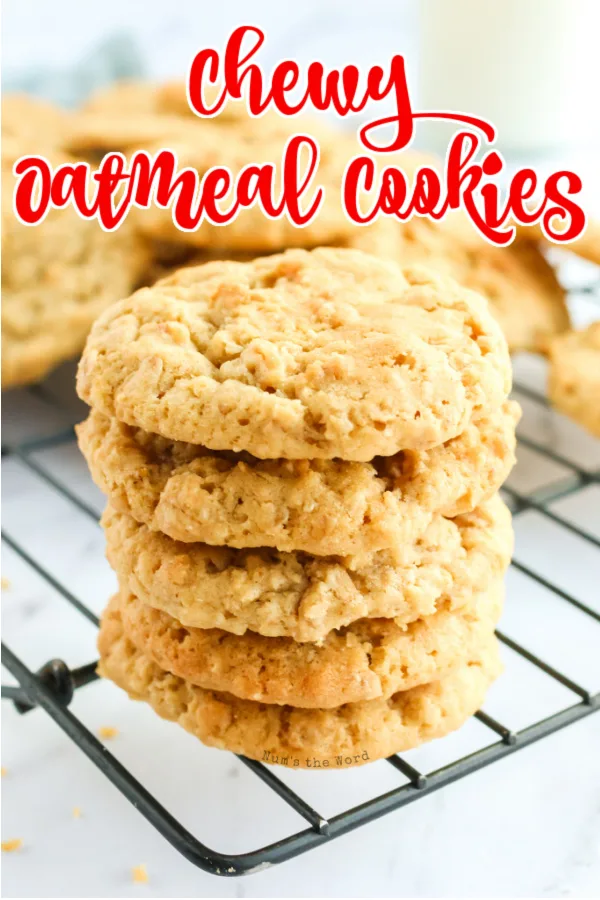 These are the best oatmeal cookies! I've got recipes for Banana Oatmeal Cookies, Coconut Oatmeal Cookies, Oatmeal Lace Cookies, Chewy No Bake Cookies… I could go on but just do a quick search, you'll find them!
Sometimes though, what you really need is not all the fancy flavors, but a good old fashioned, delicious chewy oatmeal cookies. No tricks. Just scrumptious.
I love how Easy these cookies are to make! Mix. Bake. Eat. Perfect. I also love how Filling they are! Shhh… I normally eat A LOT of cookies!
But these ones fill me up so quickly there are actually some left over for everyone else.
And did I mention they only use pantry ingredients? No extra trip to the grocery store is always a win for me.
Ingredients in Chewy Oatmeal Cookies
Sugar:

Use both white sugar and brown sugar! When used alone, they are both so yummy, but when used together it's like these deep melding of flavors.

Butter: Opt for room temperature. Melted means your cookies will melt, cold means your cookies puff too much. Room temperature is perfect.
Eggs: Eggs are your binder. Don't leave them out or nothing will stick together. I recommend using room temperature eggs.
Vanilla: Love me some vanilla flavor. Use pure vanilla for best results.
Baking Soda: Baking soda is a leavening agent that when activated helps your cookies to rise accordingly.
Salt: The salt is necessary to prevent tasteless cookies.
Flour: Use white flour either bleached or unbleached.
Oatmeal: Use regular oats, not quick oats or your cookies are likely to come out dry and will change your texture significantly.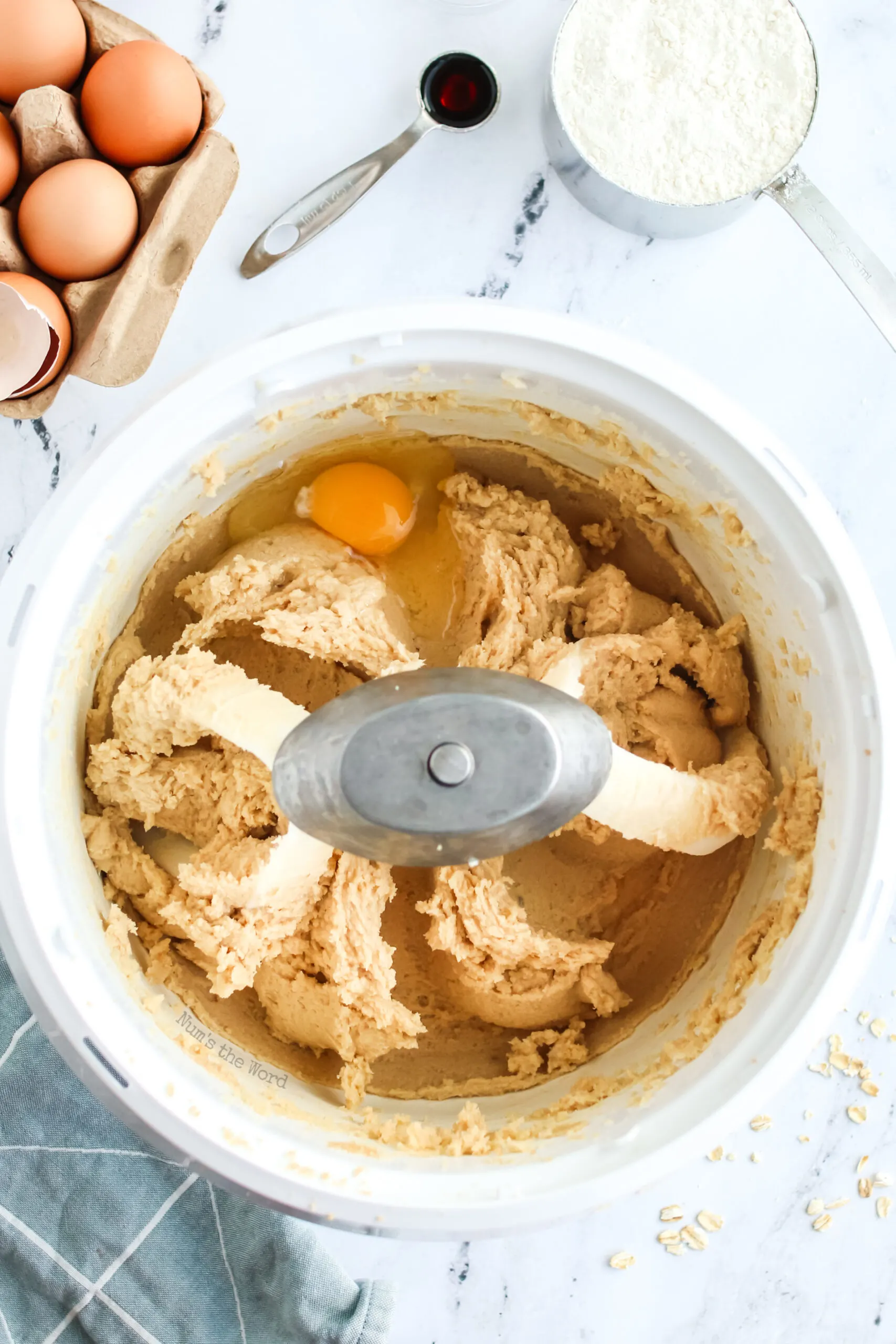 How to Make Chewy Oatmeal Cookies:
Ever heard the phrase, like making cookies? It's because cookies are normally straight forward. Follow these simple instructions and voila!
Cream:

Start with the butter and sugars. Whenever I mix these together my kids immediately say it smells like cookies.

Mix: Keep adding the rest of your ingredients, one at a time, mixing well between each addition.
Bake: You know your oven better than anyone else so keep an eye on your cookies if it tends to run hot. You want the edges of the cookies to be a light golden brown.
Eat: My favorite part of every recipe!
Pro Tips:
Parchment paper, non-stick foil, or a silpat

are my favorite with cookies! Less clean up is always a win.

Don't overmix

. Though it doesn't always cause a problem, overmixing oatmeal cookies can cause the cookies to become too dry.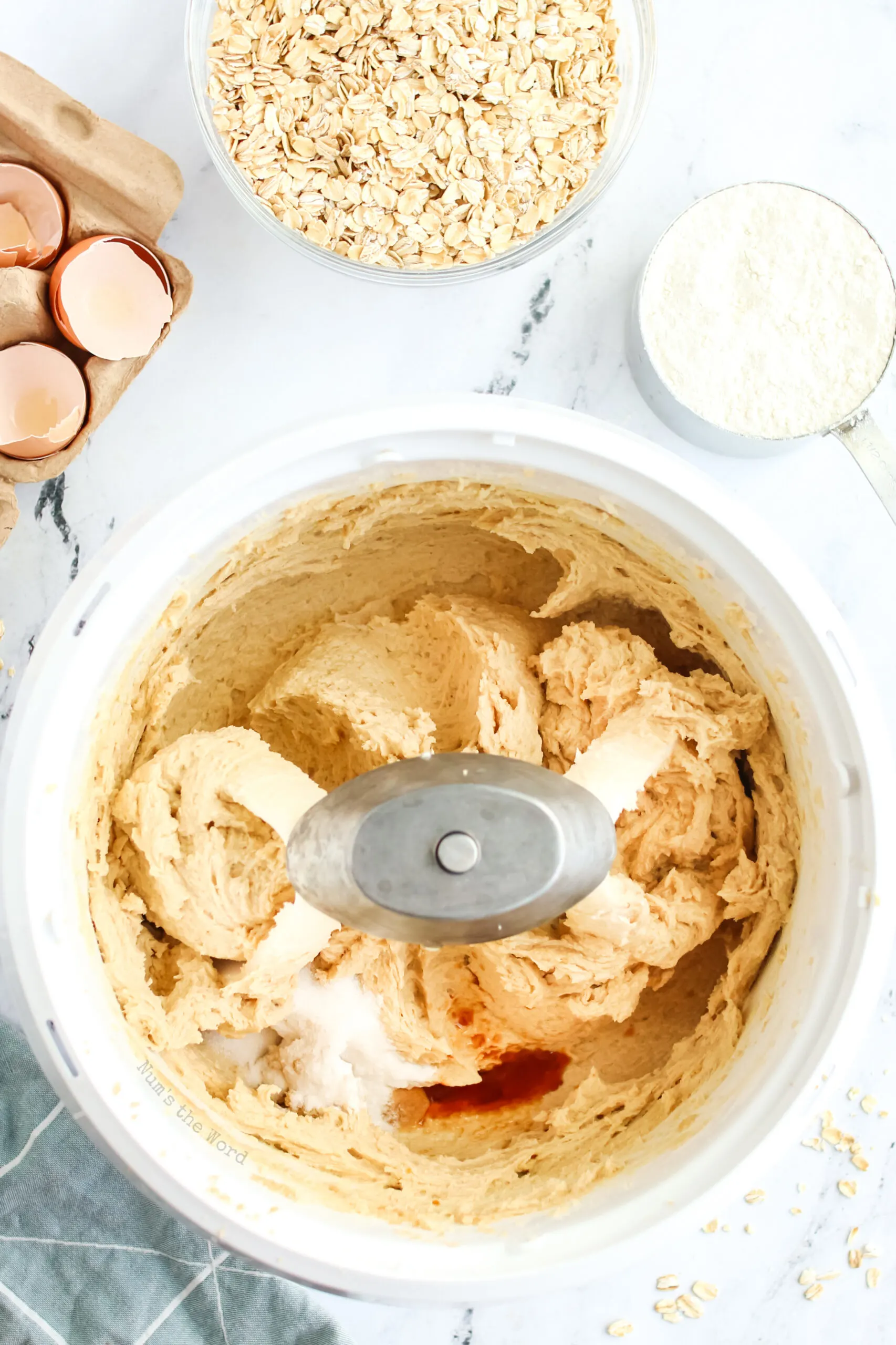 Can You Make Oatmeal Cookies with Steel Cut Oats?
Rolled oats are softer and bake faster than steel cut oats. This means that you cannot substitute them one to one.
You can attempt to make them by first soaking the steel cut oats overnight and then using half the ratio of oats in the recipe as they will be much heavier and denser at that point. I have not done this so I can't guarantee they will turn out.
You may also substitute ¼ of the regular oats with steel cut oats and it shouldn't affect the texture too much but again, this isn't something I have ever done myself.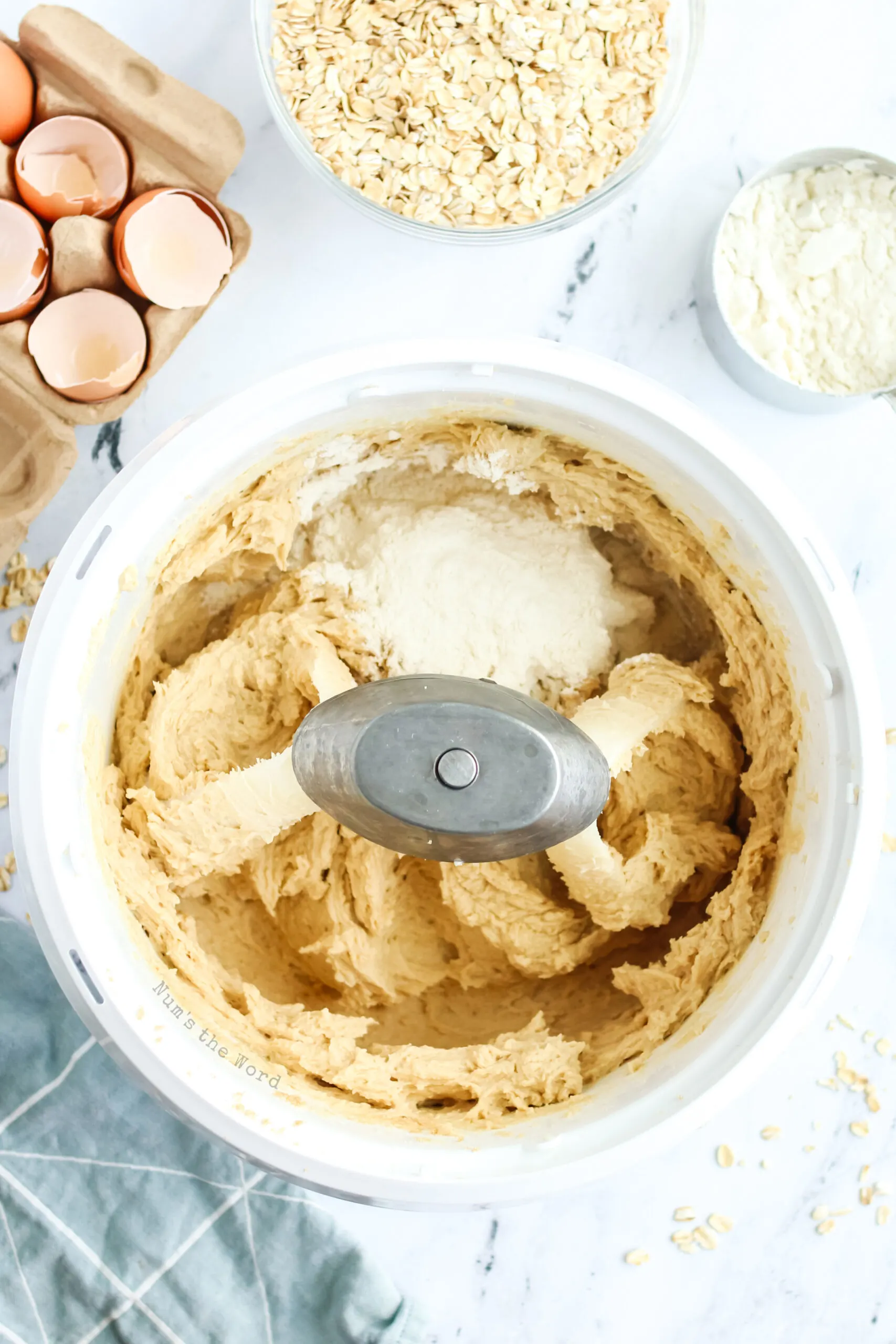 Can You Make Oatmeal Cookies with Instant Oatmeal?
This one is a no. There isn't really any way I can think of that you can make these work with instant oatmeal. Instant oatmeal will dry out the cookies. It also makes them crumbly and thick (not in a yummy chewy sort of way).
Really your best bet is to stick to plain, regular rolled oats.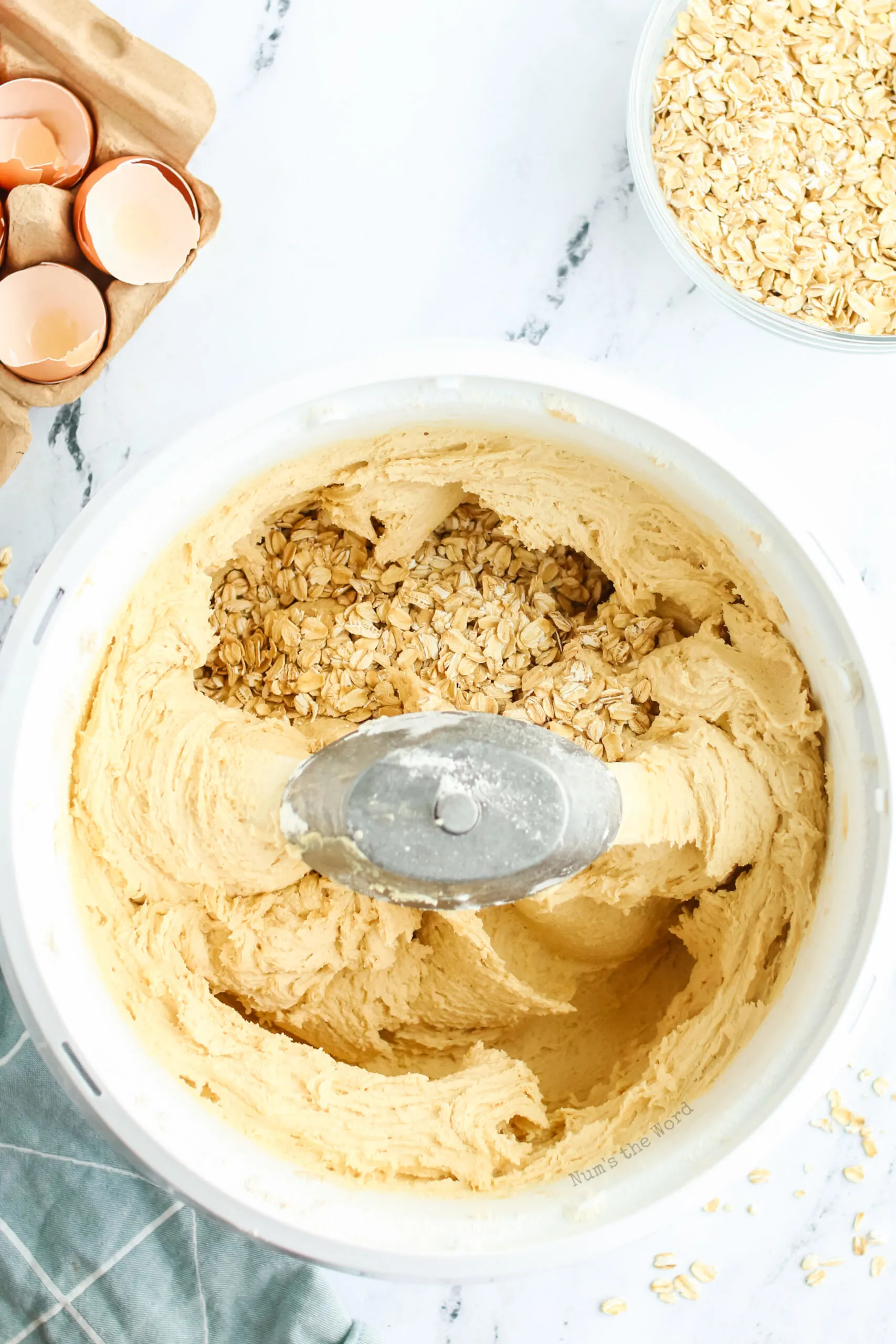 What are Good Mix-Ins for Chewy Oatmeal Cookies?
There are so many options for mix ins! Use any on their own or mix and match. Add about 1 cup of a mix in or 1 tsp of a seasoning.
Chocolate Chips

– White chocolate, milk chocolate, dark chocolate. Use any one you like or all three.

Chopped Nuts – Walnuts are my personal favorite.
Raisins – A classic!
Craisins – Almost like raisins but crazier? Can't help it, I think it every time I see that word! These are simply dried cranberries.
M&Ms

– Miniature or regular sized.

Blueberries

– If you're adding fruit I think it should count as a breakfast!

Coconut

– A sweet and chewy extra addition everyone loves!

Cinnamon

– For flavoring.

Pumpkin Pie Spice

– I also have a recipe for

Pumpkin Spice Cookies

which are another option if you're looking for a no bake oatmeal cookie.

Chopped Oreos

– What? Oreos or other candies can all be stuffed into these oatmeal cookies for a fun surprise.

Molasses

– When you need to really be reminded of the cookies your grandma used to make.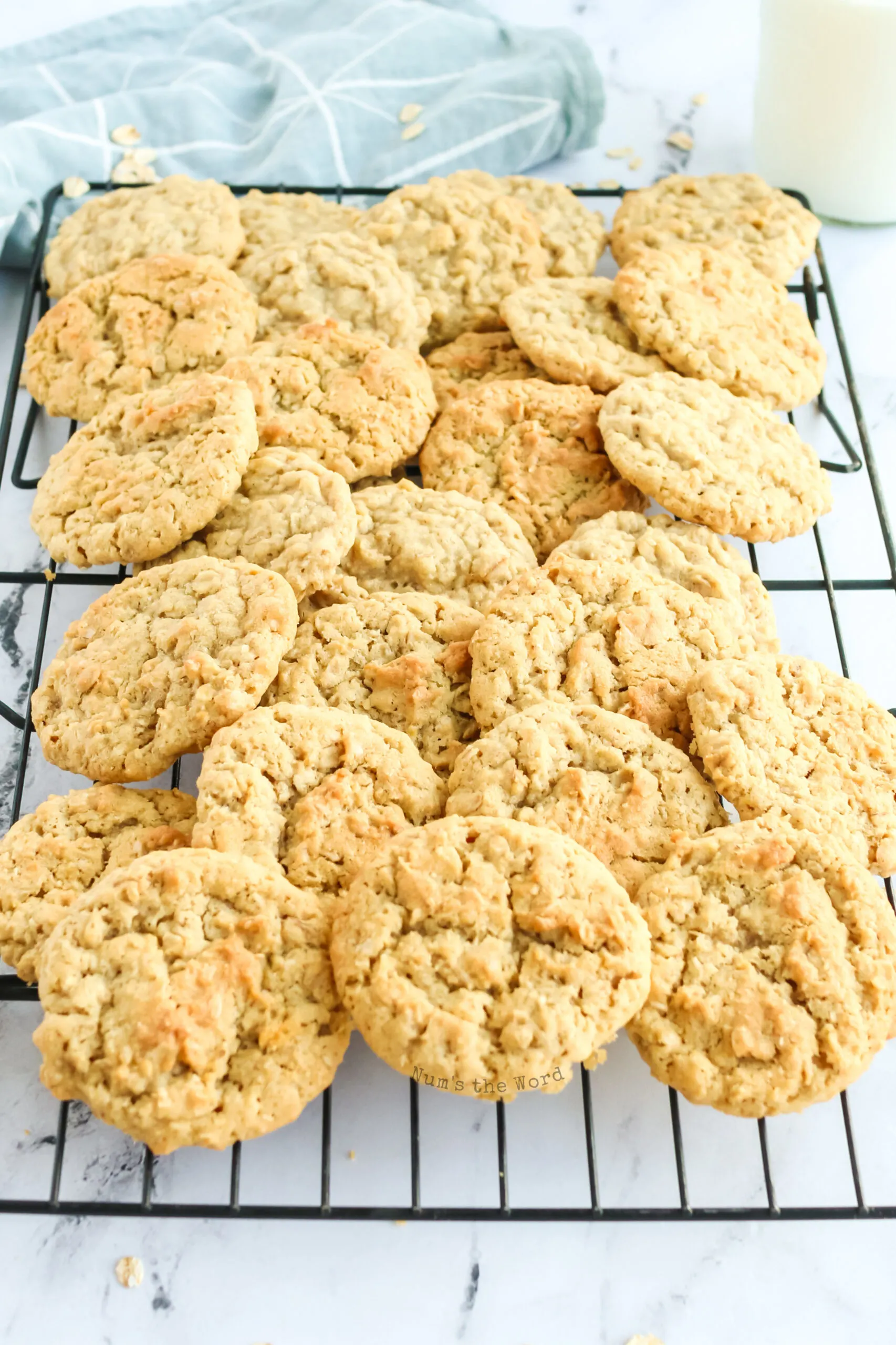 Can You Freeze Chewy Oatmeal Cookies?
Chewy oatmeal cookies actually freeze beautifully. Simply cook them and then allow to fully cool before placing in an airtight container in your freezer. Store for up to 2 months.
Can You Freeze Oatmeal Cookie Dough?
This is one of my favorite things to do! When friends come over just pop the cookies in the oven and the entire house will smell like cookies! Plus you'll have some warm, chewy cookies to offer! I recommend flash freezing.
Roll the oatmeal cookie dough into balls and place on a cookie sheet.

Freeze for 1 hour.

Remove from the freezer and place dough into an airtight container.

Freeze for up to 2 months.
Pro Tip: Write the temperature of the oven and the time to cook on the container so you don't have to hunt for it when you're ready to cook.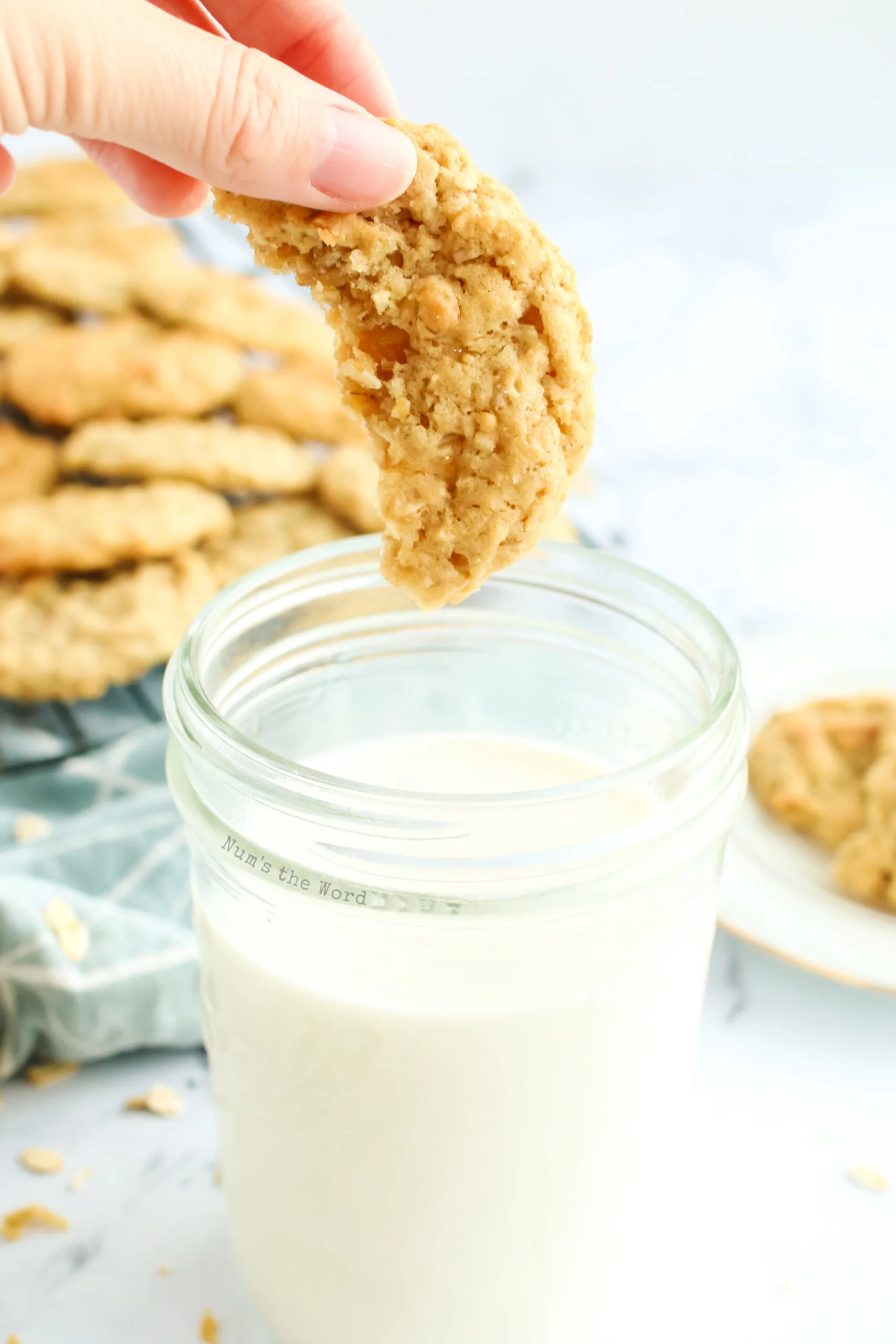 More Cookies You'll Love:
These Chewy Oatmeal Cookies are just like grandma used to make, quick, delicious, and easy. They get eaten up so quickly at my house and I know they will at yours too.
Yield: 50 Cookies
Chewy Oatmeal Cookies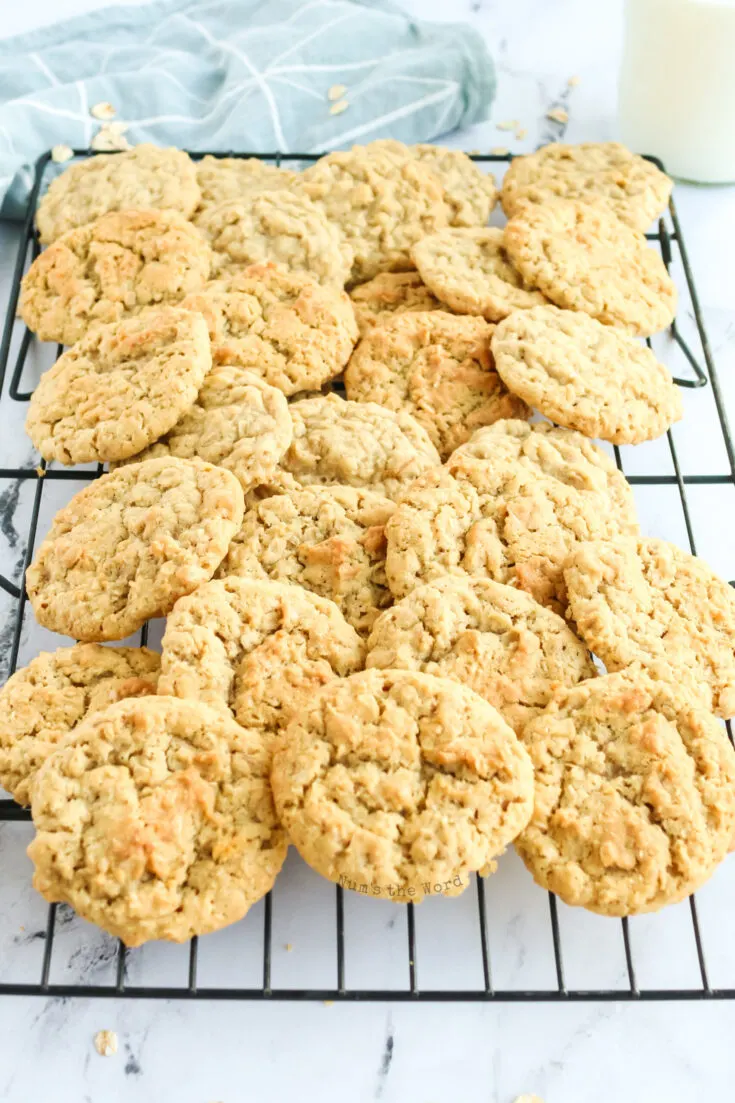 For soft and Chewy Oatmeal Cookies that exceeds all your expectations, look no further. It is loaded with oats, delicious butter, sweet sugar, and fresh eggs melding into a delicious tasting cookie with every bite.
Ingredients
3/4 cup white sugar
3/4 cup brown sugar
1 cup butter, room temperature
2 eggs
1/2 teaspoon vanilla
1 teaspoon baking soda
1/2 teaspoon salt
1 3/4 cups all-purpose flour
3 cups old fashioned oatmeal (regular, not quick)
Instructions
Preheat oven to 350*F
Prepare 2 cookie sheets with a silpat, parchment paper or non-stick foil
Cream white sugar, brown sugar and butter until fluffy.
Add eggs one at a time and mix well. Scrape sides of bowl as needed.
Add vanilla, baking soda and salt. Mix well.
Add flour ½ cup at a time, mixing between each addition.
Add oatmeal 1 cup at a time until all has been added.
Scoop out 1 Tablespoon balls of dough onto prepared cookie sheets. I use a cookie scoop to make this easier.
Bake in preheated over for 8-10 minutes.
Cool on cooling rack for 5 minutes until ready to eat.
Nutrition Information:
Yield:
50
Serving Size:
1
Amount Per Serving:
Calories:

83
Total Fat:

4g
Saturated Fat:

2g
Trans Fat:

0g
Unsaturated Fat:

1g
Cholesterol:

17mg
Sodium:

80mg
Carbohydrates:

11g
Fiber:

0g
Sugar:

6g
Protein:

1g