This baked Parmesan Crusted Chicken recipe is a delicious and easy weeknight meal that your entire family will enjoy! One of my favorite things about this recipe is how simple it is to prepare and it's kid friendly!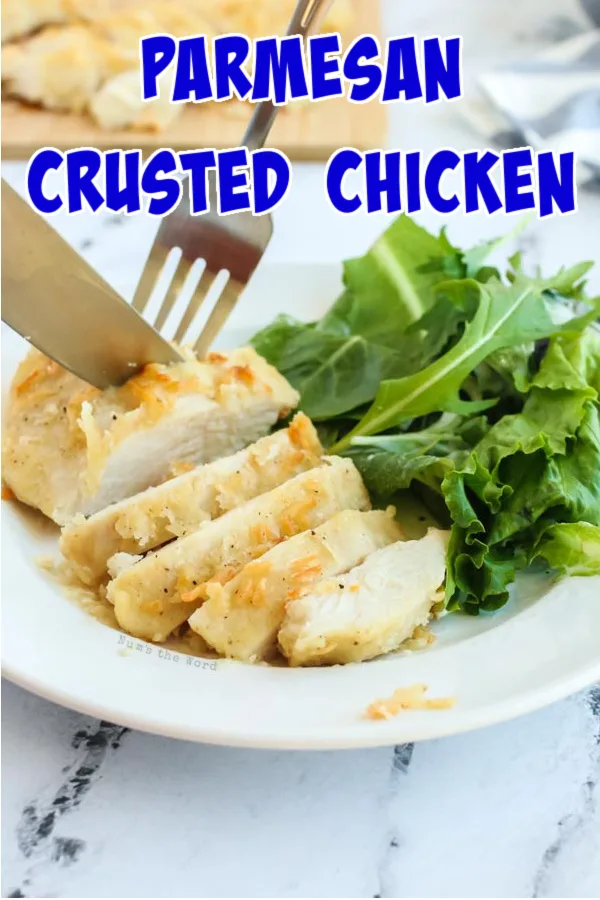 With a crisp, cheesy outside and tender, juicy chicken on the inside, you can't beat the taste of this chicken. Parmesan crusted chicken breast is a quick and flavor-filled main course that can easily be made for a couple people or a whole family.
I love this easy parmesan crusted chicken because it's so versatile. You can serve it with pasta and marinara sauce, or slice it and top your favorite salad with it. Eat it on it's own with fresh fruit and veggie sides, or mix it up to your family's liking!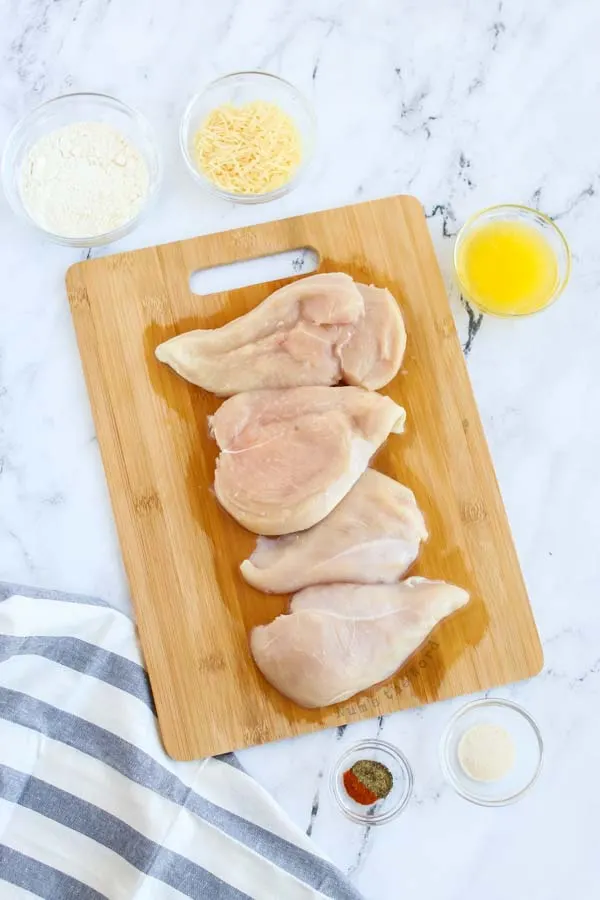 What ingredients are in parmesan crusted chicken?
Chicken breasts or thighs

– if you don't have thin-sliced, you'll want to filet the breasts in half so they will cook faster and more evenly.

Butter

– butter makes up a good part of your "crust" or breading for the chicken and is the glue that holds it all together.

Flour

– combined with the butter, this is the breading for the chicken breasts. Use cornstarch if looking for a gluten free version!

Garlic salt

– one of the great things about parmesan crusted chicken is the savory blending of flavors in the crust. Garlic salt is just one of those delicious flavors!

Black pepper

– the spice of pepper combined with the sharpness of parmesan is a delight for your taste buds.

Paprika

– paprika adds an earthy quality to the breading. Smoked paprika works nicely as well!

Parmesan cheese

– you can't have parmesan crusted chicken without parmesan! This makes up the rest of your "crust" and provides a nice crisping effect and tons of flavor.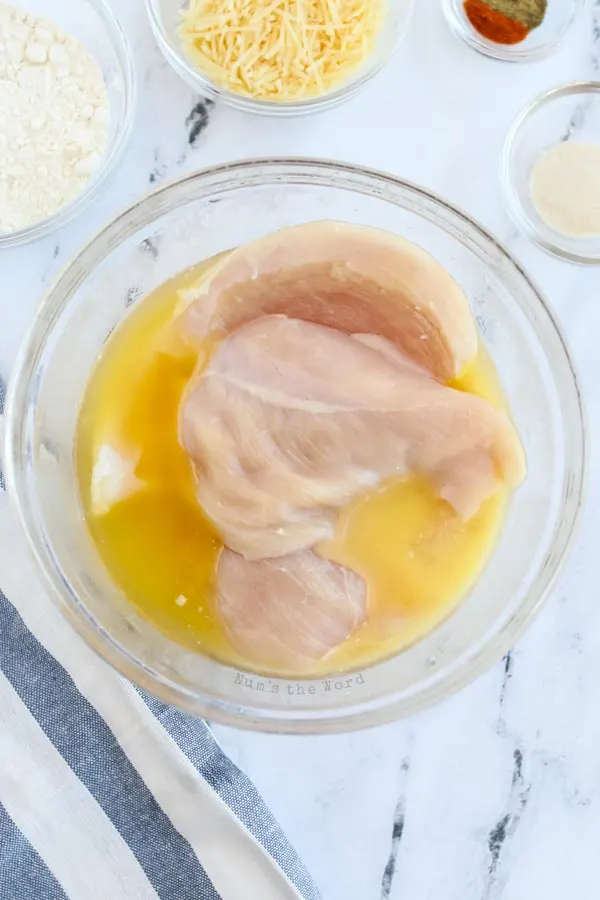 How to cook parmesan crusted chicken:

This oven baked parmesan crusted chicken recipe is a breeze to cook and packs a lot of flavor into a very simple-to-prepare meal.
Coating! You'll want to create a yummy parmesan coating for your chicken.
Dipping! Simply dip in the butter mixture, the parmesan mixture and then place on a cookie sheet.
Bake! This is a baked chicken dish so it's easy to make in bulk!
Serve! Fresh from the oven, this is absolutely delicious!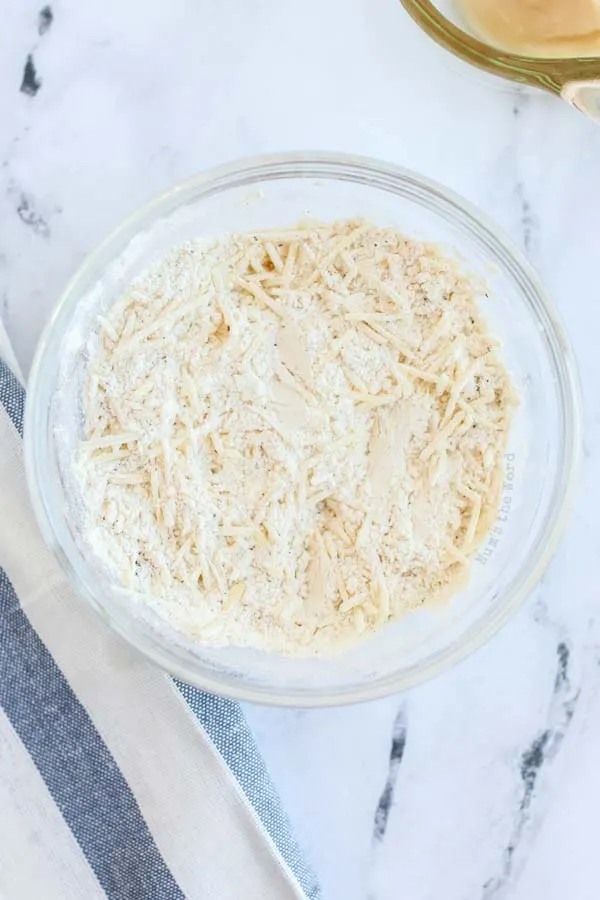 Can you fry parmesan crusted chicken?
You can pan-fry this parmesan crusted chicken recipe if you prefer, but to hold it all together, you'll need to make a few changes.
Instead of dipping the chicken breasts in butter and then the breading mixture, whisk two eggs together in place of the melted butter. Begin by dipping the chicken in the breading mixture, shaking off the excess, and then dipping in the eggs. Dip again in the breading mixture and coat the chicken breasts well.
Pan fry over medium-high heat in equal parts butter and oil. Cook each side for about 6 minutes, or until golden brown. Internal temperature should be at least 165 degrees.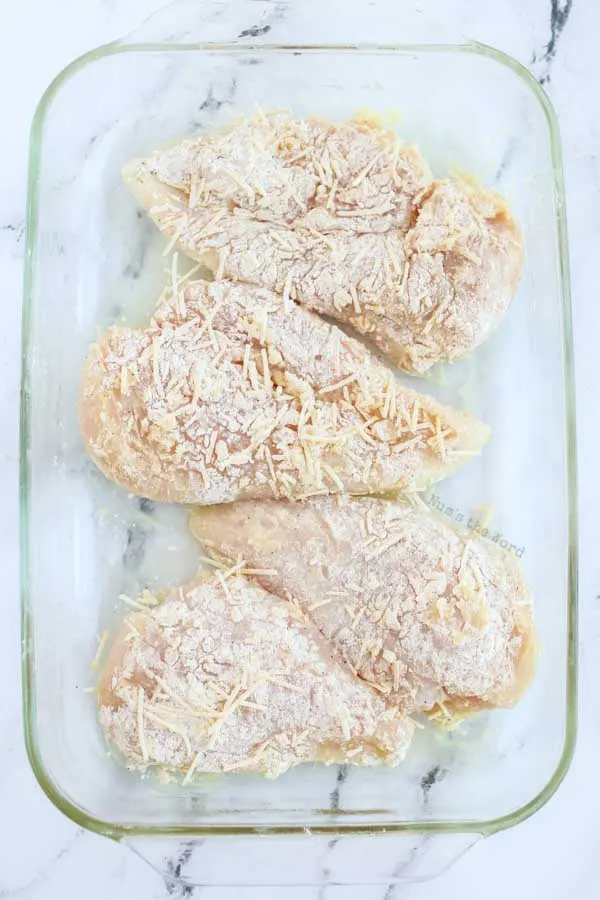 Can you grill parmesan crusted chicken?
Because this recipe coats the entire chicken breast in a cheese mixture before cooking, it is not something you can throw straight on the grill. That would make for a lot of grill cleanup afterward.
It is possible to line the grill with foil or to place the chicken on a baking sheet and place the baking sheet in the grill rather than the oven; however, I have not personally tried it this way. If you do it this way or have tried it, I'd love to hear about your experience!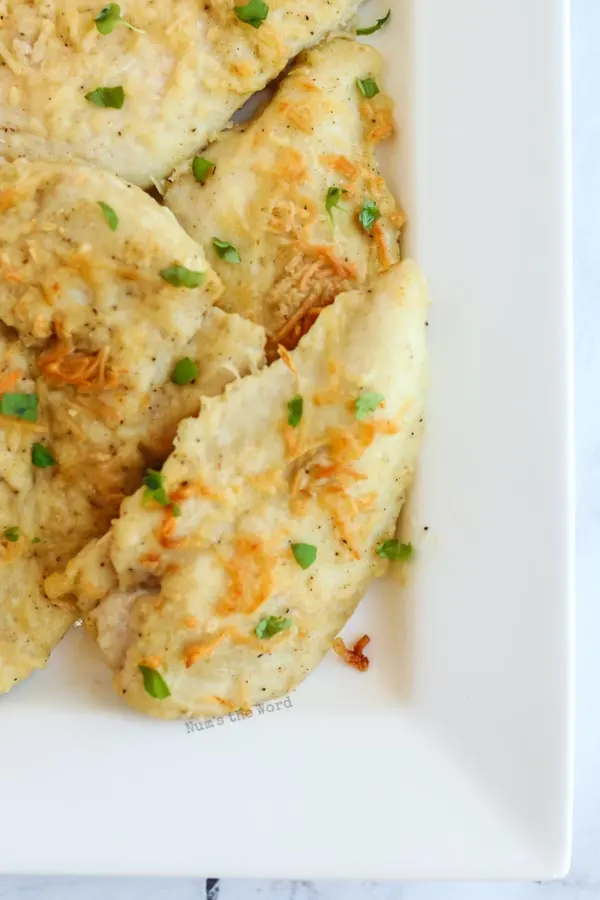 Great Side Dishes to serve with Parmesan Chicken: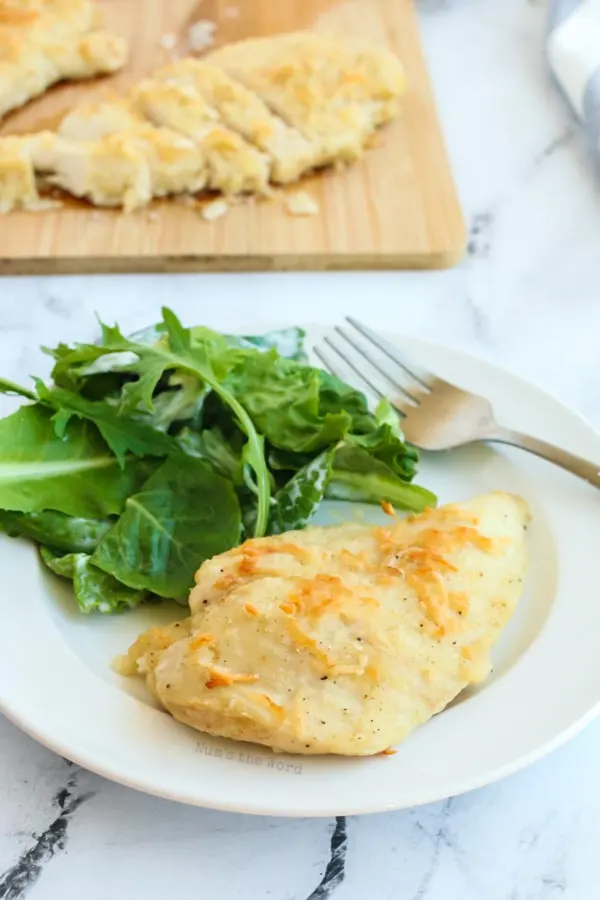 Can you freeze parmesan crusted chicken?
You can freeze parmesan crusted chicken. I would recommend pre-freezing it for a couple hours in a single layer on a baking sheet before transferring it to an airtight container or bag. You can store it for about 2 months. Parmesan crusted chicken will last about 4 days if stored properly in the fridge.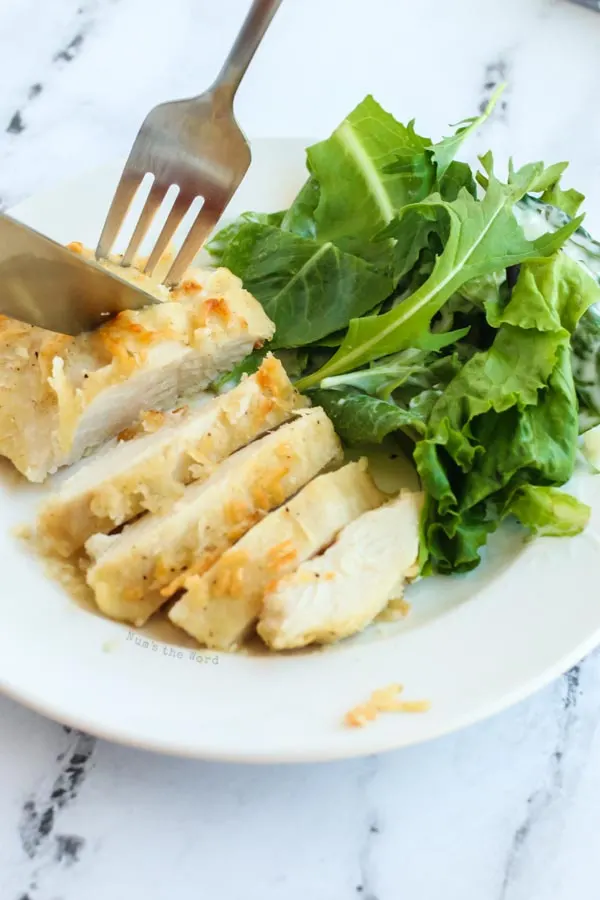 How to reheat parmesan crusted chicken:
The best way to reheat your leftover parmesan crusted chicken without making it soggy is to bake it in the oven at 350 degrees for about 20 minutes, or until heated through.
Other reheating options include using an air fryer, or if you aren't picky about the crispness of your leftovers, you can use a microwave. Set the air fryer to 350 degrees and reheat for about 10 minutes. If you choose to microwave your leftovers, be sure to do so at low power and in short bursts to avoid a soggy crust and a dry chicken breast!
If you froze your leftovers, remove them from the freezer and allow them to thaw in the fridge overnight before reheating.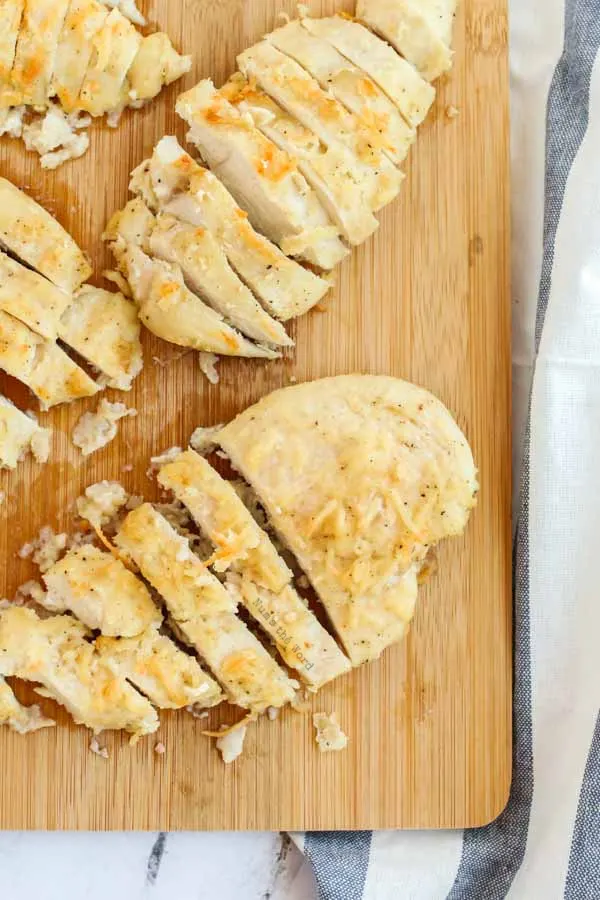 Oven baked parmesan crusted chicken breasts are a super quick and easy meal. Though the bake time is a little lengthy, the actual prep work is a cinch, and frees up your time and hands to prepare other parts of the meal or to just kick up your feet for a little R&R while your delicious dinner cooks!
Yield: 8 Servings
Parmesan Crusted Chicken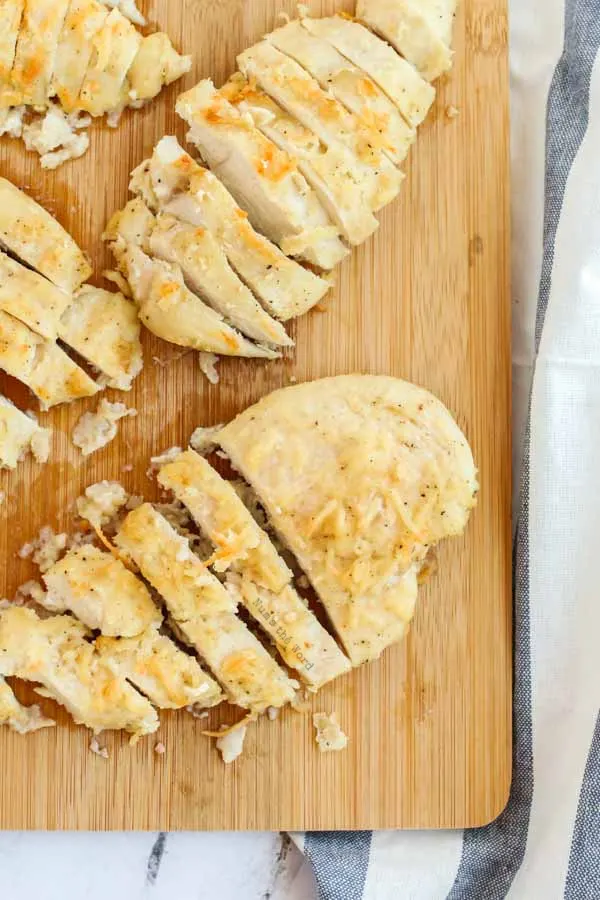 This baked Parmesan Crusted Chicken recipe is a delicious and easy weeknight meal that your entire family will enjoy! One of my favorite things about this recipe is how simple it is to prepare and it's kid friendly!
Ingredients
4 breasts of chicken or thighs
1/2 - 1 stick of butter, melted
1/2 cup all-purpose flour
1 teaspoon garlic salt
1/4 teaspoon black pepper
1/4 teaspoon paprika
1/2 cup grated Parmesan cheese
Instructions
Preheat oven to 375*F
Melt butter in bowl.
Mix flour, garlic salt, pepper, paprika and Parmesan cheese in a second bowl.
Filet chicken in half so you have two thinner, full size breasts (cooks faster).
Dip each piece of chicken in butter, coating both sides.
Dip buttered chicken in flour mixture, covering generously.
Place chicken pieces in a greased 9x13 casserole dish.
Bake at 375*F for 30-45 minutes or until chicken reads 165*F and juices run clear.
Nutrition Information:
Yield:
8
Serving Size:
1
Amount Per Serving:
Calories:

285
Total Fat:

21g
Saturated Fat:

10g
Trans Fat:

1g
Unsaturated Fat:

9g
Cholesterol:

97mg
Sodium:

460mg
Carbohydrates:

7g
Fiber:

0g
Sugar:

0g
Protein:

17g