This easy Grape Salad will quickly become one of your favorite side dishes! This simple fruit salad takes only minutes to create and despite sounding odd, is really quite delicious!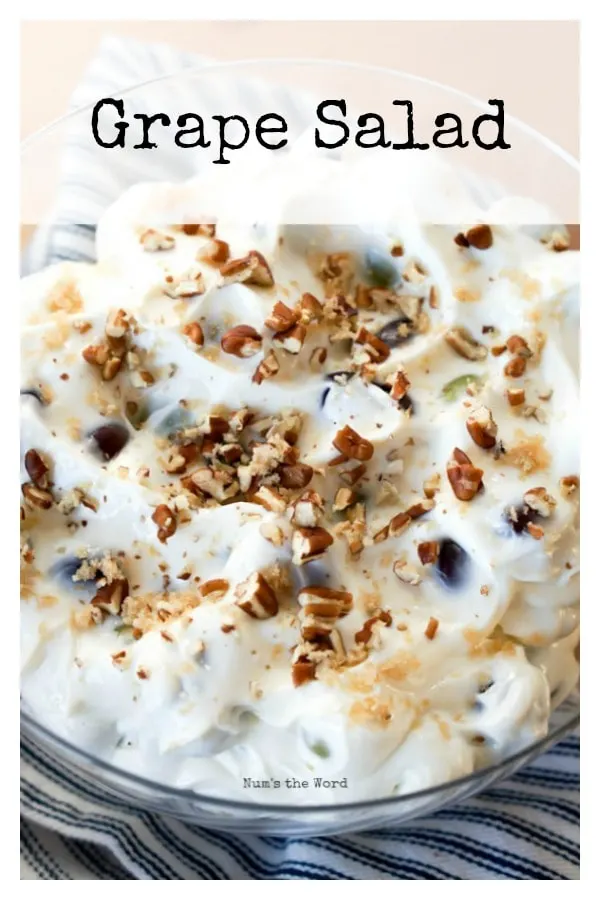 When it comes to side dishes, this creamy Grape Salad recipe is always a hit.
We've all heard of fruit salads and even fluff salads, but Grape Salad might be something new to you.
It certainly was to me! I stumbled upon a recipe for Grape Salad recipe with brown sugar and pecans in one of those old church style cook books. I had most ingredients on hand but a few of the ingredients I had to adapt to what I had on hand.
Lucky for me the adaptions turned out REALLY great. So great that it's now the recipe I'm sticking with every time I make this easy side dish!
With only 5 ingredients, it really doesn't get much easier than this creamy Grape Salad. Yes it's a fruit salad, thanks to the grapes but it's unlike traditional fruit salads because of it's creamy base.
The base for this easy Grape Salad recipe consists of cream cheese and Greek yogurt with a little sugar. Though you could easily get by without the additional sugar.
The creamy base is thick, and tastes a little bit like a no bake cheesecake mixture. Making this salad taste more like a dessert than a side dish.
Because of this you could easily serve this as a dessert instead of a side dish. However I'm the kind of girl who likes to eat her dessert first and dinner later. You know, because I don't usually have room for dessert after dinner. And if I eat dessert first, then I'm guaranteed room for dessert!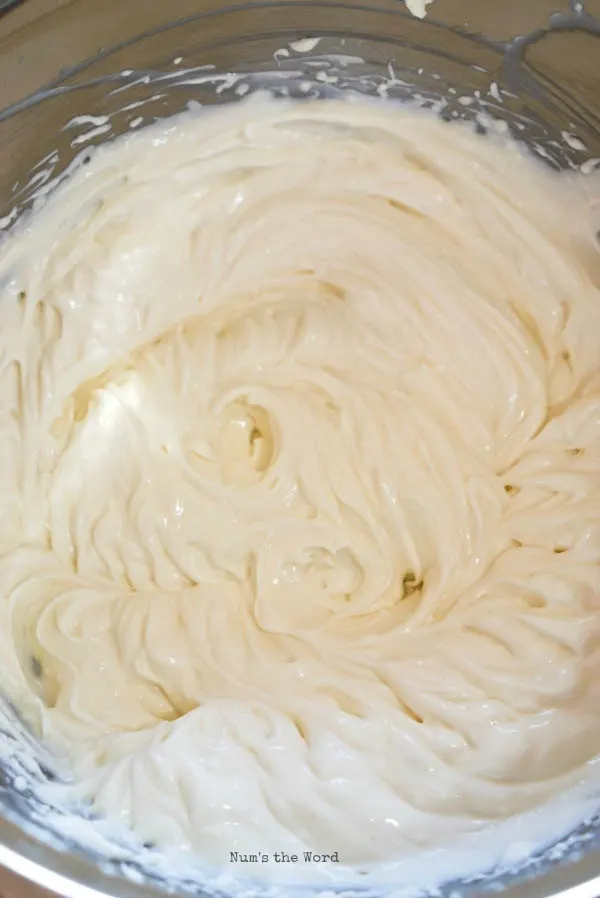 MINNESOTA GRAPE SALAD
Ok, so the real question is, What is Grape Salad? Really isn't that the golden question and where on earth did it originate from? Well all roads lead to Minnesota. Not the entire state of Minnesota but various communities within Minnesota.
Minnesota is a giant state of small towns and communities. Each one is unique from the next and the only "big city" we actually have in the state is the Minneapolis & St. Paul area. Outside of that, you're looking at smaller towns and communities.
So somewhere within one of these small towns someone created this recipe for easy Grape Salad. It slowly gained popularity within various communities and made it's way into a few church style cookbooks.
However in 2014, Grape Salad gained national attention thanks to the New York Times. They did a lengthy article on the top Thanksgiving dishes for every state. The dish that claimed it was "Minnesotan" was Grape Salad.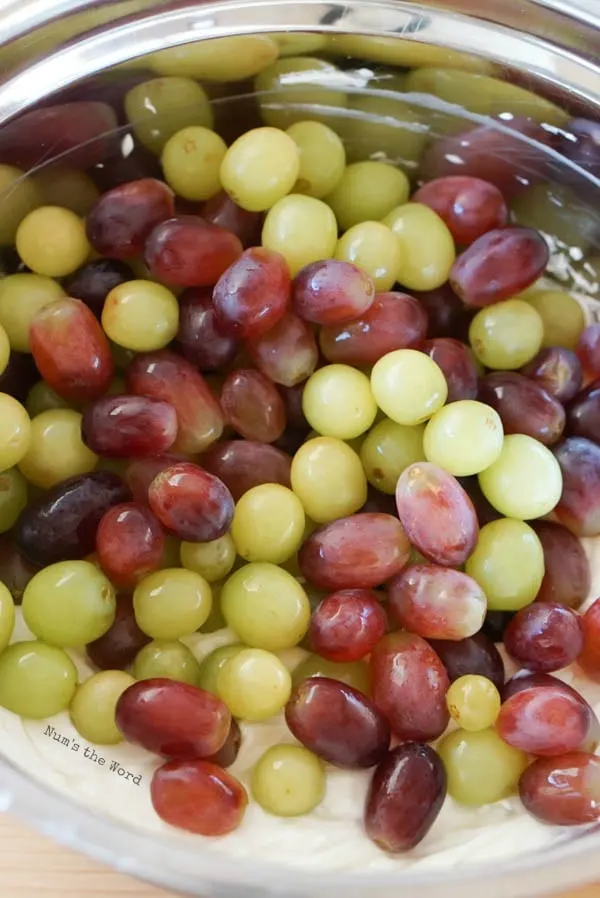 The funny thing was that most of the state had never even heard of it. Wild Rice Stuffing or Lefse would have been more appropriate as a traditional Thanksgiving dish most Minnesotans put on their table. However those were taken by other states. And so it was portrayed that Minnesotans in general like to include Grape Salad on their Thanksgiving table.
Outrage ensued as most Minnesotans had never had this dish and thus began the search for what creamy Grape Salad actually was and why our state got to claim that as our traditional Thanksgiving side dish.
Since that article, Grape Salad has grown in popularity across the country with a variety of versions available.
The original recipe that I found in my Minnesotan Church Cookbook was the same recipe that is claimed as the traditional side. But as I said earlier, I didn't have a few ingredients on hand and made due with what I did have – and it turned out fantastic.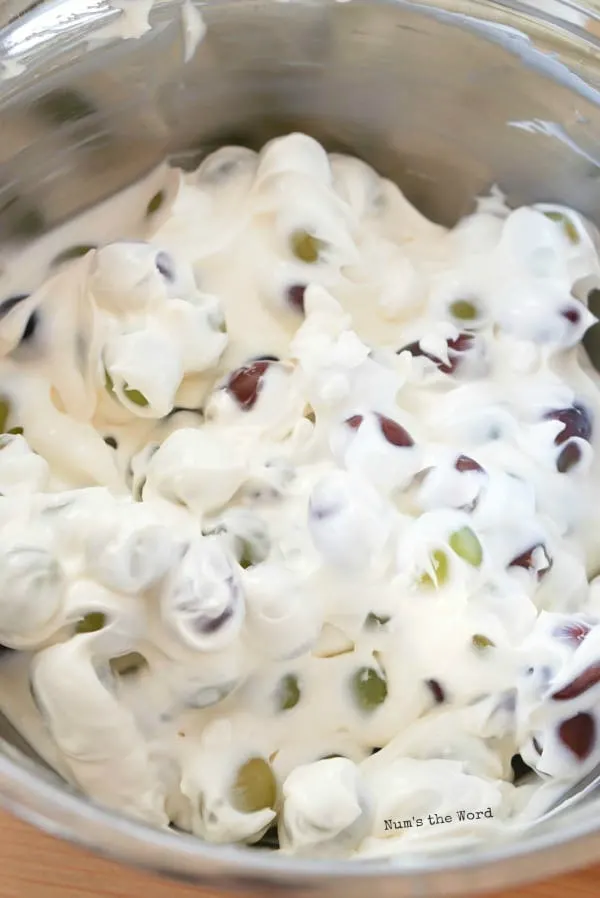 However for clarity sake, the original version of grape salad ingredients includes cream cheese, sour cream, sugar, vanilla, red grapes and toasted pecans.
I use cream cheese, vanilla Greek yogurt, brown sugar, red grapes, green grapes and pecans. Making this a healthier salad due to the swapping of sour cream for Greek yogurt and more grapes than the original recipe called for. I consider this a side dish. However my kids think of this as Grape Salad Dessert because it tastes a bit like grapes in a creamy cheesecake mix.
Other versions of this salad that have popped up all over the internet are these versions:
COOL WHIP GRAPE SALAD
This option swaps out 4 ounces of cream cheese and replaces it with 4 ounces of cool whip. It also uses sour cream instead of Greek yogurt and more sugar than my recipe calls for. The same recipe, and yet slightly different.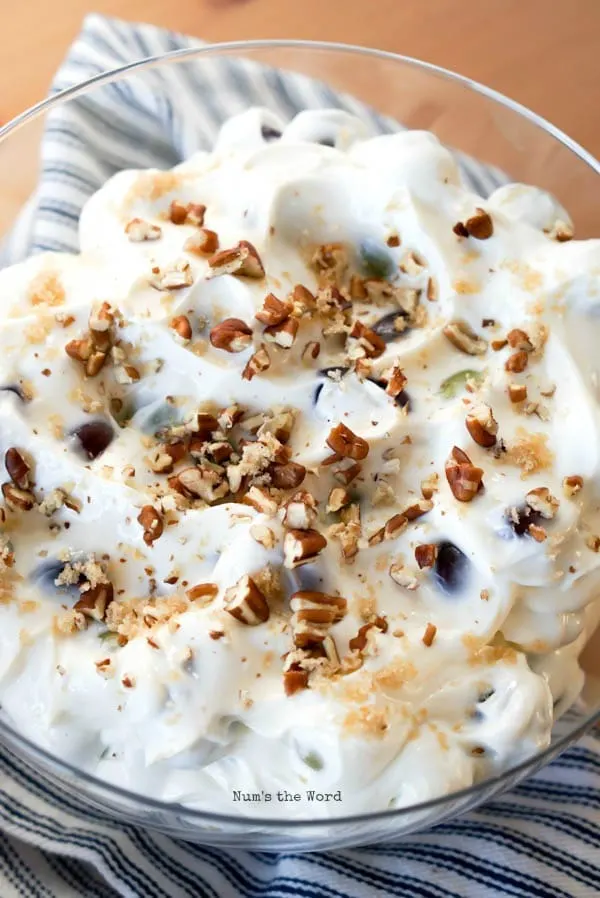 HEALTHY GRAPE SALAD
Healthy Grape Salad is essentially my version but instead of full fat cream cheese you use low fat cream cheese. The sugar is optional as the grapes are naturally sweet.
MARSHMALLOW CREAM GRAPE SALAD
In this version instead of using sour cream or Greek Yogurt, you use Marshmallow cream. If you choose to use this version, I'd definitely serve this as more of a dessert than a side dish.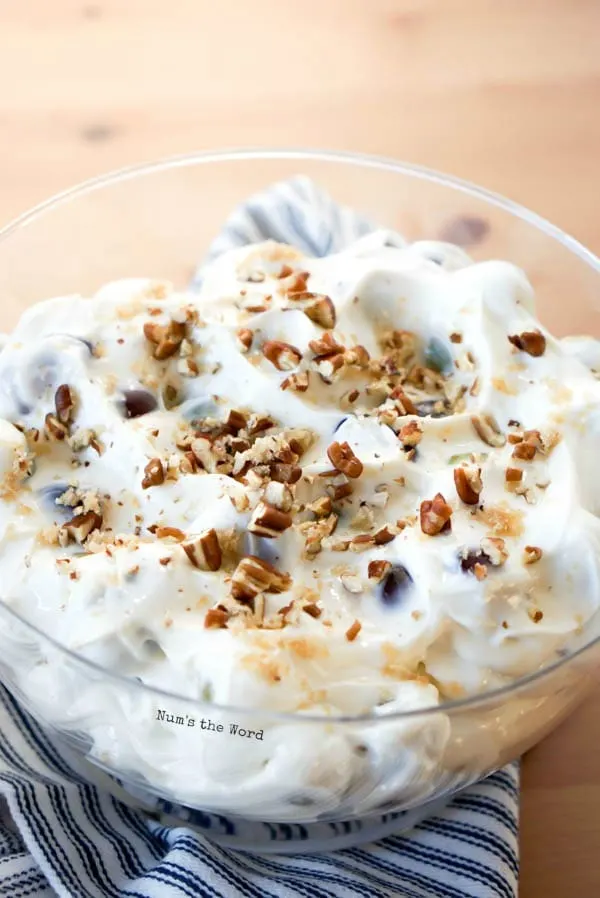 TRISHA YEARWOOD'S GRAPE SALAD
This one was the most surprising. Clearly Minnesota's salad has caught the attention of a variety of people, one of which is Trisha Yearwood. The interesting thing about her version is that she adds a LOT more sugar to hers than I do. Personally I don't think it needs the extra sugar. However, only you can really decide what is best for your taste buds.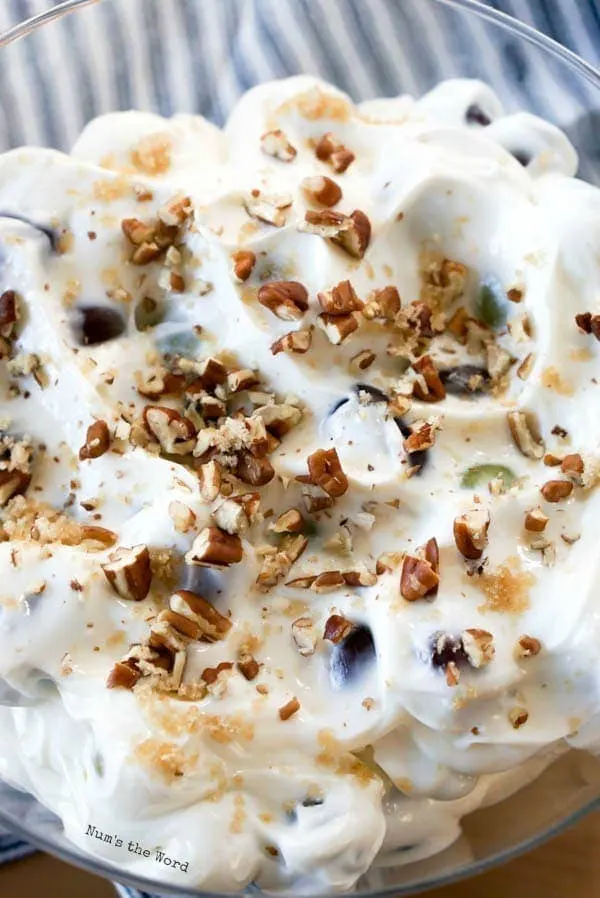 Overall, this salad once was a hidden treasure in Minnesota. However now it's gaining popularity across the nation and it's time you hopped on board the Grape Salad with cream cheese train. We love it and despite not being convinced that it's the ideal Thanksgiving side dish, I will say it would make for a taste side dish or dessert for just about any meal!
If you have a few extra grapes laying around, give this Chicken Salad with grapes recipe a try!
Yield: 8 Servings
Grape Salad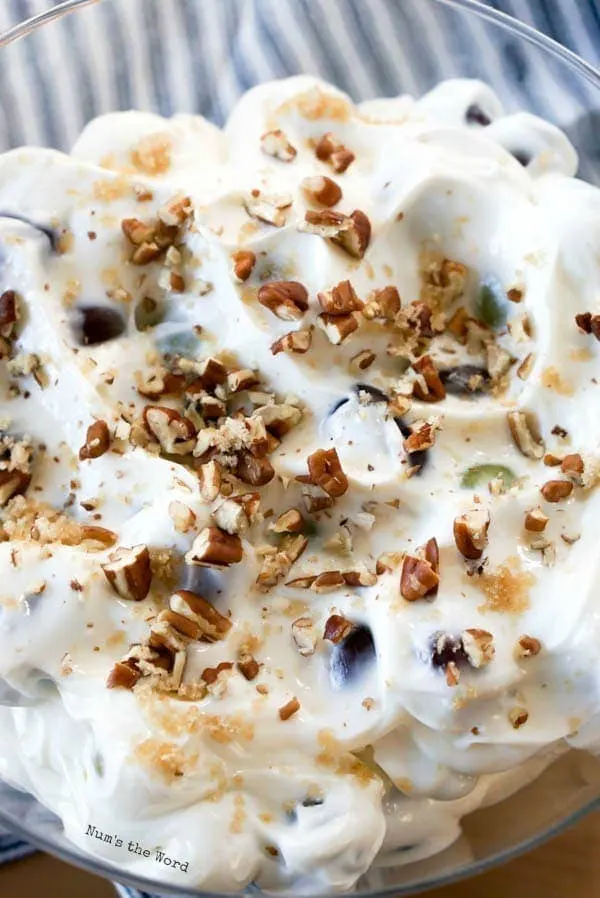 This easy Grape Salad will quickly become one of your favorite side dishes! This simple fruit salad takes only minutes to create and despite sounding odd, is really quite delicious!
Ingredients
1 (8 ounce) cream cheese, room temperature
1 (8 ounce) vanilla Greek yogurt
3 Tablespoons white sugar
2 pounds green grapes, rinsed and dried
2 pounds red grapes, rinsed and dried
1/4 cup chopped pecans
1 Tablespoon brown sugar
Instructions
In a large bowl blend cream cheese, Greek yogurt, and white sugar.
Add washed and dried grapes and blend well.
Place grape mixture in a serving bowl and top with 1 Tablespoon brown sugar and chopped pecans.
Serve immediately. Refrigerate leftovers.
Notes
This Grape Salad could also be served as a dessert. A sweeter side dish or delicious dessert.
Nutrition Information:
Yield:
8
Serving Size:
1
Amount Per Serving:
Calories:

230
Total Fat:

4g
Saturated Fat:

1g
Trans Fat:

0g
Unsaturated Fat:

3g
Cholesterol:

5mg
Sodium:

35mg
Carbohydrates:

48g
Fiber:

2g
Sugar:

42g
Protein:

5g