This Poppy Seed Chicken Casserole is ready in 30 minutes and makes the perfect weeknight meal!  Kid friendly & guest approved, it's sure to become a favorite!
This post contains affiliate links.  If you click on an affiliate link and make a purchase, I will make a small percentage on your purchase. This helps keep this website running! Thank you!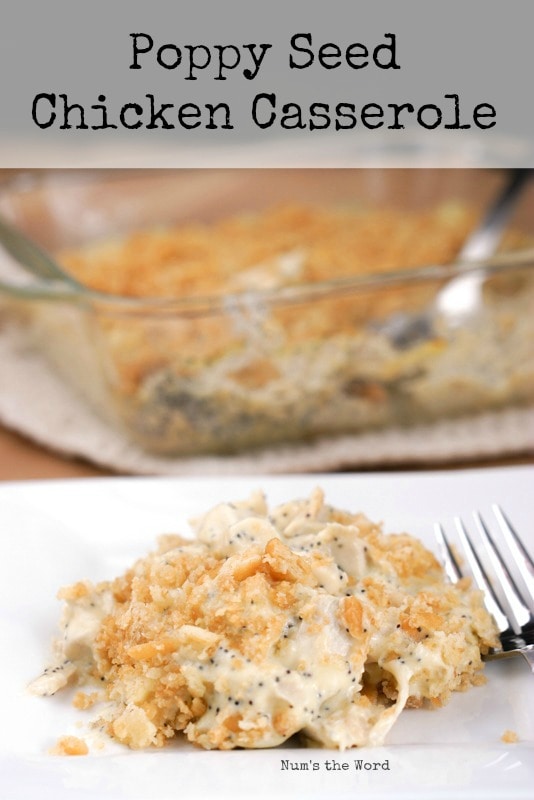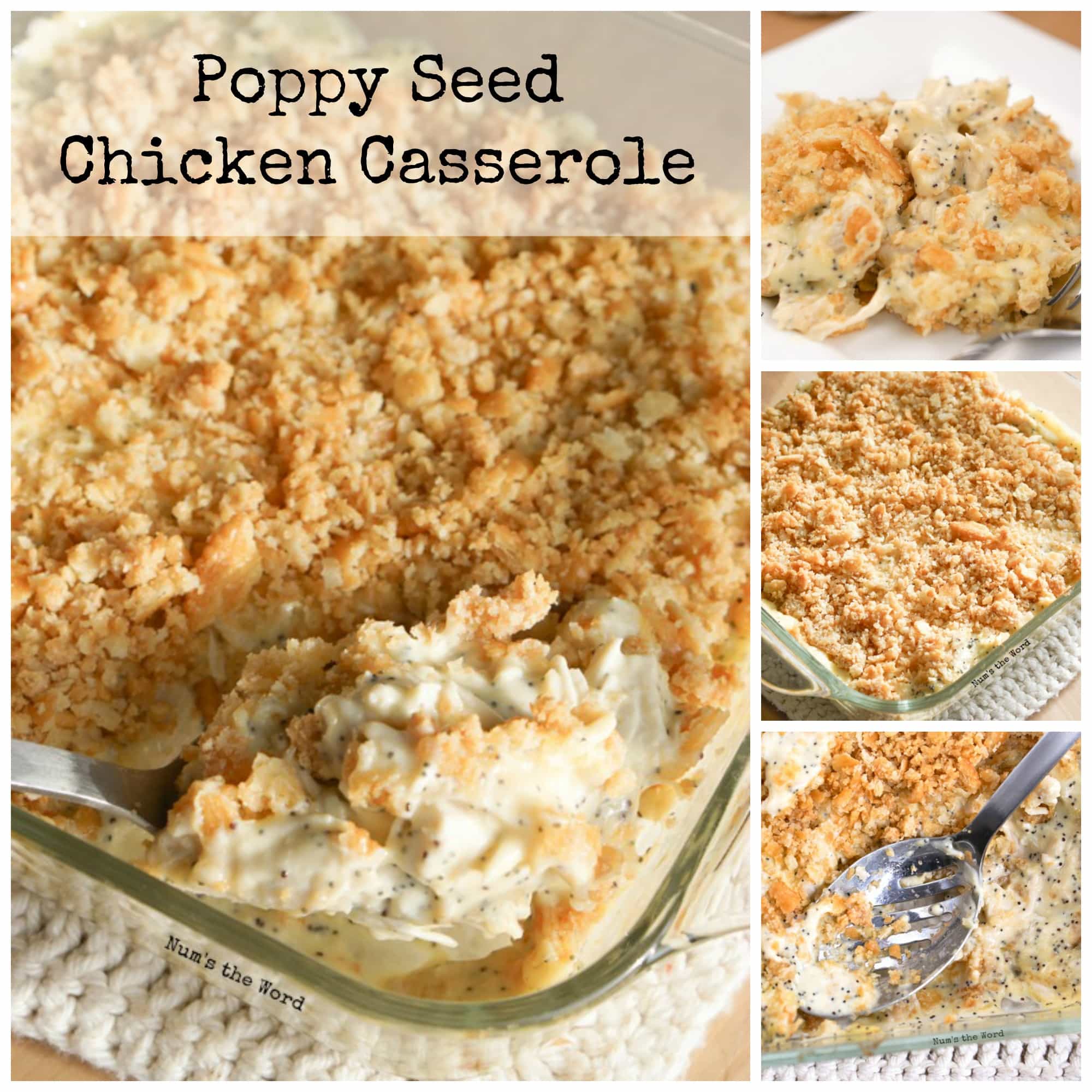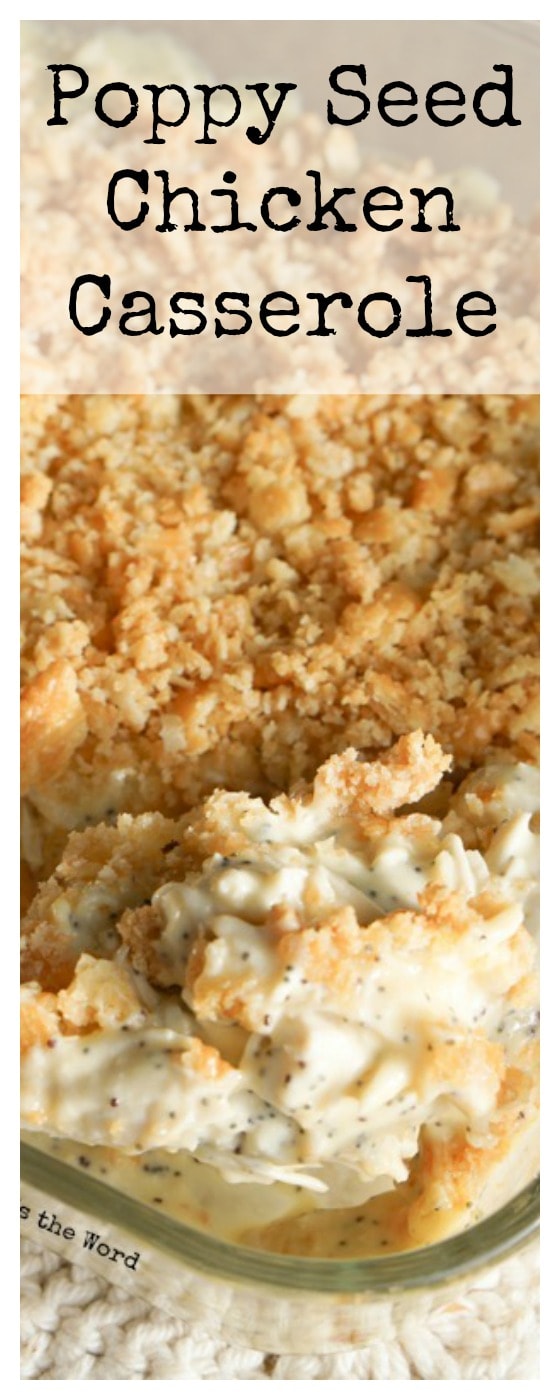 Many moons ago (2003) I got hitched!  Yea me!  Woo hoo!
There were a few ladies from church, who as a wedding gift to us, wanted to do a luncheon for all of our family and friends.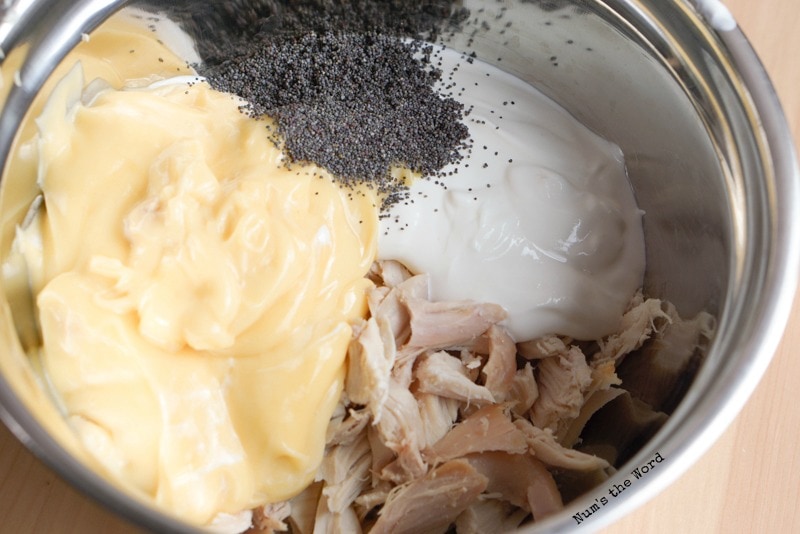 It was a simple meal that allowed us to all sit together and relax before the festivities of the evening were to commence.
It was here that I enjoyed this very simple and delicious dish called Poppy Seed Chicken Casserole for the first time.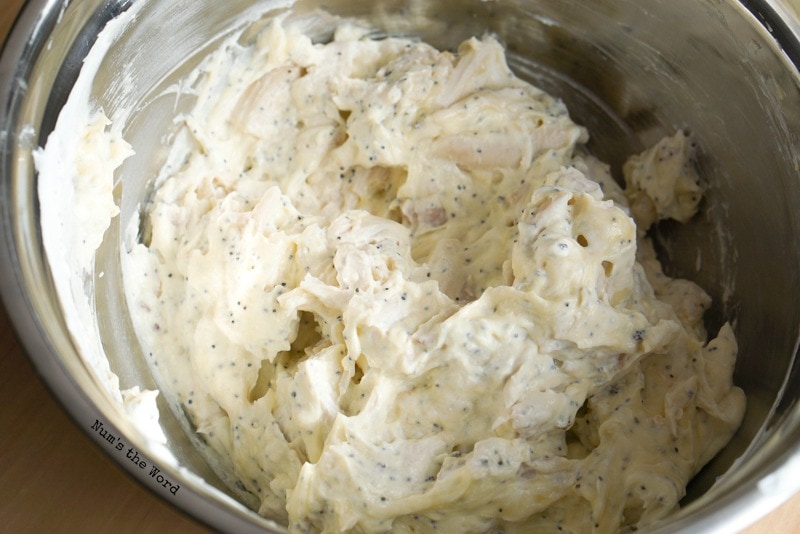 I immediately got the recipe from these sweet ladies and have been making it ever since.
It is the epitome of comfort food and OH SO EASY to make.  Seriously, SO EASY.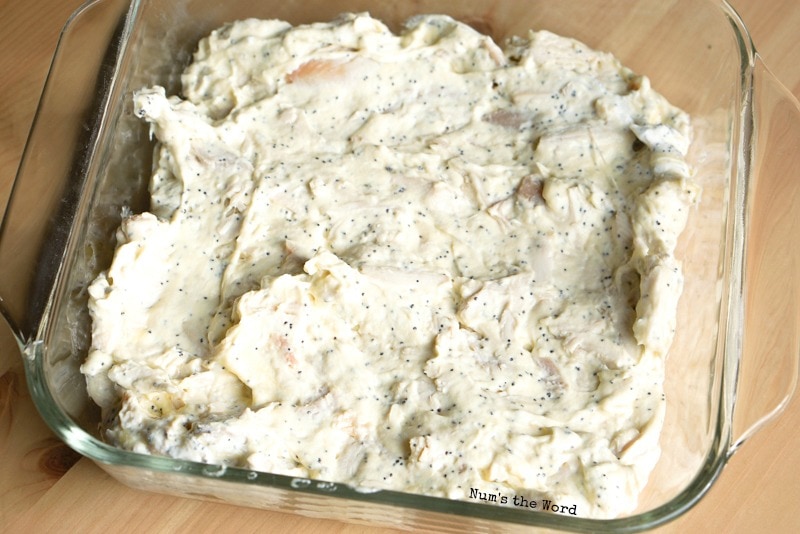 I have no idea who came up with the recipe or how it began.
However, it has been something I've been making from memory since then.
Now with the age of Pinterest and Facebook I see that I'm not the only one who loves this simple Poppy Seed Chicken Casserole.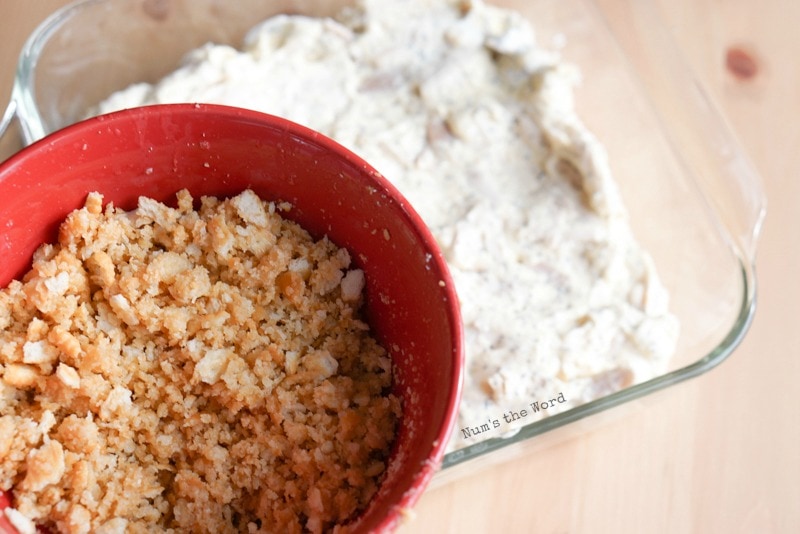 It's a pretty popular recipe that has been passed down through time and anyone who has tried it, will tell you, it's delicious!
We make this Poppy Seed Chicken Casserole all year round.
I'd say once every other month or so and then after Thanksgiving, we use our leftover Turkey instead of chicken and it tastes the same.
Can't tell the difference!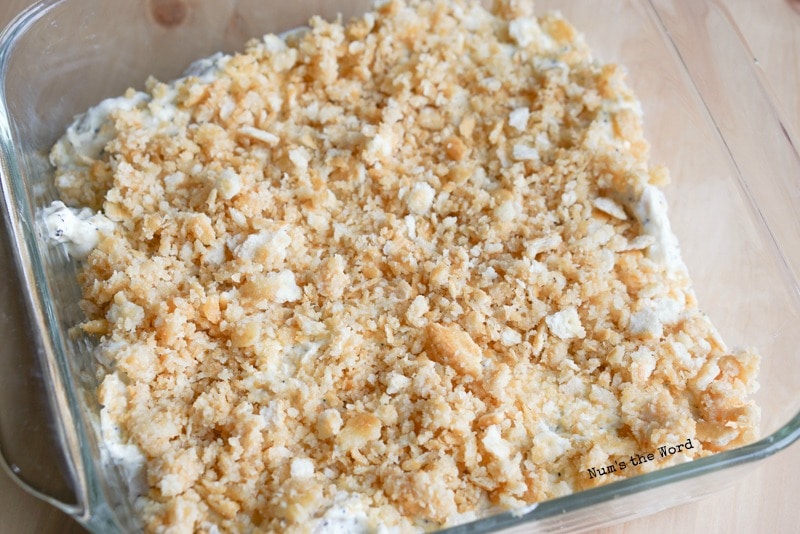 The poppy seeds give it a great nutty flavor that mixes so well with the chicken and buttery crackers that it's hard to resist seconds!
It's a great toss together weeknight meal, luncheon or large crowd meal and easy on the pocket book too!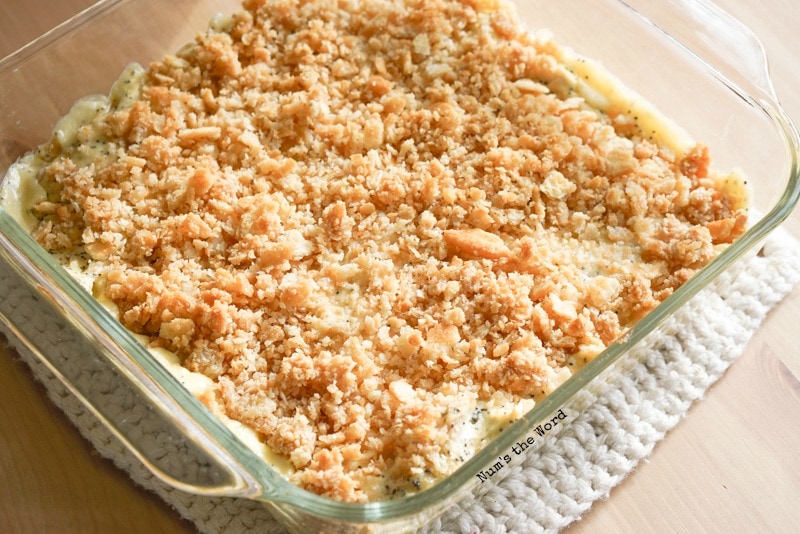 Using a Rotisserie Chicken or leftover turkey makes this Poppy Seed Chicken Casserole a quick weeknight meal.
Plus the kids like it and it reheats well.
So what is there not to love about it?!
If you've never had or heard of Poppy Seed Chicken Casserole, then this recipe is for you!
Yield: 4 Servings
Poppy Seed Chicken Casserole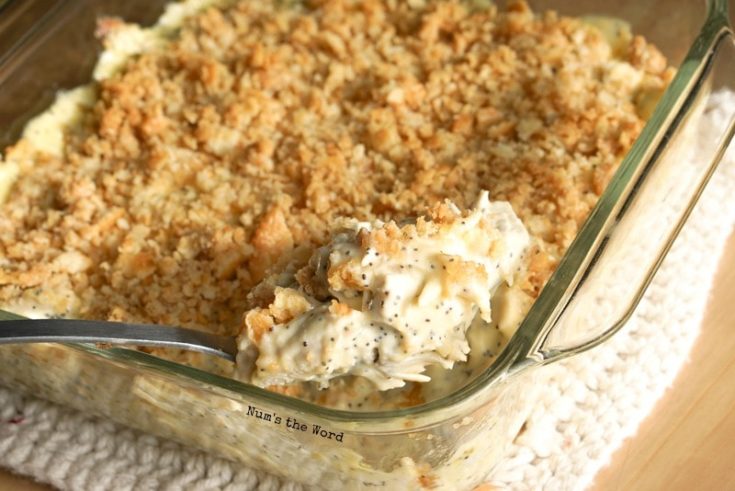 Ingredients
1 Rotisserie Chicken or 3 cups of boneless cooked Chicken or Turkey meat
3/4 cup sour cream
1 can of Cream of Chicken Soup
1 cup of crushed Ritz Crackers - approximately 3/4 a sleeve
1/4 cup melted butter
1 Tablespoon Poppy Seeds
Instructions
Preheat oven to 350*F
Spray an 8x8 casserole dish with non-stick cooking spray. Set aside.
Shred boneless chicken or turkey meat and toss into a medium bowl.
Add sour cream, cream of chicken soup and poppy seeds to the chicken. Mix well.
Spread chicken mixture into prepared casserole dish.
In a small bowl combined crushed Ritz crackers and melted butter. Mix well.
Spread cracker mixture over chicken mixture.
Cook in oven for 25 minutes until top is golden and mixture is starting to bubble.
Serve Immediately.
Other Chicken Recipes You'll Love...