You know what I hate about Cinnamon French Toast? The first two slices of bread are cinnamon hogs! They absorb all the cinnamon leaving the rest of the slices tasting more egg like than cinnamon!
Don't worry, this recipe solves that problem! I've learned it's all about the order you add your ingredients to your dish that guarantees a more even distribution of cinnamon for every slice!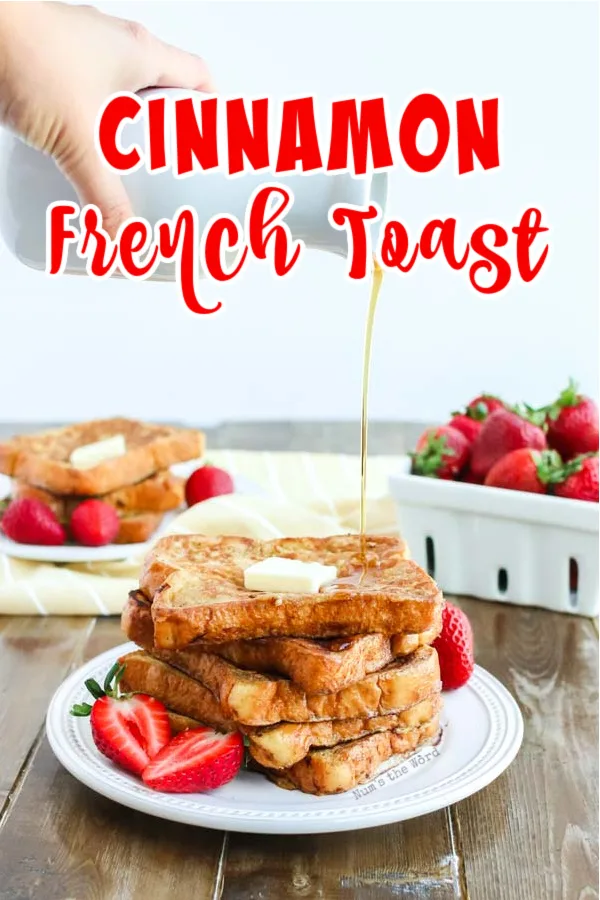 One of the great things about homemade french toast is how quick and easy it is to make. Though this is definitely an easy french toast recipe, it still tastes like something you'd be served in a cute corner cafe.
This cinnamon french toast recipe can be ready to eat in a matter of minutes. It's a great way to start a busy school or work day, but is versatile enough to work on those nice, slow, lazy mornings as well!
What is French Toast?
French toast is bread dipped in an egg and milk mixture and then pan fried in butter or oil. It can be prepared as a sweet or savory dish, though in the U.S. it is most commonly served on the sweet side.
French toast has a couple other monikers: eggy bread, German toast, poor knights, and Bombay toast are just a few of the different names by which this delicious dish is known!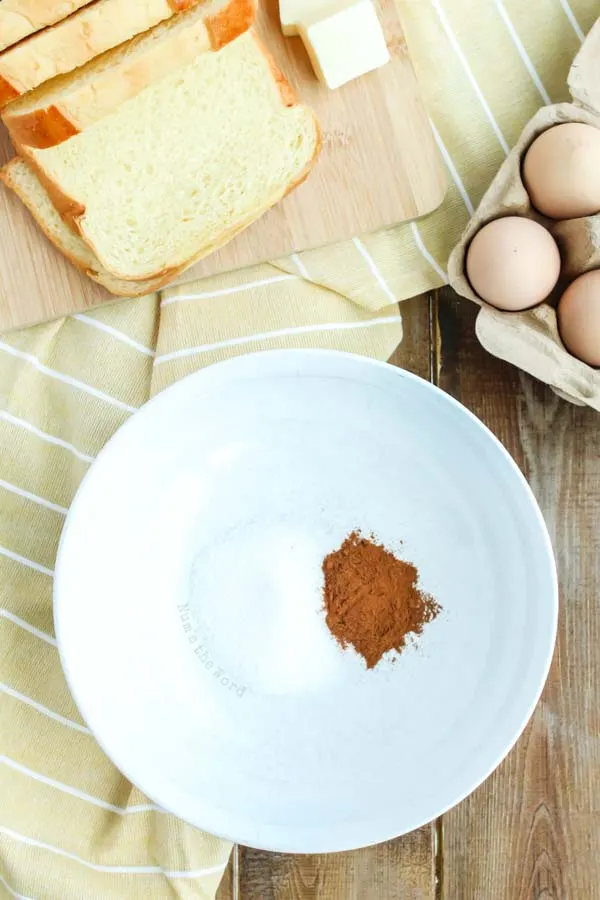 Is French Toast French?
Contrary to what the name indicates, french toast is not actually French in origin. It is, however, a dish served in France (as well as many other parts of the world) and is known there as "pain perdu."
Who invented french toast?
The earliest recorded french toast recipe was in a collection of Latin recipes from around the 4th or 5th century. In the 14th century there was a recipe for french toast that was dubbed "poor knights" in Germany. Around the 14th and 15th centuries there are references throughout the world to what we now term "french toast."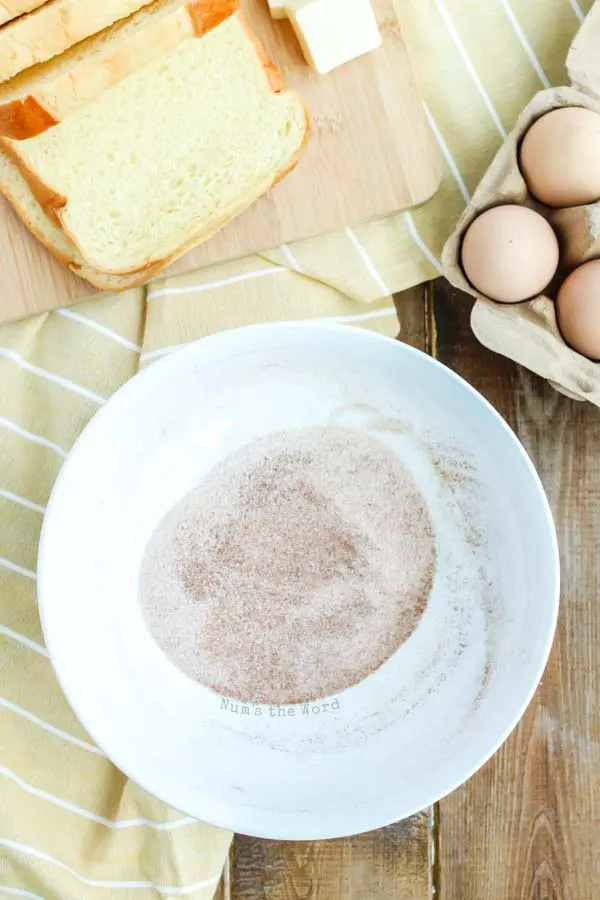 Why is it called french toast?
There are differing opinions as to the origins of the name "french toast." Some claim the name originated in 17th century England and was brought to America by English settlers. Others claim the dish was invented by an innkeeper named Joseph French, who was grammatically inept and failed to include an apostrophe in his version of "french toast." I tend to doubt the latter as the dish has been around for more than 1,000 years!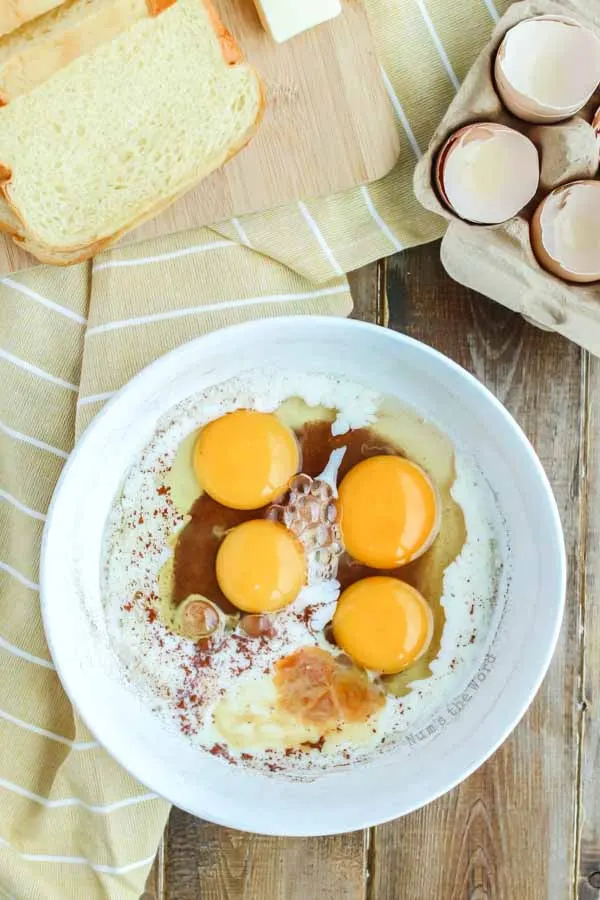 How to make Cinnamon French Toast:
Cinnamon

– a little bit of cinnamon packs a big punch of flavor! I do believe that cinnamon french toast is the BEST kind of french toast.

Sugar

– we like our french toast on the sweet side, but not too sweet. The sugar also allows for a nice bit of batter caramelization when pan frying.

Butter

– for rich and delicious flavor, pan frying in butter is the way to go!

Eggs

– eggs make up the bulk of your batter and — literally — hold it all together.

Milk

– not only does the milk help stretch the batter a little further, but it also contributes to a more creamy texture when pan-fried.

Vanilla extract

– vanilla really complements the cinnamon and sweet flavors of your french toast.

Thick cut brioche bread

– we love using a brioche because of its rich and buttery flavor

Real maple syrup

– there is no imitation syrup that can compare to the deliciousness that is pure maple syrup.

Fresh fruit

– I'm especially fond of fresh berries, but any fresh fruit will pair nicely with your french toast!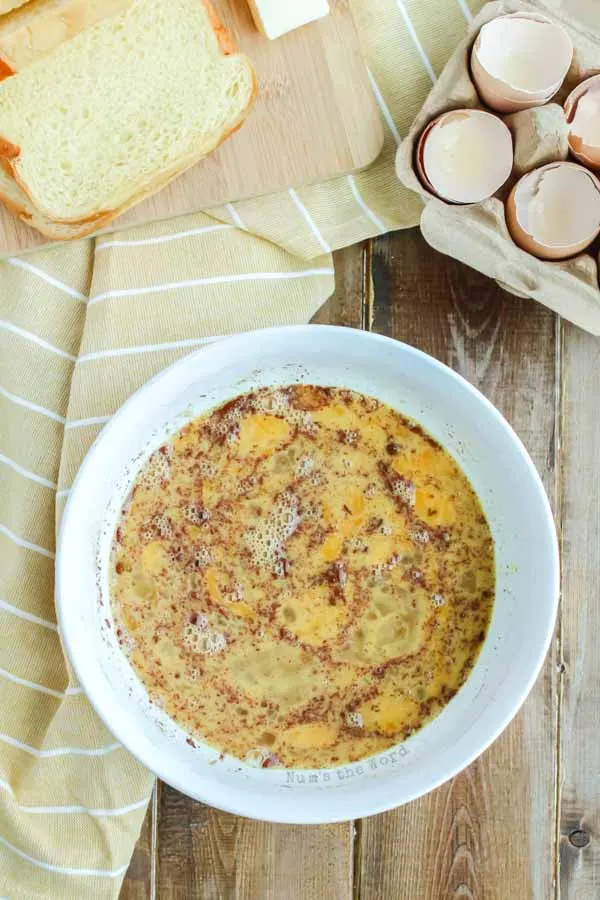 What kind of bread for french toast?
In this recipe, we make a brioche french toast. I've also successfully used Texas toast and thick slices of a French loaf. The best french toast recipes can use any thick-sliced bread! Historically, stale bread that would otherwise be thrown out was used to make french toast. This is why the French call their variation "pain perdu," or lost bread.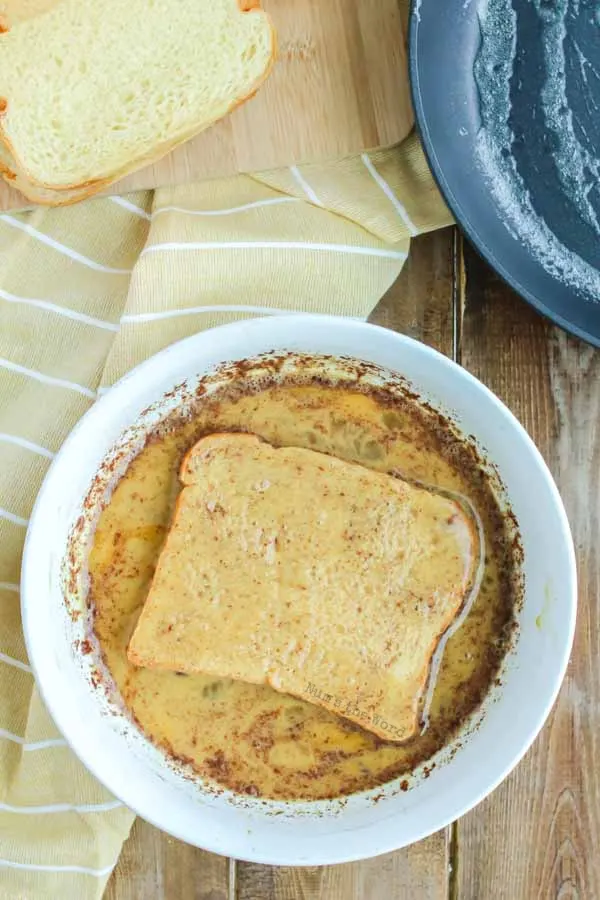 How to cook Cinnamon French Toast:
Prepare your batter. The key is to whisk your cinnamon sugar together before adding in anything else. The sugar combined with the cinnamon helps it to not all float to the top.
Dip & Grill. You know the routine! Use a griddle or skillet, both work great.
Serve! This is my favorite part because the sky is the limit on what you can use! Jams, Jellies, syrups, butter, chocolate, nutella, nuts, whipped cream, fresh fruit – ALL OF IT! Num!
Why is my french toast soggy?
Troubleshooting soggy french toast:
Too much milk:

if you have too much liquid in the custard/batter, the egg mixture won't cook fast enough, which leads to soggy toast.

Bread is too thin: French toast is best made with thick slices of bread (though it's not impossible to use thinner slices). Thick bread — about 1 inch thick — soaks up enough egg mixture without being completely saturated.
Batter isn't mixed enough: you don't want chunks of egg in your batter, be sure to whisk it well until all the ingredients are combined.
Wrong temperature:

if your pan is too hot or too cool, your french toast will be negatively impacted. You don't want to burn the toast, but you also don't want to start with a cool pan.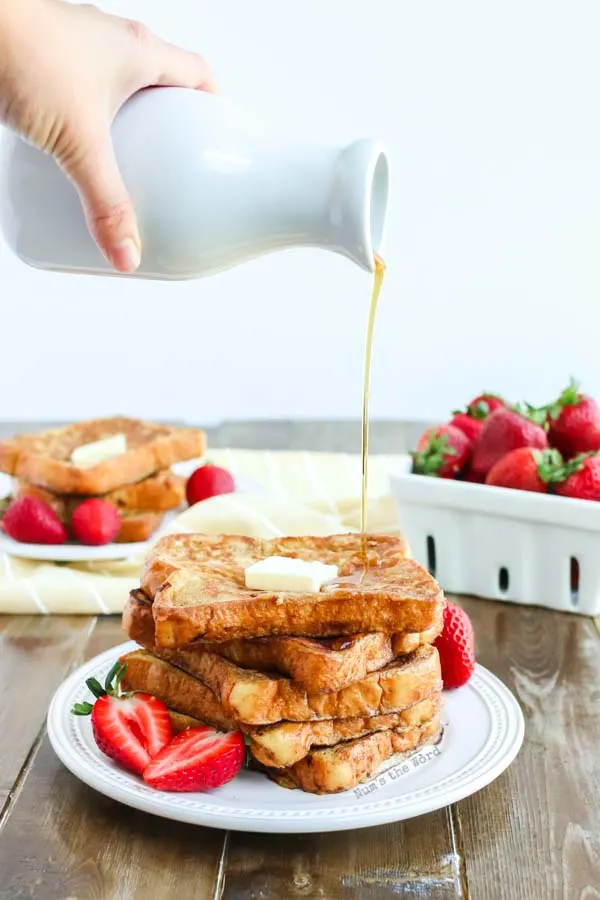 What goes with Cinnamon French Toast?
Fresh berries and whipping cream are DIVINE on french toast! Maple syrup, honey, or other fresh fruits also go nicely with it.
For a full breakfast platter, scramble some eggs and fry some bacon or sausage!
Can you freeze french toast?
Yes, you can freeze french toast! This simple cinnamon french toast recipe is even more impressive when you consider the potential to make it in advance and freeze for quick and easy breakfasts later.
I always make two full loaves of bread. One for us to eat that day (plus leftovers for the next day) and one loaf to freeze! Simply cook as directed. Once cooled, place on a lined cookie sheet and freeze for 30 minutes.
Once frozen, place in a freezer bag and freeze for up to 3 months. When ready to serve, simply thaw and toast in your toaster or toaster oven.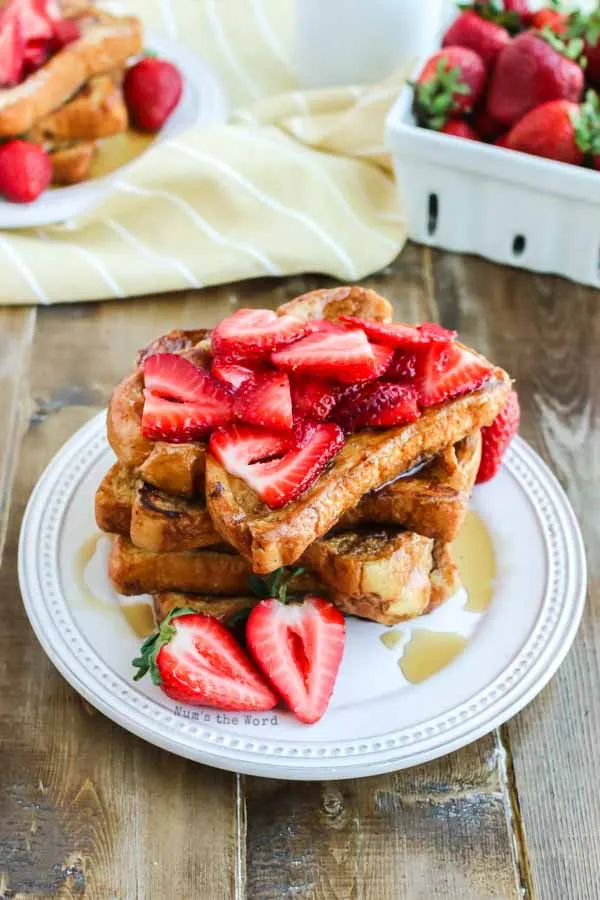 How to reheat french toast?
It's super easy to reheat your leftover french toast! To thaw, allow french toast to sit at room temperature for 20 minutes or in the fridge overnight. Pop a slice in the toaster to heat, or reheat in the microwave using 30 second bursts.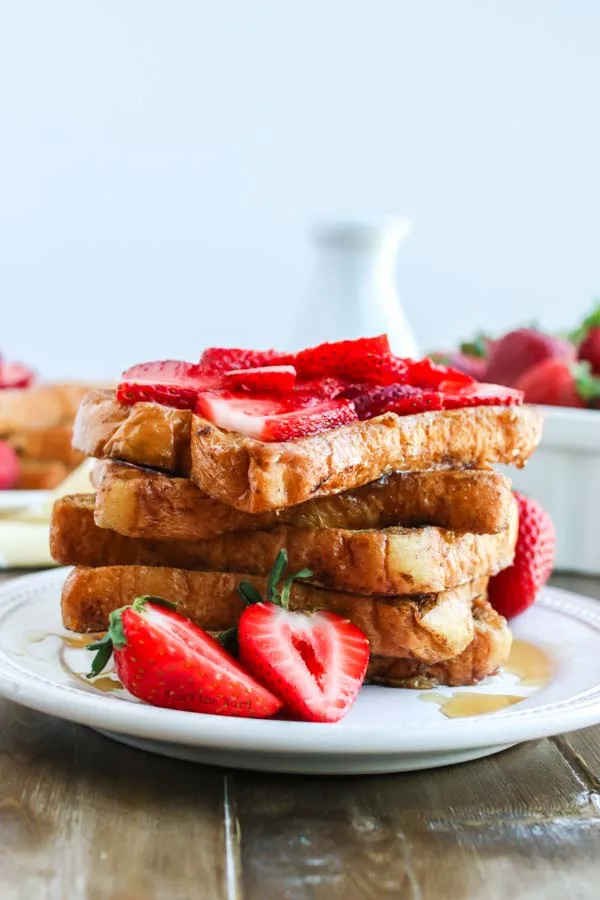 Can dogs eat french toast?
It's not recommended that you give your pup any french toast. This recipe contains sugar and milk, both of which are not good for your furry friend. It's also valuable to know that nutmeg, a spice often paired with cinnamon in baking, can be toxic for dogs.
Though nutmeg is not included in this particular recipe, it is commonly added to other french toast recipes, so be aware of that danger!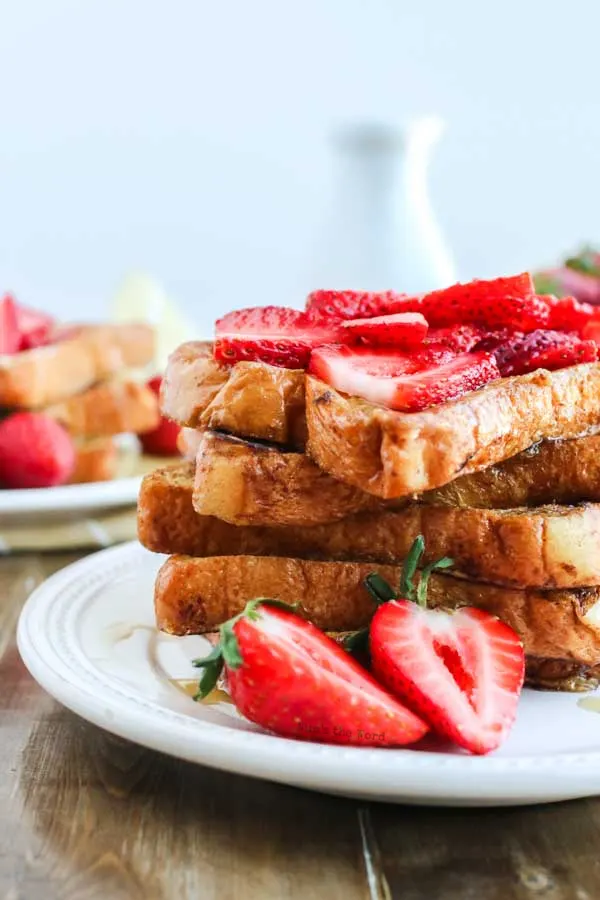 For a great morning or delicious brunch, try adding this easy and delicious Cinnamon French Toast recipe to your breakfast rotation!
It's quick and simple, and if you don't have brioche bread on hand, it's also a great way to use up day-old or stale bread. Just remember to use thick slices and bon appetit!
Yield: 8 French Toast Slices
French Toast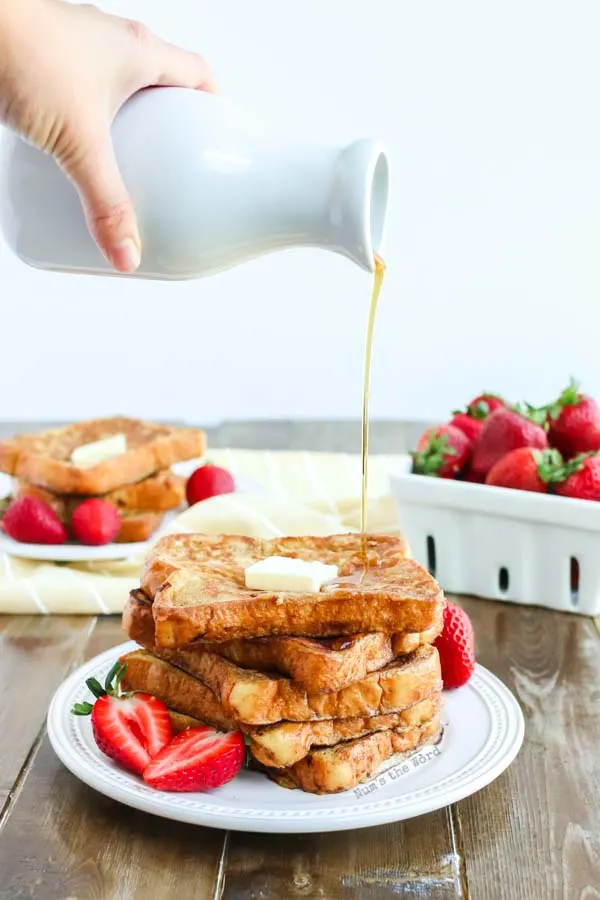 This Cinnamon French Toast is a must have breakfast staple in my home! A hit with adults and kids that whips up in minutes and freezes well!
Ingredients
1 teaspoon cinnamon
2 Tablespoon sugar
4 eggs
1/4 cup milk
1/2 teaspoon vanilla extract
4 Tablespoons butter
8 slices thick cut brioche bread
Maple Syrup
Fresh Fruit
Instructions
In a large bowl or dish combine cinnamon and sugar and stir well.
Add eggs, milk and vanilla to cinnamon mixture and whisk well.
Melt butter in a skillet or griddle.
Dip bread slice into egg mixture coating both sides and cook on a buttered pan until golden on each side, flipping as necessary.
Serve with maple syrup and fresh fruit
Nutrition Information:
Yield:
8
Serving Size:
1
Amount Per Serving:
Calories:

383
Total Fat:

21g
Saturated Fat:

12g
Trans Fat:

1g
Unsaturated Fat:

8g
Cholesterol:

213mg
Sodium:

372mg
Carbohydrates:

39g
Fiber:

2g
Sugar:

12g
Protein:

10g