Ham & Cheese Quiche makes a tasty breakfast or brunch item that everyone will love. Perfect for using up leftover ham! Make it for Christmas morning, Mother's Day, Easter, Baby Shower, Bridal Shower or the day after Thanksgiving!
This post contains affiliate links. If you click on an affiliate link and make a purchase, I will make a small percentage on your purchase. This helps keep this website running! Thank you!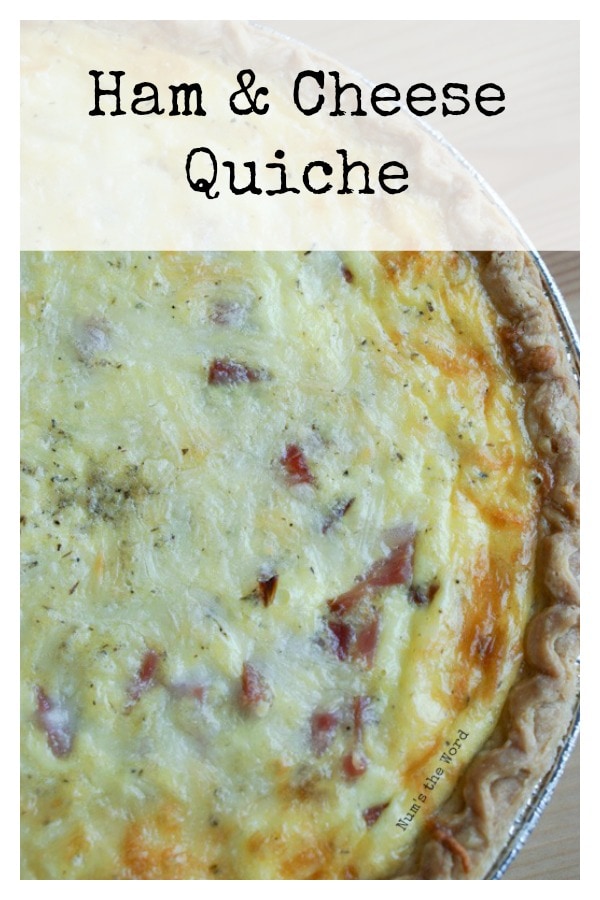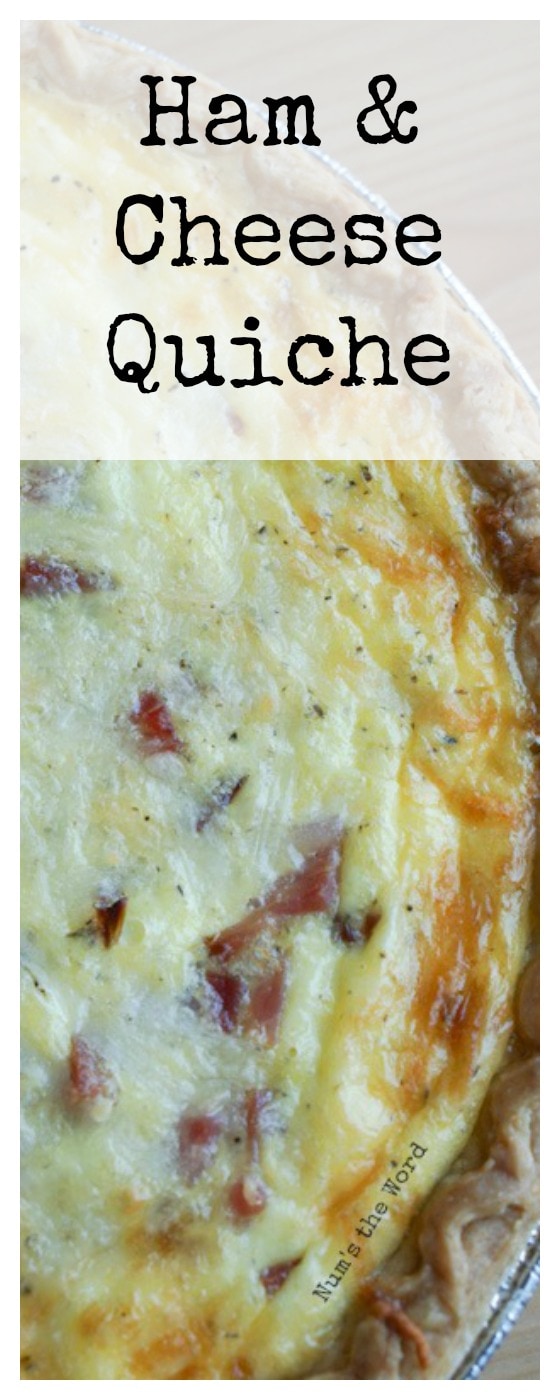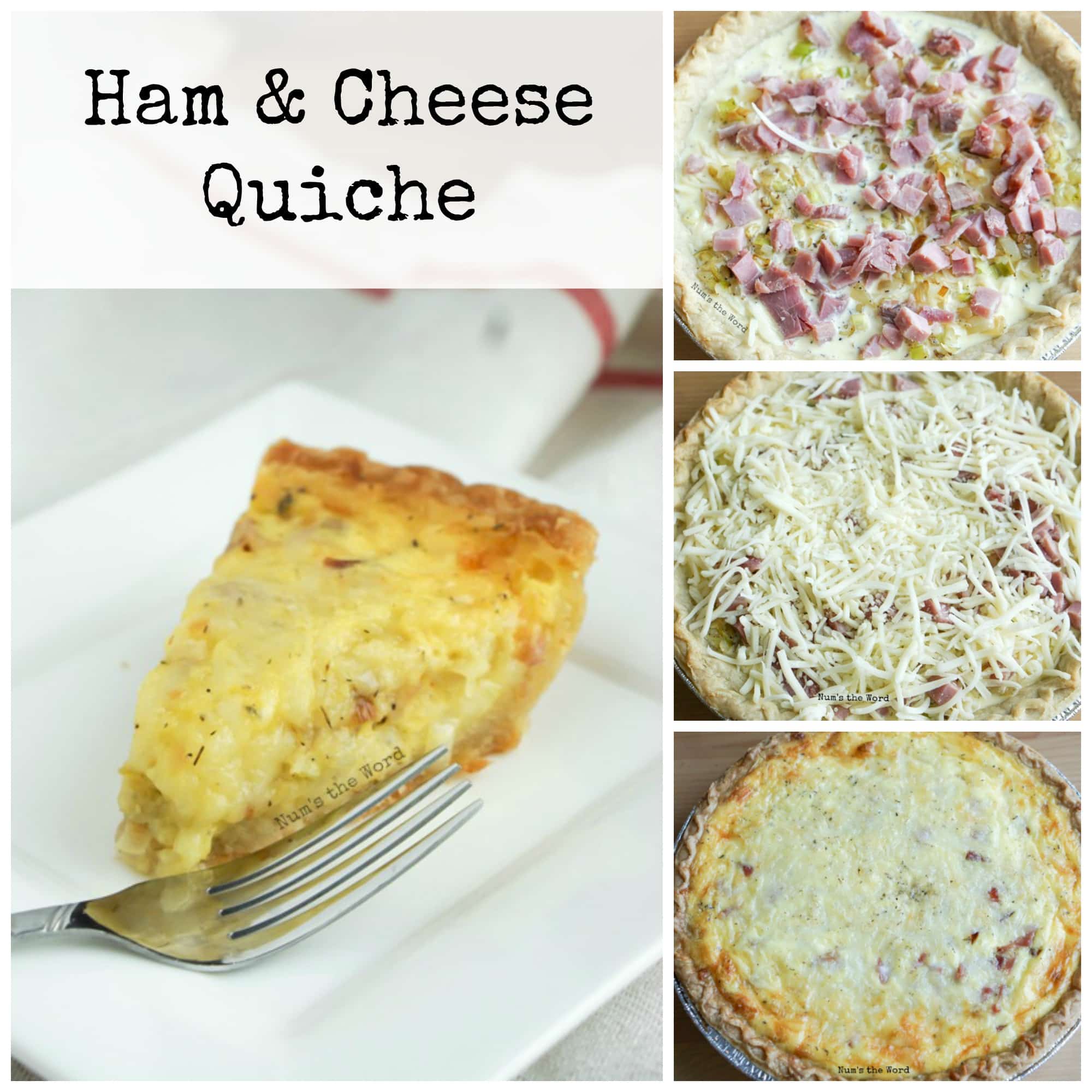 Considered classic Fresh cuisine, a quiche is one of the most diverse dishes you can enjoy!
A quiche is simply A custard pie filled with a combination of cheese, vegetables, meats or seafood.
Contrary to it's cousin, the sweet dessert pie, this savory pie is traditionally served as a breakfast or brunch item.
Today, many bake quiche's for party food as it's an easy to make dish that can be adapted to what you have on hand.
A quiche originally appeared in France in 1805.
And it is believed that similar dishes were also served before that date, though there is no proof of it.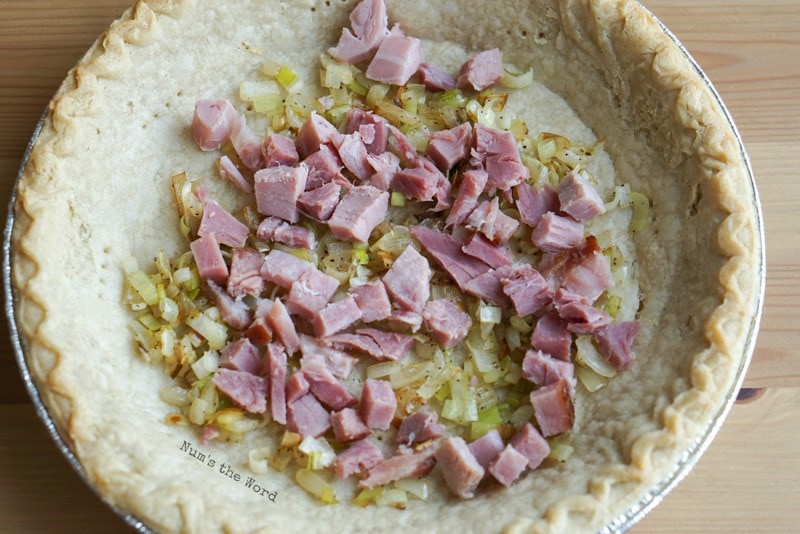 It was not uncommon to combine eggs and milk to create dishes earlier than 1805.
However 1805 is the first record of the dish being officially mentioned.
Surprisingly it was Quiche Lorraine that was mentioned.
Quiche Lorraine has been my favorite kind of quiche.
However this easy Ham & Cheese Quiche recipe comes in pretty close to the top of the list.
What really makes this Ham & Cheese Quiche stand out though is the use of leftover holiday ham.
I'm always looking for ways to use up holiday leftovers and this easy Ham & Cheese Quiche recipe was a perfect choice!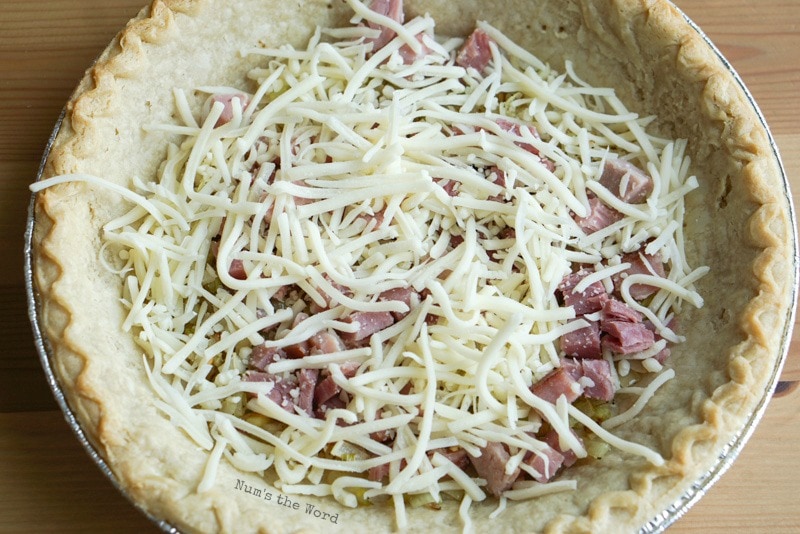 Not only is this Ham & Cheese Quiche recipe perfect after the holidays but all year round!
Because as you know, ham is a year round menu item – not just for Holidays!
My kids LOVE ham and we can eat it for days!
One of my favorite parts of making a ham is creating yummy dishes that use up the little pieces!
Nothing should go to waste with a yummy ham!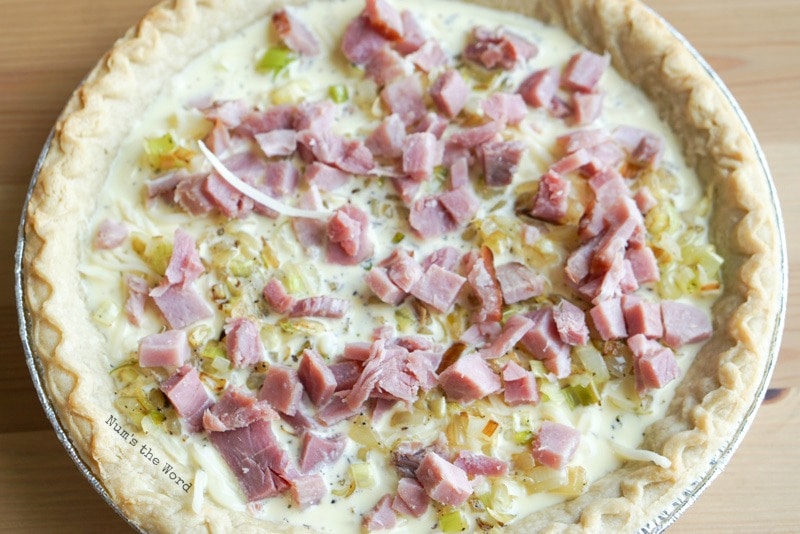 This Ham & Cheese Quiche recipe is one of those wonderful dishes that was created using up leftover Holiday ham!
Though created in the early 1800's, quiche's were not popular in the United States until the 195o's.
It's hard to think back on a time where the internet didn't exist.
International recipes were virtually unknown and cooking was truly a learned life skill.
Today we live in a completely different world.
We can order literally anything from around the world in a matter of seconds.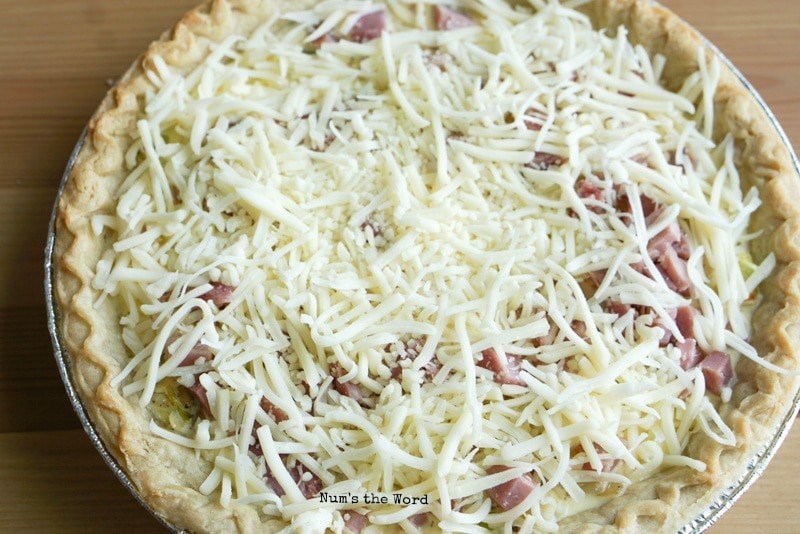 We can then have that item delivered to our door in a matter of days.
All of this done from the luxury of our own homes.
Don't get me wrong, I love today's technology!
However I wish that my mother and grandmother taught me how to really cook.
My mother led by example but never really took the time to teach me how to cook or bake.
I just saw how easy she made it look and followed her example.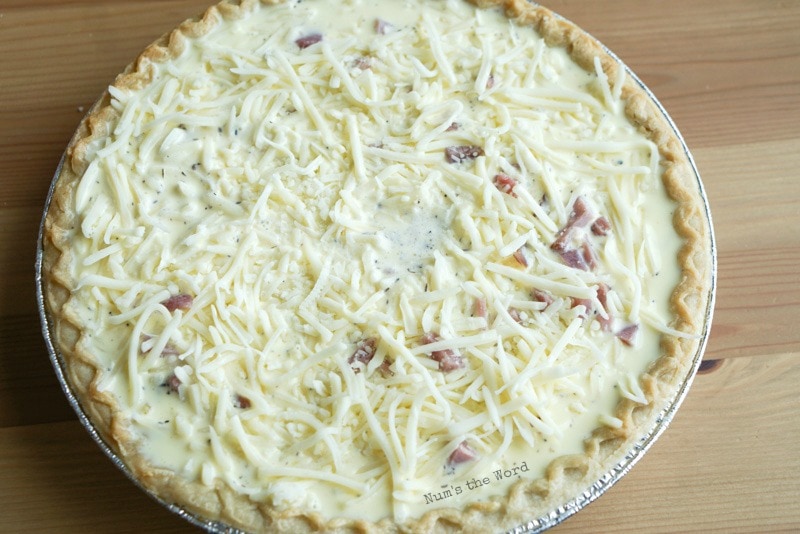 Despite my determination to teach myself to cook, I wish that someone had taught me the old way of cooking.
What bread dough should feel like when kneading.
How to make pancakes so they are tall and fluffy and not thin and flat.
Or even how to make sugar cookies to decorate.
Sadly, when I was in Middle School and High School, Home economics wasn't even an option.
My school discontinued those programs before I could experience them.
Who knows what my life would be like if they had kept the programs!
I am in no way complaining about my life or career.
In fact, I think everything worked out just as it should!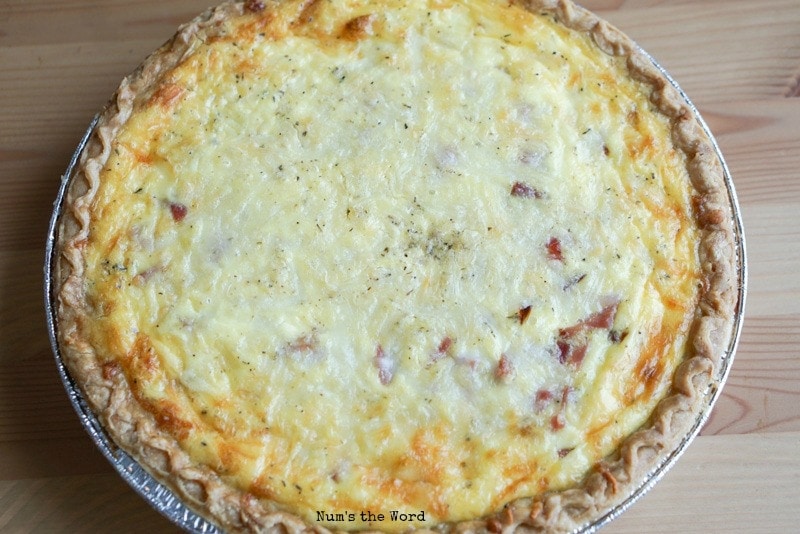 Cooking is a life skill and something that everyone can do.
And I'm a firm believer that if they could make a killer quiche back in the early 1800's, then there is no reason I can't do it today in my high tech kitchen.
Trust me, if I can whip up a homemade quiche, then you can too!
This easy Ham & Cheese Quiche recipe is pretty hard to mess up, so there are zero excuses as to why you can't make it!
I love to whip up a quiche or two for a Holiday breakfast or brunch as well as a party food.
As a mom, I will say that my kids are not yet at the quiche eating stage.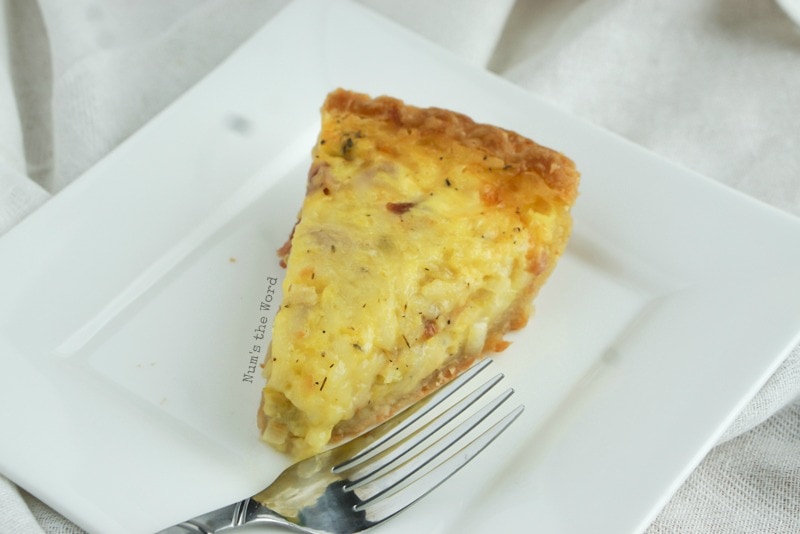 My son loves hard boiled eggs and scrambled eggs, but we can't get him to eat quiche.
My daughter on the other hand is a hard pass on all things eggs.
Well, except for cookies and baked goodies.
Anything else though, no going to happen.
Despite my picky children who do not eat many of the foods that I do, I know one day they will.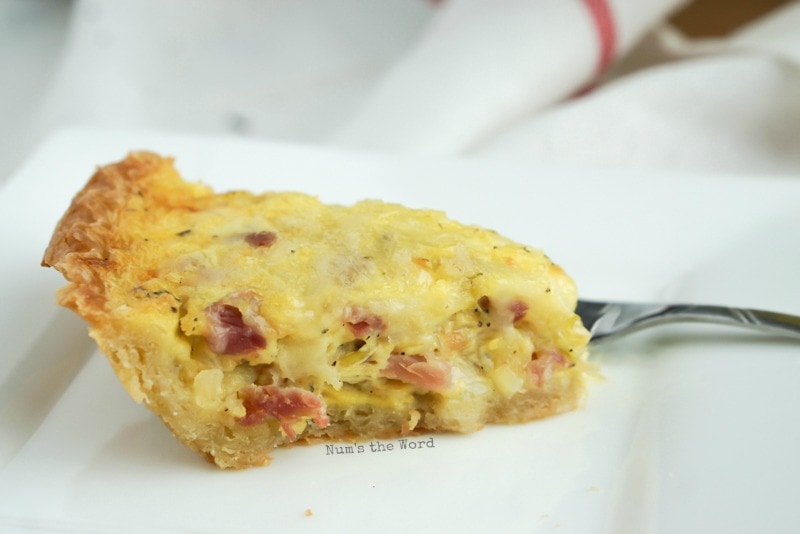 I'm not quite ready to give up on them.
Quiche is a food that I too would have passed on as a kid, and yet love it as an adult.
This quiche will quickly become a favorite of yours.
Creamy, smooth, and packed with flavor, this homemade Ham & Cheese Quiche is a favorite of ours.
I hope it will soon become a favorite of yours too!
Yield: 1 Quiche
Ham & Cheese Quiche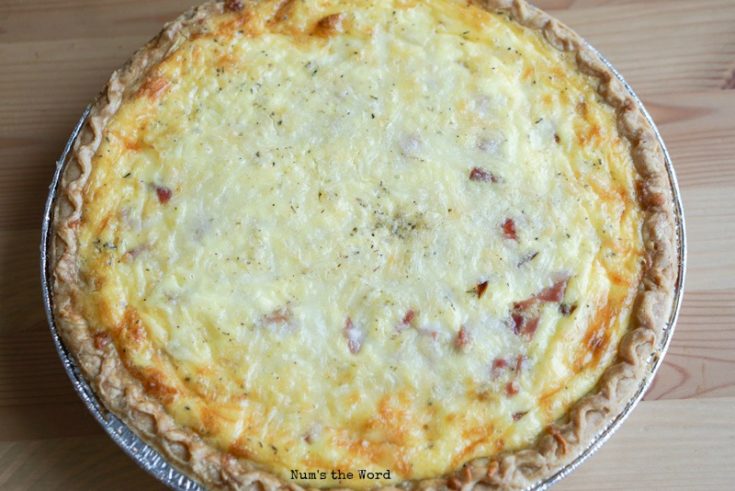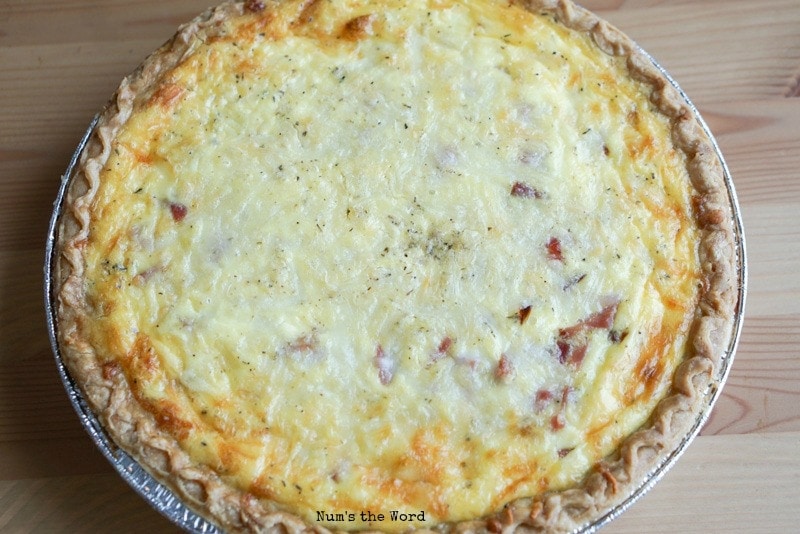 Ham & Cheese Quiche makes a tasty breakfast or brunch item that everyone will love. Perfect for using up leftover ham! Make it for Christmas morning, Mother's Day, Easter, Baby Shower, Bridal Shower or the day after Thanksgiving!
Cook Time
1 hour
5 minutes
Total Time
1 hour
35 minutes
Instructions
Preheat oven to 425*F
Roll pie dough to fit a 9 inch deep dish pie plate.
Place bottom crust in pie plate and chill for at least 20 minutes before baking.
Line the chilled pie crust with foil and fill halfway up with dried beans, rice, or baking weights.
Bake in the preheated oven for 7 minutes. Remove foil and weights and bake until golden brown, about 5 more minutes.
Reduce oven to 325*F
In a skillet add butter, leeks, onion, salt & black pepper. Cook and stir until tender and browned, 5 to 7 minutes. Set aside.
In a large bowl whisk eggs, egg yolks, heavy cream, and milk together.
Add thyme and stir to combine.
Sprinkle 1/2 onion-leek mixture on the bottom of the baked crust.
Top with 1/2 cup ham and 1/2 of Gruyere cheese.
Ladle half the egg mixture on top of layered ingredients.
Sprinkle on top of cream mixture: remaining 1/2 the onion-leek mixture, 1/2 cup ham, and other 1/2 of cheese.
Pour remaining egg mixture on top.
Bake filled quiche in the preheated oven until browned and set, but no longer jiggly in the center, 40 to 45 minutes. Allow to cool slightly before serving.
Notes
Nutritional Information is estimated, not exact.
Recommended Products
As an Amazon Associate and member of other affiliate programs, I earn from qualifying purchases.
Nutrition Information:
Yield:
8
Amount Per Serving:
Calories:

388
Total Fat:

26.5g
Saturated Fat:

12.3g
Cholesterol:

173mg
Sodium:

642mg
Carbohydrates:

24.7g
Fiber:

1g
Sugar:

13.5g
Protein:

13.8g
Other Brunch Recipes you'll Love...