Homemade Peppermint Bark required only 4 ingredients and tastes better than the store bought stuff! Family and friends go nuts for this easy Christmas treat. Make it for a gift or serve it at your Holiday party!
This post contains affiliate links. If you click on an affiliate link and make a purchase, I will make a small percentage on your purchase. This helps keep this website running! Thank you!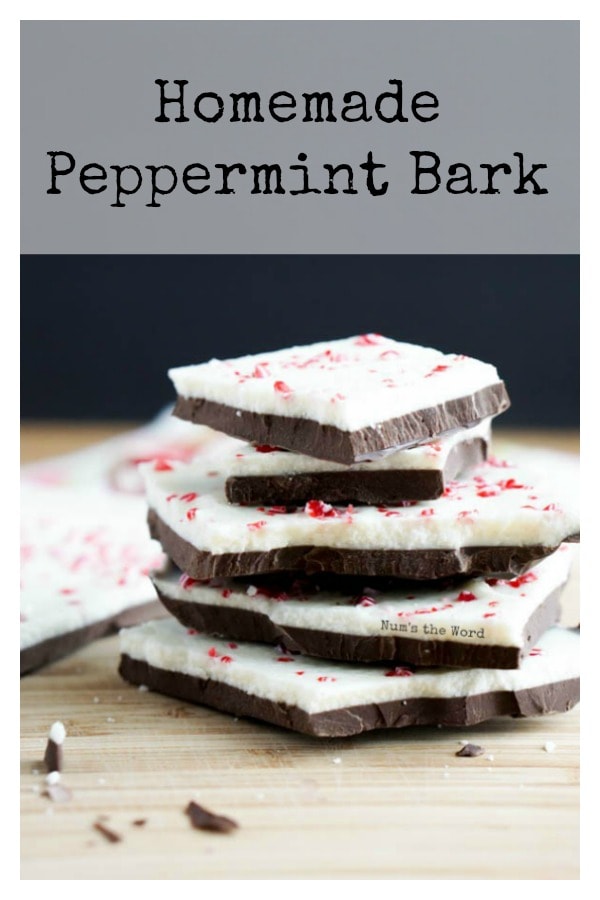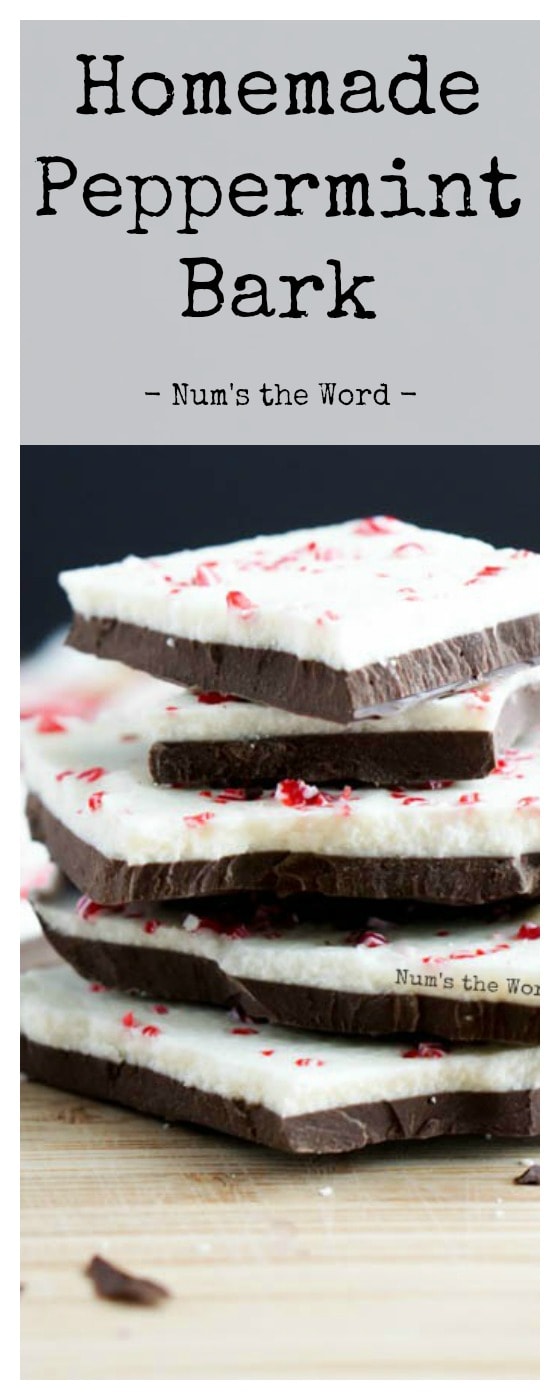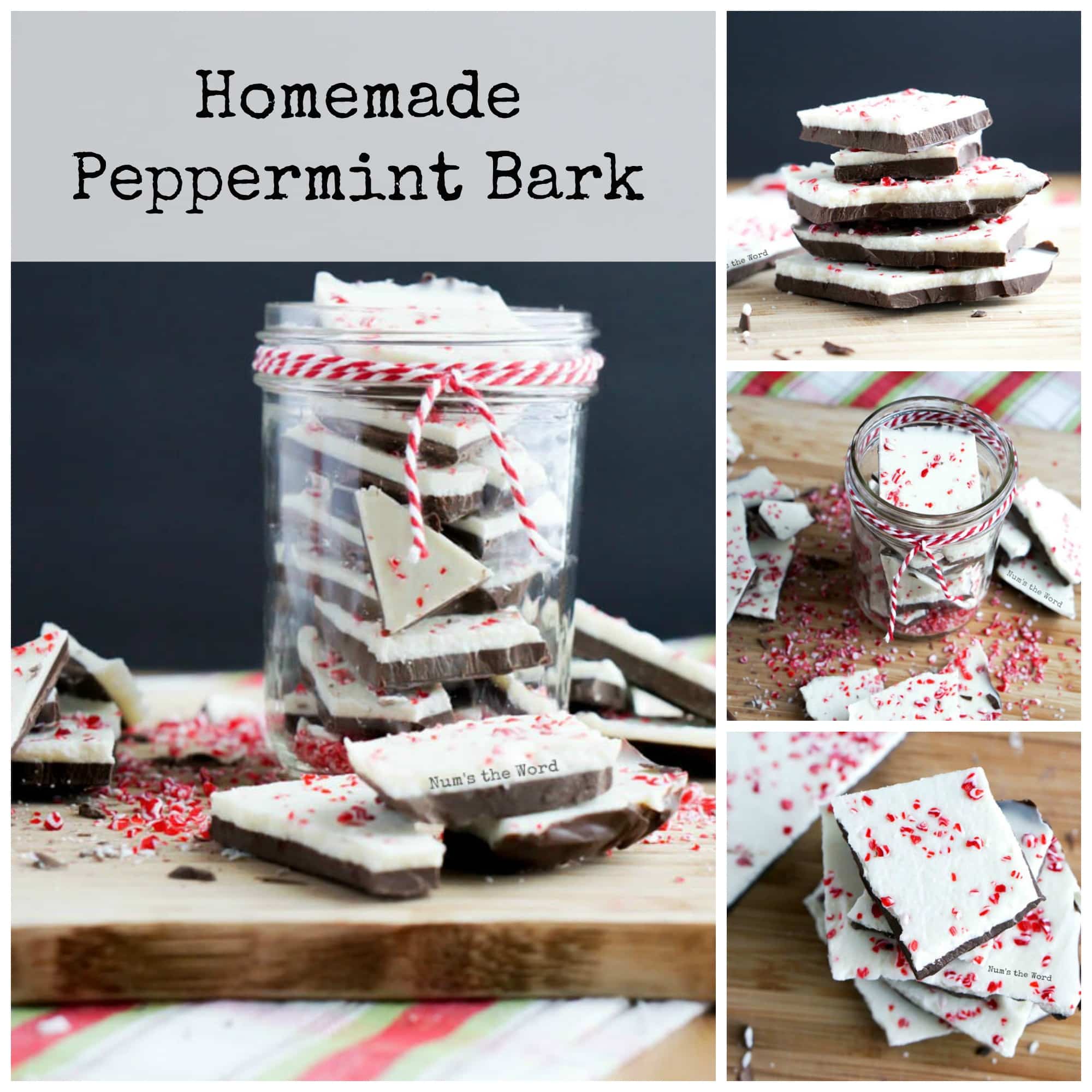 Personally Peppermint Bark has never a favorite of mine.
I prefer baked goods to solid chocolate and so it's never been something that I've craved.
My son however is a whole different story.
He LOVES peppermint bark.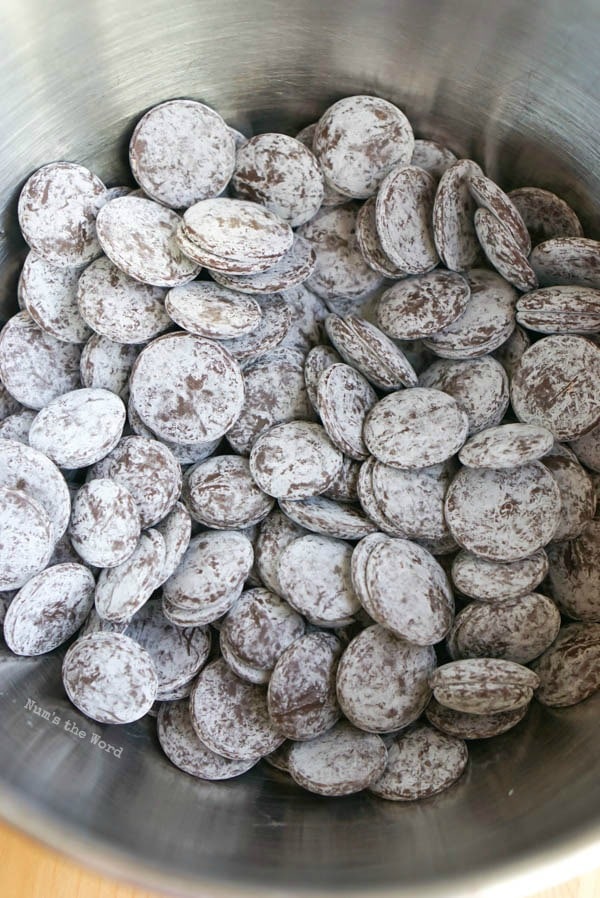 Two years ago we got a box of peppermint bark for Christmas and he went NUTS.
I was really surprised as most kids I know don't love peppermint.
However he LOVED it.
So last year I stocked up on a large box of a fancy brand as future bribes / rewards for him.
Each chunk was individually wrapped so I knew I didn't have to eat the entire box in one sitting.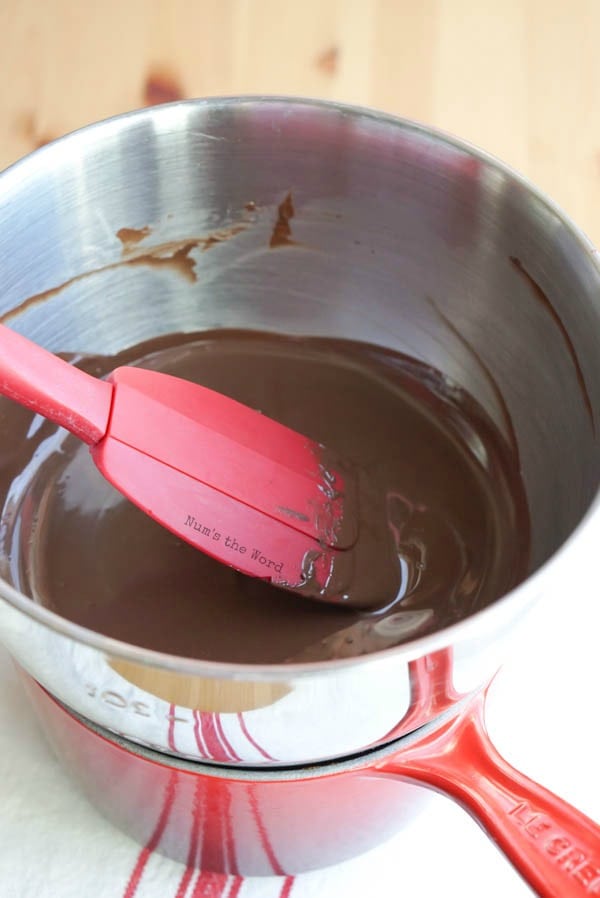 With him in mind, I decided to see if I could make it myself.
Generally speaking anything homemade is better than store bought, so I hoped the theory was true with peppermint bark.
I could control my white chocolate to dark chocolate ratio as well as how much peppermint flavor I wanted in my peppermint bark.
With only 4 ingredients, it wasn't a difficult recipe to figure out.
The hard part was the right kind of chocolate and how much peppermint.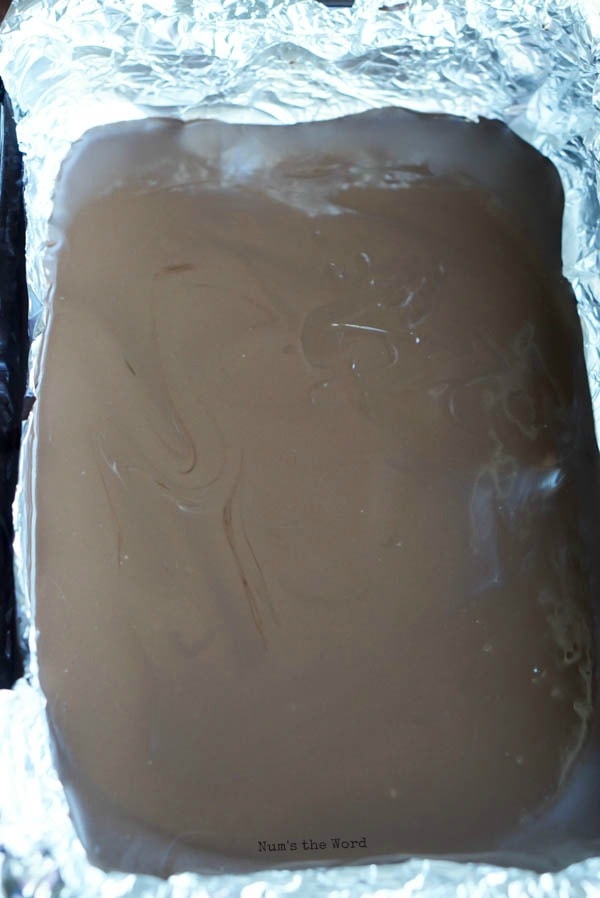 After making a few batches I found that a high quality chocolate like Ghiradelli melting wafers was my favorite chocolate to work with.
The melting wafers melted quickly and easily.
They did not require any additional oil to get a smooth creamy texture and the flavor was delicious.
However keep in mind that you can use white chocolate chips and a teaspoon of vegetable oil.
The biggest thing I noticed when I made my own Christmas peppermint bark is that it was a lovely creamy smooth texture.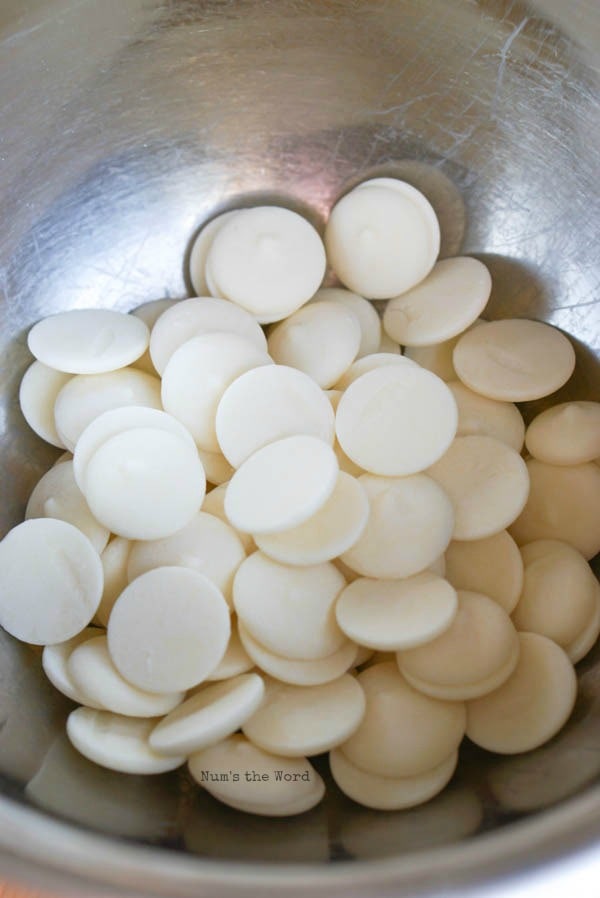 The high quality store bought version was a harder chocolate and not quite as lovely to bite into.
Sadly I also noticed, as with many things these days, that the high quality peppermint bark was VERY sparse on the white chocolate.
The white chocolate layer was so thin you could see the dark chocolate below the think layer.
I felt like for the price I paid, I should have at least gotten a thicker white chocolate layer.
Instead they made sure to provide only enough to call their product "peppermint bark" but not enough to look much like it.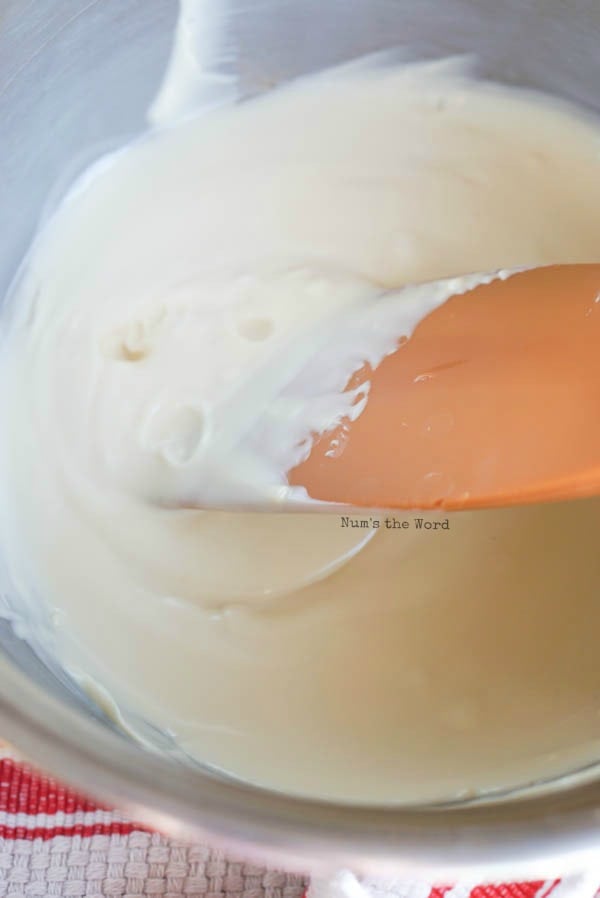 Have you noticed that lately?
Food industries are cutting back on the size of product in every possible way.
Just recently I purchased a package of Oreos.
Though I have no proof, we are 100% certain the regular Oreos are thinner than they once were.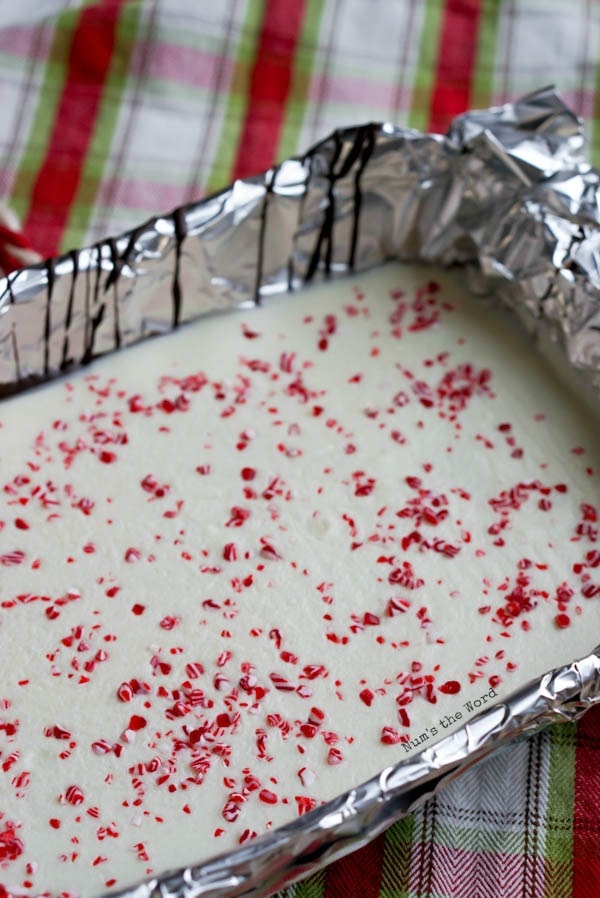 Side note: I did not purchase the "Thin Oreos".
The main indicator that the Oreos were thinner was that 7 out of 10 broke when I tried to separate the two cookies to revel the inside cream layer.
With very little pressure to twist the two cookies, most of them crumbled in my hands.
That has never happened in the past but now, they are thin enough that they can't hold their own shape any longer.
Have you noticed that standard sized chip bags are getting smaller, with fewer ounces, and yet the price has remained the same.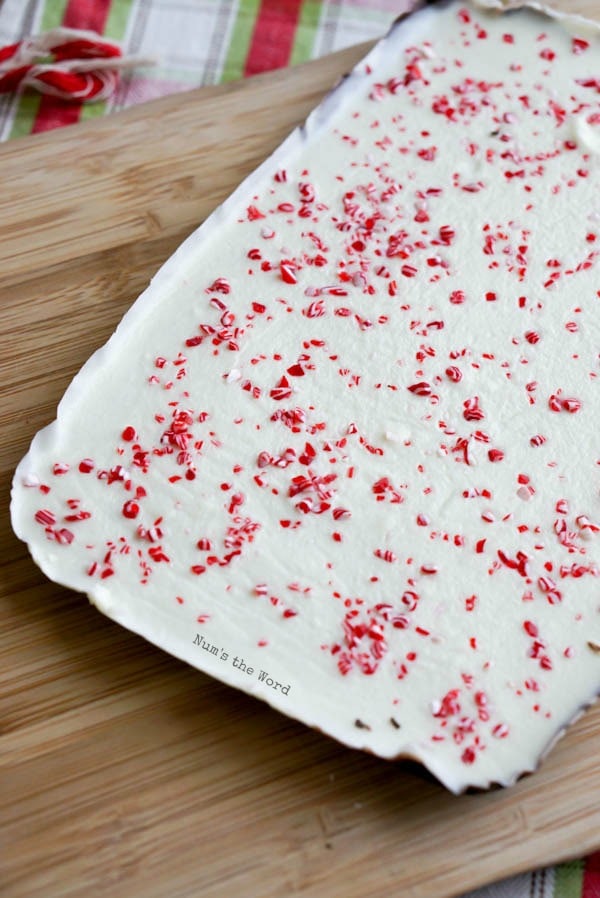 I completely understand the need to adjust things based on inflation.
However I can't help but feel a little duped when I purchase an item only to realize it's not the same.
With this Homemade Peppermint Bark recipe, I made sure to not cut corners.
And believe it or not, people noticed.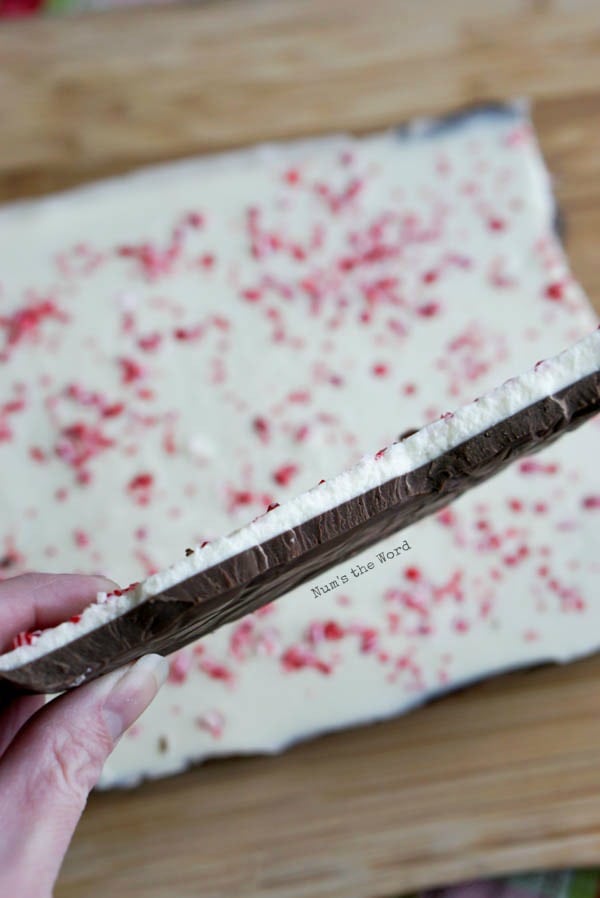 They noticed the high quality chocolate as well as the thick layers of dark and white chocolate.
Our friends also noticed how smooth the chocolate was.
A smooth creamy chocolate is softer to bite into (good thing!) than traditional peppermint bark.
Aside from eating a lot of this Christmas Peppermint Bark, our favorite part was sharing it with those who are important in our lives.
We took bags of this Homemade Peppermint Bark to the teachers at both my children's schools.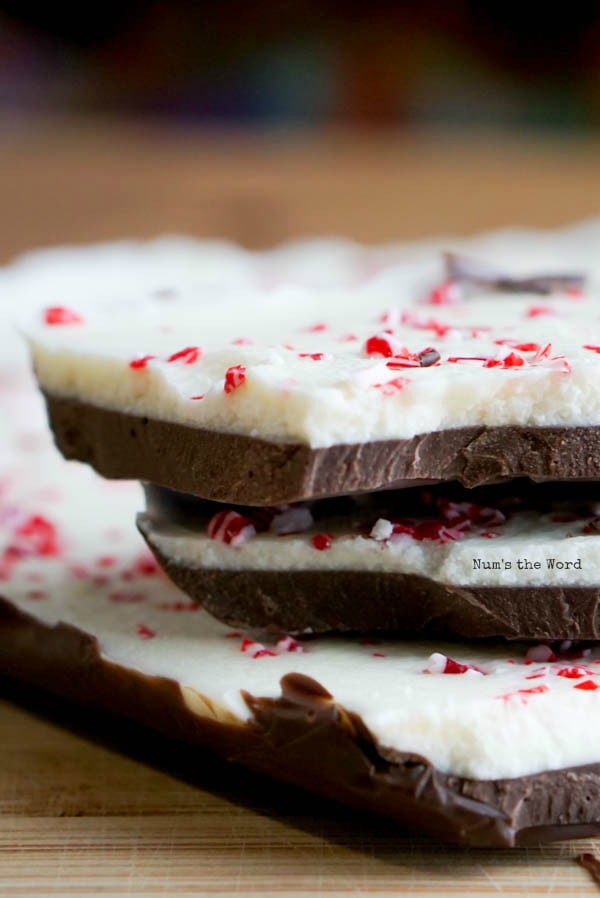 It was our way to say Thank you for all their hard work.
A small and simple gesture like a treat can go a long way with those who dedicate their lives to serving others.
Especially teachers.
Oh man, some days they have to deal with difficult children.
Knowing there is Homemade Peppermint Bark in their desk can help smooth over a tough day!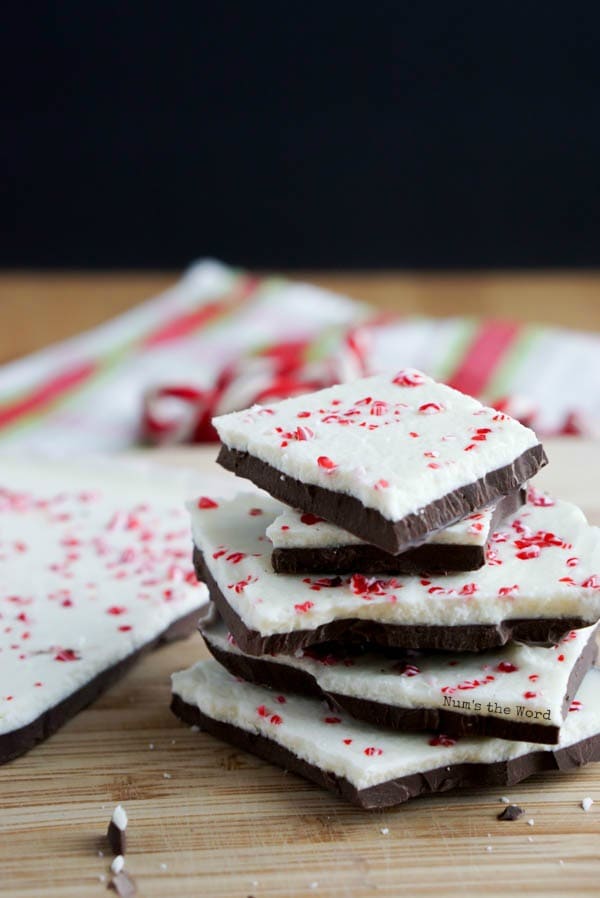 My kids absolutely LOVE sharing treats with their teachers.
They beam every time they have the opportunity to pass out a goodie to them.
As a mother I've learned that the best way to teach generosity and kindness is to help them experience it.
This may not be the norm when it comes to teacher appreciation, but in our home, a food gift is about the best gift we can give.
This easy to make Homemade Peppermint Bark makes for a great gift.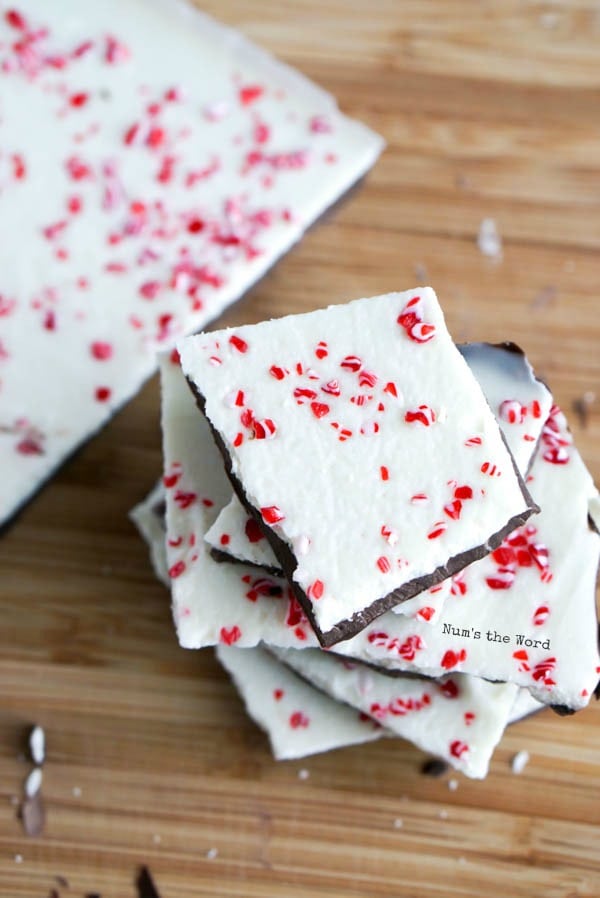 It's also the reason I fell in love with this homemade Ghiradelli peppermint bark.
And when it comes to peppermint bark, homemade is always better!
One of the best questions I got asked was, how do you make Homemade Peppermint Bark?
The answer & recipe is so much easier than you could imagine!
Save your money and whip up a batch of this gourmet Peppermint Bark at home instead of buying it this year.
You'll be surprised at how easy it is to make!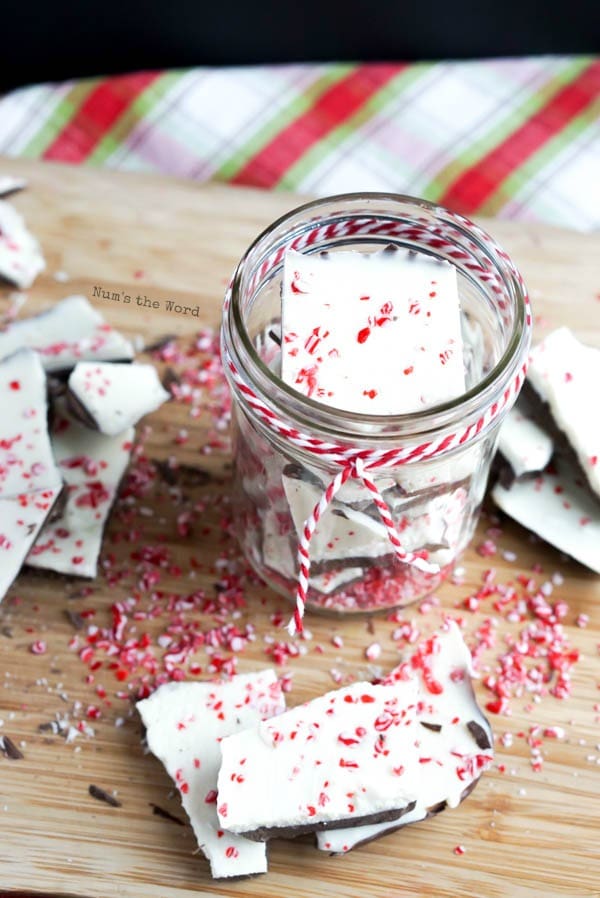 Anyone new or experienced in the kitchen can whip up a batch of Homemade Peppermint Bark!
My greatest tip I can offer you on this Homemade Peppermint Bark recipe is that you should save all the tiny pieces.
Save your big and little pieces for your next cup of Hot Chocolate.
Now I've been told that Williams Sonoma makes the BEST gourmet Peppermint Bark.
And though I've never tried it myself, I dare say I can't imagine anything tasting better than this!
Especially when the Williams Sonoma version costs $48 a pound on Amazon! GAH!
Trust me, this homemade version of Gourmet Homemade Peppermint Bark is better AND cheaper!
This Homemade Ghiradelli Peppermint bark melts BEAUTIFULLY turning your hot chocolate into a rich, smooth and peppermint flavored beverage that you'll go nuts for!
Yield: 15 Servings
Homemade Peppermint Bark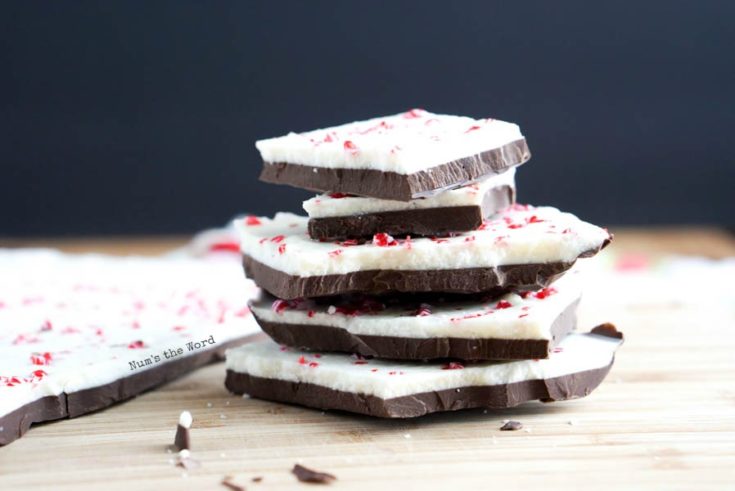 Homemade Peppermint Bark required only 4 ingredients and tastes better than the store bought stuff! Family and friends go nuts for this easy Christmas treat. Make it for a gift or serve it at your Holiday party!
Total Time
1 hour
10 minutes
Instructions
Line a 9x13 casserole dish with parchment paper or non-stick foil.
Melt dark chocolate according to package directions.
Add in 1/2 teaspoon peppermint extract and mix well.
Pour dark chocolate into the prepared casserole dish.
Set chocolate aside to cool for 5 minutes.
While chocolate is cooling, prepare peppermint candy bits. I prefer the jars of crushed peppermint pieces in the sprinkle section of the Holiday isle. You can also crush up candy canes.
Melt white chocolate according to package directions.
Once melted and smooth, add in 1/4 teaspoon peppermint extract and mix well.
Quickly pour white chocolate over dark chocolate and spread. Be careful when spreading as the white chocolate will start to melt the dark chocolate.
Once white chocolate is spread, sprinkle with peppermint candy bits and set aside to cool fully. Approximately 1 hour.
Notes
The higher the quality of chocolate, the better the peppermint bark.
Dark chocolate layer should be thicker than the white chocolate layer.
Nutritional information is estimated, not exact.
Recommended Products
As an Amazon Associate and member of other affiliate programs, I earn from qualifying purchases.
Nutrition Information:
Yield:
15
Amount Per Serving:
Calories:

198
Total Fat:

10.4g
Saturated Fat:

6.9g
Cholesterol:

8mg
Sodium:

28mg
Carbohydrates:

23.9g
Fiber:

0.8g
Sugar:

21.2g
Protein:

2.4g
Other Peppermint Treats You'll Love...