This Caramel Pecan Monkey Bread is a tasty overnight breakfast or brunch item. Perfect for Christmas morning, birthdays or baby showers!
This post contains affiliate links.  If you click on an affiliate link and make a purchase, I will make a small percentage on your purchase.  This helps keep this website running! Thank you!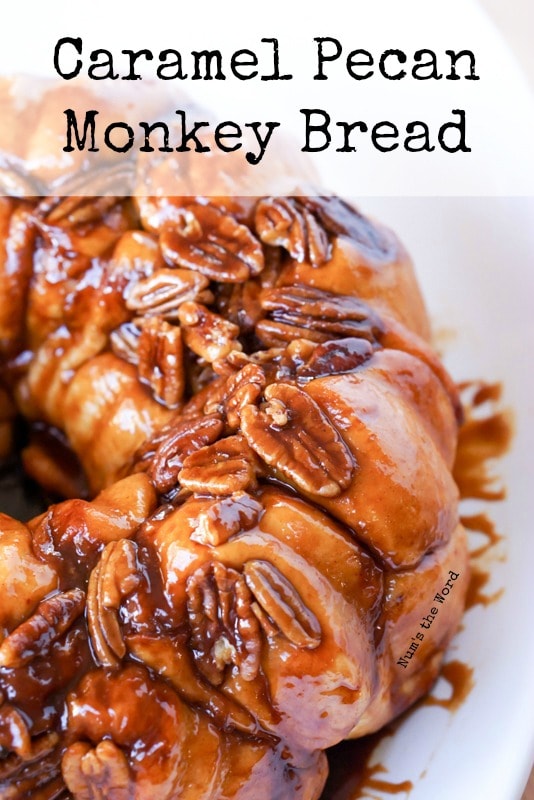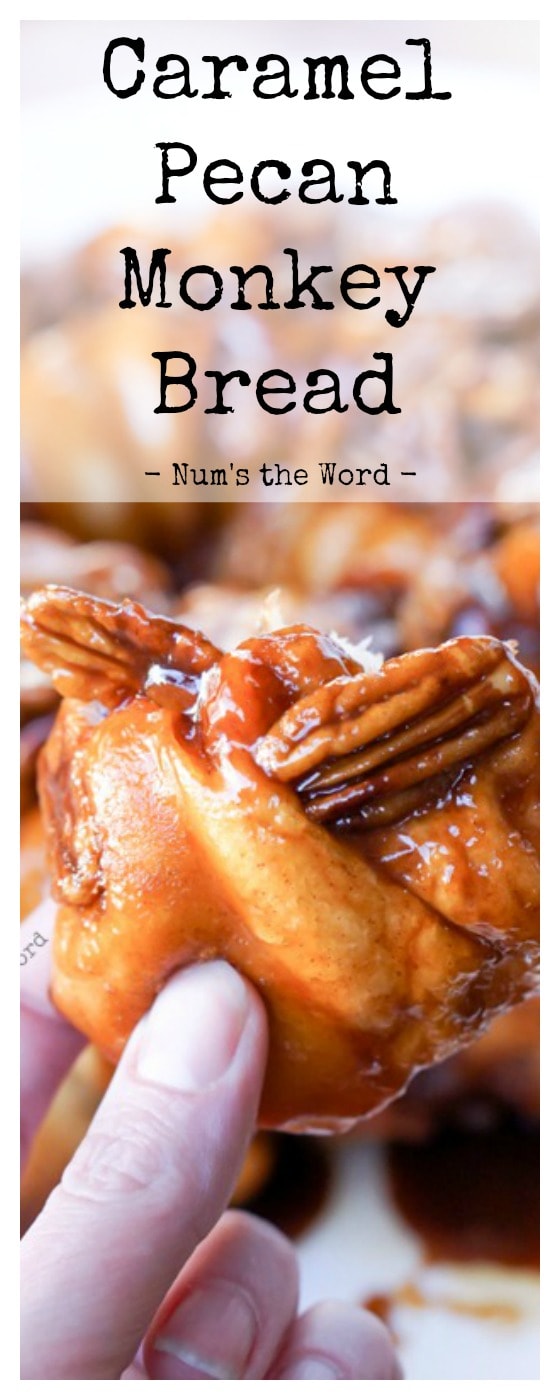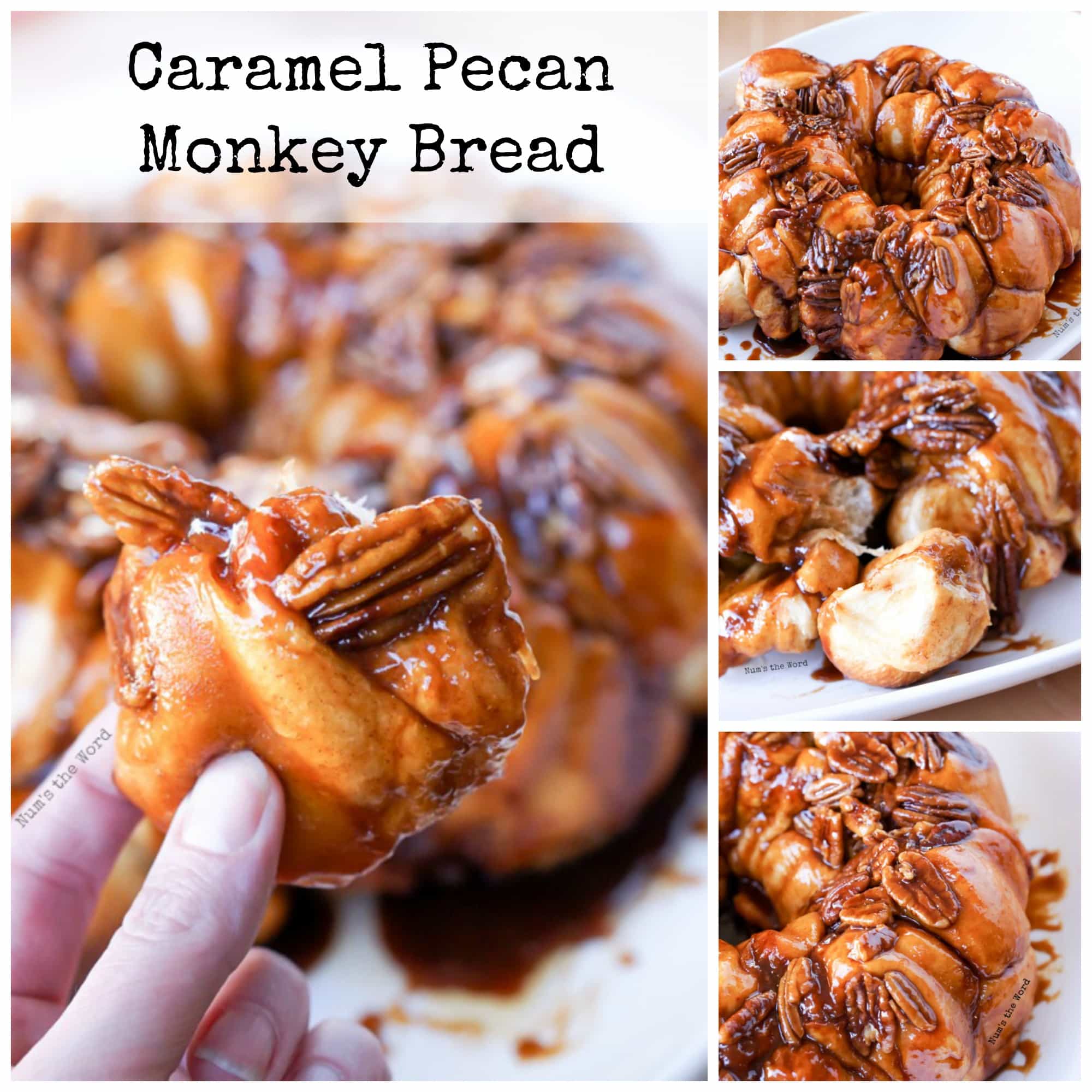 I'm going to have to fess up here and tell you that I did not grow up with monkey bread.
It was introduced to me after I left the house and I fell head over heals in love with it the moment I tried it.
Monkey Bread is traditionally a bit like cinnamon roll bites baked together in a bundt pan.
It's easy, delicious and makes a perfect breakfast or brunch item.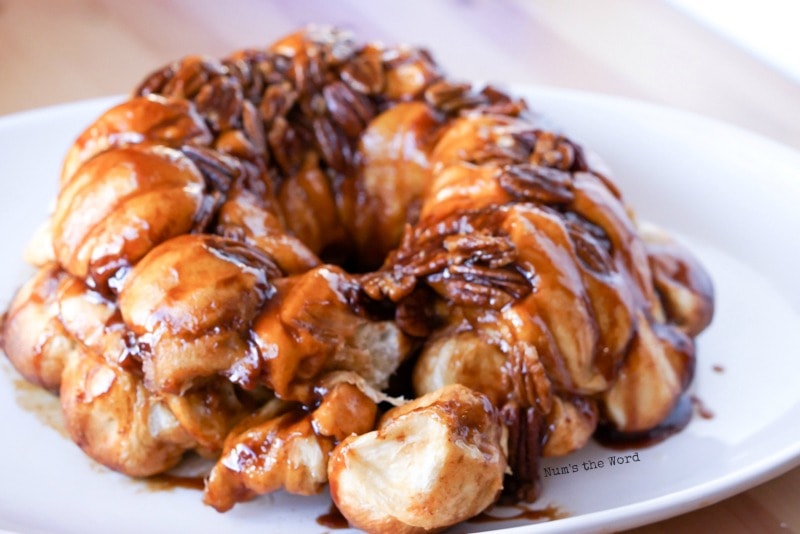 Even though I don't have a traditional Monkey Bread recipe yet on Num's the Word, I couldn't wait to post this recipe for the upgraded version called Caramel Pecan Monkey Bread.
I am a sucker for caramels.  I am also a sucker for Caramel Pecans.
So tossing those two together was a no brainer.
Ooey gooey moneky bread that is dripping in buttery caramel goodness is a must have for Christmas morning, Easter morning or any morning.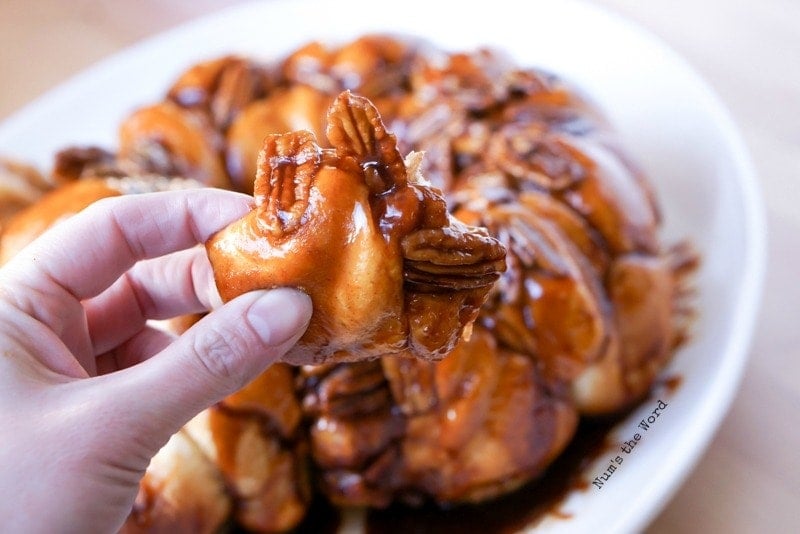 I will warn you, that this Caramel Pecan Monkey Bread is addicting.
I'll also warn you that this is not something to make ahead and serve a few hours after it's cooked.
If you wait to serve it, then it's no longer gooey.
It's still delicious, but the gooey warm factor is something you should really consider as a must have.
Having said that, if it does get cold – like when you want to enjoy it again the next day – just nuke it in the microwave for a few seconds.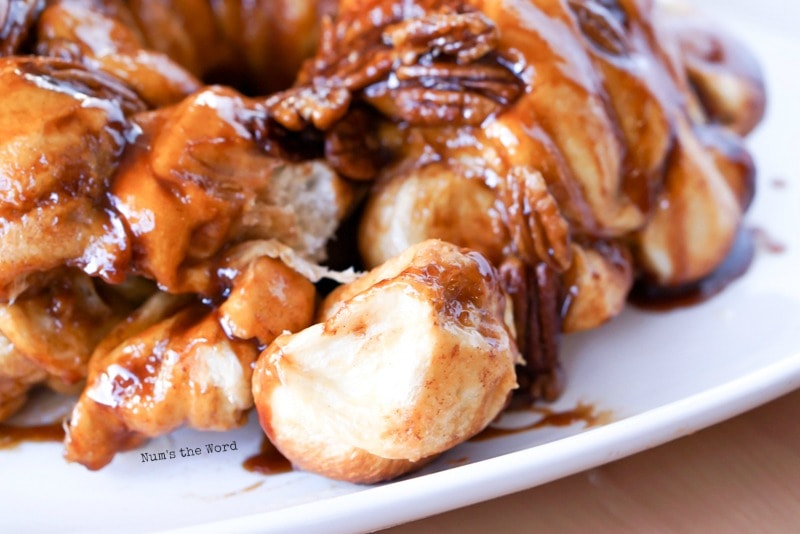 This Caramel Pecan Monkey Bread will taste a bit like heaven in your mouth.
My kids, LOVED THIS.
Ok, they loved the caramel part but not the pecan part since they are convinced they don't like nuts.
And yet somehow they keep eating things with nuts in them.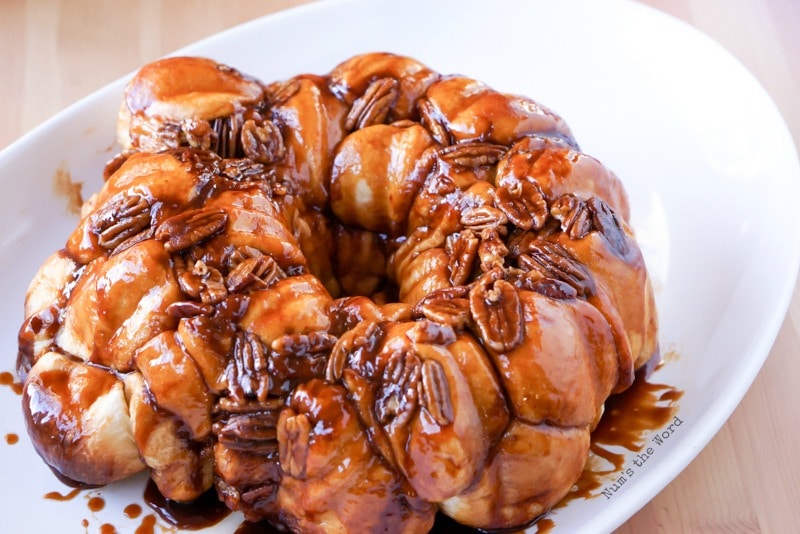 Kids are funny creatures who always keep parents on their toes, especially when it comes to food.
However that doesn't matter.
What does matter is that my kids LOVED this, my husband LOVED this, our guests LOVED this.
It is now a must have for wake up celebrations in our house that is easy to whip up and tasty to devour!
Give this Caramel Pecan Monkey Bread a try and tell us what you think!
Caramel Pecan Monkey Bread
Ingredients
1/2 cup pecans
1/2 package Rhodes rolls, frozen
3 ounce package butterscotch pudding - cook and serve (not instant)
3/4 cup brown sugar
1 teaspoon cinnamon
1/2 cup salted butter
Instructions
Coat a bundt cake pan with cooking spray.
Sprinkle the pecans on the bottom of the pan.
Place frozen rolls in bundt pan, staking as needed.
In a separate bowl mix dry pudding, brown sugar and cinnamon.
Sprinkle over the frozen rolls.
Melt butter and pour over rolls.
Cover with plastic wrap and refrigerate overnight.
Remove plastic wrap and place pan in oven.
Preheat oven to 350*F
Bake for 35 minutes.
Remove from oven and let stand for 10 minutes.
Flip onto a platter and enjoy!
https://numstheword.com/caramel-pecan-monkey-bread/
Other Breakfast Items You'll Love...