These Chocolate Peanut Clusters are a quick and easy protein packed treat. Sprinkle some sea salt on top to really make them pop.
This post contains affiliate links.  If you click on an affiliate link and make a purchase, I will make a small percentage on your purchase, which helps keep this website running! Thank you!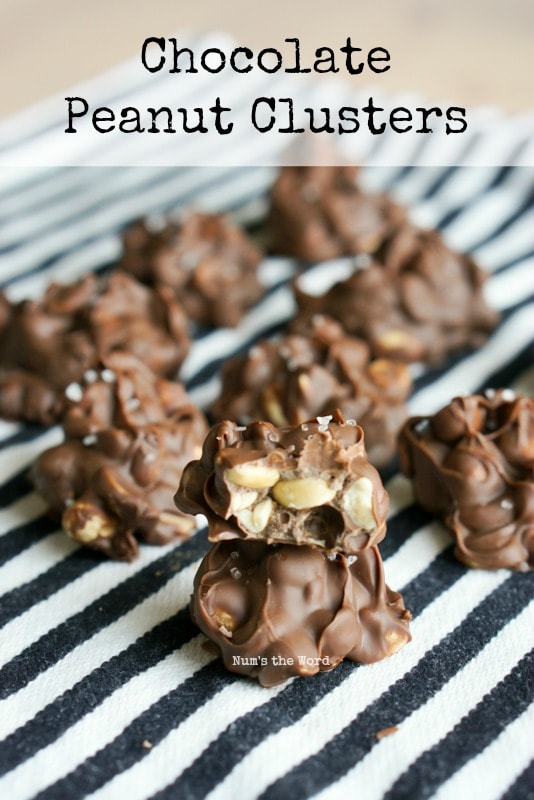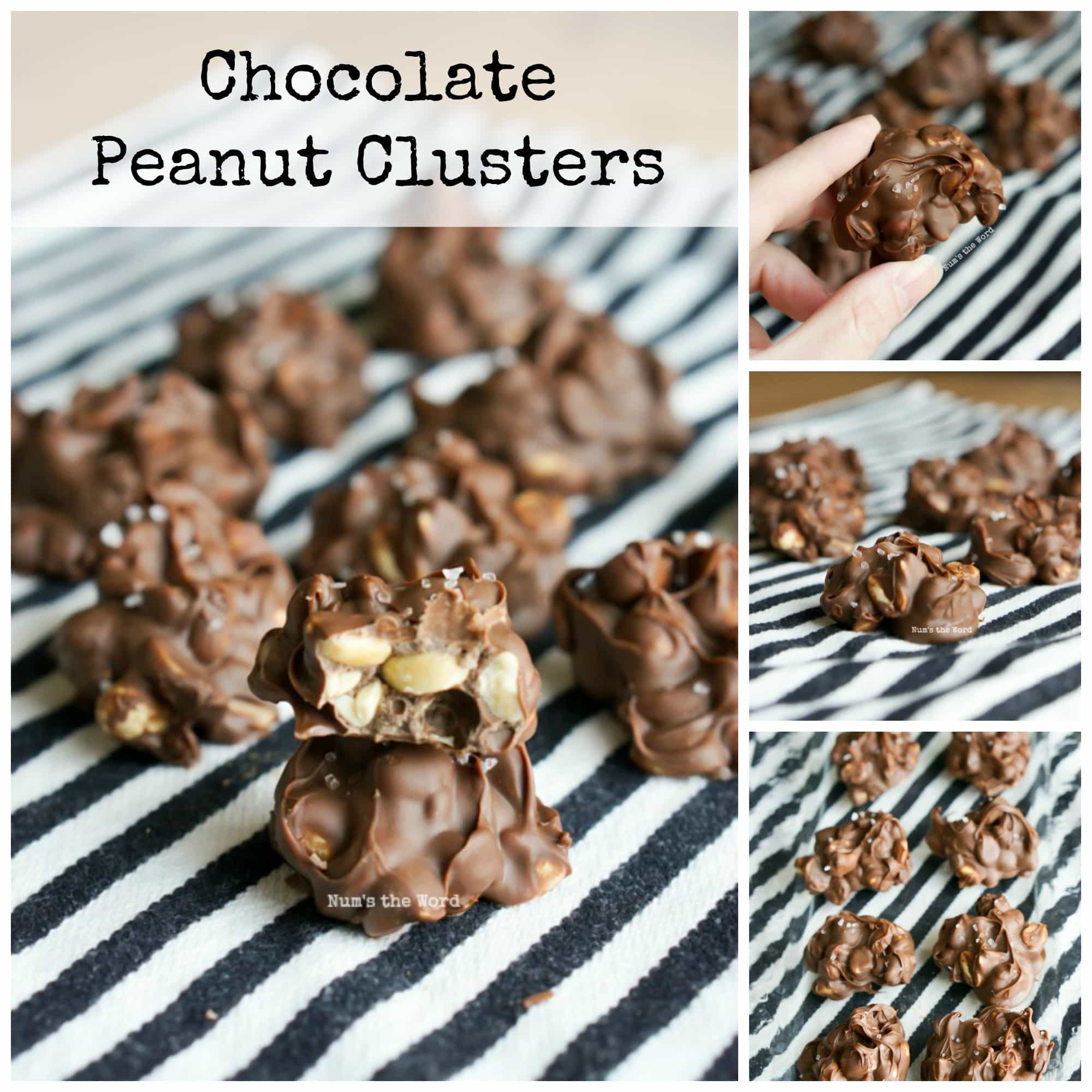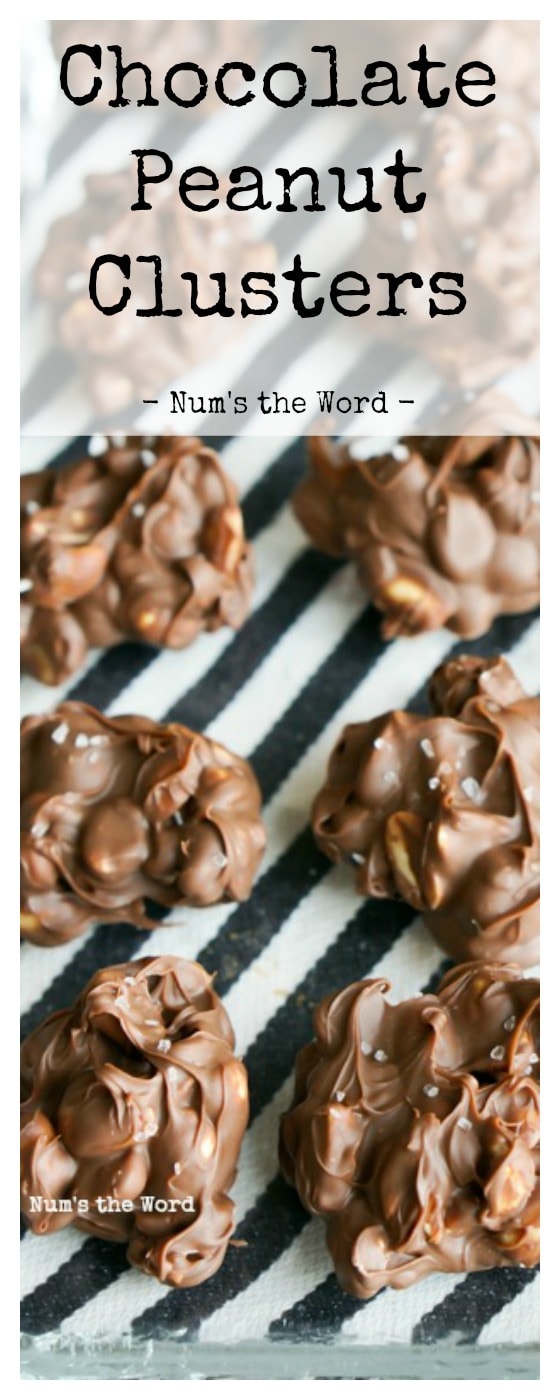 One of my favorite things to snack on are these Chocolate Peanut Clusters.
They have the protein of the peanuts and the sweetness of the rich chocolate, which make them the perfect treat to nibble on.
These Chocolate Peanut Clusters also make very easy and quick gifts.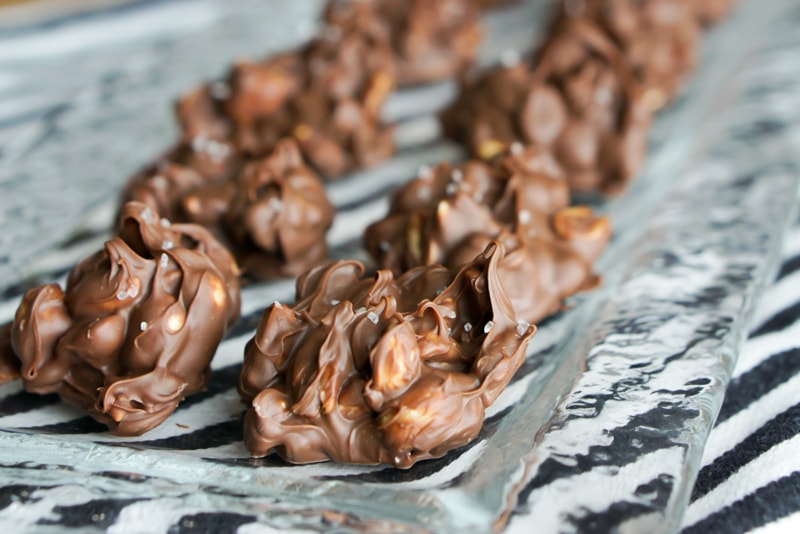 Some of you may associate these with just being a Christmas candy recipe.
I though would disagree.
Since when are peanuts and chocolate Christmas treats?
In our house they are regular staples.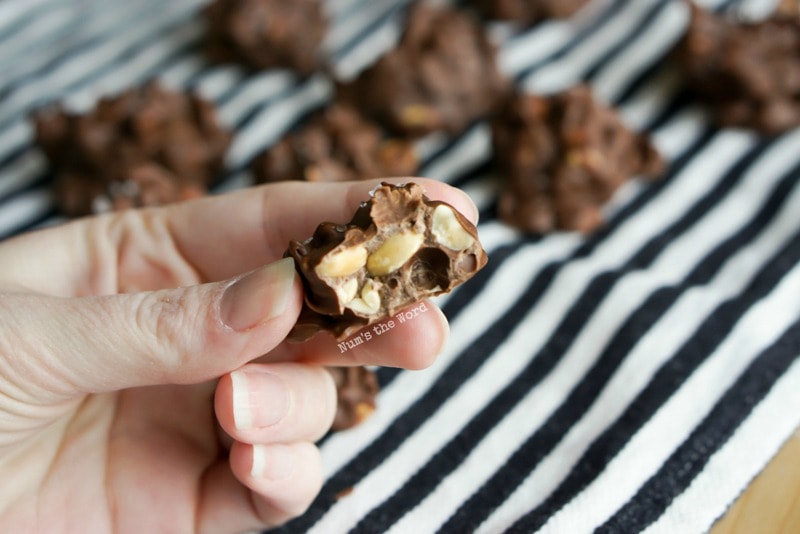 Everyone who tries these loves them and so why not whip up a batch as a birthday gift for a friend, or thank you gift for a neighbor or teacher?
I promise you from extensive experience, teachers LOVE to be spoiled with yummy treats.
Especially Friday afternoons when they've just had a chaotic week.
These Chocolate Peanut Clusters would be the perfect Thank You gift for them to savor on their way home or keep in their desk for an emergency moment.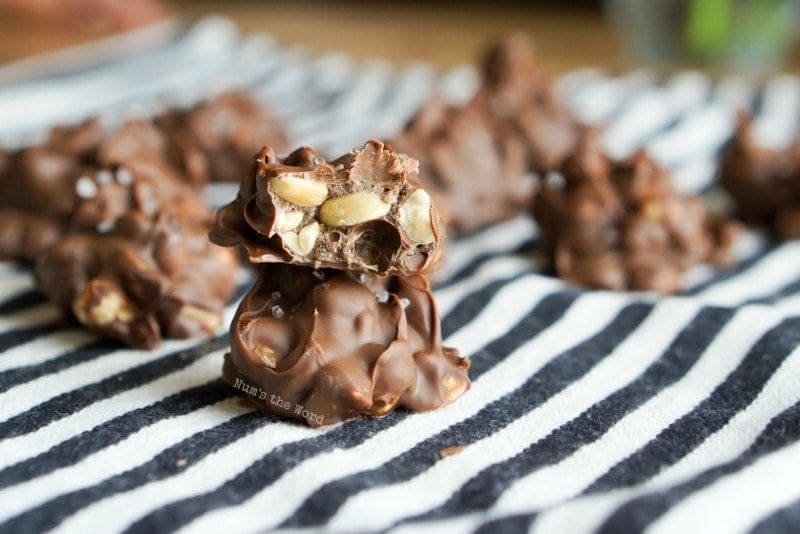 I'll be honest and say that in our house, they rarely make it past the front door.
My kids LOVE these.
And in terms of healthy vs. unhealthy treats to snack on, I'd much rather them eat these protein packed peanut clusters than a candy bar or sucker.
As you can see from the photos, my son was watching very closely as I photographed these clusters.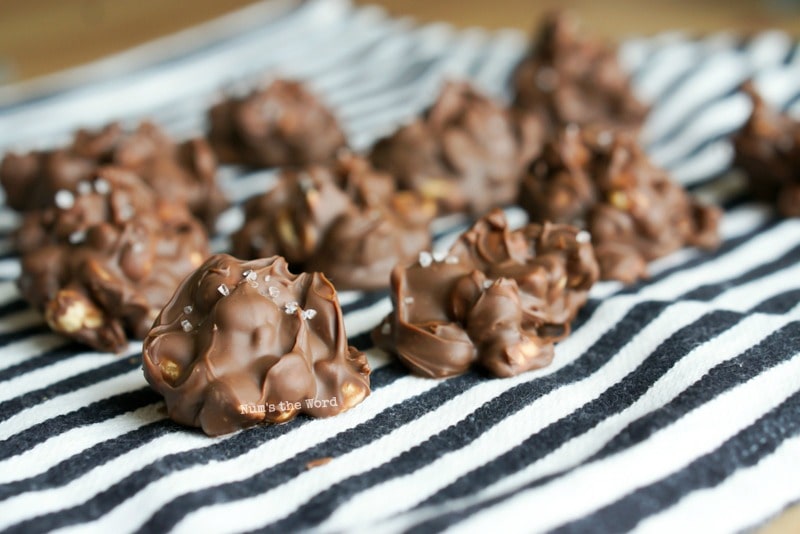 Without prompting or even realizing at first what he was doing I caught a photo of his little hand reaching for one of my Chocolate Peanut Clusters.
It was then that I had to capture a few more for memory sake.
His eyes got big and a smile spread across his face as soon as he saw CHOCOLATE!!!
He was a good boy and let me finish photographing them before snatching one, but the wait was almost too much for this chocolate loving kid.
These Chocolate Peanut Clusters are so yummy and even better with a sprinkle of sea salt on top.
You can make them on the stove as in the directions, in the microwave or even in the crock pot.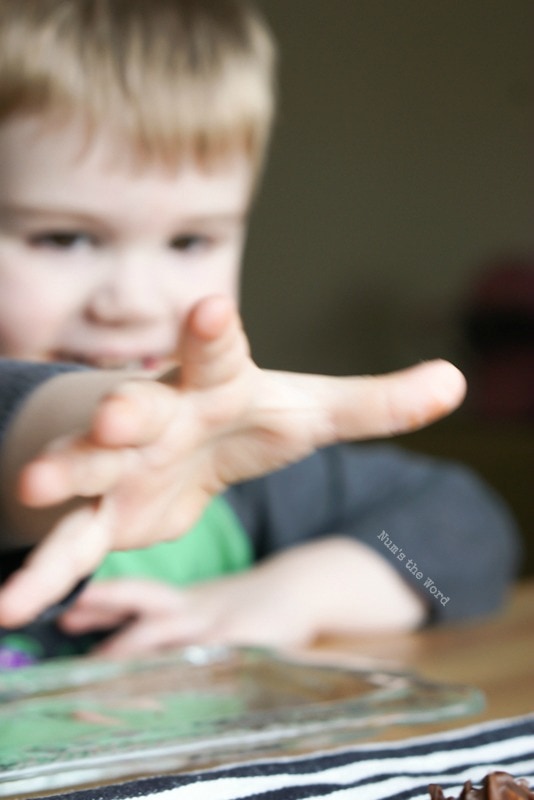 The way the chocolate gets melted does not matter.
What matters is that these are easy, quick and always a hit among everyone who tries them!
Chocolate Peanut Clusters
Ingredients
1 (10 ounce) bag of Ghiradelli melting wafers - any flavor (white, milk, dark)
OR 1 (12 ounce) bag of high quality chocolate chips + 2 Tablespoons coconut oil or crisco.
2 cups lightly salted or no salt shelled peanuts.
Sea Salt (optional)
Instructions
Place 1 cup of water in a sauce pan.
Place a heat proof bowl on top of sauce pan and add chocolate (and oil if doing chocolate chip method).
Turn heat to medium and allow steam from hot water to melt chocolate. Gently stir as chocolate melts until chocolate is completely melted.
Remove bowl from stove and add peanuts. Stir well to coat peanuts.
Scoop out approximately 2 Tablespoons of peanut mixture at a time and place on wax paper.
Gently sprinkle with sea salt and allow to dry.
Devour!
https://numstheword.com/chocolate-peanut-clusters/
Other Recipes with Nuts You'll Love...